Boston High School:

John Wallace
February, 2, 2011
2/02/11
2:15
PM ET
The first day of the football National Letter of Intent signing period has arrived, and we've got you covered all day (though we'll probably be buried under snow ourselves). Here is a list of Massachusetts athletes committed to Division 1 programs headed into today's big day.
Any commitments can be sent to Scott Barboza at sbarboza@espnboston.com or Brendan Hall at bhall@espnboston.com.

(NOTE: The Ivy League does not recognize National Letters of Intent)
DIVISION 1 FBS
Taariq Allen
, Rivers – Nebraska
Manny Asprilla
, Everett – Boston College
Dalton Gifford
, Bridgton Academy (Maine)/Barnstable – UConn
Marcus Grant
, Lawrence Academy – Iowa
Harry Keselman, Oliver Ames - Temple
Anthony Knight
, Lawrence Academy – Nevada
Albert Louis-Jean
, Brockton – Boston College (enrolled in January)
Brian Miller, Andover
– Boston College
Paul Nwokeji
, Thayer Academy – UConn
Rodman Noel
, Milford Academy (N.Y.)/Everett – NC State
Mike Orloff
, Lawrence Academy – UCLA
Liam Porter
, Natick – Boston College
Max Ricci
, Lawrence Academy – Boston College
Richard Rodgers
, St. John's (Shrewsbury) – Cal
Andrew Siden
, Natick – Tulane
DIVISION 1 FCS
Jeff Anderson, Longmeadow - Brown
Ryan Barrett
, Holliston – Bryant
Connor Candito, Bridgton Academy (Maine)/St. John's (Shrewsbury) - Sacred Heart
Jamie Casselbury, Philips Andover - UMass
Connor Caveney, Cushing Academy - Sacred Heart
Matt Costello
, Everett – Princeton
Jeff Covitz
, Reading - Bryant
Ryan Delisle
, St. John's Prep – Harvard
Anthony Fabiano
, Wakefield – Harvard
Ryan Flannery, North Attleborough - Columbia
Justin Flores, Tilton School/Woburn - Maine
Dan Giovacchini
, Lawrence Academy – Brown
Will Guinee, Malden Catholic - Dartmouth
Greg Hilliard
, Suffield Academy (Conn.)/Brockton – UMass
Clay Horne
, Lawrence Academy – Villanova
Brandon Howard, Worcester Academy/King Philip - UMass
Randall Jette
, Martha's Vineyard – UMass
Isaiah Jones
, Mahar - Maine
Andrew Kestenbaum
, Dartmouth – Rhode Island
Ben Koopman, Marblehead – Holy Cross
John Lavin
, Falmouth – Bryant
Dan Light
, St. John's (Shrewsbury) – Fordham
Harrison Lyons, Avon Old Farms (Conn.)/Norwell - Bryant
Alec May, King Philip - Georgetown
Brian McDonald, Hebron Academy (Maine)/Westwood - Sacred Heart
Andrew Mizzoni
, Gloucester – Holy Cross
Obum Obukwelu
, BC High – Harvard
Ben Patrick
, Rivers – UMass (preferred walk-on)
Jason Richard, Milford Academy (N.Y.)/Weston - Sacred Heart
Peter Savarese, BB&N - Dartmouth
Zach Smerlas
, Lincoln-Sudbury – Brown
Keshaudas Spence, Taft (Conn.)/Catholic Memorial - Sacred Heart
Charlie Storey
, Milton Academy - Dartmouth
Brian Strachan
, St. Sebastian's – Brown
Cam Sullivan, Westfield - Bryant
Jeff Synan, Plymouth North - Bryant
Ben Ticknor
, Milton Academy - Dartmouth
John Wallace
, Somerville – UMass
Ryan Welch
, Lawrence Academy – UNH
Conor Wyand, Nashoba - Brown
DIVISION 2 RECRUITMENTS REPORTED
Nick Broughton, Marblehead - Merrimack
Matt Delaney, Barnstable - Assumption
Chris Mooney, Stoneham - Assumption
Mike Muir, Xaverian - Bentley
Bobby Richman, North Attleborough - Bentley
Chris Unis
, Gloucester - Merrimack
DIVISION 3 RECRUITMENTS REPORTED
Eric Bertino, BB&N - Middlebury
Ned Deane
, Andover - Amherst
Mike Devin, Bridgewater-Raynham, Bowdoin
James DiBlaisi, BB&N - Trinity
Josh Friedland, Marblehead - Bates
Jake Giovanucci, Dexter - Bowdoin
Mike Gustafson, Belmont Hill - Washington & Lee
Brett Harasimowicz, Duxbury - Middlebury
Mike Hogan, St. John's (Shrewsbury) - Wesleyan
Matt Perlow
, Marblehead - Bowdoin
Mike Tomaino, Gloucester - Bates
December, 7, 2010
12/07/10
6:47
PM ET
OFFENSE

QB -- Dan Light, Sr., St. John's (Shrewsbury)
In his first year under center after playing tight end last year for the Pioneers, the 6-foot-4, 235-pounder spearheaded one of the state's most prolific offenses with precision, as the Pioneers rolled to their second straight Division 1 Central Mass Super Bowl title. He threw for 2,171 yards and 32 touchdowns to just seven interceptions, and on the ground he added 1,131 yards and 16 more scores. Light is considering several Division 1 schools.

QB -- Jonathan DiBiaso, Jr., Everett
In his record-setting junior campaign, DiBiaso helped deliver the Crimson Tide their eighth Division 1 Super Bowl title in 12 years. He threw for 2,885 yards and a state single-season record 43 touchdowns, to just four interceptions, and capped with a 31-7 win over St. John's Prep at Gillette Stadium for the Super Bowl title. He has 59 touchdown passes for his career.

QB -- Nick LaSpada, Jr., Billerica
The junior, who won the state's Gatorade Player of the Year as a sophomore in 2009, lived up to the hype in spite of a marginal season for the 5-6 Indians. He threw for 2,738 yards and 25 touchdowns, and added 1,064 yards and 15 touchdowns on the ground, averaging over eight yards per carry. For his career, he has thrown for over 5,800 yards and ran for over 3,500 in his three years as starting quarterback. LaSpada is being recruited by a number of Division 1 FBS schools, including Boston College, Notre Dame, Oregon, Alabama, Penn State, Missouri, Arkansas, Michigan, USC, Florida State and Stanford.

RB -- Trevon Offley, Sr., Brockton
In taking over full-time rushing duties from his cousin, Khalil James-Offley, the 5-foot-6, 190-pound Trevon proved to be one of the state's toughest runners in between the tackles. Offley carried 155 times for 1,364 yards and 15 touchdowns, averaging 8.8 yards per carry for the 8-3 Boxers.

RB -- Jamel Marshall, Sr., Mansfield
After backing up Shawn Doherty in 2009 and watching him set a school record, the 5-foot-11, 185-pound Marshall went ahead and smashed it. His 1,339 yards on the ground (including 7.1 yards per carry) broke Doherty's mark of 1,239, and his 21 touchdowns came within striking distance of breaking a two-decade record held by Omari Walker. Marshall is considering several Division 1-AA and Division 2 schools.

RB -- Tyler Coppola, Sr., St. John's Prep
As the focal point of the 8-5 Eagles' offense, the 5-foot-7, 185-pound Coppola did not disappoint. He carried the ball a yeoman 243 times for 2,172 yards and 20 touchdowns, including an unheard-of 348 yards and six scores against St. Joseph's (Md.) in October, as the Eagles captured a share of the Catholic Conference title and reached the Division 1 Eastern Mass Super Bowl for the first time since 2002.

RB -- Andrew Coke, Jr., Andover
After an outstanding sophomore season at Brooks School alongside current BYU freshman Jordan Johnson, Coke transferred back to his hometown high school and helped lead the Golden Warriors to their first Merrimack Valley Conference title in 35 years. The 6-foot-1, 218-pound junior carried 304 times for 1,841 yards and 29 touchdowns (most in Division 1), and as a wildcat quarterback completed 24 of 34 passes for 267 yards and two more scores.

WR -- Matt Costello, Sr., Everett
After a tremendous senior season, the 6-foot-1, 170-pound Costello racked up numerous awards, including this year's state Gatorade Player of the Year and ESPNBoston's inaugural Mr. Football award. Costello played an instrumental role in DiBiaso's state-record junior campaign, as he caught 76 balls for 1,301 yards and 23 touchdowns – including 11 catches for 145 yards and three scores in the Tide's 31-7 victory over St. John's Prep in the Division 1 Super Bowl. Costello is considering Princeton, Penn and Harvard.

WR -- Richard Rodgers, Sr., St. John's (Shrewsbury)
The talented Rodgers tore up the competition once again in his senior campaign with the Division 1 Super Bowl champion Pioneers. The 6-foot-5, 230-pounder caught 65 balls for 1,064 yards and 17 touchdowns, for an average of 16.4 yards per catch. He was also a force at defensive end, recording eight sacks, four forced fumbles and an interception. Rodgers is following in his father's footsteps, as he will play tight end next fall at Cal.

WR -- Jordan Henderson, Sr., Barnstable
The speedy Henderson made a name for himself as one of the state's most dangerous threats in the short passing game, leading the 7-4 Red Raiders in every receiving category. The 6-foot, 180-pounder caught 61 balls for 1,069 yards and 12 touchdowns, averaging 17.5 yards per catch.

TE -- Anthony Fabiano, Sr., Wakefield
One of several outstanding tight ends to be used in more of a blocking role, the 6-foot-5, 258-pound Fabiano excelled on both sides of the ball for the 6-4 Warriors, who captured their second straight Middlesex League Small title. Fabiano caught 23 passes for 267 yards, and as a defensive end recorded 57 tackles, a team-high nine sacks and three forced fumbles.

TE -- Ryan Barrett, Sr., Holliston
Like Fabiano, Barrett was used primarily in a blocking role for the 12-1 Panthers, who captured their first Super Bowl title since 1985 with a 21-7 win over Cardinal Spellman. With Barrett's guidance, the Panthers ran for more than 2,500 yards on the ground and scored more than 500 points through the ground and air. Barrett is committed to Bryant University, where his brother Andrew is currently a sophomore offensive lineman.

OL -- Nathan Cyr, Sr., St. John's Prep
The 6-foot-1, 246-pound Cyr was one of the state's best run-blockers this season, paving the way to a monster season from Coppola and over 3,000 yards on the ground total as the Eagles captured a share of the Catholic Conference title and went to the Super Bowl for the first time since 2002. Cyr is committed to Trinity College.

OL -- John Wallace, Sr., Somerville
The 6-foot-4, 265-pound Wallace was a three-year starter for the Highlanders, and is a two-time Greater Boston League All-Star. This season for 4-6 Somerville, he recorded 68 tackles and five sacks while also providing plenty of run support as both a guard and tackle. He is considering several Division 1 FCS schools, including UMass and New Hampshire.

OL -- Jeff Covitz, Sr., Reading
The 6-foot-2, 250-pound Covitz, a three-year starter for the 12-1 Rockets, was a force at right tackle for the Rockets, paving the way for one of the state's most potent rushing attacks (45 rushing touchdowns). At defensive end, he was a dominant run-plugger for a defense that allowed a Division 2-best 8.7 points per game.

OL -- Ian Levesque, Sr., Somerset
The 6-foot-4, 290-pound tackle paved the way for two 1,000-yard rushers in Seth DeMello and Jaron Spear for the 12-1 Blue Raiders, who advanced to their first Super Bowl since 1981. In addition to helping the Raiders rack up nearly 300 rushing yards per game and over 50 rushing touchdowns, he also was an anchor along the line of a defense that allowed just 11 points per game. He is considering several Division 1 FCS schools, including Colgate and Wagner.
OL -- Lance Burlingame, Sr., New Bedford
The 6-foot-4, 255-pounder is a two-time Big 3 Conference All-Star at offensive tackle and defensive end. In 10 games, he demonstrated outstanding feet as both run and pass blocker, and proved just as dominant defensively with 84 tackles, seven sacks, four forced fumbles and five fumble recoveries. He is considering several Division 1 FCS schools, including UMass, New Hampshire and Maine.

ATH -- Armani Reeves, Jr., Catholic Memorial
The 5-foot-10, 178-pound Reeves emerged as one of the state's most electric playmakers this season for the 5-5 Knights, lining up all over the field to great results. He amassed 1,279 all-purpose yards and scored 16 touchdowns in four different ways – receiving, rushing, punt and kick returns. He currently holds 10 scholarship offers from Division 1 schools, including Boston College, North Carolina, Wake Forest, Virginia, UConn and Penn State.

ATH -- Isaiah Jones, Sr., Mahar
The 5-foot-10, 165-pound Jones emerged as one of the state's most elusive weapons in the open field, with 40 speed in the 4.5's. In a season hampered by injury, he carried 151 times for 1,726 yards and 23 touchdowns, added 150 receiving yards, and also had three returns for touchdowns (two punt, one kickoff). For his career, he amassed over 4,400 yards rushing. Jones is considering several Division 1 schools, including Boston College, UMass and New Hampshire.

K -- Connor McDavitt, Sr., Wachusett
While his powerful right leg wasn't called into action as much, the 5-foot-7 McDavitt demonstrated great range when called upon, hitting from a long of 42 yards this year for the Division 1A Central Mass Super Bowl Champion Mountaineers. He recorded 14 touchbacks, and also had a net punting average of 42.5 yards.
DEFENSE

DL - Chris Unis, Sr., Gloucester
After recovering from an elbow injury, Unis returned to lead the Fishermen to their second straight Super Bowl title and third in the last four years. The 6-foot-2, 225-pound speed rusher proved a handful for offensive linemen and was also vital to Gloucester's running game, playing tight end. Unis also collected his third straight Northeastern Conference All-Star nod.

DL - Obum Obukwelu, Sr., BC High
The 6-foot-1, 255-pounder was an imposing figure on the Eagles' defensive line and tallied 8.5 sacks on 68 tackles with 18 tackles for a loss. Obukwelu is committed to play football at Harvard next year.

DL - Zach Smerlas, Sr., Lincoln-Sudbury
The three-year defensive starter often faced double and triple teams against him this season, but the senior captain still managed to make 40 tackles (18 solo) while clogging up the interior for the Dual County League Large champion Warriors.

DL - Shaquille Taylor, Sr., Everett
Taylor was the affable heart of the defense for the Eastern Mass Division I Super Bowl champions. The 5-foot-11, 275-pounder was an immovable object on the line, stuffing the run and showing speed to pressure the quarterback.

LB - Chris Tamasi, Sr., Xaverian
The senior captain was the fulcrum of the Hawks' defense and a steady contributor out of the backfield on offense. The 5-foot-11, 200-pounder has verbally committed to play football at Amherst College next year.
LB - Matt Walsh, Sr., Plymouth North
Walsh provided bite to the Eagles' offense and defense as both a hard-nosed fullback and middle linebacker. While leading Plymouth North's defense, which surrendered just 10 points per game, Walsh also tallied 12 touchdowns. A talented catcher, he has committed to Franklin Pierce where he will play baseball.

LB - Jordan Shairs, Sr., Gloucester
For everything that Chris Unis or Andrew Mizzoni weren't able to get to up front, Shairs was there to clean up. The 6-foot, 210-pounder helped the Gloucester defense average just 10 points per game against and saw a bulk of Gloucester's carries following Gilbert Brown's injury, tallying 31 total touchdowns (30 rushing) on the season. Shairs was named Northeastern Conference Offensive Player of the Year and league All-Star for his 1,400-yard rushing performance.

LB - Tim Joy, Jr., Chelmsford
Already a two-time all-conference teamer, Joy had 131 tackles, including 13 for a loss, two sacks and three interceptions for his junior season. He has been recruited by several FBS schools, including Boston College.

LB - Ned Deane, Sr., Andover
Deane provided the bite to the defense that helped the Golden Warriors to a Merrimack Valley Conference Large title. The 6-foot-2, 205-pounder led Andover with 112 tackles in addition to three sacks and an interception. He is considering Amherst, Dartmouth, Harvard and Princeton among his college choices.

LB -- Kevin Curry, Sr., Holliston
The Tri-Valley League Defensive Player of the Year was a force on both sides of the ball for the 12-1 Panthers, who captured the Division 3A Super Bowl crown. In addition to manning the middle on a defense that allowed just 11.5 points per game, Curry carried the ball 139 times for 1,144 yards and 14 touchdowns, for an average of 8.2 yards per carry.

DB - Albert Louis-Jean, Sr., Brockton
The shutdown corner was also a double-threat for the Boxers, hauling in 28 catches for 572 yards and five touchdowns on offense. The 6-foot-1, 175-pound speedster came away with four interceptions. Louis-Jean recently de-committed from Miami, so there's likely to be a lot on interest surrounding him in the coming months.

DB - Joe Colton, Sr., Xaverian
Colton consistently drew the matchup of the opposing team's top receiver and went toe-to-toe with some of the state's best. The 5-foot-11, 190-pounder was also a steady contributor to the Hawks offense with 15 touchdowns on the season.

DB - Manny Asprilla, Sr., Everett
Asprilla was as much of a lockdown defender as he was a threat on the offensive side of the ball. And that's saying something about someone who had 2,787 career all-purpose yards for the Division I Eastern Mass Super Bowl champions. Asprilla is committed to play football at Boston College next year.

DB - Randall Jette, Sr., Martha's Vineyard
Jette only pocketed one pick in 2010, but that's simply because teams didn't bother throwing his way. The senior captain also made 50 tackles (24 solo) in coverage. Also, as the Vineyarders quarterback, Jette tallied 953 rushing yards on 121 carries with 19 touchdowns to go along with four passing scores and two special teams return touchdowns. He's being recruited by BC, Bryant, Rutgers, Stonehill, UMass and UNH.
HONORABLE MENTIONS

Luke Bakanowsky, Sr. QB, Oakmont
Blaise Branch, Sr. RB, Cardinal Spellman
Gilbert Brown, Sr. RB/LB, Gloucester
Cal Carroll, Sr. QB, Methuen
Trevor Choruzek, Sr. RB, Leicester
Dylan Colarusso, Sr. RB/LB, Weymouth
George Craan, Jr. RB, Concord-Carlisle
Brendan Flaherty, Soph. RB/LB, Beverly
Jeff Hill, Sr. WR, Mansfield
Ray Holloway, Sr. RB, East Longmeadow
Ryan Lipka, Sr. WR, Bishop Fenwick
Sean Mayo, Sr. QB, Holliston
Kyle McSweeney, Sr. OL/DL, Medway
Mike Mercadante, Sr. RB, Minnechaug
Brian Miller, Sr. TE, Andover
Andrew Mizzoni, Sr. OT/DE, Gloucester
Matt Montalto, Jr. QB, Dennis-Yarmouth
Paul Mroz, Sr. QB, Brockton
Thomas Murphy, Sr. QB, Northbridge
Reilly Naton, Jr. SS, Duxbury
Liam Porter, Sr. OL/DL, Natick
Quinton Porter, Jr. ATH, Fitchburg
Cody Savoy, Sr. RB, Narragansett
Matt Silva, Sr. QB, Dracut
Jesse Wilkins, Sr. RB, North Shore
September, 18, 2010
9/18/10
7:53
PM ET
By
Brendan Hall
| ESPNBoston.com
SOMERVILLE, Mass. -- In his first year at the helm of Falmouth High, and his Clippers' first year of running his preferred 3-3 defensive stack, Steve Femino hasn't been afraid to go all-or-nothing inside the red zone. So on third and goal with 40 seconds left, and Somerville standing five feet from the end zone and threatening to send the game to overtime, Femino sent the house. Undersized nose guard Tyrone Reine -- all 5-foot-7 of him -- burst through the a-gap to stuff Josh Scarry for a two-yard loss.

"To be honest, it just all came into me at once and I got through him," Reine said. "I saw the ballcarrier, and I just took him."

The Highlanders found themselves a yard and a half away again on fourth down, thanks to an offside call, but the snap fumbled, A.J. Gonsalves landed on it, and the Clippers escaped Dilboy Stadium with a hard-fought 7-0 win.

"I believe it comes down to heart and desire -- that's really what it is," Reine said. "It's all about heart, it's about wanting to win. Doesn't matter how big you are. You could be 5-3 and go up against a 6-5 guy...doesn't matter. We've got all little guys here. We don't have any big guys, we're just a small team. But it's about heart and desire."

The muffed opportunities left Highlanders head coach Harry Marchetti disappointed.

"The opportunities were there, and we didn't capitalize," Marchetti said. "If we expect to play against this kind of caliber competition, we can't make those mistakes. But the defense played well, to hold that team to seven points, I'm pretty pleased with that. I think we're very confident on defense, and we have to get that confidence to progress through the season over to the offensive side of the ball."

The game's lone score came off another golden opportunity for Falmouth, when a Highlander player misplayed Dillon Mansfield's punt. The ball incidentally tipped off of his hands, and the Clippers came out of the ensuing scrum with the ball at the Somerville 35. Two plays later, Mansfield hit Nelson Baptiste perfectly in stride, in single coverage running a go route from the left slot, for a 35-yard touchdown strike.

"Triple left seam, that's my main play right there," said Baptiste, who totaled 60 yards of offense in this affirmatively defensive affair. "I did the same thing to them last (year) to score a touchdown, so we knew what we've got to do. We've got to score one touchdown, and it's in the books."

Said Somerville head coach Harry Marchetti of the special teams miscues, "They're usually flawless back there. They're sure-handed."

And aside from a few quick tosses to Baptiste on the outside; some bruising scampers from Somerville's 5-foot-11, 210-pound junior fullback Kris Taylor (nine carries, 57 yards); and a few keepers from Somerville's Bobby Pratt (seven carries, 56 yards) up the middle on the Highlanders' final drive; this was a physical battle kept mainly in the trenches. Led by sophomore Ryan Conte and 6-foot-4, 260-pound senior John Wallace (a Division 1 prospect) in the trenches, the Highlanders moved the chains with multiple lead blockers and a confusing single-wing approach that kept the Clippers' 5-3 scheme on its toes.

Losing its three defensive linemen to ankle and shoulder injuries on the game's first six plays, Falmouth was forced to grind it out with underclassmen. But with Baptiste taking tosses from the slot and isolation runs up the middle from Bobby Whelan and Joey Olsen, they kept the Highlanders' defense honest as well.

"That is a strong team," Baptiste said of Somerville, widening his eyes. "They hit really hard. But we get hit all the time, we work every day so hard, so we know what we got to do."

And in the end, the Highlanders nearly won it after nearly coughing up another six points. Mansfield coffin-cornered a rugby-style punt to the left pylon that was fielded at the one yard line, met immediately by Falmouth players, giving Somerville first and 10 with 5:32 and 99 yards to go. Between belly option keepers by Pratt and direct snaps to up-back Eduardo Dias, the Highlanders marched all the way down to the one-yard line before Reine came up with the big hit, and a play later they fumbled the ball away.

"We're a little more aggressive," Femino said of his red zone defense. "We get down there, and we loosen up, they're not as worried down there."

Said Reine, "Our defense, when we're in the red zone, at the goal line, everything changes. Everyone gets together, everyone's yelling at each other. It's all momentum. And obviously, that was a big momentum-changer right there, to win the game."

FALMOUTH 7, SOMERVILLE 0

Fal 0 0 7 0 --- 7
Som 0 0 0 0 --- 0

F - Nelson Baptiste 35 pass from Dillon Mansfield (Tyrone Reine kick)
August, 25, 2010
8/25/10
9:44
PM ET
By
Brendan Hall
| ESPNBoston.com
SOMERVILLE, Mass. -- John Wallace was right there that night, seated just below the press box on the 50-yard line at newly-christened Dilboy Stadium, when things finally changed for the better in this city some four years ago.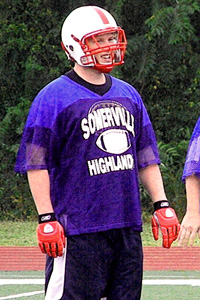 Brendan HallJohn Wallace, a Division 1 offensive line prospect, thinks this year's Somerville squad is the most talented team he's been a part of.
The night of Sept. 9, 2006, his hometown Somerville Highlanders snapped a state-worst 33-game losing streak with a 28-13 defeat of North Quincy, and the packed stadium -- mostly there just to see a grand re-opening of the previously run-down field -- went nuts. Head coach Harry Marchetti got a Gatorade bath. Assistant coach (and city mayor) Joe Curatone pointed to the crowd and ordered his players to greet their fans and share the celebration (the players proceeded to rush the stands). A light drizzle broke out to cap it all off.
"It was a big deal," said Wallace, a lifelong resident of Somerville's Lincoln Park neighborhood, and now a senior captain for the Highlanders. "I saw how excited the team was, the coach was, the student body and all, how crazy they went after the victory...it was definitely a turning point for the program."
Football is relevant again in this working-class, densely-settled city, all the way from Davis Square to City Hall -- "People are asking me how the team looks, how they can't wait to see them," says the mayor. "There's alot of community pride, civic pride."
But there's the feeling that something special's brewing this season, something that could propel them way above the .500 ball they've been averaging since finishing 6-4 four seasons ago. Not since their 9-2 campaign of 2000, when current Detroit Lions tackle Gosder Cherilus was anchoring the line, have the Highlanders been this talented.
Led by Wallace -- a fleet-footed 6-foot-4, 260-pounder with interest from Boston College and a slew of FBS schools -- there is plenty to like about this team, whether it's the speedy yet forceful running style of Chris Taylor or the zip with which Bobby Pratt delivers his passes.
Of course, the program had to take its lumps along the way, and we're talking serious lumps -- condemned visiting bleachers, three straight winless seasons (a streak even John Hannah's coaching couldn't stop), locker rooms in a pool house, at one point even taking home games to Medford's Hormel Stadium. So in a way, this group feels like the culmination of that memorable night back in 2006.
"Last year, going into the season, we were really high on the season," Wallace said. "I know I was, I know the seniors were, everyone else, but we didn't come together as a team. This year, we're working for each other. I'm not striving to get out there and bust my ass for a Division 1 scholarship -- I'm doing it to win, just like everyone else is. We have that goal of a GBL title, and we're all coming together."
So what has Marchetti done with this culmination of sorts? Nothing but assemble arguably one of the toughest schedules in the state. The Highlanders open up against Greater Lawrence Tech (where Marchetti is a vice principal) before non-league clashes with St. John's Prep, Falmouth and Xaverian, ranked 19th, 16th and second in our Top 25 poll respectively. Couple that with an improved Greater Boston League featuring up-and-comer Medford, physically imposing Malden and perennial power Everett (winner of the last 15 GBL titles) and you have your work cut out for you.
But in Marchetti's mind, the schedule, much like that fateful September night, is for the better.
"When you face adversity, do you shy away from it, or do you look at it as an opportunity to do better things?" Marchetti said. "This is the first group of kids, honestly, that will take that challenge and rise to the occasion. It's such an ambitious schedule -- we might lose games -- but we're not going to be outplayed. Leave everything on the field, whatever happens at the end of the game takes care of itself."
SOMERVILLE AT A GLANCE
2009:
4-6 (1-3 Greater Boston)
Coach:
Harry Marchetti (Sixth year, 21-31 overall)
Players to watch:
John Wallace, Sr., OT/DT, 6-4, 260 lbs; Kevin Wint, Sr., OL/DL, 5-11, 240 lbs; Bobby Pratt, Sr., QB, 6-0, 180 lbs; Chris Taylor, Jr., RB/LB, 6-0, 205 lbs; Devon Hairston, Jr., WR/DB, 5-8, 150 lbs; Zach Sciutto, Jr., WR/DB, 5-8, 150 lbs; Josh Scarry, Sr., RB/OLB, 5-8, 175 lbs; John DiFraia, Sr., C/DL, 5-10, 225 lbs; Brian Simeon, Sr., OL/DL, 6-2, 260 lbs; Danny Dell'Isola, Sr., TE/LB, 6-0, 190 lbs; Jalen West, Jr., TE/DL, 5-10, 215 lbs; Ryan Conte, Soph., OL/DL, 6-2, 240 lbs; Michael Gomes, Sr., OL/DL, 5-10, 205 lbs; Stanley George, Jr., DT, 5-10, 260 lbs; Herbie LaFortune, Sr., WR/DB, 5-11, 175 lbs.
Strengths:
Speed, experience, quality depth.
Weaknesses:
Learning a new system.
Outlook:
The Highlanders might be one of the few squads in the area with more depth despite lower overall numbers. And with the amount of speed at the skill positions, they'll be spreading things out on offense, a bit of a departure from the traditional Double Wing-T Marchetti deployed his first five years at the helm. "We have the weapons to throw the ball, so we're going to throw the ball," Marchetti said. "We're going to get our kids in space." Wallace, a Division 1 prospect on the offensive line, will anchor the trenches and provide running lanes for physical speedsters like Taylor. Defensively, the 4-4 base scheme doesn't change much, and neither does the attitude. "We don't blitz alot. It's an attacking 4-4," Marchetti said, to which Curtatone chimed in, "Nobody's going to out-hit us."