Boston High School:

Johns Hopkins
July, 31, 2013
7/31/13
5:20
PM ET
Dexter rising senior Patrick Fraser found himself in an interesting predicament earlier this summer.

A two-sport standout with Dexter's lacrosse and hockey teams, the 6-foot-2, 200-pounder seriously had to consider his future. The goaltender had played hockey from the age of 6, and it was his lifelong dream to play Division 1 college hockey. But his booming left-handed shot on the lacrosse field had attracted looks from a who's who of major Division 1 college programs. Or, there was the possibility to play both in college.

Earlier this month, the Walpole resident made his decision, choosing to play lacrosse at traditional power Johns Hopkins.

We caught up with Fraser to look at the rigors of the recruiting process and how he ended up with the Blue Jays:

On picking lacrosse over hockey: "It was an extremely difficult choice. I spent my whole life playing hockey and hockey was always my focus. Lacrosse was just something I did in the spring and into the summer. Really, not until late this spring of my junior year was when I started taking lacrosse more into consideration."

On getting into lacrosse recruiting later on: "I came into it a little bit late, so I was a little bit nervous about how it was going to turn out. The lacrosse recruiting process starts so early. It's kinda' funny, one of the first conversations I had with [Hopkins head coach Dave] Pietramala had kind of made a joke about it. He told me, 'You can't be that far behind in the process if you've got the coach from Hopkins calling you.' That was one of the first things he said to me and I thought it was pretty funny. I've always wanted to play hockey, but when an opportunity like the chance to play at Johns Hopkins comes along, you have to take it."

On whether he'd pursued opportunities to play college hockey: "My junior year of hockey was big for me. I really wanted to play hockey more than anything, I'd always wanted to play Division 1 hockey. I wanted to pursue that route. The thing is that … You know [Loomis Chaffee goaltender] Danny Tirone? He just won the New England Prep School Player of the Year this year and UNH is asking him to play two years of juniors before he can even get there. Now, he was the Player of the Year – not even Goaltender of the Year – Player of the Year, and that's what he has to do to get to UNH? So that wasn't a route I was too interested in. I didn't want be a 22-year-old freshman in college. I did explore the Division 3 route, and maybe playing both [lacrosse and hockey] at a NESCAC school maybe. I had times where I considered that, I'd go back-and-forth every week. Then I played a couple of summer tournaments earlier this summer and I had a bunch of Division 1 coaches calling me. Really up until that point, I was still considering ways that I'd still be able to play hockey.

On how much Pietramala meant to him choosing Hopkins: "Having played hockey for [Dexter head coach] Dan Donato, and getting used to his hard-nosed, old school style of coaching, I wanted something like that. He'll break you down and really get on you, but when you do the right things, he'll really give you a pat on the back. I like that. I like playing for a coach like that. And talking to a few different people about Coach Pietramala, I found out that he works in very much the same way. He's an imposing figure, but it was really impressive to me how much respect he treated me and my family with. When I went down for a visit, it was unlike any visit that I'd had."

On Dexter hockey's success last season: "In a way, I think we've already taken the next step. Last season was a huge season [21-2-5 in 2012-13] for the program. Making the Elite Eight was a milestone to what our program can become. In the beginning, I went to Dexter to play hockey. I loved Coach Donato and he's done wonders with this school. We love playing with each other, more than any other team I've been on."
January, 3, 2013
1/03/13
6:50
PM ET
By
Mike Scandura
| ESPNBoston.com
Maybe Mount St. Charles will win a record 43rd state boys' hockey championship. After all, the Mount returns 13 players from last season's team that posted a 21-8-0 overall record and lost in a pulsating, best-of-three finals to Bishop Hendricken.

But the Mounties were unable to win their own Holiday Face-Off Tournament.
In fact, the Mount didn't even reach the finals of this season's tournament because it was eliminated in the semifinals, 6-5, by Delbarton School of Morristown, N.J.
The Green Wave swamped the Mount by scoring four first period goals, including a hat trick by John Balocco, which trumped a two-goal, two-assist performance by Dan Glod.
But in the finals, Fairfield Prep (Conn.) edged Delbarton, 4-3, on Matt Wikman's goal at 5:50 of a second overtime period.
LaSalle College finished third by blanking La Salle Academy, 5-0, with Ryan Williams also recording a hat trick.
The only Rhode Island team to finish in the top five was Hendricken, as the Hawks beat Bishop Guertin (N.H.), 3-1, with Matt Creamer (the son of head coach Jim Creamer) scoring one goal and assisting on another.
TIGERS CRAWL INTO THE NIGHT
While Mount St. Charles made news (albeit of a negative type) on the ice, Tolman also made news that essentially was disturbing.
Tolman, which has won six Division III state championships, will be dropping boys' hockey after this season because, quite simply, it's going to lack enough players.
The current team dresses only 13 players – eight of whom are seniors. And for the second season in a row, there are zero freshmen on the team which also is minus any sophomores.
Nevertheless, the Tigers are 6-1-1 in their first eight games.
Ironically, Tolman's cross-town rival in Pawtucket, Shea, dropped hockey in 1987 – after winning its only then-Met C title – because of a lack of players.
DRIBBLING THROUGH THE HOLIDAYS
Like most states, Rhode Island featured numerous holiday basketball tournaments.
Following are the results of the more prominent ones:
Ben Bradley poured in 27 points as Cumberland beat Woonsocket, 68-58, in the finals of the long-standing Cumberland/Lincoln Boys & Girls Club Holiday Tournament. Bradley, who was voted MVP honors, scored 13 points and dished out eight assists as the Clippers beat Tolman, 62-46, in the semifinals. The Villa Novans advanced to the finals by beating Lincoln, 53-46, with Nicholas Jusczszyn scoring 20 points.
Kody Greenhalgh clinched MVP honors after scoring a game-high 23 points to lead West Warwick to a 67-57 victory over Scituate in the finals of the West Warwick Holiday Tournament.
Justin Pratt keyed a rally that saw North Kingstown overcome a double-digit deficit and defeat Shea, 74-63, in the Barrington Boosters Holiday Tournament championship game. Pratt scored 26 points – 18 coming on six 3-point shots.
Mackenzie Ramsay and Sarah LaMountain scored five points apiece in overtime and West Warwick converted five free throws in the final moments of regulation as the Wizards beat Coventry, 68-60, in the Coventry Credit Union Classic title game. Coventry's Sarah McGrath forced the extra session when she drained a 3-point shot with seven seconds left in regulation.
Juanita Sanchez boasted the MVP in Elfreda Hoff as it captured the City of Providence Holiday Tournament by outlasting Classical, 37-25, in the finals. Hoff scored 31 of her team's points against the Purple after notching 25 in a 53-19 romp over Hope in the semifinals.
Just before the holidays, Prout's Eric Ramelka surpassed the 1000-point mark for his career as the Crusaders beat Lincoln, 61-46.
EAGLES, PURPLE REIGN
Division I champion Barrington and Division II champ Classical combined to place a total of five players on the First Team All-State Soccer Team.
Eagles earning First Team honors were keeper Andrew Jones (who also was named an All-American); midfielder Christian Egglin; and fullback Carson Hall.
Classical was represented by midfielder Asa Sohn (he played on three consecutive state championship teams, two in Division III and in Division II last season) and forward Julio Jimenez (he led all Interscholastic League players with 27 goals and 11 assists for a total of 38 points).
Rounding out the first team were midfielder Dan Apajee and fullback Greg Forgue from La Salle; forward Christian Rodriguez (21 goals) and midfielder Stiven Montiero from Central Falls; midfielder Brandon Jumoas and keeper Justus Heinstchel Von Heinegg from Portsmouth.
SIGNING ON THE DOTTED LINE
La Salle Academy's All-Everything running back Josh Morris has announced he'll be attending Brown University next fall.
Morris, who led the Rams to the Division I regular-season title, rushed for 2,725 yards and 36 touchdowns over his junior and senior seasons.
Hendricken's Mike King will play his baseball at Boston College, after earning Second Team All-State honors last spring for Division I state champ Hendricken.
Alex Perreault, a First Team All-State selection last spring in lacrosse for Hendricken, opted for perennial power Johns Hopkins.
St. Raphael Academy's Nicholas Karalekas, who received the Carl Yastrzemski Scholarship (a four-year scholarship endowed by the Red Sox Hall of Famer), will enroll at Merrimack College and play baseball.
Mike Scandura has been covering high school sports, college basketball, football and hockey plus minor league baseball in Rhode Island since the early 1970s. A native of Oswego, N.Y, he's a member of the Words Unlimited Hall of Fame which is the statewide organization of sportswriters, sportscasters and sports publicists.
August, 3, 2012
8/03/12
4:07
PM ET
Lincoln-Sudbury lacrosse long-stick midfielder Cam Hyde has committed to Johns Hopkins for 2015.

The 6-foot-3 rising sophomore also rows crew for the Warriors and play club lacrosse with Laxachusetts.
December, 8, 2011
12/08/11
11:10
AM ET
The Laxachusetts lacrosse club has announced two commitments from its ranks in the last 24 hours.

First, Bill Breen, a 2013 from BC High, commited to the University of Albany on Wednesday. On Thursday, 2014 defenseman Scott Frankenthaler from Roxbury Latin announced his verbal commiment to Johns Hopkins.

Breen, 6-foot-2, 215-pounder, is coming off an Eastern Mass. Division 1 Super Bowl championship as a starter on the Eagles' offensive line.

Frankenthaler recently was named to the all-star team at the Philly Showcase.
July, 11, 2011
7/11/11
1:14
PM ET
ESPN Boston boys' lacrosse All-State First Team goaltender Connor Darcey was up against the best underclassmen the country has to offer in the ESPN RISE Warrior 40. The Wellesley High netminder made the start for the winning "Orange" side during the weekend competition at Harvard Stadium and took a few minutes to catch up with us.

The rising senior was had an All-American season as a junior, leading the Raiders to a 16-0 regular season and was honored as the Bay State League's MVP.

We caught up with the Penn State commit to learn about life at the Warrior 40, his impressive showing in its hardest shot competition and how he plans to unwind this summer.

Q: What has the entire Warrior 40 experience been like?

A: "It's great being around high level lacrosse the whole time. I mean, the coaches have a high standard for everyone, coming from where they are as professionals. Also, they've experienced everything we have. They know what paths to lead us down. I like it a lot."

Q: How's it been playing with some of the top players from across the country?

A: "It's good because we're going to be seeing these guys in the next four years when we're in college playing against each other. I think it's fun to play at a high level. It's very competitive, even if it is just a camp, scrimmage thing."

Q: You took part in the hardest shot competition on skills day and hit 92 miles per hour. Were you at all surprised with your result?

A: "I was pretty happy that I hit 92 on my second try. I was pretty happy with that. I was talking to [Foxborough goaltender Greg Stamatov] and he hit 84. That's what my goal was going in, to beat him. We had a little competition between us, so I was happy with that."

Q: Hate to bring up a sore spot, but having your high school season end against Medfield again in the D2 tournament had to be tough. What can you learn from that experience as a team heading into next year?

A: "I think we built a stronger team coming away from that season. We were 16-0 [in the regular season], once we got to that point, everybody starting contributing, whether it was in practice or in games. Then, the playoffs came. We played well in our first playoff game [a 17 win-3 over Burlington]. I think we have a lot of camaraderie on the team, I think we just fell apart in that last game in the fourth quarter. It was a tough loss."

Q: You also had a Wellesley teammate Oliver Saffrey here with you at the Warrior 40. How was it being able to share the experience with a high school teammate?

A: "Yeah, it was fun. I think it's a great thing for the program, to show that we can play. I think coach [Rocky] Batty has done a lot with the program. He's gotten our alumni back, which a lot of them have been successful, and our alumni game shows the quality of play. He just does a great job coaching us. He finds a way to coach every player, he knows how to coach different people."

Q: You've already got your college commitment locked in, but what went into the process of choosing Penn State?

A: "It was a roller coaster from the start. During summer lacrosse, then as soon as September 1st hit, all the schools started talking to me. It was a huge spectrum. Then, as the fall progressed, making visits to schools and talking to different coaches, seeing what they wanted, et cetera, it narrowed down after that. I really liked [Johns Hopkins head coach Dave Pietramala], he was a great guy. I liked a bunch of other coaches. But [Penn State head coach Jeff] Tambroni, I loved him as soon as I got there and I loved the campus. It was just a good fit for me."

Q: What are you trying to work on in your personal game during the summer?

A: "I'm trying to make my hands quicker and my talk and my movement around the cage, working around from X. I think just knowing my defensive partners to start next season is very big help. I have a good relationship with them, so that will be a big help."

Q: When you do have some time off this summer, what will you be doing to relax?

A: "I work up in Michigan as a camp counselor. My family has a house on Lake Michigan and we'll heading up there after this. It's on the western side, right on the Lake. It's a small little community, about 200 little cottages. It's a lot of fun."
June, 8, 2011
6/08/11
10:37
PM ET
By
Bruce Lerch
| ESPNBoston.com
WESTWOOD, Mass. -- There was some hope this in the girls lacrosse community of eastern Massachusetts that 2011 was going to be be rebuilding year for Westwood.

After winning back-to-back state titles in 2008-09 and making a run to the state semifinals last year, the Wolverines have graduated dozens of talented players, four of whom contributed to this year's NCAA Womens National Championship Northwestern squad. The hope was that the well had finally run dry.

So much for that theory.

Westwood roared through the regular season once again, its only blemish in 20 regular season games being a 15-15 tie with Western Mass. powerhouse Longmeadow. That run has continued into the postseason, and the top-seeded Wolverines have reached the Div. 1 south sectional title game for the fifth consecutive year after a resounding 18-7 victory over No. 3 Wellesley Wednesday night at Westwood High School.

Westwood (22-0-1) will face No. 2 Needham, an 8-6 winner over Notre Dame Academy in the other semifinal, in the South final on Friday at 6:45 p.m.

"We had a tough loss last year against Framingham [in the state semis] and we want to go out there and prove to people that isn't a rebuilding year for us like everyone said it was going to be," said senior captain Sarah Biron. "We're not going to forget what it felt like to lose and we're just going to go headfirst, all or nothing."

Junior Laura McHoul was brilliant in running the Westwood offense, handing out a whopping 10 assists while scoring three times herself. Biron was the primary beneficiary, scoring five of her six goals in the first half as the Wolverines raced out to a 7-0 lead after the first 10 minutes, which they pushed to a 12-3 advantage at the half.

"I just know my teammates well and where they're going to be," said McHoul. "Its the experience of playing together over the whole season and knowing when someone's going to be open and when they're not. Its just knowing the players and having a good connection on the field."

According to Westwood coach Leslie Frank, having a player the caliber of Biron, who will play at Johns Hopkins University next year, is one of the main reasons why her team has been able to pick up right where it left off because of how teammates such as McHoul have learned from her example.

"Laura is phenomenal. That's her norm. Her assists are 5-6-7 a game," Frank said. "She is the quintessential unselfish player and you know why that is? You have to talk about Sarah Biron."

"Sarah Biron is unselfish, hits the open player," Frank continued. "She's taught Laura that. You have some of these star players on teams that do one thing. They go to goal, they don't defend. Sarah's example has brought Kate [Rich], Laura and Emily [McGrail] up to her level with that understanding of pass the ball forward if I'm not open or draw the two and find the opening."

Rich, a junior, finished with four goals and an assist, while senior Emily McGrail celebrated her birthday with a hat trick.

For Wellesley, the loss marks the end of a pair of outstanding careers. Senior captain Blake Dietrick, headed to Princeton for basketball, finished with four goals and assist, while longtime coach Chris Molonea is retiring from coaching after a 30 years.

"We fought right the very end," Molonea said. "I couldn't any prouder of these kids. They never quit, never gave up."
May, 11, 2011
5/11/11
12:14
PM ET
By
Ryan Kilian
| ESPNBoston.com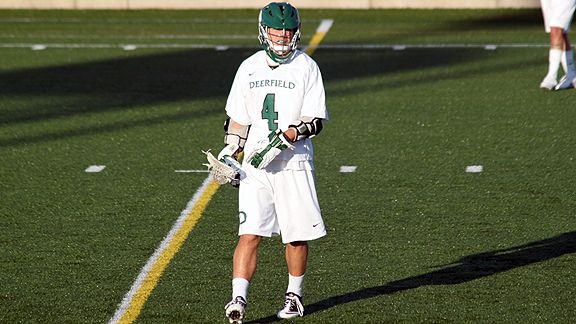 Ryan Kilian for ESPNBoston.com Deerfield Academy's Jimmy Bitter is ranked the No. 2 attack by ESPN, and will join his brother Billy next year at UNC.
Deerfield Academy attack Jimmy Bitter is no stranger to lacrosse success, as he is the youngest of six college lacrosse playing siblings. Jimmy's older brother Billy is currently a two-time First Team All-American attack at North Carolina, where Jimmy will play next season. His eldest brother Matt played at Navy from 2006-09.
Bitter is the No. 2 ranked attack in the Class of 2011 by ESPN RISE, and No. 4 overall. The Manhasset, N.Y., native has been instrumental in Deerfield's success, as they are currently ranked No. 6 in the country in the latest Under Armor/Inside Lacrosse poll.
ESPNBoston.com caught up with Jimmy recently, as Deerfield hits the home stretch in its season.
Q: Being undefeated (11-0) and a top-ranked team in the country, can you talk about expectations and goals for your team?
A:
"As a team, our goal is to win each game, taking it one game at a time. We have to stay disciplined, focused and make sure we do not look ahead or past teams. We must play each game like it is our last game of the season."
Q: How was last season for you both personally, with the injury (Bitter missed six games with a broken thumb), and overall as a team?
A:
Last season was a tough season for me. I got hurt early on in the season and missed a major chunk of the schedule because of this. Then when I returned, I was never able to fully play at 100 percent, which was also frustrating. As for the team, I thought we had a great season, with many of our young players stepping up when the team suffered injuries. If it was not for one loss to Salisbury, who played a great game, we would have won it all."
Q: Talk a little about your summer lacrosse experience? How does summer help with improving your game?
A:
"Over the summer I played for FCA (Fellowship of Christian Athletes), the Under Armour Long Island team, and in the Warrior 40 game. FCA is a great experience because we play top level lacrosse along with learning how to reach out to God along the way. It was quite an eye opener to learn how to feel comfortable talking about my faith with others.
"The Under Armour games and the Warrior 40 were both incredible experiences as well. In both events I was able to play with and compete against the best players in the country. This was very helpful in the development in my game because not only was I competing against great talent but because there was such a wide range of players from diverse places I was able to learn new styles of play and set higher goals for myself."
Q: Can you talk about your family and what kinds of advice you get about the game and what to look forward to in college next year?
A:
"My brothers were all great players and I always looked up to them as I grew up and watched them play. I always tried to incorporate what they did into my game, and I'm still doing that today. As for advice, my family has always been supportive by coming to my games and driving me to all those youth practices and events. In many ways I was blessed to be the youngest, because each of my siblings has had input and enabled me to absorb something they did well. My oldest brother, Ward, was and still is one of the best runners I have ever seen. Matt went to Navy to play lacrosse, and has gone on further to become a Navy Seal. He taught me the meaning of toughness and true-grit. Billy is known for his bursts of speed and dodging. While growing up in Manhasset, I spent many days and nights with my brothers in our backyard. Sometimes I was shooting and often they had me all suited up and they shot on me. I think I am a better shooter today because of it. Also, if they saw anything I needed to work on they wouldn't hesitate to let me know."
Q: Can you talk a little about how the recruiting process went and the main factors that went in to the decision?
A:
"The recruiting process was a very difficult one. My mind was not always set on UNC, I was considering schools such as Duke, Hopkins, Harvard, Virginia, Notre Dame, and Navy, however after discussing it with my family they and I both felt UNC was the best fit for me. I absolutely loved everything about the school from the town, the coaches, the players, the academics, etc. UNC also did very well by Billy and the entire UNC package is almost too good to be true. I can't wait to get to work down there."
Q: Can you talk about the major influences in your life that have shaped you on and off the field?
A:
"The single greatest influence in my life is and has always been my family. As I mentioned earlier, we would play for hours in our backyard together. If I had to choose someone from my family, it would have to be my Dad. He had been my coach ever since I could remember. As a coach he was very knowledgeable about the game of lacrosse, he was an all-American at Boston College, so I was always listening to what he had to say. It's no different now either, he comes to many of my Deerfield games and gives me plays and pointers from the sidelines. He has taught me to plan ahead of games and think during the game about what is happening or how to counter the opponent's efforts. Obviously off the field, my father was my mentor, but my Mom was the best care giver I could ask for. I think both my parents and my siblings are the reasons that I can be so confident about making sure I am making good, sound decisions in life. I also want to give credit to my uncle, Kevin Cook, as the other big coaching influence I can reflect upon."
Q: Can you talk about your overall experience at Deerfield Academy?
A:
"Deerfield has been an amazing place to go to school. Deerfield was my number one choice of all boarding schools from the start. Personally, when deciding boarding schools I couldn't think of any negatives about Deerfield, it has great academics, a very friendly environment, and a top athletic program. Deerfield has been even better than I could have hoped. The school has taught me to push myself academically and grow as a lacrosse player. Coach [Chip] Davis and Coach [Jan] Flaska are very knowledgeable about the game of lacrosse and really make an effort to improve each player. Also, Deerfield promotes playing multiple sports as a way to develop other talents. I was able to play soccer and basketball, which for me were very beneficial to my lacrosse game."
Q: Who are the best long sticks that you have played or will play against this year with Deerfield?
A:
"I would probably have to say the toughest defenders I play against are the ones I go against every day in practice. Will Swindell (Brown), Bobby Osgood (Dartmouth), and Mike Mueller (Dartmouth), are all tremendous players and know a lot of my tendencies making it very difficult to go against them."
Q: What other sports do you enjoy watching or playing?
A:
"If there was sport I wish I could play better it would probably be soccer or skiing, both are great sports. I grew up watching my siblings excel at both of those sports but because of playing so much lacrosse I haven't had the time to ski as much as I would like to."
Q: What do you like doing in your spare time?
A:
"In my spare time I'm mostly just hanging out with friends, maybe playing a pickup game of something of that nature."