Boston High School:

Jonathan Joseph
May, 8, 2013
May 8
5:43
PM ET
By
Chris Bradley
| ESPNBoston.com
Several local star players are making headlines on the Nike Elite Youth Basketball League circuit this spring, playing for regular power BABC or strong newcomer Expressions Elite. Of the 40 talented teams coast-to-coast who play on the highly-competitive EYBL circuit, Boston Amateur Basketball Club (BABC) and Expressions, both based out of Boston, are two of the best teams in the field—at 8-1 and 9-0, respectively.

Expressions is one of two undefeated teams left in the entire field, including a win over the defending EYBL champ Oakland Soldiers. Behind a high-octane offensive attack -- led by juniors Abdul-Malik Abu and Jared Terrell, and sophomores Aaron Falzon and Jared Wilson-Frame -- Expressions has been one of the teams taking the event by storm. They've overpowered some of the top club teams in the country, and done so with players who are hungry college prospects with something to prove.

Abu has led the attack from the beginning. A chiseled 6-foot-8 forward with warrior strength and elite bounce, he has, on more than one occasion this spring, "posterized" opposing defenders via his high-flying dunks.

Head coach Tyron Boswell admits the undefeated start didn't cross his mind at the beginning, but he isn't surprised at the outcome given the work his players have put in.

"Honestly, I did expect us to do well, not undefeated, but we were prepared for it," Boswell said. "Guys got in the gym over summer and winter break, they work out three times a week. We've prepared to be successful."

Abu and Terrell are well-known commodities on the AAU circuit, with Abu breaking out last summer as one of the best forwards in the entire 2014 class. Terrell, who fractured his foot in two places last fall and struggled with the injury at times over the course of the prep season, looks healthy and is re-emerging as one of the nation's best power guards.

Falzon and Wilson-Frame, who going into the season were lesser-known prospects, are just scratching the surface of their potential, says Boswell.

"Jared [Wilson-Frame] is a big part of what we're doing," Boswell said. "He's a great kid, he embodies what we're all about: taking kids who are unknown and showcase them, help them get what they deserve. He's brought what we need to do to win…an unselfish kid who holds our guys accountable."

For BABC head coach Leo Papile, whose program has won 17 AAU national championships, the strong run at EYBL has been all about selfless play and full-court pressure defense. Led in scoring by St. Andrew's junior forward Bonzie Colson and Central Catholic junior sharpshooter Tyler Nelson, BABC is out to an 8-1 start. Sophomore point guard Johnny Joseph, a Brockton product who preps at Tilton (N.H.), is fifth in the EYBL in assists. To his credit, Joseph was absent from BABC's only loss, a one point loss that he had to miss due to an academic obligation.

Nelson, who is an impressive 27-for-52 (51 percent) from three point range, along with Colson, Joseph and Wilbraham & Monson sophomore guard Curtis Cobb, have been the top players for BABC in terms of leadership and production. However, rising star Terrance Mann, a long 6-foot-5 wing player from Lowell, has already become one of New England's most promising prospects. The Tilton (N.H.) sophomore picked up scholarship offers recently from Florida and Iowa State.

Mann, after receiving the offer from the Gators, said in an interview with ESPNBoston.com that he learned a lot this past prep school season from AAU and prep teammate Wayne Selden -- who on many occasions carried Tilton to wins following the graduation last year of Dominique Bull, Nerlens Noel, and Georges Niang.

"I learned a lot, seeing Wayne take over as much as he did," Mann said. "He was the man who had to take over, that's a hard role to pick up. He's in the gym every day. Having a work ethic like he does, by the time next year comes around, I think I'll be ready to be a go-to [scorer]."

Teammates at Tilton, the 5-foot-8 Joseph may not have Mann's height, but Papile says he has been making up for it with his defensive tenacity and tremendous floor vision.

"Bonzie and Tyler are the veterans from last year's team, but Jon, he's the quarterback. He's going to have to erase a lot of doubts, and he's in the process of doing it," Papile said. "He's a little guy, and sometimes people have pre-conceived notions. He doesn't need to score for us to be successful."

A lot of the scoring has gone to Colson, he's one of the EYBL's top scorers at 18.3 points per game. Well-known on the New England grassroots and prep school circuit already, Colson is quickly making himself a nationally-known prospect.

Papile's teams as of late have included ESPN 100 prospects like Phil Pressey, Michael Carter-Williams, Niang, Noel, and Selden. For what this year's team lacks in nationally-known blue-chip prospects, they make up for with defense, accountability, and offensive efficiency. A team's best offense is its defense—a saying Papile has engraved into his players heads.

The defensive tenacity is something that role players like super-athletic Notre Dame Prep sophomore guard Tyree Robinson, Brighton guard Malik James, and Noble & Greenough sophomore forward Bobby Martin Jr. —- whom Papile says constantly makes "winning plays," -- have taken to heart.

"Guys are battle-tested in terms of what we expect from them…they embody our definition of character," Papile said. "They can't be a group of strangers with various missions, we try to weed all that out in ninth or tenth grade before they step up. Reaction to structure and being coached is key, it's a recipe for disaster if you don't have that structure.

"We really value having five thinkers on the floor at all times. There's a big correlation between basketball IQ and real life IQ."

Seeing his team develop as a unit is also an aspect that Boswell has enjoyed with his Expressions squad. While the majority of the players on the team had never played together before this spring, the coach says something about the personality of his team has made things click. He credits guys like Dimitri Floras and Idris Taqqee with bringing the type of scrappy play needed to compliment Expressions' many scorers.

"You would think that these guys knew each other prior to, but in all actuality every piece was hand-picked," Boswell said. "The togetherness they have...they're just so unselfish. I've never seen a basketball move so much in one possession."

BABC and Expressions Elite will travel to Dallas this weekend for the third round of Nike EYBL. The well-known Boston AAU squads will meet for the first time at session four of EYBL in Minneapolis, Minn., on May 24.
July, 20, 2012
7/20/12
3:20
PM ET
A year ago, the Boston Amateur Basketball Club (BABC) rolled into the 10th grade AAU Nationals in Orlando, Fla., as arguably one of the nation's most talented squads, led by the country's No. 1 player Nerlens Noel, rolling over some of the country's elite team with ease.
This week, the BABC came to Orlando in defense of their title with a team just as long on fun, albeit in an entirely different manner. With a roster of just eight, none of whom currently ranked by ESPN, the club clawed their way through pool play to reach the Final Four, taking out some of the tournament's heaviest hitters in the process.
[+] Enlarge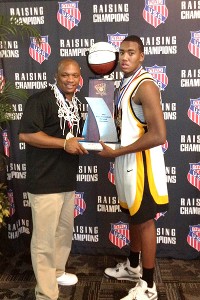 Courtesy of BABCBABC coach Eggie McRae (left) lauded the play of Bonzie Colson (right), calling him "a master" on the blocks.
In the semifinals, the BABC found themselves down eight in the fourth quarter to the Albany City Rocks (N.Y.), only to squeak out a 67-63 overtime win. In the finals, televised on ESPN3, the club carried momentum from Jonathan Joseph's game-tying shot in regulation to outlast Team Charlotte (N.C.), 61-55, for their third consecutive AAU 10th grade national championship, and the program's 17th national title overall.
"It was unreal," head coach Eggie McRae said. "These guys played unbelievable in this stretch run. We only had eight guys so we were kinda undermanned, but eveyrone played their roles to a T."
For 6-foot-6 forward Bonzie Colson, a New Bedford native and by all accounts the star of this run, that included manning the post. The semifinal was his masterstroke, coming up with 23 points and 21 rebounds, positioning himself deep in the post and working over his defender with an array of shakes, fall-aways, and step-through's.
In the finals, Colson again came through in the overtime, helping give the BABC the cushion it needed in the end.
"He's like a master down there, really honing in his skills on the block," McRae said of Colson, who will enter his junior year at St. Andrew's (R.I.) School this fall. "He's just got a great feel for the block area."
That's not all. To get to the Final Four, the BABC had to go through arguably the longest team in the field, the Orlando Venom. Against a frontcourt featuring a 6-foot-10 center and two 6-foot-8 forwards, Colson went on the offensive, utilizing pump-fakes and jumpers to keep them honest.
Colson's strategy in the finals was more of the same.
"Just be patient," he said. "As soon as I get the ball, relax a little bit, see if anybody's trying to double, do a drop-step to the basket, and if I have to tourn around, I had two great guards in Tyler Nelson or Jon joseph that I know can hit the shot."
Indeed the attention on Colson opened up the floor for players like Nelson, who hit two crucial three's down the stretch of the championship.
"Bonzie was a mismatch for both teams," Nelson said of the final two games. "In both of those overtimes, he took over."
For Colson, who was also on the BABC's ninth grade national championship team last year, this figures to be a trigger point in his recruiting. Seton Hall extended a scholarship offer to Colson following yesterday's win; Boston University and Rhode Island have also offered to this point.
And for Nelson, an ESPN Boston MIAA All-State selection this past season at Central Catholic, this is the culmination of a year-long learning experience. One of the state's premier shooters, the Haverhill resident joined the BABC last fall and feels he has improved on the defensive end.
McRae concurred.
"He's starting to buy in," McRae said. "Sometimes when you play high school ball you can get away with playing no defense. But that's what we get a lot of our points off of here -- defense, moving the feet, getting in the passing lanes. He played a lot for us, and to do that you've got to play good defense."
Also factoring into the championship run were Nick Cambio (Central Catholic), Curtis Cobb (Wilbraham & Monson), Bobby Ahearn (Marianapolis), Tyree Robinson (Notre Dame Prep) and Jerelle Washington (Providence Central).
January, 13, 2012
1/13/12
6:00
AM ET
Boston Amateur Basketball Club (BABC) Director of Operations Jay Demings forwards along some information regarding this weekend's BABC Prep School Classic, this Saturday and Sunday at the Kroc Center in Dorchester.
BOSTON -- This weekend's Boston Amateur Basketball Club (BABC) Prep Classic at the Kroc Center in Boston will not only feature some great games, but will give fans an up-close look at the elite-level basketball talent that permeates the New England region.

In the event's first matchup on Saturday, two talent-laden teams in Notre Dame Prep and the Tilton School (NH) feature two potential NBA lottery picks in Notre Dame's Steven Adams and Tilton's Nerlens Noel.

Adams is a seven-foot center from New Zealand who just arrived at Notre Dame Prep as a post-graduate and will make his debut on Saturday. He is signed to play at the University of Pittsburgh for the Fall of 2012. Only a junior, Noel is a 6'11'' center from Everett, MA who is ranked second in the class of 2013 by ESPN. Both players have drawn serious attention from NBA scouts.

"I have yet to see Steven Adams play live but, based on all accounts and video I've seen, this is a can't-miss matchup between him and Nerlens," said BABC's Director of Operations, Jay Demings. "Many of us are familiar with Nerlens' skill set, but fans will get to see how Adam's size, strength and skills translate to the American game. Experts believe that both players are certain future NBA lottery picks."

The two-day event will also feature many signed Division 1 collegiate players and those that are expected to make their college choices soon. The field of teams include the following committed players:

Myles Davis - ND Prep - Xavier
Adonis Filer - ND Prep - Clemson
Mandell Thomas - ND Prep - Fordham

Georges Niang - Tilton - Iowa State
Dominique Bull - Tilton - Missouri
Kevin Crescenzi - Tilton - Dartmouth

Evan Cummins - NMH - Harvard
Tommy Carpenter - NMH - Dartmouth
Ethan O'Day - NMH - Vermont

Nick Lund - Rivers School - Claremont McKenna

Akosa Maduegbunam - Winchendon - Penn State
Tevin Falzon - Winchendon - Sacred Heart

Jake Fay - Brimmer & May - Fordham

Others to watch:

Tilton - Goodluck Okonoboh, Wayne Selden, Jr., John Witkowski, Cameron Durley
Wilbraham & Monson - Kamali Bey, Jaylen Brantley, Marcel Pettway, Djery Baptiste
Worcester Academy - Matt Cimino, Rene Castro
Marianapolis Prep - Kristian Medina, Nigel Sydnor, Bobby Ahearn
Brimmer & May - John Powell, Adrian Oliveira
Rivers School - Shaquor Sandiford, Kyle Reardon, Andrew Kaufman, Carlin Haymon
Boston Trinity - Elijah Okagbare, Zach Petion
Winchendon - Tre Tipton, Tom Bajda, Malique McLaren, Malcolm Smith
Putnam Science - Oscar Assie, Tyree Robinson, Jonathan Joseph, Dayshon Smith
Notre Dame Prep - Sam Cassell, Jr., Nehemias Morillo
Northfield Mount Hermon - Ryan Oliver, Lucas Van Nes, DeKeeba Battee
July, 24, 2011
7/24/11
4:29
PM ET
Hampered by injuries to two key cogs, and already playing with a short bench, the Boston Amateur Basketball Club's 15-year-olds were able to persevere their way into the finals of the AAU Super Showcase, at Disney's Wide World of Sports Complex in Lake Buena Vista, Fla.
After making it to the Sweet Sixteen of the tournament, the BABC knocked off Dorian's Pride (Mich.), Florida Family and Team United (N.C.), before losing to D.C. power Team Takeover in the championship, 61-54.
Boston native Wayne Selden, the No. 7 overall Class of 2014 player, grabbed his share of attention as usual with a team-high 22 points -- "He ran it," coach Eggie McRae said -- while Bonzie Colson (12 points) and Damion Smith (11 points, nine rebounds) were solid contributors. But once again, point guard and Brockton native Jonathan Joseph (eight points, eight assists) was the unsung hero throughout the tournament.
"He ran the show," McRae said of Joseph, who is transferring from Brockton High to Putnam Science Academy (Conn.) and re-classifying to 2015. "Shoot, we had 8 games, and he might have came out a total of 10 minutes. He was like a maestro. He could do no wrong, he was maybe an 8 to 1 assist-to-turnover ratio for the week."
Early on in the tournament, the BABC lost Tyree Robinson and Joey O'Connell to injuries, forcing them to use sometimes as few as six players in games. But just like
in Little Rock earlier this month
, they were able to weather the storm.
"These players got big hearts," McRae said. "We don't get there without heart."
July, 17, 2011
7/17/11
1:02
PM ET
Courtesy of Bay State Games media relations director Peter Cohenno:

BASKETBALL

Boys Scholastic 11/12 Grade
Emmanuel College – Boston, MA

Southeast 103, Metro 77
Sayvonn Houston (Brockton, Brockton HS) poured in 37 points to propel Southeast to a 103-77 win over Metro. Jaleel Moise (Brockton, Brockton HS) and Jon Perez (Weymouth, Weymouth HS) added 20 and 19 points respectively for the winners. Metro had three players in double figures led by Kenny Ramos's (Mattapan, East Boston HS) 14 points. Adam Zakaria (Arlington, Arlington HS) and Paul Brooles (Arlington, Arlington HS) chipped in with 12 apiece.

Coastal vs Northeast
Coastal declared winner due to a Northeast forfeit.

West 78, Central 54
West ran away with a 78-54 victory over Central. For the winners, Jesse LeCroix (Orange, Mahar HS) led all scorers with 26. Casy White (Easthampton, Easthampton HS) and Jose Allen (Amherst, Amherst HS) netted 14 apiece. Central's Matt Kneece (Shrewsbury, Shrewsbury HS) paced his squad with 16 points.

Coastal 104, Southeast 97
Chris Green (Taunton, Taunton HS) tallied 30 points to help Coastal edge Southeast, 104-97, in a fast-paced, offensive battle. Nelson Baptiste (Falmouth, Falmouth HS) contributed to the assault with 22, and Andrew Kenyon (Swansea, Case HS) put up 20. Southeast big man Sayvonn Houston (Brockton, Brockton HS) led all scorers with 33. His teammates, Damien Lugay (Weymouth, Weymouth HS) and Jon Perez (Weymouth, Weymouth HS), added 18 and 14 points, respectively.

Northeast vs Central
Central declared winner due to a Northeast forfeit.

West 109, Metro 63
West had two players score more than 20 points as they destroyed Metro 109-63. Metro kept the game tied at 18 through the first quarter. However, West came alive in the second, scoring 36 points, and went into halftime leading 54-33. In the second half, West forward Jose Allen (Amherst, Amherst HS) netted 21 of his 23 points and was the game's leading scorer. West guard Jesse LeCroix (Orange, Mahar HS) added 22 points of his own. Metro's Mo Magras (Medford, Medford HS) tallied 12 points and led the team in scoring.

Boys Scholastic 9/10 Grade
Wentworth Institute of Technology – Boston, MA

Metro 65, Southeast 62
Metro defeated Southeast 65-62 in a close game that went down to the final minutes. Metro scored early and had an 18-12 lead at the end of the first quarter. However, Southeast pulled within two at the half. Going into the fourth quarter they were tied at 48. Southeast guards Jonathan Joseph (Brockton, Brockton HS) and Andrew Reardon (North Easton, Oliver Ames HS) combined for seven of the team's final 13 points. Guard Lutjy Mondesir (Brockton, Brockton HS) led the team with 10 points, while Metro's Tyler Sullivan (Arlington, Arlington HS) led all scorers with 16 points.

West 65, Northeast 40
West played a balanced game and limited its mistakes in a 65-40 win over Northeast. West forward Justin Crosby (Westfield, Westfield HS) scored a team-high 12 points while guard Kamil Stasiowski (Palmer, Palmer HS) added another nine points in the second half. Northeast shooting guard Jordan Mendez (Salem, North Shore Tech) led all scorers with 18 points, 15 of which he scored in the second half.

Coastal 67, Central 46
Coastal's defense limited Central to five first quarter points on their way to a 67-46 win. Coastal's defense, anchored by center Owen Murphy (Plymouth, Plymouth North), played strong the entire game and only allowed 12 first half points. Coastal' offense was led by guard Andrew McGill (West Falmouth, Falmouth), Murphy and forward Tucker Bouchard (Kingston, Silver Lake) each scored 12 points. In the second half, Central finally started to find the net, scoring 17 points in each of the final two quarters.

Southeast 76, West 74
Southeast is going for the gold after defeating West, 76-74. Southeast was up 12-7 at the end of the first quarter, though West pulled within three, 27-24, at the half. The game remained tight into the fourth quarter when things really got interesting. With West down and seconds remaining on the clock, forward Justin Crosby (Westfield, Westfield HS) drilled a three to send the game into overtime. Despite allowing the game to be tied, Southeast played aggressively in overtime and West found themselves down again with just five seconds remaining. However, there wouldn't be any miracles this time. West bobbled a pass and the ball went out of bounds. Southeast guard David Harrison (Weymouth, Weymouth HS) led all scorers with 28 points, while Crosby scored a team-high 22 points for West.

Central 75, Northeast 26
Guard Isaiah Tatum (Worcester, Holy Name) led all scorers with 16 points as Central beat Northeast, 75-26. Central was ahead 37-17 at the half and never looked back. Central guard Jesse Meresca (Sterling, Wachusett) added another 12 points, while Northeast point guard John King (Swampscott, Swampscott HS) led the team in scoring with 10 points.

Coastal 76, Metro 72
Coastal held off a late charge by Metro to secure a 76-72 win. Coastal's Tucker Bouchard (Kingston, Silver Lake) and Metro's Matt Woods shared the honor of game's high scorer with 22 points apiece. Jesse Bunting (Plymouth, Plymouth North) chipped in with 15 for the winners, while Kevin Foley netted 16 in the losing effort.

Girls Scholastic
Reggie Lewis Center – Boston, MA

Northeast 66, Metro 41
Northeast opened up a huge halftime lead and never looked back on the way to a 66-41 decision. Northeast got scoring from its entire roster with Carlene Kluge (Reading, Reading HS) tallying the most points with 13. Metro's Gena Restiano (Revere, Revere HS) notched a game-high 15 points.

West 55, Southeast 42
Forward Alexis Chappell (Springfield, Sabis HS) was the only West player in double figures, netting 14, but her team was still able to come out on top, 55-42. Kayla Corshia (Medway, Medway HS) and Ashley Snyder (Foxboro, Foxboro HS) each scored 12 for Southeast.

Central 81, Coastal 70
In a high-scoring affair, Central hung on for an 81-70 victory over Coastal. The bulk of the winner's points came from Sammie Battaini (Leominster, St. Bernard's Central Catholic) and Raegan Muhlerin (Baldwinville, Narragansett Reg HS), who dropped 25 and 23, respectively. Coastal's Jen Rock (Byfield, Triton) nailed five 3-pointers to finish with 21 points, and Angelique Martinez (Taunton, Taunton HS) was in double digits with 13.


FIELD HOCKEY
Waltham High School – Waltham, MA

Metro/Northeast 2, Central 1
Metro/Northeast defeated Central, 2-1, on Saturday morning. Junior Erika Kelly (Watertown, Watertown HS) scored both of Metro/Northeast's goals to propel her squad to victory. The lone goal for Central was scored by freshman Justine Sheehan (Shrewsbury, Shrewsbury HS) with an assist from junior Haylie Dolan (West Brookfield, Quaboag Reg. HS).

Southeast 2, West 0
Southeast earned a 2-0, shutout victory against West on Saturday morning. Junior Katy Cronin (Franklin, Franklin HS) broke the game open for Southeast with an unassisted goal. Southeast extended its lead, when sophomore Brenna Spolidoro (Franklin, Franklin HS) scored with an assist from junior Mackenzie Hudson (Stoughton, Stoughton HS). Sophomore Carolyn Cook (Medfield, Medfield HS) and junior Katie Kelley (Walpole, Walpole HS) combined for the shutout in goal for Southeast.

Metro/Northeast 5, Coastal 2
After falling behind by a pair of goals, Metro/Northeast scored five unanswered including two from Erika Kelly (Watertown, Watertown HS) to upend Coastal, 5-2. Brittany Oliver (Chelmsford, Chelmsford HS), Nicole Woods (Beverly, Beverly HS) and Alexa Baumgartner (Newton, BB&N) each potted a goal. Maggie Johnson (Tisbury, Martha's Vineyard Reg HS) netted both scores for Coastal.

West 2, Central 0
Emiko Barker (Hatfield, Smith Academy) and Emily Medeiros (Wilbraham, Minnechaug Reg. HS) each scored a goal to pace West in its 2-0 win over Central. In net, Sarah Cote (Athol, Athol HS) and Jill Newton (Feeding Hills, Agawam HS) combined for the shutout.


LACROSSE

Boys Scholastic
Wentworth Institute of Technology – Boston, MA

Northeast 10, West 7
Northeast survived a barrage from West to take a 10-7 victory. The undefeated Northeast squad took an early 4-0 lead before West came storming back in the second and third quarters with seven goals to take a 7-5 advantage. Northeast, unaccustomed to trailing, awoke from its slump and scored five unanswered in the fourth quarter to salvage the win and remain undefeated. Brian Walsh (Lowell, Lowell HS) was the top scorer for the winners with three, and Brendan Gilgun (Woburn, Woburn Memorial HS) and Cole Connolly (Woburn, Woburn Memorial HS) added two goals apiece. Brady Aitken (Pittsfield, Pittsfield HS) potted three for West in the losing effort.

Coastal 16, Central 6
Coastal dominated the entire contest on the way to a 16-6 win. James McCleod paced the offense with five goals and Ethan McCullough (Brewster, Nauset Reg. HS) contributed four markers for Coastal.

Coastal 14, Metro/Southeast 7
Coastal took a 10-2 advantage into halftime and never looked back on the way to a 14-7 win. Brett McAvay had an outstanding game for Coastal with seven goals scored. James McCleod added four tallies. Metro/Southeast got four goals and an assist from Ryan McCarthy (Medford, Medford HS). The two teams will play again on Sunday in the bronze medal game.

West 16, Central 2
West earned a berth in the gold medal game Sunday against Northeast with an impressive display against Central that resulted in a 16-2 victory. Junior goalie Tyler Walsh (Northampton, Northampton HS) was the cornerstone in the strong defensive showing. Brady Aitken (Pittsfield, Pittsfield HS) led the offensive charge with five goals.

Girls Scholastic
Waltham High School – Waltham, MA

Metro 18, Northeast/Central 11
Metro routed Northeast/Central, 18-11, in a high-scoring, offensive showcase on Saturday morning. Junior Michelle Kudlate (Waltham, Waltham HS) and freshman Shannon Fitzgerald (Newton, Newton North) led the Metro squad to victory with seven and six goals, respectively. Junior Katie McKenna (Danvers, Danvers HS) was the top scorer for Northeast/Central with four goals.

Southeast/Coastal 11, West 6
Southeast/Coastal played tight defense and got balanced scoring to defeat West, 11-6. The winners had four players with two goals including Hope Kelley (E. Walpole, Walpole HS), Natalie Devine (East Walpole, Fontbonne Academy), Madison Hughes (Oak Bluffs, Martha's Vineyard Reg. HS) and Alexandrea Bergamo (Plymouth, Plymouth North HS). Alexa Allen (East Longmeadow, East Longmeadow HS) had a pair of tallies for West.

Southeast/Coastal 17, Northeast/Central 4
Southeast/Coastal outgunned a gutty Northeast/Central squad, 17-4. Natalie Devine (East Walpole, Fontbonne Academy) was the game's high scorer with five goals. Jackie Connors (Ashland, Ashland HS) added three scores, while Megan Kiley (Braintree, Archbishop Williams HS) and Kristen Hickey (Dedham, Ursuline Academy) each chipped in with a pair of tallies. Northeast/Central's Isabella Gitto (Leominster, Leominster HS) netted three of her teams goals.

Metro 11, West 10
Metro edged out West, 11-10, in a tightly contested match-up in the final game of the day. Shannon Fitzgerald (Newton, Newton North) continued her stellar performance in the tournament with three goals for Metro, and Bridget Wack (Waltham, Waltham HS) and Jordan Sullivan (Malden, Mystic Valley) had a pair of tallies each. West's Ashley Owen (Westfield, Westfield HS) netted two goals in the losing effort.
July, 9, 2011
7/09/11
9:20
PM ET
After
strong showing at the LeBron James Skills Academy this week
at the University of Akron, Wayne Selden found himself sitting in his hotel room Friday night wondering how he was going to get down to Little Rock, Ark. today to join his Boston Amateur Basketball Club in the AAU Ninth Grade Championship.
Not sure of what time his flight was to leave, the Roxbury resident decided to give it the ol' college try and pull an all-nighter. He left for the airport today at 3:30 a.m., flew out at 7 and caught "maybe an hour" of sleep on the plane (thanks to a connector flight in Atlanta) before touching down in Little Rock at 11 a.m. and heading straight to the gym at Phillander Smith College to join his team.
Regrettable decision? Selden said at first he "felt nothing", but about three minutes into the championship game with the Louisiana-based Ascension Jaguars, "I didn't have my legs, I was exhausted."
[+] Enlarge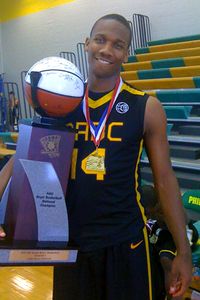 Jason Green for ESPN.comAfter pulling an all-nighter and playing with LeBron, Wayne Selden led the BABC to an AAU national championship.
Ultimately, the 6-foot-4 Selden persevered to lead the club with 20 points and chipped in five assists to lead the BABC to a 78-66 win and the national championship.
"I knew I had to be with the team," Selden said. "They worked so hard to get here, I felt I had to work hard and push through. It was all in the mind."
New Bedford native and St. Andrew's forward Bonzie Colson also had 18 points and 11 rebounds, while Fall River native and Putnam Science forward Tyree Robinson had 15 points, eight rebounds and five blocks to contribute to the win.
"It's a beautiful feeling," said coach Eggie McRae. "It's been a long year, but it was worth every minute of it after grabbing that big trophy."
BABC trailed just once through the entire tournament, today when the Jaguars scored the opening basket. And while the impact today of Selden was evident -- the Tilton (N.H.) swingman is currently the No. 2 shooting guard and No. 7 overall player in the Class of 2014 -- this tournament run was more testament to the arrival of undersized point guard Jonathan Joseph.
With a short bench and no backup point, the 5-foot-8 Brockton resident -- who earlier this year was named to
ESPNBoston's All-Freshman Team
-- excelled with clean entry passes to the bigs and scorers like Selden, Curtis Cobb and Damion Smith. McRae's troops preferred to attack from the inside out, so when Joseph was left open on the wing he made the opposition pay.
"People thought I'm too small to run a team," said Joseph, who is transferring to Putnam Science Academy (Conn.) and will re-classify to the Class of 2015. "But honestly, I don't think size has anything to do with it. It's about how big your heart is. I have the biggest heart, and nobody's taking that away."
Said McRae, "We had the best point guard in the tournament. He just ran the show. Little Johnny joseph, dictated tempo, made all the right decisions, gave everybody good looks."
Added Selden, "He knows how to set up. He may make a bad decision one in a while, but overall he's the one that got us to the national championship."
KING JAMES EDITION
Selden's getting some much-needed rest tonight, but his final day at LeBron Skills Academy will no doubt be on his mind forever.
On the final day, Selden got to run alongside his idol as LeBron James joined in on some scrimmages. On one fast break, James fed Selden a behind-the-back pass for a dunk.
"I loved it," Selden said. "He's my favorite player, and playing against the best competition, it was just a real good experience."
March, 25, 2011
3/25/11
5:09
PM ET
STARTING FIVE

Guard – Samir McDaniels, Sr., New Mission
The 6-foot-3 McDaniels was the steady hand that rocked the Titans' Division 2 state championship season. He averaged 18.8 points, 12.7 rebounds and 3.1 steals as the Titans became the first team in MIAA history to win the Division 4 and Division 2 titles in back to back seasons. McDaniels recently committed to the University of New Haven for next fall.

Guard – Pat Connaughton, Sr., St. John's Prep
The Notre Dame-bound Connaughton, currently ranked No. 96 in the ESPNU 100, once again saved his best performances for the postseason as the Eagles won the Division 1 state championship for the first time in school history. Connaughton averaged 21.8 points, 17 rebounds and 6.5 assists and took home the Massachusetts Gatorade Player of the Year award. Connaughton, who will play both baseball and basketball for the Fighting Irish next year, is ranked No. 77 in Baseball America's list of Top 100 high school prospects.

Forward – Richard Rodgers, Sr., St. John's (Shrewsbury)
Considered one of the best athletes to come out of Central Mass in the last two decades, the 6-foot-5, 235-pound Rodgers was a monster in all facets of the game as the Pioneers made their fourth straight appearance in the Division 1 state final. The senior, who will continue his football career next fall at Cal as a tight end, averaged 17.8 points, 10.8 rebounds, 4.5 blocks, 4.1 steals and 3.4 assists in his final season in Shrewsbury. He is also the son of Holy Cross defensive coordinator and former Cal great Richard Rodgers, and the cousin of Buffalo Bills cornerback Jairus Byrd.

Forward – Jake Layman, Jr., King Philip
The 6-foot-7 Layman lived up to his potential high-major billing in his junior season with the Warriors, helping them end a 15-year postseason drought and set a school single-season record for wins (17) before bowing out in the Division 2 South finals. Layman averaged 24.6 points, 13.6 rebounds, 4.6 blocks, 3.1 steals and 2.3 assists; he also took home Hockomock League MVP honors. Layman's 1,196 points at KP are the most by any boy in school history. He currently holds offers from UMass, Providence, Boston College, Notre Dame, Texas A&M and Brigham Young.

Center – Jimmy Zenevitch, Sr., Central Catholic
A force in the middle the last three seasons for the Raiders, the 6-foot-7 Zenevitch lived up to the hype headed into his senior season. He closed out his career with a strong finish, averaging 19 points, 11 rebounds, four assists and two blocks, and stretched many a defense with his ability to post up and shoot from long distance. He earned Merrimack Valley Conference All-Star nods, and his Raiders went 39-1 in MVC play the last two seasons. Zenevitch, whose older sister Kate is a freshman forward for Boston College, will continue his career next fall at Division 2 Assumption College.
BEST OF THE REST

Jaylen Alicea, Sr., Lawrence
Few had as explosive a postseason as the 5-foot-8 Alicea, who averaged 30.4 points in five playoff games as the Lancers became the first No. 15 seed since 1998 to advance to the Division 1 North final. The run included a 35-point effort in a shocking first round upset of No. 2 seed Cambridge, followed up the next game with 38 on Westford. For the season, Alicea averaged 19.3 points, four assists and three steals and earned a Merrimack Valley Conference All-Star nod.

Travonne Berry-Rogers, Sr., Lynn English
The 6-foot-1 Berry-Rogers made a name for himself as one of the North Shore's best finishers in his senior campaign, which ended in a D1 North semifinal loss to Lawrence but with some Northeastern Conference recognition. The senior, who was also an NEC All-Star in football, averaged 23.5 points, five assists and five rebounds to lead the 21-3 Bulldogs. He plans on pursuing basketball at the next level, and is considering several Division 2 and Division 3 colleges.

Joe Bramanti, Sr., Andover
The 6-foot-2 Bramanti was the Golden Warriors' prized horse in 2010-11, and they rode him to a 15-5 record and an appearance in the Division 1 North tournament. Bramanti averaged 22.3 points, six rebounds and four assists in his senior season, in which he took the Merrimack Valley Conference's MVP honors by an almost unanimous decision. Bramanti is currently looking into pursuing a post-graduate season at a prep school.
Grant Cooper, Sr., Northampton
Cooper, a 6-foot-3 forward, played an instrumental role in the Blue Devils' Division 1 Western Mass championship season, and established himself as one of the premier forwards in the western part of the state. He finished his career at Hamp on a high note, averaging 11 points, 12 rebounds, 4.5 assists this season while also posting a field goal percentage of .550.

Marco Coppola, Sr., Watertown
The 6-foot-1 Coppola was instrumental to the Raiders' run to their third Division 3 state title game in six seasons, and also pitched in tremendously on the defensive end -- before losing to Whitinsville Christian in the state championship, they held their previous four opponents in the 30's. Coppola was Eastern Mass' leading scorer, averaging 25.1 points per game, and finishes fourth all-time on the school's scoring list, behind his older brother Anthony, Max Kerman and Kyle Stockmal. Coppola is currently undecided on college plans, but is leaning heavily towards Worcester Polytechnic Institute.

Mark Cornelius, Sr., Westford
The 6-foot-2 Cornelius was a scoring machine this season for the Grey Ghosts, winning the Dual County League scoring title with an average of 21.1 points per game, and was co-MVP of the league. He saved arguably his best performance for last, getting 33 points and 23 rebounds in a loss to Lawrence in a Division 1 North quarterfinal. Also a standout wide receiver for the football team, Cornelius is undecided on college plans.

Alex Gartska, Sr., Westfield
One of the state's sharpest shooters, the 6-foot-1 guard averaged 19.7 points, three rebounds and two assists per game as the Bombers marched to a 20-3 record and an appearance in the Division 1 Western Mass final against Northampton. Gartska, who was recently named the MassLive/Basketball Hall of Fame's inaugural Western Mass Player of the Year, finished his career at Westfield with 1,172 career points. He is currently undecided on college plans.

Steve Haladyna, Jr., St. John's Prep
The 6-foot-3 junior was the Pippen to Pat Connaughton's Jordan on this year's squad, but that proved to be a pivotal role in the Eagles' first basketball state championship season. In 2010-11, he averaged 19.7 points and seven rebounds as the Eagles battled through the toughest Division 1 North bracket in recent memory.

John Henault, Sr., St. Bernard's
The Bernardians ended their season on a sour note with a shocking upset by Oxford in the Division 2 Central tournament, but the 6-foot-2 Henault ends his career on Harvard Street on a positively high one. He leaves St. B's as the school's all-time leading scorer (1,682 points) and led the state in scoring average (27.8 points) this season. He also racked up over 600 rebounds, 200 assists and 170 steals in his four-year career with the Bernardians. Henault is currently considering several Division 2 and 3 colleges.
Mike Lofton, Sr., Mansfield
With such a unique skill set, the 6-foot-4 senior played anywhere from point guard to power forward this year for the Hockomock League champions, and excelled in every role. Lofton averaged 13.5 points, 11 rebounds. 4.5 assists and 2.7 steals this season for the 24-3 Hornets, who won a wide-open Division 1 South before falling to eventual state champ St. John's Prep on the TD Garden floor. Lofton is currently considering several Division 2 and 3 schools.

Akosa Maduegbunam, Jr., Charlestown
In 25 games this season for the Townies, the 6-foot-4 slasher averaged 22 points, eight rebounds, three assists and two steals as they captured their first Boston City title since 2006. in his two seasons at Charlestown, he has averaged 20.5 points, seven rebounds and three assists. A two-time City all-star, Maduegbunam was also named the City tournament's Most Valuable Player.

Hans Miersma, Sr., Whitinsville Christian
Few teams in the state could match up with the Crusaders' size this season, and none was more pivotal than the 6-foot-9 Miersma. He averaged 14.3 points, 8.9 rebounds and 3.7 blocks as the Crusaders captured their first Division 3 state title since 2005. The first team All-Dual Valley Conference center will continue his playing career next fall at Gordon College.

Joe Mussachia, Sr., Manchester-Essex
The 6-foot-6, Amherst College-bound forward excelled in a multitude of roles for the Hornets, who won the Cape Ann League and advanced all the way to the Division 4 North semifinals. Mussachia averaged 25.2 points, 17 rebounds, five assists, four steals and three blocks, and finishes as the school's all-time leading scorer (1,714 points). For his career at M-E, he averaged 20.9 points, 11 rebounds, four assists and three blocks.

Jarrod Neumann, Jr., Northampton
The 6-foot-3 guard/forward helped to form Western Mass's most intimidating, swarming defenses, as the Blue Devils marched all the way to a 21-3 record and the Division 1 Central/West Final, where they lost to state runner-up St. John's of Shrewsbury. For the season, Neumann averaged 15 points and 10 rebounds. Barring the unexpected, Neumann should return next fall as one of the MIAA's top 2012 prospects.

Kachi Nzerem, Sr., New Mission
As one part of the Titans' three-headed monster of a backcourt, the 6-foot-5 Nzerem was a physical force around the rim. He averaged 17.1 points and 6.1 rebounds as the Titans became the first MIAA squad in history to win the Division 4 and Division 2 titles in back to back seasons. Nzerem is considering pursuing a post-graduate season at several prep schools.

Keandre Stanton, Jr., Lynn English
It was quite the breakout season for the 6-foot-6 Stanton, a Northeastern Conference All-Star who turned in a monster junior campaign to establish himself as one of the state's best pure athletes on the blocks. He averaged 19.5 points, 12 rebounds, six blocks and achieved 10 triple-doubles on the season for the 21-3 Bulldogs, who advanced all the way to the D1 North semifinals before bowing out to Lawrence.

Jacquil Taylor, Soph., Cambridge
At 6-foot-8, the sophomore was one of the state's most imposing forces in the paint. He has started every game in his two years on the Falcons' varsity, and has only blossomed under head coach Lance Dottin; after averaging nearly a double-double as a freshman (nine points, 10 rebounds), he turned in an even more impressive sophomore season, with 13.5 points, 11.4 rebounds and 4.8 blocks as the Falcons won the Greater Boston League outright for the second year in a row. He has already amassed 166 blocks in his young career (including over 100 this year), and is a two-time GBL All-Star.

Noah Vonleh, Soph., Haverhill
Ranked the No. 23 overall player nationally in the Class of 2013 by ESPN, the 6-foot-7 Vonleh came into the season with a load of hype, and lived up to it in spite of the Hillies' struggles to a 7-13 record this season. Vonleh averaged 18.4 points, 17 rebounds, seven assists and five blocks and earned Merrimack Valley Conference All-Star recognition. Kansas, Pitt and Boston College are among the early offers for Vonleh, but expect that list to get quite lengthy over the next six months.

COACH OF THE YEAR: SEAN CONNOLLY, ST. JOHN'S PREP
Yes, one of the North Shore's all-time schoolboy greats has had one of New England's top senior talents to work with the last three seasons. But this season, which culminated in the program's first state championship, was all about the role players. And between Steve Haladyna, Freddy Shove, Isaiah Robinson, Mike Carbone and Owen Marchetti, this season was about a different player stepping up every night to ease the load off superstar Pat Connaughton. For that, and to survive one of the most loaded Division 1 North brackets in recent history, Connolly deserves some credit.
RUNNERS-UP:
1. Paul Neal, Lawrence
2. Cory McCarthy, New Mission
FINALISTS:
Bill Daley, Westfield
Paul DiGeronimo, Fitchburg
Rey Harp, Northampton
Rick Kilpatrick, Acton-Boxborough
Sean McInnis, King Philip
Duane Sigsbury, Manchester-Essex
Malcolm Smith, East Boston
ALL-DEFENSIVE
G – Joe Bramanti, Sr., Andover
G – Luis Puello, Jr., Central Catholic
G – Akosa Maduegbunam, Jr., Charlestown
F/C – Jacquil Taylor, Soph., Cambridge
C – John Swords, Sr., Lincoln-Sudbury
ALL-SHOOTERS
Pat Connaughton, Sr., St. John's Prep
Marco Coppola, Sr., Watertown
Alex Gartska, Sr., Westfield
John Henault, Sr., St. Bernard's
Jake Laga, Sr., Northampton
ALL-FRESHMAN
G – Jonathan Joseph, Brockton
G – Tyler Nelson, Central Catholic
G – Damion Smith, West Roxbury
F – Drew Shea, Medfield
F – Aaron Falzon, Newton North
BEST FANS
1. Northampton
2. St. John's (Shrewsbury)
3. Newton North
4. Central Catholic
5. St. John's Prep
(NOTE: Some headshots were provided by ESPN's Adam Finkelstein, courtesy of his New England Recruiting Report)
March, 4, 2011
3/04/11
1:12
AM ET
By
Ryan Kilian
| ESPNBoston.com
BOSTON -- It was only fitting that Thursday night's first round tournament game between West Roxbury and Brockton would end in overtime. Neither team could mount any type of substantial run until Brockton executed on both ends of the floor in overtime and pulled away with the 76-72 victory.

"There were times when they looked like they were going to put us away and there were times when we looked like we were going to put them away," Brockton head coach Bob Boen said. "Neither team gave in."

Both teams struggled to find any offensive rhythm out of the gate. The game would go back and forth, with each team causing chaos in the full court leading to numerous turnovers, layups and fouls on the other end.

West Roxbury senior forward Jason Hall was everywhere early. Hall scored six points, grabbed four rebounds and blocked two shots in the opening quarter giving West Roxbury a, 18-15, lead.

Each time one team looked to get rolling the other team would steal back the momentum, leading to a 32-32 halftime draw.
Brockton (14-7) came out with some fire in the third as senior Shane Sims (13 points) slammed home an inbounds pass to bring the crowd to their feet. Brockton also went to an effective zone that shut down Westie's slashing attack. Sims scored five points in the quarter and senior Carl Joseph (14 points) sank two huge three-pointers to give the Boxers a, 53-47, lead heading into the final quarter.

The Raiders (15-7) battled back in the fourth behind Hall (14 points) and freshman guard Damion Smith, who scored all nine of his points in the final quarter. Westie a 66-63, lead with under a minute remaining but Brockton junior Jamal Reuben came up with a the answer on a big hoop to cut the lead to one. With under 20 seconds remaining freshman point guard Jonathan Joseph got a steal at midcourt and passed it up ahead to Sims, who was fouled on the play. Sims would make one free throw and Brockton's defense would hold to send the game into overtime.

In overtime Brockton's Reuben, Sims and Alain Lenord all scored, as the Boxer defense held strong to pull out the victory.

"The seniors came through in overtime for us," Boen said. "Shane Sims and Alain Lenord stepped up and the seniors made the difference in the game. We were here last year going to the South finals and a lot of these guys were important players for us."

"We came into the game underdogs," Sims said. "We wanted to prove everybody wrong that we were not the underdog team. Our seniors kept our heads and that helped us get the win today."

Brockton will take on a familiar foe in the next round when they travel to New Bedford, on Saturday at 7 p.m., to take on the Whalers in the rubber match between the two Big 3 rivals.

February, 16, 2011
2/16/11
1:36
AM ET
NEW BEDFORD, Mass. -- Out of frustation, Lance Burlingame delivered a stomp and kick to the basketball after getting called for a traveling violation along the baseline with three minutes to go and his New Bedford Whalers in a tie game with Big 3 rival Brockton. And out the 6-foot-5 senior went from the game, the ensuing technical foul his fifth call of the game.
"It was an emotional game, and emotions took over -- shouldn't have done that," Burlingame said softly. "I shoulda just calmed down and relaxed, taken a deep breath and thought about it."
And, given what has been a turbulent two weeks, and with no other domineering post presence quite like the bruising 260-pounder, maybe that should have spelled demise yet again. Or maybe not.
Cameron Walker turned in some of his grittiest defensive rotations of the season, Jonathan Fortes gave the Whalers the lead for good on free throws, and 5-foot-4 sophomore Rylin Collazo came up with a game-saving steal through a sprawling scrum in the waning seconds, as New Bedford escaped its own gym with a 59-56 win -- head coach Tom Tarpey's first win over the Boxers in his four years at the helm.
"It's been a tough two and a half weeks, it really has," Tarpey said. "We've all gotten tested mentally, but they came together. That's all a coach can ask for. They came together. This group has been together all summer long -- they play with each other, they know each other, they're all friends, this group we have together right now -- and it showed tonight. They stuck together."
Without directly saying it, Tarpey was alluding to an enduring past two weeks that started with an injury to starting junior guard Steve Wynn, continued with an emotional double-overtime loss to Marshfield, and climaxed last week with the reported arrest and jailing of superstar swingman
Jules Tavares
. Asked about the affect on the team, Burlingame said he feared for his friend.
"I wish the best for Jules, Jules is a close friend of mine," Burlingame said. "I hope he makes it through this situation, and comes back out on the right path, doing something positive with his life."
Yesterday, keeping with the snakebitten theme, Burlingame and Xavier Barros missed practice with the flu, and the Whalers (11-3) practiced with just eight bodies, most of them also battling some type of sickness.
Regardless, the dynamic completely changes for the Whalers herein, no longer relying on gifted athleticism but instead with brute force and precision. Burlingame, an ESPNBoston All-State selection in football, was glad to provide both in this back-and-forth contest, coming down with a double-double (12 points, 11 rebounds) in spite of foul trouble.
Meanwhile, Walker (15 points, six rebounds) and Fortes (18, nine) battled the full 32 minutes, providing key baskets down the stretch, while the pint-sized Collazo (nine points) carried the defensive swagger with his pressure on the ballcarrier.
"These guys dug in. Everyone counted us out when our team changed a little, but we fought back," Tarpey said. "Our man-to-man defense was tremendous tonight. I was planning on probably trying to play zone the whole game, but they started shooting three's so we had to come out of it...and Rylin Collazo got ball pressure on the point guard that, just, everybody fed off of it."
The Whalers took a slim 27-25 lead into the break, and took their largest lead of the night, 38-31, before the Boxers (12-5) battled back to tie it at 40-all headed into the final eight minutes. Shane Sims (12 points, seven rebounds) broke his man off the dribble and launched up an NBA-length, high-arching three that just beat the buzzer.
That led to a back-and-forth final stanza that saw the Whalers pull out all the necessary stops over the final, Burlingame-less 2:55 of regulation.
First, Fortes cut the lead to 56-55 with 1:52 left when he isolated his defender on the right wing, spun, dribbled to the baseline and sunk a 15-footer. He then followed up a minute later with two free throws to pull ahead by one.
Walker was next, scooping up the loose ball after freshman point guard Jonathan Joseph tried to save his errant three inbounds, drawing an immediate timeout from Tarpey with 33 seconds left.
Chaos nearly ensued as the Boxers, clearly looking to foul, couldn't get one, as an attempted half-court trap gave way to a series of loose ball battles all over the floor, before Collazo came up with the ball and, with the open court, laid it in as time expired.
"We set up a play (in the timeout), but I knew they were going to trap half-court," Tarpey said. "We just wanted to move the ball and then get it to Jonathan with about eight seconds left, let him go and try to make a decision."
Surprised with no call?
"Yeah, my coaches are yelling at me to call timeout, but I thought he got fouled so I didn't want to call one and bail them (the Boxers) out," Tarpey said. "And then when they dove on it, and the ball got loose, I said 'Oh boy'. But it worked out. This was an unbelievable win."
February, 11, 2011
2/11/11
11:56
PM ET
By
Corey J. Allen
| ESPNBoston.com
BROCKTON, Mass. -– Catholic Memorial came within a few breaths of upsetting No. 17 Brockton, but the Boxers were able to outlast the Knights, pulling out a 96-84 overtime victory. Freshman guard Jonathan Joseph, despite catching a leg cramp during the extra minutes, scored seven of his seventeen points during the overtime.

"There's a lot of pressure in OT, coach is depending on you," said Joseph. "He believed in me. He put the ball in my hands and I did well with the rock."

"Jonathan's a scorer," said Brockton coach Bob Boen. "He's a very cool kid for a freshman; he was not bothered by the pace of the game."

Brockton (11-4) won both the opening tip-off and the overtime tip-off. The first three points in overtime came from junior center Sayvonn Houston (10 points, 12 rebounds, three blocks). He made one free throw, and on the back end of a Joseph steal, he grabbed the rebound on the missed shot and put it back in.

"I knew that this was going to be a tough game, CM is a really good team," Houston said. "Matt [Droney, 20 points], Dan [Powers, 39 points] are really great shooters and I had to get rebounds and blocks as much as possible."

Jahleel Moise scored the next three points, dunking on a CM defender, scoring the bucket, and making the free throw on to complete the three point play, putting Brockton up 83-77 with 3:13 left in the game.

With three pointers from Jamal Reuben and Joseph thereafter, and Jonathan adding two free throws and a layup, the icing on the cake was Moise's block and outlet pass to senior captain Shane Smith, who finished the scoring for the game.

"On this team, I'm the real defensive person," said Moise, who had four steals and five rebounds to go along with his 12 points. "Everything is all about defense."

The Knights (10-6) led by three at the end of the first quarter, but Brockton outscored them 29-11 in the second quarter, going up 46-13 at the half, with 16 of those points coming from seniors Tevin Leonidas and Carl Joseph.

Carl Joseph drained two three-pointers (four for the game) in the quarter and two field goals, on his way to a 20-point outing, while Carl Joseph ended the quarter with two treys of his own.

"Coach [Boen] always tells us when we're on the bench that we always have to be ready to get in the game at anytime," said the 6-foot-5 junior. "I focused on when I get in the game, I'm going to handle my business and do what I've got to do, so it's pretty natural. Got good passes from my teammates, and I put it up, followed through and made the baskets.

At halftime, CM head coach Denis Tobin told his team that he wasn't happy with the play, so they came out in the second half and closed the lead down to seven at the end of the third and tied it up at the end of regulation.

Draining three-pointers that may have been "four feet" behind the three point line, according to Boen, Powers scored 23 of his 39 points in the third and fourth quarter, including the one that tied the game at 77 with 1:31 left in regulation. In overtime, he was only able to produce a pair of one-and-one free throws and a layup at 1:13, with the other three points coming on free throws from Droney (20 points).

With 2.4 seconds left after a Brockton turnover, Droney took a deep three, but the ball went in and out of the rim.

"We spent all of our energy in the comeback," Tobin said. "When that last shot didn't fall, I don't think we had anything left in the gas tank for the overtime."

SHORT IN STATURE, LONG ON WILL

Being the sole freshman and shortest guy on the varsity roster at 5-foot-8, Joseph feels that there is a strong bond between all of his teammates that gives them the strength to pull up against a highly skilled team like Catholic Memorial.

"At first, we were strangers, now we're a family," added Joseph. "I believe in each and every one of these dudes."
September, 29, 2010
9/29/10
12:04
AM ET
The third annual "New England Elite 75 Showcase -- Frosh/Soph Edition" took place on Saturday at Boston University's Case Gymnasium and included many of the top underclassman prospects the New England region has to offer. The event featured two sessions, with the freshmen taking the court in the morning and the sophomores in the afternoon.

Here is a look at five lessons we learned after taking in the day's action:

1. Noah Vonleh is a Potential Star in the Making

Haverhill High School sophomore Noah Vonleh stood out as the most impressive prospect at the event. What sets him apart is a combination of three factors. First, he has the talent to dominant his peers right now. Second, he has demonstrated the work ethic to consistently improve his game. Third, his physical upside is tremendous. Vonleh only recently celebrated his 15th birthday and already stands 6-foot-7 with a strong body. He could still be growing and is certainly still growing into his body and consequently hasn't nearly peaked athletically. He has terrific economy of motion, taking the ball off the defensive glass and going coast to coast in three or four dribbles and only requiring a single bounce to get to the rim in a half-court set, to go along with a rapidly developing skill set. If this young man continues to work hard and make good decisions, the sky could be the limit.

2. The Class of 2013 has Tremendous Depth

New England has some very well known talent in the class of 2013. Connecticut native Kuran Iverson is the second ranked player in the country and Everett native Nerlens Noel is third, according to ESPNU's most recent Terrific 25 list. But beyond the obvious star power of Iverson, Noel, and Vonleh the region, and the state of Massachusetts specifically, has great depth in the class. Beaver Country Day guard Rene Castro already owns a scholarship offer from Boston College, Brimmer & May's Jake Fay has one from UMass, and a variety of others in action on Friday had the potential to earn similar opportunities including Milton Academy's Ikemefuna Ngwudo, Cushing Academy's Andrew Chrabascz, Springfield Central's Cornelius Tyson, and Weymouth's Jared Terrell.

3. Getting to Know the Class of 2014

This was our first major opportunity to check out the incoming freshmen and there was plenty to like. Milton's Jeremy Miller has the size and raw talent to potentially be a high level prospect down the road. Fellow big men Aaron Falzon (Newton North) and Bonzie Colson Jr. (St. Andrew's) have similar upside. There are plenty of talented local guards including Lawrence Academy's Johnnie Vassar, Cushing Academy's Idris Taqqee and Stoughton's Jonathan Joseph. The state of Connecticut also offers a particularly talented group with the likes of Jared Wilson-Frame, Levy Gillespie Jr., Winston Morgan and Kahari Beaufort.

4. Prep Talent Arriving Earlier than Ever

New England has always been the hub of prep school talent in the country, but it used to be that talented players only arrived for their post-graduate, or sometimes senior, seasons. Saturday's event showed they are now coming much earlier and opting to play in the NEPSAC for multiple seasons. Some of the event's top prospects, like Northfield Mount Hermon's Dekeeba Battee, Worcester Academy's Asur Madison, Winchendon's Dennis Green and the Kent School's Travis Berry are all from outside of the region but are boarding students at local prep schools.

5. One Year Can Make a Big Difference

There was a notable difference between the morning and the afternoon session as the sophomores delivered a significantly higher quality of play. The biggest difference was obviously physical as players were bigger, stronger, faster and more athletic given the extra year of physical maturity. But the other interesting trend was the higher caliber of basketball acumen. Some examples were more obvious as the sophomores tended to both share the ball more as well as play without it, but others were more subtle like looking into the post, using jab fakes or understanding how to defend from the weak side of the floor.