Boston High School:

Jordan Balarinho
November, 6, 2012
11/06/12
1:59
AM ET
By
Brendan Hall
| ESPNBoston.com
Some thoughts and observations from this past weekend's slate of football around the state:
1.
Chris Sarni and the Wellesley Raiders are the darlings of the Bay State this week following their 40-34 win over Natick in one of the biggest upsets of the year, and rightfully so. Sarni is your classic undersized, overachieving high school quarterback, noted for his quick acceleration and vision, but also unafraid to tuck it and run downhill. But let's give credit to the offensive line, too, which kept his jersey clean all afternoon.
During the preseason,
I did a video with correspondent Greg Story for The Wellesley Channel
, discussing the Raiders' chances this season, and pointed out that while it would be an uphill battle for the Raiders under first-year head coach Jesse Davis, history says the best rebuilding jobs start between the hashes. Having been a varsity wrestling coach at Wellesley the last four years, Davis can tell you a thing or two about that.
"The crossover is undeniable," Davis said. "I've been preaching it since taking over the wrestling program. In terms of balance and strengths, close combat, playing with your hands, power angles, tackling, toughness, it's literally the best thing you can do as an offensive lineman."
Whereas in his first year he found himself dragging kids out, in year four it's become as much a staple of the offseason regimen as a bench press. This year's Raiders line averages roughly 210 across, but features four wrestlers –- left guard Ben Wardwell, center Dan Farina, and wrestling captains Will Dario (right guard) and Zach Zeytonjian (left tackle) –- who make up for lack of size with athleticism and first-step explosion.
"We want athletes on the offensive line," Davis said. "I don't want big, tubby, 300-pound kids. We want kids that can run."
Needless to say, toppling one of the state's most prolific offenses validates everything Davis has been preaching in year one. The Raiders may be out of contention for 2012 championship hardware, but definitely keep a watch out for them come next fall.
2.
I suddenly find myself intrigued with Amherst running back Kieran Presley, who broke the school's single-game record for yards from scrimmage in a 42-22 win over Chicopee. Presley ran for 359 yards on 21 carries and caught three passes for 60 yards, totaling four touchdowns; in the process he passed one of the Hurricanes' all-time greats, Marcus Williams, who totaled 402 in a 2001 win over Minnechaug. Williams went on to be the all-time leading rusher at the University of Maine, and had a cup of coffee with the Indianapolis Colts.
"He's probably one of the best athletes in Western Mass., he's been underrated," said first-year head coach David Thompson, himself a former offensive lineman at UMass. "He's a Hell of a lacrosse player, he can play basketball, he long jumps and ran a leg in the 4x200, that's the type of athlete he is.
"You can probably put him in any sport and he'll excel, and he's not gonna be a non-contributor—he'll contribute. He can easily go to college in two sports, that's the type of athlete he is. He has all the tools to play at the next level."
So why haven't we heard much about him until this fall? Presley didn't get many carries last year, running in a three-back system. This year, Thompson has installed a pro-style offense more suited to his strengths, utilizing modified "Ace" personnel groupings (in Thompson's case, one back with one tight end and three wideouts) with zone-blocking schemes up front. Presley is a patient runner, but a quick accelerator equipped with a few lacrosse-style moves and a gliding stride.
Rutgers is Presley's dream school, but he has seen varied degrees of interest across Divisions 1 and 2, among them UConn, Albany, Rhode Island, New Hampshire and James Madison. The Hurricanes are currently 5-3, and will go for their third straight win this weekend. They could be one of the more interesting playoff teams to watch, if everything plays out accordingly.
3.
Now that Barnstable has claimed the Old Colony League outright for the second straight year, many folks are clamoring for what would be the marquee Super Bowl championship game at Gillette Stadium, a rematch between the No. 1 (and undefeated) Red Raiders and Everett for the Division 1A title game. Not so fast, people. How quickly we all forget what happened last year, when the Raiders met Lincoln-Sudbury down in Taunton for a Tuesday night playoff and fell 14-13, helped by a ridiculous one-handed catch from Jack Harris. L-S appears to be on the inside track for a third straight Dual County League large division title, and I wouldn't be the least bit surprised if they're the ones marching into Gillette.
4.
I'll preface this by saying I am in no position to criticize college coaches for whom they decide to offer athletic scholarships and preferred walk-on spots to. And I'm fully aware how hard it is to get over the size of Holy Name's Quron Wright, even if he's the state's leading rusher. But after watching 5-foot-5 Trindon Holliday return a kickoff 105 yards on Sunday for the Broncos, and enjoying 5-foot-5 Division 2 product Danny Woodhead's steady place in the Patriots' running back rotation the last three seasons, you mean to tell me there isn't a college coach in New England willing to look past Wright's unmistakably Lilliputian frame and at least see if the kid can handle?
5.
If you're a fan of power running, you have to love Friday's matchup between Plymouth South and Nauset for pole position in the Atlantic Coast League. South's Dylan Oxsen leads the state in rushing touchdowns (28) and is two weeks removed from one of the more explosive performances of the season, a 301-yard, six-TD effort in a surprise rout of Dennis-Yarmouth. The Panthers run a modified pistol scheme, sometimes even utilizing two fullbacks in addition to Oxsen at tailback. Based on the highlights I've seen, the Panthers are very downhill, and very efficient at running power plays.
Then you have Nauset, masters of the single wing,
so respected they even have an entry devoted to them on Wikipedia
. At the helm is junior Jimmy Sullivan (972 rushing yards, 491 passing yards), the de facto quarterback in a quarterback-less offense, running behind Brown-bound two-way lineman Dakota Girard. Keith Kenyon's ancient offense adds another layer of mystique to a program already shrouded in it (Hey, the school is inside a national park, after all).
6.
This past summer,
I watched Andover win a 7-on-7 tournament at Gillette Stadium
running 5-foot-6 speedster Cam Farnham on underneath routes into the perimeters. Two weeks ago, I watched Billerica's Jordan Balarinho carve up the No. 1 team in the land with a heavy bevy of short, quick passes to the sticks. Now I see Lowell wideout Jack Galvin's stat line from last weekend's upset of Andover (15 catches, 159 yards, 4 TD) and it gets me thinking. I know we've joked about it, but maybe we really should consider renaming the Merrimack Valley Conference, "Death By 1,000 Shallow Crosses". Has a nice ring to it, no?
October, 27, 2012
10/27/12
7:42
PM ET
By
Brendan Hall
| ESPNBoston.com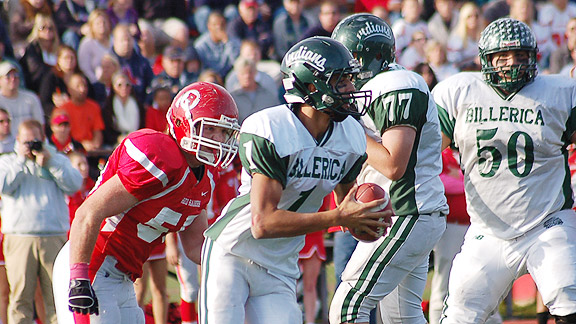 Brendan Hall/ESPNBoston.comBillerica quarterback Jordan Balarinho gave No. 1 Barnstable all it could handle in a near-upset, accumulating 394 yards of offense and 5 passing touchdowns.
HYANNIS, Mass. -– Between the bye-week rust, looming Homecoming festitivies and a monster matchup with league rival Bridgewater-Raynham for the Old Colony League's lone playoff berth on Nov. 2, this was an ideal formula for a trap game.
And until the final few minutes, it looked like the No. 1 team in all of Massachusetts was about to take one on the chin from upstart Billerica. The Indians (2-6) took a brief lead over Barnstable (7-0) in the fourth quarter, but the Raiders answered with two rushing scores and a stingy defensive stop to put down the clamps and escape with a 46-33 win.
"We survived. We showed some toughness at the end, no quit," head coach Chris Whidden said. "But hopefully, this proves that we can't just turn it on and off. Hopefully that 'on' switch stays on going forward."
Billerica took its first and only lead of the afternoon with 8:38 to play in the game, on a 61-yard strike from quarterback Jordan Balarinho (23 of 35, 322 yards, 5 TD; 9 carries, 72 yards) to receiver Matt Clifford (10 catches, 156 yards, 3 TD). Clifford ran a seven-yard hitch down the left sideline and easily slipped off a high arm-tackle, then outran safety Hayden Murphy's pursuit from the opposite side of the field en route to paydirt.
After sputtering in spurts all afternoon, the Red Raiders came to life in the final eight minutes of play. Quarterback Nick Peabody completed a nine-play, 75-yard drive by calling his own number on zone read, then weaving through traffic up the middle of the field and stretching over the goal line. He called his own number again on the two-point rush to make it 40-33.
On the ensuing Indians drive, the Raiders front seven made two crucial stuffs for a turnover on downs, after giving up nine yards on the first play of the drive. On third down, Ellis met Balarinho right at the line of scrimmage as the quarterback was looking for a dive up the middle. The next play, running back Brad Dewek was stopped cold in his tracks by Ellis immediately in the backfield.
With new field position at the Indians' 40-yard line with 3:36 to go, the Raiders put the game out of reach with a two-play scoring drive, first a 27-yard speed sweep by receiver Tedaro France (5 catches, 127 yards, 2 TD) then a 16-yard zone play by Murphy (145 all-purpose yards, 2 TD) for the score and, following a missed point-after kick, a 46-33 advantage with 3:17 to go.
Coverage concerns:
While Peabody finished with another solid day at the office (13-of-23, 270 yards, 3 TD; 9 carries, 88 yards, TD), the same cannot be said about the play on the other side of the ball. Whidden characterized the performance as "as poor as we've played all year", and within that, the most glaring deficiency was the pass coverage.
The Raiders' secondary seemed to align against the deep ball for most of the game, and the Indians took advantage, moving the ball swiftly up and down the field behind a short passing gameplan that utilized hitches and shallow crosses. Only four of Balarinho's 23 completions went for more than 15 yards.
"People didn't play their assignments," Whidden said. "Our flat defenders weren't necessarily getting to the spots they were supposed to be getting to early, and those seven-yard hitches were open. They found that, and they did a good job coaching-wise to exploit it."
Ending on a positive:
The pass rush was a bright spot for the Raiders' defense, tallying three of their five sacks in the fourth quarter. Alternating between three and four-man fronts, the Raiders were led by Jason Freih, Bryan Hardy, Ryan Litchman, D.J. Goncalves and Ellis (two interceptions).
However, it wasn't a flawless performance. While the Indians got minimal production from their tailbacks, Balarinho was consistently able to run free for first downs after getting flushed out of the pocket.
"We were getting pressure, but a lot of times we'd get beyond the quarterback, and then all of a sudden the rush lanes would get created," Whidden said. "So we need to...you get to the quarterback, you stop and redirect, and then you get rid of those running lanes for them.
"They adjusted a little bit. We were there. It wasn't like they were doing anything we haven't seen all year, it was just when it got tough, it got a little Helter Skelter and took a little while for us to adjust, for whatever reason."
Ellis doubles up:
Ellis switched his jersey number from 7 to 77 this week to accommodate an offensive line group thinned by injury. Ellis will now periodically see time at guard in addition to his duties quarterbacking the defense at middle linebacker.
Ellis has also seen time at fullback in the Raiders' offense, which could create an interesting predicament going forward.
"The rule used to be you could check in, but now you can't," Whidden said. "Now if he's wearing 77 he can't play fullback, so we might have to just put a couple of jerseys on the sideline."
BARNSTABLE 46, BILLERICA 33

BILL (2-6) 6 12 8 7 --- 33
BARN (7-0) 13 7 6 19 --- 46
First Quarter
Barn – Hayden Murphy 1 run (Jason Freih kick) 8:50
Barn – Dylan Morris 19 pass from Nick Peabody (kick failed) 6:41
Bill – Michael Casey 8 pass from Jordan Balarinho (rush failed) 0:00
Second Quarter
Barn – Tedaro France 70 pass from Peabody (Freih kick) 10:36
Bill – Matt Clifford 4 pass from Balarinho (kick blocked) 6:47
Bill – Clifford 7 pass from Balarinho (pass failed) 4:08
Third Quarter
Barn – Murphy 16 run (kick failed) 6:07
Bill – Mark Duncan 46 pass from Balarinho (Alec Mattar pass from Balarinho) 5:08
Fourth Quarter
Barn – France 8 pass from Peabody (kick failed) 9:52
Bill – Clifford 61 pass from Balarinho (Justin Beck kick) 8:48
Barn – Peabody 16 run (Peabody run) 5:20
Barn – Murphy 13 run (kick failed) 3:17