Boston High School:

Jordan Cohen
November, 3, 2012
11/03/12
2:52
AM ET
BRIDGEWATER, Mass. – The fourth of quarter of Friday's instant classic between No. 1 Barnstable and No. 16 Bridgewater-Raynham was rife with hairpin plot twists and explosions. Every expanding moment brought more drama, heightened tension and – assuredly on both sidelines – greater anxiety. It was the stuff of Jack Bauer tracking down bad guys, MacGyver defusing a bomb threat, or a John Le Carré spy novel. Or maybe it was a little of all those things rolled into one -- and then some.
For whatever you care to call it, in recent memory, the yearly date between the Red Raiders and Trojans has morphed into a de facto championship game for the Old Colony League.
Friday's edition was but another spellbinding chapter.
Barnstable clung to a 27-25 lead behind an opportunistic defense before putting the game away in the final moments with the Red Raiders tallying their third interception of the game. In the process, Barnstable (8-0, 2-0) claimed its second-straight OCL championship and will return to the postseason, again to face Dual County League large division champion Lincoln-Sudbury in the Div. 1A Eastern Mass playoffs.
"Last year is a distant memory at this point," Red Raiders head coach Chris Whidden said. "It feels great for this group, these guys have done so much together, and they were obviously a big part of last year, but there's a pride in what they accomplished today.
"They derserve it. I know every coach can say that the group of kids you have deserve it, but if you really knew these kids, you'd know they truly have done more than most classes would do to get what they got tonight."
Barnstable showed its defensive mettle after a lack-luster showing against Billerica a week ago.
Jason Frieh (sack, 2 TFL) led the Red Raider defensive line bringing the pressure, but the contributions came from all around. Barnstable's defense pulled off a unique hat trick of interceptions, with one pick coming from a member at each level of its unit. Frieh seized momentum for the Red Raiders early in the second half with a 21-yard interception return for a touchdown. In the fourth quarter, inside linebacker Andrew Ellis collected a pick of his own before free safety Hayden Murphy closed out the victory with an interception with 1:03 remaining.
Frieh's pick-six extended the Red Raiders' halftime lead to 21-6, but the Trojans (5-4, 1-1) responded on the ensuing drive in the third with a 10-play, 74-yard drive capped by Jordan Cohen's 17-yard touchdown pass to Ryan Scripter.
Barnstable again made it a two-possession game on Nick Peabody's second touchdown pass of the game, a 31-yard connection to Tedaro France with 7:31 to play in the fourth.
From there, a dizzying sequence unfolded that was made for an episode of "24".
Events between the time 7:14 and 4:03 of the fourth quarter included:
An 82-yard kickoff return by B-R's Ryan Martin, (Score: 27-19, Barnstable, following failed two-point try).
A fumble recovery by the Trojans on Barnstable's following kickoff return, (Devin Morris' forced fumble was recovered by Mike Clifford, setting up B-R first and 10 from the Red Raiders' 20-yard line).
Ellis' interception, (setting up Barnstable first and 10 at their own 15).
Strip-sack by B-R's Aaron Conrad with Trojans recovery by Kevin Johnston at the Barnstable 5, (5:33 to play).
2-yard rushing touchdown by Brandon Gallagher, (Score: 27-25, Barnstable, 4:03 remained).
Following that frenetic sequence -- keep in mind there were only seven plays from scrimmage elapsed during that span – Barnstable had a chance at closing out the game by bleeding the clock. But the Red Raiders' ensuing drive sputtered flat once it hit the 50-yard line. Barnstable was forced to punt, but a masterful 41-yard punt from Ryan Litchman was downed at the Trojans' 6-yard line.
With a long field to go, B-R went to its 2-minute drill with 1:45 to play. The comeback ended at 1:03 when a last-ditch pass by Cohen was fielded by Murphy.
TEACH ME HOW TO DOUGIE
His dancing acumen aside, ESPN Boston Mr. Football challenger and Barnstable quarterback Nick Peabody showed he's got moves on the field.
Peabody (12 of 22 passing, 201 yards, 2 TDs) ripped up the carpet on a rambling 54-yard run in the first quarter. After juking a B-R safety into last Friday, Peabody broke down the left sideline before being chased down at the 1-yard line. He plunged into the end zone one play later for Barnstable's second touchdown of the game.
"We were reading the end on the play, and he kind of flew out with Hayden [Murphy]," Peabody said. "I just saw the hole, I hit it and there was just one safety. I was kind of shocked, I guess I put a move on him.
"Then, to be honest, I was scared I was going to get caught and I got caught on the one-yard line."
While Peabody will never be mistaken for a Randall Cunningham-like quarterback, he's still able to make plays with his feet. He ran for 78 yards on 15 carries, including the touchdown. A bulk of those yards came on zone read plays with Peabody pulling back an option to Murphy, who streaks across the field from the slot. It was a bread-and-butter play that Barnstable's run successfully on Friday and throughout the season.
It's yet another element that has made the Red Raiders offense so potent.
"We drill it until it makes you sick, but that's what makes it work," Peabody said.
CLOSING CREDITS
If you placed this year's B-R team in the year 2013, there's a real possibility the Trojans are playing through a playoff stretch.
While the MIAA playoff proposal has passed, it didn't come soon enough for the Trojans, who will again challenge for the dubious title of "Best Team in Massachusetts Not Playing past Thanksgiving" this year.
"I look at our team, we're five-and-four and we've lost to two teams that are undefeated, another team in St. John's Prep that has one loss and La Salle could play with anyone [in Massachusetts]," Trojans head coach Dan Buron said.
Don't interpret that statement as sour grapes though. Buron was downright grateful following his team's loss.
It was evidenced on the Trojans' final offensive play. As his players shuffled – dejected – back to the sideline, Buron met each and every one of them with a pat on the shoulder pads and the message: "Don't hang your heads."
"I told the kids they shouldn't have any regrets and they should be proud," Buron said of his postgame breakdown with the team. "I've never been more proud of a team because there were a couple of times in this game we could've folded."
Barnstable – 14 0 7 6 -- 27
Bridgewater-Raynham – 0 6 7 12 -- 25
First quarter
B - Dylan Morris 35-yard pass from Nick Peabody (Jason Frieh kick)
B - Peabody 1-yard run (Frieh kick)
Second quarter
B-R – Kevin Wadsworth 11-yard pass from Jordan Cohen (kick failed)
Third quarter
B - Jason Frieh 21-yard interception return (Frieh kick)
B-R - Ryan Scripter 17-yard pass from Cohen (Wadsworth kick)
Fourth quarter
B - Tedaro France 31-yard pass from Peabody (kick failed)
B-R - Ryan Martin 82-yard kickoff return (pass failed)
B-R - Brandon Gallagher 2-yard run (rush failed)
October, 20, 2012
10/20/12
6:37
PM ET
By
Mike Scandura
| ESPNBoston.com
BRIDGEWATER, Mass. -– The enormous gust of wind that blew over the Bridgewater-Raynham football field late Saturday afternoon wasn't a meteorological phenomenon.

Rather, it was Trojans coach Dan Buron exhaling after his team held off Xaverian and posted a 32-27 non-league victory.

And "held off" is the operative phrase.

After the No. 21 Trojans (4-3) seemingly put the game out of reach, when Jordan Cohen threw a 23-yard touchdown pass to Ryan Murphy for a 32-20 lead with 2:22 remaining, the Hawks (1-6) needed just over a minute to reduce their deficit when Austin DeCarr threw a 20-yard scoring pass to A.J. King and Kyle Darrow kicked the extra point.

Not surprisingly, Xaverian then attempted an onside kick. But much to Buron's chagrin, Xaverian's Ryan McLean smothered the ball at his team's 42 with 1:40 remaining.

DeCarr (24-48, 290 yards, TD) then passed his team to a second-and-goal at B-R's 5 with four ticks of the clock left. But DeCarr's pass for what would have been the winning touchdown fell incomplete in the end zone which allowed Buron to breathe.

"That's a good football team," Buron said of Xaverian. "I don't care what their record is. We play a tough schedule but one that's not nearly as tough as the one they do. And they've been in every game so I knew they weren't going to quit.

"I'm proud of the kids. I'm a little upset that we didn't get the onside kick but we have to work on those things. It's different in practice."

To a certain extent, this was a different B-R team than the one that was waxed 41-24 on October 12 by Rhode Island Division I power La Salle Academy.

"We played with a little more intensity today than we did last week," Buron said. "I don't know what the reason was for that. I thought the week prior to that we played with a lot of intensity and emotion against St. John's Prep.

"That's a good team and we came out on the short end but I was proud of the kids. We didn't look like the same team (against La Salle). But today we looked more like the team we had in our first five games."

Double trouble: One reason the Trojans prevailed was that they were proficient both on the ground and in the air.

Brandon Gallagher led the ground game by rushing for 90 yards and one score on 21 carries.

Jordan Cohen was superb at quarterback as he completed 13-of-19 passes for 201 yards and three touchdowns –- each to Murphy who snared eight balls for 150 yards.

"I thought Jordan played well today and hit the open receivers," Buron said. "What they were giving us was the flat and he hit the flat all day which opened up some other things."

One of the "other things" that was opened up was room for Gallagher to slice through Xaverian's defense.

"Gallagher is a tough running back who runs hard," Buron said. "When the blocking's there he's going to get extra yards. When there isn't any blocking, he's still going to get extra yards. Very rarely does he go backwards.

"He's a strong runner and is only a sophomore so he's only going to get better. But I'd like to credit the offensive line, too. I thought they played well in the second half against a much bigger defensive front."

How do you spell shootout? After a scoreless first quarter during which each team lost a fumble, B-R's Aaron Conrad recovered another Xaverian fumble on his team's 14.

B-R then covered 86 yards in eight plays with Gallagher busting into the end zone from the 5.

Xaverian countered with an eight-play, 64-yard drive which Shayne Kaminski capped by scoring on a 25-yard run that made B-R's lead 7-6.

B-R, seemingly in an eye blink, upped its lead to 12-7 when Cohen connected with Murphy on a screen pass that covered 20 yards for a score.

But DeCarr displayed his best passing of the game after the ensuing kickoff when he completed all five of his attempts for 80 yards which led to Kaminski running it in from the 2 for a 13-12 lead at halftime.

The Trojans got even late in the third quarter when Conrad intercepted a DeCarr pass and returned it 33 yards for a touchdown that gave B-R an 18-13 lead at the break.

But a short Xaverian punt gave the Trojans excellent field position, at their 40, and Cohen zipped a 17-yard touchdown pass to Murphy on the first play of the fourth period for a 25-13 advantage.

Buron's sentiments about Xaverian being a team that doesn't quit almost came back to haunt him when the Hawks' D.J. Sperzel recovered a fumble on B-R's 49 -– which led to a five-yard scoring run by Harry Walsh that pulled the Hawks within 25-20 with 5:02 left.

"Everybody on our schedule can beat us," Buron said. "That's the problem with playing a tough schedule so we have to come to play. Most every game we've been in has come down to the wire so we have to prepare for it."

BRIDGEWATER-RAYNHAM 32, XAVERIAN 27
XB (1-6) 0-13-0-14 – 27
BR (4-3) 0-12-6-14 – 32

Second quarter
B – Brandon Gallagher 5 run (run failed)
X – Shayne Kaminski 25 run (Kyle Darrow kick)
B – Ryan Murphy 20 pass from Jordan Cohen (pass failed)
X – Kaminski 2 run (pass failed)

Third quarter
B – Aaron Conrad 33 interception return (pass failed)

Fourth quarter
B – Murphy 17 pass from Cohen (Kevin Wadsworth kick)
X – Harry Walsh 5 run (Darrow kick)
B – Murphy 23 pass from Cohen (Wadsworth kick)
X – A.J. King 20 pass from Austin DeCarr (Darrow kick)
October, 19, 2012
10/19/12
1:28
AM ET
FRIDAY
NO. 23 NEEDHAM (5-1) AT NO. 6 WALPOLE (6-0)
The Skinny: The Rockets received some help in the Bay State Carey race from Natick last week when the Red Hawks came away with a win at Weymouth. However, Needham will need to capitalize on that break with a win over the Herget's other undefeated entrant. Rockets running back Mike Panepinto continues to be one of the great breakout stories on the year while the Rebels will need to shuffle the deck a little with the loss of Mike Rando, who'll be out several weeks with an ankle injury. Of course, the Rebels counter with one of the more consistent and underrated linebacker units in the state, led by Cam Hanley and Steve Thulin.

Scott Barboza: Even sans Rando, the Rebels still have enough horses in the barn. Walpole, 26-21.

Hall: Losing Mike Rando, for however long a period of time, hurts. But this Rebels defense is still talented enough to get the job done and slow down Team Panepinto. Walpole, 20-7.

NO. 11 KING PHILIP (6-0) AT MANSFIELD (4-2)
The Skinny: This much anticipated Kelley-Rex matchup features one of the state's premier defenses against a recharged Hornets offense. Brett McEvoy anchors the Warriors defense, which has surrendered just six points a game through the first six weeks, along with Joe Johnston. Kyle Wisnieski has held down the quarterback position admirably in his first year as starter, but hasn't stared into a defense quite like that of the Warriors. If he has time to throw, Mike Hershman and Brendan Hill provide big-time targets. Let's not forget that last year's installment of this battle was the coming out party of KP quarterback John Dillon, who nearly lifted the Warriors to victory in a second-half comeback bid.

Barboza: Defense wins in big games, right? It's been a while that the Warriors last had Mansfield's number, but this is the year. KP, 20-14.

Hall: Can't have any pudding if you don't eat your meat. Mansfield, 24-21.

Wakefield (6-0) at Burlington (5-1)
The Skinny: Depending on how Stoneham does this weekend, this one's for at least a share, possibly sole possession of the Middlesex League's Freedom Division (can we just call it Small to alleviate any confusion?). Burlington has had some injuries, but still boast the league's top rushing attack led by Marcus Odiah and Anthony Cruz. They'll meet a Wakefield defense that features a number of playmakers and hasn't allowed a point in 11 quarters. With Dan Cardillo (ankle) gone, there's no real superstar for Wakefield -- but sophomore receiver Bruce Brown will be one to watch, coming off a 124-yard performance last week in a shutout of Wilmington.

Barboza: I'm calling this a split decision. My fan section vote goes to the Red Sea. But the action on the field is dictated differently. Burlington, 8-6.

Hall: This one will be close, and the Warriors might not solve Burlington's rushing attack, but they'll make a big stop late. Wakefield, 17-10.

Mashpee (4-2) at No. 25 Abington (6-0)
The Skinny: This is a battle for sole possession of first place in the South Shore League, with both teams sitting tied atop the league standings at 3-0. The undefeated Green Wave have been getting some terrific defense all season, and feature one of the more unheralded versatile athletes in senior Babila Fonkem. Mashpee stumbled out of the gates, with losses to Nauset and Austin Prep in the first month, but has rebounded with a three-game win streak. Leading the attack have been running backs Malik Lee and Jared Taylor, as well as emerging quarterback Cody Bingham-Hendricks.

Barboza: Fonkem provides the highlight reel plays running and on special teams, but Brian Kilmain and Jack Malafronte give the Green Wave balance. They're the difference. Abington, 28-20.

Hall: For the first time in three years, I managed to get through our picks on video and our podcast without mentioning my parents are Abington High Class of '79 (self high-five, folks). Don't get it twisted, though, that has nothing to do with why I've soured on Mashpee since the preseason. Abington, 28-17.

NO. 2 EVERETT (5-1) AT BC HIGH (2-3)
The Skinny: The Eagles are finally starting to heal, with starting quarterback Brendan Craven seeing action last week against Marlborough and running back Brandon Owens getting back into the mix. While they're still missing a couple key cogs on defense, Owens will help bolster BC High's run defense against Everett's double-wing-based ground attack. The Crimson Tide also have been nursing some injuries in recent weeks, but Jalen Felix returned for last week's game at Xaverian and Jakarrie Washington ran for three scores. Gilly De Souza, the glue that holds Everett's secondary together, continues playing with an ankle injury and didn't see the offensive side of the ball last week, but he's remained rock steady (as he has since freshman year) in the kicking game.

Barboza: BC High is pumped and ready for this one, but De Souza provides the game-winning boot late. Everett, 17-14.

Hall: Won't be fooled again. Everett, 24-10.

SATURDAY
XAVERIAN (1-5) AT NO. 21 BRIDGEWATER-RAYNHAM (3-3)
The Skinny: This one has the potential to please fans of power football. The Hawks could go heavy in the backfield with Hunter Taute with Mike Brennan doubtful for this weekend's game after a late injury in last week's loss to Everett. Or, the Hawks could air it out behind Austin DeCarr whose hit on touchdown passes of 30-plus yards in each of the last two weeks. The Trojans will look to pound the ball behind breakout sophomore running back Brandon Gallagher and a physical offensive line anchored by Joe MacInnis. Senior quarterback Jordan Cohen also gives B-R the opportunity to strike downfield while rolling out of the pocket.

Barboza: I went with the Hawks last week and promptly was served some humble pie by Everett's offensive line postgame. I'm sticking with my gut this week. Trojans have controlled this matchup in the last two seasons. B-R, 21-17.

Hall: Historically when the game slows to a ground-and-pound stalemate, the odds favor the Trojans. B-R, 20-10.

No. 18 Leominster (4-2) at No. 20 St. John's of Shrewsbury (4-2)
The Skinny: Back at the start of the season, we pegged this as must-see action to circle on one's calendar. It's still one of the games of the year in Central Mass., and we could even see a rematch come playoff time, but let the facts stand. Leominster and St. John's quickly fell from the Top 10 in the last several weeks; Leominster looked shaky in an upset loss to Wachusett and win over Algonquin, while St. John's has surrendered 100 points total in the last two games.

Barboza: That Pioneers defense tightens some, but just not quite enough to stop the Blue Devils. Leominster, 34-28.

Hall: If there's anything we've learned in the last two weeks, it's that if you can run on St. John's, you can go all Barry Switzer and "hang half a hundred on 'em". Leominster, 40-35.
October, 7, 2012
10/07/12
12:05
AM ET
By
Bruce Lerch
| ESPNBoston.com


BRIDGEWATER, Mass. - With two talented playmakers such as Johnathan Thomas and Alex Moore in the backfield, why wouldn't St. John's Prep have its own version of the 'Wildcat' formation ready to go?

It's not a set the Eagles rely on often, but when they spring the trap, it has the tendency to yield major dividends. In the case of Saturday afternoon's nonleague clash with No. 12 Bridgewater-Raynham, Moore turned the Prep's 'Wildcat' into a momentum changer.

On the first play from scrimmage of the second half, Moore and Thomas lined up side by side in the backfield with Moore taking the snap. Tight end Anthony Bongiorno sealed off the defensive end and Thomas cleared a hole with a nice block of his own. Moore followed right through and outran everyone down the left sideline for an 89-yard touchdown.

That was the second of three scores on the day for Moore, who totaled 159 yards on the ground with two scores and another 73 yards and a touchdown on three receptions as No. 3 St. John's Prep took down the Trojans, 20-7, at Bridgewater-Raynham High School.

"I never had any original thought in my life and that's what Everett did to us so I said, 'If Everett can do that to us, we can use that ourselves,' so that's what we did," Prep coach Jim O'Leary said with a laugh. "We've been running it but we've been running it a little differently the last couple weeks. We just put him outside and pitch and get to the edge and see what we can get."

Moore turned in terrific all-around effort, adding a fourth-quarter interception from his safety position to his stat sheet. He scored the game's first touchdown via the air, lining up as the inside receiver in a trips-right set. Moore ran a post pattern through the middle and Eagles quarterback Jack Sharrio lofted a perfect pass to him in stride for a 35-yard score.

Then in the fourth, just after Brandon Gallagher had scored to help B-R (3-2) cut the deficit to 14-7, Moore produced another big play. Lined up as the tailback behind Thomas in the I-formation, Moore took a straight handoff and followed Thomas off left tackle. Thomas created room by blocking the defensive end, allowing Moore to bounce outside and race 62 yards to paydirt.

"I was able to hit the outside and use my speed to my advantage and make it a track meet out there," Moore explained. "It was just off to the races from there."

SPREAD THE FIELD
The Prep's offense has been producing extremely well this season, and a lot of that has been due to the willingness to allow Sharrio to throw more often. The senior quarterback completed 7-of-11 passes for 103 yards and the TD pass to Moore.

Battling a very difficult wind, Sharrio's effort loosened up the Trojans defense enough to allow Thomas to join Moore in the Century Club with 110 yards on 13 carries.

"We have to be able to spread the field to get people out of the box," O'Leary said. "We have to do that and so I think that's what we try to do and what we need to do. We're not as comfortable doing that when we don't have the wind. They threw the ball better with the wind also."

'PREP'PING FOR LEAGUE PLAY
B-R coach Dan Buron has never been afraid to schedule some of the state's top teams in an effort to get his Trojans ready for their Old Colony League slate, and hopefully, a postseason berth.

B-R opened with Duxbury, currently riding a 31-game winning streak, bested perennially tough programs in Marshfield and New Bedford, and still have a date with Xaverian before playing its OCL counterparts Dartmouth and Barnstable.

Brandon Gallagher finished with 92 yards and a touchdown on 16 carries, while quarterback Jordan Cohen finished 12-of-26 for 176 yards.

"I was pleased with our effort, I think our kids played hard," Buron said. "That's a really good football team and I think we're just not quite there. Duxbury and this team, we're battling them for three quarters and we're just a step away. I think we're getting better every week and I think we can take this as a learning experience. I love playing teams like this. It gets us ready for our league games at the end of October and early November."

ST. JOHN'S PREP (4-1) 7 7 0 6 - 20
BRIDGE. RAYNHAM (3-2) 0 0 7 0 - 7

SJ - Alex Moore 35 pass from Jack Sharrio (Stephen Cammaro kick)
SJ - Moore 89 run (Cammaro kick)
BR - Brandon Gallagher 3 run (Kevin Wadsworth kick)
SJ - Moore 62 run (kick failed)
September, 8, 2012
9/08/12
10:04
PM ET
BRIDGEWATER, Mass. -- The hits just keep on coming for No. 9 Duxbury.
The Dragons ran their state best winning streak to 27 games with a 20-7 win over No. 8 Bridgewater-Raynham on Saturday. Even after two straight Super Bowl championship seasons and a historically good 13-0 campaign in 2011, Duxbury showed there's no need to revel in the glories of the past.
[+] Enlarge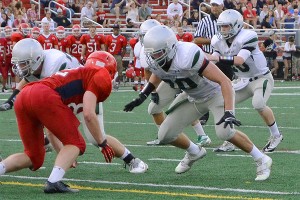 Scott Barboza/ESPNBoston.comDuxbury tackle Rob Kosharek anchors a physical, veteran offensive line that helped Jon Hurvitz run for 208 yards and two touchdowns Saturday.
Once again, they're for real.
Senior running back Jon Hurvitz provided the fireworks, racking up 208 yards on 17 carries with two rushing touchdowns. Despite breaking in a new quarterback, taking over for Matt O'Keefe, junior Sean McCarthy (rushing touchdown) was composed in the pocket and showed a tough nose in the running game out of the shot gun.
On defense, the Dragons looked strong again with linebacker Marshall McCarthy frequently dropping the hammer.
Trojans head coach Dan Buron remarked after the game that his team isn't likely to see a team as talented as their Week 1 opponent – and B-R's schedule is stacked.
In the end, there are simply too many horses to corral.
"Our [offensive] pace, I think, got to them in the second half," said Duxbury head coach Dave Maimaron whose team run at a hurry-up pace in the third. "I thought we could go as fast as we could around them, as much as we could."
A BREAK-OUT YEAR?
Hurvitz gained plenty of game experience last season while featuring at running back for the Dragons after Henry Buonagurio lost most of the season to injury.
He continued the pace in his season debut, breaking off touchdown runs of 22 and 61 yards.
Of course, Hurvitz believes the key to his success has been Duxbury's offensive line, which returns largely in tact this season.
"We've got [Grant] Kramer, [Rob] Kosharek, C.J. [LoConte], who's going to Army next year for lacrosse. We've got [Rick] Lippard and [Jack] Hurlihy, big guys who are all physical. It's fun to run behind them."
Hurvitz just fills in the blanks thereon.
"He doesn't need much room," Maimaron said of Hurvitz, "he just gets a little seam and he can bust it."
BRIGHT SPOTS FOR B-R
Even without the services of running back Arcel Armstead, the Trojans showed plenty of promise on offense, despite coming away with just one touchdown.
Sophomore Brandon Gallagher stepped into the Trojans' tailback role and Buron saw him "grow up" in the game's second half.
"I told him at halftime that he can't bounce to the outside, this isn't freshman football any more. Then, he made some nice cuts in the second half."
Buron also praised senior Jordan Cohen, who made his first varsity start on Saturday. Cohen showed good chemistry with receivers Ryan Martin, Ryan Scripter and Kevin Wadsworth and command of the offense.
"I thought Jordan Cohen, threw the ball pretty well in the second half," Buron said. "The big knock on us is that we can't throw the ball very well, but I thought he showed he could."
August, 29, 2012
8/29/12
11:40
PM ET
As much as time passes, things don't change much at Bridgewater-Raynham.

The faces and numbers change year to year, but the same mentality runs through the Trojans' ranks. They're tough-nosed football players, many of whom play on both sides of the ball. It's a concurrent theme during Dan Buron's 20 years at B-R's helm.

That tenure's also included plenty of playoff appearances. After an absence last year, the Trojans again will be vying for an Old Colony League championship. Albeit, B-R is now faced with a de facto two-game playoff series to gain entry to the postseason, but with a loaded Barnstable squad returning and a retooled Dartmouth ready to battle, the Trojans face the real possibility that they could end the season with the dubious distinction of being among the state's best teams not to play past Thanksgiving.

B-R's seniors are determined not to let that happen again.

"It comes down to leadership," Trojans senior captain Kevin Johnston said. "But we've been focused since day one this year. We have some veterans and some young talent coming back, but everyone's committed to doing everything they have to do."

The Trojans lost a bit of their heart and soul from last season with the graduation of talented backfield duo Branden Morin and Nick Schlatz. More than the carries or the defensive presence they provided, Johnston cited them as "role models," giving a blue print to this year's seniors.

That continuity of leadership has been another hallmark of B-R's success and this year's edition is no exception.

For the last two seasons, Ryan Murphy has spent the majority of the fall nursing two separate meniscus injuries. He vividly remembers the day of his first injury, playing with B-R's junior varsity squad as a sophomore. After suffering a tear in a game against Marshfield, Murphy took the long road back, working through rehabilitation and returning last year. He went back to square one after suffering a second tear and seeing his junior year shortened by injury.

That's all the motivation Murphy needs for 2012.

"I can't wait, I've worked so hard to come back," he said. "You look forward to your senior season for three years, we've worked nonstop to try and get to that point where we know we're good as we can be. That's what kept me going during therapy and workouts."

All that's left is kickoff.

"This year means everything," senior captain Kevin Wadsworth said. "To win the OCL this year, that would just be the cherry on top for my high school career."

BRIDGEWATER-RAYNHAM AT A GLANCE
2011: 9-2
Coach: Dan Buron (20th season, 149-59-2)
Key Returnees: Kevin Johnston, Sr. TE/DE, 5-11, 200; Dan Noviello, Sr. TE/DE, 6-1, 200; Joe MacInnis, Sr. OL/DL, 6-2, 260; Kevin Wadsworth, Sr. WR/DB, 5-11, 190; Ryan Scripter, Sr. WR/DB, 5-11, 180; Arcel Armstead, Jr. RB/LB, 5-10, 180; Jordan Cohen Sr. QB, 5-11, 160.
Strengths: Size, physicality and experience on offensive and defensive line.
Weaknesses: Lack of game experience at offensive skill positions.

Outlook: Another staple of B-R football has been its offensive line. But typically the Trojans have got it done with below average size, a further credit to the coaching staff. However, this year, B-R has size to boot with senior left tackle Joe MacInnis providing size the Trojans haven't had since the days of Marc Colombo. The question is who will be running behind that hulking line. It could be more a back-by-committee approach for B-R this season with Arcel Armstead looking for a breakout year. B-R's defense will be fueled by a pair of twin terrors at end. Johnston and fellow senior Dan Noviello feed off of each other as pass rushers.
August, 25, 2012
8/25/12
6:08
PM ET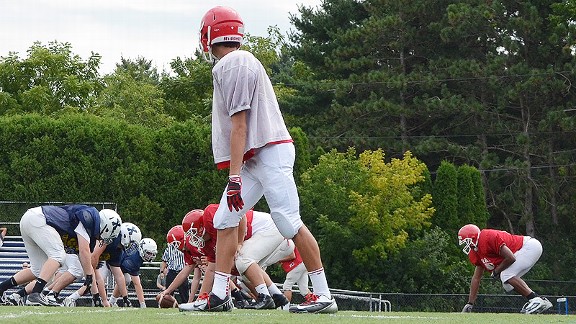 Scott Barboza/ESPNBoston.com
WESTWOOD, Mass. -- Battles between Bridgewater-Raynham and Xaverian football have become rites of fall in recent memory.
Yet, that non-league rivalry has taken root in the teams' annual passing scrimmage on the first weekend of the MIAA preseason calendar.
The Trojans and Hawks got back to work again Saturday morning at the Hawk Bowl, with Xaverian taking a slight edge in play. But after a nearly two-hour work through, both teams emerged with a lengthy list of both dos and don'ts.
"As a coach, looking down my list of notes here, there's more negative than positive," Xaverian head coach Charlie Stevenson said, "but I thought there times defensively we played really well and we put good pressure on them."
Trojans boss Dan Buron emphasized the fact that it's very early, saying "I told the kids we made mistakes, but it's nothing that isn't correctable. "
Xaverian, ranked third in our preseason statewide Top 25 poll, got several big plays early from the arm of senior quarterback Austin DeCarr, including a 70-plus yard bomb for a touchdown.
The Hawks also came away with several interceptions in the early going, but B-R (No. 8 in preseason poll) settled into its offense behind incoming senior quarterback Jordan Cohen before long.
Here are a couple of observations and notes from this morning:
ACCENTUATE THE POSITIVE
There was plenty of room for improvement on both sides, but both head coaches held their offensive lines in high praise.
Only once was B-R able to force DeCarr into a "sack" against Xaverian's No. 1 offense.
Meanwhile, an experienced Trojans group held their own while facing off with a physical Hawks defensive front.
"I thought they did a good job today," Buron said of his group. "Both teams know that have an advantage on defense because they know the pass is coming, but I thought our protection was good. They're in good shape and we have some depth there."
ANOTHER TO WATCH
Xaverian's big bodies on the defensive line, as in Mo Hurst and Ray Gobbi, and linebacker Hunter Taute get plenty of attention. They're also players opponents' offensive coordinators will surely point out on film in the week leading up to playing the Hawks.
But what could make Xaverian dynamic on defense is the work of defensive end Elijah Jolly.
Stevenson singled out Jolly's work on Saturday as the rangy, 6-foot-3, 215-pounder was able to establish the rush off the edge. If Jolly can keep up the pressure through the regular season, along with the Hawks solid interior defense, they could be very hard to beat.
MIXING IT UP
The Hawks have some bona fide targets in the passing game with Joe Bettinelli, Joe Denucci, D.J. Pagliuca and Greg Petrucci. But Stevenson primarily used Saturday to mixing up his personnel groups.
Denucci was also out nursing an injury, but Stevenson believes he'll return for the Hawks' opener at Malden Catholic.
While the scrimmage format slowed down the pace of play, Stevenson tried to turn out a bit of a new offensive identity for the Hawks, looking to go no-huddle.
Don't fret though, the Hawks' "500 pound" backfield combo of Hurst and Taute will see their time, as well.
"We have some players who can still run the ball, too," Stevenson said. "We'll put them to use."
VALUABLE EXPERIENCE
The Trojans will be breaking in a lot of skill players this preseason with the graduation of quarterback Brad Deluliis and running backs Nick Schlatz and Branden Morin.
Cohen exhibited nice touch on several of his passes out of B-R's bread-and-butter QB Waggle play.
While the running game was not featured, look for junior tailback Arcel Armstead to take on a bulk of the carries.
"They're good," Buron said of his running backs, "we just don't have any game experience."