Boston High School:

Jordan Dow
June, 13, 2013
6/13/13
3:43
AM ET
By
Josh Perry
| ESPNBoston.com


ALLSTON, Mass. – Xaverian made history on Wednesday night at Harvard Stadium. The Hawks claimed the lacrosse program's first-ever Division 1 state title with a solid 9-5 victory over the top seed Lincoln-Sudbury.

Xaverian jumped out to a 4-0 lead early in the second quarter and controlled the majority of play to bring home the championship. Following the final whistle, head coach Tim Gardner reflected on what it meant to finally earn the elusive first trophy.

"It's your primary goal every preseason…you work for this day and hope that it can happen and we've gotten close a few times and to win this game against that team…to win it in this fashion is pretty incredible," he reflected.

Junior attack jack Wheeler was the star of the game offensively with four goals and he could only marvel at the accomplishments that the Hawks reached this year.

"It makes us feel great. We came out Catholic Conference champs and no. 7 coming into the playoff and knocked off no. 2 Needham and then L-S right now," he remarked.

When asked if he was surprised about the Hawks quick start to the game, Wheeler replied, "I actually had a dream last night that we were going to come out and it was going to be 2-0 and then we'd go on to win."

It took more than eight minutes for the opening goal and junior midfielder D.J. Sperzel opened the scoring for Xaverian. Wheeler followed almost two minutes later with his first and it was 2-0 Hawks after the opening quarter. The slow start continued for L-S, as Wheeler and semi-final round hero Lukas Buckley added a pair to make it 4-0 before the Warriors got on the board.

Head coach Brian Vona admitted after the game that his team just could not match the speed of the Hawks out of the gate.

"I think they outplayed us and they played with a different speed," he explained. " I didn't see any of my guys run by someone or even try. I saw guys that we covered a month ago run by our guys."

Vona added, "Our kids played with heart…but I felt like we got outplayed. It's just that simple."

L-S got back into the game in the second quarter. First, senior Dan Delaney struck to make it 4-1 and then senior attacker Jordan Dow made it a two-goal game. Sperzel and John Merwin traded goals and the score was 5-3 heading into halftime.

The top seed made it a one-goal game just 1:37 into the third quarter on Merwin's second of the night, but Xaverian answered the challenge. It was Wheeler who struck back with a great move and rocket of a shot to make it 6-4. Gardner was proud of his best players coming through on the biggest stage.

"This is a great day for stars to step up, you know, and Jack [Wheeler] really earned it today with big goals at big times," he said.

Wheeler pointed to the Hawks attacking with speed as one of the reasons behind Xaverian's strong offensive performance.

"When we pushed it, we scored almost every time," he said. "Most of our shots were on net, which was helping us out. We kind of just pushed it and it worked out for us and we kept pushing it."



Following Wheeler's third, Eric Hoffman notched his first to make it 7-4 and give Xaverian a much needed cushion. Chris Giorgio gave the Warriors hope with a score 2:21 before the end of the third quarter, but it would be the last goal from L-S in the game.

The Hawks defense has been strong all postseason against some of the top attacking talents in the state (including Nico Panepinto of Needham and Jay Drapeau of Westford Academy) and it was stout once again in the final.

"We tried not to let them pass around and pass around and possess and not give them any space when they drive," Gardner said. "We were just preaching team defense, get a body on body, don't let them see the back side of the field and just try to prevent easy goals."

Vona was also full of praise for the strength of the Xaverian defenders, which had a much bigger impact than in the team's regular season meeting (L-S won that game 10-5).

He noted, "I don't feel like we ever got into a rhythm and I feel like that's because of them. I think they played that well. I don't know how many times we turned the ball over, but that wasn't just us turning the ball over – they helped us turn the ball over."

In addition to the Hawks' long poles Rob Breed, Joe Gaziano and Elijah Jolly, who all had solid performances, Xaverian could count on goalie Jay Pourbaix to make the key stops. The biggest sequence came with the score at 6-4 and Pourbaix made two close-range saves to preserve the two-goal advantage.

Gardner made sure to highlight the contributions of his goalie, especially the way he battled through injury in the final.

"Jay [Pourbaix] has been playing hurt all week," said Gardner. "He was banged up coming out of the B.C. High game. His knee is hurting and every step of his hurt, but he stepped up and it was just an incredible performance."

In the fourth quarter, Wheeler capped his great night with a great goal to make it 8-5. He gave a pump-fake that forced two defenders to charge at him, stepped inside the defense and fired an unstoppable shot past the goalie. With 3:10 left in the game, Backus added his second to wrap things up and secure the title.

"It's really remarkable and all the credit to the guys for their hard work and not giving up, not backing down when they started coming back a little bit and, really, at points in the season when it looked like we could have gone downhill…we really made a decision to step up and improve every day."


June, 11, 2013
6/11/13
8:31
PM ET
DIVISION 3

Dover Sherborn (18-4) vs. Cohasset (17-3)

Players to watch: D-S – D Rogers Boylan, A Matt Davies, G Ryan Goodall, M Matt Huemme, A Brandon Jaeger; Cohasset – G Jack Conte, LSM Tim Gillis, M Will Golden, A John Mills, M Colin Whelan.

Breakdown: The Raiders eye their second straight Division 3 title, but face a Skippers team that has won nine straight games dating back to a May 9 regular-season loss to D2 finalist Hingham. D-S feeds off of their goaltender, Goodall, who is equally adept making tough stops as he is springing the transition game with his long-strike passing ability. The Skippers are guided to Harvard by first-year head coach James Beaudoin, who hopes to lead the program to its first championship since 2010.

X-factor: For the skippers to win, they'll need Golden to bring his A-game to the faceoff X and control play. He's capable.

Pick: D-S 11, Cohasset 7.

DIVISION 2 WEST/CENTRAL SEMIFINAL

Longmeadow (23-0) vs. St. John's of Shrewsbury (18-3)

Players to watch: Longmeadow – A Kevin Barry, M Eric Barsalou, G Matt Draymore, M Keegan Dudeck, A Zack Lukus; SJS – G Andrew Arnold, A Hunter Burdick, A Josh Freilich, FOGO Connor Maloney, A/M Andrew Smiley.

Breakdown: The two district champions met once during the regular season, with the Lancers invading Shrewsbury and keeping their perfect season in tact with a 10-8 victory. Both of these teams have their share of offensive firepower, but they can also stop it, highlighted by Pioneers pole Aidan Fox. As their prior meeting, this game will likely be decided by the midfielders and which team is able to win 50-50 ground balls.

X-factor: Another matchup where I'll be watching the faceoff X. Maloney will need to be on point for the Pioneers to reverse the previous result.

Pick: Longmeadow 11, St. John's 10 (OT).

DIVISION 2 EASTERN MASS

Hingham (21-3) vs. Medfield (21-3)

Players to watch: Hingham – G Tommy Bannan, M Caleb Brodie, M Jacob Brodie, A David Freitas, D Jack Ullrich; Medfield – D Ben Cox, M Matt Crowell, A Andrew Melvin, G Robert Treiber.

Breakdown: The last time these teams squared off at Harvard Stadium (2010), the result was a double-overtime instant classic. The Warriors, who were then on a run of two straight state titles, hope the result is near the same. These squads have been near lights-out in front of their goaltenders, so expect a low-scoring struggle.

X-factor: Cox and Ullrich: Two of the state's best operating in their own end, they are game-changers.

Pick: Medfield 7, Hingham 5.

DIVISION 1

Lincoln-Sudbury (18-2) vs. Xaverian (15-6)

Players to watch: L-S – M Dan Delaney, A Jordan Dow, M Chris Giorgio, A Matt Hall, LSM Eamon Hunter, LSM John Sexton; Xaverian – D Rob Breed, M Ryan McClellan, M Ryan Scheib, A D.J. Sperzel, M Jack Wheeler.

Breakdown: It's been a while since the two teams met in the first week of the season on April 6 (a 10-5 win for L-S), and many things have changed. The No. 1 seed Warriors held serve through the bracket, running through their opponents by a combined score of 41-11 on the road to Harvard. Meanwhile, the Hawks had to dispatch last year's D1 finalist Needham and fend off Catholic Conference rival BC High — in overtime – in the semifinals.

X-factor: It doesn't matter where he is (taking faceoffs, on defense, on the man-up), Sexton is a force. It's always worth watching the manner in which head coach Brian Vona deploys Sexton in the game plan.

Pick: L-S 9, Xaverian 6.
June, 6, 2013
6/06/13
1:06
AM ET
By
Bob McGovern
| ESPNBoston.com
SUDBURY, Mass. - Something wasn't right with Jordan Dow.

During the past few weeks, the Lincoln-Sudbury senior attackman was having trouble getting into a rhythm with his teammates. His coach, Brian Vona, said the two-sport athlete couldn't even score goals in practice. Before the Warriors' game against Billerica in the Division 1 East lacrosse quarterfinals, Dow decided to shake things up and go through a pregame routine he uses during hockey season.

It worked.

Dow scored three goals and had seven assists against the Indians, as Lincoln-Sudbury cruised to a 14-1 win. With the victory, the Warriors advanced to the Division 1 East semifinals, which will be played on Saturday against Dual County League rival Acton-Boxborough.

"I prepared a little differently today. I went back to some of my hockey preparations, some of the routines that I did there. Things just clicked for me today. It's one of those things that you can't really put a finger on," Dow said. "I just got out of it today, and hopefully it can continue from here."

The Warriors put on a steady attack against an overmatched Billerica team, which spent most of the game in its own end. After testing the Indians' zone defense in the first half, Lincoln-Sudbury exploded in the third quarter with five goals – two of which came while a man up.

Dow netted all three of his goals in the third quarter. Chris Giorgio and Dan Delaney also scored during the period to put the score at 11-1.

The Indians, who began to sense a tide change, started getting extra aggressive with the Warriors and picked up a few penalties on some extracurricular pushing. John Merwin, a junior midfielder for Lincoln-Sudbury, said he could feel the momentum start to turn.

"When we really play together, we begin to notice that other teams start to fade away and turn on each other," said Merwin, who had three goals in the game. "Once that started to happen, once it got a little chippy, we decided to stay together and play our game, and our offense moved the ball better than we've seen in awhile, and that's what we need going into this type of tournament."

Lincoln-Sudbury put up another three goals in the fourth quarter, including a quick finish by Jake Klein, a junior attackman who game off the bench. It was Klein's first goal of the season.

Vona, whose Warriors squeaked by Billerica, 10-7, on May 6, knew his team needed to figure out a way to break through the Indians' zone defense, which tends to slow down the pace of the game.

"We practiced for the zone, and the kids moved the ball around well today. Ironically, we didn't do it so well in practice the last couple of days, but that's the way coaching goes," he said. "We practiced for a couple of different looks, they gave us those looks … and they gave us the opportunities."

Billerica goalie and UMass commit D.J. Smith slowed the Warrior attack through the first few minutes of the first quarter and made two point-blank saves on torso-level shots. Lincoln-Sudbury broke through with 7:14 left in the quarter when senior attackman Matt Hall went top shelf off an assist from Dow. The Warriors picked up another goal three minutes later when Greg Roder sidearmed a rocket to the top-right corner to put the score at 2-0.

Lincoln-Sudbury scored two more goals with less than two minutes left in the quarter – one on a quick-stick goal from Merwin and another from Hall, who hammered home a pass from Dow with 13 seconds left. The Warriors picked up where they left off in the second quarter when Hall scored an awkward goal on a pass that bounced off Smith's stick and rolled between the pipes. Merwin put the Warriors up 6-0 with 5:39 left in the half.

"They have some great athletes, they have a great team, and they're a force to be reckoned with," said Billerica head coach Craig Flynn. "They can all move the ball really well. They don't have one-handed players – those guys play righty and lefty. … We put ourselves in a hole right away. It was one of those days where nothing bounced right."

Billerica's only goal in the game came on an unassisted strike from senior caption Sean Farmer with 1:17 left in the first half.

The Indians, who entered the tournament as a No. 8 seed, will graduate 19 seniors.

"Our seniors have had a great four years and have a lot to be proud of," Flynn said. "They were [Merrimack Valley Conference] champions four years straight. [Smith] was an All-American, he's had a great career here, and now he's going to UMass-Amherst. Those guys have a lot to be proud of."
April, 28, 2013
4/28/13
12:54
AM ET
By
Bruce Lerch
| ESPNBoston.com
SUDBURY, Mass. - For a moment in the early minutes of the second quarter, Lincoln-Sudbury lacrosse fans would have been excused if they suddenly experienced flashbacks to the team's previous meeting against Acton-Boxborough.

On April 4, the Colonials came storming back after L-S had opened up a six-goal advantage, actually taking the lead late before the Warriors rallied to come back for a 12-11 victory.

Saturday, L-S came flying out of the gates once again and built a 6-0 lead with 3:03 left in the first quarter. Thomas Cotter scored twice in a row, followed by a dodge-and-rip by Scott Rogers that cut the deficit to 6-3 with 5:36 left in the second.

This time around, however, there would be no comeback as the second-ranked Warriors reeled off seven of the next eight and went on to finish with a 19-8 victory over No. 5 A-B at Myers field.

"No one was worried," said L-S midfielder Greg Roder, one of three players to score four goals in the game. "We knew what happened last time and how it was a close game and we knew we were going to take it right back from them."

Take it right back L-S (9-0) did, as Henry Guild (four goals, three assists), Jordan Dow (two goals, three assists) and Roder all scored to close out the first half with a 9-3 lead.

Guild and A-B's (10-2) Hunter Arnold traded goals to open the third, then L-S stuck three in a row - two from Roder around one from Dan Delaney (four goals, two assists) - to push the advantage to 13-4.

Cotter completed his hat trick to temporarily stop the bleeding, but the Warriors responded with scores from Dow, Guild and Delaney to push the lead back into double digits (16-5), before both coaches mutually agreed to start emptying the benches.

"I think they are a very good team," L-S coach Brian Vona said of Acton-Boxborough. "I think they are a well coached team but I think our kids were just ready, they were ready for tonight. They've been practicing hard. I know its age old stuff, but they've been practicing hard, they're working hard, and they're playing together."
April, 18, 2013
4/18/13
3:14
PM ET
By
Ryan Kilian
| ESPNBoston.com
CONCORD, Mass. –- With seven players finding the back of the net on Wednesday, Lincoln-Sudbury (5-0) showed off one of the most balanced and productive efforts of the young 2013 season as they defeated Dover-Sherborn, 15-4.

No. 2 Lincoln-Sudbury, playing at full strength for one of the first times this season, used a 7-0 second quarter run to pull away from No. 13 D-S (5-1) in the first round of the 2013 Coaches Challenge Cup.

"It was just a team effort today," L-S head coach Brian Vona said after the game.

L-S was led in scoring on the day by senior attack Jordan Dow, who netted four goals to go with one assist.

"When we get both the midfielders and attack going we can be a tough team to beat," Dow said.

Middies Dan Delaney, Brendan McCartthy, Harlan Smart, and Henry Guild each scored two goals and Greg Roder added one for the victors.

"It is what we talked about," Vona said. "We had a couple of kids trying to do it all and we just talked about sharing the ball and we did."

Two-Way Middie: Fairfield-bound middie Chris Giorgio (2 Goals) scored the games opening goal, eight seconds into the first quarter, on an aggressive dodge off a John Sexton face-off win.

As good as Giorgio looked on the offensive end it was work on the defensive end of the field that drew praise from his head coach.

"He is a very good player," Vona said. "We did not get him into to many offensive sets today because we had him coming in on the wings so much and I did not want to gas him. He took the ball away from kids with the short stick a few times. The kid has worked really hard for us so I am proud for him."

Opening Quarter: It may not have been how Vona drew up the start of the game but D-S came out moving and possessing the ball as they lead 2-1 after the first quarter.

"In the first quarter we were just trying to do too much," Vona said. "Every one person was trying to do it themselves but when we sit back and trust each other and move the ball I think we are a good team."

D-S, playing without senior attack Brandon Jaeger, who was out with an injury, got a strong opening effort from attackmen Grant Gregory (1G) and Matt Davies (1G, 1A).

From the second quarter on it would be all L-S as they used their depth, balance and strong two-way play to control the game.

"We settled down in the second quarter, got the quality dodges we wanted and executed," Dow added.

L-S will take-on long-time neighboring rival Concord-Carlisle in the 4 p.m. semifinal game of the Coaches Challenge Cup on Thursday at Andover High School.

North Andover Advances: North Andover had finished in last place (Eighth) during the past two years of the Coaches Challenge Cup. On Wednesday they took a big step toward changing recent history as they defeated Division 2 power Hingham, 7-6, in the day's closest contest.

After an opening half that saw both teams score only one goal each North Andover coach Ryan Connolly knew that his team had to start taking advantage of opportunities if they were going to prevail.

"We knew they would come around as long as we could start burying our opportunities," Connolly said. "We were a little stagnant and we did not come out of the gates flying like I was expecting the guys too. Then we really started turning it on."

Both teams came out of the second half more aggressive as Hingham middie Caleb Broadie (3 G) and North Andover attack Nick Pino (4G) matched each other goal for goal in a battle of two of the top talents in Eastern Massachusetts lacrosse.

Trailing 6-4 with 7:26 remaining in the game North Andover received three unanswered goals from attack Dante Querci (2G) and Pino to give them the final lead of the game.

The North Andover defensive unit of goalie Cosmo Capabianco and defenders Colin Cronin, Tom O'Mara, and Joe Samuelman all played very well down the stretch for NA in the win.

North Andover will take on Wellesley at 2 p.m. in the other semifinal match-up on Thursday at Andover High School.
April, 8, 2013
4/08/13
2:24
AM ET
Attackmen:
Tyler Bogart, Soph., Catholic Memorial
Jordan Dow, Sr., Lincoln-Sudbury
Jay Drapeau, Jr., Westford Academy
Brandon Jaeger, Sr., Dover-Sherborn
C.J. LoConte, Sr., Duxbury
Andrew Melvin, Sr., Medfield
Nick Menzel, Jr., Archbishop Williams
Nico Panepinto, Sr., Needham
Robbie Pisano, Sr., Needham
Tyler Reilly, Sr., Grafton
Andrew Smiley, Jr., St. John's (Shrewsbury)
[+] Enlarge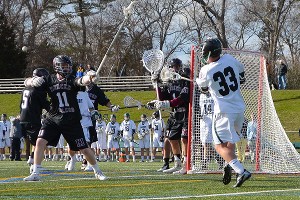 Scott Barboza/ESPN Army commit C.J. LoConte will look to shoulder a bigger part of the offense for defending Division 1 state champion Duxbury.
Midfielders:
Kevin Bletzer, Jr., Catholic Memorial
Will Blumenberg, Soph., Concord-Carlisle
Caleb Brodie, Jr., Hingham
Alec Brown, Sr., Wakefield
Tucker Ciessau, Sr., Scituate
Dan Delaney, Sr., Lincoln-Sudbury
Henry Guild, Sr., Lincoln-Sudbury
Carson Hart, Sr., Wayland
Davis Kraft, Sr., Algonquin
Matt LaCroix, Sr., Westfield
Drew O'Connell, Jr., St. John's Prep
Mikey Panepinto, Jr., Needham
Kieran Presley, Sr., Amherst
Bryan Rotartori, Sr., Grafton
Jack Wheeler, Jr., Xaverian
Long-stick Midfielders:
Nick Brozowski, Jr., Concord-Carlisle
Mike Elcock, Jr., Needham
D.J. George, Sr., Arlington Catholic
John Sexton, Jr., Lincoln-Sudbury
Defensemen:
Evan Boynton, Sr., Concord-Carlisle
Tim Gillis, Soph., Cohasset
Brian Uva, Sr., St. John's Prep
Luc Valenza, Sr., Foxborough
Jay Walsh, Sr., Duxbury
Tyler Weeks, Sr., Andover
Ian Yanulis, Sr., BC High
Goaltender:
Andrew Blood, Jr., Walpole
Matt Comerford, Sr., Reading
Ryan Goodall, Sr., Dover-Sherborn
Nick Marrocco, Jr., Duxbury
Giles Ober, Sr., Algonquin
Jake Reynolds, Jr., Scituate
D.J. Smith, Sr., Billerica
Robert Treiber, Jr., Medfield
Tighe Van Lenten, Sr., Masconomet
March, 28, 2013
3/28/13
9:11
PM ET
FIRST LINE
F - Liam Coughlin, Sr., Catholic Memorial
Finished third among all Division 1 players in scoring, while leading the Knights back to the Super 8 for the first time since 2009-10. The South Boston native put up 28-20-48 totals, tied for first among Catholic Conference scorers this season.
F - Ara Nazarian, Soph., Malden Catholic
ESPN Boston's Mr. Hockey award winner this season, Nazarian had 26-22-48 totals for the regular season, along with nine goals and five assists during the Super 8 tournament for the three-time defending champions. The Boxford resident and center is the first underclassman to win the Mr. Hockey award.
F – Brian Pinho, Sr., St. John's Prep
The Providence College commit led the Eagles to a No. 1 seed in this year's Super 8 tournament. The North Andover resident compiled 12-24-36 totals this season and, in January, was ranked No. 117 among North American skaters in the NHL Central Scouting's Midterm Rankings.
D – Casey Fitzgerald, Soph., Malden Catholic
The North Reading resident earned his second Super 8 title with the Lancers, playing on all defensive units and is one of two players making a second-straight appearance on our All-State team. The Boston College commit had 5-17-22 totals on the season and recently was accepted in the United States National Team Development Program's U-17 team.
D – Matt Foley, Sr., Springfield Cathedral
The two-way blue-liner finished third on the Panthers in scoring with 10-16-26 totals this year while leading them to another Super 8 apperance. A Longmeadow resident, the captain is deciding among prep schools for next year, as well as offers to play in college.
G – Peter Cronin, Sr., BC High
The only repeating First-Team All-Stater this year, Cronin finished in the top five among Division 1 netminders in both goals against average (1.40) and save percentage (94.6) while starting all 23 of the Eagles' games. He is currently considering colleges among playing opportunities at the prep school and junior levels.
SECOND LINE
F – Tom Besinger, Jr., BC High
The Eagles' top center and captain was force to reckon with in the circle, in addition to leading the Eagles with 35 points (10 goals and a team-best 25 assists).
F – Cam Owens, Sr., Wilmington
Finished his high school career with back-to-back Division 2 state championships. Owens racked up 30 points, playing alongside All-State honorable mention Brendan McDonough. Owens is currently weighing prep and junior options for next year.
F – Nolan Vesey, Sr., Austin Prep
The senior captain led the Cougars back to the Super 8 for the first time since the 2009-10 season and all the way to a finals appearance at the Garden. Vesey led AP in goals (18) and points (31) while kicking in 13 assists.
D – Nick Gorski, Sr., Central Catholic
A player who head coach Mike Jankowski repeatedly called his "most improved player" since freshman year, the Raiders captain played on all units, leading Central to another Super 8 appearance.
D – Jack Williams, Sr. Springfield Cathedral
A major component to perhaps the state's best blue-line core, Williams did a little bit of everything for the Panthers, including playing forward on power-play units. The Suffield, Conn. resident tallied four goals and 19 assists for 23 points. He is currently weighing his playing options for next season.
G – Colin Soucy, Jr., Central Catholic
The break-out star of this year's Super 8 tournament, Soucy nearly delivered the Raiders to a quarterfinal-round upset of No. 1 seed St. John's Prep in his first year as Central's starting netminder.
Best of the Rest – Honorable Mention
Forwards
Tyler Bird, Jr., St. John's Prep
Tommy Bishop, Sr., Chelmsford
Matt Brazel, Jr., Hingham
Brian Brooks, Jr., Canton
Mike Carbone, Sr., Marshfield
Bobo Carpenter, Soph., Austin Prep
A.J. Couto, Sr., Danvers
Ben Cox, Sr., Medfield
Peter Crinella, Soph., Springfield Cathedral
Cam Curley, Sr., Franklin
Sam D'Antuono, Jr., Hingham
Jordan Dow, Sr., Lincoln-Sudbury
Josh Edwards, Sr., Blue Hills
Brendan Greene, Jr., Winchester
C.J. Grinnell, Sr., Burlington
Marc Happy, Jr., Wachusett
Lloyd Hayes, Jr., Central Catholic
Kevin Hock, Frosh., Catholic Memorial
Mike Iovanna, Sr., Malden Catholic
Andrew Irving, Sr., Beverly
Connor Irving, Jr., Beverly
Ryan Jones, Sr., Coyle-Cassidy
Jack Kilty, Sr., Medway
Pat Kramer, Soph., BC High
Tom Koopman, Jr., Marblehead
Matt Kustra, Sr., Natick
Brendan McDounough, Jr., Wilmington
Anthony Lespasio, Sr., Bedford
Jack O'Hear, Sr., Catholic Memorial
Derek Petti, Sr., Tewksbury
Eddie Pratt, Sr., Xaverian
Nolan Redler, Jr., Winchester
Tyler Sifferlen, Jr., Malden Catholic
Mike Sorenti, Jr., Archbishop Williams
Sean Spohr, Sr., Westfield
Max Turcotte, Sr., Holliston
Max Willman, Sr., Barnstable
Defense
Matt Burchill, Sr., Marshfield
Derek Butler, Jr., Natick
John Carlson, Jr., Hingham
Adam Crowley, Jr., Burlington
Nick Edwards, Jr., Blue Hills
Sean Heelan, Sr., Catholic Memorial
Kurt Leavitt, Sr., Canton
Bryan Nelson, Soph., St. John's (Shrewsbury)
Nick Rolli, Jr., Malden Catholic
Ryan Shea, Frosh, BC High
Sam Topham, Sr., BC High
Goaltenders
Tim Birarelli, Soph., Beverly
Alex Buckley, Sr., Newburyport
Brandon Collett, Frosh., Catholic Memorial
Jordan Davis, Sr., Norwood
Derek DeCastro, Sr., Burlington
Drew Foley, Jr., Wilmington
Nolan Greene, Jr., North Quincy
Elijah Harris, Soph., Austin Prep
John Liquori, Jr., Springfield Cathedral
Al Lynch, Jr., Framingham
Evan Morelli, Sr., Reading
James Offner, Soph., Winchester
Nick Russo, Sr., Waltham
Jimmy Tierney, Soph., Oliver Ames
January, 17, 2013
1/17/13
1:42
AM ET
By
Mike Abelson
| ESPNBoston.com
MARLBOROUGH, Mass. -- Scoring two goals in under a minute is rare enough, but two shorthanded goals? That's a true rarity.

The planets aligned for No. 23 Lincoln-Sudbury Wednesday afternoon at the New England Sports Center. Buoyed by two shorthanded goals in 52 seconds, the Warriors defeated Tewksbury, 4-2, in a big DCL/MVC Division 2 matchup.

"We've scored a good number of shorthanded goals this year," L-S head coach Peter Elenbaas said. "We've got some guys with some speed. They did a terrific job."

After a tentative first 20-plus minutes by both sides, Warrior senior Jordan Dow broke through on a two-on-one break and slotted the puck home after whiffing on the first attempt. Dow added an empty-net goal in the final minute of the game to seal the victory.

Fellow senior Shane Sefton got in on the man-down fun with a short shot that snuck through Kyle Paquette's 5-hole to give the Warriors a 2-0 lead and forced the Redmen into damage control.

"We consider our power play to be really good," Tewksbury head coach Derek Doherty said. "They did a pretty good job. They forced us to create turnovers and we did."

Sefton added the eventual game-winning goal late in the second when a fluky bounce put the puck on his stick at the top of the crease and he buried it.

The Redman came alive in the third period thanks to an early goal from Shannon Alukonis. Tewksbury continued to buzz around the offensive zone for much of the early part of the third but couldn't put another past Erik Kessler, who finished the game with 13 saves.

"We didn't play hard the first two periods, we came to play the third period," Doherty said. "You need to play three periods to win a hockey game and Lincoln-Sudbury came out and outplayed us the first two periods. That's where the game was won."

The Redmen made a final run in the last three minutes. It started, ironically enough, with a shorthanded goal from Ryan Petti who took a pass from his brother Derek and blasted it past Kessler.

Tewksbury pulled Paquette in the final minute the final Redmen attack wasn't enough.

"The boys have been psyched for this for weeks," Dow said. "We really had guys step up today. We talked about earning it all week in practice. This is huge."

UNSURE HOCKEY
Both coaches acknowledged that their teams played tentative hockey for stretches. Elenbaas said that it might have been a case of big-game butterflies.

"I think both teams were looking at this like 'Whoa this is a huge game. Both of us have big records'," Elenbaas said. "Everyone looked like they were waiting for the play to come to them."

For the Redmen, it was only the third time all season they were held under three goals. Doherty was at a loss as to his team's lack of production.

"We've been putting the puck in the net, but tonight I don't know what it is," Doherty said. "Maybe it's playing an afternoon game. Make no excuses L-S is a good team."

MONDAY REDUX
Neither team will have to wait long for a rematch as the two teams will square off Monday afternoon in Tewksbury. Both coaches said there was much to improve heading into Monday's matinee.

"We've got to play better on the power play, and that's coaching," Elenbaas said. "We still have to play better without the puck."

"This time of year you want to start trending up," Doherty added. You don't want to be leveling off or trending down. I'm sure we'll have round two on Monday and it'll be a good one."
May, 22, 2012
5/22/12
11:11
AM ET
By
Bruce Lerch
| ESPNBoston.com


BILLERICA, Mass. -- Brian Vona has been around long enough to know that if his Lincoln-Sudbury lacrosse squad is going to make a deep run in this year's postseason, the Warriors defense is going to come up with big stops in key spots.

Led by sophomore Notre Dame commit John Sexton, the D did just that in the third quarter of last night's nonleague clash with fellow Div. 1 power Billerica. Goals by Peter Walters and Dan Trainor to open the third quarter helped pull the Indians to within two goals of the Warriors at 9-7. With Kevin Farrell dominating the faceoff X, it seemed as though Billerica was in the midst of what could have been a game-changing run.

The Lincoln-Sudbury (13-5) defense dug in its heels, worked hard to get ground balls and excelled in the clearing game after each of Dan Shaughnessy's 16 saves, and returned both momentum and confidence to the Warriors sideline. L-S then proceeded to score seven of the next eight goals and pulled away for a convincing 17-9 triumph.

"It was 9-7 where we were worried," Vona admitted. "They fought back hard and we knew they were going to make a run. They are very well-coached and very skilled. [Cam] Slatton, [Ben Melaugh], [Russ Tedford] and [Walters] - those are there four players who can bring it. We knew they were going to come back and they did. Our defense had to make a couple stops. We've been looking for that for a while from our defense."

He added, "Our defense really played well in the third quarter. That's when I feel like that we set the tone was set for the entire game.

Jordan Dow led the Warriors with five goals, while Colby Hall added three goals and three assists and Henry Guild chipped in with a hat trick. Slatton had three goals and two helpers to lead Billerica, with Walters and Trainor each adding a pair.

Vona also noted that, prior to the game, the Warriors dedicated their performance to program founder and now-retired former coach Andy Oleski.

FILLING IN THE MIDDLE
The wide-open style that Lincoln-Sudbury plays makes them a very fun to watch and has for years. The offensive players, both attack and middies, know how to fill lanes and zip passes back and forth until they find the right shooting opportunity. Such plays led to a 5-2 first quarter and a 6-1 fourth.

The key for the Warriors is maintaining in the middle portions of the game. While L-S outscored the Indians in all four frames, Billerica played its best during the middle quarters. One the defense got going, however, that gave the offense the spark it needed for a definitive closing stretch.

"We just need all the middle too," Vona said with a laugh. "We've been playing well the last few games. We went down to the Connecticut and played a real tough team down there, got off to a fast start and lulled in the middle as well but we came back at the end. I'm proud of the kids."

DIGGING A HOLE TOO DEEP
Although Billerica managed to close to within a pair of goals during that third quarter, having to play from behind all game created problems that, against a team of the caliber of L-S, are just too much to overcome.

The Indians found themselves trailing by as many as four goals at several points, and once the Warriors made a strong push at the end, Billerica simply couldn't hold on any longer. An early harbinger of things to come took place in the opening minutes when a clearing pass was sent back to the Indians cage only to find no goalie waiting to receive it and the ball rolled right in for the first L-S score.

Games like this in the final week of the regular serve as strong teaching tools, something Indians coach Craig Flynn undoubtedly will address with his charges before the tournament begins.

"We started off in the hole, gave them a couple of goals early that we shouldn't have, passing back to the goalie when he's not in the net trying to clear the ball," Flynn explained. "We felt like we could keep fighting back but their offense is very good. They have good attackmen and midfielders and our defense was getting lost in there. We had a lot of mental errors. They have a lot of motion in their offense and it looked like our guys were getting lost out there on defense."

"It's all learning experiences for our guys to get ready for the tournament," he continued. "We'll learn a lot from this and I think we can make a solid run at this thing once we get into it."
April, 18, 2012
4/18/12
12:34
AM ET
By
Shawn Myrick
| ESPNBoston.com


NORTH ANDOVER, Mass. -- In one of this year's top boys' lacrosse leagues, Concord-Carlisle and Lincoln-Sudbury are once more playing the role of the Dual County Leagues' perennial powerhouses.

An early season matchup between the defending conference champs may have started a potential let down, but a late push from the No. 2 Warriors in the Coaches Challenge Cup quarterfinals yesterday afternoon showed why both squads remain top in the state.

With C-C jumping ahead by five goals early, L-S (4-2) battled back but never led as they fell by a slim 8-7 margin at Joe Walsh Stadium in North Andover.

"They are the class of the league and we measure ourselves against them," C-C head coach Tom Dalicandro said. "We said 'value the ball, posses the ball, and take good shots'. I think we did a much better job today than we have done this year of valuing possession."



The No. 8 Patriots (4-0) burst out of the gate with the first three goals and a 6-1 lead to open.

Ducking defenders from the top corners of their offense, leading scorer Kevin Delehey netted all three of his goals off isolation plays in the first quarter. Slipping under a pair of Warriors, the C-C senior found himself five-yard in front of the netminder in the final seconds of the initial quarter to send the Patriots into the break up 5-1 with his final tally.

A wide-open open breakaway by long-pole Henry Bumpus left the senior walking into one-on-one with the keeper as he put the DCL (Small) defending champs up 6-1 at 11:04 in the second.

"We were able to generate some good offense out of our dodges," Delehey said. "I run through those dodges hundreds if not thousands of times. At this point so it is really just reaction."

After two turnaround tallies put the Warriors down 6-3 at half, L-S junior Jordan Dow nailed a pair of open-net man-up opportunities to help cut the deficit early in the third. L-S junior Dan Delaney rolled around his defender and hit a rip ten yards out to bring the score to 7-6 with 4:42 left in the quarter.

Delaney and Dow led the Warriors with two goals, while C-C senior Mike O'Brien also netted a pair.

"We called an invert and saw some matchups we really liked," L-S head coach Brian Vona said. "We eventually just tightened up defensively. They just out everything'd us."

Trading goals between the final quarters, L-S entered the last ten minutes down 8-7, but was unable to finish a pair of man-up chances along the post. A steal by C-C senior keeper Doug Gouchoe from behind the net sealed the victory in the final seconds.

HINGHAM ROLLS AGAIN


In other Coaches Cup quarterfinals action, No. 3 Hingham (5-0) never trailed as it was lead to a 9-5 victory over No. 14 Dover-Sherborn (7-1) with six goals from senior Kevin Blair.

"I was really finding the seams on offense," Blair said. "We are doing a lot of switches off ball, we are picking for each other and it really opens up the middle. We like to isolate and draw the men (out)."

The Raiders evened two score margin in the first, but gradually faded away as the Harbormen found open shots around the crease.

Three straight scores from Blair in the second helped Hingham run away with a 6-3 lead at 3:11. Scoring all three off motion aside the net, the senior caught a lob pass from fellow upperclassmen Reed McLeod (two goals) late in the quarter and side stepped around both the post and the goalie for his fourth tally on the afternoon.

"We have six guys on the field who are able to play well together," Hingham head coach John Todd said. "We made them practice at a high tempo. [Blair] sees the field very well and is very fast."

The Raiders managed to work the ball up top for a score from junior Matt Huemme to grab a 6-4 deficit in the final seconds of the half, but were out shot three goals to one in the final two quarters.

Hingham found Blair behind D-S's defense on a counter late in the third then buried a deep rip from senior Kevin Morris to put D-S away with a 8-4 lead at 7:24 in the fourth quarter.

"They pressured the ball real well and we did not have the ball a lot in the second half," D-S head coach Brian McLaughlin said. "It is hard to score when you can not get the ball back."

Originally trailing 3-1 in the first, senior Ben Newbert evened the score for the final time on the afternoon by finishing a ground-ball pickup next to the crease then side-arming a 10-yarder to put the score at 3-3 to end the first. Newbert lead the Raiders with two tallies.

RAIDERS PLUNDER
In the first game of the day, No. 6 Wellesley rolled past North Andover, 14-1.

Midfielder Oliver Saffery led the Raiders with four goals, in addition to a team-high seven ground balls. Ryan Cassidy collected two goals to go along with five ground balls.

Connor Darcey made eight saves in the cage to make it stand up.

"North Andover's a good team, and I'm just glad we came ready to play," Raiders head coach Rocky Batty said. "It's always nice to get a win in the Coaches' Challenge Cup, and we're already excited to play again at 2 p.m. on Thursday at Dover-Sherborn."

GOLDEN WARRIORS GIVE SACHEMS A RUN
In perhaps the day's most riveting game, No. 11 Winchester held off No. 20 Andover in a 10-9 decision.
April, 4, 2012
4/04/12
1:28
AM ET


SUDBURY, Mass. – Mired in a dogfight with Dual County League rival Acton-Boxborough Tuesday, No. 2 Lincoln-Sudbury had an opportunity to send the Colonials home in regulation. With possession on the wing, coming out of a timeout, the Warriors worked a set play, only to see A-B longstick Mike Duggan block a shot as time ran out in the fourth quarter.

The teams were tied, 13-13.

Chris Giorgio made sure there wouldn't be a repeat scenario in the overtime period, notching his second goal of the game off a set play and lifting the Warriors to a win in their season opener.

"It was a great job by the defense, getting the ball away from them and setting up our offense," said the junior, who's moved up from the defensive midfield this season. "[Coach Brian Vona] told us to hold the ball and not push it too hard, be safe, possess the ball and then if you find a chance, go for it."

The fact remained that No. 11 A-B (1-1) was fortunate merely to stay in the game after L-S (1-0) used a four-goal second quarter to take a 9-5 lead to the half.

In the third, the momentum swung swiftly in the opposite direction though, as the Colonials ripped off four straight goals in a six-minute period of the third to tie the game, 10-10.

"They were amazing, they were not stopping at all," Giorgio said of A-B's comeback effort. "They were getting ground balls, they were more physical than us in the third quarter and I think that's what basically got them through it."

The Colonials held two separate leads in the fourth quarter, thanks to three goals in the period by Tyler McKelvie (5 G). L-S knotted the score at 13-all on Matt Hall's fifth goal of the game, scored with 1:57 remaining.

WE ARE YOUNG, SO WE SET THE WORLD ON FIRE
The Warriors were ravaged by injuries last season, but their depth was evident in the fact that they still made the Division 1 tournament quarterfinals.

During last year's stretch run, a good number of L-S's underclassmen were pressed into service either earlier or perhaps relied upon more than otherwise would have been anticipated.

It might just make this year's team all that much better in the long run.

"We have a bunch of juniors and sophomores who have really stepped up and practiced hard."

ESPN Boston preseason All-State teamer Dan Delaney contributed a seven-point game (3 G, 4 A) Tuesday after he was called upon to take a larger role in the offense last year as a sophomore. He's part of a deep and talented junior class this year, that's a big reason why the Warriors started the season at the No. 2 position in our poll.

"Dan Delaney was a beast for us at the end, along with Henry Guild, a junior, Matt Hall, another junior, Jordan Dow's a junior. Those guys have come together," Vona said.

DCL A CONFERENCE TO WATCH
If Tuesday's matchup is any indication, the DCL should be an absolute maelstrom.

In addition to the Warriors and Colonials, the DCL should be well represented in our Top 25 poll through the year and into the postseason. With a much improved Westford Academy squad coming in, in addition to perennial power Concord-Carlisle and defending Division 3 state champion Weston in the small division, expect a lot of rock 'em, sock 'em throughout the league schedule.

"That's a great team that deserves a lot of respect around the state this year," Vona said of A-B after Tuesday's game.

The road doesn't get any easier from here for the Colonials either, who travel to play the Grey Ghosts on Thursday, in a stretch of three straight Top 25 opponents to start the season.

"Westford's legit, they've got a good midfield and a good attack, too," A-B head coach Pat Ammendolia said. "It's going to be another tough test."