Boston High School:

Jordan Giampa
November, 3, 2012
11/03/12
2:18
AM ET


AUBURN, Mass. -– It was a win, but it was an Auburn win, and thus you know the drill by now.

"Usually that don't happen, they gotta ask me first," Rockets head coach Jeff Cormier shouted off in the distance with a chuckle as his star running back, Tyler Desjardins, was greeted by a reporter. "I'm gonna have to [discipline him]."

Desjardins retorted sheepishly, "I talked to Sull [assistant coach Sean Sullivan]," to which Cormier shot back a wisecrack with a look that was one part smile, one part Don't you dare try anything stupid.

But really, when you run for 286 yards and three scores on just 11 carries, running behind a line that averages 280 pounds across and features Division 1 recruits, you have to be a special breed of na´ve not to defer due credit. It was the Desjardins show only on paper, as the Rockets rolled rival Northbridge 39-7; the proof was between the hashes.

"Our line, inside run, personally this is the best game they've played," Desjardins said. "I can't do anything except run behind them all game. I'm very proud of them."

And what characterizes this as their best game?

"Hustle, always running to the play," Desjardins said. "Always opening up the holes, the holes were fantastic today. I've never ran through bigger holes. My fullback [Bobby Sivret], awesome job. Our D, lockdown once again. I mean, it was just awesome. It was perfect."

Behind the feared front five of Aaron Dyke, Will Greelish, Steve Domenick, Jordan Giampa and Matt Ramirez, the Rockets' varsity put up 447 yards of offense against the Rams (7-2), with all but 14 yards coming on the ground. Desjardins led the way with 286 yards, while Sivret added 88.

Cormier shared similar sentiments to those of Desjardins.

"Tonight I thought was amongst their better efforts," Cormier said of the line. "I give them credit. When things are on the line, and we're trying to win a league championship...tonight was a real big game, and our kids showed up to play."

The Rockets scored on their first two drives of the game, both on Desjardins scampers. The senior scored his first on a 21-yard dive up the middle, capping a five-play, 59-yard game-opening drive. Northbridge went three-and-out on the ensuing drive, but pinned a punt at the Rockets' one yard line. No problem for Desjardins, as five plays into the drive he followed Sivret up an outside gap and took off for daylight, 75 yards for a score to cap a five-play, 99-yard drive.

Less than seven minutes into the contest, and Desjardins had already broken the 100-yard barrier.

"The line blocked out, and I just followed my fullback," he said. "He set one clean block, open field, gone, it was perfect. That play could not have gone any [more] perfect."

The Rockets tacked on another score from Mark Wright to go up 20-0 in the second quarter before Northbridge could respond, a four-yard quick slant from quarterback Matt Phelan to receiver Jake Ryan. But with five turnovers, the Rams struggled to sustain drives, all the while the Rockets marched up and down the field in unison.

Pick and Stick: Of the five turnovers committed by Northbridge, the backbreaker was Tim Bryan's 70-yard interception return that made it 32-7 with a minute to go in the first half. For the most part, the Rockets' defense did a good job funneling things to the middle of the field, where safeties like Bryan delivered some rattling hits on would-be receivers. Most of Northbridge's gains came on short drive routes, quick bubble screens to the sidelines, or scrambles up the middle from Phelan when flushed out of the pocket.

Bryan's return was the creation of two key actions. First, Giampa came up through the A-gap and delivered a hit to Phelan's midsection, resulting in an duck of a ball off Phelan's fingertips, coming over the middle high and underthrown. After Bryan pounced on the ball, he broke for the near sideline, and senior linebacker Kyle Langer spung him loose for the final 50 yards with a great seal block.

"I said to Kyle, the collision was exceptional, but [the key] was more of putting himself in a position to make a good, clean hit to spring him loose," Cormier said. "I thought it was a great senior play.

"He's a kid that's been around a while, Langer has, and there are times you don't take the right ankle, that's a block on the side and it's called. But he really got himself without question in front of him, and put a really good block on him, gave us a little more room for Tim Bryan to reach the end zone."

AUBURN 39, NORTHBRIDGE 7

NBR (7-2) 0 7 0 0 --- 7
AUB (9-0) 12 20 7 0 --- 39

First Quarter
A – Tyler Desjardins 21 run (kick failed) 8:31
A – Desjardins 75 run (rush failed) 4:03

Second Quarter
A – Mark Wright 2 run (rush failed) 6:49
N – Jake Ryan 4 pass from Matt Phelan (Ryan kick) 2:43
A – Desjardins 75 run (rush failed) 2:30
A – Tim Bryan 70 interception return (rush failed) 1:07

Third Quarter
A – Dom DiCarlo 14 pass from Drew Goodrich (Desjardins kick) 8:01
August, 23, 2012
8/23/12
6:04
PM ET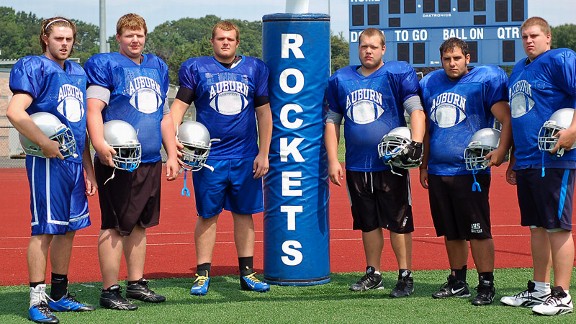 Brendan Hall Led by junior Will Greelish (second from left) and senior Aaron Dyke (third from left), No. 18 Auburn will once again boast one of the state's heaviest lines at nearly 280 pounds across.
AUBURN -– As a unit, they were among the state's most efficient, paving the way to more than 4,200 rushing yards, and among the biggest, averaging nearly 260 pounds across. Paired with a blend of power and finesse between four change-of-pace backs, it was a lethal combination that led to an unprecedented fourth straight Super Bowl championship for the Auburn Rockets.
All five starting offensive linemen return, now averaging nearly 280 pounds across, and the unit is comprised primarily of seniors with two or three years of varsity experience. And yet, true to the Belichickian mantra professed by head coach Jeff Cormier, it's as if they're right back at square one.
"We've got a ways to go," says senior Aaron Dyke, arguably the best of the bunch, and a preseason ESPN Boston All-State selection. "The whole team's got a long way to go. But we take it day by day."
If you've been to one Auburn practice in August, you've been to them all. Humility and brevity are the operative themes, and you can't argue with the method's success given the program's track record under Cormier. The only difference in 2012 is the absence of questions about their win streak, which was snapped at 41 last year to rival Shepherd Hill.
"Once we lost, we blew out every team," Dyke said. "But I know every team's coming back with more studs than they had last year. We bring back 27, but I know Holliston, Shrewsbury, Northbridge, they bring back everybody."
Says senior tackle Steve Domenick, "It's not really about going undefeated, it's about taking it one game at a time. We never focused on the whole streak thing, we just wanted to go out there every game and play some good football."
The Rockets graduated one of the state's most dynamic rushing tandems in the fleet-footed speedster Fred Taylor, now playing defensive back at Dean College, and Dan Flink, an ESPNBoston All-State selection now suiting up for Mass. Maritime Academy. Eric Desjardins is the only back returning with experience, and figures to take the lead role, but it should be a competitive training camp with Zach Clifford and Mark Wright.
Ideally, it would be a smooth transition. The Rockets consistently outweighed opponents at the point of attack in 2011, utilizing tight splits and combo blocks to nullify their opponents' top threats in the front seven. They were especially efficient on the right side with Dyke (6-foot-4, 295 pounds) and junior Will Greelish (6-foot-4, 325 pounds). Both have been receiving varied interest from an assortment Division 1 schools across the Northeast, including Boston College, UMass, UConn and Buffalo.
"I expect them to be very physical at the point of attack," Cormier said. "People know we're gonna run the football, which makes it that much more difficult to run the football. Those guys are gonna be under stress. There's going to be some pressure on those guys, with some young guys back there, they're gonna have to hold their blocks a little longer, move people a bit further. We're gonna have to compensate for our lack of experience at the running positions."
Defensively, where the Rockets have used odd fronts in the past, they will likely stay in a four-man front, given their size and depth in the trenches. As an added ripple, one of those key defensive linemen -- end Steve St. Jean -- will take on a new role this year as tight end.
St. Jean is an imposing figure at 6-foot-4 and 245 pounds, and is gaining interest from the MAC conference for track and field -- last spring, he finished third in New England in the shot put. It's still a work in progress, but if he adapts quickly he could leave Cormier with a favorable amount of options in the passing game for returning starting quarterback Drew Goodrich.
"He's trying to feel that out," Cormier said. "He didn't play tight end a year ago, so it's really square one, just trying to load him up with blocking assignments, kinda settle hiim in. But I think that he's pretty athletic as far as flexibility, and the possibility of options."
AUBURN AT A GLANCE
2011
: 12-1, Won Division 3 Central Mass. Super Bowl
Coach
: Jeff Cormier (14th season, 115-40)
Key Returnees
: Aaron Dyke, Sr. OG/DL, 6-4, 295; Will Greelish, Jr. OT/DL, 6-4, 325 lbs.; Jordan Giampa, Sr. C, 6-2, 285 lbs.; Steve Domenick, Sr. OL/DL, 6-2, 250 lbs.; Matt Ramirez, Sr., OL/DL, 5-10, 240 lbs.; Steve St. Jean, Sr. TE/DE, 6-4, 245 lbs.; Tyler Simmons, Sr. TE/DL, 6-1, 220 lbs.; Avery Sweet, Sr. TE/DL, 6-2, 250 lbs.
Strengths
: Size, experience at offensive and defensive lines
Weaknesses
: Experience at skill positions
Outlook
: The Rockets made headlines last season when their win streak, third-longest active in the nation, was snapped by Shepherd Hill. Then they made headlines again with their imposing line comprised entirely of underclassmen, led by Dyke and Greelish on the right side. As a unit, they are one of the state's heaviest across, and with the graduation of its top two backs (Dan Flink, Fred Taylor) and wide receiver (Connor Fuller) that unit will be taking on an even bigger role. St. Jean brings a unique skill set to the offense this year, his first as tight end, with his athleticism allowing him to play in space in addition to supporting the run, and that has to be pleasing to Goodrich. If the line continues on last year's success, when the Rockets ran for over 4,000 yards, then it should be a smooth transition for the new blood in the backfield.
September, 27, 2011
9/27/11
10:14
AM ET
THE MYTH OF KENNY
By day, he's just an unassuming high school student. Come Friday night, he's a legend.
Beverly running back Kenny Pierce inspired some tall tales while racking up five touchdowns in the Panthers' come-from-behind 36-35 win over Lynn English. The hashtag #KennyPierce had Twitter abuzz on Friday night.
"I wanted to get it trending," tech savvy athletic director James Coffey said Monday at the high school.
While the myth of Pierce's performance, which was highlighted by an 81-yard touchdown return for a score, continues to grow, all the mild-mannered running back was concerned with was next week's game against Winthrop. For the returning Division 3 Eastern Mass. Super Bowl champions, it's just another test in getting back to where they want to be.
"We had everybody rooting against us last year," said Pierce of the Panthers who entered postseason play at 5-6 last season, "that just motivated us more. We just want to get back there."
SO FAR, SO CLOSE, SO UNDERRATED
Melquawn Pinkney's performance for Putnam Friday night is the stuff of instant legend: 17 carries, 421 yards, six touchdowns.
The undersized speedster was the catalyst Friday for a Putnam squad that is quickly erasing that "underrated" moniker, coming four yards short of the state record in his eye-popping performance (Lynn English's Brandon Guy went for 425 in a 2001 win over Swampscott).
The Beavers debut at No. 20 this week in our statewide MIAA poll, and it's a recognition well-deserved. Some wonder if these guys are on par with Longmeadow – we'll have to give it a few more weeks before we jump to that conclusion.
But back to Pinkney – just how underrated are these guys?
"Springfield as a whole is underrated. I guess they don't think our players are as good or as talented, but we've got some good players coming out of here."
He continued, "I went to a lot of showcases over the summer time, and I hung with the best of them."
SHOCKING THE HOCK
Two of the state's strongest two-tier conferences already find themselves full of twists and turns after a weekend full of surprises.
Stoughton provided the upset of the weekend when the Black Knights faced a Mansfield squad that had been averaging 33.5 points per game and promptly shut them out, 8-0. The Knights held a slim 3-0 lead headed into the fourth quarter, then tacked on a safety and last-minute field goal to preserve the shutout.
Did we see this coming? No. Were were totally shocked? As with most things, the truth lies somewhere in between. Take note of the youth on the squad, and pay attention to the secondary featuring juniors Marcus Middleton and Aaron Calixte. The latter is already known on the hardwood, ranked as one of the top junior point guards in New England; but on a whole, this is a unit that sticks out on film for its athleticism.
With King Philip off to a dominating start on defense (4.6 points per game allowed) and North Attleborough being its usual self; combined with promise from Foxborough and Oliver Ames; and the wild card that is Attleboro; this is far from the last upset. Fasten your seat belts.
NEW-LOOK TROJANS
If you weren't paying attention, you might not have recognized the Bridgewater-Raynahm offense in the Trojans' 28-15 win over Marshfield on Saturday.
[+] Enlarge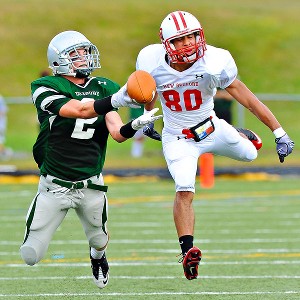 Jim Tarbox Reilly Naton leads a No. 2 Duxbury's defense, which Bridgewater-Raynham head coach Dan Buron calls the best he's ever seen.
After struggling to move the ball on the ground during their first offensive series, Trojans head coach Dan Buron made the decision to flex out hard-nosed running back Nick Schlatz out wide. Without Schlatz to key on the in backfield, B-R diversified it's approach, putting the ball in fellow running back Branden Morin's hands as well as letting quarterback Brad Deluliis make plays with his feet.
The spread look, which included four-receiver sets and some trips alignments, is a far cry from the meat and potatoes I-form rushing attack common at B-R.
"We've been doing it a little the last couple of years … with [Brad] Deluliis, Mike Connolly and even Billy Zolga last year, we spread it out and threw a little bit more," Buron said. "But now what we've done is split Nick Schlatz out there and then we have Arcel Armstead, who's a pretty good running back, too, on the other side, so people have to worry about them because they're good receivers, too."
Subtle adjustments like those have gotten the Trojan offense back on track after having a shutout thrown at them by Duxbury on opening night.
Though Buron was not without some weighty praise for the No. 2 Dragons and their swarming defense.
"That's the best defense I've ever seen," Buron said. "We were just trying to get out of there alive."
AUBURN'S O-LINE AMONG STATE'S BEST
With true Belichickian aesthetic, Auburn head coach Jeff Cormier tends to err on the side of caution when giving out praise. Compliments aren't exactly handed out like candy on Auburn Street – and honestly, when you've won a state-best 40 straight games, why change?
When pressed about making it 40 straight following Friday's 35-6 domination of St. Peter-Marian, "We're 3-0" was the repeated theme amongst coaches and players alike. But holding back on praise for the big guys in the trenches continues to be an upwardly difficult journey.
Tell you what, we're not afraid to say it anymore.
Auburn –- yes, Auburn, the birthplace of the modern rocket, tucked away neatly beneath the I-290 loop -– boasts one of the best offensive lines in the state. Doesn't matter if they're in Central Mass Division 3, or one of the power conferences in Eastern Mass. As a unit, they're already one of the biggest around, averaging 6-foot-3 and 250 pounds across. But what separates them from some of the state's other beefy lines is their surgery.
There's a significant difference between outweighing your opponent at the point of attack and overpowering them, and the Rockets certainly fall into the latter. Line coach Dana Giampa deploys an aggressive zone-blocking scheme (think Shanahan-era Broncos) that his players ran to near perfection on Friday night. Star SPM defensive end Jordan Knowles found himself out of the play most of the night, after factoring significantly in the Guardians' first two wins over Shepherd Hill and Fitchburg.
The unit of tackles Steve Domenick and Will Greelish; guards Matt Ramirez and Aaron Dyke; and center Jordan Giampa, paved the way for 462 rushing yards by the varsity, including 191 from Dan Flink.
"I think our offensive line is starting to come along, and I give a lot of credit to Dana Giampa for that, really working with those kids." Cormier conceded after the game. "They trust in what he's teaching."
Said running back Fred Taylor, "Our line stepped up big. Everybody basically had their A-game."
Time to start taking these guys seriously.
And by the way, what's scarier, the rushing totals reminiscent of 90's Nebraska, or the fact that the line is entirely comprised of juniors and sophomores?
September, 24, 2011
9/24/11
1:33
AM ET



AUBURN, Mass. -- Talk about well-coached.

The No. 9 Auburn Rockets reached a milestone tonight in a dominant 35-6 win over No. 19 St. Peter-Marian, extending its state-best win streak to 40 games, good for third-longest active streak in the nation. Not only was it a stellar performance by the Rockets' front four -- which pressured the Guardians (2-1) and their star quarterback Steve Flynn into two interceptions, and held SPM to 83 yards of offense in the first half -- but the Rockets turned in arguably one of the season's most impressive rushing performances.

Behind a steady four-pronged attack of running backs Dan Flink (15 carries, 191 yards, 2 TD), Bobby Sivret (12 carries, 106 yards, 2 TD), Fred Taylor (five carries, 79 yards) and Tyler Desjardins, the varsity of the Rockets (3-0) racked up 462 rushing yards on the Guardians. They set the tone right from the get-go when on the second play of the game, Flink slipped inside of a kickout block from Aaron Dyke and ran a tackle-lead counter 70 yards straight up the gut, all the way down to the five, setting up Drew Goodrich's four-yard scamper two plays later.

"It was a great play, the offensive line did exactly what they had to do," Flink said, adding with a laugh, "I just wish I had some breakaway speed to finish it off."

Three plays into SPM's ensuing drive, Flink came up with an interception on the right sideline, setting up an easy 35-yard scoring drive, punctuated with a six-yard plunge by Flink for a 13-0 score with less than six minutes played.

That set the tone the rest of the way. And in the post-game, the Rockets spoke like a team that not only expected to win, but knew exactly how to act and what they were going to tell reporters.

"I mean, once again, we're just 3-0 right now," Flink smiled.

Said Auburn head coach Jeff Cormier, "We're at three, and we're looking for four next week, and our second one at home. Then hopefully we can get our fourth win next week, and keep rolling."

Longfellow couldn't have said it better.

Some key points from the game:

What a wagon: When informed that his varsity racked up 462 yards on the ground, Cormier cracked, "We're giving Brady a run for his money, huh?"

No matter how you cut it, 462 is the number that sticks out most in this game. Anchored by tackles Steve Domenick and Will Greelish; guards Matt Ramirez and Aaron Dyke; and center Jordan Giampa, the Rockets had their way with the St. Pete front seemingly all night. A group comprised entirely of underclassmen that averages roughly 6-foot-3 and 250 pounds across, they gave the appearance of a unit that has been together for three years, not one.

"Our line stepped up big," Taylor said. "Everybody basically had their A-game."

How difficult is it to prepare for a unit Auburn's? The Rockets ran a fair amount of double-tight jumbo sets tonight, with ends Mykal Diaz and Eric Chionchio providing even more of a mismatch; and with line splits anywhere between one to six inches, that took away some blitz packages right off the bat.

The Guardians saw this tight-split look last week when they took down Shepherd Hill and its vaunted double-wing scheme, but still found themselves outmatched in this one.

"Number one, they're huge, they're the biggest team in Central Mass," SPM head coach Tom Henrickson said. "But they're foot-to-foot and they don't have any gaps. And the backs just bounce off of them, they wait and see a hole and read. It's all zone blocking. They do a great job at that, they're well-coached."

As noted above, the Rockets kept things fresh in the backfield by platooning four running backs. By the second quarter, the wear and tear was evident, as the speedy Taylor danced his way to runs of 25, 22 and 18, totaling 74 yards rushing in that stanza. Flink then made another long run, this time for a score, as he followed a convoy up the left sideline on a sweep before throwing a stiffarm and cutting sharply back towards the hashmarks, coasting into the end zone for a 42-yard score that made it 28-6.

"We've got stuff we've got to work on, but I'm very proud of our kids' effort," Cormier said. "I think I'm going to be very proud of their execution once we look at it on film, and I was very pleased that they were very physical, they flew to the football. I thought we had a lot of guys that got in the game. We were able to use our depth a little bit.

"I think our offensive line is starting to come along, and I give a lot of credit to Dana Giampa for that, really working with those kids. They trust in what he's teaching."

Nullifying Knowles: One of the keys when devising a game plan against SPM is finding a way to neutralize senior defensive end Jordan Knowles, considered one of the region's better pass rushers. Through the first two games he registered 18 tackles and two sacks, but tonight the Rockets did a terrific job keeping him out of the play.

When the Rockets weren't running away from him, they were flushing him away from the point of attack with double teams and chips. When he ripped across Greelish's face and charged the 6-foot-4, 305-pound sophomore's inside gap, the play usually ended up bouncing to the outside, just out of his grasp.

"He's a real good player -- especially if you run away from him, he can run you down from the backside," Cormier said of Knowles. "We were really aware of him on the pass rush, trying to get outside him. We didn't think we'd be able to do that, we we tried to get up inside him, maybe trap him a little bit. But he made his plays. You know he's gonna make his plays, it's just, can you let him make those plays where it doesn't kill you, it only hurts you?"

Stout front seven: Defensively, the Rockets brought the heat tonight. Steve St. Jean and Diaz brought pressure off the edges, while Lincoln Bois found his way in the backfield on blitzes; meanwhile, Flink was efficient supporting both the run and pass.

The key, much like the run game, might have been the continuous rotation of fresh bodies.

"I thought we did a nice job of rolling guys through," Cormier said. "We had some fresh legs in there. I bet you we had up to 10, 12 kids get in there on the defensive line. We were always fresh, so you had guys getting limited reps but giving 100 percent at it. Sooner or later, if you can stay close, I think that wears on people. And I give [defensive line coach Scott Mills] a lot of credit for utilizing the depth that he has there."

Flash of promise? For all the troubles the Guardians ran into, they still managed to pull off one of the plays of the game. Late in the third quarter, sophomore wideout Noah Burke found himself in a one-on-one matchup with Taylor and took him deep down the right sideline on a chair route; quarterback Steve Flynn hit him with a laser, and Burke extended for a one-handed grab, scathing into the end zone untouched for a 69-yard score.

Flynn had his troubles tonight, with two interceptions. But at 6-foot-5, nearly 240 pounds, and equipped on the mound with a fastball that clocks in the mid-80's, he shows plenty of potential and isn't afraid to air it out.

Of Burke's catch, Henrickson said with a chuckle, "He's a great athlete. That was a hell of grab, he makes those in practice. I'm just glad...if he coulda caught it with two, thank God he didn't miss it with one because I would have reamed him."

Trickery peeks its head: The 'Wildcat' fad may have run its course at the pro level, but at Auburn it's still alive. Twice in the first half the Rockets lined up in an unbalanced shotgun formation with two tight ends and two split ends, with Taylor taking a direct snap. Taylor had a potential touchdown pass batted away in the back of the end zone; the other time they lined up, he rolled to the left and changed direction twice before coming up with a 25-yard gain.

AUBURN 35, ST. PETER-MARIAN 6

SPM (2-1) --- 0 0 6 0 - 6
AUB (3-0) --- 13 8 7 7 - 35

First quarter
A - Drew Goodrich 4 run (Steve St. Jean kick) 8:43
A - Dan Flink 6 run (rush failed) 5:29

Second quarter
A - Bobby Sirvet 4 run (Flink run) 6:43

Third quarter
S - Noah Burke 69 pass from Steve Flynn (pass failed) 3:28
A - Flink 42 run (St. Jean kick) :21.7

Fourth quarter
A - Servit 15 run (St. Jean kick) 5:15