Boston High School:

Jordan Henderson
May, 5, 2011
5/05/11
10:32
AM ET
The North-South game of the 33rd Annual Shriners Football Classic kicks off this June 17 at 7 p.m., and for the second year in a row the contest will be held at Gillette Stadium. Below are the rosters for both squads participating in the game:
NORTH
Ryan Adams, Northeast, DE
James Aloisio, Masconoment, OT
Eric Apgar, Acton-Boxborough, RB
Anthony Arcari, Tewksbury, RB
Manny Asprilla, Everett, WR
Derek Bent, Shawsheen, TE
Brian Bourque, Reading, DB
James Brao, Hamilton-Wenham, LB
Cal Carroll, Methuen, QB
Brendan Casey, Boston Latin, DT
Thomas Chub, Masconomet, OL
Mitchell Colley, Arlington, LB
Sean Connolly, Tewksbury, FS
Tyler Coppola, St. John's Prep, RB
Matt Costello, Everett, WR
Anthony Courtouis, Lowell, WR
Jeff Covitz, Reading, OL
Nate Cyr, St. John's Prep, OL
Ned Deane, Andover, LB
Ryan Delisle, St. John's Prep, TE
Jake Giovanucci, Dexter, DE
Mike Grassa, BB&N, DB
Will Guinee, Malden Catholic, OL
Mike Harper, Methuen, LB
Zach Hayes, Chelmsford, S
Justin Hood, Billerica, DE
Brian Hurley, Wilmington
Zach Ingalls, Westford, DB
George Kallas, Beverly, OT
Ben Koopman, Marblehead, C
Chris Malonis, Dracut, WR
Tyllor MacDonald, Lynn English, DB
Tom Meade, Malden Catholic, LB
Trae Musumarra, Central Catholic, LB
Zach Nardone, Bishop Fenwick, DT
Paul Nwokeji, Thayer Academy, OL
John O'Connell, Northeast, DL
Daniel Omorgie, Lynn Classical, DE
Xavier Peralta, Central Catholic, DB
Ony Ramos, Lawrence, DB
Peter Savarese, BB&N, RB
Jordan Shairs, Gloucester, RB
Matt Silva, Dracut, QB
Bradley Skeffington, Salem, DB
Zach Smerlas, Lincoln-Sudbury, DL
Brian Strachan, St. Sebastian's, WR
Dave Summiel, Shawsheen, DT
Chris Unis, Gloucester, DE
Trae Weathers, Revere, RB
Sean Whittaker, Methuen, OL
Peter Yasi, Swampscott, DE

SOUTH
Matt Allen, Pembroke, SE
Ryan Barrett, Holliston, TE
Rob Barrus, Weymouth, LB
Adam Boari, King Philip, OL
Blaise Branch, Cardinal Spellman, RB
Lance Burlingame, New Bedford, OL
Jack Carrier, Cohasset, SE
Dylan Colarusso, Weymouth, RB
Joe Colton, Xaverian, DB
Tom Condon, Whitman-Hanson, OL
David Conroy, Walpole, SE
Nate Crary, Dennis-Yarmouth, DL
Seth DeMello, Somerset, RB
Mike Devin, Bridgewater-Raynham, OL
Mike Driscoll, Rockland, FB
Connor Fraser, Abington, DL
Jake Golden, Hingham, OL
Mitchell Graziano, Silver Lake, DB
William Greene, Oliver Ames, DE
Ernest Guy, Foxborough, OL
Joseph Hak, East Bridgewater, OL
Matt Hallisey, Duxbury, SE
Brian Harrington, Rockland, DE
Jordan Henderson, Barnstable, WR
D.J. Jamieson, West Bridgewater, RB
Randall Jette, Martha's Vineyard, DB
Dan Johnson, North Attleboro, SE
Andrew Kestenbaum, Dartmouth, OL
Matt Lockwood, Seekonk, RB
Albert Louis-Jean, Brockton, SE
Denis Maguire, Duxbury, LB
Jamel Marshall, Mansfield, RB
Zach Martin, Mashpee, RB
Alec May, King Philip, TE
Sean Mayo, Holliston, QB
Paul McCarthy, North Attleboro, DB
Kyle McGuire, Mansfield, OL
Dave McSweeney, Medway, OL
Obum Obukwelu, BC High, OL
Trevon Offley, Brockton, RB
Jon Page, Bourne, RB
Tyler Park, Scituate, QB
Liam Porter, Natick, OL
Ethan Rayner, Holliston, OL
Nate Robitaille, Attleboro, DB
Andrew Siden, Natick, TE
Kevin Stanton, Cardinal Spellman, LB
Jeff Synan, Plymouth North, OL
Chris Tamasi, Xaverian, LB
Ryan Vaughn, Norwell, OL
December, 7, 2010
12/07/10
6:47
PM ET
OFFENSE

QB -- Dan Light, Sr., St. John's (Shrewsbury)
In his first year under center after playing tight end last year for the Pioneers, the 6-foot-4, 235-pounder spearheaded one of the state's most prolific offenses with precision, as the Pioneers rolled to their second straight Division 1 Central Mass Super Bowl title. He threw for 2,171 yards and 32 touchdowns to just seven interceptions, and on the ground he added 1,131 yards and 16 more scores. Light is considering several Division 1 schools.

QB -- Jonathan DiBiaso, Jr., Everett
In his record-setting junior campaign, DiBiaso helped deliver the Crimson Tide their eighth Division 1 Super Bowl title in 12 years. He threw for 2,885 yards and a state single-season record 43 touchdowns, to just four interceptions, and capped with a 31-7 win over St. John's Prep at Gillette Stadium for the Super Bowl title. He has 59 touchdown passes for his career.

QB -- Nick LaSpada, Jr., Billerica
The junior, who won the state's Gatorade Player of the Year as a sophomore in 2009, lived up to the hype in spite of a marginal season for the 5-6 Indians. He threw for 2,738 yards and 25 touchdowns, and added 1,064 yards and 15 touchdowns on the ground, averaging over eight yards per carry. For his career, he has thrown for over 5,800 yards and ran for over 3,500 in his three years as starting quarterback. LaSpada is being recruited by a number of Division 1 FBS schools, including Boston College, Notre Dame, Oregon, Alabama, Penn State, Missouri, Arkansas, Michigan, USC, Florida State and Stanford.

RB -- Trevon Offley, Sr., Brockton
In taking over full-time rushing duties from his cousin, Khalil James-Offley, the 5-foot-6, 190-pound Trevon proved to be one of the state's toughest runners in between the tackles. Offley carried 155 times for 1,364 yards and 15 touchdowns, averaging 8.8 yards per carry for the 8-3 Boxers.

RB -- Jamel Marshall, Sr., Mansfield
After backing up Shawn Doherty in 2009 and watching him set a school record, the 5-foot-11, 185-pound Marshall went ahead and smashed it. His 1,339 yards on the ground (including 7.1 yards per carry) broke Doherty's mark of 1,239, and his 21 touchdowns came within striking distance of breaking a two-decade record held by Omari Walker. Marshall is considering several Division 1-AA and Division 2 schools.

RB -- Tyler Coppola, Sr., St. John's Prep
As the focal point of the 8-5 Eagles' offense, the 5-foot-7, 185-pound Coppola did not disappoint. He carried the ball a yeoman 243 times for 2,172 yards and 20 touchdowns, including an unheard-of 348 yards and six scores against St. Joseph's (Md.) in October, as the Eagles captured a share of the Catholic Conference title and reached the Division 1 Eastern Mass Super Bowl for the first time since 2002.

RB -- Andrew Coke, Jr., Andover
After an outstanding sophomore season at Brooks School alongside current BYU freshman Jordan Johnson, Coke transferred back to his hometown high school and helped lead the Golden Warriors to their first Merrimack Valley Conference title in 35 years. The 6-foot-1, 218-pound junior carried 304 times for 1,841 yards and 29 touchdowns (most in Division 1), and as a wildcat quarterback completed 24 of 34 passes for 267 yards and two more scores.

WR -- Matt Costello, Sr., Everett
After a tremendous senior season, the 6-foot-1, 170-pound Costello racked up numerous awards, including this year's state Gatorade Player of the Year and ESPNBoston's inaugural Mr. Football award. Costello played an instrumental role in DiBiaso's state-record junior campaign, as he caught 76 balls for 1,301 yards and 23 touchdowns – including 11 catches for 145 yards and three scores in the Tide's 31-7 victory over St. John's Prep in the Division 1 Super Bowl. Costello is considering Princeton, Penn and Harvard.

WR -- Richard Rodgers, Sr., St. John's (Shrewsbury)
The talented Rodgers tore up the competition once again in his senior campaign with the Division 1 Super Bowl champion Pioneers. The 6-foot-5, 230-pounder caught 65 balls for 1,064 yards and 17 touchdowns, for an average of 16.4 yards per catch. He was also a force at defensive end, recording eight sacks, four forced fumbles and an interception. Rodgers is following in his father's footsteps, as he will play tight end next fall at Cal.

WR -- Jordan Henderson, Sr., Barnstable
The speedy Henderson made a name for himself as one of the state's most dangerous threats in the short passing game, leading the 7-4 Red Raiders in every receiving category. The 6-foot, 180-pounder caught 61 balls for 1,069 yards and 12 touchdowns, averaging 17.5 yards per catch.

TE -- Anthony Fabiano, Sr., Wakefield
One of several outstanding tight ends to be used in more of a blocking role, the 6-foot-5, 258-pound Fabiano excelled on both sides of the ball for the 6-4 Warriors, who captured their second straight Middlesex League Small title. Fabiano caught 23 passes for 267 yards, and as a defensive end recorded 57 tackles, a team-high nine sacks and three forced fumbles.

TE -- Ryan Barrett, Sr., Holliston
Like Fabiano, Barrett was used primarily in a blocking role for the 12-1 Panthers, who captured their first Super Bowl title since 1985 with a 21-7 win over Cardinal Spellman. With Barrett's guidance, the Panthers ran for more than 2,500 yards on the ground and scored more than 500 points through the ground and air. Barrett is committed to Bryant University, where his brother Andrew is currently a sophomore offensive lineman.

OL -- Nathan Cyr, Sr., St. John's Prep
The 6-foot-1, 246-pound Cyr was one of the state's best run-blockers this season, paving the way to a monster season from Coppola and over 3,000 yards on the ground total as the Eagles captured a share of the Catholic Conference title and went to the Super Bowl for the first time since 2002. Cyr is committed to Trinity College.

OL -- John Wallace, Sr., Somerville
The 6-foot-4, 265-pound Wallace was a three-year starter for the Highlanders, and is a two-time Greater Boston League All-Star. This season for 4-6 Somerville, he recorded 68 tackles and five sacks while also providing plenty of run support as both a guard and tackle. He is considering several Division 1 FCS schools, including UMass and New Hampshire.

OL -- Jeff Covitz, Sr., Reading
The 6-foot-2, 250-pound Covitz, a three-year starter for the 12-1 Rockets, was a force at right tackle for the Rockets, paving the way for one of the state's most potent rushing attacks (45 rushing touchdowns). At defensive end, he was a dominant run-plugger for a defense that allowed a Division 2-best 8.7 points per game.

OL -- Ian Levesque, Sr., Somerset
The 6-foot-4, 290-pound tackle paved the way for two 1,000-yard rushers in Seth DeMello and Jaron Spear for the 12-1 Blue Raiders, who advanced to their first Super Bowl since 1981. In addition to helping the Raiders rack up nearly 300 rushing yards per game and over 50 rushing touchdowns, he also was an anchor along the line of a defense that allowed just 11 points per game. He is considering several Division 1 FCS schools, including Colgate and Wagner.
OL -- Lance Burlingame, Sr., New Bedford
The 6-foot-4, 255-pounder is a two-time Big 3 Conference All-Star at offensive tackle and defensive end. In 10 games, he demonstrated outstanding feet as both run and pass blocker, and proved just as dominant defensively with 84 tackles, seven sacks, four forced fumbles and five fumble recoveries. He is considering several Division 1 FCS schools, including UMass, New Hampshire and Maine.

ATH -- Armani Reeves, Jr., Catholic Memorial
The 5-foot-10, 178-pound Reeves emerged as one of the state's most electric playmakers this season for the 5-5 Knights, lining up all over the field to great results. He amassed 1,279 all-purpose yards and scored 16 touchdowns in four different ways – receiving, rushing, punt and kick returns. He currently holds 10 scholarship offers from Division 1 schools, including Boston College, North Carolina, Wake Forest, Virginia, UConn and Penn State.

ATH -- Isaiah Jones, Sr., Mahar
The 5-foot-10, 165-pound Jones emerged as one of the state's most elusive weapons in the open field, with 40 speed in the 4.5's. In a season hampered by injury, he carried 151 times for 1,726 yards and 23 touchdowns, added 150 receiving yards, and also had three returns for touchdowns (two punt, one kickoff). For his career, he amassed over 4,400 yards rushing. Jones is considering several Division 1 schools, including Boston College, UMass and New Hampshire.

K -- Connor McDavitt, Sr., Wachusett
While his powerful right leg wasn't called into action as much, the 5-foot-7 McDavitt demonstrated great range when called upon, hitting from a long of 42 yards this year for the Division 1A Central Mass Super Bowl Champion Mountaineers. He recorded 14 touchbacks, and also had a net punting average of 42.5 yards.
DEFENSE

DL - Chris Unis, Sr., Gloucester
After recovering from an elbow injury, Unis returned to lead the Fishermen to their second straight Super Bowl title and third in the last four years. The 6-foot-2, 225-pound speed rusher proved a handful for offensive linemen and was also vital to Gloucester's running game, playing tight end. Unis also collected his third straight Northeastern Conference All-Star nod.

DL - Obum Obukwelu, Sr., BC High
The 6-foot-1, 255-pounder was an imposing figure on the Eagles' defensive line and tallied 8.5 sacks on 68 tackles with 18 tackles for a loss. Obukwelu is committed to play football at Harvard next year.

DL - Zach Smerlas, Sr., Lincoln-Sudbury
The three-year defensive starter often faced double and triple teams against him this season, but the senior captain still managed to make 40 tackles (18 solo) while clogging up the interior for the Dual County League Large champion Warriors.

DL - Shaquille Taylor, Sr., Everett
Taylor was the affable heart of the defense for the Eastern Mass Division I Super Bowl champions. The 5-foot-11, 275-pounder was an immovable object on the line, stuffing the run and showing speed to pressure the quarterback.

LB - Chris Tamasi, Sr., Xaverian
The senior captain was the fulcrum of the Hawks' defense and a steady contributor out of the backfield on offense. The 5-foot-11, 200-pounder has verbally committed to play football at Amherst College next year.
LB - Matt Walsh, Sr., Plymouth North
Walsh provided bite to the Eagles' offense and defense as both a hard-nosed fullback and middle linebacker. While leading Plymouth North's defense, which surrendered just 10 points per game, Walsh also tallied 12 touchdowns. A talented catcher, he has committed to Franklin Pierce where he will play baseball.

LB - Jordan Shairs, Sr., Gloucester
For everything that Chris Unis or Andrew Mizzoni weren't able to get to up front, Shairs was there to clean up. The 6-foot, 210-pounder helped the Gloucester defense average just 10 points per game against and saw a bulk of Gloucester's carries following Gilbert Brown's injury, tallying 31 total touchdowns (30 rushing) on the season. Shairs was named Northeastern Conference Offensive Player of the Year and league All-Star for his 1,400-yard rushing performance.

LB - Tim Joy, Jr., Chelmsford
Already a two-time all-conference teamer, Joy had 131 tackles, including 13 for a loss, two sacks and three interceptions for his junior season. He has been recruited by several FBS schools, including Boston College.

LB - Ned Deane, Sr., Andover
Deane provided the bite to the defense that helped the Golden Warriors to a Merrimack Valley Conference Large title. The 6-foot-2, 205-pounder led Andover with 112 tackles in addition to three sacks and an interception. He is considering Amherst, Dartmouth, Harvard and Princeton among his college choices.

LB -- Kevin Curry, Sr., Holliston
The Tri-Valley League Defensive Player of the Year was a force on both sides of the ball for the 12-1 Panthers, who captured the Division 3A Super Bowl crown. In addition to manning the middle on a defense that allowed just 11.5 points per game, Curry carried the ball 139 times for 1,144 yards and 14 touchdowns, for an average of 8.2 yards per carry.

DB - Albert Louis-Jean, Sr., Brockton
The shutdown corner was also a double-threat for the Boxers, hauling in 28 catches for 572 yards and five touchdowns on offense. The 6-foot-1, 175-pound speedster came away with four interceptions. Louis-Jean recently de-committed from Miami, so there's likely to be a lot on interest surrounding him in the coming months.

DB - Joe Colton, Sr., Xaverian
Colton consistently drew the matchup of the opposing team's top receiver and went toe-to-toe with some of the state's best. The 5-foot-11, 190-pounder was also a steady contributor to the Hawks offense with 15 touchdowns on the season.

DB - Manny Asprilla, Sr., Everett
Asprilla was as much of a lockdown defender as he was a threat on the offensive side of the ball. And that's saying something about someone who had 2,787 career all-purpose yards for the Division I Eastern Mass Super Bowl champions. Asprilla is committed to play football at Boston College next year.

DB - Randall Jette, Sr., Martha's Vineyard
Jette only pocketed one pick in 2010, but that's simply because teams didn't bother throwing his way. The senior captain also made 50 tackles (24 solo) in coverage. Also, as the Vineyarders quarterback, Jette tallied 953 rushing yards on 121 carries with 19 touchdowns to go along with four passing scores and two special teams return touchdowns. He's being recruited by BC, Bryant, Rutgers, Stonehill, UMass and UNH.
HONORABLE MENTIONS

Luke Bakanowsky, Sr. QB, Oakmont
Blaise Branch, Sr. RB, Cardinal Spellman
Gilbert Brown, Sr. RB/LB, Gloucester
Cal Carroll, Sr. QB, Methuen
Trevor Choruzek, Sr. RB, Leicester
Dylan Colarusso, Sr. RB/LB, Weymouth
George Craan, Jr. RB, Concord-Carlisle
Brendan Flaherty, Soph. RB/LB, Beverly
Jeff Hill, Sr. WR, Mansfield
Ray Holloway, Sr. RB, East Longmeadow
Ryan Lipka, Sr. WR, Bishop Fenwick
Sean Mayo, Sr. QB, Holliston
Kyle McSweeney, Sr. OL/DL, Medway
Mike Mercadante, Sr. RB, Minnechaug
Brian Miller, Sr. TE, Andover
Andrew Mizzoni, Sr. OT/DE, Gloucester
Matt Montalto, Jr. QB, Dennis-Yarmouth
Paul Mroz, Sr. QB, Brockton
Thomas Murphy, Sr. QB, Northbridge
Reilly Naton, Jr. SS, Duxbury
Liam Porter, Sr. OL/DL, Natick
Quinton Porter, Jr. ATH, Fitchburg
Cody Savoy, Sr. RB, Narragansett
Matt Silva, Sr. QB, Dracut
Jesse Wilkins, Sr. RB, North Shore
November, 6, 2010
11/06/10
2:08
AM ET
By
Brendan Hall
| ESPNBoston.com



BRIDGEWATER, Mass. -- Billy Zolga exhaled deep when asked to describe his emotions in the wake of a dominant performance by him and his fellow Bridgewater-Raynham teammates. The senior quarterback rattled off some pedestrian phrases with junior tailback Nick Schlatz -- "pretty excited", "relieved", "can't describe it". And then Schlatz dropped a trigger word: "we wanted to make a statement."

Just what kind of statement?

"I think people should be nervous to play us, that's all I have to say," Zolga quickly shot back with a smile.

Added Schlatz, "Show everybody we're for real."

Hard to argue with that, based on the evening's results. The Trojans have been bouncing with swagger since their double-overtime upset of then-No. 3 Xaverian last month, and it all came to a head in last night's 50-22 dominance of Barnstable that assured them at least a share of the Old Colony League title for the second year in a row. B-R (6-2, 2-0) can claim the league outright with a win over Taunton next week.

Clearly, the Trojans are clicking at just the right time.

"We had a great week of practice," head coach Dan Buron said. "Probably the best overall week of practice we've had all season long. I credit the scout team for giving us a great look...practice was like, on Tuesday it felt like a Thursday."

Part of that scouting this week, Buron said, was having assistant coach Mark Hartsell play the part of Barnstable's vaunted quarterback D.J. Crook. Doesn't hurt that Hartsell quarterbacked some nationally-ranked squad at Brockton High before enduring careers at Boston College and the NFL -- "he's the closest thing to the arm strength of Crook, our sophomores can't throw like that," Buron said.

As for the play on the field, the Trojans pounced on the Red Raiders early, capitalizing on turnovers to build a 23-0 lead through the first quarter and 35-6 halftime lead. Barnstable (5-4, 2-1) opened the game with an onside kick that a Trojan player fell on at the Raiders' 41 yard line. The Trojans marched steadily down the field in seven plays, with inside runs by Schlatz (31 carries, 123 yards, three touchdowns) setting up a 23-yard strike from Zolga (107 passing yards, three touchdowns) to Sean McCall, rolling right and threading him a tight ball in double-coverage. Schlatz punched it in four plays after the strike, from five yards out, and Brad Delullis ran in the point-after try on a muddle play to take an 8-0 lead.

Things went bad for the Raiders when, on their ensuing three-and-out, a bad snap on their fourth down punt attempt forced Crook to fall on the ball at his own seven. Schlatz plunged in on the very next play, and fullback Mike Chicoine took a direct lateral from the snapper on another muddle try, to make it 16-0.

With the Raiders creeping up into the box to combat Buron's many different looks out of the Power-I, Zolga kept the defense honest with the waggle. He was a perfect 7 of 7 for 107 yards to start the game, before having to spike the ball with 13 seconds to go in the first half. That, of course, merely set up another touchdown run, this a sneak, to make it 35-6 headed into the break.

"I thought it was very important (to keep them honest with the pass), because they were creeping up on us," Buron said. "I thought there were two passes in particular -- one to Delullis and one to (Branden) Morin where they had it covered and those kids slid, and Billy was poised and threw a nice ball...I thought Billy showed alot of poise tonight."

Said Zolga, "They were sending everybody. Just completing those passes to keep the drives going, it helped us score some more points. It was big."

The Red Raiders can score quickly, and in bunches, and came out firing in the second half, putting together an 11-play, 67-yard scoring drive punched in with a five-yard Dennis Reddy off-tackle. They failed to seize any momentum from B-R, though, as Zolga put the finishing touches with a 45-yard interception return to seal it in the fourth quarter. Zolga, inserted into the secondary this week to combat Barnstable's deep and speedy stable of wideouts, jumped a route over the middle and leaped forward to make the pick for the 48-14 lead with nine minutes to go in the game.

"We were just dropping back into a deep zone," Zolga said. "I read his eyes, just saw the ball coming at me, just attacked it, just ran. Ran like Hell. I wanted to score."

Chicoine made it 50-14 with the same two-point try that he succeeded with in the first quarter, a direct lateral from the long snapper that he pushed past the goal line with an added spin.

"Every time we run that set, we read what they're doing. It's just an automatic read," Buron said of going for two at that moment. "That gets us up 28 points, and that's a team that can score at will. I mean, they came roaring back against Dennis-Yarmouth (a 41-38 loss in week two). No lead is safe against these guys."

BRIDGEWATER-RAYNHAM 50, BARNSTABLE 22

Barn 0 6 8 8 --- 22
B-R 23 12 0 15 --- 50

First Quarter
BR - Nick Schlatz 5 run (Brad Delullis kick) 7:20
BR - Schlatz 7 run (Mike Chicoine kick) 5:58
BR - Chicoine 1 run (Chicoine kick) 0:08

Second Quarter
BR - Sean O'Donnell 7 pass from Billy Zolga (kick failed) 4:38
Barn - Dennis Reddy 15 pass from D.J. Crook (pass failed) 3:09
BR - Zolga 1 run (kick blocked) 0:08

Third Quarter
Barn - Reddy 5 run (Matt Delaney pass from Crook) 7:51

Fourth Quarter
BR - Schlatz 3 run (Chicoine kick) 10:26
BR - Zolga 45 interception return (Chicoine run) 9:36
Barn - Crook 2 run (Jordan Henderson pass from Crook) 8:23
November, 4, 2010
11/04/10
6:28
PM ET
ESPNBoston's Brendan Hall stopped by practice today at Barnstable High School to take the pulse of the Red Raiders headed into tomorrow night's matchup with Old Colony League foe Bridgewater-Raynham.

Junior quarterback D.J. Crook called tomorrow night's showdown the most important game for the program in 10 years:




His leading wide receiver, Jordan Henderson, could eclipse the 1,000-yard mark against the Trojans:




Wide receiver Matt Delaney and running back Dennis Reddy are amped up for this contest:



October, 30, 2010
10/30/10
10:55
PM ET
By
Brendan Hall
| ESPNBoston.com
BUZZARDS BAY, Mass. -- Bandaged brow and all, Matt Walsh stood unfazed as he greeted reporters following his Plymouth North Eagles' game with Barnstable. This was a typical night for the 5-foot-11, 210-pound senior, after all -- which is to say, based on recent performances, an unstoppable one.

Whether it was carrying the ball or lead blocking, Walsh punished the Red Raider defenders all night to the tune of 111 yards and two scores on 26 carries, giving the Eagles all the cushion they needed as they pounced on Barnstable, 33-18, last night at Massachusetts Maritime Academy's Clean Harbors Stadium.

"They were loading up on us in the box," said Walsh, who recently committed to Franklin Pierce College for baseball. "They were keying on our power game, and we still powered through them. It was a really nice job by the offensive line."

As for his own game?

"I just want to get the running backs in the end zone," he said, referring to his lead blocks. "I'll do whatever I can for the team."

All night, the Raiders struggled to keep the Eagles off the field, and dominated the clock with their Power-I set in the first half. North was 8 of 13 on third downs, and converted all four of its fourth down tries, thanks to well-executed kick-out and trap blocks from linemen Jeff Synan, Mike Cahill and Justin Maskell that sprung Walsh free. Walsh did the rest, pushing the pile on his own strength at the end of runs and even trucking a few guys.

It's the same method that has delivered North impressive wins over Bridgewater-Raynham, Marshfield and Falmouth in successive weeks following the loss last month to Aquinas Institute of Rochester, N.Y.

"They're a real physical team," Barnstable head coach Doug Crook said. "We knew they were going to come and pound us. Matt Walsh is a load. My defense is laden with sophomores and I'm proud of them, but this is a good tune-up for next weekend (against Bridgewater-Raynham)."

As for that last point, some might consider this a warm-up for both teams' league slate ahead of them. Friday the Raiders look to clinch the Old Colony League crown when they head to B-R, a program known for its suffocating offensive line play and power running have since the days of Doug Bessette and Marc Colombo in the late-90's. The Eagles head to South Yarmouth in two weeks to take on Dennis-Yarmouth -- which runs a more read-option oriented version of Barnstable's spread attack -- for what could potentially be all the marbles in the Atlantic Coast League.

"D-Y is pretty much like Barnstable, so it was good to get a feel for that tonight," Walsh said. "Hopefully it helps us out alot."

The Eagles dominated the clock with their power running game in the first half, putting together two monster scoring drives and moving the ball steadily behind Walsh, Zach Zaniboni and keepers from quarterback Cody Merritt. North marched 63 yards in 12 plays on its opening drive of the game, with Walsh plunging in from four yards out for the initial 7-0 lead.

They pushed the lead to 13-0 late in the second quarter after putting together another drive from good field position, marching 54 yards in 10 plays and punching it in with a one-yard Merritt keeper. Barnstable, after a dismal start, came out blazing in the third quarter, with junior quarterback D.J. Crook (273 yards passing, three touchdowns) hooking up with Jordan Henderson (12 catches, 204 yards, three touchdowns) for a 46-yard pass on fourth down, then punching it in five plays later with an eight-yard comeback to Henderson.

Each Crook touchdown pass to Henderson was responded immediately with more Plymouth pounding between the tackles and scores. Meanwhile, the defense showed its mettle in keeping the quick Barnstable strikes to a dull roar, picking off Crook twice in crucial situations.

So, the North defense did bend. Henderson burned the Eagles' secondary for catches of 48, 46, 33 and 23, all off short passes to the flats; running back Dennis Reddy (nine carries, 79 yards) kept them honest with draws up the middle that went for big gains.

But they did not break.

"(We had to stop) the big play. They can score so fast, they can do everything," North head coach Dwayne Follette said. "They have a great deep passing game, and we didn't give up any big plays as far as deep strikes. We couldn't figure out the crossing route on that empty set they run, but we adjusted and we played well. I was very happy with our defense. They've very dangerous, they average alot more than 18 points (per game)."

PLYMOUTH NORTH 33, BARNSTABLE 18

PLN 7 6 14 6 --- 33
BAR 0 0 12 6 --- 18

First Quarter
P - Matt Walsh 4 run (Vinny Tavernelli kick) 3:49

Second Quarter
P - Cody Merritt 1 run (pass failed) 2:21

Third Quarter
B - Jordan Henderson 8 pass from D.J. Crook (kick failed) 8:35
P - Walsh 6 run (Tavernelli kick) 5:31
B - Henderson 9 pass from Crook (pass failed) 4:22
P - Zach Zaniboni 48 run (Tavernelli kick) 3:26

Fourth Quarter
B - Henderson 3 pass from Crook (pass failed) 4:00
P - Merritt 30 run (kick failed) 2:11
September, 18, 2010
9/18/10
2:12
AM ET
By
Brendan Hall
| ESPNBoston.com
YARMOUTH, Mass. -- Matt Montalto sat back in coverage, jumped a route over the middle and put the cap on the most impressive first half of his young high school career with an interception that he returned for a few dozen yards with some of his trademark shake and bake.

The Dennis-Yarmouth quarterback/defensive back then took a late Barnstable hit out of bounds and, in Bledsoe-like fashion, popped right back up, let out a howl and sprinted off the field to the locker room.

"I was hyped up at that point," Montalto laughed. "I was hyped up before the game, I was hyped up all throughout. It felt really good."

The junior signal-caller had just put on a clinic in the through two quarters against his heavily-hyped visitors from two exits down Route 6, accumulating nearly 200 yards of offense and accounting for all four of the Dolphins' touchdowns for a 28-8 lead at the break. This annual rivalry, just as it has in previous years, inevitably turned into a shootout; and in the final minute of action, the Dolphins' secondary picked off Red Raiders quarterback for the fifth time, closing the door on a 41-38 win.

"Our quarterback is a very, very accurate passer," D-Y head coach Paul Funk said. "He might not have the strongest arm in the world, but he is accurate, and if you give him an inch, he's going to put it there."

Said Barnstable head coach Doug Crook, "Montalto gives you headaches with his quickness. He comes up on the run, our defense is young and the kids kids drop off their guy...it's an experience."

That was much the case in the first half. On the Dolphins' first drive, Montalto (213 total yards, 4 TD) found a wide-open Rufus Hamilton on 3rd and 10 for an easy 24-yard gain on the left sideline, then scrambled a few plays later for a nine yard rollout to keep the chains moving. Facing fourth and 10 at the Raiders' 15, Montalto put the finishing touches with a soft toss to Dylan Hodsdon wide open in the left slot for the game's first score.

This pattern of third-down bail-outs and wide-open strikes continued, with Montalto running in two (from 35 and five yards out) and firing one to Justin Clark in the near left corner, and the Dolphins took a 20-point halftime lead.

Barnstable's D.J. Crook (19 of 36 passing, 239 yards, 4 TD, 6 interceptions; nine carries, 87 yards) rallied the Raiders back to within striking distance and put the ball in seven different hands on the night, but overall the Dolphins' secondary seemed to throw him for loops. Over the top, D-Y was airtight, making the Raiders pay for balls over or under-thrown.

Junior fullback Joe Furness (15 carries, 108 yards) made it 41-22 with 1:58 left in the third quarter on a 74-yard break up the left sideline. But still, the Raiders had a chance to win this one late. Mike Holmes hauled in a 15-yard strike from Crook with 44 seconds to go, and Jordan Henderson came up with the point-after conversion pass in the back of the end zone to cut the lead to 41-38.

D-Y recovered the ensuing onside kick, only to have a Barnstable player recover the fumble on an attempted kneel. But on Barnstable's first play of the potential game-winning drive, Damion Johnson picked off Crook deep over the middle.

Dennis-Yarmouth 41, Barnstable 38

BHS 0 8 14 16 --- 38
D-Y 14 14 13 0 --- 41

First quarter
D - Dylan Hodsdon 15 pass from Matt Montalto (John Terrio kick)
D - Montalto 35 run (Terrio kick)
Second quarter
B - Dennis Reddy 3 run (Reddy run)
D - Justin Clark 11 pass from Montalto (Terrio kick)
D - Montalto 5 run (Terrio kick)
Third quarter
B - Andrew Ellis 5 pass from D.J. Crook (pass failed)
D - Damion Johnson 70 interception return (Terrio kick)
B - Mike Holmes 16 pass from Crook (Reddy pass from Crook)
D - Joe Furness 74 run (pass failed)
Fourth quarter
B - Henderson 8 pass from Crook (Matt Delaney pass from Crook)
B - Holmes 15 pass from Crook (Henderson pass from Crook)

September, 5, 2010
9/05/10
12:25
AM ET
HYANNIS, Mass. -- This is season is Doug Crook Sr.'s third at the helm of Barnstable High football and, after last year's 7-3 record and three-way share of the Old Colony League title, they're buzzing about the Red Raiders from Marstons Mills to Osterville.
They're an exciting team to watch, particularly behind junior quarterback, Doug "D.J." Crook Jr. Barnstable has the potential to put points up in a hurry working out of its spread offense.
And they're only getting better.
[+] Enlarge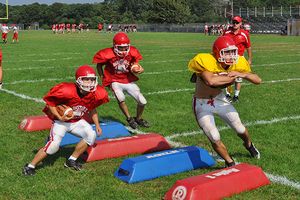 Scott Barboza/ESPNBoston.comQuarterback D.J. Crook (in yellow jersey) leads his teammates through drills during practice last week at Barnstable High.
"It means everything," D.J. said about his rapport with his receiving crew. "Just being able to trust them with whatever I throw. It's almost muscle memory with them. I've been throwing to them for three years, so it just makes it easier."
It's scary to think of what could be, considering last year's performance by the junior Crook and his receivers.
D.J. threw for 2,082 yards and 17 touchdowns last season, after a 1,980-yard campaign as a freshman.
"This is the first year that we've all our starting receivers back," the senior Crook said. "Now, they all have three years of varsity experience in the system. We're hoping that'll mean big things."
That receiving corps is led by Crook Jr.'s primary target, junior Jordan Henderson, who exploded for a three-touchdown performance against Thanksgiving rival Falmouth last year. Crook Sr. believes Henderson to be "one the best receivers in the state."
Fellow junior Mike Holmes provides size, at 6-foot-4, and speed from the outside, while Matt Delaney catches just about everything that's thrown his way underneath.
"It's fun for a wide receiver," said Delaney, who has been playing football with D.J. Crook since they were 5 years old. "We throw about 35 times a game, so there are a lot of chances to catch the football. It's a fun offense to run."
However, for all the hubbub about the Red Raiders aerial attack, they remained remarkably balanced on offense in 2009. Barnstable gained nearly 2,000 yards on the ground as well, due in no small part to running back Dennis Reddy.
"It's a lot of blocking as a running back," Reddy said of his responsibilities in the spread. "But it obviously helps when we're passing a lot and then come at them with the run. Either way, we can do it."
Yet, for the all the points the Red Raiders are capable of putting on the board, it doesn't mean much without winning.
"It wasn't good enough the way we finished last year," Delaney said. "We need to win that OCL title because we're back on the map now. I think we have the talent to do well and we want to prove it."
D.J. added: "If you look around here, we're not that big. But we're tough and we're always going to try as hard as we can to get as far as we can."
BARNSTABLE AT A GLANCE
2009:
7-3 (3-1 Old Colony League)
Coach:
Doug Crook Sr. (third year, 10-10)
Players to watch:
Doug Crook Jr., Jr., QB/P, 6-2, 185 lbs.; Jordan Henderson, Sr., WR, 6-0, 170 lbs.; Mike Holmes, Sr., 6-3, 185 lbs.; Dennis Reddy, Sr., RB, 5-10, 180 lbs.; Ben Pogue, Sr., OL, 6-4, 260 lbs.; Andrew Ellis, So., LB, 5-11, 200 lbs.
Strengths:
Skill and depth at wide receiver, quarterbacks.
Weaknesses:
Lack of experience and depth on offensive line.
Outlook:
The Red Raiders will be able to put points on the board with just about any team in the state. That's no secret. But Barnstable's X-factor could be 5-foot-3, 140-pound receiver Jason Carlino, who could see significant time as a slot receiver. "I hate to use the Wes Welker analogy," Doug Crook Sr. said. "But he's got a little bit of Wes in him." The one question on the offensive side will be how the Red Raiders' young line will hold up besides talented tackle Ben Pogue. Crook will have some decisions to make on the defense, as his squad returns a good number of players who saw varsity playing time, but who also weren't starters last year. However, Barnstable does have standout sophomore middle linebacker Andrew Ellis, who although young is a name you'll be hearing about for quite some time.