Boston High School:

Jordan Javier
November, 2, 2013
11/02/13
2:39
AM ET
By
Brendan Hall
| ESPNBoston.com
HAVERHILL, Mass. -- It's been 12 seasons since Haverhill High last appeared in the postseason, so excuse Hillies coach Tim O'Connor if he got a little animated following what was mostly a stagnant MIAA Division 2 North first round contest. It wasn't too long ago the Hillies were 0-11, mired in continued futility, and here the head coach was raving on and on about how he'd run through a wall for his players.

"We didn't have kids bench pressing 300 pounds," he recalled. "Now, we've got kids benching 300, squatting 500, and we're still growing."

If the top-seeded Hillies are to emerge from this wide-open North field, they will have to improve significantly on offense, if tonight's 10-7 win over Lynn English tonight is any indication. The Hillies' lone touchdown came on a 10-yard pick-six from defensive end Matt Burns. With some key two-way starters playing through injury, the Hillies found themselves going mostly horizontal on offense, their few deep shots downfield mostly going to waste.

But defensively, this was an impressive outing. They set the tone early, holding the Bulldogs to 58 yards in the first half, with all but three of those yards coming on the final drive of the second quarter. No statement was bigger than Burns' TD late in the first quarter. On the second play of English's drive, Chris Lessard attempted to throw pass to the left flat. But the lanky Burns, who had been keeping his arms active going up against English star tackle Chris Tinkham, was able to disengage and leap up for the interception.

"Coach had been telling us all week that when they come out with no backs in the backfield, one quarterback, then it's usually a screen or a short type of pass," Burns said. "I looked for it, went out and got the ball."

After Pat Yale booted a 25-yard field goal for a 10-0 Hillies advantage late in the third, the Bulldogs' offense found some life, cutting the lead to 10-7 after a nice 46-yard punt return from running back Zach Lozzi. His return gave them starting field position at the Haverhill 37, and two plays later they capitalized, Lozzi again, this time coming around the right on a sweep for a 25-yard score.

That's when the Hillies' defense showed its backbone once again. Yale came up with two interceptions in the final 2:28 to preserve the win -- the second one a route he jumped at the right sideline, seemingly standing in place all night waiting for the ball to drop with nobody near him.

Javier goes down: The homecoming for English quarterback Jordan Javier, a star last season at Haverhill, was short-lived. He went down on the second play from scrimmage, getting pulled down to the turf after throwing an incomplete pass, and began screaming out in pain, clutching his left knee. After several moments laying on his back, he was carted off the field, then taken away in an ambulance during the second quarter.

"They think it might be an ACL, but he's at the hospital right now, so we're not sure," Bulldogs coach P.J. Holey said. "He was guarding [his knee], but we couldn't give an assessment then.

"I feel bad for Jordan, because he wanted to come back here and put on a show. He had a great week of practice all week, but we hope he's alright."

Setting the edge: In Tinkham, the Bulldogs have one of Massachusetts' top two-way linemen, a 6-foot-3, 275-pound road grader with supreme upper body strength, surprising mobility and a somewhat violent bull-rush technique. Defensively he tends to draw double or triple-teams; other times, teams keep play outside of the box, or let him fly upfield and counter with a draw.

And in Burns, Tinkham found a perfect foil. The 6-foot-2, 200-pound Burns is long and lean, with great hand-to-hand combat skills to free his arms up and attempt to bat a ball -- an important trait for this matchup, considering how many times English threw to the flats.

For most of the night Burns held his own, hitting Tinkham with club and rip moves as well as a "wax on" technique, swinging his arms up in an uppercut motion when Tinkham got his hands inside on Burns' chest plate. Late in the game, with fatigue wearing in, Burns was replaced at end by outside linebacker Michael Kwegyir-Attah, who also showed some of his own arsenal of moves.

"He's definitely one of the top, if not the best, lineman I've faced," Burns said of Tinkham. "He's very physical, gets me inside underneath my pads. Never played against a guy like that."

Tinkham has drawn an assortment of Division 1 interest, from UMass down to FCS upstarts such as Bryant and UNC-Charlotte, and generally projects as a two-gap defensive tackle at the next level. Grades have been a focal point of improvement for Tinkham, and Holey says he is "decimal points away" at this moment.

"He's got a motor that doesn't stop," Holey said. "He's a very physical kid, he's got to control his emotion. The only thing they want to see out of him is admissions. But they love his motor."

HAVERHILL 10, LYNN ENGLISH 7

LYN 0 0 0 7 --- 7
HAV 7 0 3 0 --- 10

First Quarter
H - Matt Burns 10 interception return (Pat Yale kick) :19

Third Quarter
H - Yale 25 field goal 2:54

Fourth Quarter
L - Zach Lozzi 25 run (Chris Lessard kick) 6:57
August, 24, 2013
8/24/13
3:06
PM ET
By
Brendan Hall
| ESPNBoston.com
EVERETT, Mass. -- This morning at Everett Memorial Stadium, the No. 2 Everett Crimson Tide hosted Lynn English in their annual first-weekend preseason scrimmage. In two series of varsity on varsity, Everett's offense scored four times, while the Bulldogs failed to reach the end zone.
This was our first look in the 2013 preseason at Everett, which is undergoing some wholesale changes in personnel after going 28-1 with three Super Bowl championships the last three seasons, as well as a good measure on several promising stars for English. Below are some notes and observations:
Radio Raheem:
If there was any dash of speculation before about who was going to be taking snaps under center, incumbent senior Raheem Wingard made it clear who was in charge. The 5-foot-8, 170-pound Wingard is built low to the ground and gets overlooked for his height, but he has a better arm than given credit for, and is excellent at making the proper read on backside defensive ends.
After graduating one of the program's most talented classes ever, led by the likes of Jakarrie Washington (Wisconsin), John Montelus (Notre Dame) and Jalen Felix (Eastern Arizona JC), Wingard takes the reigns with a chip on his shoulder. Everett was down to its fourth-string quarterback by opening night of the 2012 campaign, but Wingard moved over from running back to QB full-time midway through the year, and gave the Tide another running threat out of the backfield.
"He's stepping it up," Tide coach John DiBiaso said. "I think Raheem wants to prove it wasn't just Jakarrie [Washington], Jalen Felix, Kenny Calaj, Gilly De Souza, you know, that he had a hand in it a little bit. A lot of these kids have been the same way."
Said Wingard, "I feel like I'm one of the quarterbacks that gets overlooked a lot because I'm smaller, but that just gives me a little more motivation, and it makes me push my team that much farther, that much harder."
[+] Enlarge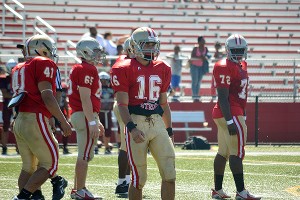 Brendan Hall/ESPNBostonPope John XXIII transfer Joe D'Onofrio looked sharp Saturday, and should factor significantly into the Everett offense this season.
Everett primarily operated out of two-by-two double slot formations, pairing Lukas Denis and Lubern Figaro on one side opposite newcomers Mike Lopes and Joe D'Onofrio. That opened up the field for a series of slippery zone read plays up the middle, which Wingard usually orchestrated correctly.
D'Onofrio off and running:
The prettiest play of the afternoon belonged to D'Onofrio, who connected with Wingard for a 55-yard touchdown pass towards the end of the Tide's first of two offensive series. Split wide just outside the numbers, D'Onofrio gained a step on his defender cutting diagonally on a post route, slipped behind the safety coming over the top, and let the ball softly drop over his shoulder into his outstretch hands, sprinting the final 20 yards to paydirt.
The 5-foot-11, 182-pound D'Onofrio was the Catholic Central Small MVP last year at cross-town Pope John XXIII after rushing for 1,356 yards and 16 touchdowns, his second straight 1,000-yard rushing season. But school has since gotten rid of its football program, leading D'Onofrio back to Everett, where he dabbled as a freshman.
If this morning is any indication, D'Onofrio is making a seamless fit into the Everett passing game. His slender frame blended with top-end speed and crisp routes draws comparisons to former Everett great Matt Costello, the 2010 ESPN Boston Mr. Football now playing for Princeton University, with the ability to stretch a defense vertically and take the top off. They're slightly different players, though -- D'Onofrio is a bit more physical, what with playing outside linebacker on defense.
"He's a real good player," DiBiaso said. "I've known him since he was five years old, he grew up in [Everett's] Pop Warner and everything. He did the couple years at Pope John, and now he's back with us. We're happy to have him, he's a good addition to the program. He's a good athlete."
Green in the trenches:
Last season, the Tide had one of the nation's heaviest lines, averaging 324 pounds across, led by the 6-foot-5, 330-pound Montelus. This year's line is smaller, but still pretty impressive by high school standards at nearly 286 pounds across. Senior center Zach Pierre (5-11, 284) is the lone returning starter, and the Tide are breaking in new guards in juniors Eric Trickett (6-1, 260) and Muhammad Raouie (6-0, 290).
Two of the most intriguing newbies may be at the bookends. Junior Guerschwon Jean-Louis is in his first year of ever playing organized football, but at 6-foot-5 and nearly 350 pounds he held his own at the left tackle position. Sophomore right tackle J.J. Collimon is almost athletic enough to be a tight end, and may project the highest at 6-foot-3 and 245 pounds.
Today was a good matchup for the young but promising Everett line, which had to deal with ESPN Boston Preseason All-State selection Chris Tinkham on the interior. The 6-foot-3, 280-pound senior has attracted Division 1 interest and is an impressive bull-rusher on the interior, but everywhere else the Tide were able to take control.
Offensively, the Tide moved the ball consistenly downfield, with linemen consistently getting into the second level. In one of the more impressive plays of the varsity action, Raouie charged up the left sideline on a screen and sealed off an English defender 15 yards downfield.
Defensively, Tinkham high-walled ends from the left tackle spot, but from the right side the Tide registered two sacks in the second English offensive series, including a nice speed rush from three-technique tackle Sidney Brimas, while 180-pound tackle Josh Palmer caused disruption shooting the inside gaps.
Harris-Javier battle heats up:
One of the more intriguing camp battles is at English, where Lucas Harris is the incumbent but has been getting a good run from junior transfer Jordan Javier. At Haverhill High last year as a sophomore, the 6-foot-4 Javier excelled at wide receiver, but over the summer he has gotten plenty of reps at quarterback -- a move that's merited, as he makes difficult throws look effortless.
Javier, laboring through a tweaked meniscus from earlier in the week, took most of his snaps at quarterback, and took a few lumps early in the first series. On one play, he scrambled down the right sideline only to be stopped cold by Everett's C.J. Parvelus 10 yards down field. Two plays later, Javier threaded a laser deep down the left slot, only to watch highly-touted safety Lubern Figaro stip the ball from Harris' grip at the last second.
Both Harris and Javier made some great plays on the run, hitting receivers with tight balls just steps from the sidelines on deep comeback routes. And when Javier did line up at receiver for a few plays, he made the most of it, including an impressive catch from Harris on a square-in route from the left.
So far, Javier has shown promise, but Harris has done nothing to suggest he shouldn't be the quarterback. Receiver appears to be Javier's more natural position, based on history, so perhaps there is a compromise.
It will be worth monitoring Javier's left knee, which he re-aggravated late in the varsity series, having to be carried off by teammates and barely putting weight on his left leg. It's considered nothing serious, another tweak of the meniscus, according to English coaches.
Miscellaneous:
One name to keep an eye on down the line: Jordan McAfee. The 6-foot-3 freshman is the Tide's third-string quarterback behind Wingard and Pat Long, but demonstrates remarkable maturity for a 14-year-old kid and made two terrific throws on comeback routes in the morning's final series. ... When the Tide got inside the red zone, they went to their familiar "Double Wing" package, experimenting with Raouie at fullback. Twice they scored on five-yard power sweeps, one in each of the two varsity series, from Denis and D'Onofrio. ... The linebacking corps appears to be set for now, with Angel Duarte at middle linebacker and Parvelus and D'Onofrio playing outside. ... In the secondary, keep an eye on junior Richard Jean, who made a good break on a deep pass late in the second series, deflecting a would-be touchdown at the sideline from about 10 yards out. ... DiBiaso on the roles expected of Figaro and Denis: "They've got to be leaders. We don't have that many experienced [players], so they've got to be leaders on the team. Lubern and [Lukas], those are the two bigger names out there."
August, 21, 2013
8/21/13
6:03
PM ET
Brendan Hall
ESPN Boston High Schools editor
Best QB:
Cody Williams, Springfield Central
Best RB:
Johnathan Thomas, St. John's Prep
Best WR:
Brian Dunlap, Natick
Best TE:
Brendan Hill, Mansfield
Best OL:
Jon Baker, Millis/Hopedale
Best DL:
Jon Baker, Millis/Hopedale
Best LB:
C.J. Parvelus, Everett
Best DB:
Lubern Figaro, Everett
Best passing offense:
Natick
Best rushing offense:
St. John's Prep
Best offensive line:
St. John's Prep
Best defensive line:
Reading
Best linebackers:
Reading
Best secondary:
Everett
THREE TEAMS THAT WILL SURPRISE
Medway
Coach Dave McSweeney's affinity for power football isn't a secret, and this season he'll have two road-graders to run behind in Kevin Sheehan (6-4, 285) and Cam Smith (6-5, 290, Lafayette commit). If there's any exhibit for why we needed to change the postseason format, the most glaring sample might be the Mustangs, who went 19-3 from 2009-10 with no playoff berth. In this new playoff system, a gameplan like the Mustangs' is built for the long haul.
Lynn English
Perhaps this isn't a surprise pick so much as an affirmation. In a Division 2 North that is perceived to be wide open after heavy favorite Reading, the Bulldogs have enough talent to make a deep run. There has always been elite talent at the skill positions, but Preseason All-State selection Chris Tinkham gives them a presence in the trenches they've lacked the last few years, a rare "war daddy" type who overpowers the interior gaps. The biggest question will be where the Bulldogs put junior Jordan Javier, a 6-foot-4 transfer from Haverhill who is a matchup problem at his natural split end position but also throws one of the prettiest balls you'll see on the North Shore.
Quabbin
The Panthers struggled to a 4-7 tune last season in a weak league, but there is some promise. Quarterback Dylan Kierman is an underappreciated talent, who should get a boost from the return of slippery receiver Nick Thyden. The Panthers run a unique "Air Raid" scheme, and another year of experience with it could surprised teams in Division 4 Central.
THREE BREAKOUT ATHLETES TO WATCH
Lukas Denis, Jr. ATH, Everett
After an injury-shortened 2012 season in which he was the assumed successor to record-setting quarterback Jonathan DiBiaso, but barely saw the field, Denis is moving to the perimeter, where he will take a role similar to the hybrid slot-back role that Manny Asprilla made legendary in 2010. Defensively, he should serve as a terrific compliment in the secondary to highly-touted safety/cornerback Lubern Figaro, and has already begun to pick up some Division 1 FBS interest.
Alfred Adarkwah, Sr. WR, Doherty
Standing a long 6-foot-4 with a 6-foot-7 wingspan, Adarkwah has an unusually large catching radius for a high school receiver. This summer in passing leagues, the Highlanders toyed with Adarkwah and Boston College-bound receiver Isaac Yiadom on the same side of 2x2 formations. Head coach Sean Mulcahy has to be excited with the possibilities that opens up -- just imagine sending those two on a post-wheel combo route. Or better yet, imagine running them on a bubble screen, taking advantage of both Yiadom's elite speed and Adarkwah's great downfield blocking skills.
Taj-Amir Torres, Jr. ATH, Amherst
Already a household name in track and field, where he was named the state's Gatorade Player of the Year last spring as a sophomore after winning New Englands in the 100-meter dash, he's about to get a whole lot more attention. Boston College, UConn and UMass have already offered Torres, who made just 24 catches last season
but made some incredible feats of athleticism
. Hurricanes head coach David Thompson told us earlier this month
"[We're] trying to get the ball in his hands every opportunity we get"
, so expect bigger numbers in 2013.
WAY TOO EARLY STATE CHAMPION PICKS
Div. 1
- Everett
Div. 2
- Springfield Central
Div. 3
- Walpole
Div. 4
- Doherty
Div. 5
- Auburn
Div. 6
- Millis/Hopedale
***
Scott Barboza
ESPN Boston High Schools Editor
Best QB
- Drew Belcher - Sr. Reading
Best RB
- Johnny Thomas - Sr. St. John's Prep
Best WR
- Brian Dunlap - Jr. Natick
Best TE
- Rory Donovan - Sr. Cardinal Spellman
Best OL
- Jon Baker – Sr., Millis/Hopedale
Best DL
– Joe Gaziano – Jr., Xaverian
Best LB
– Eddie Motavu – Sr., Tewksbury
Best DB
- Lubern Figaro - Sr. Everett
Best passing offense
- Natick
Best rushing offense
- St. John's Prep
Best offensive line
– Bridgewater-Raynham
Best defensive line
- Reading
Best linebackers
- Leominster
Best secondary
- Everett
THREE SURPRISE TEAMS
St. Mary's (Lynn)
OK, so a team coming off an 11-2 season and a Super Bowl appearance might not exactly be a surprise, but with a couple of other Catholic Central teams garnering the buzz in the preseason, let's not forget the Spartans have another season with Jordan Collier (1,495 yards, 18 TD).
Hingham
We've heard them knocking, but can they come in? The Harbormen have whittled the gap in recent years, particularly against Patriot League nemesis Duxbury, but they're still waiting to break through. They could have an in-road in Division 3 Southwest. An early non-leaguer against Oliver Ames should be a bellweather for things to come, but the real proof will come Oct. 5, against those aforementioned Dragons.
Wakefield
The Warriors fell short of their goal of winning the Middlesex League's Freedom division last year, but should be in the mix in a wide open Division 3 Northwest race. We'll have a better impression after a visit from Lynn English in Week 2.
THREE BREAKTHROUGH ATHLETES
Joe Johnston, Sr. RB/S, King Philip
Anybody who saw Johnston's hard-nosed 157-yard, 2-touchdown performance against North Attleborough last year knows Johnston's style. He's a burden for would-be tacklers inside the box, and once he kicks it outside, he's also very hard to catch.
Grant Kramer, Sr. OT, Duxbury
The younger brother of Boston College tackle Aaron Kramer, Grant is now ready to assume the role as the next great lineman on the Dragons' line (and there have been some very good ones in recent memory). He currently holds offers from Coastal Carolina and Villanova but has also expressed interest in attending West Point.
Connor Moriarty, Sr. RB, Walpole
When Rebels starter Mike Rando went out with an ankle injury near the midway point of the regular season last year, it was Moriarty who carried the load down the stretch. Expect even bigger numbers this year.
WAY TOO EARLY CHAMPIONSHIP PREDICTIONS:
D1
– St. John's Prep
D2
– Springfield Central
D3
– Walpole
D4
– Doherty
D5
– Auburn
D6
– Millis/Hopedale
***
Josh Perry
ESPN Boston correspondent
Best QB
- Drew Belcher, Reading
Best RB
- Jonathan Thomas, St. John's Prep
Best WR
– Brian Dunlap, Natick
Best TE
– Brendan Hill, Mansfield
Best OL
– Jon Baker, Millis-Hopedale
Best DL
– Andrew Bourque, Reading
Best LB
– Kevin Bletzer, Catholic Memorial
Best DB
– Lubern Figaro, Everett
Best passing offense
- Natick
Best rushing offense
– St. John's Prep
Best offensive line
– St. John's Prep
Best defensive line
- Reading
Best linebackers
– Catholic Memorial
Best secondary
- Everett
THREE TEAMS THAT WILL SURPRISE:
Attleboro
A new coaching staff, the energy of a new field complex, and a strong crop of returning seniors could make the Bombardiers the surprise team of the Hockomock League. Attleboro has always been a sleeping giant and the program continues to find solid athletes, it's now up to the new staff to build a system that fits the talent on the roster. With a couple of league rivals dealing with injuries and suspensions, Attleboro could sneak up on people.
Barnstable
Everyone assumes that there will be a significant drop off for the Red Raiders due to a big graduating class, but there is still potential to be a solid team in D2 and in the OCL. This may not be a another season with Barnstable holding the top spot in the poll, but it shouldn't be written off either.
Stoughton
The Knights are expected to finish behind Oliver Ames in the Davenport, but don't be surprised if they pull an upset or two and give the Tigers a run at the title. Watch out for running back Malachi Baugh, who will be getting the majority of the carries this season and is a beast to try and bring down.
THREE BREAKTHROUGH ATHLETES TO WATCH
Luke Morrison, Sr. TE/DE, Attleboro
Attleboro's giant tight end/defensive end is a monster match-up on both sides of the ball and could be a real threat as Tim Walsh's favorite target in the Bombardiers passing attack.
Ryan Charter, Sr. QB, Needham
Mike Panepinto has deservedly drawn praise as the star man on the Needham offense, but the senior quarterback, who has been under center for 1-1/2 seasons already, will have high expectations as the Rockets try to get back on top in the Bay State.
Kyle Wisnieski, Sr. QB, Mansfield
With the graduation of running backs Robbie Rapoza and Kevin Makie and the continued injury problems for wide receiver Michael Hershman the key cog for the Hornets offense will be its senior quarterback. Wisnieski's ability to spread the ball around and pick the right options out of a still talented receiving corps that includes Brendan Hill is going to be the key for Mansfield's run at a Hockomock title.
WAY TOO EARLY STATE CHAMPION PICKS:
Div. 1
– St. John's Prep
Div. 2
- Nashoba
Div. 3
– Bishop Feehan
Div. 4
- Doherty
Div. 5
- Auburn
Div. 6
– Millis-Hopedale
***
Ryan Kilian
Founder and Editor-in-Chief, Massachusetts Prep Stars
Best QB
- Drew Belcher, Reading
Best RB
- Johnathan Thomas, St. John's Prep
Best WR
- Brian Dunlap, Natick
Best TE
- Rory Donovan, Cardinal Spellman
Best OL
- Jon Baker, Millis/Hopedale
Best DL
- Alex Quintero, Lowell
Best LB
- C.J. Parvelus, Defense
Best DB
- Lubern Figaro, Everett
Best passing offense
- St. John's (Shrewsbury)
Best rushing offense
- St. John's Prep
Best offensive line
- St. John's Prep
Best defensive line
- Reading
Best linebackers
- Duxbury
Best secondary
- Everett
THREE TEAMS THAT WILL SURPRISE
Bedford
While Wayland and Concord-Casrlisle have earned the DCL Small Championship the past few years do not sleep on Bedford in 2013. The Bucs play one of the toughest schedules in Division 4 and the return All-DCL running back Olan Abner.
Chelmsford
While Lowell, Central and Andover are getting most of the early press in the MVC Large, the Chelmsford Lions return one of the State's top running backs in Jeff D'Auria, a seasoned young quarterback in Jack Campsmith and a nice nucleus of tough experienced defenders.
Archbishop Williams
If Archies can find early offensive balance to take some of the work load off the shoulders of star senior back Kylan Philbert-Richardson, they could make some noise in the D5 playoff hunt.
THREE BREAKOUT ATHLETES TO WATCH
Ian Kessel, Soph. RB, Haverhill
The St. John's Prep transfer saw late game carries last season as a freshman for Prep's Super Bowl Champion squad. The speedy halfback is now back home in the MVC Small, and with the graduation of work horse, All-State RB Chance Brady (Tufts), there should be plenty carries to go around.
Devin Lekan, Sr. DE/TE, Chelmsford
D'Auria and Campsmith return to lead the offense for Chelmsford's but it is the Lion defense could be the story if they stay healthy. The Lions feature the 2nd team all-MVC performer was the most impressive player in the games I saw last season.
Nick Orekoya, Jr. DB/RB Billerica
Orekoya saw a lot of playing time as a two-way starter for Billerica last season. With another year under his belt Orekoya should thrive in coach Rich McKenna's high octane offense.
WAY TOO EARLY STATE CHAMPION PICKS
Div. 1
- Everett
Div. 2
- Reading
Div. 3
- Tewksbury
Div. 4
- Dennis-Yarmouth
Div. 5
- Auburn
Div. 6
- Boston Cathedral
***
John Botelho
Editor-in-Chief, South Shore Sports Journal
Best QB
- Troy Flutie, Natick
Best RB
- Dylan Oxsen, Plymouth South
Best WR
- Brian Dunlap, Natick
Best TE
- Rory Donovan, Cardinal Spellman
Best OL
- Jon Baker, Millis/Hopedale
Best DL
- Steve Manning, Abington
Best LB
- Kervin Jean-Claude, Brockton
Best DB
- Lubern Figaro, Everett
Best passing offense
- Natick
Best rushing offense
- St. John's Prep
Best offensive line
- St. John's Prep
Best defensive line
- Auburn
Best linebackers
- Brockton
Best secondary
- Everett
THREE TEAMS THAT WILL SURPRISE
Brockton
They're ranked pretty high in any poll you look at because people have just come to accept the fact that Brockton generally reloads. They graduated 18 starters from last season's Super Bowl team, including quarterback Austin Roberts, who was one of the best in school history. Roberts, Micah Morel and Joe Previte are all playing ball at prep schools this year, and Anthony Davis has moved on to Div. 1 Central Connecticut. Still, the Boxers will very solid again. They have a number of athletes and playmakers, including returning do-it-all Aaron Leclair. Transfer Jamal Williams is going to compliment him well, and sophomore Kerry Raymond is physically imposing at 6-foot-1 and 205. Aaron Monteiro's 6-foot-5, 295-pound frame gives Brockton an anchor on the offensive line. They have plenty of guys ready to step forward on the other side of the ball as well, led by Kervin Jean-Claude, Justin Ahanon and Leclair.
Abington
The Green Wave went unbeaten in their march toward a Super Bowl crown last year, but saw a slew of stars graduate. QB Brandon Cawley, TE/DE Pat Dwyer, FB Jack Malafronte, RB Babila Fonkem, DB Mike Walsh, OL Tyler Perakslis and OL Matt Diver are just some of the elite players Abington graduated. These guys won't miss a beat though, as they have a ton of talent back. Matt Kilmain broke out for more than 400 yards on 27 carries in two postseason wins last year, and he might not even be the best player back this season. Abington returns its top three tacklers from a year ago and has most of their front seven back on defense. Jim Kelliher has one of the best coaching staffs going at this point, and these guys look like they're headed back to the playoffs. (For bold prediction purposes, I'm also going to go ahead and say I think they beat Duxbury on opening night, because that's how good I think this team can be).
Stoughton
The Black Knights missed the playoffs last year because of the wrong day for a let down game, taking a tough defeat to eventual Super Bowl champ Sharon. The Knights lost some very good players, but leading running back Malachi Baugh is back in the fold and they return four starting offensive lineman, so there's no reason to think the offense won't be up to par again. The Hockomock League has proven in recent years to be one of the toughest to win, but a second guaranteed playoff berth can only help a team like Stoughton.
THREE BREAKTHROUGH ATHLETES TO WATCH
Aaron Monteiro, Jr. OL, Brockton
Monteiro has something that can't be learned, or even worked toward. His 6-foot-5, 295-pound frame is one that will draw the interest of coaches at the next level. Coach Peter Colombo is very excited about plugging the junior into his offensive line, and it's not just because of the size. Monteiro worked during the off-season to get himself stronger and is primed to be one of the best lineman in the state. He plays basketball in the winter, something that has helped him develop quick and agile feet for a guy his size.
Sam Malafronte, Jr. LB, Abington
Started at linebacker a year ago as a sophomore for the Div. 4 Super Bowl champs, and finished second on the team in tackles. A very good athlete who is a work-out warrior, Malafronte will team with Matt Whelan to lead a solid corps in the middle of the field for the Green Wave.
James Shea, Sr. WR, East Bridgewater
The Vikings have benefited from having tremendous athletes in the backfield the last few years (think Casey DeAndrade, Tim O'Brien, Andrew Benson and Kevin Lynch), but in 2013 their most dangerous player will be splitting out wide. Shea can run with just about anyone -- he finished sixth in the 100-meter dash in the South Shore League last spring -- and is going to wreak havoc pulling in passes all year.
WAY TOO EARLY STATE CHAMPION PICKS
Div. 1
- Everett
Div. 2
- Natick
Div. 3
- Plymouth South
Div. 4
- Doherty
Div. 5
- Abington
Div. 6
- Millis/Hopedale
July, 21, 2013
7/21/13
12:01
AM ET
By
Brendan Hall
| ESPNBoston.com
EXETER, N.H. -- The first of four Under Armour Northeast 7-on-7 football tournaments commenced this morning with the North Regional, at Exeter (N.H.) High, where over three dozen squads from high schools in New Hampshire, Maine and Northern Massachusetts squared off.
Due to inclement lightning, the tournament was called in the early afternoon, with one game left in pool play, and will not be re-scheduled. Instead, what was initially supposed to be a 10-team "New England Championship" on July 30, at Bishop Fenwick High, will expand to potentially as many as two dozen; any team that had a chance at advancing from their pool in today's tournament is invited to participate in the de facto title game.
Some notes and observations from pool play of the shortened tournament:
Air Javier:
Lynn English is always an intriguing program to watch, because it's never short on athletes at the skill position. And if Jordan Javier's performance today is any indicator, the Bulldogs should have a lot of fun in the preseason figuring out how to optimize their personnel.
Javier transfers into English as a junior from Haverhill High, and at 6-foot-4 and 198 pounds he is an obvious matchup problem at wide receiver. In the Bulldogs' final game of pool play, Javier lined up wide for the first offensive series and made a tight grab near the sidelines.
After that first series, Javier moved to quarterback and was impressive, demonstrating a quick release, above-average arm strength and playmaking ability when flushing out of the pocket. Utilizing interlocking square-in routes at different depths, Javier made a handful of completions to senior receiver Chris Lessard for quality gains.
His most impressive throw might have been his deep ball to junior receiver Lucas Harris early on in the game. Running a deep corner route to a first down marker some 35 yards down field, Javier let it rip with a simple flick of the wrist, a high-arching floater that dropped softly into the bread basket as Harris planted and turned 45 degrees northeast, his feet coming along for the ride as he fell just over the marker.
Simply put, Javier can make the difficult look effortless. English will have an interesting time figuring out what to do with the quarterback spot -- Harris and Lessard also split time at the position last season -- and obviously it's a whole different look when the pads are on. But the Bulldogs should have fun figuring themselves out in August.
Juniors on the rise for Prep:
St. John's Prep was without Maryland-bound running back Johnathan Thomas, the state's No. 1 Class of 2014 prospect, who was having minor cosmetic surgery on his right temple. He might have been missed, as the Eagles dropped their first contest and was trailing by two scores to Winnacunnet (N.H.) when play was halted.
That said, two juniors impressed for the defending Division 1 Super Bowl champs, who could potentially enter the preseason as the top-ranked team in Massachusetts. Wide receiver Owen Rocket excelled in the open field, running great routes and making tight catches in traffic.
Folks over on Spring St. are excited about the potential of tight end Jake Burt as well. The 6-foot-4, 220-pound Lynnfield resident didn't see a lot of time behind All-Conference tight end Anthony Bongiorno last year, but expect him to be an integral part of the offense this season. With a powerful frame that still has some maturing to do, he is an ideal player for these 7-on-7 type tournaments, able to box out his defender in goal line situations.
Hillies have some promise:
It's going to be tough for Haverhill to replace quarterback Tommy Morgan and running back Chance Brady from last year's dynamic record-setting offense, but there are some pieces in place to potentially have another good season.
The Hillies went 3-0 in their pool before play stopped, and senior Shane Finn made some good throws at quarterback. Utilizing a pistol set with trips and 2x2 formations, Finn made some quality reads and while he may need to improve his arm strength, had a few frozen ropes deep for scores.
On the defensive side of the ball, linebacker Michael Kwegyir-Attah will be one of the more interesting prospects to watch in the Merrimack Valley Conference this season. Originally hailing from Ghana, last year was Attah's first year ever playing organized football. Still,
his junior highlight film is impressive
, filling gaps adequately in run support and squaring up well at the point of attack.
At 6-foot-2 and 220 pounds, Attah is a tweener prospect, getting varying amounts of interest from FCS programs such as New Hampshire and Albany. He has long arms, and in pass coverage today he used them well, delivering a good punch in press coverage and staying in front of his man, though he did give up a touchdown.
Warriors roll:
Winnacunnet was among the more impressive looking squads from the Granite State today. Quarterback Ing Hao Veasna, he of the heroics in last year's run to the Warriors' first state championship in 12 years, proved his mettle and is set for another terrific season.
Meanwhile, senior wideout/safety Alec Boucher, who caught a handful of nice balls against Prep, should be in for a bigger campaign this fall. Standing 6-foot-1 with a 6-foot-4 wingspan, and also a basketball star during the winter, he is another tweener prospect who is getting looks from UNH, Fordham, Assumption and Merrimack. If there's anything that speaks to his athleticism, it's this: Last spring, he picked up a third sport -- track and field -- for the first time in his life, and finished third in New Hampshire in the high jump.
October, 6, 2012
10/06/12
11:00
PM ET
By
Ryan Kilian
| ESPNBoston.com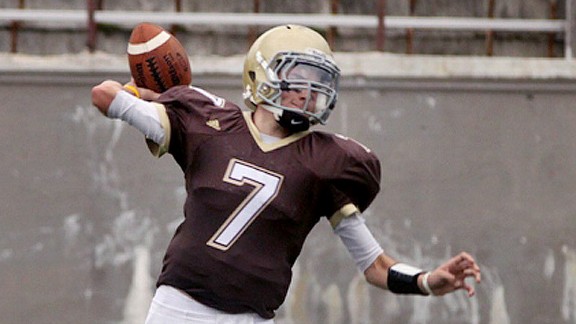 Ryan Kilian for ESPNBoston.comQB Tommy Morgan tossed the game-winning touchdown pass for Haverhill with 7.7 seconds left.
HAVERHILL, Mass. – "This is a program game," Haverhill head coach Tim O'Connor told his team after their thrilling 30-23 win over Chelmsford (4-1) on Saturday evening.
With the game tied at 23-23 senior quarterback Tommy Morgan led the Hillies on a 71-yard drive that ended with a 10-yard touchdown pass to sophomore wide receiver Jordan Javier with 7.7 seconds remaining on the clock.
"I actually called for a field goal first and I said to myself, there is too much time," O'Connor explained after the game. "I have a senior quarterback and a great receiver so I pulled them aside and said, let's throw a fade. Everyone in the house knew the fade was coming. Either Javier is catching it or nobody is catching it."
On the final drive Haverhill (4-1) star running back Chance Brady ran for 33 of his game-high 204 yards on two big carries up the middle. Morgan also connected with wide receiver Shane Roche for a chain-moving completion that brought the ball into Lions territory.
"We knew that Jordan was going to be double covered so I just threw the ball up to Shane over the middle and he made a great play," Morgan said of the play.
The touchdown pass to Javier was his second touchdown reception of the second half. The 6-foot-4 standout wide receiver totaled five catches for 62 yards on the night.
"A big difference is that we have weapons on the outside this year," O'Connor said. "Every week it is someone different and if you want to put eight in the box, go ahead, as we have a 6-foot-4 receiver who we can throw the ball up to in the end zone."
Special teams were also crucial for both teams as both place kickers came up with big kicks down the stretch in the pouring rain.
After a 32-yard Patrick Yale field goal that broke a 20-20 tie late in the final quarter Chelmsford kicker Charlie Calenda matched him by booting a 29-yard field goal with 55.2 seconds to tie the game at 23-23.
Chelmsford led 14-7 at the half and 20-7 in the third quarter before the Hillies mounted their second half comeback.
Morgan's Magic:
A three-year starter at the quarterback position, Morgan has seen the Hillies go from 0-11 in 2010, to 4-7 in 2011, to 4-1 to start the 2012 season.
"This was a program changer," Morgan said after the game. "Nobody thought we were going to win this game. For us to come out and win a game like this will make teams think twice about coming in and thinking they have a definite win."
The senior captain completed 13 of 20 passes on the night for 154 yards and two touchdowns. He also proved his worth as he stood strong in the pocket on multiple occasions to complete passes under heavy duress.
"I have told him all along that he was going to have to win us some big games this year," said O'Connor of his quarterback. "Chance cannot do it all for us every game. Chance is a great player and he had a great game but Tommy more than won us this one."
D'Auria continus to run wild:
D'Auria was tough to stop all night as the junior followed up his 290 yard performance last week in a win against Dracut with 158 yards rushing on 28 carries on Saturday. D'Auria's speed and ability to stay low and run through defenders make him one of the most dangerous backs in the Merrimack Valley Conference this season.
Chelmsford sophomore Jack Campsmith also played well in his first varsity start as he completed 13 of 21 passes for 119 yards and alos had a rushing touchdown.
Calenda and tri-captain linebackers Matt Rabbito and Chris and Tony Marino all played well defensively for Chelmsford.
Upcoming Games:
Both teams have one more game remaining before they dive into league play. Haverhill will travel to Billerica next Friday while Chelmsford hosts MVC D2 newcomer North Andover. Both Billerica (1-4) and North Andover (1-3) are off to slow starts but in a balanced MVC D1 and D2 this season every game is a battle and every game is up for grabs.
HAVERHILL 30, CHELMSFORD 23
HAV (4-1) 0 7 13 10 --- 30
CHE (4-1) 0 14 6 3 --- 23
Second Quarter
C – Jack Campsmith 3 run (Charlie Calenda kick)
C – Jeff D'Auria 2 run (Calenda kick)
H – Chance Brady 42 run (Patrick Yale kick)
Third Quarter
C – Joe St. Hilaire 30 pass from Eric Van Gelder (kick failed)
H - Brady 7 run (Yale kick)
H - Jordan Javier 16 pass from Tommy Morgan (kick failed)
Fourth Quarter
H – Yale 32 field goal
C – Calenda 29 field goal
A – Javier 10 pass from Morgan (Yale kick)
August, 30, 2012
8/30/12
5:43
PM ET
DANVERS, Mass. – A master and his disciple squared off Wednesday at St. John's Prep as the Eagles and Haverhill got together for an afternoon scrimmage.

Here are a couple of parting thoughts from the day's action:

SHOWING SOME TOOTH
The Hillies, led by former Prep standout Tim O'Connor who played under Prep head coach Jim O'Leary, although unranked in the preseason, will be a team to watch in the Merrimack Valley Small this year. They presented some matchup problems for Prep on defense, working out of a pistol spread formation.

Once a program on the verge of oblivion, O'Connor's helped turn it around in a hurry, with good numbers and a crop of athletes. The Hillies are led by Tommy Morgan, a long and lanky quarterback who showcased a good throwing motion while set in the pocket Wednesday, along with fine footwork. Running back Chance Brady is a downhill runner who provides an unexpected punch out of the spread look.

One worth watching closely this season will be sophomore wide receiver Jordan Javier. The Lynn English transfer will provide matchup problems to many this season with a 6-foot-2 frame and speed to boot. Javier made several high degree of difficulty catches over Prep defenders and will be a force throughout the season.

MATCHUP GAME
O'Leary admitted Haverhill was a good tune-up for the Eagles' impending game with Dracut, a similar squad out of the Merrimack Valley Small. While Prep was game for the challenge, there was still room for improvement in O'Leary's mind.

"We're ahead of where we were last year. We were coming off a Super Bowl season, with an experienced, veteran team, and then we had to rebuild a little bit. We certainly had the pieces with three-year starters like Lucas [Bavaro], Alex [Moore] and Johnny [Thomas] and Gerry [Kahari], those guys have been here through that, but we took our lumps along the way."

The Eagles got several big plays in the scrimmage from some of their veterans.

Bavaro started strong, picking off a Hillies pass on the first set. The physical safety read the quarterback's eye, undercutting an out route and rumbling the other way for a pick-six. The Eagles also got a consistent pass rush from Tucker Mather, who disrupted several plays from his defensive end position.

PULLING AS ONE
Another thing to watch at Prep for the upcoming season will be the work of the offensive line. While young, the line is big and has accrued some playing time during last year. Working in front of talented backs like Moore and Thomas, the Eagles' O-line will be the fulcrum to a successful season in the Catholic Conference.

"James Fagan is the only senior we have on the line," O'Leary said. "Now, a lot of those guys played last year as sophomores or even freshmen last year, but they're coming along. They have good size, they have good athleticism, they run well."