Boston High School:

Jordan Manthorne
March, 1, 2014
3/01/14
10:57
PM ET
By
John McGuirk
| ESPNBoston.com
WOBURN, Mass. -- The old adage of one team wanting it more than the other does not apply here.

Both St. Mary's of Lynn and Winchester left their collective hearts and souls on the Ned O'Brien Rink ice following Saturday night's Division 1 North quarterfinal match up.

When it was all said and done, a full 45 minutes of regulation had been played as well as two six minute overtime periods and an eight round shootout to finally decide a victor as the top-seeded Spartans prevailed, 4-3.

St. Mary's senior forward Chris Donovan concluded this edge-of-your-seat marathon by beating Sachems outstanding junior goaltender James Offner with a backhand shot over his stick and move his club into Wednesday night's semifinal against No. 4 Reading (a 5-3 winner over Melrose) at Chelmsford Forum with the opening face off scheduled for 7:10 p.m.

"When I got that puck in the shootout I knew what I was going to do with it," said an exasperated Donovan at game's end. "I wanted to go short side because during the previous shootouts I saw the opposing goalie making all the saves on his glove side. I felt he was going to have a weak blocker side. When I came down on him I saw him leaning more towards his backhand side so I knew he was going to have to shift. Once he shifted, I pumped and then went backhand on him. This was a big win over a very good team and I'm just glad we were able to get the job done."

St. Mary's converted 2-of-8 shots during the shootout, while the Sachems went 1-for-8. The Spartans (16-4-2) other score in the shootout came from Chris Price in the fifth round. Senior Nolan Redler had the lone tally for No. 8 Winchester (12-6-5), coming in the second round.

Bailey MacBurnie was equally instrumental in this triumph. The senior netminder made several magnificent saves in regulation and then came up huge in the shootout, allowing just the one marker.

"I think I'm pretty good in shootouts because we work on them every day in practice," said MacBurnie, finishing with 31 saves. "I wasn't feeling that much pressure. It was more like whatever happens, happens."

Prior to that, this contest, in front of a full house, had its share of twists and plots. The Sachems had built a 3-1 lead after two periods only to watch in vain as the Spartans storm back with a pair of goals in the third from defensman Clay Yianocopoulus and forward Shawn MacBurnie to deadlock things. During the two overtime frames, nothing was settled in spite St. Mary's out-shooting the Winchester 7-4. That set the stage for a classic finish that ended in celebration for one team and bitter disappointment for another.

"We didn't have our A game early on but we just kept battling," St. Mary's head coach Mark Lee said. "We finally got things going in the third. I give our team credit because they fought through things, never quit and got us into overtime and the shootout. To end a game like this is pretty sweet. There is just no quit in our kids. This team wants to keep it going. They actually like each other and want to be together. It really is like a family. They are just a great group of kids that won't die for you and just want to continue to work.

"We felt very confident during the shootout having Bailey in net for us. I thought he did a tremendous job to keep us us shooting in the shootout. I also give a lot of credit to Chris Donovan. He didn't see a lot of action today but he helped move this team along to the next round of the playoffs."

Ironically, for Winchester, this marks the second time in as many years its has seen its season end on a shootout. Last year, in the North final, the Sachems were defeated by Burlington in similar fashion.

"Another tough way to end the season," Winchester head coach Matt Spang said. "It is what it is. It's tough for things to end this way for this group of guys for a second year in a row. I thought James was great for all night in net for us. I'm very proud of him and all of our team. Our guys can't walk out of this rink with any regrets. They spilled their guts out there tonight, and as a coach, I cannot ask for anything more than that. They gave me everything they had."

Price, a junior, would open the scoring with a power play goal coming at 57 seconds of the first period. But the Sachems answered one minute later when Andrew Chalas managed to slip a shot in between MacBurnie's pads to knot things at 1-1. Winchester went ahead at 4:42 of the frame after Brendan Greene pushed in a rebound, coming off an initial shot by David Troiano.

With less than a minute remaining in the period, St. Mary's watched a golden opportunity to tie things fall by the wayside. Forward Jordan Manthorne was awarded a penalty shot but his attempt sailed wide of its intended target keeping the Sachems in front. They would then add to their lead just 3:17 into the middle period. Danny Marx, standing all alone inside the left circle, ripped a shot which caromed off the right pipe and into the back of the net.

For a team that was given serious consideration only a week ago for a Super 8 bid, St. Mary's didn't look the part over the first 30 minutes. In that sequence, the Spartans had six power play opportunities but were only able to convert just one for a score. With just 15 minutes remaining in their season, it was now do or die for them.

Looking for any kind of boost, Yianocopolus gave them one. The junior flashed towards the net following a Price shot from the left point. Offner (37 saves) initially stopped Price's laser but the puck trickled behind him where an alert Yianocopoulus managed to push it over the goal line at 3:25, making it a 3-2 affair.

With new-found momentum, St. Mary's would tie it up five minutes later. With Winchester playing a man short because of a delay of game penalty, Shawn MacBurnie fired a short side goal underneath Offner's blocker and suddenly it was a brand new game. The Spartans were 2-of-8 on their power play chances while the Sachems finished 1-for-5.

"At the beginning of the game I didn't feel like I was getting into the rhythm I wanted to and I thought it might end badly for us," said Bailey MacBurnie. "In the third period, myself, Jordan [Manthorne] and Chris [Price] really got our guys going. We all said that this would be it for us if we didn't get something going. Everyone really played their hearts out in that third period. We have a strong team and a strong coaching staff so we were not going to give up no matter what."
February, 21, 2014
2/21/14
12:20
AM ET
By
Jeff Cox
| ESPNBoston.com
WEST SPRINGFIELD, Mass. – The ultimate decision will be up to the committee, but St. Mary's made one final statement that it belonged in the Super 8 on Thursday afternoon in the consolation game of the Ninth annual Cathedral Hockey Classic with a convincing 7-0 shutout victory over Needham.

"It was the second game in a row, we didn't have a whole lot of jump in our step the first period," Spartans head coach Mark Lee said. "We weathered the storm and finished the game strong. We put some pucks in the net when we had to and we're happy with the outcome."

Clay Yianocopolus started the scoring for the Spartans 9:26 into the first period on a terrific individual effort. The defenseman-turned-forward made a strong move to the net, but his initial shot was denied by Needham goaltender Mike McHale. Yianocopolus retrieved his own rebound behind the net and banked it in off McHale.

That first goal really gave St. Mary's the spark it needed, as the Spartans would score twice more before the period ended. Jackson Allard tipped home a Connor Foley shot at the 13:04 mark, and 29 seconds later leading scorer Shawn MacBurnie found the back of the net off a nice centering pass from Foley.

The score stayed 3-0 well into the second period when Jordan Manthorne scored a short-handed goal. The senior captain was relentless on the forecheck, finally stealing away the puck and firing it on net. His shot deflected off a Needham defender and into the back of the net.

Foley added another goal just over a minute later to give St. Mary's a 5-0 lead after two periods. Jon Powers and Yianocopolus assisted on the score.

Austin Frankel finished off a nice feed from Manthorne just 48 seconds into the third period to give St. Mary's the 6-0 advantage. Later in the period Allard scored his second of the game when he batted home a loose puck in front of the net.

Spartans senior goaltender Bailey MacBurnie was pulled midway through the third period in favor of Connor Jennings. The two combined for the team's fourth shutout of the season. Lee's club has allowed just 36 goals over the 22-game regular season.

"Our strength is that we're usually pretty disciplined in the defensive zone," Lee said. "We got away from that against a very powerful Malden Catholic team yesterday. We got back to that today, blocking shots and taking lanes away."

The loss ended the season for Needham and the high school careers of its four seniors.

"We knew it was going to be tough coming out here, playing two very good teams, regardless of who we played today," Rockets head coach Mike Bertoni said. "We knew that it was going to be a challenge. We fought to the end today. As disappointing as it is, we have to credit the seniors for keeping the team together and battling to the end."

St. Mary's will have to wait until Saturday when the Super 8 selection committee decides the team's fate. It will either be on to the Super 8 or the Division 1 North bracket for the Spartans.

"I think our record speaks for itself," said Lee of his team's Super 8 resume. "We've played all the top teams and we competed with them. Even the loss yesterday against Malden Catholic, we struggled in the first period, but battled and played well the last two."

He added, "I think we've probably earned a spot to at least be in the play-in game. I really believe in this team."
February, 20, 2014
2/20/14
12:10
AM ET
By
John McGuirk
| ESPNBoston.com
WEST SPRINGFIELD, Mass. -- When the talk centers around Malden Catholic, much of the conversation is directed towards the Lancers' prolific offense and rightfully so.

But there are those who tend to forget just how strong this team is defensively. MC takes pride in its defense, albeit nobody seems to notice due in large part to the high-output of goals this team can amass at any given time.

Wednesday night, that defense flourished yet again, this time putting St. Mary's of Lynn in virtual headlock en route to a 7-1 victory in the opening round of the Springfield Cathedral Tournament played at the Olympia Ice Center.

No. 1 MC will face No. 6 Cathedral (a 9-0 winner over Needham) in the championship game, and perhaps a preview to a possible Super 8 meeting down the road, on Thursday night beginning at 5:10 p.m. Tenth-ranked St. Mary's, still with a shot at securing a Super 8 invite, squares off against Needham in the consolation tilt at 3:10.

As expected, MC's offense was its usual productive self, striking for five first period goals. But the defense got into the act as well, taking the Spartans off the puck, tying up the neutral zone and pinching the boards with effectiveness. When St. Mary's was able to find passage ways to the Lancer net, junior netminder Alex Reissis (22 saves) was there to turn them away.

"We have some good young defensemen back there," said senior forward Tyler Sifferlen, who notched the hat trick, giving him 17 goals on the season. "We also have some leaders back there as well in Nick Rolli and John McLean."

MC (16-3) had held opponents to a mere 37 goals this season while the offense has found the back of the net 103 times. In the Lancers last six games, they have only been scored upon six times. Only one team (BC High on Jan. 7) has scored more than four goals against them in a game, finishing with five.

In fairness to St. Mary's, MC's defense wasn't looking all that sharp at the beginning of the contest. Just 14 seconds in, senior forward Jordan Manthorne scored off a rebound after Reissis couldn't corral a hard perimeter shot from Max McKay, putting the Spartans ahead.

But all that did was wake up a sleeping giant. The Lancers regrouped quickly and gained control of the period moments later. Sifferlen, taking a cross-ice feed from Ara Nazarian, one-timed a shot past Spartans goalie Bailey MacBurnie (27 saves) at 2:18.

From there, there wer no answers in slowing this talented group down.

Keeping the puck inside the Spartan zone for what seemed like an eternity, Nick Botticelli, a sophomore, flipped a shot over MacBurnie's catching glove at 6:56 to give the Lancers the lead for good. It took all of one minute later for MC to pad its advantage. With St. Mary's forward Jon Powers in the penalty box for holding, Sifferlen bagged his second marker with a point blank shot from the right circle.

At 9:48 of the period, junior Jake Witkowski scored off a face off to push MC's advantage to three goals. Witkowski also added three assists. Just two minutes after Witkowski's score, Matt Filipe, a sophomore, showed some tremendous speed, flying behind the Spartans net and dumping a short side goal past MacBurnie and send the Lancers into the first intermission well in-control, on top 5-1.

"The guys did what they had to do in the first period," MC head coach John McLean said. "We got to roll four lines the rest of the game. We'll take the two points and move on. The Ara, Tyler and Jake line are very talented, they move the puck and are very tough to stop. It's pretty special watching them move the puck around. This tournament is good for us. We like to get out on the road and play in these types of games. I think it gets us mentally ready for the Super 8."

Over the final 30 minutes, MC pulled back some in its offensive attack, instead, paying more attention to the defensive side. As the game wore on, so too, did the chippiness from both sides. St. Mary's was obviously frustrated for not being able to capitalize when they had chances inside the MC zone. Likewise, the Lancers weren't about to stand around and play the role of a pinata. St. Mary's frustration only mounted after barely able to register a ripple offensively in the second, only to watch Sifferlen tally his third goal at 11:33 and a 6-1 advantage.

With the Sifferlen, Nazarian (3 assists) and Witkowski line pretty much regulated to bench detail over the final frame, the Lancers showed some of their depth. Logan Stark, a sophomore, registered his first varsity goal at 2:36 as he flipped a shot over MacBurnie to make it a six-goal margin.

To its credit, St. Mary's perhaps played its best period during the final 15 minutes, putting up 12 shots on Reissis but had nothing to show for it.

"First period, we get that quick goal which I think lit a fire under [MC]," Spartans head coach Mark Lee said. "I felt we had some opportunities but just couldn't put the puck into the net. The first period ended it early for us. The positive is we didn't quit and played two solid periods after that but they were the better team."
December, 29, 2013
12/29/13
12:53
AM ET
By
John McGuirk
| ESPNBoston.com


MALDEN, Mass. -- Having scored no more than one goal in each of its first five games, a casting doubt lingered as whether or not St. Mary's of Lynn would be able to dispell that curse against Hingham in Saturday night's consolation game of the Christie Serino Christmas Classic at Valley Forum II.

It wasn't a secret that the Spartans were suffering mightily on the offensive side. This team, over the first couple of weeks, has relied heavily on its defense as well as senior goaltender Bailey MacBurnie to bail them out.

But at least for one evening, a transformation was beginning to take place. Finally, St. Mary's had found the back of the net more than once. The Spartans managed a goal per inning to claim a 3-1 victory.

"We're a little disappointed that it wasn't our best game but we still managed to find a way to compete against a very talented team," said St. Mary's head coach Mark Lee, his team now sitting at 2-3-1. "I think we did a good job taking away quality scoring opportunities. But we just didn't seem to have the legs like we had on Friday night (a 1-1 tie versus Austin Prep, before losing in a shootout). We need to get better but we'll take the two points and hopefully it is a learning experience for us. This is one of the premier Christmas tournaments in the state and for us to come away with 3-out-of-4 points gives us a lot of confidence and hopefully we'll build off of it."

Although controlling much of the first period, the Spartans were still out-shot 33-11 for the game. St. Mary's jumped ahead 1-0 at 12:15 of the opening frame. Sophomore forward Connor Foley grabbed an errant rebound off the back dasher and pushed the puck past Jack Santilli. The Harbormen (1-3-1) had difficulty in their attempts to create space during the opening frame, as the Spartan defense held their ground and shadowed any Hingham player with the puck.

"We're down a few guys in the line up and we've been pressing a lot," Harbormen head coach Tony Messina said. "I'm happy our kids played hard but we need to play three full periods out there. At times tonight we let up and then they score to take some momentum away. It's very frustrating right now. Our kids played hard and deserve better but you need to create your offense to score goals and win games. We're not doing that right now."

Hingham will walk away realizing it wasted a golden chance to tie the game early in the second period when after going on a 5-on-3 power play and coming up empty. But a short time later, defenseman Nico Droster was able to send a blast through traffic that evaded MacBurnie to knot the game at 1-1. The tie lasted all but 18 seconds as St. Mary's offense was doing an admirable job moving the puck down ice through the neutral zone. Jordan Manthorne, a senior captain, gave the Spartans the lead back after gaining control of a rebound in front and lifting a backhand past Santilli.

As expected, Hingham dominated the final 15 minutes of action, pasting MacBurnie with 19 shots in its attempts to deadlock the contest. But MacBurnie stood his ground, stopping everything headed his way.

"We knew coming in that Hingham was a really good team," said MacBurnie. "We also have very good team. They had a good amount of shots tonight but I think my team did a nice job forcing them to make shots from the outside. I think we just got off to a slow start this season. I think we're starting to turn things around right now."

At 10:45 of the period, St. Mary's got some much-needed breathing space after Chris Donovan re-directed a shot it front that trickled between Santilli's leg pads and into the back of the net, giving the Spartans a two-goal margin. Over the closing minutes, the Harbormen continued to pelt MacBurnie with zero results as they skated off the ice frustrated and defeated.

"After finally scoring more that one goal in a game, hopefully this will open the flood gates a little bit," Lee said. "We haven't scored much but it's not for a lack of hard work. Our kids give what they have all the time. A huge part of our team is our goaltender keeping us in games, especially when we don't have our A-game. He gives us a chance to win. Tonight was a perfect example of that. Without Bailey tonight might've been a different story."
December, 9, 2013
12/09/13
1:42
AM ET
By
John McGuirk
| ESPNBoston.com
MARLBOROUGH, Mass. -- It is never easy replacing a legend, but that is the task which has been handed down to first-year St. John's (Shrewsbury) coach Mike Mead.

Mead's Pioneers, along with many of the state's other top-echelon programs, took part in Sunday's Fifth Annual Garrett Regan Hockey Summit at New England Sports Center. The event is named after the former 26-year Hingham High coach and Massachusetts State Hockey Coaches Hall of Fame inductee who passed away in June 2008.

Mead, who was appointed to the position last September, takes over for Brian Murphy, who stood behind the St. John's bench for 29 seasons, posting an overall record of 392-217-63, including a pair of Division 1 state titles (1999, 2004) and a handful of Super 8 appearances.

Mead is no stranger to St. John's. He served as an assistant under Murphy for 16 years, leaving in 2007 to spend more time with his family. He is also head of the Math Department at the school.

"Brian is a great friend and was a great mentor," said Mead. "He kind of broke me in. When this opportunity happened I jumped at it. My kids are little older now so everything sort fell into the right place at the right time for me."

Mead exudes the fact that the Pioneers have a plethora of depth, including a freshman team with 25 members. "We have a lot of kids who came back and tried out," he said. "We have good numbers and good depth. I don't really know the kids yet so with our tryouts I did things by grade. I didn't do it with returning players. We did juniors and seniors one day and freshman and sophomores the next. What I have seen so far I have been pleasantly surprised."

St. John's will, again, be paced by senior defensemen Bryan Nelson (23 points last season), Connor McCann, senior forward Kevin Butler and senior goaltender Mario Pizzeri.

Mead is also counting on senior forward Chris Adams and junior forward Dan Barlock to make their presence felt.

"We'll try to be aggressive on the forecheck and having two men on the puck," Mead said. "The biggest thing for us will be on offense. I feel we are a strong defensive team. I'm going to need some of our seniors to put the puck into the net."

Lancers quest for four: Malden Catholic began its quest for a fourth consecutive Super 8 crown, taking on Springfield Cathedral, another Super 8 qualifier from a year ago.

The Lancers controlled the opening frame, building a 4-1 lead before the Panthers rallied for three unanswered tallies to earn a 4-4 tie in the 2-period scrimmage.

By most people's observations, MC is the prohibitive favorite to claim another Super 8 crown again this season.

Despite the losses of two of their most prolific players (Casey Fitzgerald and Mike Iovanna, who combined for 56 points a year ago), there is still plenty of talent to carry the Lancers again this season. Junior forward Ara Nazarian (26 goals, 24 assists) leads the way. Senior forward Tyler Sifferlen, junior forward Austin Goldstein, sophomore forwards Matt Filipe and Jake Witkowski along with defensemen John McLean, Nick Rolli are solid. As of now, Alex Reissis appears to be the front-runner between the pipes replacing departed Connor Maloney.

"We lost some major contributors but we have a good bunch of younger kids who have come in that should fill those spots fine," MC head coach John McLean said. "The issue is you cannot replace a Casey Fitzgerald (who joined the United States National Team Development Program). He was a special player but the guys that are going to play need to step up.

"As far as our expectations I just worry about the next game. We don't think about the Super 8. Right now we're rolling everyone and everyone is getting to play. When we work we're good and when we don't want to work then we're just average. All that matters is winning the last game of the year. Last year was a long learning curve for us. Hopefully our leaders this year will step it up and take us to the Garden again. We have a lot of good, young strong players. It's just a matter of them gaining the confidence to play at this level."

Against Springfield Cathedral, Sifferlen netted a pair of goals, with Goldstein and Rolli accounting for one apiece.

"I think we have a good group of young core guys on this team," said Nazarian, a UNH commit. "We have good leadership from our older guys. It's a good mix of young and older guys. I think things are looking good so far. There is one goal here and that's to win the whole thing. That is our mindset. We won last year so we know every team we play is going to give us their best so we need to give it our best every game. This is a whole new season so we're just focusing on winning it again and not look back on last year."

Raiders on the rebound: Having reached the third round of last year's Super 8 before falling to St. John's Prep, Central Catholic remains hopeful for another stab at the big dance. Raiders head coach Mike Jankowski is a main reason as to why this program has emerged as a driving force statewide.

With Central everything begins from the net outward. Senior goaltender Colin Soucy, arguably the best high school netminder in the state, will be relied on heavily to get the Raiders back into Super 8 contention.

"We've had a lot of success of late," Jankowski said. "The culture has changed here and we are getting kids coming back from juniors and prep schools and believing in this program and high school. We want kids to enjoy their high school experience here. The schedule we play keeps is very competitive and it keeps our kids engaged and maintains them playing at a high-level. There's nothing like high school hockey in terms of the relationships and friendships the kids build. It's an awesome brotherhood that all teams should experience."

For years, Central often flew under the radar, constantly being overshadowed by other programs. But due to their recent success, that is no longer the case. Jankowski wishes it was not like that but when you win consistently, you now have a target on your back.

"Now, instead of coming in as a dark horse which we like to ride, there is a new expectation level which has been set here but I think we're ready for it," he said. "Colin is back and what he did for us, especially at the end of last year, was remarkable. For the kids to have that confidence in him at his position just gives us that added advantage. The goalie position where it makes a difference in a team's won-loss record. Colin is just a great example of being a great character kid."

Panthers on the prowl: With the loss of two key contributors last year, Springfield Cathedral will be looking to its youthfulness to help them make a return visit to the Super 8. Gone are defenseman Matt Foley and forwards Artie Potter and Dominic Blad. But who returns should play a key role in the Panthers postseason hopes. It all starts with goalie John Liquori. The team's lone senior, Liquori played himself into a top-level talent a year ago. Forwards Peter Crinella (a Holy Cross commit), Johnny Leonard, D.J. Petruzzelli, Cole Foster, Zac Prattson and Riley Prattson will give Cathedral the ammo it needs on offense.

Defense will be a work in progress, but Bryce Peritz, Jordan Tetreault and Cam Griffin return.

Also make note on freshman goaltender Keith Petruzzelli over the next couple of years.

"We've got babies but they're all good," Panthers coach Brian Foley said. "Our first two lines are going to score goals. We had a great first week of practice and you noticed how much they improved in just one week. It'll be fun over time to see how these guys mature this year. I think this will be our most-offensive team that we've had ever. All of those kids did a lot of work on their strength and speed during the off-season. I also think our defense and goaltending will be outstanding as well."

BC High movin' on: With the loss of all-everything goaltender Peter Cronin, all is not lost at BC High. Brandon Payzant, a sophomore, was Cronin's understudy a year ago and by the looks of things, he appears to be a quick learner after playing solid between the pipes today against St. Mary's of Lynn.

"Brandon was with us last year as a freshman," Eagles coach John Flaherty said. "Obviously he had a great kid to watch and learn from. Peter was great working with Brandon so he now has a year of experience under his belt in practice and being around these guys. Now he is able to get some game experience. He's a good athlete and someone who will be able to step in and carry the load for us. We are also carrying eight defense (spearheaded by Sam Topham) where we hope to find the right combinations in order to keep the puck out of our zone."

On offense, BC High will count on Patrick Kramer (25 points), Steve DeForge, Chris LaLiberte, Tim Larocque, Jake Lemanski and Connor Noonan to work the puck into opposing team's defensive zones.

"We have a lot of experience back," Flaherty added. "It is just now we need guys to play bigger roles for us. Overall we are returning seven defensemen, 11 forwards and one goaltender and most of them have been around for a few years and it is our hope this is the year they blossom."

Hawks a sleeper?: Don't rule out Xaverian as a potential candidate to do some big things this season. Reaching the Division 1 South quarterfinals last season, the Hawks should be a better unit this year in spite of the departures of Eddie Pratt (17 goals last year) and defenseman Mike Brennan. They are led by forwards Antonio Marini (35 points last year), Tim Sweeney (24 points) and Jake Farrell (14). Defensively, Rick Smith and Ryan Walsh will be keys in shutting down opposing offenses.

Shot in the arm for SMH: After spending last season at Brewster Academy, St. Mary's of Lynn head coach Mark Lee was overjoyed learning that goalie Bailey MacBurnie was returning for his senior year.

Two years ago, as a sophomore, MacBurnie secured a 1.38 goals-against-average in helping the Spartans earn a No. 2 seeding in the Super 8 Tournament. With him back in the crease, expect St. Mary's to make another solid postseason run.

"Bailey can certainly be a difference maker for us," Lee said. "I think with this team we are putting a lot of kids in a position to allow them to gain great experience because overall we are a young team. I think we'll get better as the season goes."

With another year under their respective belts, you can look for forwards Jordan Manthorne and Jon Powers, the only two players to reach double digits in scoring last season, to lead to carry this club offensively.

Burlington moves on from repeat: Defending back-to-back Division 1 state champion Burlington will count on its defense to help the Red Devils in their quest for a third state title.

"So far I'm happy with our progress even though it has only been a couple of days," said Burlington head coach and recently-inducted Mass. State Coaches Association Hall of Famer Bob Conceison. "We have a strong defense and some forward that are young so it will be a work in progress to get our offense going. This is kind of a similar team to last year in that our offense started to come together at the end of the year. It's going to take a while for our offense to gel. We lost some firepower on offense last year (losing C.J. Grinnell and Joe Bernardi) but our defense is back."

The Red Devils also lost goalie Derek DeCastro to graduation and hope to fill the void with senior Mike Guleserian.

The Hall calls: Longtime Hudson head coach Mike Nanartowich will be inducted into the Mass. State Coaches Hall of Fame in May, along with Murphy, Waltham head coach John Maguire and Stoughton front man Dan Mark. Two years removed from his Division 3 state championship triumph over Medway, Nanartowich, now in his 24th season, regards Shrewsbury as the favorite in Central Mass. this year.

The Colonials return a front line of Dan and Jack Quinlivan along with David Belbin. Last season the trio combined to score 125 points. However, never never rule out the possibility for the Hawks at making a serious charge by season's end.

"You still have to go out and show up for every single game," Nanartowich said. "Right now you have to give the edge to Shrewsbury because of the people that they are returning as well as Wachusett and its depth. But at this point, I just think Belbin and the Quinlivan brothers can be the most-dominant line in all of Central Mass. this year. How you take care of their speed and skill requires a lot of game planning. As for us, we will still go out and play everyone straight up like we always do."

In regards to going into the Hall of Fame, Nanartowich remains humble over the selection. He passes the credit over to the players and coaches he has worked with over the years as the reason for the honor.

"I'm going in with a bunch of great guys and guys who have won at a good level," he said. "For me, all that hard work of watching tape, going to various rinks to scout and those commitments you make in the off-season with your team has paid off in winning a state championship and now it has paid off in terms of being recognized by your peers."

Hawks longtime assistant coach Mike Correa added that the honor bestowed on Nanartowich is certainly well-deserved.

"There is probably no one who does more for his players or works harder at preparing kids, not only for the game but life lessons as well, than him," Correa said. "Winning the 2012 state championship is not the reason why he should be in the hall. It is all the dedication he has brought to all the kids who have played in this program over the years which stands out to me."
September, 18, 2013
9/18/13
11:57
PM ET
A smattering of observances, trends, anecdotes, factoids and musings collected from around Massachusetts football in the last week or so:
10. One way-too-early prediction: Marblehead is going to cause some waves in Division 3 Northeast.
9. It might still be early, but Middleborough looks to have a playmaker for some years to come in sophomore running back Eddie Hart. While not the tallest in stature (he's 5-foot-7), the shifty Hart dazzled again in Week 2 with a 52-yard punt return for a touchdown in addition to 130 rushing yards on 15 carries, with two touchdowns, in the Sachems' victory over Coyle-Cassidy.
8. It was a rough second half for Weymouth's defense against Bay State rival Natick last Thursday, but someone worth keeping an eye on is Wildcats middle linebacker James Bradley. The senior showed good instincts and sideline-to-sideline pursuit (against a fleet-footed Redhawks squad nonetheless).
7. And while we're on those Redhawks ... After a week, it looks as though Alex Hilger will be Troy Flutie's go-to target with Brian Dunlap lost for the season to injury. But while teams might soon begin giving Hilger a Dunlap-like treatment with bracketed coverage, that's only to create more space for fellow senior wide receiver Justin Robinson to work, particularly along the seems of the field, as he did with increasing frequency during later stages of Natick's win at Weymouth.
6. As in six hundred. In a wild 64-39 win over Swampscott, St. Mary's (Lynn) accumulated just shy of 600 rushing yards -- well, 570 to be exact -- but Connor Sakowich, Jordan Manthorne and Abraham Toe put on a show no one will soon forget.
5. After making his college decision on Monday, Central Catholic senior running back/defensive back D'Andre Drummond-Mayrie offered his evaluation of the Merrimack Valley Conference this year -- as well as a pet peeve about scheduling.
"Very, very good competition," he said. "Lowell's great. Andover's good. Chelmsford's always tough. Billerica looks really good, too, their quarterback [Jordan Bolarinho] is putting up crazy numbers right now."
But then, again, "We don't get to play Methuen any more though. I'm a little bummed about that. It was always a great game atmosphere."
4. And another thing about Drummond-Mayrie ... When you talk to Raiders head coach Chuck Adamopoulos about his star two-way player, the first trait he'll bring up to you is his humility. Adamopoulos added that the most difficult thing for Drummond-Mayrie in his recruiting process was informing the five other offering schools of his decision. He took the time Monday to call all of the prospective coaching staffs before announcing his commitment to local media.
3. The number of consecutive wins No. 1 Bridgewater-Raynham holds over No. 14 Xaverian entering Saturday's Game of the Week matchup.
2. Speaking of those aforementioned Trojans, here's another factoid for you. In Saturday's 13-10 win over Duxbury, B-R did not surrender an offensive touchdown. It marked the first game during Duxbury head coach Dave Maimaron's 9-year tenure in which the Dragons did not score an offensive touchdown.
1. Undoubtedly, the story of Week 2 was how B-R quarterback Matt Clement dutifully played in the midst of a chaotic day for his family.
Saturday morning, Scott Clement suffered a heart attack while running the track at B-R. He'd been training for an upcoming 5K race. If not for a couple of Good Samaritans who were also around the athletic complex at the time and called 911, Scott Clement's life could have been in even greater peril.
He was rushed to Brockton Hospital where he underwent emergency surgery to insert a stent.
With Matt by his side, Scott Clement had one final message for his son before being wheeled into the O.R.: "Focus on what's at hand."
"I couldn't believe that's what he told me," Matt told me Tuesday. "He's the one going into surgery and he's telling me to do that? I told him he needed to focus on what he was doing more."
Scott Clement, a quarterback in his days at Holbrook High, also told his son he was to play that night against the Dragons. Matt led the Trojans to their second straight road win, en route to seizing the No. 1 ranking in our Top 25 poll.
The first thing Matt did after passing through Saturday's postgame handshake line was pick up the phone.
"I was just sad that he missed it," Matt said. "It was a great game, and he loves this program. He loves football."
Scott Clement was released from the hospital Monday evening.
September, 16, 2013
9/16/13
11:21
PM ET
Boston Latin Academy remained undefeated on the season with a 47-0 win over West Roxbury on Friday and, once again, senior quarterback Kyle Dance was a force.
He completed five touchdown passes, distributing those passes to four different receivers, while accumlulating more than 200 all-purpose yards, including 150 passing yards.
On Monday, editor Scott Barboza caught up with Dance -- our Player of the Week for Week 2:
Along with Dance, here's our Top 5 performances for Week 2:
Kyle Dance, Sr. QB, Latin Academy: More than 200 all-purpose yards, including 150 passing yards; 5 TD passes vs.West Roxbury.
St. Mary's (Lynn) RBs: Spartans backs combined for just shy of 600 yards on the ground vs. Swampscott, with Connor Sakowich leading the way with 9 carries for 244 yards and 3 TD, while Jordan Manthorne added 171 yards and 3 TD and Abraham Toe racked up 153 yards.
Johnathan Thomas, Sr. RB, St. John's Prep: Ran for 263 yards on 31 carries, with 3 TD vs. Brockton.
T.J. Hairston, Sr. WR, Watertown: 5 receptions 187 yards, 2 TD vs. Medway.
Jaleel Kyles, Sr. Ath., Springfield Putnam: 277 rushing yards, 56 receiving yards, 4 TD vs. Commerce.
December, 27, 2012
12/27/12
10:37
PM ET
By
Mike McMahon
| ESPNBoston.com


MALDEN, Mass. -- Louis Finocchiaro could be Chris Serino's most successful coaching pupil. So, it seemed fitting that Finocchiaro's team notched the first win in the inaugural tournament that honors Serino's name and memory.

Finocchiaro's Austin Prep team defeated St. Mary's of Lynn, 5-3, in the opening game on Thursday afternoon behind a two-goal effort from senior winger Nolan Vesey.

A Saugus native, Finocchiaro played for Serino at Saugus High from 1980-83, where he's still the all-time leading scorer for the Sachems. He followed in Serino's footsteps as Saugus' head coach in 1997 after a stint as an assistant with his alma matter and then later joined Serino's staff as an assistant at Merrimack College and was on the staff in 2001 when Serino took a leave of absence to battle his first bout with throat cancer.

"Chris was a dear friend of mine," Finocchiaro said. "We're excited to be here, in this tournament, and obviously this is its first year, so to get the first win and to be in the finals is pretty exciting."

The Cougars were paced by a dominating first period where they outscored Spartans 2-0 and outshot them 8-3 (14-3 in shot attempts).

Cam Russo put Austin Prep on the board with a wrister from the left circle that beat Nick Holt short side. Russo's third-line teammates, George Sennott and Brent Hill, each picked up assists.

Then, with just 58 seconds left in the period, Hill doubled the lead by jamming home a loose puck to Holt's glove side, his two linesmates again getting helpers.

The Spartans came alive in the second period, however.

Ryan McManus cut the deficit on a power play with 6:46 left on the clock, firing a seeing-eye wrister from the right point that Austin Prep goaltender Elijah Harris never saw and the puck snuck over his left shoulder.

Austin Prep freshmen Jake McKenelley gave the Cougars a two-goal lead back just two minutes later but a pair of St. Mary's goals in under a minute tied the score.

First, Jordan Manthorne beat Harris with a tough-angle shot from the bottom of the left circle and then Ryan Madden tucked a puck behind Harris from the goal line.

"We had a good first period, we're up 2-0, and then we just didn't come out strong in the second," Finocchiaro said. "We need to learn that we can't let teams back into the game like that. We have to finish."

Vesey potted his first of two goals with just 32.5 seconds left in the second period, snapping a shot from in close on the right side that beat Holt over the glove. The senior tacked on some insurance five minutes into the third period when he beat Holt over the shoulder to make it 5-3.

YOUTH PREVAILS
Including the three goaltenders dressed on its roster, 15 of Austin Prep's 24 players dressed last night were either freshmen or sophomores.

Outside of Vesey's two tallies, Austin's other goals came from a sophomore (Russo) and two freshmen (McKenelley and Hill).

"We have a lot of new players and we're very young," Finocchiaro said. "So at times, we'll have situations where we'll feel our lumps, but it's a good group. They're hard workers. We're still not where we want to be in terms of chemistry, but that will come. There's still plenty of work to do, we want to be better in our defensive zone, but you also want to be good at the end (of the season) not at the beginning."

Andrew Cross, a former Lancer defenseman who played on Malden Catholic's last two Super 8 championship teams, is one of just two juniors on the Austin Prep roster. He was skating in his first game back on Valley Forum ice after transferring at the end of last season and he led his team with three points (3 assists). He'll face his former teammates in the tournament's title game Friday. Sennott also finished with three helpers for the Cougars.

ANSWERING ADVERSITY
Finocchiaro was pleased with the way the Cougars responded after a feisty St. Mary's team clawed its way back into the game.

After being outplayed badly in the first period, St. Mary's outshot Austin Prep 11-8 in the second, outscoring them 3-2, before Vesey's late goals sealed the victory.

"We answered, and that's encouraging," said Finocchiaro, whose team remained undefeated, improving to 2-0-1. "After that second where we let them back in the came we could have rolled over and folded but we didn't. We came back out in the third and took care of business. [St. Mary's] played really aggressive, really hard."

Harris was a microcosm of his team, starting strong with some middle-period struggles before closing the door in the third period.

"He made some nice saves," Finocchiaro said. "There were some funky goals that maybe he'd like to have back – the one on the far left boards and one on the power-play from the point – but he then came back and made some big saves for us down low on their power play, so he rebounded and responded well."

Austin Prep now battle the host Lancers in the title game at 6 p.m. on Friday. St. Mary's will faceoff with Hingham in the consolation at 4 p.m.
February, 2, 2012
2/02/12
12:13
AM ET
By
Matt Noonan
| ESPNBoston.com
LYNN, Mass. -- After its one-goal lead was erased early in the second period, No. 4 St. Mary's of Lynn regrouped and registered three goals during the final 25 minutes to secure a season sweep against No. 20 Austin Prep, as well as a 4-1 win on Wednesday at the Connery Memorial Rink.

The Spartans have now won two of their last three contests, and haven't lost a regular season match since losing to Malden Catholic in December in the first game of the season.

"We needed to win tonight to keep breathing room for the league, and Austin Prep is a very talented, tough team to play," St. Mary's head coach Mark Lee said.

The Spartans (13-1-2, 6-0-1 Catholic Central) earned their first lead of the contest with 52-seconds remaining in the opening period, as juniors Cameron Grenham and Bobby Mullins, (1 G, 1 A) connected with sophomore Jordan Manthorne, which gave St. Mary's an one-goal advantage prior to the first intermission.

Austin Prep (6-5-3, 5-3-1) answered roughly two minutes into the middle frame when freshman Cam Russo notched the Cougars' only strike of the evening, after he wrapped around sophomore Bailey MacBurnie's (15 saves) cage for the score.

However, the Cougars goal didn't exactly provide the necessary spark for their offense, as St. Mary's responded two minutes later with a goal from Mullins, who rushed the net and slapped the puck past freshman goaltender Elijah Harris (31 saves).

"Once you tie a game up, you want to sustain at least five-six minutes with no goals scored, so you can try to build up some momentum instead of giving them one right back again," Austin Prep head coach Louis Finocchiaro said.

"I just took a shot on net, and it went in," said Mullins, who now has seven goals on the season. "I was telling the guys, 'just get shots on him, they'll start to go in'."

The Spartans followed Mullins instructions during the final period and constantly fired shots at Harris's net before seniors Tim Aylward and Bryan Wilkins found the back of the cage for the teams third and fourth goals.

"I give my guys credit for weathering the storm, and finishing so strong," said Lee. "We've been finding ourselves the last couple of games down, and there's no panic on the bench, it's all positive between the teammates. They're patting each other on the back, keeping it going, and strong."

Austin Prep finished the final frame with just three shots on net, and no goals.

"We hung in there, we competed, [and] played hard," Finocchiaro said. "I thought our effort was good tonight."

ONE-FOR-ALL MENTATLITY
Against the Cougars, Bobby Mullins registered a goal and an assist to give him 23 points on the season, but that particular statistic didn't get in the way of the Spartans celebrating their 13th victory as a team.

"I'm not really looking at the 23 points," said a humbled Mullins. "The team's working well together, we're having a good time, we're like a family, [and] we're all like a 'band of brothers,' like we say [because] we're just having fun out there."

Mullins has now tallied seven goals, and 16 assists through 16 games, but again, he's not focused on his individual stat line, yet instead, his team.

"Coach is teaching us to play as a team. He said it a lot this season [that] it's not all about the points," he said. "We just want to win. We've got a lot of heart in the locker room. The seniors are all stepping up their game. We've got new guys all pitching in, everybody's for the team, everybody's just out there scoring, having fun, and we all just want to win."

Besides Mullins, junior Cam O'Neill earned his 15th point of the season when he tallied an assist on Wilkins goal. Although, similar to Mullins, O'Neill didn't steal the spotlight from his team's gritty effort.

"We're pretty happy about the attitude, and like I said, it hasn't been perfect lately, [but] they've stayed with it and stayed with the game plan," Lee said.
February, 20, 2011
2/20/11
12:23
AM ET


LYNN, Mass. -- If Saturday's contest between St. Mary's of Lynn and Weymouth is any indication of the quality of hockey to be played in the upcoming Super Eight tournament, puck fans should be happy.

The sixth-ranked Spartans went back and forth with the Wildcats at Connery Rink before Weymouth's Trevor King closed it out with the final two goals in a 4-3 win in a matchup of two teams that figure to be a part of the eight-team field.

The Wildcats battled back from a 2-0 first-period deficit and trailed 3-2 more than halfway through the third period.

"This was a good test for us," Weymouth head coach Matt Cataldo said. "To come in, go down 2-0 and then come right back in the second period and tie up. We found ourselves down again, but then we get two quick ones in the third. There were a lot of good things that came out of this game tonight. It was a good test to get us ready for what's coming down the road."

St. Mary's (12-5-3) got the Wildcats back on their heels in the first period while trying to avoid its third straight loss.

Derek Stella got things started, poking one past Weymouth goaltender Brian Brady (20 saves) with assists from Tim Aylward and Jake Witkowski. The Spartans took a 2-0 less than a minute later at the 9:59 mark Cam Kennedy's goal set up by Bobby Mullins.

Brady prevented St. Mary's from taking a three-goal lead, stopping Jordan Manthorne on a short-handed breakaway with 25 seconds remaining in the period.

It helped to refocus the Wildcats.

"We told them to keep working and do the things that we do," Cataldo said of his message to the team at the first intermission. "It's more or less mental with us when teams start to take over. It's more a matter of us managing how we react."

Weymouth (16-2-2) started chipping away at the Spartan lead 33 seconds into the second with Tyler Piacentini's power play goal from Riley Flanagan and King.

Pat O'Keefe drew the Wildcats even with 11:15 to play in the second, beating St. Mary's goaltender Donald Hesse five hole on a rebound.

The Spartans took the lead one more time in the third with 6:33 remaining. Tommy Braswell scored from behind the goal line, flipping the puck off Brady's back and into the net on a power play.

Weymouth made its final charge, led by King and this three-point night. His first goal — the game-tier — came with 4:04 remaining on a faceoff in St. Mary's zone. Flanagan won the draw and sealed off the Spartans' center. King beat the race to the loose puck and fired off a wrist shot.

"Riley [Flanagan] held us his guy and the puck bounced right back," King said. "I had a lot of space and just threw it on net.

King netted the game-winner with 2:27 to go on a 3-on-2 break. Piacentini and Flanagan added assists to finish with two-point games.

Aside from another two points in the standings, King and the Wildcats have yet another boost of momentum going for them heading into the big dance.

"It's a good to win to come up here and beat these guys," King said.
January, 14, 2011
1/14/11
1:16
AM ET
By
Brian Fabry
| ESPNBoston.com
TEWKSBURY, Mass. -- St. Mary's head coach Mark Lee has been around his fair share of goaltenders in his 24 years at the helm. So Lee knows full well when he has a star between the pipes.
No. 8 St. Mary's blanked No. 9 Austin Prep, 3-0, in a pivotal Division 1 Catholic Central League tilt as CC League All-Star goalie, Don Hesse, picked up his second shutout of the season with 14 saves for the Spartans.
While Hesse was rarely challenged in this one, the senior netminder is in his third year as the starting goalie for St. Mary's and was two wins away from his first state title last season. Seems like the Salem, Massachusetts native is just starting to warm up at the right time midway through the season again for Lee's Spartans.
[+] Enlarge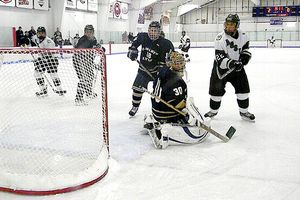 Brian Fabry for ESPNBoston.comSenior goaltender Donald Hesse led No. 8 St. Mary's to a Catholic Central Conference win over No. 9 Austin Prep by notching his second shutout of the season.
"The defense played excellent today, they stepped it up for us," said Hesse. "Keep the momentum going to the next game and so we can actually capitalize because we were a little slow off the start this year."
Other then two wins over St. Bernard's (0-6 overall), St. Mary's was struggling offensively and had settled for three ties within the league against Arlington Catholic, Archbishop Williams and a previous 1-1 tie against the Cougars.
"We've played most of our games starting from behind a goal or two and we have three ties to show for it," said Lee. "But we didn't want to make that same mistake, and we came out strong."
Despite the in-league ties, the Spartans (4-1-3; 3-0-3) remained unbeaten in league play as three different goal scorers helped St. Mary's erase the previously unblemished league record of the Cougars (4-2-1; 3-1-1). Derek Stella and Bobby Mullens potted goals in the first period and freshman Jordan Manthorne put the game out of reach with 1:55 remaining in the second.
"For the first time this year, we played three complete periods of hockey, we worked very hard, and I'm just proud of the guys in this locker room - they deserved that win," said Lee. "We try to keep it simple in all aspects especially in the defensive part of it. The defensive core did a great job with coverage in front of the net and owning the defensive boards limiting their opportunities down low."
Austin Prep got bad news from the get-go as junior forward Ryan Quinn left the game early in the first period with a possible concussion and did not return. Adding insult to injury was Stella, a senior from Revere, and Mullins, a sophomore from Saugus, who scored 32 seconds apart midway through the first period right after Quinn left the ice to shock the Cougars, who held a slim 9-6 shot advantage in the period.
Senior captain Cam O'Neill (two assists) fed a perfect pass to center ice after catching Stella streaking towards the net. Stella came down inside the left slot and once the senior forward got Cougars' junior goalie Nick Luise to commit, the back of the net was easy pickings across the crease with a backhanded score to give Hesse all he needed on the other end at 6:44 of the first period.
Before Austin Prep could even regroup, Mullins potted a wrister sitting pretty outside the right post off the stick of Julian Yourawski. Yourawski slid the puck right behind the Cougars' defense, who were on their heels all night long, right after the ensuing face-off.
"We knew it wasn't going to be over in a period or two and it was going to take a three-period effort. We've been struggling most of the season with putting pucks in the net so it was really good to get up a goal or two early and kind of gave us a little breathing room".
Manthorne's goal came with some extra hard work as Tim Alyward fired a shot from along the boards just outside the face-off circle in the Spartans end. The freshman forward set a perfect screen out in front for Alyward and deflected the shot with his skate only to have Luise (18 saves) stop the redirect initially.
Manthorne spun around and tried to punch in the rebound but settled for the easy backhand on his third try at the net with Luise down on the ice to give St. Mary's a comfortable 3-0 lead in a game the Cougars never seemed plugged into from the start.
Austin Prep had their chances with four power play opportunities but only mustered five shots in total on net during the man advantage. In fact, head coach Louis Finocchiaro pointed out the Cougars had only one shot on net for the entire second period until Nikko Markham picked up a St. Mary's penalty with less than a minute left in the in the seconds stanza.
"I recall one game we've had that the effort has been like that in probably five or six years," said Finocchiaro. "Not to take anything from St, Mary's either as I thought they were disciplined, thought they played a solid game, and I thought they were tenacious on back pressure".
With the win, Lee knows each league win is a step towards the ultimate goal and the goaltending is where the wins start piling up.
"This time of the season – that's the biggest game of the year for us league-wise to stay on pace," said Lee. "I feel like (Hesse) is one of the best goaltenders in the state and he took us to the Division 1 (North) finals last year and we expect big things from him, he's a senior, he didn't disappoint and he really played well and it's like having an extra defenseman out there."
ST. MARY'S (4-1-3; 3-0-3) – 2 – 1 – 0 - - 3
AUSTIN PREP (4-2-1; 3-1-1) – 0 – 0 – 0 - - 0
FIRST – SM, Derek Stella (Cam O'Neill, Cam Kennedy), 6:44; SM, Bobby Mullins (Julian Yourawski, Nikko Markham), 7:16
SECOND – SM, Jordan Manthorne (Tim Alyward, Cam O'Neill), 13:05.
THIRD – NONE
SAVES – SM, Don Hesse (14 saves); AP, Nick Luise (18)