Boston High School:

Jordan McAfee
December, 6, 2014
Dec 6
5:45
PM ET
By
Mike Scandura
| ESPNBoston.com


FOXBOROUGH, Mass. – Officially, it was billed as the MIAA Division 1 Super Bowl.

Unofficially, it was the "Noah Sorrento Show."

Sorrento, Xaverian's senior running back, delivered a career performance Saturday as the Hawks beat Everett, 38-29, for the Hawks' 11th Super Bowl championship since 1997. "All" Sorrento did was gain 187 yards and score four touchdowns on 25 carries as Xaverian completed an undefeated season.

"I don't know that (Sorrento) has had a better game than that," said Xaverian coach Charlie Stevenson. "He certainly made big plays at big times as he's has all year. But in this situation, for a guy to play like that and make those plays when he had to was pretty huge.

"It was one of the best tailback efforts we've had in a Super Bowl. I can tell you that."

Sorrento, for his part, had a rather modest explanation for his performance.

"I just kept getting the ball and the line was doing an unbelievable job," he said. "I was looking for the holes and I was making sure I stayed in bounds to run out the clock.

"I tried to play my last game as hard as I could for my team because these are my brothers."

Perhaps the one play that exemplified why Sorrento was so successful came late in the second quarter with the score tied 14-14.

Xaverian had a first down on Everett's 24 when Sorrento broke to his left, made a sharp cut to his right and dashed 24 yards for a score that gave Xaverian a lead it wouldn't relinquish.

All the moves: "Everett has a lot of big guys out there," said Sorrento. "Sometimes I tried to mix in a little power. But Everett's a big team so today I tried to be a little shifty because I knew I wasn't going to run over guys.

"It just worked out for us."

Sorrento again displayed his ability "to be a little shifty" after Coby Tippett returned a punt 36 yards to Everett's 26.

On the next play, Sorrento broke through the middle, cut to his right and sprinted 26 yards for a score that gave Xaverian a 28-14 lead.

After Everett went three-and-out, Xaverian closed out the half when Joe Gaziano kicked a 30-yard field goal.

Everett did mount a rally after Granhdi Denis recovered a Sorrento fumble (his lone hiccup of the game) which set up a 21-yard touchdown pass from Jordan McAfee to Lukas Denis.

Next it was Everett's turn to hold Xaverian to three and out which set the stage for a four-yard touchdown run by Nick Orekoya who also ran for a two-point conversion that pulled the Crimson Tide within 31-29. But Sorrento, in a surprising display of power running, broke three tackles en route to a 22-yard touchdown run with 11 seconds left in the third quarter.

"We clearly wanted to go back and do what got us there in there in the first half which was run the football," said Stevenson. "Noah made some great runs. Our line picked it up a little bit. And we had a great drive to end the third quarter to go up 38-29.

"We gave them a big kick return and then Colby made a big pick on the two-yard line. We had two or three really big first downs to take four or five minutes off the clock. And then 'Gaz' had a great punt. That was really all she wrote."

Last gasp: The sequence Stevenson referred to commenced on the last play of the third when Orekoya returned a kickoff 69 yards to Xaverian's 23 – with Mattison Cronin making a touchdown-saving tackle.

Tippett then snared a McAfee pass at the 2 and Xavier took precious minutes off the clock on a first-down run by Sorrento and a six-yard pass from Farrell to Tippett.

Gaziano's 39-yard punt pinned Everett on its 28 and the Crimson Tide stalled before they could reach midfield.

Everett stunned Xaverian on the game's first possession when McAfee tossed a short pass to Orekoya who turned it into a 60-yard touchdown pass.

The Hawks tied it after the ensuing punt when Farrell threw a 36-yard scoring pass to Kenny Kern.

The Crimson Tide then took what proved to be their last lead of the game when Lukas Denis intercepted a Farrell pass and returned it 29 yards for a score.

After the final buzzer sounded, Stevenson had a 4-0 Super Bowl record against his Everett counterpart, John DiBiaso as well as his second victory this season over the Crimson Tide.

"It's just a great rivalry," Stevenson said while trying to explain Xaverian's success against Everett. "They're a great team. John's a great coach. Both of our teams get really fired up to play each other.

"I think we're 8-8 right now in the series (i.e. Everett leads the overall series, 8-7). I think that says a lot about our program. Back in the '90s we would measure ourselves against Brockton. We thought we got there. Now, we have to measure ourselves against Everett and, hopefully, this is a step toward being where they are."

XA (12-0) 7-24-7-0 - 38
EV (10-2) 14-0-15-0 - 29

First quarter
EV – Nick Orekoya 60 pass from Jordan McAfee (Omar Herrera kick)
XA – Ken Kern 36 pass from Jake Farrell (Joe Gaziano kick)
EV – Lukas Denis 29 interception return (Herrera kick)

Second quarter
XA – Noah Sorrento 13 run (Gaziano kick)
XA – Sorrento 24 run (Gaziano kick)
XA – Sorrento 26 run (Gaziano kick)
XA – Gaziano 30 field goal)

Third quarter
EV – Denis 21 pass from McAfee (Herrera kick)
EV – Orekoya 4 run (Orekoya run)
XA – Sorrento 22 run (Gaziano kick)
November, 8, 2014
Nov 8
12:00
AM ET
By
Craig Forde
| ESPNBoston.com
EVERETT, Mass. – It was an old Greater Boston League rivalry renewed on Friday night at Veterans Stadium, but this was far from the old knock-em down drag-em out defensive wars that Everett and Peabody used to wage.

In fact, defense was an after-thought in what quickly became an offense battle in the Division 1 North semifinal.

In their first matchup against each other since 2006, it was the Crimson Tide who were victors, their seventh straight victory over the Tanners, in a 55-41 slugfest.

"[It was] not old fashioned," said Everett coach John DiBiaso. "Not 55-41. The six-to-nothing games were nothing like that. It's a big win, naturally, but we have to do better defensively. They played very well, I give them all the credit in the world. They came in here and put up 41 points. We have to put it behind us."

The fourth-seed Tanners came in with a plan to disrupt the Crimson Tide form the onset with a squib kick that nearly caught the hosts off guard, and they may have done just that, forcing Everett to fumble the ball away on the first play from scrimmage.

Six plays later and Peabody had a 7-0 lead after Doug Santos went untouched up the gut from three yards out.

Then the heavyweight fight really took hold with the Crimson Tide delivering an equal blow two plays later when Lukas Denis caught a Jordan McAfee pass along the right sideline, cutting and juking his way to a 53 yard score, tying things up at seven.

For the remainder of the first quarter the two combatants continued to exchange major strikes, as a 3-yard strike from Michael Raymond to Ivan Tran for Peabody was quickly followed by another McAfee to Denis hookup, this from 25 yards out.

Again the pugilists squared up with Doug Santos' rattling off a huge 71-yard rush to put Peabody back on top, only to see the Crimson Tide score on their very next shot, with McAfee finding Jean Richard this time around after the Tanners bit on the initial pump fake.

That 24-yard strike gave Everett a 21-20 lead after the first quarter, a pace that was unattainable through the next 11 minutes as both teams were unable to tilt the scoreboard before halftime.

But once the bell rang to signal the second half, the gloves were back on.

The Tanners received the ball to begin the half and grinded out a nine play drive, but threatening on the Everett 32-yard line, a halfback option to Santos was picked off by Denis and the BC-bound senior followed his team from sideline-to-sideline, bringing it home from 80 yards out.

"The coach was telling me all week that the running back will throw the ball," Denis said. "All I did was kept to my keys and the team, they had enough of a rush so he just let the ball out and I just followed my team."

Peabody went four-and-out on the following drive and Everett seemed to be in full control after Jackinson Joacine 22-yard touchdown run had them up 34-20.

It was far from over.

"Once we stretched it out to two touchdowns we thought it was over," said DiBiaso. "But they came back and scored. It was never ending."

Peabody responded with a 12-yard drive that culminated with a 6-yard scramble by Raymond.

"He's a really big kid and I didn't think he could move like that," Denis said of Raymond. "When you see him coming around the corner you're like "Is he going to run it?" You don't really know what to do and that's when he runs it on you. He's a great player."

Everett struck right back on the legs of Luis Cardona who capped the drive with three straight runs for 31 yards and a touchdown.

Down again by two scores, the Tanners dug deep once again as the elusive Raymond scrambled to a 5-for-5, 54-yard drive, with Santos punching it from a yard out to make it 41-34.

Then the Crimson tide landed an uppercut, recovering the onside kick and rushing twice with Joacine for another touchdown.

Down two scored with 2:10 to play, the visitors came to the center of the ring once more.

Raymond's first three passes went incomplete, but a defensive pass interference helped the Tanners continue their drive and the QB found Henry Hernandez with a desperate heave to the end zone from 35 yards out.

Then came the knockout blow.

After falling on the onside kick once more, the ball was handed off to Cardona once more and the junior found a huge hole, felling the Tanners with his game-clinching 52-yard run.

Everett advances to the Division 1 North final where they will face the winner of Saturday's game between No. 3 seed St. John's Prep and No. 2 seed Central Catholic.

Asked what his team will be looking to focus on heading into the next game, DiBiaso quickly retorted, "Tackling."

Denis the Menace: Senior everything-man Lukas Denis was once again the beacon for the Everett Crimson Tide on Friday night.

On both sides of the ball Denis came up with monster, game-changing efforts, looking a lot like a video game at times with cuts, jukes and spins that seemed like someone was simply hitting a button from afar.

"He's incredible," said Cardona. "I love watching him play. He gives us a lot of hope. He's the heart and soul of the team. We love watching him play. He always has a surprise for everybody."

Denis finished the night with 3 catches for 86 yards and 2 touchdowns, 5 rushes for 48 yards and the key interception that turned into an 80 yard score and turned the game in his team's favor.

"He did the same thing in the Malden game," said DiBiaso. "He plays defense, returns kicks, he's a receiver, he's a runner. It is what it is, Lucas makes big plays. He does everything for us."
September, 13, 2014
Sep 13
6:59
PM ET


WESTWOOD, Mass. –- There was just about two minutes remaining in the fourth quarter and No. 1 Xaverian was nursing a one-touchdown lead in the Hawks' Saturday opener against No. 3 Everett. They were confronted with a third and 12 at their own 29-yard line.

Hawks head coach Charlie Stevenson took a timeout to think the play over, but there was little doubt as to whom would take the ball.

"He doesn't have to ask me; I want to give it to him," Stevenson said of senior running back Noah Sorrento. "He keeps saying, 'Me, me, me,' but it's not like I'm not going to give the ball to him. Who the heck do you think I'm going to give it to?"

Instead of dropping back to pass on the third-and-long, the call was for a weak side toss to Sorrento. The 5-foot-9, 185-pound bulldog of a back took care of the rest, streaking past the second tier of the Crimson Tide defense and rumbling 20 yards downfield.

With the first down (and then some) and Everett's ability to stop the clock dwindling, the Hawks were able to hold on for the 21-14 win.

From an outsider's perspective, it might have been a bit of a gamble on Stevenson's part – putting so much on a running back in a long-yardage situation. But his belief in Sorrento's ability and – perhaps more importantly – his competitiveness is unfaltering.

"He's a very competitive kid," Stevenson said. "He wants to take the three-pointer with no time left on the clock. And you know what? I want him taking it, too."

Chompin' at the bit: While Everett (1-1) opened with a Top 25 victory last week at Springfield Central, the Hawks were crisper in the first half of their season opener.

The Crimson Tide offense sputtered in the first 22 minutes, mustering just 15 yards offensive yards from scrimmage while being hampered with a string of penalties.

"We made some stupid illegal procedure penalties that put us in a bad position," Everett head coach John DiBiaso said. "We let a punt (71 yards by Joe Gaziano) get behind us when we were supposed to catch it and we went back to the 5-yard line. We shot ourselves in the foot."

Xaverian couldn't capitalize either, as the teams played to a scoreless first quarter. However, the Hawks built their first sustained drive at the tail end of the quarter and, on the first play of the second, Sorrento punched in a 1-yard run for a 7-0 lead.

Xaverian extended its lead to two scores at 8:26 of the second when Coby Tippett made an adjustment to come back on a ball and win a 50-50 ball in the end zone on a 31-yard throw from Jake Farrell. A botched snap on a late field goal attempt kept the Hawks from extending their lead before the half was out.

The Crimson Tide showed a more dynamic offensive attack in the second half, led by sophomore quarterback Jordan McAfee, who was making his second varsity start. McAfee took advantage of a short field gifted to him after a Duval Paul fumble recovery ended the Hawks' opening possession of the half. Five plays later, McAfee hit preseason All-State selection Lukas Denis on a wheel route for a 25-yard score with 6:42 remaining in the third.

After Sorrento's second 1-yard touchdown plunge restored the Hawks' two-score advantage, McAfee responded, engineering a 15-play, 85-yard scoring drive. He placed a perfect throw to the pylon on the back-side shoulder of wide receiver Gary Clark for a 5-yard touchdown with 4:03 to play.

A drive to nowhere (but victory): Starting at their 20-yard line, Xaverian embarked on its game-clinching drive. But it wasn't without moments of trepidation for the Hawks' sideline. A holding penalty and a subsequent false start had Xaverian backed up with a second-and-20 play. After an 8-yard gain by Sorrento, he helped put the game out of reach with his 20-yard gain on third and 12.

The Crimson Tide never had the ball again.

"We were in a situation where we need to run clock and we were able to get that done with our lineman, Jake [Farrell], and Kenny [Kern] and Noah [Sorrento] making the carries for us," Stevenson said.

He added, "Kenny made a couple nice runs at the end, too, to pick up some tough yards for us. I thought they all performed nicely at the end of the game to bring it to an end."

Sorrento was able to find a greater amount of green pasture ahead of him in the second half, thanks to a play-calling adjustment, making a departure from the Hawks' power-based assault in the first half.

"They were really crashing their ends and their linebackers were really onto our power, so that's why we started breaking it outside," Sorrento said. "We had some big plays there on the toss."

A mixed bag: The Crimson Tide could look at Saturday's loss as a glass-half-full scenario. Everett was missing five starters lost to injury during their Week 1 win over Top 25 foe Springfield Cathedral. The losses hurt primarily on the defensive side of the ball, which didn't help against a big, physical Xaverian offensive line.

"There were a lot of guys making their first start, a lot of guys out of position," DiBiaso said. "I'm not making excuses, it's just that we weren't ready for this type of game."

He continued, "It creates stress when you've got two 150-pound linebackers and a 140-pound nose guard against the No. 1 team in the state. I was stressed all week … Today I wasn't that stressed. I was proud of the way they played."

DiBiaso was also pleased with the play of McAfee in his first start – in spite of a couple of misleading interceptions.

"I thought he played well. When he was under duress, he took off and had a nice first down and get out of bounds near the stakes. He made some nice throws. It was unfortunate that the two throws that got picked were tipped out of the hands."

Hawks opportunistic: Senior Coastal Carolina commit Damion Wood pocketed a pair of interceptions for the Hawks – both of which could have come with a gift basket.

Wood's first pick was a bit of a hot potato, in fact.

"[The Everett receiver] tipped it, then Ernest [Simon] tipped it, then Noah [Sorrento] tipped it and it ended up in my hands," Wood chuckled.

For Wood's second act, he snatched a ball out of the hands of Boston College commit Lukas Denis during the third quarter. While Denis was able to impact the game – what with his 25-yard touchdown reception and another acrobatic catch down the sideline for a 33-yard gain later in the third – the Hawks were intent to not let him take it over.

"He's an athletic kid, so we had to put more people on his side so he couldn't get to the ball as easy," Wood said of the matchup with Denis. "He's a big kid, he's about six feet, so it's tough to stop him and shut him down."

Xaverian didn't put either of its corners – Mehki Henderson and Ernest Simon – into exclusive coverage on Denis, but they regularly received safety help over the top from Wood.

"I know that we were trying to put pressure on the quarterback, but when you do that, that kind of leaves guys on an island," Stevenson said of the Hawks' defensive game plan. "And we didn't pressure them and we had guys on an island, so maybe we should've made another decision."
August, 27, 2014
Aug 27
12:34
AM ET
By
Mike Uva
| ESPNBoston.com
LYNN, Mass. -– It's rare to see two football teams scrimmage twice in five days during preseason, but that's exactly what No. 3 Everett and Lynn English have scheduled this year. The second meeting between these teams was held tonight under the lights at Manning Field, and there were several positives to take away as the regular season quickly approaches.

Sophomore sensation: At 6-foot-4, sophomore quarterback Jordan McAfee not only has the size, but also the tools to become one of the best quarterbacks in the state. His mechanics are smooth, has a solid arm and demonstrates a knack for finding the open receiver. One of his best throws came on a tremendous 37-yard hookup with Boston College commit Lukas Denis. But McAfee's play of the night came during 7-on-7 drills, when he threw a miraculous 33-yard bullet to Denis, this time squeezing the pass in-between three Lynn English defenders.

Everett did a tremendous job of optimizing the space on the field, mainly as a result of their splits, running several wheel routes with slots and running backs and motioning receivers to create rub routes heading back towards the outside.

"[McAfee] gives us a few more options than we've had the past few years," said Everett head coach John DiBiaso. "If he can continue to progress, and stays on track, which we hope he does, and stays healthy, he gives us that added dimension of throwing the ball, which makes the running game that much more effective."

Based on the talent at quarterback and a speedy group of receivers, Everett's offense should look more like they did in 2011, when record-setting quarterback Jonathan DiBiaso was under center, in comparison to more recent years when their offense seemed to change on a weekly basis.

Solid line play: The Crimson Tide controlled the line offensively behind linemen Eric Trickett, D.J. McDonald and Jefferson Palencia. The holes helped running back Jackinson Joacine stand out on several plays, as the shifty back has a knack for changing direction on a dime with excellent ball carrier vision, that allowed Everett's run game to be effective. There were several times they came out in pistol and incorporated jet sweep, getting Denis in the mix on the ground. Overall, Everett's offensive line may be one of the bigger ones in the state and played extremely physical.

Taking control: Despite three of Lynn English's starting wide receivers not playing, third-year starting quarterback Lucas Harris showed great composer in the pocket and allowed his experience to bring the offense together. What was most impressive with Harris was his ability to make decisions quickly as his rapid release on throws gave his receivers opportunities to make plays.

Most of the Bulldogs' biggest plays on offense came on completions that were caught for four to seven yards, and then turned into bigger gains. Receiver Miguel Martinez made a plethora of those catches, including a snag on a post route to the back of the end zone during 7-on-7.

Although there were several dropped passes, what's more important to take away, since this was a scrimmage, is the fact that the Bulldogs can depend on Harris' leadership when the team needs him most. It's tough to ask a teenage to take control and lead a team, but Harris certainly is capable of answering the call.

Aggressive approach: Heading into tonight's scrimmage, the Lynn English coaching staff stressed they had to be more physical. The message must've got through, as both the offensive and defensive lines had their moments led by the play of junior offensive/defensive linemen Jeremy Garcia and Victor Morales.

On offense, the blocking allowed senior running back Stevie Collins -- an All-State basketball guard who returns after missing all of last season with a lower body injury -- to turn several runs into big gains, showing off his speed once he got to the outside. Defensively, the Bulldogs were out-sized up front versus a much larger Everett offensive line, but played physical and swarmed to the ball.

"We were much better tonight than were versus Everett Friday night," said Lynn English coach Peter Holey. "The running game was clicking a little big tonight with Stevie [Collins] and I liked how Lucas [Harris] looked. The offensive line is a work in progress and we missed some assignments but I was pleased with how we came out and played physical."

For Everett, coach DiBiaso didn't think his team tackled well but noted that it's not necessarily his players' fault.

"It's hard to blame the kids when you're only in pads for four days," DiBiaso said. "We don't have double-sessions because school started early so it's tough, but we'll have to improve on it."
August, 26, 2014
Aug 26
8:26
PM ET
Last Monday, we unveiled our fifth annual
statewide preseason Top 25 pol
l. Today, we continue our annual countdown of the poll with our final installment, featuring our top five teams.
In case you missed our earlier installments:
25-21
|
20-16
|
15-11
|
10-6
NO. 5 ST. JOHN'S (SHREWSBURY)
Coach:
John Andreoli (11th year, 92-31)
Last season:
Division 2 state finalists, lost 28-14 to Mansfield
Returning starters:
11 (4 offense, 7 defense)
Key returners:
Davon Jones, Sr., RB/DB, 5-10, 185 lbs; Sam Norton, Sr., DT, 5-9, 210 lbs, Nick Calvano, Sr., WR/DB, 5-7, 175 lbs; Shane Combs, Sr., QB/RB/DB, 6-1, 210 lbs.
Strengths:
Defense, physical strength
Weaknesses:
Experience
Outlook:
Another year, another deep and talented starting lineup boasted by the Pioneers, last year's Central Mass. Division 2 champion. The Pioneers lost some major contributors off of last year's team, including all-state quarterback Andrew Smiley, but coach John Andreoli is confident especially in the ability Combs, Jones, and Calvano to make big plays on the offensive side of the ball. Currently, Combs is splitting equal reps at quarterback with Tim Cassidy. "
The jury is still out," Andreoli said on the quarterback decision, "Both he and Tim Cassidy are taking equal snaps. They both have very different skillsets...it's a different look when each one of them is in there." Jones, a hard-hitting Boston College-committed safety, has proven to be one of the state's top players over the past couple of years, but it's his on the field leadership that is standing out so far this fall. Jones is the only four-year starter in the history of the program. "The thing that impresses me most about him is that he's really assumed a leadership position, with the way he conducts himself on the field, and the way he takes control of the defense," Andreoli said, "And offensively the level of maturity that he has brought takes him to the next level." Several players have found a way to make a name for themselves early on in camp, partly too because of the work they put in over the offseason. Andreoli said that this year's team has the most physical strength collectively of any squad that he's coached at St. John's: "The amount of guys that we had were able to bench 185 for multiple reps was the most we ever had here. That's kind of been the foundation as the first thing. On the defensive side of the ball, our secondary has really shown a tremendous amount of speed, athleticism, and physicality in our first week." Keep a close eye on Marc-Eddy Paul, Michael Corinna, Mitch Earley, and Sam Kloczkowski – all of whom have made a big early impact early on in practice.
-CHRISTIAN BRADLEY
NO. 4 MANSFIELD
Coach:
Michael Redding (27th, 217-66-4)
2013 Record:
13-0, Division 2 State Champions
Returning Starters:
11 (5 offensive, 6 defensive)
Key Players:
Brendan Hill, Sr. TE/SE 6-5, 228 lbs; Mike Carpino, Sr. OL/DL 5-9, 210 lbs; Tyler Smith, Sr. OL 6-1, 205 lbs; Andrew Horstmann, Sr. OL 6-2, 225 lbs; Curtis Boisvert, Sr. RB/DB 5-8, 180 lbs; Joe Moreshead, Sr. LB 5-10, 180 lbs; Q'ra Guichard, Sr. LB 5-8, 195 lbs; Connor Finerty, Jr. LB 5-11, 195 lbs; Nick Borsari, Sr. DL 6-2, 270 lbs; C.J. Daniel, Sr. LB 5-11, 170 lbs.
Strengths:
Offensive line, linebackers, defensive line, running backs/receivers
Weaknesses:
Inexperience in the secondary, adapting offense to personnel
Outlook:
The Hornets completed their own version of a revenge tour last year, turning a loss in the 2012 D2 EMass Finals into an undefeated 2013 season and winning the first ever Division 2 State Championship. The biggest concern for the Hornets will come on offense and finding the pieces to replace quarterback Kyle Wisnieski, receivers Michael Hershman and Kyle Hurley and the elusive Miguel Villar-Perez. But to counter that, Mansfield possesses one of the most talented tight ends in the entire state in Brendan Hill, a member of the ESPNBoston Preseason All-State Team. Hill, who has received interest from multiple D1 programs, will likely garner the majority of attention from defenses so Mansfield will need to develop other options. Matt Carafa will likely step in and be QB1 for the Hornets while Curtis Boisvert will see a good amount of carries out of the backfield. Last year, Michael Redding talked about having some inexperience on the offensive line but this year they return three starters – Carpino, Smith, and Horstmann – and will rely on their line to help carry the offense. Defensively, the front seven is very strong led by linebackers Q'Ra Guichard and Joe Moreshead, arguably two of the more underrated players in the Hockomock League. They also return linebackers Connor Finerty and CJ Daniel as well as Brendan Hill and Nick Borsari, who will both be on the defensive line. The question on defense will be about replacing the strong defensive backs they had a season ago, led by Mike Barresi and Aurien Dawkins. Boisvert will likely be called on to be the anchor of that group. It won't be an easy start either for Mansfield as they begin the season on the road in New York against powerhouse Archbishop Stepinac.
-RYAN LANIGAN
NO. 3 EVERETT
Head Coach
: John DiBiaso (23rd season at Everett, 271-66-1 overall)
2013
: 8-2, lost Division 1 North final to Central Catholic
Returning starters:
13 (6 offense, 7 defense)
Key Players
: Lukas Denis, Sr. Ath./DB, 6-0, 175 lbs.; Nick Orekoya, Sr. RB, 5-10, 200 lbs.; J.J. Colimon, Jr. TE/DL, 6-4, 250 lbs.; Erick Browne, Sr. OT/DT, 6-3, 270 lbs.; Mark Cardwell, Sr. 6-0, 225 lbs.; Jordan McAfee, Soph. QB.
Strengths
: Athleticism in offensive and defensive backfield; size and physicality on offensive line.
Weaknesses
: Lack of game experience at key positions.
Outlook:
Perhaps more than any Everett team in recent memory, this year's edition of the Tide is full of X-factors. The hype is abundant, but there are lingering questions. The athletic potential is apparent, but there's a lack of on-field experience together. The one surefire thing the Crimson Tide do have returning is Lukas Denis, who joined the long lineage of Everett defensive backs to give their commitment to Boston College. Denis, who's on-ball coverage skills are unparalleled in the region, will again be relied upon heavily as a hybrid back/wide receiver. Of course, that too depends on which form Everett's offense will take. There are big things predicted for sophomore signal-caller Jordan McAfee whose yet to make a start. Meanwhile, Billerica transfer Nick Orekoya provides a stout presence at running back – one that can both break tackles and out-run hits. On defense, the Crimson Tide are short on game experience at linebacker, but should be able to generate on the pass rush with senior Mark Cardwell.
-SCOTT BARBOZA
NO. 2 CENTRAL CATHOLIC
Head Coach
: Chuck Adamopoulos (18th season, 123-62)
2013
: 11-1, won Division 1 State championship
Returning starters:
11 (5 offense, 6 defense)
Key Players
: Michael Milano, Sr. QB, 6-1, 170 lbs.; Michael Balsamo, Sr. RB/S, 6-1, 202 lbs.; Markus Edmunds, Sr. RB/ILB, 5-11, 210 lbs.; Jorge Elias, Sr. G/DT, 6-0, 215 lbs.; Pat Dziedzic, Sr. OT/DT, 6-1, 220 lbs.; Dan MacDonald, Sr. OT/DT, 6-3, 260 lbs.; Justin Landry, Sr. C/ NG, 5-11, 270 lbs.
Strengths
: Experience at quarterback, inside linebacker and safety; defensive front seven; big game experience.
Weaknesses
: Lack of game experience at wide receiver and outside linebacker; kicking game.
Outlook:
The Raiders rolled through Everett and Xaverian on the Road to Gillette and snuck up on some observers – we're included – en route to the state's first true state championship in Division 1. This year, they'll be the targeted team, with a good mix of returning key contributors from last year's title team. The added good news for Central is that many of its returning starters are back at its most important positions. That includes senior four-year starting quarterback Michael Milano, who was among the statistical statewide leaders in just about every category during last year's playoffs. "He led our team in rushing last year and, I think for the people that followed us every week, that while [Cody] Demers made a lot of the big plays, Michael [Milano] did a lot of the things that made us successful, making such a big jump from his sophomore to his junior season." The Raiders also return a few key members of its vaunted 3-4 defense, including free safety Michael Balsamo and inside linebacker Markus Edmunds. Edmunds, who led the team in tackles last year while eclipsing the century mark, will be working beside a new-look linebacking corps, but "I don't know if he's going to have a better year statistically this year because he was so good last year, but he's going to have a lot more on his shoulders. We had two seniors at outside linebacker last year, who were both pretty smart kids as football players and they helped him make calls. So he's got a little bit more on him in a leadership role."
-SCOTT BARBOZA
NO. 1 XAVERIAN
Coach:
Charlie Stevenson (21st season, 172-62-1)
2013:
10-2, lost in Division 1 State Championship
Returning Starters:
15 (6 offense, 9 defense)
Key Returnees:
Joe Gaziano, Sr. TE/DE, 6-4, 242 lbs.; Damion Wood, Sr. WR/FS, 5-11, 200 lbs.; Joe Parsons, Sr. OT/DT, 6-5, 285 lbs.; Jake Farrell, Sr. QB, 6-3, 185 lbs.; Noah Sorrento, Sr. RB/OLB, 5-9, 185 lbs.; Kenny Kern, Sr. FB/MLB, 6-0, 227 lbs.; Elijah Pierre, Jr. OL/NG, 6-0, 260 lbs.; Mekhi Henderson, Soph. CB, 5-9, 175 lbs.; D'Aundre Holmes, Jr. RB/FB/OLB, 5-11, 205 lbs.; Coby Tippett, Jr. WR/CB, 5-9, 165 lbs.; Ernest Simon, Sr. WR/CB, 5-9, 180 lbs.; Nick Allsop, Jr. C/DT, 6-3, 248 lbs.
Strengths:
Defense, experience at quarterback, skill position depth
Weaknesses:
Experience at offensive line.
Outlook:
There's no hiding it, and there's no way the coaching staff can sandbag it: This defense is going to be pretty good. Led by the Northwestern-bound Gaziano, the reigning ESPN Boston Defensive Player of the Year, the Hawks return virtually everyone defensively, and are solid at just about every position in the front seven. The strength of the defense may lay in the secondary, where the Coastal Carolina-bound Wood has been playing with a violent chip so far this preseason, and the quick-twitched Henderson figures to be the top draw at corner after a promising freshman campaign. "He's a fierce competitor," Stevenson said of Wood. "He likes to make plays against the opponent, and I think he's serious about that. He's playing hard when he's out there, that's a good thing to have." Offensively, the Hawks have a few holes to fill, but on the right side they should be fine with the UMass-bound Parsons returning at right tackle. Gaziano was mostly used in-line for run support last season, but the Hawks have so far experimented with him in a "flex" role, lining him up in the slot or splitting him out wide. He made a few dazzling grabs in Saturday's scrimmage with B-R, and it's hard to imagine a scenario where the traditionally conservative Hawks don't get him more involved in the passing game this fall. "When he gets inside a cornerback, that's a big body for the cornerback to come through," Stevenson said. "He's a big guy who can run and catch, and once he catches the ball –- I'm not gonna say he's quick –- but he brings a pretty good load with him. Clearly, we're going to get him more involved in our pass attack." Farrell, a baseball star during the spring, is entering his second year under center and demonstrates above-average arm strength. He won't be depended upon to run the ball, with the entire backfield back, but his improvisational skills are noteworthy.
-BRENDAN C. HALL
February, 26, 2014
Feb 26
12:16
AM ET
By
Andy Smith
| ESPNBoston.com
EVERETT, Mass. -- When the single elimination state tournaments begin, teams look for any form of motivation they can to help it achieve its ultimate goal. Before its 80-43 victory over Malden in the opening round of the Division 1 North playoffs, Everett was no different.
"The kids were greatly motivated," said Everett coach John DiBiaso. "I just want to thank my friend [ESPN Boston High Schools editor] Brendan Hall for picking us to lose and that motivated them a lot. They were very emotional. They felt like they were disrespected, they were the league champs and were picked to lose, one and done. Tell him thanks."
The Everett players wanted to use the game to not only make a statement against a fellow Greater Boston League team, but the rest of the state as the playoffs get underway.
[+] Enlarge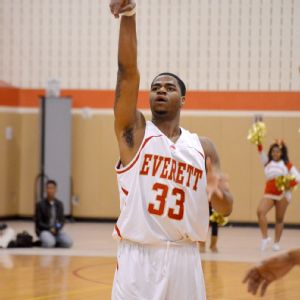 Brendan Hall/ESPNTimmance McKinney (25 points) picked up the slack for Everett after its starting point guard went down to injury on the game's opening possession.
"We felt we got no credit, no one's giving us credit," said senior Timmance McKinney (25 points, four steals). "We put a chip on our shoulder. We talked about it yesterday, that we felt like we were really underrated, and we just came out here and played hard."
Everett (17-4) played like a team that was not willing to end its season just yet. Things started going downhill for Malden in the first quarter when Jordan McAfee hit a three to make the score 13-5. Malden called a timeout, but Everett continued its attack on both ends of the floor.
For seven minutes spanning parts of both the first and second quarters, it allowed Malden (10-11) to score only one point. By that point, Everett had jumped out to a 25-5 lead.
"We've got a lot of depth. We play 11 guys and I feel like Malden played about 6," said McKinney. "That definitely plays a big part in the game. We've got a lot of depth so we were able to wear them down."
Everett took a 41-18 lead into halftime and did not allow that lead to slip in the second half. Malden made its loudest offensive impact three minutes into the third quarter when Bryan Mitchell-Rodriguez (10 points, 8 rebounds) posterized an Everett defender, throwing down a left-handed dunk in traffic. The dunk sent Malden fans into a frenzy, but the shock and awe quickly wore off when its team went down by 30 points later in the quarter.
Tuesday was a vastly different result from the first two times the Greater Boston League rivals played each other this season. Less than a month ago, on Jan. 31, Malden beat Everett 59-51. On Valentine's Day, Everett avenged that loss with a 57-44 victory. This time around, it was not even close.
"The biggest difference between tonight and those games is tonight they played as a team and played very unselfish," said DiBiaso. "They made the extra pass and I thought we played fantastic on the ball defense. We got back on defense, we didn't give up any easy hoops. For a lot of the first half, they were in single digits."
Chatman (ankle) leaves game:
Ten seconds into the game, Everett lost its starting point guard Ernie Chatman. The Crimson Tide recovered the opening tipoff and set up its offense. Chatman hit a jump shot from the right wing and immediately fell down holding his ankle. He was carried off the floor by teammates and did not return to the game. The extent of his injury was unknown immediately after the game.
"I have no idea (the extent of the injury)," said DiBiaso. "We've got him on ice. We're probably not going to know until later tomorrow or maybe the day after."
Whether Chatman is able to play Friday or not, Everett will be back on its home floor Friday to play another GBL foe, Somerville, in the quarterfinals of the Division 1 North playoffs. Somerville defeated East Boston 56-45 Tuesday night to advance.
"We need Ernie," said McKinney. "That's our point guard. We go when he goes, but we'll have to play without him if he's not well."
Lubern Figaro, the Wisconsin football commit, stepped up in Chatman's absence, finishing the game with 11 points and 7 rebounds. Ridley Renois was also active on the glass with 9 rebounds in the game.
February, 10, 2014
Feb 10
8:36
AM ET
By
Mike Abelson
| ESPNBoston.com
SALEM, Mass. – Depth is a one-syllable word that caused a mouthful of problems for the Salem Witches yesterday against Everett.

The visiting Crimson Tide played over a dozen players and wore down Salem en route to a convincing 68-45 win at Salem State.

Everett had five players score over seven points. The consortium of guards led the way for the Crimson Tide. Ernie Chatman had seven points, Lubern Figaro netted nine, and Gary Clark pumped in 10. Jordan McAfee led all scorers with a game-high 13 points.

"We just had a lot of intensity coming into the game," Clark said. "We knew it was a big game for us, we're trying to get the top seed in Division 1 North."

Chatman scored a three 25 to put the Tide ahead first and they never looked back. It was 16-6 after one quarter and 31-18 at the half.

Salem didn't help itself with missed shots and turnovers galore. The Witches shot 6-for-19 from three-point range and turned the ball over 23 times. Whenever Salem made a run, the Witches cut the deficit to single digits twice after the first, mistakes would stall them out.

"We didn't come out of the blocks good, and every time we climbed into it they made a run," Salem coach Tommy Doyle said. "We made some decent runs at them, put some pressure on them, and they hit the shots they needed to make.

"We need to do a better job controlling the ball and we needed to control the tempo tonight, and we weren't able to do either."

The Tide turned the ball over 17 times, but they found ways to continue to push forward. The guards moved the ball better and better as the game progressed with each guard picking up his share of assists.

"I thought everyone played very unselfish," Everett coach John DiBiaso said. "They made the extra pass, and when we make the extra pass we're a very difficult team.

"We try to make it a little chaotic, but it got a little too much for a while. It worked out for us. When we're playing teams that don't have that kind of depth we wear them down."

Jamie Dominguez led Salem with 11 points.

BIG PLAY BIG: While Everett's guards were channeling their inner Harlem Globetrotters, the duo of Rodwell Blanc and Timmance McKinney put in yeoman's work in the paint.

Both players had five rebounds and altered even more Salem shots. Blanc scored eight points while McKinney had four. Blanc put an exclamation point on his night with a block in the waning minutes.

"We work hard in practice and you practice how you play," McKinney said. "I feel like the way we practiced translated over to the game."

DiBiaso said he expected his upperclassmen to play with a presence.

"They're both captains so I count on them every game," DiBiaso said. "They both stepped up and played very well."

KEYS GOES DOWN AND KAZADI STEPS UP: Salem forward Rashad Keys went down in a heap late in the second quarter. He was helped off the court and did not return.

Doyle said it was a high ankle sprain and Keys would be reevaluated on Monday. After the game, Keys was walking on his own power, without crutches, and a slight limp.

With Keys out it was on the shoulders of David Kazadi to defend the paint against the Tide attack. Kazadi did an admirable job, putting in five points and pulling down a game-high 13 rebounds.

"He's been an invaluable player," Doyle said of Kazadi. "He does so much for us defensively, offensively, on the glass, everything. He's a special player us and has stepped up for us all year."
August, 24, 2013
8/24/13
3:06
PM ET
By
Brendan Hall
| ESPNBoston.com
EVERETT, Mass. -- This morning at Everett Memorial Stadium, the No. 2 Everett Crimson Tide hosted Lynn English in their annual first-weekend preseason scrimmage. In two series of varsity on varsity, Everett's offense scored four times, while the Bulldogs failed to reach the end zone.
This was our first look in the 2013 preseason at Everett, which is undergoing some wholesale changes in personnel after going 28-1 with three Super Bowl championships the last three seasons, as well as a good measure on several promising stars for English. Below are some notes and observations:
Radio Raheem:
If there was any dash of speculation before about who was going to be taking snaps under center, incumbent senior Raheem Wingard made it clear who was in charge. The 5-foot-8, 170-pound Wingard is built low to the ground and gets overlooked for his height, but he has a better arm than given credit for, and is excellent at making the proper read on backside defensive ends.
After graduating one of the program's most talented classes ever, led by the likes of Jakarrie Washington (Wisconsin), John Montelus (Notre Dame) and Jalen Felix (Eastern Arizona JC), Wingard takes the reigns with a chip on his shoulder. Everett was down to its fourth-string quarterback by opening night of the 2012 campaign, but Wingard moved over from running back to QB full-time midway through the year, and gave the Tide another running threat out of the backfield.
"He's stepping it up," Tide coach John DiBiaso said. "I think Raheem wants to prove it wasn't just Jakarrie [Washington], Jalen Felix, Kenny Calaj, Gilly De Souza, you know, that he had a hand in it a little bit. A lot of these kids have been the same way."
Said Wingard, "I feel like I'm one of the quarterbacks that gets overlooked a lot because I'm smaller, but that just gives me a little more motivation, and it makes me push my team that much farther, that much harder."
[+] Enlarge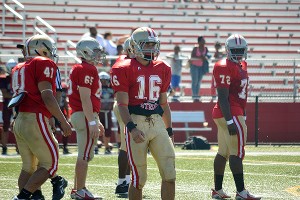 Brendan Hall/ESPNBostonPope John XXIII transfer Joe D'Onofrio looked sharp Saturday, and should factor significantly into the Everett offense this season.
Everett primarily operated out of two-by-two double slot formations, pairing Lukas Denis and Lubern Figaro on one side opposite newcomers Mike Lopes and Joe D'Onofrio. That opened up the field for a series of slippery zone read plays up the middle, which Wingard usually orchestrated correctly.
D'Onofrio off and running:
The prettiest play of the afternoon belonged to D'Onofrio, who connected with Wingard for a 55-yard touchdown pass towards the end of the Tide's first of two offensive series. Split wide just outside the numbers, D'Onofrio gained a step on his defender cutting diagonally on a post route, slipped behind the safety coming over the top, and let the ball softly drop over his shoulder into his outstretch hands, sprinting the final 20 yards to paydirt.
The 5-foot-11, 182-pound D'Onofrio was the Catholic Central Small MVP last year at cross-town Pope John XXIII after rushing for 1,356 yards and 16 touchdowns, his second straight 1,000-yard rushing season. But school has since gotten rid of its football program, leading D'Onofrio back to Everett, where he dabbled as a freshman.
If this morning is any indication, D'Onofrio is making a seamless fit into the Everett passing game. His slender frame blended with top-end speed and crisp routes draws comparisons to former Everett great Matt Costello, the 2010 ESPN Boston Mr. Football now playing for Princeton University, with the ability to stretch a defense vertically and take the top off. They're slightly different players, though -- D'Onofrio is a bit more physical, what with playing outside linebacker on defense.
"He's a real good player," DiBiaso said. "I've known him since he was five years old, he grew up in [Everett's] Pop Warner and everything. He did the couple years at Pope John, and now he's back with us. We're happy to have him, he's a good addition to the program. He's a good athlete."
Green in the trenches:
Last season, the Tide had one of the nation's heaviest lines, averaging 324 pounds across, led by the 6-foot-5, 330-pound Montelus. This year's line is smaller, but still pretty impressive by high school standards at nearly 286 pounds across. Senior center Zach Pierre (5-11, 284) is the lone returning starter, and the Tide are breaking in new guards in juniors Eric Trickett (6-1, 260) and Muhammad Raouie (6-0, 290).
Two of the most intriguing newbies may be at the bookends. Junior Guerschwon Jean-Louis is in his first year of ever playing organized football, but at 6-foot-5 and nearly 350 pounds he held his own at the left tackle position. Sophomore right tackle J.J. Collimon is almost athletic enough to be a tight end, and may project the highest at 6-foot-3 and 245 pounds.
Today was a good matchup for the young but promising Everett line, which had to deal with ESPN Boston Preseason All-State selection Chris Tinkham on the interior. The 6-foot-3, 280-pound senior has attracted Division 1 interest and is an impressive bull-rusher on the interior, but everywhere else the Tide were able to take control.
Offensively, the Tide moved the ball consistenly downfield, with linemen consistently getting into the second level. In one of the more impressive plays of the varsity action, Raouie charged up the left sideline on a screen and sealed off an English defender 15 yards downfield.
Defensively, Tinkham high-walled ends from the left tackle spot, but from the right side the Tide registered two sacks in the second English offensive series, including a nice speed rush from three-technique tackle Sidney Brimas, while 180-pound tackle Josh Palmer caused disruption shooting the inside gaps.
Harris-Javier battle heats up:
One of the more intriguing camp battles is at English, where Lucas Harris is the incumbent but has been getting a good run from junior transfer Jordan Javier. At Haverhill High last year as a sophomore, the 6-foot-4 Javier excelled at wide receiver, but over the summer he has gotten plenty of reps at quarterback -- a move that's merited, as he makes difficult throws look effortless.
Javier, laboring through a tweaked meniscus from earlier in the week, took most of his snaps at quarterback, and took a few lumps early in the first series. On one play, he scrambled down the right sideline only to be stopped cold by Everett's C.J. Parvelus 10 yards down field. Two plays later, Javier threaded a laser deep down the left slot, only to watch highly-touted safety Lubern Figaro stip the ball from Harris' grip at the last second.
Both Harris and Javier made some great plays on the run, hitting receivers with tight balls just steps from the sidelines on deep comeback routes. And when Javier did line up at receiver for a few plays, he made the most of it, including an impressive catch from Harris on a square-in route from the left.
So far, Javier has shown promise, but Harris has done nothing to suggest he shouldn't be the quarterback. Receiver appears to be Javier's more natural position, based on history, so perhaps there is a compromise.
It will be worth monitoring Javier's left knee, which he re-aggravated late in the varsity series, having to be carried off by teammates and barely putting weight on his left leg. It's considered nothing serious, another tweak of the meniscus, according to English coaches.
Miscellaneous:
One name to keep an eye on down the line: Jordan McAfee. The 6-foot-3 freshman is the Tide's third-string quarterback behind Wingard and Pat Long, but demonstrates remarkable maturity for a 14-year-old kid and made two terrific throws on comeback routes in the morning's final series. ... When the Tide got inside the red zone, they went to their familiar "Double Wing" package, experimenting with Raouie at fullback. Twice they scored on five-yard power sweeps, one in each of the two varsity series, from Denis and D'Onofrio. ... The linebacking corps appears to be set for now, with Angel Duarte at middle linebacker and Parvelus and D'Onofrio playing outside. ... In the secondary, keep an eye on junior Richard Jean, who made a good break on a deep pass late in the second series, deflecting a would-be touchdown at the sideline from about 10 yards out. ... DiBiaso on the roles expected of Figaro and Denis: "They've got to be leaders. We don't have that many experienced [players], so they've got to be leaders on the team. Lubern and [Lukas], those are the two bigger names out there."