Boston High School:

Jordan Whitney
September, 4, 2013
9/04/13
5:15
PM ET
By
Matt DiFilippo
| ESPNBoston.com
The football landscape has changed with the addition of a fourth class and reorganization everywhere. Here's a look at the top contenders in each class in 2013:
Class A East

Ask anyone outside of Lawrence Bulldog territory, and that person would probably tell you the two best teams in Maine high school football last year were Thornton and Cheverus. This year, under the new alignment, they have the chance to meet in the Class A state final.
Cheverus was undefeated last fall until losing to Thornton, 20-13, in the regional final. The Stags graduated Fitzpatrick Trophy-winning running back Donald Goodrich and quarterback Liam Fitzpatrick, but should keep rolling. The top returning runner is Cody O'Brien (76 carries, 400 yards, 5 TD), and he's backed by Joe Fitzpatrick and Will Hilton, and new quarterback Ethan Jordan. Kicker Patrick Mourmouras booted 48 extra points as a sophomore a year ago.
Offense will be a key for Portland, which scored a total of 13 points in four losses last fall. The Bulldogs may be able to solve that problem themselves, as they bring back Justin Zukowski (180 carries, 991 yards, 11 TD), Jayvon Pitts-Young (79 carries, 472 yards, 3 TD) and quarterback Ryan Ruhlin. Another one to watch is Ronald Hargrove, a transfer from Concord-Carlisle Regional in Massachusetts.
Bangor will be an interesting case this season. The Rams had the burden of high expectations every year – partly because of their history, and partly because of a school size that theoretically gave Bangor a much deeper pool of players than its opponents.
Those expectations were blasted away last year by a 30-point loss to Lawrence and a 34-point loss to Cony. Football is still a big deal in Bangor – the
Bangor Daily News
wrote a preview story on the Lawrence-Bangor preseason meeting, then covered the game (a 13-6 Lawrence win) as well – but how will the Rams fare against the bigger southern Maine schools?
In an interesting subplot, Xavier Lewis is back at Bangor. Lewis played for Bangor before helping Lawrence to the state final in football and the regional final in basketball during the past academic year.
Windham and Deering look to bounce back from graduation losses, while Edward Little, Lewiston, and Oxford Hills look to improve.
Class A West
Thornton went with a 1-2 punch last fall of Andrew Libby (151 carries, 1,008 yards) and Nick Kenney (164 carries, 940 yards). With Kenney graduated, Libby could easily get in the neighborhood of 25-30 carries per game, and none of Thornton's opponents are excited about that. On the down side, quarterback Eric Christense (973 yards passing, 402 rushing) has graduated, and the Golden Trojans didn't have shutdown defense even last year, when all but two of their opponents scored at least two touchdowns. Still, Libby and Cody Lynn are stalwarts on defense, and if Thornton averages 38.7 points per game again, a couple touchdowns the other way won't matter.
Scarborough didn't play Cheverus last year, but looked pretty good against every other team on its schedule save Thornton. The Red Storm lost 35-7 to Thornton in the regular season and 49-14 in the playoffs. Scarborough brings back Dan LeClair (69 carries, 353 yards, 5 TD) and running/receiving threat Charlie Raybine.
Bonny Eagle could make a leap from last year's 2-6 record. The Scots opponents had a combined record of 43-21, but they still never lost a game by more than 17 points. Now they've added running back Jon Woods as a transfer from Gorham, along with some experienced talent like Zach Dubiel and Joe Bissonette. You can make an argument that Bonny Eagle's season might have turned out much differently if the Scots hadn't been plagued by bad snaps and turnovers in an early-season loss to Thornton last year. This season might show what Bonny Eagle is capable of.
Sanford had one of the best backs in the state last season in Alex Shain (201 carries, 1,426 yards, 27 TD), but the Redskins still scored a total of 32 points in their four losses, including a 42-16 first-round playoff setback to Scarborough. If Josh Schroder (86 carries, 457 yards, 6 TD) and new quarterback Chase Eldredge can't find a way to score against the top teams, a defense led by linebacker Colby Perigo may spend too much time on the field.
December, 3, 2012
12/03/12
6:20
PM ET
By
Matt DiFilippo
| ESPNBoston.com
Nick Janes remembers how it used to feel to be a Marshwood football player, and he remembers when that changed.

At one time, the Hawks had one of the best football programs in the state. But Marshwood hadn't been to a state title game since 1989, and finished 2-6 and out of the playoffs in 2011.
"You felt secluded," said Janes, a senior running back and defensive back on this year's Marshwood team. "Like, everybody knew you were, but no one really cared."
Marshwood hired coach Alex Rotsko before this season. In addition to coaching at American International College and Ithaca, Rotsko had won 11 Super Bowls in 19 years as coach of Longmeadow High School in Massachusetts.
"The first practice, you looked at him, he just looked confident," Janes said. "You didn't want to lose for him."
For Janes, the moment he realized things were different came in a preseason scrimmage against Portsmouth (N.H.) High. Marshwood struggled to move the ball, and Rotsko told his players what was wrong and how to fix it.
"The next play, we ran for like a 20-yard gain," Janes said. "I've never seen anything like that before."
Marshwood eventually made it to the Class B state championship game, losing 44-42 to Mt. Blue. It was clear Marshwood is back.
"You could feel the whole community coming around you," Janes said.
Rotsko, who was also athletic director at Longmeadow, was friends with former Marshwood coach John Caverly, so he was aware when the Marshwood job became open.
"My wife and I own a home at York Beach, and we were coming up here anyway after I retired," Rotsko said.
As usual, Rotsko installed the Wing-T offense, a run-based system built of multiple weapons.
"We ran it at Longmeadow," he said. "The 19 years that I was there, we ran it 18 years and had 18 winning seasons. You can guess what happened that one year."
"We used to run the spread offense," said Dan Lizotte, a senior fullback/linebacker. "I thought we had the size to run a tighter offense. We just powered it up the middle. I liked it."
With his favorite offense in place, Rotsko said there were two clear differences for him between Maine and Massachusetts. In Massachusetts, you have to play three games in 12 days at playoff time, including the annual Thanksgiving rivalry, while Maine simply has a game each week. The other notable difference is the size of the rosters.
"The school that I came from was not a real big school," Rotsko said. "We probably had 500 boys, and 100 played football. I was used to dealing with 105, 110 kids. I came here, we had about 60 kids at the first practice. Out of those 60, 40 or so were freshmen and sophomores."
Marshwood's first two games in the regular season were against York and Mountain Valley. York was returning 18 starters from a playoff team, and Mountain Valley is a perennial powerhouse. Rotsko said he was told those were the two teams that Marshwood had no chance to beat, but the Hawks won both games, defeating York 28-12 and Mountain Valley, 19-12.
"It was unbelievable," Janes said. "Everybody was really excited. It felt surreal."
Less than a month after its second win, Marshwood lost a former teammate. Troy Pappas, the quarterback in 2011 and a freshman at Bates College, died Oct. 5, six days after falling down a stairwell.
"I've thought of him every day," Janes said. "It's tough to go through something like that, so he's always on my mind. Playing with him for three years, you get used to him being there."
The Hawks took the field just a couple hours after Pappas' death, and defeated Cape Elizabeth, 20-0, to run their record to 5-1. They did not lose again in the regular season, and after beating Cape Elizabeth again in the quarterfinals, knocked off Wells, 15-13, and York, 21-20 to win the Western B title.
"I feel like Troy was there watching over us, making sure we won by the skin of our teeth," Lizotte said. "Everyone felt that was it."
A lot of key players are back for Marshwood next season, like quarterback Cameron Roll, running back Brett Gerry, and linemen Tyler Gagnon and Beau Blanchette.
"I thought it was a great season," Rotsko said. "It couldn't have gone any better. I think everybody's already excited for next year."
September, 12, 2012
9/12/12
1:43
PM ET
By
Matt DiFilippo
| ESPNBoston.com
The high school football season in Maine started Aug. 31. Here's a look at how each class shapes up this fall:

Class A
In the East, Lawrence won the Pine Tree Conference Class A last season and has posted two convincing victories this fall, including a 42-12 win over a Bangor team that is usually one of the best in the PTC A. While the Bulldogs probably won't have a 1,000-yard rusher, they have six good backs, led by Anthony Sementelli and Josh Doolan. Bangor transfer Xavier Lewis adds more depth to the offense. Against his old teammates, Lewis had three touches and scored two touchdowns.
In contrast, Brunswick will rely almost completely on running back Jared Jensen. After rushing for 129 yards all of last season, Jensen ran for 428 yards on opening night and 283 the next week, giving him 711 yards in two games.
Messalonskee will look to its lines to challenge for the top spot in the PTC A. The Eagles run the double-wing on offense, with back Corey McKenzie getting most of the carries, and have one of the best rushing defenses in the conference.
Cheverus and Thornton are the two best teams in what should be a deep Western A. Cheverus has won 26 straight games and two consecutive state titles. The Stags returned 10 starters this year, including fullback Donald Goodrich, who scored five touchdowns in last year's state championship game.
"I think we're as good as we were last year," Goodrich told the
Portland Press Herald
. "We did lose some big players but the other guys have done a nice job replacing them."
Thornton plays Cheverus on Oct. 13, and that's already shaping up as the game of the year. The Golden Trojans return the entire backfield from a team that won nine games last year. Foremost among those backs is junior Andrew Libby, who scored 16 touchdowns last season and is a threat to go the distance anytime he returns a punt. Quarterback Eric Christensen is another key player in an offense that has big-play potential. If the offense can't get the job done, kicker Brandon Briggs (14 touchbacks last fall) has a strong leg.
Windham could be a dark horse candidate. The Eagles are led by twins Joe and Shawn Francoeur on the lines, and quarterback Damien Shepard is a threat running or passing. Unlike many teams in the West, Windham wants to beat you with strength instead of speed.
Class B
Leavitt defeated Mt. Blue 22-21 in double overtime in last year's PTC B final, and these could be the two best teams in the league again this fall. Leavitt has a pair of 300-pound tackles, and an offense led by Brian Bedard and Josh Faunce. The Hornets have won 35 consecutive games in the regular season.
Mt. Blue lost most of its starters at skill positions but brings back quarterback Jordan Whitney, who threw 25 touchdown passes last fall. This season, Whitney has completed 22 of 29 passes for 416 yards.
Hampden will look to challenge those teams behind running back Logan Steward and quarterback Matt Martin. Gardiner has a do-everything quarterback/kicker in Dennis Meehan, but line play will be the true test for the Tigers. Waterville began the season with two strong victories, but the Purple Panthers will have to prove that they can beat the top teams before they can be seen as a contender. They'll get that chance this week against Gardiner and Sept. 29 against Leavitt.
The West looks to be up for grabs. Westbrook was 5-5 last fall, but began this year by drilling perennial power Mountain Valley, 30-0, then knocking off defending state champion Wells, 28-20. Senior running backs Ben Grant and Cale Bollig do most of the work on the ground, and Collin Joyce is a factor running or receiving. Wells graduated all but three starters, but Dante Fanning and Drew Shelley are the big backs in a powerful offense.
Greely opened the season with two lopsided victories. The Rangers run the triple option on offense, and quarterback Drew Hodge is also a dangerous passer. Marshwood, coming off a 2-6 season, has already matched that win total and could be a sleeper team. Mountain Valley, despite starting the season 0-2, could pose problems by the end of the season.
Class C
The Little Ten Conference is not the place to go if you want to see close games. Five teams started off the season 2-0, and all 10 of those wins were by at least 20 points.
The four big contenders are Bucksport, Foxcroft, John Bapst, and Orono. Bucksport has a powerful offense, with quarterback Matt Stewart and running back Nic Bishop the top weapons. Foxcroft returns running back Don Boyer and Ryan Rebar (8 TDs receiving and 8 INTs as a cornerback last fall).
John Bapst has impressive speed at the skill positions, but must replace the graduation of quarterback Deven Romain and his top two receivers. Orono has a great backfield tandem of Christian Mowrer (15.9 yards per carry this season) and Norton Revell (15.5 yards per catch).
The big story in the West was Oak Hill's 33-7 victory over Yarmouth, which had won 24 consecutive games. That win cemented the Raiders, who were 3-6 in 2011, as a true contender in the Campbell Conference. Oak Hill has good size in the line for top running backs Alex Mace and Kyle Flaherty, both of whom are sophomores.
Yarmouth will still contend behind quarterback Brady Neujahr and a running game paced by Matt Klepinger and Thomas Lord. So will Maranacook, with quarterback Caleb Castonguay, a running and passing threat. Traip has only about 20 players on its roster, but two of them are stud running backs in Corey Aldecoa and Devon Draker. Dirigo and Winslow could also make a run.
Maine Statewide Top 10
1. Cheverus - Stags have outscored opponents 85-6 in two games.
2. Thornton - Golden Trojans coming off 67-7 pasting of Gorham, face No. 9 Bonny Eagle next.
3. Windham - QB Damien Shepard has four touchdowns running, two more passing.
4. Lawrence - Bulldogs have outscored opposition 65-0 in first halves of games this fall.
5. Scarborough - Red Storm, 3-6 last fall, stunned Bonny Eagle 35-18 last week.
6. Portland - Bulldogs didn't get inside Cheverus 30 in 42-0 loss, but looked great against Massabesic.
7. Mt. Blue - Cougars beat Madison/Carrabec 41-28, but led 41-0 at half before pulling starters.
8. Leavitt - Hornets keep rolling with 36-0 blanking of Belfast.
9. Bonny Eagle - QB Tyson Goodale has ran or thrown for all nine of team's touchdowns this fall.
10. Westbrook - Blue Blazes overpowered Mtn. Valley, then beat defending state champ Wells, 28-20.
November, 10, 2011
11/10/11
5:40
PM ET
By
Gary Hawkins
| ESPNBoston.com
Madison Memorial High School senior Matt McClintock recently won his third Class C cross country title while posting the fastest time in the state in any class. McClintock also won the mid-season Festival of Champions which featured over 600 runners from 60 schools in and out of state. Last spring, he won the 1,600 and 3,200 meter runs at the state track and field meet. He's competing this weekend in the New England meet in North Scituate, R.I. He recently answered questions about his season and running career.
Q: How did you get started running?

A: "I started running in 5th grade on the Madison Junior High XC team. I went to Athens Elementary so what would happen is Athens would practice on it's own and then we would just join the Madison team at meets. Fifth grade was the first year that I could compete in any "real" school sports, and I don't really know what drew me to it, but I decided to try it, and I guess my first race went well. I finished 13th. All my coaches were really happy with it and I guess I've been running ever since."
Q: Who have been your greatest influences?
A: "First and foremost would definitely be my coaches. Mrs. Moulton and Mr. Harper in junior high and Bob and Brandon Hagopian in high school. The person that really inspired me and drove me to get better was definitely coach Bob Hagopian. He's been with me since freshman year, through my wins and losses, and has always found a way to make me better."
Q: At what point did you feel you made a breakthrough in your high school career?
[+] Enlarge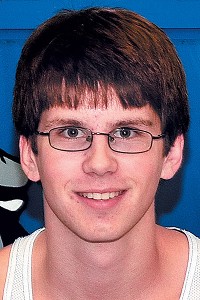 Gary Matt McClintock
A: "Without a doubt it was after I lost the conference championship last year. I got to cocky and that race showed me that I wasn't invincible, that I wasn't going to win just because my name was Matt McClintock, but because I wanted it more than the guy in front, beside, or behind me. That race made me
love
running, because I then had something to prove and something to work for. It re-instilled that love for competition in me. I will remember that race for the rest of my life, and I'm definitely a better runner because of it."
Q: What do you consider your greatest achievements in track and cross country?
A: "Wow, I guess in cross country it would be my three state championships. Since fifth grade my dream was to win a state championship in high school. To have three cross country titles and two titles on the track is just unbelievable to me. In track, my greatest achievement was definitely breaking the Madison High School records for 1,600 and 3,200 meters, probably more so the 3,200 because I was the first Madison kid in history to go under 10 minutes in that event."
Q: Which sport do you prefer?
A: "It really depends on the season. During cross country my favorite sport is cross country. During track it's track. I just love to run and race whether it's on the road, a track, or a trail."
Q: What goals did you set this season and did you reach them?
A: "My first goal for the season was to go undefeated in Maine and three-peat the Class C State Championship. I'm proud to say I met this goal. My next goal was to go under 15 minutes for the 5k I haven't met this goal yet as we've never really had a good day for a championship race, but Saturday at the New England Championships looks to be a good day, and it's a very fast course so we'll see what I can do there.
Q: What is your goal for this week's New England meet?
A: "My goal here is to win the title, and to go under 15 minutes for the 5K. As I said, before, it's a fast course, and there will be some incredibly strong competition to push me there."
Q: You won several races handily this season. Is it tough competing when you're not pushed?
A: "I guess that would depend on your definition of competing. A lot of people look at competing as winning. I prefer to look at it in the manner of Steve Prefontaine. If I'm going to win, I want to know that I've done my best. So yes, it's difficult to push myself to fast times, but I always just try to stay focused and not worry about the pain or where my competition is and just get to the finish line as fast as possible."
Q: What do you enjoy most about running?
A: "I love the people that we meet. The type of people you meet at cross country or track events is totally different then you will see in any other sport. At the state meet, I was getting encouraged to reach my sub 16 goal by the coaches and family and teammates of people that I was directly competing against. I'm confident to say that you will not find nicer and more supportive fans at any other high school sports competition."
Q: Do you have any running role models?
A: "I have several running idols, the most prominent would be Steve Prefontaine. I try to live up to the guts and determination that he always showed as a runner. His quote "To give anything less than your best is to sacrifice the gift" are the words I live by. Another two are Haile Gebrselassie, and Kenenisa Bekele. Both are Ethiopian runners. Gebrselassie is a two-time gold medalist and world record holder. Bekele is the two-time defending Olympic 10,000 meter champion and holds World Records now."
Q: Where will you attend college and why did you choose that particular school?
A: "I will be running for Lock Haven University of Pennsylvania next year. I felt very comfortable around the campus and really connected well with Coach Aaron Russell and the entire team at Lock Haven."
Q: What other sports or activities do you enjoy
?
A: "I enjoy all sports, but running is my one and only true passion."
Q: What is your training regimen in and out of the season?
A: "Sorry, but I don't like to discuss what my training is, at least not until after the outdoor track season."
Q: Where do you need to improve?
A: "I definitely need to improve on my kicking speed. In order to really be competitive in college I need to be able to win a race in the last 200 Meters if necessary. I feel that as my speed continues to develop in conjunction with my continued endurance training all of my events will improve drastically."
October, 26, 2011
10/26/11
4:04
PM ET
By
Gary Hawkins
| ESPNBoston.com
Madison Memorial High School senior Seth Sweet has established himself as the top high school golfer in the state.

Sweet recently won his second straight Class C state individudal title, shooting a 2-under par 70, the lowest in any class. Last summer he was one of two Maine golfers to qualify for the U.S. Junior Amateur. He also finished fourth in the Maine Amateur last year and, when he was 12, he was the youngest qualifier ever for that tournament. He recently answered questions about himself and the game he loves.
Q: How did you get started in golf?
A: "My dad introduced me into the game when I was 2 years old. He brought me out to a little par three course with a plastic set of Little Tikes golf clubs. I didn't play that often but he brought me to the golf course just enough so I could really get a liking for this game. After a while I knew there was something about this game that was special and I knew it would be able to take me places."
Q: When did you first get hooked on the game?

SWEET
A: "I first became serious around the age of 10. I played my first tournament when I was 7 but did not realize what it took to really become an elite golfer. I started playing several tournaments when I turned 10, and began to practice a lot harder. I tried to take my game to the next level and set different levels of goals that I needed to achieve."
Q: Who have been your greatest influences in the game?
A: "My dad has definitely been the biggest influence in my game. He taught me everything I needed to know to become who I am today. He made it so I could play in every tournament I wanted to play in, and would do everything for me. My mother has also been there supporting me and always telling me that if I want it I can get it. She is always there to watch me play tournaments, and I couldn't do it without them. My brother Zack also has been there to push me as he is a good golfer and always taught me how to act, as well as made me the best I could ever be. My swing coach has also been able to bring me to the tip top in my game and has taught me how to play this game like the pros.
Q: What do you consider your greatest accomplishment to date?
A: "I believe my greatest accomplishment has been making the U.S. Junior Amateur in Bremerton, Washington where I played two great days to make a playoff to make the cut for match play. Unfortunately, I missed the playoff, but was the proudest to place 55th best junior in the nation. I may not have met my goal, but was very pleased with how I played."
Q: How often do you play and practice?
A: "I play every day and practice every day. In order to be the best you have to have the club in your hand acting like it is your lifeline."
Q: What do you work on?
A: "Lately I work on the short game because I am able to hit the ball on the green, but where I am going to save strokes is making the putts for birdies. I will also work on hitting the ball in different shapes, I usually hit a draw but I understand that I need to be able to hit the cut to be one of the best as well. I believe that short game is where the pros make it look easy and win the tournaments."
Q: Where will you attend school next year?
A: "I have recently just verbally committed to Old Dominion University in Norfolk, Virginia."
Q: How did this come about?
A: "I had a friend from Rhode Island who is a freshman there and had told the coach about me. He must have put in a good word for me because the next week I got a call from the coach and it eventually led to an official visit offer. I visited the campus and fell in love with it and
fell in love with the golf facilities this school has to offer."
Q: What are your short and long-term goals in the game?
A: "My short term goal for golf is to really become a better player and win my state amateur, and qualify for the U.S. Junior Amateur again. My long term goals are to become a golf professional and play on the PGA tour, I do realize this will be a tough task but I am ready to make a run for it. I also want to be in a scoring spot all four years in college and be a key asset in our successful team.
Q: What are your strengths and weaknesses?
A: "My strengths are definitely being able to drive the ball, chip the ball and putt the ball. I hit the ball about 290 yards down the middle and my short game has grown incredibly and improved greatly. I also am able to keep a great state of mind while playing golf which is to my advantage. I believe my weakness is paying too much attention to other people, I shouldn't watch my competitors, but I do and get caught up in their game a little too much."
Q: Who is your favorite pro golfer and why?
A: "My favorite player used to be Tiger Woods because I idolized his work ethic, he won his tournaments by out-working his competitors and there was no question that he did every week. I also loved watching how he worked on the golf course he made himself expect the best of the competitors so he would not be surprised when they hit a good shot. My new favorite player is Bubba Watson, I enjoy how he hits the ball so long and is changing the game with his stride in great length. I also like how he has fun while he is playing and is very personable while he is playing. It is truly an awesome thing for him to be able to enjoy the game the way he does."
Q: What other activities or sports do you enjoy?

A: "I enjoy playing basketball with a passion; it is a very fun game for me and keeps me in shape during my long winter up in Maine. I enjoy running, and weight lifting as it keeps me in shape and I enjoy doing that every day."
Q: What are your plans for the summer before college?
A: "I plan on playing in 5-10 golf tournaments and practice my short game and the little details golf demands you to do. I am going to play in the big tournaments in the state and going to qualify for some USGA events. I just want to keep my competitive edge and make my game in fine tune for the fall college season."
October, 11, 2011
10/11/11
2:04
PM ET
By
Gary Hawkins
| ESPNBoston.com
Paula Doughty is in her 31st year as field hockey coach at Skowhegan Area High School. She's posted a career record of 414 wins, 80 losses and 17 ties and her teams have captured 12 Class A state championships, including last year's. Prior to losing in the state final in 2009, the Indians had reeled off eight state titles in a row.

Doughty was named National Field Hockey High School Coach of the Year in 2004 and 2008 and more than 80 of her players have gone on to play in college. One of her players has been a first-team national All-American while two have made second team All-American and 22 have been regional All Americans.
Q: How did you get into coaching?
A: "I was in college from '70-74 and I officiated. I graduated from the University of Maine at Farmington and student taught in Skowhegan. In August they called me and said there was a job opening and they also needed a field hockey coach. I played in high school and I officiated so I had quite a lot of experience and I knew the game."
Q: What attracts you to the sport?
A: "It's evolved into a really fast, fabulous sport. It's just become better and better. First we lost the offsides, advancing became incidental and the obstruction rule is lenient today. In field hockey it takes years to develop the stickwork to be able to play. I also like it, and this sounds sexist, because it's a women's sport in the United States."
Q: When did Skowhegan turn the corner?
A: "Probably in the late '80's. We were really good in the '70s, then soccer came in. I was really hurting for athletes. All the athletes went to soccer but then it balanced out."
Q: How has the program stayed so strong?
A: "I work very hard. I have three of our four coaches who have worked with me forever. I would say a shared coaching philosophy and consistency. We do the same thing K through 12 and I work with everybody K to 12."
Q: How big is the youth program?
A: "It's growing, but it's growing statewide, it's not just us. Today we had a tournament for fourth, fifth and sixth graders and there were 12 teams here and every town brought 30 kids. One thing about field hockey in Maine, there's a lot of opportunities and we can compete. It's hard for Maine kids to compete in a lot of things but in field hockey we're doing really well. A lot of kids feel entitled but Maine kids aren't like that. They work really hard."
Q: How many of your players have played in college?
A: "We've had about 80 kids play in college. My first player was Kim Jewell Bodwell in '78 and she played at the University of Maine. Our first Division I player was Wendy Obert in 1989 and she played at Northeastern. Right now, we have nine (playing in college) and we have three seniors who are going D-1 next year."
Q: How has the game changed?
A: "It's changed in every way. It's faster, it's more skilled. The amount of penalties are nothing what they used to be. You've got to be very, very skilled. It's fun to watch. Today the game is a turf game. We play on turf as much as we can. It's no longer a grass game. We practice in the gym a lot. Our field is as close to turf as you can get, but it's still grass."
Q: How is this year's team?
A: "It's a great team. The last 14 years have been great teams. The kids I have now are much more versatile. Even five or 10 years ago, they were one-dimensional ... Most of my kids I can put in any position. Messalonskee is very good. They're going to be our biggest competition in the state. It's too bad we're both in Eastern Maine. But in sports you can't take anybody for granted."
Q: How long do you want to coach?
A: "I'll coach as long as I think I can. I'll retire from teaching in a while but I'll keep coaching. I'm smart enough to know if I'm not as good as I was."
October, 5, 2011
10/05/11
10:54
PM ET
By
Gary Hawkins
| ESPNBoston.com
Dave Halligan has coached soccer for 33 years, the last 25 at Falmouth High School where he has won nine state championships. This winter he'll begin his 25th season as head basketball coach with the Yachtsmen, having won four state titles.

Dozens of his former players have gone on to succeed in college soccer, including Roger Levesque, who was named Pac-10 Player of the Year at Stanford and currently plays for the Major League Soccer Seattle Sounders.
Halligan recently answered questions about his soccer program for a Q-and-A:
Q: What makes Falmouth soccer so successful?
A: "We have a good program and we have a lot of good people running it, right from Saturday morning soccer to travel teams to guys that work in premier programs."
Q: How involved are you outside the high school team?
A: "When my kids went through I was involved in everything. I started youth, travel, premier and instructional programs. The first year we had 38 kids in the program. Now we have over 600. I think the key is numbers playing. (At the high school) we have 62 boys and 42-plus girls playing."
Q: How did you get into coaching?
A: "I played soccer in college but I went to school to be a basketball coach. I coached JV soccer at Greely for a couple of years then I went
to Cape Elizabeth and worked with Leroy Rand. After that I came to Falmouth. Back then there were no state championships, just a few teams
playing in (the) Triple C (Conference).
Q: How does Maine high school soccer stack up against other states?
A: "We have some excellent programs and players. The state is so spread out, but we have some kids playing pretty well. We have a lot of kids playing at the NESCAC schools. That's pretty good soccer. Just because you're from Maine it doesn't mean you can't aspire to the highest levels. If they want to play hard and work hard they can accomplish a lot."
Q: What do you do in the offseason?
A: "What's an offseason? The offseason is the two weekends I spend with my wife."
Q: What's the biggest difference between coaching soccer and basketball?
A: "Basketball is more like chess where you can adjust every time down the floor. Soccer is more like checkers. Once the game starts there's not a lot you can do."
Q: How have premier teams changed the game?
A: "I think it's broken down some of the (high school) rivalries. They're friendly rivalries now but I think they play harder. They don't want to
lose to their buddies."
Q: Why do players need high school soccer?
A: "Because of some of the other values we try to teach. The goals in high school are a lot different than in premier. In high school, 90 percent of the players aren't going to go on. Last year when we didn't win (the state title) the kids said what they liked most was going to practice."
Q: How is this season playing out?
A: "We lost 2-1 to Yarmouth and beat Cape, 2-1. Cape beat Yarmouth 2-1 so it's pretty even. We lost a lot of kids from last year's team. We're
basically a young team but we have high expectations. We're probably doing better than we hoped for. .I've been real pleased with my kids."
Q: Do you employ a specific style at Falmouth?
A: "Obviously we like to control the ball. We like to play with speed and skill. We don't want to slug it out with you. We want to be more skilled
if we can. Sometimes it works, sometimes it doesn't."
Q: How long do you anticipate coaching?
A: "As long as I'm having fun, as long as I enjoy practice and enjoy the kids. I still do."
August, 31, 2011
8/31/11
2:23
PM ET
By
Gary Hawkins
| ESPNBoston.com
Although the Maine Principals' Association voted down adding a fourth class to Maine high school football earlier this year, there are still
plenty of changes awaiting teams and their fans this season.

The classification committee of the MPA decided not to include a fourth class, perhaps waiting for a few more schools to adopt the sport to push the number to 80. There are currently 76 football playing schools in the state, with some schools combining teams this year and others playing for the first time.
Class A saw the fewest changes with four schools — Brewer, Mt. Blue, Marshwood and Westbrook — dropping to Class B. Marshwood is the only Maine high school to have won a state football championship in each of four classes, including the now-defunct Class D. Marshwood and Westbrook will play in Western Maine Class B where they'll be joined by Spruce Mountain, a new school combining former Class C rivals Jay and Livermore Falls.
Brewer and Mt. Blue will play in Eastern Maine Class B that now includes Oceanside, a new school combining Rockland and Georges Valley. Rockland previously played in Class C while Georges Valley did not have football. Also joining Class B East this season are Old Town and Madison/Carrabec, both of whom played in Class C last season.
Eastern Maine Class C is adding two new programs in Hermon and Washington Academy while Telstar is also playing varsity football after
fielding a club team the past few seasons and will compete in Western C. The West also includes two teams that have dropped from the B ranks in Winslow and Poland.
Here's a look at some of the top teams in each class who get under way Friday night:
CLASS A EAST
Lewiston: The Blue Devils return eight starters on offense and defense from a team that lost 28-25 to Bangor in the conference final. Quarterback Chris Madden highlights a returning backfield that includes tailbacks Jeff Turcotte and Matt Therrien. Rudy Pandora, a 6-foot-5 two way tackle, returns to the line.
Lawrence: The last East team to win a state title (2006), the Bulldogs have been upset in the playoffs the past two seasons after going
unbeaten in the regular season. Junior Spencer Carey returns at quarterback while senior Shaun Carroll and junior Anthony Sementelli are
the top returning rushers. The defensive line is new but the secondary is experienced.
Brunswick: The Dragons upset Lawrence in the playoffs and nearly knocked off Bangor. They return one of the top backs in the conference in senior Dylan Walton who was injured midway through last season. Also returning to the backfield is Keith Kitchens.