Boston High School:

Josh Malone
December, 14, 2012
12/14/12
11:13
PM ET
By
Terrence Payne
| ESPNBoston.com
SPRINGFIELD, Mass. -- The No. 1 Springfield Central Golden Eagles passed another test. Just like Monday night's season-opening victory over Agawam, Central struggled at times, but in the end was good enough to prevail. The Golden Eagles took down city rival Sci-Tech, 67-56, at home Friday night –- their 26th consecutive win over an in-state opponent.

Central (2-0) entered the half clinging to a 32-29 lead. The Golden Eagles had turned the ball over 10 times and even worse, shot a dismal 18-for-35 from the free throw line.

To start the second half, Central turned the tables on Sci-Tech (0-2). The Golden Eagles forced five Sci-Tech turnovers, to jump out to an 8-2 run. The Cybercats, who were plagued with foul trouble, sent two seniors –- Keith Caston and Marcel Brown -– back into the game with three fouls each. After two quick Cybercats buckets to cut the lead to six, Caston picked up his fourth.

"We always talk about the first four minutes," said Central head coach Mike Labrie. "The first four minutes of the half are so crucial."

Despite the foul trouble, Sci-Tech would carry momentum into the fourth quarter, when Angel Montez scored on a fast break layup to cut the Central lead to single-digits at 54-45. Central and Sci-Tech traded baskets to start the final quarter, but on back-to-back possessions Brown grabbed two Sci-Tech offensive rebounds for put backs, forcing Central to call a timeout with a 56-51 lead and 6:43 remaining.

"I was seeing that they were starting to get hot and we needed someone to step up," said sophomore center Chris Baldwin. "We needed to step up the intensity."

For the next five minutes, Sci-Tech didn't score, while Baldwin led an 11-0 Central run with his play in the post, more specifically on the glass. The 6-foot-8 Baldwin ended the game with 18 points and 23 rebounds.

Sci-Tech was controlling the game early, beating Central to loose balls and on the boards. After the first quarter, the Cybercats led by one with a tough defense that didn't allow Central to get in a rhythm offensively.

Then the fouls started to occur. Midway through the second quarter, Central continually got the ball inside, which gave the Golden Eagles opportunities to go to the line. Central trailed 17-13, but scored seven straight points from the free throw line. The Golden Eagles would go on a 10-1 run to take the lead, which they never gave back.

"It's about getting to spots," said Sci-Tech head coach Paul Scoville. "Our guys have to learn, it's not the park. There are three guys out there, with stripe shirts, who will call fouls."

Luckily for Sci-Tech, Central missed almost half its first half free throws, something Labrie attributed to not following through on their free throw attempts.

Kamari Robinson led Central with 22 points. Brown had 22 points and eight rebounds, while Caston added 12 points and eight boards for Sci-Tech.

Central's third option: Central once again got great performances out of the frontline stars, Chris Baldwin and Kamari Robinson. It's expected for those two to consistently have games like that this season, but Central hasn't found a third option besides the two men in the middle.

"We're going to get help from different areas," said Labrie. "It's not going to be the same guy every night."

Monday night, Central was lifted with Josh Malone's 15 points, including a trio of three-pointers. Tonight junior point guard, Ju'an Williams had 10 points, three assists, no turnovers and five steals. Elliott Johnson, who started Monday, came off the bench for seven points and added a spark defensively.

"We lost eight of our top nine guards, including our top three guards," said Labrie. "I'm not making excuses, but it's going to take time. I think it's going to come from several different areas."

More importantly, Central is beginning to get healthy. The Central football team missed the first week of tryouts due to the Super Bowl victory over Longmeadow. Friday night, Travis Cusson started, while Cody Williams came off the bench for seven points and T.J. Smith played well in spurts.

"They just came back from football," said Robinson. "They just won the Super Bowl. Their minds aren't exactly in basketball mode right now. They're still hyped off that (football). Once they do, they'll bring that toughness."

Could Cybercats be trouble down the stretch? For the first 12 minutes, Sci-Tech looked like the better team. They didn't let Central get anything easy offensively and we out hustling the Golden Eagles.

Then the fouls started to add up, which gave Central the lead going into halftime. And once Central got out to an 8-2 run to begin the second half, it was an uphill battle for the Cybercats.

"They wanted it more than us in the first half," said Labrie.

Sci-Tech finished last season at 6-14. This year with the return of Keith Caston and Marcel Brown, providing both a presence in the paint and on the perimeter, the Cybercats have the foundation to be a solid team.

"We're a tournament team," said Scoville. "But we have to start playing like one, we're not right now.

"We need to execute, get into sets, play defense, communicate. [There are] a lot of little things that this team has to do better at. They haven't had much success over the last two years and I'm trying to break as many bad habits."

Sci-Tech has a tough schedule with games against Northampton, West Springfield, and East Longmeadow all in the next month. Match that with a league schedule that includes another matchup with Central and two more against Springfield Cathedral.

Still, Sci-Tech has the potential on the roster and for portions of the game had talent on the floor. Now it's a question of whether or not they can put it all together.

"It's might take one quarter or one half to get the team going and when we start rolling, watch out," said Scoville.

December, 11, 2012
12/11/12
12:36
AM ET
By
Terrence Payne
| ESPNBoston.com
SPRINGFIELD, Mass. -- Springfield Central survived its first test on Monday night, taking everything a scrappy Agawam team had and came out with an 82-67 win.
Central led by nine at half and opened up a 17-point lead after three quarters. The Golden Eagles' lead quickly dwindled as the Brownies started the fourth on a 19-8 run, but in the end it was too much Central. The two big men inside, sophomore Chris Baldwin and senior Kamari Robinson, strung together back-to-back buckets in the final minutes to ice the game.
But still, it's a reminder that the defending state champs -- a team that hasn't lost to an in-state opponent in over a year (25 games) -- will get everyone's best shot this season.
The experience and chemistry of last year's team is gone, but the talent and potential is there, it's just a matter of when the Golden Eagles can put it all together.
[+] Enlarge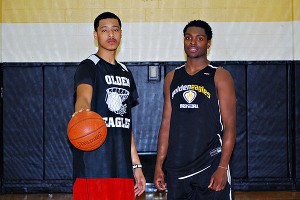 Terrence Payne for ESPNBoston.com Chris Baldwin (left), considered one of New England's most promising sophomores, joins returning All-State forward Kamari Robinson in Central's loaded frontcourt.
"The inexperience is the factor," head coach Mike Labrie said. "The key to the season is how fast we can grow together. We're behind the eight ball, but no one is going to feel bad for us."
Robinson, the senior captain, was the only returning member from last year's championship team to suit up on Monday night. Senior guard Cornelius Tyson -- he of the memorable second-half outburst in the MIAA Division 1 state title game, knocking down four 3-pointers -- is academically ineligible.
However, Central still made noise during the summer, when the 6-foot-8 Baldwin enrolled at Central, after spending last season at the Hillside School (Conn.). Alongside, the 6-foot-5 Robinson, Central has one of the best frontlines in the state and it showed on Monday night. Robinson had a team-high 31 points, while Baldwin added 24 points, 16 rebounds, and three blocked shots.
"I was happy about it," said Robinson on Baldwin's transfer. "It helps me out a lot. It's going to take a lot of stress of me and put another scorer in our arsenal."
Baldwin already holds a Division I offer from UMass, which he picked up in the summer, as well as interest from Boston College and Boston University.
Early on in the season -– both in a scrimmage against St. John's of Shrewsbury last week, and Agawam tonight -– teams have thrown zone defenses at the Golden Eagles, limiting the number of touches Baldwin can get in the post. Likely all teams Central faces this year will play some sort of zone pressure, which makes the guard play more critical for the Golden Eagles.
In Monday night's win, Baldwin was doubled on the block and in the high post. But through the course of the game, when the Central guards could penetrate the zone, it became easier to free up Baldwin and Robinson.
"I think we have some pretty good guards, guys that can step up," said Baldwin. "Overall we should be good with us in the post. We'll need shooters to step up."
For Labrie, the production of Tyrell Springer, Chris Prophet, and Lee Turner can't be replaced, but they are finding contributions from several guards that made their way up the ranks of the Golden Eagles program, such as Josh Malone, Ju'an Williams, and Elliott Johnson.
"Some jayvee players got the privilege of playing up and I was one of them," said Malone, a sophomore guard, who was part of an undefeated jayvee team last year. "So I got the experience playing against guys like Tyrell and Chris."
In his first varsity start, Malone added 15 points, including a trio of three-pointers.
"He did better than I thought he would," said Robinson. "He was hot from deep and played good defense."
Defense was the trademark of Central's run last year -- whether it be the second-half run the Golden Eagles put together to take down St. John's of Shrewsbury in the state semifinals, or the seven-point halftime deficit tuned into a 19-point win in the state final against Brockton -- led by the strong defensive pressure of Central's four guards.
Central will continue to see zone defenses trying to limit the strength in the post. Along with that, it will take time for Central to build chemistry with one another. But the defense is something that can stay consistent.
The Golden Eagles forced a lot of turnovers and wore down Agawam with its full-court pressure in the second half. The defensive spark last year was Springer, who played the pressure defense like a safety. Robinson is ready to take on that role this season, as he was able to come away with three steals for easy buckets in Monday night's win.
"That's what I got to be," said Robinson. "I have to be a leader just like he (Springer) was last year."
Central was none for their late game runs in 2011-2012. With a new roster and a long way until March, Central's constant late-game runs will more likely be a late-season run.
"It's going to take time to gel," said Labrie. ""We have to be patient as a coaching staff. We're going to have to go through our lows and learn from our mistakes."
Big night for Agawam's Tyler Desrosiers:
Kamari Robinson, a returning ESPN Boston All-State, poured in 31 points -- good enough for a team-high, but not the game high. That honor went to Agawam's junior forward, Tyler Desrosiers, who ended the night with 42 points.
"I didn't expect to do that," said Desrosiers. "I just tried to do as much as I could for my team."
The 6-foot-1 Desrosiers began the night be covered by the smaller Josh Malone and then later in the first half covered by Robinson.
He used a spin move several time to create space, split the defense, and squeeze into the lane for open shots. He had an impressive body control, double-clutching to avoid the long reach of Baldwin and Robinson.
Central slowed Desrosiers' production in the third quarter, with full-court pressure, as Central's athleticism and speed began to break Agawam down.
"Defensively and rebounding were the biggest part," said the junior forward. "After a while it just wore on us."
Desrosiers came back with a rally in the fourth, including a fast break layup where he went up one-on-one with Baldwin. Coming down the right side, Desrosiers threw his body into Baldwin drawing the foul, while converting on the layup.
Agawam, although not known as a basketball power in Western Mass., starts off the season on a better note than just a loss.
"I think overall we're not going to take it as a complete victory," said Desrosiers. "We'll be fine if we play like this going into the rest of the season."
December, 3, 2011
12/03/11
6:23
PM ET
By
Corey J. Allen
| ESPNBoston.com
FOXBOROUGH, Mass. -- For the second year in a row, the Longmeadow Lancers are the MIAA Western Massachusetts Divison I Super Bowl champions, but for the first time they were able to play at Gillette Stadium.
Overcoming multitudes of hurdles, including numerous injuries with those to starting quarterback Jake Lazarus and running back T.J. Norris and an earlier loss to Springfield Central, 21-20, on Oct. 15, the Lancers' victorious finale under the lights in Foxborough was nothing short of a miracle.
"In my 25 years of coaching, I have never seen anything like this," Longmeadow defensive coordinator Nick St. George said whose . "But we pulled it together."
Earlier this season
, Rotsko discussed the importance of developing a program in which underclassmen develop throughout their time in the system so that when it is their time to carry the torch they are ready to do so. This season, junior Frankie Elder, who started off as a running back, took over at the quarterback position from Norris, who took it over from Lazarus, and lead the Lancers to a 35-7 win over Central in a rematch of last year's title game.
Although an amazing feat for some, Rotsko did not expect anything less from Elder, as this is not the first time he has broken the normal for Longmeadow.
"He's been a starter since his sophomore year," Rotsko said. "Actually he started on defense as a freshman, and I think we've had two freshmen in my 19 years that are staring and he's one of them. He's been around a little bit and has a lot of confidence. Playing a new position, I don't know if he could've done a better job than he did today."
Although Elder filled the big shoes, leading a team that has won 11 of the last 15 Division 1 Super Bowls, it did not coming without reservations.
"To be completely honest, I didn't really want to play quarterback, I'm a running back at heart," Elder said. Despite what his personal preference was, he was able to lead to his to glory, even with some doubt of his own abilities. "I can't really throw the ball, but we all got it done today and it was fantastic, it was awesome."
In the previous game, the Springfield Central Golden Eagles were able to score 21 points on the Lancers but today they only scored one touchdown in the second quarter, a 31-yard pass from Cody Williams to Joshua Malone. The difference in scoring and inability to run the ball (Certral had 50 yards on the ground) was summed up by junior lineman Louie Calabrese.
"We struck the keys, hit them in the chin and didn't let them drive us back like last time," Calabrese said. "Last time... it's probably that they embarrassed us. They embarrassed us last time, we were mad, real mad, but we got back at them though."
"When you get down, you've got to get back up and keep working harder," said Lazarus, who missed the first five games of the season with a broken right thumb and played today with a cast on his left arm for the same reason. "With an opportunity like this, you can't let injuries overcome you."