Boston High School:

Josh Palmer
November, 16, 2013
11/16/13
10:19
PM ET
By
Brendan Hall
| ESPNBoston.com
EVERETT, Mass. -- Cody Demers started this one in the hurt locker. He ended it on cloud nine.
His 24-yard touchdown catch with two minutes to go, against one of the state's most intimidating and highly-regarded defensive backs, will go down forever in Central Catholic folklore as one of the program's all-time defining moments, a 20-14 stunner over juggernaut Everett for the inaugural MIAA Division 1 North title and trip to Gillette Stadium for next month's first-ever true state championship.
"We've been coming out from lifting, to practicing, to two-a-days, everything, we've just been coming out full of heart," said Demers. "Anything can happen, and we wanted to make our stand and come back as a team."
[+] Enlarge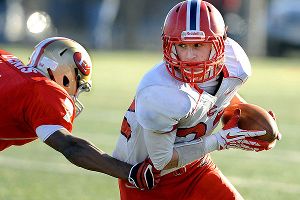 Jim Valente for ESPNBoston.comCody Demers was shaken up early, but made the game-winning touchdown catch late as Central Catholic shocked Everett.
It was how it got to that point, however, that might have been the most impressive. Demers took a beating at wide receiver and kick returner, taking on a series of brutal blows, none more violent than the one laid on him by Crimson Tide linebacker C.J. Parvelus up the middle returning a kickoff in the second quarter. A feeling of weightlessness overcame him for a brief moment as he lay face down in the turf.
"Honestly, it was a shot. I was running the ball, I thought I was gonna get a block, I forget who it was, but he just popped me, and my whole body went flat," Demers explained. "Like I dunno, I can't even explain it. It was an incredible hit. I tried getting up, but I got up too quick and I was dizzy."
Demers was sidelined for five plays, before returning to the field and later helping the Raiders in their winning rally.
It started late in the third quarter, when quarterback Mike Milano pulled off a perfectly-executed veer, put the ball in the belly of University of New Hampshire commit D'Andre Drummond-Mayrie for the dive, then pulling it and racing 60 yards off the edge up the middle of the field, for the touchdown and 14-7 lead with :54 to go in the stanza.
"We knew the whole game, they were crashing [linebacker Josh Palmer] off the edge hard," Milano said. "D'Andre told me before the play, 'You know that kid's gonna crash, so make sure you make the right read'. So I made the right read, pulled it, and then it was one-on-one with [Parvelus]. D'Andre made a great fake, everybody flowed to him, and it was one-on-one."
Everett responded with a 12-play, 70-yard drive that was kept alive with a huge break on third and 12 from the Raiders 37. Quarterback Raheem Wingard's pass to Joe D'Onofrio was initially tipped by Raiders linebacker Jon Parsons, but sailed over his head into D'Onofrio's bread basket for a 20-yard gain. Four plays later, Marquis Holman rumbled in from a yard out, then the Tide converted a swinging gate play on the point after for the 15-14 lead with 7:12 to go.
Central had a chance to go ahead on its next drive, when Milano completed a 56-yard screen pass to Markus Edmunds, giving them first and goal at the five after a tacked-on facemask call. But on the very next play, Palmer stripped the ball from Drummond-Mayrie and fell on it. A quick three-and-out and shanked punt, however, gave the Raiders another fortunate bounce, with starting field position at the Tide 36.
This time, they capitalized.
Three plays into the drive, on third and five, Drummond fumbled, but the ball rolled seven yards forward, and lineman Brad Marggraf pounced on it to keep the drive alive. Two plays later, Demers gave them the lead for good.
Isolated to the left, in a formation newly installed this week, Demers ran a "sluggo" (slant-and-go) route against Everett's Lubern Figaro, bouncing to the outside and leaning into the highly-touted Wisconsin commit as he tried to jam him to the sideline. At the near pylon, Demers came across Figaro's face and slipped underneath his hands, drawing pass interference as he laid out for the diving touchdown catch.
"That's our big home run play," Demers said. "When that play was called, I couldn't wait."
Everett stalled on its potential game-winning drive at midfield, a last-ditch attempt at a pass landing at Lukas Denis for a 20-yard gain as time expired, as the Central side went into a frenzy.
NO RESPECT
Drummond-Mayrie was asked about the most important defensive techniques against the Tide's offense, and like the Milano 60-yard score, he veered off. He didn't bite his tongue when he played the tried and true "no respect" card that has become commonplace in these increasingly-heated playoff games, and let it rip.
"We knew it was going to be a scrappy game, when we met the captains [at midfield, for the coin toss], they were eyeing us down," he said. "They didn't have respect for us. We knew we had to come out here and earn their respect...They didn't think we belonged here."
Asked if there was conversation headed into the game that indicated this sentiment from Everett, Drummond-Mayrie said, "No, it was all in their body language."
"It makes it that much sweeter, that much better. I have so much respect for their program, I have no hard feelings at the end of the game. It was a scrappy game, that's how football is. Great team, with great players, but the better team won today. I took some hits, but we gave some hits too."
TOUGH AS NAILS
By now, Demers' gritty performances have become customary around the Central program.
"That's just the type of kid he is," Raiders head coach Chuck Adamopoulos said. "That's his personality, he's thinks he should be able to beat anyone on a pass. He's just a playmaker, a spunky kid."
Said Drummond-Mayrie, "He's the toughest kid I know. He's small, but he packs a punch. That's why he's the best player on this team. That's why I look up to him so much. He's just a great person."
CENTRAL CATHOLIC 20, EVERETT 14

CC --- 0 - 0 - 14 - 6 --- 20
EV --- 0 - 7 - 0 - 8 --- 14
Second Quarter
E - Marquis Holman 1 run (Matheus Varela kick) 6:06
Third Quarter
C - D'Andre Drummond-Mayrie 1 run (Paul Karamourtopoulos kick) 3:24
C - Mike Milano 60 run (Karamantopoulos kick) :54
Fourth Quarter
E - Holman 1 run (James Hunt run) 7:12
C - Cody Demers 24 pass from Milano (pass failed) 2:10
November, 9, 2013
11/09/13
1:59
AM ET
By
Chris Bradley
| ESPNBoston.com


EVERETT, Mass. -– While making the Division 1 North championship game may be reason to celebrate for many teams, the Everett Crimson Tide (8-1) were all business following their 21-0 victory over an energized Lowell (6-3) squad on Friday night.

The Crimson Tide defense was outstanding, forcing Lowell star quarterback Brian Dolan into three interceptions and a forced fumble. Wisconsin-commit Lubern Figaro had two of those interceptions, while Lukas Denis reeled in a pick and Angel Duarte had a bevy of tackles for the secondary.

"It feels amazing, but we're not done yet," Figaro said. "It's the road to Gillette...We're not done yet, there's still business to be done."

Figaro, who was on Lowell receiver Jack Galvin in the first half before switching to safety in the second, helped keep one of the top receivers in the state to just two catches all night.

"I've been watching film on him all week," Figaro astutely announced. "I had to keep him quiet, cause he's the best player on their team. They put me on him, so I had to stop him."

Everett running back Isiah Davis got the Tide on the board first in the second quarter, running in a 13-yard touchdown to put the finishing touches on a 12-play, 62-yard drive that cut a significant amount of time off the clock. By keeping Lowell off the field and the ball out of Dolan's hands when they were on the field, Everett was able to control set the tempo for the game very early on.

"We decided early on that we were going to put heat on Dolan, we weren't going to sit back. We saw what he did to St. John's Prep -- he picked them apart," Everett coach John DiBiaso said. "We gambled and we put some heat on and we got to him quite a few times. I thought our defensive line and linebackers did a good job. If you're gonna do that, your DB's have to play well, and they did."

The Red Raiders were able to accomplish very little offensively, as 68 of Ngaiiva Mason's 113 yards rushing came on one play early in the first quarter.

"The defense effort was strong the whole game, we came out and were shooting ourselves in the foot on offense. I thought our defense held us in the game during the first half," DiBiaso said.

Davis took a helmet to the knee on the last play of the first half, suffering a bone bruise that would leave him out the rest of the game. The Everett crowd and sideline was silent after Davis hobbled off the field, but the Crimson Tide didn't appear flustered at all following the break.

"Luckily we punched one in and it was 7-0, but it was the defense that kept us in it early, and set the tone the entire game," DiBiaso said. "When Isaiah went down, we didn't miss a beat. We moved Lubern back to safety and he had two picks, Lukas had a pick there, but it was more of the defense."

Josh Palmer recovered Dolan's fumble midway through the second half, setting up the Crimson Tide with prime field position at the Lowell 17. Marquis Holman got the ball on three straight carries, and scored on the third, extending the Tide lead to 14-0.

"I thought the key to the entire offense was Holman, he ran his fanny off. He softened them up the entire game, he set the tone for the outside, he set up all the outside plays. We pounded them inside, and the offensive line, they deserve the credit," DiBiaso said.

The offensive line, with just one senior, stands as the least experience position of the squad, but DiBiaso is hoping that the standout running performance against Lowell will carry over to Central Catholic next week.

"I'm hoping we can build on this. We're getting better and getting a lot of maturity out of some young kids—hopefully we can step it up one more time," DiBiaso said. "We'll be playing a very good team in Central who won [35-0] tonight. We have another challenge."

The younger players sure won't have a problem with being held accountable. Figaro, like his coach, has high expectations for the defense.

"We're trying to be the best defensive team in the state. Always stepping up and doing what we have to do on defense," Figaro said, "I had to show out for my team. It's the playoffs, and big time players make big time plays."


September, 28, 2013
9/28/13
11:41
PM ET


DANVERS, Mass. – They say if you give a man an inch, he'll take a mile.

If you give John DiBiaso a bye week, well, that doesn't bode well for the opposing football team.

Following a lackluster 20-8 loss to Xaverian at home two weekends ago, No. 4 Everett got back to basics in its one-week reprieve. The Crimson Tide's week spent tidying up their messy performance in the former week showed in Saturday's matinee duel against another Catholic Conference power in No. 3 St. John's Prep.

First order of business? Shutting down, or at least, slowing down, the state's most feared rusher in Johnny Thomas.

Second? Getting in a time machine and going back to the future with a refigured offense, shunning the spread, which found success in recent years, in favor of a vintage Everett staple — the flexbone.

It all was there in the Crimson Tide's emphatic 35-14 win.

So did their head coach spend the week off pouring over old game plans and film, trying to unearth old gems?

"It wouldn't say it was homework so much as it was a lot of practice," DiBiaso said. "We practiced very hard."

DiBiaso was less than amused with his team's level of execution following the loss to Xaverian, so one can imagine the vigorous tenor of the Crimson Tide's practices in the week since we saw them last.

Also, Everett (2-1) received an addition shot in the arm in the form of a new addition – senior running back/linebacker Isaiah Davis.

Davis, who previously suited up for Lynn English, was granted a waiver last week allowing the 5-foot-9, 180-pounder to see his first game action of the season with the Crimson Tide. He had an immediate impact, first scoring on a 15-yard run for a 7-0 first-quarter lead. Then, after Everett recovered a fumble on the ensuing kickoff, Davis ran for his second score from 2 yards out.

"I can't be more happy for him, he's been waiting patiently for his opportunity," DiBiaso said. "He got it and he came up very big. He played fantastic and I think he put himself on the map among the elite players in the state."

The Crimson Tide amassed a three-score lead by early in the second quarter, after Joe D'Onofrio's 2-yard touchdown run.

But Prep (2-2) countered, making it a two-possession again before the half was out.

Running their two-minute drill, the Eagles drove 74 yards in two minutes even to set up Mike Geaslen's 6-yard touchdown pass to Owen Rockett on the final play of the half. The game clock had nearly expired before Prep got the snap off, with Geaslen lofting a fade over the head of the defense on a schoolyard-ball type play.

The Eagles whittled the lead down to a touchdown in the fourth, with backup running back Cody Harwood running for a 4-yard touchdown with 9:32 to play.

Harwood entered the game after Thomas, a preseason All-Stater and early season Mr. Football favorite, left the game to a right knee injury.

But Everett would not be denied. Following Harwood's score, the Crimson Tide chewed up 64 yards on three plays with quarterback Raheem Wingard selling the option and zooming up the left sideline 25 yards for a 28-14 lead with less than eight minutes remaining.

The Eagles' final two drives ended in a Crimson Tide fumble recovery and turnover downs, respectively, before D'Onofrio iced it with his second rushing touchdown of the game.

"We just can't spot them points, I don't care how good you are – not against them," Prep head coach Jim O'Leary said. "It was very similar to the [Bridgewater-Raynham] game. The second half, we made mistakes and the ball didn't bounce our way.

"There was no magic involved. They played well, they had a bye week and they coached them up."

Greater cause for concern: Thomas, a Maryland commit, left the game after a late third-quarter carry.

While attempting to cut to the sideline, the senior was met by duo of Everett tacklers and driven to the turf. After being attended to by trainers, Thomas walked off the field under his own power, but with staff members flanking him under each arm. He did not return.

Postgame, O'Leary said Thomas was examined by the doctor on hand, but didn't want to speculate to the injury's long-term severity, pending an MRI.

"We're not going to play with 10 guys," O'Leary added. "We're going to play with 11 next week and, hopefully, we get him back."

The concern over Thomas' injury wasn't exclusive to Prep's sideline.

"He's a great back," DiBiaso said. "He got a lot of good yards and our prayers are with him. We hope it's nothing serious."

Grounding the Eagles: As was after Thomas' injury, great attention was paid to the Prep back, who accounted for 86 yards on 17 carries in the first half alone, in the lead up to Saturday's game.

With two weeks to game plan against the Eagles' ground game, DiBiaso again mixed things up.

Josh Palmer, a 5-foot-9, 205-pound defensive tackle, was moved back to linebacker, joining an already stout corps. The move allowed the Crimson Tide to play a 3-5 base, at times stacking all 11 players in the box, in hopes of neutralizing the state's top running talent.

"We recognize [Thomas is] the best player in the state and we were going to try to mold our defense to try to force them into doing other things to beat us," DiBiaso said. "We put Josh [Palmer] back at linebacker with Angel [Duarte], C.J. [Parvelus] and Lubern [Figaro] and Isaiah [Davis] shadowing [Thomas] the whole game.

Of course, a plan is just that. Without players versatile enough to plug into the system, it falls flat.

"He's just an athlete, he can play anywhere," Duarte said of Palmer joining the ranks of the LBs. "He's got the speed, he's big. We put him out there anywhere and he did a great job for us."

The Times They Are A-Changin': After watching his son, Jonathan, break multiple state passing records during his career with the Crimson Tide, Everett's offensive groupings have steadily morphed in the last two years.

It's not anything new, but Saturday might have marked an unofficial return to the good ole days. DiBiaso reflected on his new-look, old-feel offense.

"You're a stupid coach if you do something that your personnel isn't equipped to execute. We've run the spread successfully for about four years, but our personnel is more fit for this.

"We have three good running backs and an option-style quarterback, so shame on me for not doing it earlier."

With Davis, D'Onofrio and fullback Marquis Holman holding it down in the backfield, the Crimson Tide has tried to strike balance on offense.

Wingard made two big connections to Lukas Denis (2 passes defended on defense, as well), helping to set up two touchdown drives.

"He made two good catches on play-action passes, and if you're going to run that offense, you have to hit on play-actions," DiBiaso said of Denis.

Of course, there's still room for improvement though: "I think we did a decent job. We've only been running it for two weeks, so hopefully we'll get even better as weeks go on."
September, 7, 2013
9/07/13
1:36
AM ET
By
Brendan Hall
| ESPNBoston.com
EVERETT, Mass. -- It wasn't pretty, but No. 2 Everett avoided a big scare from No. 6 Springfield Central, rallying in the second half for a 31-23 win.

Making it all happen in the middle of the field was senior defensive tackle Josh Palmer. The 5-foot-10 speed rusher wreaked havoc all night on the interior, totaling two sacks and a forced fumble.

Palmer spoke with ESPN Boston High Schools editor Brendan Hall following the game:

(Video by Greg Story)


September, 7, 2013
9/07/13
12:52
AM ET
By
John McGuirk
| ESPNBoston.com


EVERETT, Mass. -- Springfield Central understands the realization that teams from Western Mass. do not get the same kind of respect as those who hail from the eastern half of the Commonwealth. Afterall, the only way to gain respect is to earn it.
Friday night it appeared as though the Golden Eagles took a positive step in that direction.

Although Central came out on the short end of a hardfought 31-23 decision to the Crimson Tide, Everett coaches and players alike came away with the understanding that the Golden Eagles can now sit at the table among the state's elite programs.

"They're a great team," said defensive tackle Josh Palmer, who flourished on the defensive side for the Crimson Tide all night long and forced a key fumble midway through the third quarter. "They're very humble and don't talk trash. I knew I needed to make big plays tonight because I really wanted to win this. A lot of people thought we would lose this so I wanted to prove everyone wrong."

Echoing Palmer's sentiments, there were many who did feel this might be a rebuilding year for Everett (1-0). This off-season, the Crimson Tide needed to replace their entire offensive line and fill the void left by some primary offensive weapons who graduated.

But when you are a program as tradition-rich as Everett is, winners of three straight Eastern Mass. Super Bowls, you don't rebuild, you reload. A daunted running attack spurred the Crimson Tide in this one. Senior back Joe D'Onofrio led a strong ground assault, rushing for 143 yards on 16 carries and 1 TD. When D'Onofrio wasn't summond to push the ball upfield, Everett looked to junior Jonathan Freitas, who bullied his was for 89 tough yards.

"I thought our backs ran very well, especially in the second half," Everett coach John DiBiaso said. "We know Springfield Central is a very good team and we are very lucky to come out with the result that we did. I thought our defense as a whole did a good job. It was sort of a bend but don't break defense tonight. Williams is a great player for them you we probably aren't going to run into a much-better quarterback in high school other than him."

While the Crimson Tide did most of their damage on the ground, the Golden Eagles did theirs through the air. Highly-touted senior quarterback Cody Williams looked in mid-season form, riddling the Crimson Tide defense having passed for 304 yards on 21-of-33 attempts and 3 touchdowns. Williams, engineering the spread offense, also did it with his feet, rushing for 72 yards on 12 carries.

"We know Everett is a great team but I feel we came out and showed them what Western Mass. has," said Williams, who is committed to Monmouth University. "We came out and gave it all we got."

Last year, Central lost to Everett in its season opener and went on to win 11 straight, culminating in a Division 1 Western Mass. Super Bowl victory. Williams believes it could be déjà vu all over again this year.

"We're not losing anymore this year," he said. "We still plan to go to the (Division 2) state championship and play it one game at a time and one practice at a time."



After a scoreless opening quarter, the Crimson Tide got on the board first at 10:23 of the second frame as C.J. Parvelus hauled in a 5 yard scoring pass from quarterback Raheem Wingard. Five minutes later, the Golden Eagle answered with Williams connecting with Tysean Williams in the end zone to knot the game at 7-7.

With under a minute to go before halftime, Everett re-took the lead at 14-7 thanks to D'Onofrio's 19 yard scamper. However, Central made a final second push to set up Ju'an Williams' 36 yard field goal to make it a four point game.

On their first possession of the second half, the Golden Eagles grabbed their first lead. Marching 94 yards and facing a third down at the Everett 20 yard line, the Everett defense forgot to cover receiver Malik Johnson, who was left wide open for a 20 yard scoring catch putting Central ahead 17-14 with 7:21 left to go in the third.

This tilt had its share of miscues by both clubs. Ill-advised penalties, wrong substitution packages and forgetting plays were evident throughout. One of the biggest mistakes of the evening came with 3:31 of the third. With the Golden Eagles in the shadow of their own goal post, a bad snap went out of the back of the end zone resulting in a safety for Everett, who now trailed by a point.

"We had a lot of guys where this was their first game against a strong team in Everett," Central coach Valdamar Brower said. "Hopefully we got some things out of our system tonight. Now these kids have some experience under their best and who better to play again and have that experience then Everett. There were still a lot of good things to take away from this game. We're going to grow from this. We have a lot of confidence but we need to stay humble and hungry."

Getting the ball back following the safety, the Crimson Tide needed just two plays to move back in front. Wingard's 60 yard pitch and catch to Michael Lopes followed by Freitas' conversion run had Everett now ahead 24-17. The Crimson Tide managed to extend the advantage to 31-17 early in the fourth on a Marquis Holman 8 yard carry.

But Central (0-1) would not go quietly. Following the touchdown, Williams completed four passes as part of a 76 yard drive with the final completion being a 31 yard scoring pass to Johnson with 5:37 to go.

But that would be the last time Central would touch the ball. Everett was able to convert three key first downs to run out the clock.


August, 24, 2013
8/24/13
3:06
PM ET
By
Brendan Hall
| ESPNBoston.com
EVERETT, Mass. -- This morning at Everett Memorial Stadium, the No. 2 Everett Crimson Tide hosted Lynn English in their annual first-weekend preseason scrimmage. In two series of varsity on varsity, Everett's offense scored four times, while the Bulldogs failed to reach the end zone.
This was our first look in the 2013 preseason at Everett, which is undergoing some wholesale changes in personnel after going 28-1 with three Super Bowl championships the last three seasons, as well as a good measure on several promising stars for English. Below are some notes and observations:
Radio Raheem:
If there was any dash of speculation before about who was going to be taking snaps under center, incumbent senior Raheem Wingard made it clear who was in charge. The 5-foot-8, 170-pound Wingard is built low to the ground and gets overlooked for his height, but he has a better arm than given credit for, and is excellent at making the proper read on backside defensive ends.
After graduating one of the program's most talented classes ever, led by the likes of Jakarrie Washington (Wisconsin), John Montelus (Notre Dame) and Jalen Felix (Eastern Arizona JC), Wingard takes the reigns with a chip on his shoulder. Everett was down to its fourth-string quarterback by opening night of the 2012 campaign, but Wingard moved over from running back to QB full-time midway through the year, and gave the Tide another running threat out of the backfield.
"He's stepping it up," Tide coach John DiBiaso said. "I think Raheem wants to prove it wasn't just Jakarrie [Washington], Jalen Felix, Kenny Calaj, Gilly De Souza, you know, that he had a hand in it a little bit. A lot of these kids have been the same way."
Said Wingard, "I feel like I'm one of the quarterbacks that gets overlooked a lot because I'm smaller, but that just gives me a little more motivation, and it makes me push my team that much farther, that much harder."
[+] Enlarge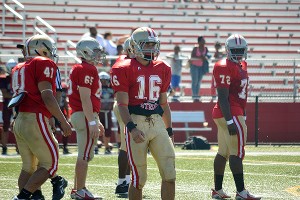 Brendan Hall/ESPNBostonPope John XXIII transfer Joe D'Onofrio looked sharp Saturday, and should factor significantly into the Everett offense this season.
Everett primarily operated out of two-by-two double slot formations, pairing Lukas Denis and Lubern Figaro on one side opposite newcomers Mike Lopes and Joe D'Onofrio. That opened up the field for a series of slippery zone read plays up the middle, which Wingard usually orchestrated correctly.
D'Onofrio off and running:
The prettiest play of the afternoon belonged to D'Onofrio, who connected with Wingard for a 55-yard touchdown pass towards the end of the Tide's first of two offensive series. Split wide just outside the numbers, D'Onofrio gained a step on his defender cutting diagonally on a post route, slipped behind the safety coming over the top, and let the ball softly drop over his shoulder into his outstretch hands, sprinting the final 20 yards to paydirt.
The 5-foot-11, 182-pound D'Onofrio was the Catholic Central Small MVP last year at cross-town Pope John XXIII after rushing for 1,356 yards and 16 touchdowns, his second straight 1,000-yard rushing season. But school has since gotten rid of its football program, leading D'Onofrio back to Everett, where he dabbled as a freshman.
If this morning is any indication, D'Onofrio is making a seamless fit into the Everett passing game. His slender frame blended with top-end speed and crisp routes draws comparisons to former Everett great Matt Costello, the 2010 ESPN Boston Mr. Football now playing for Princeton University, with the ability to stretch a defense vertically and take the top off. They're slightly different players, though -- D'Onofrio is a bit more physical, what with playing outside linebacker on defense.
"He's a real good player," DiBiaso said. "I've known him since he was five years old, he grew up in [Everett's] Pop Warner and everything. He did the couple years at Pope John, and now he's back with us. We're happy to have him, he's a good addition to the program. He's a good athlete."
Green in the trenches:
Last season, the Tide had one of the nation's heaviest lines, averaging 324 pounds across, led by the 6-foot-5, 330-pound Montelus. This year's line is smaller, but still pretty impressive by high school standards at nearly 286 pounds across. Senior center Zach Pierre (5-11, 284) is the lone returning starter, and the Tide are breaking in new guards in juniors Eric Trickett (6-1, 260) and Muhammad Raouie (6-0, 290).
Two of the most intriguing newbies may be at the bookends. Junior Guerschwon Jean-Louis is in his first year of ever playing organized football, but at 6-foot-5 and nearly 350 pounds he held his own at the left tackle position. Sophomore right tackle J.J. Collimon is almost athletic enough to be a tight end, and may project the highest at 6-foot-3 and 245 pounds.
Today was a good matchup for the young but promising Everett line, which had to deal with ESPN Boston Preseason All-State selection Chris Tinkham on the interior. The 6-foot-3, 280-pound senior has attracted Division 1 interest and is an impressive bull-rusher on the interior, but everywhere else the Tide were able to take control.
Offensively, the Tide moved the ball consistenly downfield, with linemen consistently getting into the second level. In one of the more impressive plays of the varsity action, Raouie charged up the left sideline on a screen and sealed off an English defender 15 yards downfield.
Defensively, Tinkham high-walled ends from the left tackle spot, but from the right side the Tide registered two sacks in the second English offensive series, including a nice speed rush from three-technique tackle Sidney Brimas, while 180-pound tackle Josh Palmer caused disruption shooting the inside gaps.
Harris-Javier battle heats up:
One of the more intriguing camp battles is at English, where Lucas Harris is the incumbent but has been getting a good run from junior transfer Jordan Javier. At Haverhill High last year as a sophomore, the 6-foot-4 Javier excelled at wide receiver, but over the summer he has gotten plenty of reps at quarterback -- a move that's merited, as he makes difficult throws look effortless.
Javier, laboring through a tweaked meniscus from earlier in the week, took most of his snaps at quarterback, and took a few lumps early in the first series. On one play, he scrambled down the right sideline only to be stopped cold by Everett's C.J. Parvelus 10 yards down field. Two plays later, Javier threaded a laser deep down the left slot, only to watch highly-touted safety Lubern Figaro stip the ball from Harris' grip at the last second.
Both Harris and Javier made some great plays on the run, hitting receivers with tight balls just steps from the sidelines on deep comeback routes. And when Javier did line up at receiver for a few plays, he made the most of it, including an impressive catch from Harris on a square-in route from the left.
So far, Javier has shown promise, but Harris has done nothing to suggest he shouldn't be the quarterback. Receiver appears to be Javier's more natural position, based on history, so perhaps there is a compromise.
It will be worth monitoring Javier's left knee, which he re-aggravated late in the varsity series, having to be carried off by teammates and barely putting weight on his left leg. It's considered nothing serious, another tweak of the meniscus, according to English coaches.
Miscellaneous:
One name to keep an eye on down the line: Jordan McAfee. The 6-foot-3 freshman is the Tide's third-string quarterback behind Wingard and Pat Long, but demonstrates remarkable maturity for a 14-year-old kid and made two terrific throws on comeback routes in the morning's final series. ... When the Tide got inside the red zone, they went to their familiar "Double Wing" package, experimenting with Raouie at fullback. Twice they scored on five-yard power sweeps, one in each of the two varsity series, from Denis and D'Onofrio. ... The linebacking corps appears to be set for now, with Angel Duarte at middle linebacker and Parvelus and D'Onofrio playing outside. ... In the secondary, keep an eye on junior Richard Jean, who made a good break on a deep pass late in the second series, deflecting a would-be touchdown at the sideline from about 10 yards out. ... DiBiaso on the roles expected of Figaro and Denis: "They've got to be leaders. We don't have that many experienced [players], so they've got to be leaders on the team. Lubern and [Lukas], those are the two bigger names out there."
December, 1, 2012
12/01/12
7:54
PM ET
By
Marc Thaler
| ESPNBoston.com


FOXBOROUGH, Mass. -- For a brief moment late in regulation, Everett's quest to win a third straight Super Bowl was in serious jeopardy.

"Honestly, this one's been more stressful than any of the previous 10," Everett head coach John DiBiaso said Saturday after his No. 2 Crimson Tide clinched the Eastern Mass. Division 1A title at frigid Gillette Stadium, 20-19, against No. 1 Barnstable. "I am emotionally, physically, mentally drained."

Factors that caused DiBiaso to admit exhaustion included five turnovers committed by Everett (11-1), a fortuitous missed fourth-quarter extra point that kept Barnstable from forcing a 20-all, and Kenny Calaj's near fumble while the three-peat champs were killing the clock.

"I knew I was down because I felt my elbow hit the ground," said Calaj, who intercepted standout quarterback Nick Peabody on Barnstable's previous, and final, offensive possession. "That's when it popped out."

In real time, it appeared Calaj fumbled with 79 seconds to play. Kevin Hardy pounced on the football. Barnstable (11-1) prepared to take over roughly 30 yards from paydirt – and perfection.

But the officials – without the benefit of replay – quickly convened and ruled Calaj down by contact. The stadium scoreboard showed the replay, and it confirmed Calaj's interpretation of the play.

"It was tough to be on the end of it that we were," Barnstable head coach Chris Whidden said of the call that saved the Tide from a sixth turnover.

Barnstable – which vaulted to No. 1 with its 13-7 double overtime upset of Everett on Sept. 28 – wasn't without its chances, however. The Red Raiders capitalized on just one of the turnovers they forced. Peabody fired a 9-yard first-quarter touchdown to Tedaro France (3 receptions, 93 yards, 3 TD) that pulled the Red Raiders within 7-6.

After France caught Peabody's perfect back-shoulder throw, the Tide caught their first break. A bad point-after snap led to a failed run.

Jakarrie Washington (9 carries, 121 yards, 2 TD) reclaimed momentum for Everett early in the second. Showing excellent vision, he saw a gap along the right edge, cut back before the hole closed, and raced 53 yards down the sideline.

Washington's 6-yard run inside the right pylon pushed Everett's lead to two touchdowns late in the third.

Barnstable's feverish comeback started with 15 seconds left in the frame – and just 44 seconds after Gilly De Souza split the uprights for a 20-6 lead.

Peabody hit France on a sideline route, and the receiver did the rest. He stayed upright after tangling feet with his press-coverage defender, made the catch, then beat De Souza to the goal line on the strength of a sensational maneuver at the 35.

Everett's fourth-quarter false start on fourth-and-1 led to a punt. Peabody (8-for-28, 205 yards, 3 TD, 2 INT) orchestrated a three-play drive that led to points. The QB eluded multiple defenders, buying time for France to slip past the secondary and make a wide-open 30-yard TD grab with 7:26 to go.

Dereck Pacheco's PAT attempt had the height. But it was off-target.

"It's never one kid's fault. It's never the offense, defense or special teams. You win games like this as a team, you lose games like this as a team. Our kids are as strong as they've ever been."

The Tide? They're just a little bit stronger.

"We earned it. We worked hard all season long, worked hard for the past three years," Washington said. "We just proved that we're the best."

EVERETT'S 'D' EARNS AN 'A'
Josh Palmer and Calaj each intercepted Barnstable's gunslinger signal-caller, and both picks were critical in the outcome.

Palmer's INT turned into a 30-yard TD return on the game's seventh play from scrimmage. Calaj ended Barnstable's last-ditch effort.

Those plays were set up by teammates who pressured Peabody without being touched once the ball was snapped.

C.J. Parvelus set up the pick-six with a well-timed blitz. Everett's linebacker rushed untouched over center and forced a quick release by Peabody. The soft, 5-yard toss was intended for France, but Palmer jumped the rout.

Defensive end Jeff Soulouque exploded off the right edge in the final minutes. Peabody felt the pressure and rolled out of the pocket.

"I saw him (off the snap) and said, 'I have to get him. I have to at least make him feel uncomfortable because he is a great quarterback,'" Soulouque said. "I ran him down, he felt uncomfortable and threw it for an interception."

MOVING THE CHAINS
Overshadowed by the five turnovers was Everett's ability to extend drives. Fueled by Washington's 121-yard performance, the Tide converted third downs at a 40-percent clip (4 of 10).

By contrast, Barnstable was 1-for-12 on third down (8 percent).

"I thought we moved the ball on offense well. We ran the ball real well," said DiBiaso, who called the numbers of Jalen Felix (12 carries, 40 yards), quarterback Raheem Wingard (11-10), Joey White (7-25) and Calaj (10-31). "We just made some stupid, stupid mistakes."



No. 2 Everett 20, No. 1 Barnstable 19
Everett (11-1) 7-6-7-0 – 20
Barnstable (11-1) 6-0-7-6 – 19

First quarter
E – Josh Palmer 30 INT return (Gilly DeSouza kick), 7:32
B – Tedaro France 9 pass from Nick Peabody (run failed), 2:42

Second quarter
E – Jakarrie Washington 53 run (kick failed), 9:31

Third quarter
E – Washington 6 run (DeSouza kick), 1:09
B – France 76 pass from Peabody (Dereck Pacheco), :15

Fourth quarter
B – France 30 pass from Peabody (kick failed), 7:26