Boston High School:

Julia Sloan-Cullen
March, 2, 2011
3/02/11
11:53
PM ET
By
Tom Layman
| ESPNBoston.com



NEWTON, Mass. -- Newton South had 10 days to sit and stew on its heartbreaking overtime loss to Central Catholic in the last game of the regular season, which wiped away the Lions' perfect record.

But the host No. 3 Lions (20-1) channeled those emotions into a blistering first half from the perimeter to drop No. 19 Brockton, 67-53, in the first round of the Division 1 South tournament on Wednesday night.

Sophie Bikofsky scored 20 of her game-high 23 points in the first half, while the Lions shot an efficient 57 percent (12-of-21) from behind the three-point line in the first 16 minutes of the game. They sizzled in the second half, going 2 for 13 from deep, but still finished 41 percent on three's.

"We had a pretty good shooting performance behind the 3 in the first half," said Bikofsky, who finished 5-of-11 from deep. "I think everybody did. We were taught to look for the shooter that is hot, and today it happened to be me in the first half."

Bikofsky helped the Lions build a 16-7 lead in the first four minutes of the game with 11 points in the run. The Lions were able to get shooters in the correct spots and seemed to never have a hand in their face when launching from deep.

As a team, the Lions shot 8-of-11 from beyond the arc and built a 30-14 lead at the end of the first quarter. Bikofsky was perfect from the left corner, a spot she said hasn't really been her sweet spot.

"She ran to the right spots," Lions head coach Sam Doner said. "She actually moved without the ball really well."

Kayla Burton, Kendall Burton and Semira Haghayeghi all added three's in the second quarter, and Bifosky's traditional three-point play capped off the half and an 18-point lead.

But halftime could have been the worse thing that happened to the Lions. The home team came out of the break ice cold in the third quarter, only scoring five points, while the Boxers (11-11) slowly started clawing back into the game.

The Boxers held the Lions scoreless over for the last four minutes of the quarter and went on a 7-0 run in the process. Brockton was able to hold the Lions without a 3-pointer in the quarter by closing out on shooters, and snatching offensive rebounds against a frontcourt that is missing starting center Julia Sloan-Cullen.

"We were playing for pride at that point," Boxers head coach Eric DiBiase said.

Christina McDuffy's offensive rebound and put back got the Boxers to within nine at the end of the third quarter, but Kayla Burton scored nine straight points for the Lions to push the lead back to 16 with 5:04 left in the game.

Doner spent a little extra time in the locker room trying to grab the attention of a talented Lions squad that is still learning to play without size in the middle. The head noted that sometime overconfidence can plague his team at times.

"(Brockton) started making their shots and we started walking," said Doner. "I didn't do a good job of getting them back and making them feel better about themselves and getting their confidence back."

Brockton was led by Nephie Marsh's 15 points, while Alicia Rosario canned four 3-pointers as part of a 14-point effort off the bench.
January, 24, 2011
1/24/11
10:55
PM ET
By
Matt Stout
| ESPNBoston.com
NEWTON, Mass. -- For more than 20 minutes, the door to Newton South's locker room stay closed. Sticking to his promise to reporters, Sam Doner didn't scream following Monday's game, he didn't yell.
The coach certainly enjoyed the result -- a 55-41 victory over Acton-Boxborough in a showdown of top-five teams in ESPN Boston's MIAA girls basketball poll. But he'll happily poke and prod the process.
"They started having too much fun," Doner said of his players.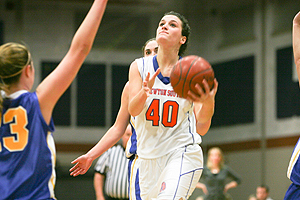 Buddy Leipzig for ESPNBoston.comSophie Bikofsky (13 points, eight rebounds) nailed three 3-pointers to give Newton South a comfortable lead over A-B.
No, Doner isn't a stick in the mud. Toward the end of the fourth quarter Monday, he even joked while Kendall Burton was at the foul line, tossing a set of keys in the air in a light moment with his star guard. But he drove into his players the importance of playing not 27 minutes, not 28, not even "31:59," he said.
"It's a 32-minute game," Doner said.
They got it. And it's a telling reason why the No. 3 Lions are unbeaten and enjoying an early advantage in Dual County League play.
"We have to be more serious on the court," senior Chloe Rothman said. "We had an 18-point lead at one time, and we should have turned it into a …"
Rothman paused slightly, before -- unprompted -- saying in unison with Sophie Bikofsky "a 25-point lead."
"Jinx," Bikofsky quipped.
"But it went down to 11," Rothman said. "Play all 32 minutes."
Mind you, Newton South (11-0) never trailed and was largely never threatened thanks to birthday girl Julia Sloan-Cullen (15 points, nine rebounds) and Bikofsky (13 points, eight rebounds). But as much fun as winning is, Doner is demanding more with so much promise awaiting his Lions.
They lived up to a great deal of it against the Colonials (9-1). When their shots weren't falling from the outside, they looked inside to Sloan-Cullen. When Bikofsky (three 3-pointers) found her stroke, Newton South was off and running, pushing its lead to 10 by halftime, 12 by the end of the third quarter and a game-high 49-31 with 4:28 to play.
With the Colonials playing primarily a zone defense, Newton South found the holes when it needed to, mostly behind Sloan-Cullen. But Doner lamented not giving her the ball more in the second half, which he put on himself.
"I think when it doesn't work for everybody else on the team, it's time for somebody else to step up," Sloan-Cullen said. "It just so happened tonight my offense was there."
Meanwhile, the Colonials struggled to find any rhythm on their end. Star junior Elizabeth Belanger scored 11 points, but six of those came in garbage time, and A-B went long stretches without any offense.
It went the final two minutes of the second, 3:12 of the third and 2:09 of the fourth without a field goal, killing any chance of carrying momentum through stoppages.
"We knew to be successful you have to go at them, and we spent a lot of time where they got us back on our heels offensively," A-B coach Kim Landry said. "They're going to make shots. They're good players and they shoot the ball well, but I thought we could have been more aggressively offensively."
The reality is Newton South didn't give it much of a chance. Any time A-B came close, the Lions responded, putting together a 13-2 run after A-B tied it in the first quarter, and an 11-2 spurt when it sliced the deficit to single digits in the third. Playing physical interior defense, Newton South forced the Colonials into 20 turnovers, including nine in the first-quarter alone.
Defense certainly isn't a problem, and balance -- Rothman and Burton each added 10 points -- isn't either.
"I think we can do something," Doner said, "but it's up to their mindset, if they're really matured and understanding that every game is a big game."
And if they don't have too much fun.
"Not too much," Doner said.
Then, he laughed.