Boston High School:

Justin Montgomery
September, 1, 2013
9/01/13
5:00
PM ET
Stop if you've read this script before.

A man named Flutie, under center, tries to will his team to victory during the final minute in an improbable circumstance. It was all there in Natick's Division 2A Super Bowl versus Beverly at Gillette Stadium last year – that is, except for the fairytale ending.

After the Redhawks lost a classic, 28-21, with Beverly capping its first-ever perfect season after two Natick Hail Mary prayers went unanswered, Troy Flutie couldn't bring himself to think about football for about a week. Then, he picked up the game film. By his count, he watched it five times from beginning to end, picking over the finer points, noting improvements to make for his senior year.

"It's tough to look back at this play here, or that play there that might have turned the game out differently, but it is what it is," the Boston College commit said. "You can only get better from it, that's all you can do."

Flutie realizes the path to get back to Gillette has become more difficult. Now in a loaded Division 2 South field in the MIAA's new playoff scheme, the No. 5 Redhawks will have to muster another season full of magic to reach a championship game.

Again, Natick will rely upon its spread offense, operated by Flutie, to get them there. Aside from the ESPN Boston All-State quarterback, who threw for 3,135 yards and 35 touchdowns against eight interceptions last season, the Redhawks have another All-Stater in junior wide receiver Brian Dunlap. While Dunlap's been held out of Natick's most recent preseason scrimmages with a lower leg injury, there's plenty of depth behind him. Flutie reports that senior Alex Hilger, who was held out of most of 2012 due to injury, has looked great early. He also expects big things from returnees Andrew Boynton and Justin Robinson.

And then, of course, there's the X-factor to the Natick offense: Flutie's feet. Adept at making throws on the run, Troy, like his uncle before him, almost seems more at ease when play breaks down around him.

"Coach Mort [Mark Mortarelli] knows how I play the game and he's 100 percent behind me," Flutie said of his penchant for scrambling out of the pocket. "That means a lot to me. Usually, it's our offensive coordinator, Matt Brenneman, or my dad [Darren], who's yelling at me to stay in the pocket."

Flutie sees room for improvement in that aspect. It's among the takeaways he gleaned from watching last year's Super Bowl defeat.

While he's most likely to follow his father's path as a wide receiver at BC, his focus is making himself the best quarterback he can be. He wants to become a more patient passer, one who feels the rush and stands his ground.

"I have to work on that myself to become a better quarterback," he added.

But no matter which Flutie it concerns, Plan B is never a bad option.

NATICK AT A GLANCE
Coach: Mark Mortarelli (Fourth season, 25-10)
2012: 11-2, lost in Eastern Mass. Division 2A Super Bowl
Returning starters: 10 (six offensive, four defensive)
Key Returnees: Troy Flutie, Sr. QB; Brian Dunlap, Jr. WR; Alex Hilger, Sr. WR; Mike Abbruzzese, Sr. FS/WR; Justin Robinson, Sr. WR; Gus Black, Sr. RB/OLB; T.J. Collins Jr. LB.
Strengths: Returning skill players.
Weaknesses: Experience on offensive/defensive line and running back.

Outlook: While the Redhawks' offense shouldn't tail off much from 2012, the key position battle worth looking at is running back, where all-leaguer Nick Lee graduated. "I don't think we could ever find another Nick Lee," Flutie said. "He was like another quarterback back there for me. He'd help me a lot back there, checking out of plays. Now, I'm back there by myself." A Kevin Faulk-kind of presence for Natick's offense, Flutie lauded Lee's blitz pick-up ability in the backfield as a key to his success. Look for sophomore Chad Kidd to pick up carries at running back in addition to senior two-way player Gus Black.

Natick's secondary is deep and talented, with Mike Abbruzzese ready to break out after a solid junior year. Also, the linebacking corps might be a little light in game experience, but possesses play-making potential with a cast of Black, T.J. Collins, Justin Montgomery and Trenton Wright.
August, 29, 2013
8/29/13
3:28
AM ET
NATICK, Mass. – ESPN Boston preseason No. 5 Natick conducted a tri-scrimmage with Braintree and North Attleborough on Wednesday.

Here are some thoughts and observations from the three sides:

The Missing: The proceedings were in some ways marked by who wasn't there, with each of the sides suiting up without some of their top players. Natick saw top receiver Brian Dunlap held out after he'd rolled an ankle during Saturday's scrimmage. The injury bug also bit Braintree Saturday against Stoughton, when starting tight end and defensive end Derek Anson suffered a high ankle sprain on his final rep. Meanwhile, North Attleborough wasn't without its own issues, as quarterback/half back Jack Blasť was limited by a hip ailment.

Full tilt: Even in Dunlap's absence, the Redhawks looked to be near midseason form in the passing game. Troy Flutie dazzled with his trademark elusiveness in the pocket, scrambling around the backfield to make several first-down completions against Braintree's top defensive unit. The offensive highlight of the afternoon came on Flutie's 20-yard connection to Andrew Boynton, who made an over-the-shoulder catch on a perfect fade thrown to back right pylon in tight coverage.

Filling holes: Boynton's score wasn't his only contribution. He also lined up in the backfield in some two-back looks shown by the Redhawks. Natick is looking for a new feature back, following the graduation of Nick Lee. Head coach Mark Mortarelli also worked in senior Gus Black and sophomore Chad Kidd at running back on Wednesday.

It's not the only positional battle Mortarelli was keeping an eye on. In addition to Black (also a starting OLB), he's looking to junior T.J. Collins (5-10, 175 lbs.) to fill a hole, as well as senior Justin Montgomery, who also sat out the scrimmage because of an injury.

Working against North's spread concepts and the double wing and Wing-T formations of Braintree, Mortarelli believes the exercise served as a good preparation for what's to come.

"We wanted to make our kids uncomfortable," Mortarelli said. "I wanted to see who could adjust, who could make the change playing against two different styles. I thought we did a good job overall, defensively, today."

Step right up: North head coach Don Johnson also used Wednesday's workout to glean a bit more information about his squad, which returns just a few starters on either side of the ball.

With Blasť limited, senior James Kummer had the majority of snaps with the first team offense at quarterback. He was working behind a new-look offensive line, which returns just one starter – senior captain Evan Sweeney, who slides over to left tackle.

The preseason snaps have been particularly important to the young line. Johnson anticipates a deep junior class to help patch the other holes on the line with Max Kroll working at right guard while Connor Ryan steps into right tackle. The battle at left guard is among the tightest in camp with Dan Kummer and Pat Munley vying for playing time.

Once the line has come together, Johnson thinks the Red Rocketeers have the elements to move the ball.

"I like what we have in the depth of our backfield and the versatility there," Johnson said. "I think we'll be able to show some balance and be able to throw."

Keep your eye on … : Well, you can see him from about a mile away.

Standing 6-feet, 7-inches tall and 260 pounds, Braintree tackle Ryan Houlihan commands attention. The physical lineman made his presence felt Wednesday, particularly in the ground game. He's not just a big frame. Also a basketball player, Houlihan has the feet to match, and he's begun to gain the attention of college recruiters. A host of Division 2 schools have inquired about Houlihan, but Harvard has also expressed interest.

With a bruising offensive line in front of them, Connor Columbus and Mike Mahoney should find running room. Third-year Wamps head coach Brian Chamberlain is also looking for junior hoop standout Keyshaad Dixon to have an impact at receiver.

And, if all goes to plan, the Wamps – who haven't experienced a winning season in their last nine – could break beyond their three-win total from a year ago.
August, 29, 2012
8/29/12
7:32
PM ET
By
Brendan Hall
| ESPNBoston.com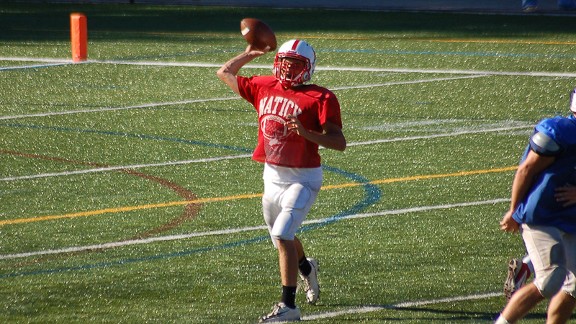 Brendan Hall/ESPNBoston.comNatick's Troy Flutie connected with top target Brian Dunlap for two scores against Leominster.
LEOMINSTER, Mass. -- Thoughts and observations from this afternoon's scrimmage at Doyle Field between host No. 7 Leominster and No. 13 Natick:
Air Raid
: In three series of varsity on varsity, each offense reached the end zone three times, all of them coming through the air, giving the scrimmage an almost Arena League feel at times. Five of the scores were of 45 yards or more; the other score, a 25-yard strike from Natick's Troy Flutie to Brian Dunlap, was preceded by a 45-yard bomb to Miguel Rodriguez, in which the receiver was wide open through broken coverage but had to stop and get beneath the underthrown ball.
Where to start? There are a few things to take out of this aerial assault.
First, it should be noted that five regular Natick starters were out to injury, including junior wideout Alex Hilger, and the Red Hawks showed some rust early as a result. They'll be going to a no-huddle, four-receiver look once again, using trips and double-slot formations designed to get their top playmakers in space and open up the zone read game with Flutie and returning 1,000-yard rusher Nick Lee. Making it all flow evenly is Dunlap, only a sophomore but already considered one of the state's best route-runners.
Dunlap scored twice for the Red Hawks, once on the aforementioned 25-yard strike to the near left pylon, and again on a 70-yard bubble screen. Although Flutie gave Dunlap a good lead on his throw, Natick's perimeter blocking wasn't crisp in setting up the screen -- but Dunlap blew by everyone anyways.
As a freshman last season, the 6-foot Dunlap caught 69 balls for 1,172 yards and 14 touchdowns, all best in the Bay State Conference. With plays like that, he could be in for another big season.
"He's just so precise on his routes," Natick head coach Mark Mortarelli said. "He seems to always make the right cuts. His work ethic is unbelievable. He steadily improves just because of how hard he works. He can't help but get better really."
At the other end, the connection between Leominster quarterback Garrett DelleChiaie and junior receiver Neil O'Connor will be worth paying attention to, as the pair clicked for two scores. The first came on a middle screen, in which O'Connor followed the screen up the right hashmark then cut back to the middle for a 58-yard scamper. On the second touchdown, O'Connor ran a post down the left seam, and took advantage after a cornerback crashed on a wheel route the other way for a 45-yard strike.
The Blue Devils present a more traditional offensive look, alternating between the I Formation and shotgun formations with three or four-receiver sets, but O'Connor will be a centerpiece of this look.
"We're working him at some receiver," Leominster head coach Dave Palazzi said. "They [Natick] had some breakdowns [in coverage], so he was wide open, but he had good run after the catch, and that's what we want out of him."
Growing Pains:
Leominster graduated nine starters on defense, returning just O'Connor and junior linebacker Jason Valera from last year's Division 1 Super Bowl Champion squad. The pass coverage is still working out the kinks -- they gave up gains of 50, 65 and 70, two of them for scores -- but there were also some positives. On Natick's third play from scrimmage, junior James Gurley broke for the left sideline and jumped a downfield route for a diving interception. In Natick's next offensive series, O'Connor closed on a wide-open receiver and used his fingertips to break up a would-be touchdown strike over the deep middle.
On the offensive line, Leominster figures to average about 210 pounds across, lighter in comparison to some of the state's other top squads, and they were beaten at times in pass protection.
"We haven't gone over a lot of our pass schemes, as far as passes are concerned," Palazzi said. "So that stuff we'll go over more and more tomorrow and Friday. But you've got to block people. It was 'run for your life' last year for Garrett against Everett [in Week 1], it really was, and we can't have that. We've got to fix that."
Applying pressure
: On the other side of that, Mortarelli was pleased with how his front seven set the edge defensively. Mike Dunlap and Justin Montgomery brought pressure from the outside linebacker spots, while defensive end Ross Braymon gave the Leominster's line a good run in the third series, beating the left tackle for a sack and a hurry in consecutive plays.
"We tackled better than we have, so I'm excited about that," Mortarelli said. "But still, the big plays, that's what sticks with me, is how we gave up those three big plays."