Boston High School:

Justin Mount
December, 29, 2012
12/29/12
5:17
PM ET
The Massachusetts High School Football Coaches Association (MHSFCA) released its "Super 26" All-State Team yesterday. Selections are below as follows:

OFFENSE

Quarterback
Zach Bartak, Greenfield, 6'1" 200
Mackay Lowrie, Roxbury Latin, 6'5" 210
Nick Peabody, Barnstable, 6'4" 225

Running Back
Vincent Burton, Blue Hills, 6'2" 200
Dylan Oxsen, Plymouth South, 5'9" 185
Quron Wright, Holy Name, 5'6" 165

Wide Receiver
Will Heikkinen, Andover, 6'1" 196
Brian O'Malley, St. Sebastian's, 6'3" 195

Offensive Line
Aaron Dyke, Auburn, 6'4" 305
John Foster, Scituate, 6'5" 260
Rob Kosharek, Duxbury, 6'6" 265
Jack McDonald, B.C. High, 6'5" 275
John Montelus, Everett, 6'5" 325

DEFENSE

Defensive Line
Matt Comerford, Reading, 6'5" 275
Terrel Correia, Nantucket, 6'7" 275
Joe Previte, Brockton, 6'2" 260
Maurice Hurst, Xaverian, 6'2" 290

Linebacker
Cam Hanley, Walpole, 5'11" 210
Sha'ki Holines, Springfield Commerce, 6'4" 240
Zack Hume , Nashoba, 6'2" 235
Bryan Vieira, Thayer Academy, 6'3" 190

Defensive Back
Brendan Flaherty, Beverly, 6'1" 185
Kiivone Howard, Foxborough, 6'1" 185
Dylan Mann, Masconomet, 5'10" 180
Alex Moore, St. John's Prep, 6'1" 195
Justin Mount, Westford Academy, 6'2" 205
October, 26, 2012
10/26/12
1:04
AM ET
NO. 23 CENTRAL CATHOLIC (6-1) AT LOWELL (6-1)
The Skinny: Both teams enter with a 1-0 MVC record, coming off their first league games last week. Lowell rolled over Billerica 56-34 while Central Catholic slipped past Chelmsford 28-21. Cam Latta has picked up where R.J. Noel left off at quarterback this year for Lowell at quarterback, throwing for 12 touchdowns and running for seven more. Central Catholic running back Santino Brancato leads the Raiders with eight touchdowns on the season, none bigger than his final score last week with 41 seconds remaining which was the game-winner over Chelmsford.

Scott Barboza: This will be high-scoring, but relatively tame by MVC standards. Central, 34-28.

Brendan Hall: Because Lowell can score in bunches, and because it's the MVC, take the over. Central Catholic, 38-31.

NO. 13 ANDOVER (7-0) AT CHELMSFORD (4-3)
The Skinny: After a hot start, Chelmsford is trying to snap a three-game losing streak and risk falling behind in the competitive Merrimack Valley Conference's large division. They'll have their hands full against one of the state's most prolific offenses, averaging nearly 400 yards and 39 points per game, between quarterback C.J. Scarpa and receivers Andrew Deloury, Will Heikkinen and Cam Farnham.

Barboza: I think the Lions will try to play ball control for a while, but that can only last so long against the high-octane Andover offense. Andover, 42-31.

Hall: Do you see a recurring theme with our MVC picks? Offense, offense, offense. Andover, 40-35.

LINCOLN-SUDBURY (6-1) AT WESTFORD (6-1)
The Skinny: Like several other key league matchups this weekend, this matchup can potentially put one team in the driver's seat for the Dual County Large title. It's no secret what L-S brings to the table, but workhorse Chris Giorgio is among the league's toughest running backs. Westford counters with jack-of-all-trades athlete Justin Mount, who fills multiple roles on both sides of the ball.

Barboza: Picked the Warriors to win the DCL Large in the preseason and I'm not about to step back now. But the Warriors get it done by a chin. L-S, 14-13.

Hall: Flip a coin in this one. I landed on the Ghosts. Westford, 24-17.

NO. 9 BROCKTON (4-3) AT NO. 14 LEOMINSTER (5-2)
The Skinny: Each of these teams received a boost in different ways last week. The Boxers saw the return of their starting quarterback and emotional leader Auggie Roberts in a drubbing of Big Three rival Durfee. Meanwhile, a Blue Devils offense that has had its troubles in recent weeks, shook off the rust to muster a gut-check, two-minute drive to pull out a last-second victory at Central Mass. rival St. John's of Shrewsbury, led by quarterback Garrett DelleChiaie. Now, both teams meet in a non-league, late-season measuring stick game to see just how far these offenses have come. Not to mention, both teams can really lay the lumber on defense.

Barboza: Blue Devils ride the wave of momentum. Leominster, 28-20.

Hall: It won't be a shutout, but it won't be as shocking an upset when the Blue Devils take two straight for the first time in...help, anyone? Leominster, 21-14.

HINGHAM (6-1) AT NO. 6 DUXBURY (7-0)
The Skinny: An eagerly awaited battle for the inside edge at the Patriot League Keenan division title, the competition should be as fierce at the tailgate as it will be on the field when the Dragons put their Eastern Mass. best 33-game winning streak on the line. A stout Duxbury defense, led by Mr. Football Award challenger Marshall McCarthy will have its hands full with the Harbormen's wing-T and backfield led by Ricky Sullivan.

Barboza: The Dragons run their streak to 34 games, but it won't be without difficulty. Duxbury, 13-7.

Hall: As usual, the Dragons will pull something together in the second half and do just enough to win. Duxbury, 20-17.

NEEDHAM (5-2) AT NO. 10 NATICK (7-0)
The Skinny: After a solid start to the season, Needham is now looking to avoid a two-game losing skid and dropping three of its last five. What better an opponent to try to snap the skid than against one of the state's prolific offenses, led by quarterback Troy Flutie (1,477 passing yards, 19 TD, 4 INT; 555 rushing yards, 7 TD) and receiver Brian Dunlap (41 catches, 784 yards, 11 TD). Needham is also coming off a 31-0 shutout loss to a Walpole squad that was missing its top running back to injury.

Barboza: No chance the Red Hawks aren't undefeated setting up a winner-take-all against Walpole. Can't wait. Natick, 31-17.

Hall: Every time we predict a high-scoring affair involving a Bay State team, it never goes as planned. So I'm going with something fairly pedestrian. Natick, 21-12.

NO. 19 MANSFIELD (5-2) AT NORTH ATTLEBOROUGH (4-3)
The Skinny: The Red Rocketeers will need a win to keep pace with Mansfield (2-0) in the Kelley-Rex division race. The X-factor will be the availability of senior running back and defensive back Alex Jette. While it's expected Jette will play, the extent to which he'll be able to contribute is very much up in the air. Still, North is readily able to move the ball on the ground thanks to a physical offensive line anchored by left tackle Eric Beckwith. Mansfield got off to a great start in last week's blowout of King Philip and the Red Rocketeers' secondary will have its hands full with playmakers Brendan Hill and Mike Hershman. The Hornets have seen junior linebacker Alexander Ruddy (team-leading 55 tackles, 8 TFL) embrace a larger role this year.

Barboza: In each of the team's last four meetings, the AWAY team has collected the victory. Not about to buck the recent trend. Mansfield, 26-21.

Hall: Per tradition, the away team wins this one with an epic possession in the final five minutes. Mansfield, 20-13.

NO. 22 KING PHILIP (6-1) AT ATTLEBORO (4-3)
The Skinny: King Philip was soundly delivered a rude awakening a week ago at Mansfield, in a 46-33 loss, and now looks to avoid falling behind in the Hockomock's Kelly-Rex division by extending Attleboro's losing streak. The skid currently stands at three games for the Bombardiers after a 4-0 start, and can't seem to get over the hump -- take, for instance, Malique Clark's nearly 300-yard rushing performance in a 44-41 loss to Franklin last week. An Attleboro win would surely create even more confusion at the top of the division.

Barboza: Warriors defense gets back on track, but it won't be easy against Clark. KP, 21-14.

Hall: I'm all for chaos when it comes to Hockomock bracketology. Get out your TI-83's, folks. Attleboro, 30-20.

WAKEFIELD (6-1) AT STONEHAM (7-0)
The Skinny: It's been a long time since Stoneham has had this good of a start, but the Spartans still face questions about a perceived weak schedule. This is their chance to prove doubters wrong, with defensively-sound Wakefield coming off a 33-0 shutout loss to Burlington.

Barboza: In a word, "SPARRRTAAAHHHHHH!" Stoneham, 20-16.

Hall: Because what the heck, I love rolling the dice, and I want to keep my boss and resident Stoneham-ite Dave Lefort happy. Stoneham, 17-13.

MILTON ACADEMY (3-2) AT BELMONT HILL (3-2)
The Skinny: The Mustangs and Hillies are looking to break free from a logjam of 3-2 teams in the middle of the ISL standings. Milton Academy is led by junior Drew Jacobs, who already has four multi-touchdown games this season. The Mustangs also have one of the biggest offensive weapons in the ISL on the foot of place kicker Justin Yoon.

Barboza: Yoon's foot provides the difference. Milton Academy, 13-10.

Hall: Let me preface this by saying Justin Yoon can kick for anyone any day of the week. Belmont Hill, 14-10.

ROXBURY LATIN (4-1) AT BB&N (3-2)
The Skinny: Its hopes of an undefeated season no more, Roxbury Latin looks to get back on the saddle and stay in contention for the ISL championship and a NEPSAC Bowl berth. A win here over the Knights, with its solid line and elite target in Wake Forest-bound tight end Brendan O'Neil, would bolster those odds. And the Foxes have the horses to do it, led by Boston College-bound quarterback MacKay Lowrie.

Barboza: Knights can take advantage of the matchup along the line of scrimmage. They'll win the point of attack battle. BB&N, 28-27.

Hall: I'll never count out a John Papas-coached team as long as the guy is in the business, but Latin can win track meets. Roxbury Latin, 35-30.
October, 8, 2012
10/08/12
6:15
PM ET
THE CONTENDERS

Drew Belcher, Jr. QB, Reading
Called his own number for the winning touchdown with less than a minute left, as the Rockets rallied past Burlington, 22-15.

Brian Dunlap, Soph. WR, Natick
Caught six passes for 121 yards and two scores in the Red Hawks' 42-7 rout of Dedham.

Troy Flutie, Jr. QB, Natick
In the Red Hawks' 42-7 romp of Dedham, completed 12 of 16 passes for four touchdowns, and added 41 yards rushing with a score.

Jon Hurvitz, Sr. RB, Duxbury
Reached the end zone twice, the second time putting the Dragons ahead for good, in a 20-16 thriller over Xaverian.

Marshall McCarthy, Sr. LB, Duxbury
Recorded 13 tackles and two sacks, both for forced fumbles, in the Dragons' 20-16 win over Xaverian.

Alex Moore, Sr. RB, St. John's Prep
Racked up over 200 yards from scrimmage and all three of the Eagles' scores in a 20-7 win over Bridgewater-Raynham, rushing for 159 yards and two TDs, and three catches for 73 yards and a third score.

Nick Peabody, Sr. QB, Barnstable
Threw for three touchdowns in the Red Raiders' 19-14 win over New Bedford, bringing his season total to 18 touchdown passes.

C.J. Scarpa, Sr. QB, Andover
In the Golden Warriors' wild 51-42 win over Tewksbury, completed 17 of 24 passes for 382 yards and three touchdowns.

Jakarrie Washington, Sr. WR, Everett
Scored five times for the Crimson Tide (three rushing, two receiving) as they avoided a scare against Cambridge, 51-30.

Quron Wright, Sr. RB, Holy Name
Had his lowest total of the season in a 38-20 loss to Doherty, but still went over 100 yards (18 carries, 105 yards, 2 TD) and crossed the 1,000-yard barrier. He needs 370 yards to break the school's all-time rushing yardage record.

ON THE RISE

Andrew Benson, Sr. QB, East Bridgewater
In the Vikings' 39-26 win over Hull, carried 17 times for 296 yards and four touchdowns, and added a 20-yard touchdown through the air.

Chance Brady, Jr. RB, Haverhill
Ran for 204 yards and two scores in the Hillies' 30-23 thriller over Chelmsford.

Jaleel Brown, Jr. RB, Springfield Putnam
With feature back Wayne Lowery leaving the game with an ankle injury, Brown came through with 165 yards rushing and three scores to help the Beavers in a 40-19 win over Chicopee Comp.

Kayjuan Bynum, Sr. QB/LB, Springfield Putnam
Racked up 299 passing yards and three touchdowns, to go along with nine tackles, in the Beavers' 40-19 win over Chicopee Comp. Through five games, Bynum leads the team in tackles (46) and forced fumbles (four).

Andrew Deloury, Sr. WR, Andover
Caught seven passes for a ridiculous 226 yards and three scores in the Golden Warriors' 51-42 win over Tewksbury.

Brendan Flaherty, Sr. RB, Beverly
Became the school's all-time leader in rushing touchdowns with his 47th score in a 49-0 blanking of Peabody

David Maaghul, Jr. QB, Cambridge
Had an impressive showing in the Falcons' 51-30 loss to Everett, throwing for 274 yards and four touchdowns. On the season, he already has over 1,500 yards and 19 touchdowns passes.

Justin Mount, Sr. ATH, Westford
In the Grey Ghosts' 42-7 win over Newton South, carried three times for 60 yards and two scores, and added 24 receiving yards.

Matt Phelan, Sr. QB, Northbridge
In the Rams' 28-21 win over Grafton, completed 9-of-17 passes for 176 yards and three touchdowns, and added 79 yards rushing on 16 carries.

Jimmy Sullivan, Jr. QB, Nauset
In the Warriors' 28-20 win over Scituate, completed all five of his pass attempts for 121 yards and two scores, and added 88 yards rushing.

Juwan Williams, Sr. ATH, Springfield Central
Filled in marvelously for his cousin at quarterback, in the Golden Eagles' 40-7 rout of East Longmeadow. Through the air, he was 4-of-5 passing with 114 yards and two touchdowns; on the ground, he carried 10 times for 94 yards and two more scores.

September, 24, 2012
9/24/12
12:18
PM ET
THE CONTENDERS
Drew Belcher, Jr. QB, Reading
Tossed four touchdown passes in the Rockets' 32-0 shutout of Arlington.

Brian Dunlap, Soph. WR, Natick
Caught six passes for 147 yards and two scores in the Red Hawks' 33-7 win over Milton.

Jalen Felix, Sr. ATH, Everett
Taking primarily handoffs in the Crimson Tide's 19-7 win over St. John's Prep, carried 12 times for 96 yards and a touchdown.

Troy Flutie, Jr. QB, Natick
Completed 14 of 21 passes for 275 yards and three touchdowns, and added 35 yards on the ground, to eclipse 300 yards from scrimmage in the Red Hawks' 33-7 win over Milton.

Jon Hurvitz, Sr. RB, Duxbury
Racked up 185 all-purpose yards and five touchdowns in the Dragons' 42-14 win over New Bedford, with 140 yards and four scores coming on the ground.

Marcus Odiah, Sr. RB, Burlington
Ran for 243 yards and four touchdowns in the Red Devils' 48-28 shootout win over Belmont.

Nick Peabody, Sr. QB, Barnstable
Completed 27 of 39 passes for 402 yards and five touchdowns in a 35-14 win over Sandwich. Peabody currently leads the state with 13 touchdown passes through the first three weeks of the season.

Andrew Smiley, Jr. QB, St. John's (Shrewsbury)
Went over 330 yards from scrimmage for the third straight week, this time completing 14 of 26 passes for 207 yards, and adding 126 yards with two scores on the ground, in a 21-6 win over Catholic Memorial.

Jonathan Thomas, Jr. RB, St. John's Prep
Carried 19 times for 101 yards in the Eagles' 19-7 loss to No. 1 Everett.

Quron Wright, Sr. RB, Holy Name
In the Naps' 43-6 win over Arlington Catholic, Wright carried the ball just six times for 216 yards and touchdown runs of 56, 64 and 81 yards. In the last two weeks, he has just 11 carries but for 365 yards and six touchdowns. For the season, that's currently an absurd 16.9 yards per carry.

ON THE RISE
Garrett Carlos, Sr. RB, Somerset-Berkley
Carried four times for 187 yards and four touchdowns in the Blue Raiders' 49-6 win over Tri-County.

Justin Mount, Sr. ATH, Westford
In the Grey Ghosts' 27-12 win over Malden Catholic, ran 105 yards, caught another 90, and added an interception. In three games, he has 496 yards rushing and three picks.

Aaron Owens, Sr. RB, Springfield Central
Carried 17 times for 127 yards and three touchdowns in the Golden Eagles' 32-12 win over Chicopee Comp.

Jon Ojuwkwu, Sr. RB, Nashoba
Ran for three first-half scores, including the opening play from scrimmage, in the Chieftains' 42-3 win over Algonquin.

Mike Panepinto, Sr. RB, Needham
Ran for 103 yards and four touchdowns in the Rockets' 42-7 rout of Braintree.

Mike Rando, Sr. RB, Walpole
Went off for big gains in the Rebels' 46-13 win over Brookline, totaling 120 rushing yards and a score on just three carries, and hauling in four passes for 80 yards.

Rob Rapoza, Sr. RB, Mansfield
In the Hornets' 31-16 win over Dracut, he had 20 carries for 248 yards and three scores, and added fourth touchdown on a reception.

C.J. Scarpa, Sr. QB, Andover
Completed 18 of 31 passes for 255 yards and three scores, and added a fourth touchdown on the ground, in the Golden Warriors' 34-0 win over Methuen.

Jimmy Sullivan, Sr. QB, Nauset
Ran for 190 yards and three touchdowns in the Warriors' 34-14 win over Mashpee.

Cody Williams, Jr. QB, Springfield Central
Another solid outing for the junior, completing 11 of 15 passes for 220 yards and two scores in the Golden Eagles' 32-12 win over Chicopee Comp.
May, 29, 2012
5/29/12
12:14
PM ET
In between baseball and girls lacrosse games, I had the chance to check out a few football combines this past month. Emptying out the notepad, here are some leftover nuggets:
Massachusetts High School Football Coaches Association Combine
Gillette Stadium
Foxborough, Mass.
May 6
Earlier this month,
we checked in with several of the state's top prospects who were at the combine
, including Xaverian's Maurice Hurst Jr., Mills/Hopedale's Jon Baker, and Dighton-Rehoboth's Chuddy Nwachukwu. Today, with new information, I'm bringing to light some new information about some players with hidden potential.
Athletic Standard CEO Thomas Newman passed along some information regarding the tests his company ran during the combine, pasted below. I've added each player's school in parentheses:
The following Athletes all tested in the 95th percentile in the nation for vertical jump (Horsepower and the first indicator of genetic potential):

Sean Antonuccio (Masconomet)
Junior Oyaronbi (St. Clement)
Frank Ansah (Worcester South)
Terrance Gibson (Taunton)
Berny Platel (Fitchburg)
Shaun Callahan (Norwood)
Nick Patten (Medford)
Sean Eldridge (Bristol-Plymouth)
Isaiah Douglas (Bishop Feehan)
Dominque Leite (Brockton)
Alex Jette (North Attleborough)
Babila Fonkem (Abington)
Elias Camacho (Canton)
Jamal Williams (Taunton)
Justin Mount (Westford)
Shadrach Abrokwah (St. John's of Shrewsbury)
Quron Wright (Holy Name)
Kevin Makie (Mansfield)
Kaylan Philbert-Richardson (Archbishop Williams)
Thomas Johnson (Pembroke)
Daniel Kegbeh (Holy Name)


Lateral Speed (huge component for separation or locking down on defense)

Jhalen Bien-Aime (Boston Latin)
4.218 - Laser pro agility
4.01 - Stop Watch Conversion time


Additionally, it should be noted this kid was so raw any speed coach will bring this down to a sub 4.0 pro or a 3.8 stopwatch time. Great kid by the way, real gentleman

Watch List (these kids have one standout feature):

Andrew Benson (East Bridgewater)
6-foot-1, 175 lbs.
Vertical - 27.75
Pro Agility - 4.421

It doesn't appear that he will grow much more but depending on his football skills this would be a solid pick.

Ricardo Calixte (Brockton)
5-foot-10-3/4, 198 lbs.
6-foot-4 wingspan nearly (this kid will grow over the summer)

Vertical - 28 inches - Normalized Index 406
Pro-Agility - 4.43 - Normalized Index 330

I would keep a close eye on him because if he gets any taller or heavier he will easily tip into the strong D1 prospect.
Calixte's story is an interesting one. He has the athletic frame and raw tools to be an impact on defense (he also ran a 4.75 second 40-yard dash), but has played sparingly to this point -- allegedly, he didn't suit up for Friday night games last season due to religious obligations. The only points to his name in last year's box scores is a two-point conversion run. Micah Morel is probably the Brockton prospect with the highest ceiling right now, but keep an eye on Calixte.
Impact Performance Football Combine
Massachusetts Maritime Academy
Buzzards Bay, Mass.
May 26
Impact Performance Training owner Ross Jatkola put on his first combine on the turf at Mass. Maritime's Clean Harbors Stadium, attended primarily by athletes from the Cape Cod area.
Pound for pound, Dennis-Yarmouth was arguably the toughest team in the state last fall. The Dolphins' run to the Division 2A Super Bowl title this year, blowing out many of their opponents despite being routinely undersized (sometimes comically so), and everyone playing both ways, is testament to this. A lot of credit goes to Paul Funk and the remarkable building job he's done over the last decade to a program that won just six games in the 1990's. But credit also has to go to Jatkola, a D-Y grad and former University of Albany tight end who also works as the Dolphins' strength coach.
Cape Cod football is on the rise in Massachusetts -- a record five Cape teams made playoffs last year, with four of them winning Super Bowls -- and this was a good chance to see some of the rising stars in action. About three dozen competed, with Barnstable's Bryan Hardy winning the pro agility and Bourne's Josh Curry winning the 40-yard dash.
For the complete results
CLICK HERE
.
A few observations:
Peabody pleases
If I'm picking four quarterbacks for our preseason All-State team, Barnstable's Nick Peabody is probably on the list -- I would have said this in January. He has ideal quarterback size (6-foot-3, 225 pounds) puts a lot of zip on the ball, and has big-game experience (leading the Red Raiders to their first playoff appearance in 10 years). I know we have to take these things for what they're worth, but the way he threw the ball around in 7-on-7 drills reaffirmed my disposition. Saturday morning, he was putting the ball in tight spots all over the field, hitting teammates on 15-yard out patterns seemingly on a dime.
Linemen to watch
Two Class of 2013 linemen to keep an eye on are Barnstable's Tom Grimmer and D-Y's Joe Tyo. Grimmer is built low to the ground, going about 5-foot-11 and 250 pounds, but has good balance and posture. He won the bench press event, doing 26 repetitions at 185 pounds.
Tyo could be a late-bloomer. He's a raw prospect at 6-foot-4 and 250 pounds, didn't start on the interior defensive line until Week 3 of the 2011 season, and needs to build more upper-body strength. His frame has yet to fill out. But he also ran a 4.9 second 40-yard dash, and demonstrated terrific footwork in pass-blocking drills.
Next In Line?
It's too early to predict the next Matt Montalto, D-Y's 2011 ESPN Boston All-Stater at quarterback who will be suiting up for Bentley University this fall. But when the time comes, his cousin, Michael Dunn, could fit the bill. The freshman won the vertical jump at 9 feet 3 inches, and I'm told he'll be used in an "athlete" slasher role going forward for the Dolphins.
January, 7, 2012
1/07/12
12:18
AM ET
By
Andy Smith
| ESPNBoston.com
WESTFORD, Mass. -- Friday had all the characteristics of a usual Westford vs Acton-Boxborough matchup.

A packed house? Check. Students chanting at each other from across the gym after nearly every possession in the second half? Check.

A game that came to the wire? Check. But this time, it was No. 21 Westford that came away with the win, knocking off the No. 6 Colonials, 68-60.

Everything started about as bad as it possibly could for A-B (7-1), while everything went well for Westford. The Grey Ghosts (8-2) had a 17-7 lead at the end of the first quarter due to its near-perfect perimeter shooting.

Matt Ellis was a perfect 3-for-3 from beyond the arc in the quarter, and added another before the first half was over. He finished the game with 15 points and 6 rebounds.

Conversely, nothing seemed to be able to fall for A-B. Kevin LaFrancis, the team's 6-foot-6 center, accounted for all seven of the team's points in the first quarter.

The second quarter went as smoothly as the first for Westford, which extended its lead to 36-16. LaFrancis scored 14 of those 16 points.

"I thought the first half was the key to the game," said Westford head coach Ed Scollan. "We came out with an intensity we hadn't really shown for a full 16 minutes and I thought that worked well. I thought we shot the ball well and everything just seemed to click for those 16 minutes."

As often as is the case in basketball, it is difficult to carry shooting success over to the next half. Most of the time, the shots that were finding the bottom of the net start hitting the back of the rim. Those bounces that went your way in one half suddenly don't.

That was the case Friday, when the Colonials outscored Westford 21-11 to make it a 10-point game going into the fourth, with momentum on its side. Suddenly, what once seemed out of reach became a game again.

"We weren't going to sit down at halftime, that's for sure, not with the talent they have," said Scollan. "They certainly came back in the second half and gave us a run for it. Our concern coming out of the locker room was that team of Acton-Boxborough's quality and capability would make a run at it."

A-B saw an increase in its second-chance opportunities, most of which were put away by the dominating inside presence of LaFrancis. The big man finished with 28 points and seven rebounds.

With 2:53 left in the game, A-B had cut the lead down to 57-53. The 4-point lead was the closest the game had been since the first quarter. Westford would not let the lead go however. After Justin Mount (12 points, five rebounds) converted a 3-point play to make it a seven-point game, A-B was forced to foul.

Ellis and Alex Preckol (19 points, four rebounds) made the necessary free throws down the stretch to secure the victory and sent the home crowd home happy.

Halftime pep talks: What does a coach tell his team at halftime when it is up by 20, can't miss, and showed no signs of slowing down?

"I told them that we probably can't continue to shoot as high percentage-wise as we did," said Scollan. "We can continue the intensity, but any team like Acton-Boxborough is not going to sit back with Coach Kilpatrick, Joey Flannery (18 points, three rebounds), and Kevin LaFrancis and say this game is over. It's not going to happen. There's just too much pride. I told them to be ready for it. Be ready for the run."

How about a coach that is down 20 points?

"We're not in there yelling and screaming," said A-B coach Rick Kilpatrick. "We just said listen, 'We want to pick up the defensive pressure a little bit and just try to move more off the ball and try to get better looks. Basketball is a game of runs. We're a good team. We were going to make a run at some point. There was no panic at halftime, it was just a question of working hard. We just had to stick by what we do and hopefully make a run and get there and we just came up a little short."

Limiting LaFrancis: Westford's defense of LaFrancis was impressive in the first half, given that he had at least a 3-inch height advantage over the Westford defenders. He had a difficult time getting clean looks in the post because there would always be someone there to knock away or get a hand on the entry pass.

He did most of his work in the post in the second half. Although he still ended the game with 28 points, 10 of those came at the foul line, evidence that even when he did get the ball down low, Westford made it physically tough for him.

"They were very tough around the basket, which we expected," said Kilpatrick. "We talked about that that they would do that. They did a great, great job. I thought that as much as Kevin scored, I thought they did a great job defensively."

Familiar Foes: This was the second of three times this season the two teams will play each other. The last time they played was over the holidays, and A-B came away with a 5-point victory. The rubber match is scheduled for February 10 at Acton-Boxborough.

With all the elements of the rivalry, the Dual County League Large ramifications of the game, and the schedule moving forward, Scollan was happy with the result.

"It was definitely pleasing to come back and win like that, knowing we play each other three times at least," he said. "The bottom line is we needed this game. It may be as simple as that. If we aspire to continue, we needed this game."
October, 29, 2011
10/29/11
1:02
AM ET
By
Corey J. Allen
| ESPNBoston.com


SUDBURY, Mass. -- No. 13 Lincoln-Sudbury shut out Westford Academy in the second half of their 38-14 win.

The Warriors maintained their perfect season thus far (8-0, 2-0 2-0 DCL) as junior running back Christopher Giorgio ran for three touchdowns on the evening.

"First of all I give big credit to the O-linemen today, they made the holes really big and it was easy to run the ball," Giorgio said.

Giorgio and the rest of the offense amassed 280 yards on the ground last night.

Down 14-10 at the half after Westford's Justin Mount scored an 18-yard touchdown run up the gut of the Lincoln-Sudbury defense, Warriors head coach Tom Lopez did not panic because he saw a legitimate reason that his team was down and it was an easy fix – hold onto the ball.

"We gave them a short field two times," Lopez said. "We have to make them march. That was the key as we saw it. I don't think we punted during the day, so our offense was fine, but we can't give them the ball on our side of the field and expect the defense to hold them."

LOPEZ'S KEY DRIVE
Just before the half, the Westford Grey Ghosts (4-4) marched 48 yards to go ahead 14-10 after Brian Carroll fumbled the ball on the L-S 48. Carroll returned the kickoff nearly 60 yards, and despite a block in the back call on the play, the Warriors started on the Westford 47. Lincoln-Sudbury ate nearly five minutes off the clock and used seven of their most effective players on the drive, holding onto the ball and executing the way Lopez had expected them to.

"It changed the momentum of the game. The momentum of the game was definitely with them at 14-10… If they hold us, force us to punt, they control the ball while they have the lead it's a whole different game."

'DOUBLE COVERAGE' HARRIS



On three of L-S four scoring drives of the second half, John Harris caught passes of 18, 45 and 38 yards respectively, to bring his team within striking distance. Although he did not make it into the box score, Harris' catches surely made a world of difference in sealing the win for the Warriors. His teammates call him "Double Coverage" for his ability to snag balls at will and the need for defenses to put more than one player on him to stop his terror in the secondary.

"We're a run-first team… but when we got into spots, third and short, third and long, we have to go to the air, [quarterback] Matt [Cahill]'s able to make reads on the coverage… makes a good call and we can beet them deep."

A LITTLE OLDER, HEALING WOUNDS



The first two games of the season saw senior captain Kyle Ashley on the sidelines due to an elbow injury. As a three-year starter, Lopez noted that the team would miss Ashley. But with the team rolling as they are, Ashley's offseason workout that kept him in shape allowed him to play out the whole game on this cold New England night without any serious issues. With 27 seniors, compared to Westford's 11, the core of the Warriors team, led by Ashley, know how to tough out a cold game and bring home the W.

"We all knew to lead by example and just leave everything on the field because it's our last season and we don't want to lose it."

Westford Academy (4-4) - 7 7 0 0 -- 14
Lincoln-Sudbury (8-0) - 0 10 14 14 -- 38



1st Quarter
W – Alex Eaton 1 run (Alex Locker kick)

2nd Quarter
L – Daniel Cellucci 24 pass from Matthew Cahill (William Twyman kick)
L – Twyman 28 yard field goal
W – Justin Mount 18 run (Locker kick)

3rd Quarter
L – Christopher Giorgio 1 run (Twyman kick)
L – Brian Carroll 9 run (Twyman kick)

4th Quarter
L – Giorgio 6 run (Twyman kick)
L – Giorgio 30 run (Twyman kick)
October, 15, 2011
10/15/11
12:04
AM ET
By
Andy Smith
| ESPNBoston.com
CONCORD, Mass. -- Not even thunder and lightning could stop the No. 8 Concord-Carlisle ground attack Friday. It ran all over Westford Academy, propelling the Patriots to a 61-14 victory in front of its home crowd.
[+] Enlarge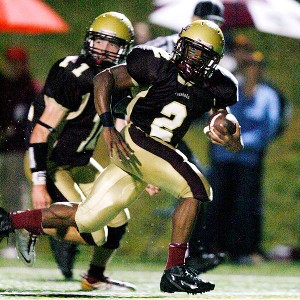 Jon Mahoney for ESPNBoston.comRunning back Tyquan Culbreath had two touchdowns on his first three carries for Concord-Carlisle during Friday night's 61-14 rout of Westford Academy.
Tyquan Culbreath got things going for CC (6-0) early and often. After his team forced Westford (3-3) to punt on its opening drive, Culbreath scored a 10-yard rushing touchdown when he took the option handoff straight through the heart of the Westford defense.
Minutes later, on his teams next offensive possession, he broke two tackles in a 50-yard touchdown run to put his team up by two scores.
In the second quarter, he added a 26-yard touchdown and a 4-yard touchdown on a reverse 5.5 seconds before the end of the half. It was his ability to break multiple tackles that made his performance so memorable in the game.
"We see those kinds of things in practice that only we see," C-C head coach Mike Robichaud said. "He's a special kid who really works hard. He's very quiet and has really improved this year as a blocker. I think he's really bought in to being a complete back, so it's really nice to see him get the ball and just make some unbelievable plays.
"I wish I could say it was a great scheme and all the right blocks, but he just made a lot of great things happen. It's great to see for him."
Culbreath ended the game with six carries for 130 yards and four touchdowns.
His fellow running backs would not let him have all the fun, however.
In the third quarter, Tim Badgley scored on an 85-yard run, giving him four carries for 104 yards and a touchdown. George Craan had a 28-yard touchdown run of his own. He ended the game with 10 carries for 102 yards and the touchdown.
"We're really proud of all the backs because of the way that they practice and the way they push each other," Robichaud said. "They really challenge each other during the week."
They, as well as the rest of the team, will have to keep challenging themselves if they want to keep up their undefeated record.
-- The game was forced into a half-hour delay when thunder and lightning rolled into the area. With 1:02 left in the first half, the teams were told to head into the locker rooms and wait out the storm. The teams made the decision that when they came back from the break halftime would be treated like a quarter, with a shorter break rather than another long one. With time in the locker room so close to the half, Robichaud treated it like the real thing. "We had other things that we were talking about, so it was less about game-planning, it was a little more about leadership during that break," he said. "The guys did a great job of putting things behind them and playing the way we know that we can play. It was a little bit different, but it was no big deal. It's a pretty mature group of guys and they rolled with it.
-- The leadership issues Robichaud was addressing was his team's willingness to take what some coaches would call retaliation penalties in the first half. On more than one occasion, his players were flagged after engaging a Westford player. The penalties came at costly times, keeping Westford drives alive when C-C needed to make stops. "We had what, I think, were maturity issues in the first half," he said. "We had a number of penalties we discussed during the lightning break and we really challenged the seniors to snap out of it and be the leaders we know they are."
-- While its offense will get the most attention attention in the scorebook, the C-C defense also came to play Friday. Collectively, it intercepted the Westford quarterbacks four times, including Tyler Koning's interception return for a touchdown in the first quarter. It also came up with a crucial 3-and-out in the second quarter when Westford was driving to potentially make it a one-score game. "This year, the offense has been a little ahead of the defense developmentally, personel-wise, things like that," Robichaud said. "We made some adjustments during the week and the kids really responded to that. I think we really showed the way we can play on defense. It wasn't a perfect game, but I was really pleased with our pass coverage. This was a great team we played. The kids were really looking forward to the game and I think they did a good job of just executing what the defensive coaches set them up to do. We have to get ready for [Acton-Boxborough] now."
NO. 8 CONCORD-CARLISLE 61, WESTFORD ACADEMY14
C-C (6-0) 20 15 19 7 -- 61
WA (3-3) 0 14 0 0 -- 14

1st quarter
C-C - Tyquan Culbreath 10-yard run (Evan Boynton kick good)
C-C - Culbreath 50-yard run (Boynton kick good)
C-C - Ben Aley interception return (Boynton kick failed)
2nd quarter
W - Alex Eaton 11-yard run (Alex Locker kick good)
W - Justin Mount 1-yard run (Locker kick good)
C-C - Culbreath 26-yard run (2-pt conversion good- Ryan Hoey pass to Evan Boynton)
C-C - Culbreath 4-yard run (Boynton kick good)
3rd quarter
C-C - George Craan 28-yard run (Boynton kick blocked)
C-C - Tim Badgley 85-yard run (Boynton kick wide right)
C-C - Javier Flores 6-yard run (Boynton kick good)
4th quarter
C-C - Flores 73-yard run (kick good)