Boston High School:

Karen Magnusson
March, 27, 2013
3/27/13
6:54
PM ET
By
Matt DiFilippo
| ESPNBoston.com
Martha Veroneau's season was driven by one memory, and capped with a flashback to another.

Veroneau was the star player on one of the most exciting teams in the state — the Waynflete girls, who won this year's Class C state basketball title by defeating Calais in the final girls high school game ever at the Bangor Auditorium.
Although Veroneau set individual records in the 2012 tournament with 47 points and nine 3-pointers in a game, the Flyers lost to Hall-Dale in the regional final.
"Last year, after we lost in the regionals, everybody remembered sitting in the locker room and being so disappointed," Veroneau said, "because we were so close."
Veroneau was the major reason there were no such regrets this year. In five postseason games, she averaged 27.4 points, 7.6 rebounds, 5.6 assists, and 6.2 steals per game. She scored 19 points in the fourth quarter of the state final as Waynflete won by four.
"She's the most impressive athlete I've ever coached — male or female," said Waynflete coach Brandon Salway, who has also coached boys' basketball and soccer in his 24 years on the sidelines. "She raises the level of every team she's plays on."
The state final was Veroneau's last high school game. She finished with 1,465 points and 186 3-pointers.
"She had the green light since she was a freshman — a bright green light," Salway said.
Veroneau stands five-foot-six, but sometimes played the post on defense for Waynflete. On offense, the ball was in her hands as much as possible.
"She had tremendous ball-handling skills," Salway said. "We really haven't been pressed in four years. Teams try occasionally, but she was just able to break through the press with her speed and agility."
Salways and Veroneau also brought up how much Veroneau enjoyed playing on this team with this group of girls. The Flyers got together recently in Salway's office and watched the state championship game.
That night, things didn't go so well for the Flyers for much of the game. Calais led 34-22 at the half, was up by as much as 14 in the third quarter, and still held a 44-36 lead after three quarters.
"I think we all could see [watching the game] that we were a little nervous to be on that stage," Veroneau said. "Coach told me, 'You're better than this.' I was shooting some way deep 3-pointers that I normally wouldn't have, just because I was so nervous. I think I was trying too hard."
The turning point, Salway said, was when tournament officials brought out the Gold Ball trophy and set it on the scorer's table. Salway said Veroneau changed when she saw that, and Veroneau dominated the rest of the game, hitting several key free throws in the final two minutes.
It brought back memories of Veroneau growing up and shooting in her driveway, imagining that the state championship was in the balance and she was shooting the crucial foul shots.
"Those scenarios that I made up as a kid, I was actually in them," Veroneau said. "It was just surreal."
Salway said Veroneau has drawn a lot of attention from Division II and Division III schools, and there's little doubt she'd be an impact player at the Division III level.
"At least one Division Three coach told me if she was his point guard next year, he'd be an NCAA tournament team the next four years," Salway said.
The catch is that Veroneau won't be anybody's point guard next year. She's headed to Boston College, she's going to focus on nursing, and she won't be playing sports.
"I just love the atmosphere there," Veroneau said. "I've had second thoughts if that was the right call, because I'm missing basketball so much these past few weeks, but I think it will all work out."
For Veroneau, it might be even tougher for her to realize that her high school basketball career is over.
"We had a great run at it," she said. "We had memories together, and we had friendships that will last forever."
CHAMPIONSHIP GAME STAR EYES TRANSFER
Only a couple weeks after leading Penquis Valley High School to the Class C boys' basketball state title, Isaiah Bess made it public that he wants to transfer to Hampden Academy. The Broncos won the Class A state title this year.
Marc Calnan of
Examiner.com
originally reported that Bess was transferring, then later reported the same day that the transfer was unofficial.
"I think the move will help me in terms of education and will help me prepare for college in a few years," Bess told Calnan. "I am definitely a people person so seeing 750 new faces which involves meeting new people will be fun for me, also experiencing new challenges every day. The sports seasons should also be a good time."
MAGNUSSON RESIGNS AT CONY
After leading the Rams to the Class A state championship game in 2012 and the regional final from the No. 9 seed this winter, Cony girls' basketball coach Karen Magnusson resigned. Magnusson and her husband, Travis, the boys' basketball coach at Dirigo, are due to welcome their first child in August.
"I felt like I was choosing between my own kid and my basketball family," Magnusson told the
Kennebec Journal
. "It hurt because I want to be there. It's going to hurt until I have my baby then I want to spend time with my child. I want to be a great mom."
Magnusson was a star player at Cony and then the University of Maine at Farmington. Even while Cony was making a run through the Eastern A tournament. she provided color commentary on television broadcasts of some games in other brackets.
Magnusson told the
Kennebec Journal
she plans to return to coaching in two of three years. Cony athletic director Paul Vachon added that Magnusson "can work for us anytime."
March, 6, 2013
3/06/13
3:26
PM ET
By
Matt DiFilippo
| ESPNBoston.com
Like any old building, it has its flaws. It's cold and drafty sometimes, and way too hot other times. Everyone's relieved when the roof doesn't leak during games, or when a week of basketball tournament games goes on as scheduled without any old parts breaking down.

But the Bangor Auditorium, which hosted its last high school basketball tournament game on March 1, has history on its side.
The basketball part of the arena, of course, is old-fashioned. There are Maine high school tournaments at the Augusta Civic Center and the Cumberland County Civic Center in Portland. In Augusta, the concession stands are behind one of the baskets, creating a depth perception problem that knocks some teams right out of the tournament. In Portland, the seats are so far away that watching a game from the front row is like trying to watch your neighbor across the street.
At the Bangor Auditorium, everything is enclosed. There is little space behind the baskets or out of bounds, so the sound bounces off the walls loud enough that it can be impossible to hear the person talking next you.
"To this day, I wonder how anyone can play in that atmosphere," Lawrence coach Mike McGee told the
Bangor Daily News
. "It's amazing to look straight up and see the crowd. Your mouth is dry, all you want to do is drink water, and it makes you wonder how all those great athletes were able to perform in that setting.
"Since we've gone to the [Augusta] Civic Center coaching hasn't been the same for me," McGee added. "The fans are so on top of you in Bangor. You hear a giant roar when you score and now it's just silence by comparison. They can hear me all over the Civic Center, and back when we played in Bangor we had to use play cards because the players could never hear me."
Several newspapers and television stations have done tributes to the Auditorium over the past couple weeks. As the
BDN
wrote, "The Bangor Auditorium is filled with the echos of the basketball heroes it created, from Mike Thurston making a halfcourt shot as time expired to win the 1969 Class LL state championship for Caribou to Joe Campbell's buzzer-beating basket that rallied Bangor past Deering of Portland for the 2001 Class A crown."
Campbell's shot is one of the most famous in state history. He came from the other side of the basket to get a rebound and reverse layup just before the buzzer (Many still insist Bangor got a few extra seconds on the play because the clock operator was slow to re-start the clock.). Within a couple seconds, the floor was covered with Bangor fans. During this year's Eastern A boys tournament, Hampden freshman Nick Gilpin hit a 30-footer to beat Lawrence at the buzzer – a shot that made SportsCenter's list of Top 10 plays for the night. A group of adults formed a wall to make sure the Hampden fans didn't rush the court. No one thought to do anything like that in Bangor.
Maine has long had a problem keeping its high school graduates in the state or even in the area. That's especially true when you get north of the Portland area. Many big schools have seen their enrollment drop over the last 20 or 30 years. Presque Isle used to be in Class A and is now a normal-sized Class B school. Waterville has around 1,500 students in the late 1970s, and now has well under half that.
But even with the economy faltering and the small towns getting smaller, they still had the Bangor Auditorium.
"So many people, when they say 'That's the worst place to play,' they're not from northern Maine or eastern Maine," Lindsey Welch, who played at Nokomis and now coaches at Winslow, told the
Morning Sentinel
. "They don't know. I would get so defensive about the place. It's like family."
MR., MISS MAINE BASKETBALL SEMIFINALISTS NAMED
The 10 semifinalists for the Mr. and Miss Basketball Awards were announced recently, with the winners to be announced on Friday, March 8.
On the boys' side, the semifinalists are Garet Beal of Jonesport-Beals, Spencer Carey of Lawrence, Anthony DiMauro of Boothbay, Charlie Fay of Falmouth, Quin Leary of Edward Little, Garrett Libby of Old Town, John Murray of Medomak Valley, Aaron Todd of York, Mitch Worcester of Washburn, and Evan Worster of Forest Hills.
Beal is one of the favorites, even though his Jonesport-Beals team was stunned by Easton in the Eastern D tournament.
On the girls' side, the semifinalists are Leavitt's Kristen Anderson, York's Emily Campbell, Dexter's Lauren Crane, Presque Isle's Chandler Guerrette, Lake Region's Sydney Hancock, Camden Hills' Jordan Knowlton, Cony's Josie Lee, Gorham's Kristin Ross, Waynflete's Martha Veroneau, and Orono's Jillian Woodward.
Only three of those players are taking part in state championship games this weekend. Guerrette and Hancock will face off as Presque Isle takes on Lake Region in a rematch of last year's Class B state final, won by Presque Isle in a squeaker. In the Class C final, Veroneau and Waynflete will play Calais for the Gold Ball.
The biggest omission on the girls' side was probably Richmond's Jamie Plummer, who led the Bobcats to the regional title for the third consecutive year.
TWO PLUS TWO ON THE SIDELINES FOR EASTERN A GIRLS FINAL
The Eastern A girls' basketball final between No. 2 Bangor and No. 9 Cony was notable not just for Cony's run from the last seed, but also because both coaches – Bangor's Katie Herbine and Cony's Karen Magnusson – are pregnant.
Herbine – who is so animated on the sidelines she makes Jonathan Papelbon look subdued – is nearly six months along, while Magnusson is a little over four months into her pregnancy. Both were standout players at their current schools as high school athletes.
The game was anticlimactic. Bangor had a height advantage and outrebounded Cony, 54-29, in a 57-43 victory.
February, 10, 2012
2/10/12
2:15
PM ET
By
Gary Hawkins
| ESPNBoston.com
That Travis and Karen Magnusson would become high school basketball coaches, given their backgrounds as point guards and students of the game, seemed inevitable. So does the success that the husband and wife coaches are having this season at their respective schools.

Travis, who coaches the Dirigo High School boys team, came within a whisker of a perfect season before falling to Spruce Mountain, 39-34 Wednesday night. Still, his Cougars finished the regular season at 17-1 and enter the upcoming Western Maine Class C tournament as the top seed. Karen, who coaches the Cony High School girls team, finished at 18-0 Thursday and her Rams will enter the Eastern Maine Class A tournament as the top-seeded team.
There wasn't much talk between Karen and Travis about going unbeaten this season — both recognize winning a state title as a larger goal — but it's still hard to avoid.
"Honestly we try not to do it," Karen said. "But it's something that comes up with other people."
The couple rarely get to see one another's teams play since they usually play on the same night. Fans at both schools, however, recognize what's going on.
[+] Enlarge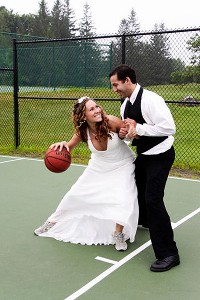 Courtesy of Karen Magnusson Travis and Karen Magnusson are having success coaching high school hoops in Maine.
"It's almost like we share our programs with each other," Karen said. "His fans ask how I'm doing and my fans ask how Trav's doing."
The Magnussons are both basketball junkies, a passion that began long before they met at the University of Maine at Farmington a few years ago. Karen Sirois starred at Cony in Augusta while Travis played for Georges Valley in Thomaston. Both played point guard at UMF and each of them totaled over 1,000 points and 500 assists in their careers.
Farmington women's coach Jamie Beaudoin and men's coach Dick Meader saw coaches in the two long before their playing careers ended.
"I knew from the first moment I watched her play that she was going to be a coach," Beaudoin said. "She was able to see things on the floor that many times an experienced coach wouldn't pick up on. She's just a student of the game."
Meader echoed those thoughts about Travis, who served as a varsity assistant at UMF the year after he graduated. Travis was hired as boys coach at Livermore Falls a year before Karen go the job at Cony so she helped him out and gave him an unbiased look at the players and the team.
"There was nobody I listened to more, especially with my team that first year," Travis said.
Travis turned the Livermore program around, reaching a tournament prelim game his first year in 2009 and the tournament itself the next two. He lost his job when Livermore and Jay high schools combined this year to form Spruce Mountain, but when the Dirigo job opened up he applied. The Cougars reached the state final last year and return many of those players.
The Magnussons talk basketball most of the time, often while breaking down film at home another or swapping drills.
"I get some of my plays and sets from him," Karen said. "I know his personnel, we definitely help each other out. Sometimes we sit up until 11:30 or 12 talking about it. We watch game film together. It's like having an assistant coach at home."
They also share a similar philosophy, borne from the way they played the game.
"We both like to run and gun, play pressure defense and give our players freedom to take shots." Travis said. "As I've gotten older I've realized the importance of quality shots."
The Magnussons are competitive by nature and haven't played a serious game of 1 on since Travis came away with a bloody nose when the got together on the court in college.
"He's competitive and I'm competitive so we never really have the fun 1-on-1," Karen said.
Well, they did have a little fun on the court on the day they were married, playing a friendly game, she in her wedding dress and he in his tuxedo.
They'll get a chance to watch the other's team play in about 10 days when their teams will be favored to win regional championships at the Augusta Civic Center.