Boston High School:

Karl Infanger
March, 31, 2013
3/31/13
3:58
AM ET
By
John McGuirk
| ESPNBoston.com
WORCESTER, Mass. -- Several times during Saturday's Fourth Annual Aleppo Shriners MSHCA High School Classic, South All-Star head coach Chris Ross commented to his assistant coaches Karl Infanger (Natick) and Derek Harrington (Medway) how amazing it was to be able to coach so many talented hockey players in one setting.

Ross was right. The level of talent he had at is disposal was eye-popping and certainly lived up to its billing inside the DCU Center.

Catholic Memorial's Liam Coughlin, Natick's Matt Kustra and Barnstable's Max Wilman each netted a pair of goals in leading South to a 9-2 demolition of the North All-Stars.

"All of us coaches were remarking on the bench about the amount of great talent that was out there on the ice today," said Ross, who serves as head coach at Medway High. "Our overall skill level was tremendous and it was a lot of fun to watch and coach these kids. I joked with our other coaches saying 'don't you wish you had this kind of talent during a regular high school season?' For me personally, this event is great and it is a lot of fun to be a part of."

South left little doubt as to who was the stronger team on this day. Four goals in a span of 5:26 of the opening period made believers out of everyone, including North. Xaverian's Eddie Pratt got things started with a long-range goal from the high right slot coming at 5:31. Four minutes later Wilman bagged his first with a nifty right-to-left cross over in front of Burlington High goalie Derek Decastro, beating him with a back hand for a two-goal lead. South was not done by a long shot. A Coughlin laser low glove side was followed up by a Kustra marker just 14 seconds apart giving South a commanding 4-0 lead.

"To play in a game like is pretty awesome," said Coughlin, who scored 26 goals this past season for the Knights. "It was kind of weird though playing on the same side with some guys who were our main competitors and rivals during the season. We didn't talk much but overall it was a lot of fun."

North finally broke its offensive drought early in the second as the Chelmsford High duo of Tommy Bishop and Drew Dawson joined forces. From behind the South goal, Bishop lifted a perfect feed to Dawson, out in front, who one-timed his shot past Duxbury goaltender Chris Johnson to make it a 4-1.

But any thoughts of a comeback were short-lived. Kustra made it 5-1 late in the period to send South into the intermission on top by four goals.

"At the end of this season I sprained my ankle so this was the first time I had been on the ice since then," said Kustra. "I expected to play a few shifts but to score two goals is something I never expected to have a game like this."

As if leading by four goals wasn't enough. South came out for the final period looking for more and got it.Wilman, voted the game's MVP, and Medway's Jack Kilty each found the back of the net to continue South's lamp-lighting ceremony.

"Since we hadn't practiced together prior to this game it took a little time for all of us to get use to one another on the ice but once we did we started to click," Wilman said. "For me, it's an honor to be named the MVP. I never expected to win it especially with (Liam) and a bunch of other guys who deserved it as well."

Bishop got one back for North but Dennis Medeiros (Catholic Memorial) and Coughlin closed this one out with a late goal each.
March, 3, 2013
3/03/13
7:33
PM ET
BOURNE, Mass. -- For the past couple of weeks, the Archbishop Williams boys' ice hockey team has been in a funk, one they hope that they broke out of with a 2-1 victory over Natick yesterday afternoon at Gallo Ice Arena. The Bishops did not play up to their standards at the Cape Cod Classic to close the regular season, and then were embarrassed in a Super-8 play-in game against Malden Catholic.

"I'm going to be straight forward, we haven't been playing very good hockey down the stretch coming into this tournament, we just had to get the monkey off of our back," Bishops head coach Derackk Curtis said. "We needed to find a way to win, dirty, scrappy, I didn't care … Sometimes you just have to exorcise those demons, get the winning feeling, get that monkey off of your back."

The Bishops scored two first period goals and then hung on for dear life, thanks in large part to the play of goalie Joe Vinay, who stopped 29 of the 30 shots that he saw in the game.

The day's offense for the Bishops came within a short stretch in the first. In less than three minutes, the Bishops bolted ahead by a pair and then had to make that stand up the rest of the way.

Michael Sorrenti enjoyed his personal home ice advantage. The Archies forward, who hails from Bourne, grew up playing on the Gallo Ice Arena sheet and he was the first one to put a puck in the net for the Bishops. Sorrenti scored on a shot that Natick goalie Griffin Bailey wished he could have had back, as he didn't cover up the near side pipe and Sorrenti sneaked a wrister inside of it to give his team a 1-0 lead at 8:21.

Shortly later, at 10:48, the Bishops doubled the lead. Colin Boyle snapped a wrister from the high slot that found its way behind Bailey, who was lifted in favor of Mike White for the latter two periods. White was excellent down the stretch, stopping all 14 shots that he saw, including a couple of breakaways.

Penalties were a bugaboo for the Bishops the rest of the way as Natick enjoyed six power plays in the game, and cashed in one. The Red Hawks would have loved to have had more, but Vinay and forward Ryan Dunn led a PK unit that got the job done effectively.

Matt Clifford's second minor penalty of the second period led to Natick's lone score. Just 19 seconds after the infraction, Natick junior captain Derek Butler planted himself in front of the cage and tipped in a feed from behind the cage by Max Plasker to cut the lead in half at 5:34, making it 2-1.

With Natick losing its best offensive weapon, Matt Kustra, in the first period with an ankle injury, head coach Karl Infanger said that his team's power play unit lacked its usual cohesion. The Red Hawks had five power plays over the final two periods, including a four-minute advantage midway through the third, but were never able to find the equalizer, despite outshooting the Bishops, 21-14, over the final 30 minutes.
March, 23, 2012
3/23/12
4:01
PM ET
First Team:
F – Brendan Collier, Sr., Malden Catholic
The two-time ESPN Boston All-Stater closed out his senior season with a second straight Super 8 title and claimed our Mr. Hockey Award. The Charlestown native and Boston University commit scored 26 goals with assists for 65 points, a figure which led all Division 1 scorers. Collier, who also plays golf and lacrosse at MC, plans on playing a year of juniors next year before joining the Terriers.
F – Ryan Fitzgerald, Jr., Malden Catholic
The Lancers' top-line pivot makes his second All-State team appearance, his first on the First Team. The North Reading native and Boston College commit again eclipsed the 50-point plateau (31-21-52), despite missing the first couple weeks of the season with a shoulder injury, and helped the Lancers to their second straight Super 8 title.
F – Sam Kurker, Sr., St. John's Prep
When looking up the term power forward, the Eagles senior winger and captain fit the mold. The 6-foot-2, 210-pound forward finished with 32 goals and 28 assists for 60 points. The Boston University commit has also seen time with U.S. National Team Development Program and skated with the U-18 select team at the Ivan Hlinka Tournament during the summer.
D – Colin MacGillivray, Jr., Malden Catholic
The Lancers blue-liner is made in the mold of an old school rugged defenseman. The 6-foot-1, 185-pound Peabody native played on MC's top pairing through the season while posting three goals and 10 assists for 10 points for the repeat Super 8 champions.
D – Nikko Markham, Sr., St. Mary's (Lynn)
The Catholic Central Conference Most Valuable Player and Spartans captain finished a sound career by leading St. Mary's to a No. 2 seed in the Super 8. The Salem native was among the top point-scoring blue-liners in the state with six goals and 12 assists for 18 points.
G – Peter Cronin, Jr., BC High
For the second straight season, the Eagles went as their netminder went, and Cronin led BC High to its first Super 8 finals appearance since 2007. Playing in each of the Eagles' 25 games, the Norwell resident posted a 2.00 goals against average and a 91.7 save percentage.
2nd Team:
F – Kevin Emmerling, Sr., St. John's (Shrewsbury)
Perhaps the most skilled skater in the state, the Pioneers' center provided a dynamic offensive punch to their Super 8 run. The Whitinsville native finished third in Division 1 scoring with 26 goals and 30 assists for 56 points. Emmerling is exploring his options for next year and hopes to play college hockey.
F – Conal Lynch, Sr., Boston Latin
Lynch also showed that Charlestown is again a hotbed of hockey, carrying the Wolfpack to a DCL/MVC Div. 2 championship. Lynch finished second in Division 2 in scoring with 35 goals and 18 assists for 53 points. The Wolfpack captain is weighing his options in pursuing prep or junior hockey next year.
F – Matt Sullivan, Sr., BC High
The senior captain was a true two-way center with a high hockey IQ. The Duxbury resident anchored the Eagles' top line, scoring 12 goals and 16 assists for 28 points and lifting BC High to its first Super 8 final appearance since 2007. He is pursuing prep and junior hockey opportunities for next season.
D – Casey Fitzgerald, Fr., Malden Catholic
The younger brother of Ryan, Casey catapulted himself onto the scene in his first year, filling the role of a puck-moving defenseman previously held by former All-Stater Conor Evangelista. The North Reading resident and Boston College commit tallied two goals and 15 assists for 17 points in his first year.
D – Peter Sikalis, Sr., Acton-Boxborough
The Colonials' captain was the impetus behind their run to the D1 North semifinals. Sikalis had eight goals and 11 assists for 19 points while eating up boatloads of ice time for head coach Bob Lavin. The imposing 6-foot-3 defenseman is exploring his hockey options for next year.
G – David Letarte, Sr., St. John's Prep
The captain has been the Eagles' backbone during the last three seasons, leading Prep back to the Super 8 once again. Letarte had a 2.08 goals against average and a 91.3 save percentage in 18 games played. He is currently mulling over college and junior hockey offers for next year.
"Best of the Rest"
Nick Bertoni, F, Franklin
Tom Besinger, F, BC High
Tommy Bishop, F, Chelmsford
Matt Brazel, F, Hingham
Trevor Cimino, F, Burlington
Frank Crinella, F, Springfield Cathedral
Paul Curran, F, Milton
Vin D'Amato, F, St. John's (Shrewsbury)
Jarrod Fitzpatrick, F, St. Mary's (Lynn)
James Gordon, F, Hingham
Danny Holland, F, Woburn
Mike Iovanna, F, Malden Catholic
Connor Irving, F, Beverly
Mike Kelleher, F, Central Catholic
Chris Leblanc, F, Winthrop
Bobby Mullins, St. Mary's (Lynn)
Ara Nazarian, F, Malden Catholic
Andrew Newis, F, Natick
Jack O'Hear, F, Catholic Memorial
Cam O'Neill, F, St. Mary's (Lynn)
Jake O'Rourke, F, Medway
Cam Owens, F, Wilmington
Brian Pinho, F, St. John's Prep
Dalton Rolli, F, Wilmington
Joe Strangie, F, Danvers
D.J. Walsh, F, Needham
Bryan Carter, D, Hudson
Connor Fenton, D, Braintree
Brian Furey, D, BC High
Pat Houghton, D, Westford Academy
Steve Mattos, D, Burlington
Nick Pandalena, D, St. John's Prep
Jake Secatore, D, Woburn
Brendan White, D, Malden Catholic
Joe Cerulo, G, Wakefield
Jordan Davis, G, Norwood
Mike Donadio, G, Franklin
Bailey MacBurnie, G, St. Mary's (Lynn)
Connor Murray, G, Needham
Connor Roddy, G, Medfield
Shane Starrett, G, Catholic Memorial
Steven Waites, G, Winthrop
Kyle Williams, G, Central Catholic
Coach of the Year
Chris Spillane, Franklin
Losing 15 seniors off of 2011's Division 2 state finalist team posed no problem to Spillane in guiding his team back to the Garden again. The 13-year Panthers bench boss is regarded as one of the finest in the state, but no season might have been more impressive for Spillane than getting this team back to the finals.
Finalists:
Karl Infanger, Natick
Mark Lee, St. Mary's (Lynn)
John McLean, Malden Catholic
March, 9, 2012
3/09/12
2:00
AM ET


BOURNE, Mass. –- In this week's practices, Natick hockey head coach Karl Infanger challenged his players to do everything in their power to commit to playing team defense. Facing a familiar opponent in Thursday night's Division 1 South sectional semifinal against Bay State League rival Norwood, the Red & Blue's bench boss didn't want the Mustangs' shifty forwards being their downfall.

"Our game plan tonight was pretty similar to Needham [in quarterfinals], which was to take away their time and space, be physical, take away their passing lanes," Infanger said.

He paused for second and added, "And, if you're caught hanging, you've got to block a shot, you've got to pay the price."

According to plan, Natick lassoed the Mustangs into playing a grind-it-out kind of a game, instead of an up-and-down pace.

Freshman forward Trevor Kaplan scored the biggest goal of his young career – his second to be exact -- and senior netminder Derek Kwok made 24 saves to give Natick a 1-0 shutout victory.

The Red & Blue advance to face another Bay State rival, Milton, in Sunday's South sectional title game, scheduled for 3:30 p.m. at Gallo.

"We knew we were right there with them," Infanger said of the team's first meet on Jan. 14, a 2-2 tie. "But today's game was all about special teams. We really focused on our penalty kill all week. We know their PP is dangerous."

Natick (11-8-4) killed three Mustang power plays while cashing in on one of their two man-advantages. Kaplan followed a rebound off an Andrew Newis shot at 3:58 of the second period.

From there, Kwok took over, making 19 of his 24 saves during the second and third periods.

"My defense has played well," the senior netminder and captain said. "In the playoffs they've really stepped it up. The shots I wasn't able to see, they got blocked before they got to me."

END OF THE ROAD
It was inevitable that one team's emotional story would come to an end Thursday night.

While Natick has dedicated their season to fallen teammate Justin Bailey, Norwood, as in the last three seasons, have devoted their efforts to Matt Brown, who would have been a senior skater with the Mustangs this season.

Even though the Mustangs fell short of their ultimate goal, Norwood head coach Bill Clifford said his group has been one of his most memorable.

"They're a special team, they really are," Clifford said. "They would've like to have gotten a little bit further, but they were a great group."

NOT TO BE OUTDONE
While Kwok might have emerged with the shutout and the win, Mustang netminder Jordan Davis was on par.

Davis, a junior, snagged the save of the game with a glove-side stop in the third period.

Natick forward Mike Pennett broke in on Davis on a breakaway with about 10 minutes to play. Pennett stick-handled into the slot before getting off a quick wrister from between the circles. Davis grabbed the rising shot and held on for a faceoff.

"He had a 1.50 goals against average through the season and he made some unbelievable stops tonight," Clifford said of Davis.


January, 5, 2012
1/05/12
9:26
PM ET
Thirty-six seconds. An insubstantial morsel in the great ocean of time that constitutes our lives.

That's all the time Justin Bailey had in his varsity hockey career at Natick High. One shift on the Red & Blue's fourth line during garbage time of a 4-1 non-league loss against undefeated Franklin last Friday.

To anyone in attendance, they might not have noticed it. They might have been headed toward the exits.

But that time, spent wearing his home town's sweater, meant the world to Justin.

"His father talked to me afterward and told me how much it meant to him," Natick head coach Karl Infanger said Thursday afternoon. "It was like he'd just won the Stanley Cup."

Bailey died suddenly on Wednesday at his home, reportedly of natural causes. He was 17 years old.

A senior at Natick, this was Bailey's first varsity season with the hockey team. He was cut as a freshman, worked hard and spent his sophomore and junior years with the junior varsity. There was no question in Infanger's mind where Bailey belonged leading into this season, even if he might not see the ice often.

"He was the epitome of a team player," Infanger said. "He's the type of kid that isn't the most gifted athlete in the world, but he had a passion for hockey. He loved the game.

"His teammates loved having him around."

Infanger makes it a point to have one-on-one meetings with his players every five games throughout the season. He sat down with Bailey a few days ago. Recently, Bailey had been battling an ankle injury, not the kind that would keep him out of practice though. Infanger talked to him about ice time and his role on the team.

"He told me," Infanger said, "'None of that matters, I just want to see the team win.'"

Bailey's mother works in the Natick school system and his younger brothers play hockey as well, one of them with the Red & Blue's J.V. team.

Infanger broke the news of Bailey's passing to his teammates minutes before they were scheduled to take the ice in a league game against Needham, Wednesday night.

That game and the boys' and girls' hockey games scheduled for Saturday have been postponed out of respect for the family, though both teams mingled on the ice at the Suburban Arena on Thursday for a pick-up game of shinny. The ice time had already been reserved for practice.

"We have to take care of life first," Infanger said, "but it was nice for the kids to come together, and share the game, and have that time to sort through this together."

On Thursday, word flickered across the Internet that Minnesota high school hockey player Jack Jablonski is not expected to walk again, following an extensive surgery after severing his spinal cord during a game last Friday.

The Worcester Telegram & Gazette also reported that 18-year-old Nipmuc Regional student Jack Street was killed on Wednesday after he fell from a ski lift at the Ski Ward in Shrewsbury. A skier from the age of 5, Street was practicing with the school's ski team for the first time.

When Infanger talked about the shock of learning Bailey's death, he spoke of how such events can tear down the belief that we're somehow immune from tragedy as we go about everyday life.

At a time when so much attention is paid to resolutions and hope of things to come, let's take one lesson throughout this new year:

Thirty-six seconds can mean everything.
December, 15, 2011
12/15/11
12:31
AM ET
WEYMOUTH, Mass. -- It was typical of an early season game: missed opportunities, room for improvement, et al.
As No. 18 Weymouth and Natick got the Bay State Conference season underway with a 4-4 tie at Connell Rink, like most ties, there were plenty of things to make either side see the glass half full or empty.
For the Wildcats, coming off a Super 8 season, there's the matter of giving up the game-tying goal inside of a minute remaining in play. Red & Blue senior captain Andrew Newis buried a one-timer off of Mike Pennett's feed to knot the score with 48 seconds to play.
[+] Enlarge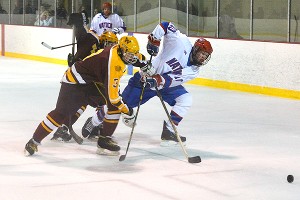 Scott Barboza/ESPNBoston.comWeymouth's Joe Flanagan battles Natick's Andrew Watkins for the puck during the first period Wednesday night at Connell Rink. The teams skated to a 4-4 tie.
In Natick's perspective, there are the three power-play goals scored that would make any coach happy. But there were also three goals surrendered on turnovers committed either in the neutral zone or in the defensive end, including Sean Murphy's short-handed goal that gave the Wildcats a 3-2 lead in the second.
It all went to show that there was a long road ahead for both sides.
"We learn from it because you saw that you make a couple of bad decisions and the puck ends up in the back of the net," Weymouth head coach Matt Cataldo said.
GETTING BACK TO BUSINESS
For a young Weymouth squad, which lost (and not limited to) its top offensive line, top defensive pairing and starting goaltender, the early season will be a particular test.
The Wildcats received solid contributions from some of their key returnees, including Joe Nardone (1 A) and Murphy (1 G, 1 A), along with a player in Shawn Jennette, who they are looking to fill a bigger role this season. Jennette scored two goals within six seconds of the second period to give Weymouth a 2-1 lead.
"It's great having people back from last year's team, but it's more important for those guys to realize that we're a different team," Cataldo said. "They can't be thinking that just because they were a part of that team last year that we're going to get those same results.
"Those guys know what it takes to get to that level, they know the level of competition that we're going to be playing, but they've got to be the leaders on the ice. They have to step it up, everybody does."
MAKING STRIDES
Natick head coach Karl Infanger talked postgame about how he's seen his team steadily improve during the last couple of seasons and now holds higher expectations for his group.
"I think we can surprise some people," Infanger said. "I like to think that we can challenge for the Herget title. We've been building for a couple years now and I think when we play a program like Weymouth, and what with Matt Cataldo's done, and show we can skate with them stride for stride, that's something to build on."
Infanger was pleased with the work of his top line of Tim Dunn (1 G, 2 A) Matt Kustra (2 A) and Newis (1 G).
He was also encouraged with the work of backup goaltender Jeff Rausch, who made 32 saves while making the start in place of starter Derek Kwok, who was sidelined with a high ankle injury.
Perhaps the most impressive player on the ice for either side was Natick defenseman Denis Nagle, who set up two of the Red & Blue tallies. The senior blue-liner is a smooth skater, who likes to jump up into the play and isn't afraid to push the pace of play.