Boston High School:

Keagan Latta
November, 5, 2013
11/05/13
1:31
AM ET
LOWELL, Mass. -- Lowell's Keagan Latta accomplished a trifecta of sorts in the Red Raiders' emphatic 41-0 rout of St. John's Prep in a Division 1 North first-round playoff game.
The senior wide receiver and safety tallied three touchdowns -- all by different methods. Latta had a pick-six, a fumble return for a touchdown, as well as a touchdown reception. The No. 3 was a charm, too, as Latta pocketed three interceptions, as the Red Raiders shut out the Eagles.
For his efforts, Latta was named our ESPN Boston Player of the Week.
Editor Brendan Hall caught up with Latta on Monday, as the Red Raiders prepare for their sectional semifinal duel with Everett:
Along with Latta, here are our Top 5 performers for the weekend's playoff games:
Keagan Latta, Sr. WR/S, Lowell - Went for the trifecta in the Red Raiders' 41-0 blowout of St. John's Prep. He caught two passes for 51 yards and a score; recorded three interceptions, including one returned for a second score; and registered a third score on a scoop-and-score fumble return.
Tyis Boykin, Sr. ATH, St. Peter-Marian - Had himself a field day in the Guardians' 50-20 win over Tantasqua in D4 Central. Carried 19 times for 196 yards and four touchdowns; was 4-of-5 passing for 96 yards and a touchdown; and added a 65-yard punt return for a sixth score. He also had 3.5 tackles and two pass break-ups on defense.
Marcus Collins, Jr. QB, Cambridge - In the Falcons' 29-28 heartbreaking loss to Reading in D2 North, totaled 355 yards and four touchdowns.
Alex Givins-Perry, Sr. RB, Bartlett - Ran for 364 yards and three touchdowns in the Indians' 42-21 win over Auburn in D5 Central action.
Alex Hilger, Sr. WR, Natick - Caught eight passes for 215 yards and three touchdowns in the Redhawks' 39-26 win over King Philip in D2 South.
October, 26, 2013
10/26/13
1:00
AM ET
By
Chris Bradley
| ESPNBoston.com
LOWELL, Mass. -– Following up one of his best performances of the season, Brian Dolan couldn't contain his excitement following Lowell's 28-7 victory over Andover (3-4) Friday night.

"We just made history!" Dolan exclaimed while running to partake in the celebration with his teammates.

This Red Raiders (6-1) team, the first playoff squad to come from Lowell, was elevated in the offseason when Dolan decided to transfer from Lawrence Academy. Though it took the dual threat signal-caller some time to fit into Lowell's offense, and get to know his teammates, he's playing his best football of the season at the right time.

Dolan finished 13-19 for 104 yards and three touchdowns, giving the Red Raiders a quick lead in the first half that they were able to keep throughout the game.

"It's reps, experience, him feeling comfortable with things, understanding what a defense is doing. Just progression and reps, he's done a good job [this year]," Lowell coach John Florence said.

Two-way star Shyheim Cullen (73 yards rushing, one sack, one fumble forced) and Ngaiiva Mason (58 yards rushing, TD) also helped led the charge, as Mason's consistent running in the first half and Cullen's ability to make plays all over the field ultimately made a big contribution to the playoff clinching victory.

"We did great, we did awesome," Cullen said. "We almost had the shutout, but that doesn't mean anything. We worked all week on [defense], our defense is probably the best in the league...We work hard on it every day. Coach just tells us never give up, never quit, 100% effort all the time."

Florence agreed, praising Cullen for his on-field leadership on both sides of the ball.

"He's a great kid, a great teammate -- he prepares hard during the week," Florence said. "He's very intense, he practices hit technique, his reads, he watches film, and him and Ngaiiva running the ball they kind of have a little one-two punch right there. They're good friends, good teammates—they don't care who gets the ball. They're always kind of rooting for each other."

Dolan got the Lowell offense started quickly, leading an 11-play, 62-yard attack on the Red Raiders' first drive in the first quarter. He found Keagan Latta (2 TD) from 14 yards out to give Lowell the first lead of the game in the opening minutes. Dolan threw a 17-yard strike to Jack Galvin late in the second quarter to extend the lead to 14-0 at halftime.

"It was definitely one of our most complete games of the year," Florence said. "We've gotten better slowly but surely, progressively better with that -- we were sloppy at that last year. Last week we played about three and a half quarters of football, we didn't finish the way we wanted to. We did a better job this week."

Dolan found Latta once again in the third quarter to make it 21-0, then Mason ran it in from just over the goal line late in the fourth quarter to render the lead insurmountable. Oliver Eberth scored Andover's only touchdown of the game with 10 seconds left in regulation, breaking through for an 86-yard run.

"We're just gonna enjoy this for a couple minutes, and then we'll put it behind us and we'll find out tonight or tomorrow morning," Florence said. "We talk about it every week…we can't worry about what happened in the past, we're gonna focus on who we have next."

Cullen said he was ecstatic to make school history, especially going into the playoffs in grand fashion following one of their best team efforts of the season.

"It means a lot to us," Cullen said. "It means something to take our program to the next level, hopefully we take it further than the playoffs and go to the super bowl. It's the first time we've ever been to the playoffs ever, and to be on the first team that goes to the playoffs—it's incredible, it's surreal."

September, 5, 2013
9/05/13
7:28
PM ET
ESPN Boston High Schools editors Scott Barboza and Brendan Hall give their Week 1 MIAA football picks:

No. 19 BC HIGH at NORTH ATTLEBOROUGH, Friday, 7 p.m.

Scott Barboza: I really like this Eagles linebacking corps, led by Steve DiCienzo. BC High, 27-17.

Brendan Hall: What better way to kick off BC High's redemption tour than with a team that ran circles around them last year. Methinks Eagles coach Joe Gaff has a few tricks up his sleeve for this one. BC High, 21-7.

No. 4 MANSFIELD at DUNBAR (Md.), Friday, 7 p.m.

Barboza: I think the Hornets keep it close for a half, then the Poets' depth bears its head. Dunbar, 35-27.

Hall: There isn't a quarterback in New England as gifted as Dunbar's William Crest, a West Virginia commit and one of the Old Line State's top prospects. Hornets are already snakebitten, but injuries aside this is not a matchup you want to make a track meet out of. And unfortunately for the Hornets, I feel their game plan plays right into the Poets' hands. Dunbar, 35-14.

No. 12 BARNSTABLE at DENNIS-YARMOUTH, Friday, 6 p.m.

Barboza: I still maintain the Dolphins will be a playoff team in Div. 4 South, but damn this Red Raiders' secondary is going to be tough for anybody to beat this year. Barnstable, 33-27.

Hall: The three games prior to last year's blowout were decided by a total of five points. I think we're in for another thriller here, but the Barnstable secondary does just enough in the end to preserve the win. Barnstable, 25-21.

ANDOVER at NORTH ANDOVER, Friday, 7 p.m.

Barboza: Sounds as though the Golden Warriors were another squad hit hard by the injury bug in the preseason. I'm going with the "upset" here. North Andover, 17-10.

Hall: I predict a big night on the ground for whoever gets the start at tailback, and an even bigger night on defense for Will Eikenberry. Andover, 24-10.

No. 14 WALPOLE at FOXBOROUGH, Friday, 7 p.m.

Barboza: Man, this one shapes up as an appointment viewing date for years to come. It's a shame we never got a chance to see these games earlier. Walpole, 20-13.

Hall: Clean, old-fashioned border rivalry. This one has lots of potential. Lots. Walpole, 10-7.

ABINGTON at No. 13 DUXBURY, Friday, 7 p.m.

Barboza: Having picked against the Dragons in last year's playoffs, I fear I'm going to have to lay low in Duxbury for a while. Abington, 12-7.

Hall: Losing Matt Kilmain hurts Abington in this one, but their defense is going to keep them in the game. But it's just a simple matter of being overpowered at the line of scrimmage. Duxbury, 20-10

No. 9 LOWELL at WESTFORD ACADEMY, Friday 7 p.m.

Barboza: Watch for wide receiver/ defensive back Keagan Latta to have a breakout year this year. Lowell, 28-20.

Hall: Expect gaudy numbers for Brian Dolan in his first start under center for the Red Raiders. Lowell, 38-31.

TEWKSBURY at CHELMSFORD, Friday, 7 p.m.

Barboza: Watch out for the Redmen as a sleep for the Division 3 state title. Mark it down. Tewksbury, 17-10.

Hall: It's not every year the Redmen are favored in this matchup. But that's the kind of power Brian Aylward has built at Tewksbury. Expect a big game from Eddie Matovu. Tewksbury, 28-17.

HAVERHILL at BEVERLY, Saturday, 1 p.m.

Barboza: Panthers' cupboard isn't completely bare after their historic 2012 season, but the winning streak ends against the Hillies. Haverhill, 21-13.

Hall: All preseason, all we kept hearing with regards to Haverhill is "How do you replace Chance Brady"? Two words: Ian Kessel. The young sophomore is going to one to watch in the coming years. Haverhill, 21-13.

No. 10 BRIDGEWATER–RAYNHAM at No. 1 ST. JOHN'S PREP, Saturday, 1:30 p.m.

Barboza: I think there are some defensive questions the Eagles will have to answer against a top-flight ground game such as B-R's on Saturday, but I give the edge to the Prep's passing game. Prep, 14-7.

Hall: Trojans play ball control and put together a monster drive early to stay ahead in what should be some trench warfare. You can't cage Johnathan Thomas, the state's most explosive player, but somehow they'll limit his trips to the end zone. B-R, 14-7.

No. 6 SPRINGFIELD CENTRAL at No. 2 EVERETT, Friday, 7 p.m.

Barboza: The Golden Eagles will show they belong at the state's big boys table, but I'm giving the edge to the home side – with the advantage of not having to shack off Friday night bus legs.Everett, 24-21.

Hall: The Golden Eagles are going to have to control the line of scrimmage in this one if they are going to keep pace. But something tells me Cody Williams has some more magic up his sleeve after last season's historic run. Springfield Central, 24-23.


August, 29, 2013
8/29/13
6:09
PM ET
LOWELL, Mass. – It's in Jack Galvin's blood, but he doesn't let on.
When asked about his family's athletic exploits, he shyly mentions that his dad once played in the NFL. The Lowell senior wide receiver and outside linebacker, like his father, Blake, before him, has already carved out a niche in Red Raiders' history. It's difficult to live in the shadow of a program great, who went on to star at Boston College and, later, was drafted.
[+] Enlarge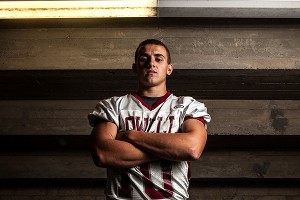 Michael Thorpe for ESPNBostonLowell wide receiver Jack Galvin has 1,862 receiving yards and 20 touchdown catches since the start of his sophomore season.
But the Galvin clan seems to have it all in perspective.
"My dad has always wanted me to do my own thing, whatever that is," Jack said before a recent practice at Cawley Stadium. "There's no pressure. If I want help, I can ask him, but otherwise, he just wants me to do what makes me happy."
With that guidance, the younger Galvin is well on his way to cementing his own legacy at Lowell. Having tallied at least 60 receptions and 800 receiving yards in the last two seasons, including a career high 72 catches for 916 yards in 2012. He also caught 10 touchdown passes in both his sophomore and junior years.
That production has garnered Galvin interest from Division 1 FBS and FCS schools. Galvin's keen to watch his college options play out, but says the Ivy League would be an ideal destination.
Yet, for a third straight season, Galvin and the Red Raiders' receivers will have a new quarterback distributing the ball: enter Lawrence Academy senior transfer Brian Dolan.
Whether it was R.J. Noel (now starting at Sacred Heart) or Cam Latta in the previous years, Galvin and the Red Raiders offense has operated at a prodigious clip, averaging more than 30 points per game for the greater part of the last two seasons.
To ensure the trend continues, Galvin has spent just about every day of the summer months huddled up with his fellow receivers running the spread on Cawley's turf.
"I think every time I passed by here, they were out on the field," Red Raiders head coach John Florence said.
Whether it was 7-on-7 passing leagues or work on their own, Galvin says football is the currency to a tight senior group's friendship.
"Yeah, that's pretty much what we do," Galvin chuckled. "We really love football, and we like hanging out together, so that's what we do."
LOWELL AT A GLANCE
Coach:
John Florence (Third season, 15-7 overall)
Last Season:
9-2
Key Returnees:
Jack Galvin, Sr. WR/LB; Alex Quintero, Sr. OL/DE; Ndeiiva Mason, Sr. RB; Keagan Latta, Sr. WR/DB; Shyheim Cullen, Jr. LB; Nicolau Coury, Jr. LB; Tom Smith, Sr. WR; Michael Holder, Sr. WR/DB; Musa Mansaray, Sr. LB; Angel Brito, Jr. OL/DL.
Strengths:
Skill positions, athleticism.
Weaknesses:
Lack of experience at quarterback.
Outlook:
While the Red Raiders' high-flying aerial attack gets its fair shake of attention, let's not overlook half back Ndeiiva Mason. Operating in an offense that is inclined to the passing game, Mason still rushed for more than 800 yards. Florence feels the stat doesn't tell the whole truth. "He's a pretty good back, and if he worked in some other offenses, I think he'd put up some really big numbers," Florence said.
On defense, the Red Raiders are big, physical and fast. With Alex Quintero rushing off the edge and juniors Shyheim Cullen and Nicolau Coury filling the holes at linebacker, Lowell might finally have the defensive corps it needs to make a postseason run in a loaded Division 1 North.