Boston High School:

Keegan Taylor
June, 24, 2011
6/24/11
4:18
PM ET
By
Roger Brown
| ESPNBoston.com
When it seemed clear that the Portsmouth (N.H.) High baseball team was about to extend the program's winning streak to 83 games by beating St. Thomas Aquinas in last Saturday's Division II championship game, the conversation in the Northeast Delta Dental press box turned to next season. How good will Portsmouth be in 20102?

The answer: pretty darn good.

Like most teams, the Clippers will have some significant pieces to replace, but Portsmouth will return most of its starting lineup. The key losses will be starting pitcher Keegan Taylor and center fielder Aidan O'Leary, both of whom have committed to play Division I baseball. Taylor will play for Northeastern, and O'Leary for Manhattan.

"We'll have a decent nucleus of five or six guys coming back," Portsmouth coach Tim Hopley said. "When you lose kids like [Taylor] and Aidan O'Leary it's significant."

Taylor, who earned the win in Portsmouth's 9-6 triumph over St. Thomas (Dover), was 10-0 this season and 25-0 during his high school career. O'Leary hit .434 with a team-high 13 stolen bases this season.

Right fielder Quinn McCann, who entered the championship game with a .424 batting average, will also be tough to replace.

Portsmouth will return the following starters: catcher Conor Trefethen, third baseman Matt Feeney, shortstop Billy Hartmann, second baseman Connor McCauley, first baseman Ricky Holt and outfielder Kyle DiCesare.

McCauley, who can also catch, was batting a team-high .439 entering the championship game. Holt will replace Taylor as the team's ace. He was 7-0 with a 1.56 ERA after he pitched a complete game against Laconia in the Division II semifinals. He pitched two scoreless innings in the championship game.

"Standing here right now I can't see how we're not going to drop off a bit, but I probably said that last year and the year before too," Hopley said.

Portsmouth's victory over St. Thomas handed the program its fourth-consecutive Division II championship. Portsmouth hasn't lost a game since the 2007 season.

The Clippers broke the national record for consecutive victories when they beat Pembroke Academy to push the winning streak to 76 games during the regular season.

Although some people would like to see the Clippers move up to Division I, Hopley scoffed at the suggestion.

"People ask us about that all the time," Hopley said. "My answer is simply, 'If we were the biggest school in Division II then I would understand it, but we're the fourth or fifth biggest school in Division II.

"The reality is if people expect us to move up based on success then 1) they haven't paid attention to the program for the entirety, and 2) I would expect that they voice those concerns about the other four schools that have a bigger enrollment than we do."

The Portsmouth junior varsity team lost five games this season, after suffering one loss from 2007 to 2010.

Portsmouth's latest victory was one of its strangest. Because of a lightning delay, the game didn't start until 10:25 p.m., and ended just before 1 a.m.

New Hampshire's pitching rules also forced Hopley to get creative with how he used Taylor. Pitchers are allowed to throw a maximum of 16 innings in the tournament and Taylor had five innings of eligibility left entering the championship game. Taylor started the game on the mound, but also pitched four innings of relief.

Taylor moved from the mound to right field after the first inning. He moved back to the mound in the fourth, after Holt pitched two scoreless innings.

"It was something new," Taylor said. "I've never sat that long. It must have been like 45 minutes that I was sitting out for. It was tough. I got a little cold.

"We were up in the air until five minutes before game time. I went to [Hopley] and said, 'OK, I can do that.' It was in my hands whether I wanted to do it or not."

Hopley said until the start of the game was delayed by lightning he planned to start Holt, and bring Taylor in at the beginning of the third.

"I was concerned with them getting momentum early," Hopley said. "Ricky being a sophomore in an unfamiliar setting – and certainly one that's full of pressure – I thought it might be best to go with Keegan because he's been on that stage before and he's very familiar with the hitters he was going to be facing.

"I put [Taylor] in a tough spot. We went back and forth all week long on how we were going to handle the whole pitching thing."

Taylor allowed six runs on six hits, struck out 11 and walked one. He struggled through the fifth, when St. Thomas (12-8) scored five runs on four hits to take a 6-5 lead.

Although Taylor put his team in a hole in the fifth, he pulled the Clippers out of it in the sixth. That's when he broke a 6-6 tie by hitting a two-out, two-strike pitch just inside the right-field line for a three-run triple that capped the scoring.

The Clippers (20-0) tied the game when Conor Trefethen started the inning with a double and ended up on third because of a throwing error. Kyle DiCesare followed with an RBI double that erased Portsmouth's 6-5 deficit.

Hopley called the victory over St. Thomas the program's biggest win in his 16 years as the program's head coach.

"What the program has accomplished [setting the national record for consecutive victories} and what we've gone through and the attention that it has earned, to get to this point and not finish it with a win that wasn't something that I was prepared to deal with," Hopley said. "It was a real important game for us. This was special."
June, 22, 2011
6/22/11
8:43
PM ET
By
Marc Thaler
| ESPNBoston.com
Considering the contest's national significance and how the seven-inning bout played out, there's just one way to sum up the Division II baseball final.
It was sensational.

Portsmouth High prevailed in a thriller – a game played in 2 hours, 8 minutes but over the course of two days – to stun Seacoast rival St. Thomas Aquinas High of Dover. The Clippers clinched a 9-6 win at the home of Double-A baseball's New Hampshire Fisher Cats.
The last title game of the NHIAA's "Super Saturday," a June 18 quadruple-header at Northeast Delta Dental Stadium in Manchester, ended with No. 1 seed Portsmouth (20-0) celebrating a fourth consecutive crown and national record-extending 83rd straight win.
"What the program has accomplished and what we've gone through, and the attention (the win streak) has earned, to get to this point and not finish it with a win, that wasn't something I was prepared to deal with," Portsmouth coach Tim Hopley said. "It was a real important game for us."
Three storylines from the much-anticipated matchup:
Strange time to start. The game was scheduled to start at 8:15 p.m. Portsmouth ace and Northeastern-bound Keegan Taylor didn't fire the first pitch until 10:23.
The last out wasn't recorded until 12:45 Sunday morning.
STA-Portsmouth followed the Division IV final, delayed 50 minutes by thunder. Weather was just one factor contributing to the lengthy game that pushed back the main event's scheduled start time.
"We gave both teams the option of coming back (to play Sunday). It was late. But everybody preferred to get it in," NHIAA executive director Pat Corbin said. "We had a tremendous crowd. For the kids, they'll always be able to say, 'We're the ones that played the latest game in the history of New Hampshire.'"
Dueling aces. Five summers ago, they were the Nos. 1 and 2 pitchers for Portsmouth's Little League World Series team that reached the U.S. semifinals. As the clock approached 1 a.m. Sunday, STA ace Jordan Bean and Taylor squared off in the game's key sequence.
May, 28, 2011
5/28/11
1:37
AM ET
By
Marc Thaler
| ESPNBoston.com
Round-trippers that clear the fence at Campbell High are a rarity. They're so rare, in fact, that nobody associated with the Litchfield school's softball program remembers a single batter going yard.
Correction: Nobody remembers a single batter going yard before May 13.

That's when sophomore designated hitter Chelsea Caynon slugged her way to a career-defining contest. Her 3-for-4 day at the dish included three towering home runs tagged in consecutive at-bats.
"I kind of thought all of them were lucky because nobody has done it before," Caynon of her Friday the 13th fireworks, the last of which was a walk-off that clinched a 13-1 Division III mercy win over Alton's Prospect Mountain High.
Caynon said she was mobbed by teammates after circling the bases for the third time. Her last blast, in the fifth inning, capped Campbell's 13-run outburst over three frames.
Campbell's No. 3 hitter connected in the third, fourth and fifth innings and knocked in five runs. The lasers all landed in the same spot, well beyond the left-field fence stationed 250 feet from home plate.
Coach Laurie Gatherum, in her sixth year at the helm, estimated the shots sailed 260 feet.
"When Chelsea comes up to bat, I get as far away from the third-base box as I can. She's come close to killing me. She's a dead-pull hitter," Gatherum said. "I get as close to the out-of-play line as possible.
"I almost want to warn the third baseman to back up. If she gets a piece of the ball, it's going."
Caynon's powerful performance actually carried into her next game. She went 1-for-3 with a homer against Hopkinton High, giving her four taters in a span of seven at-bats.
But Caynon isn't a stereotypical all-or-nothing power hitter. She closed the regular season with one strikeout in 64 plate appearances.
She also posted a .500 average (28-for-56) with eight walks, five home runs, one triple, 10 doubles, 25 runs scored and 32 RBI. Her production helped the Cougars clinch first place with a 15-1 record.
"I would say she is the best hitter that the program has ever had, as far as consistency and power," Gatherum said.
That's saying something. Caynon is, after all, just a sophomore.
"I wasn't really trying to hit three in row," she said. "I was just waiting for my pitch."
May, 19, 2011
5/19/11
11:44
PM ET
By
Roger Brown
| ESPNBoston.com



PEMBROKE, N.H. –- Tim Hopley had a message for his Portsmouth High School baseball team Thursday, and he waited until the seventh inning to deliver it.

With the Clippers three outs away from breaking the national record for consecutive victories, Hopley gathered the Portsmouth players in front of the visitors' dugout and made sure he had everyone's attention.

"I told them there's something like 17,421 high school teams that play baseball in the [United States] and they were three outs away from doing something none of those teams had ever accomplished," Hopley said following Portsmouth's 10-2 triumph over Pembroke Academy. "If that didn't get them excited, if it didn't get them focused and paying attention to what we were standing of the doorstep of, well, that was the best I could come up with."

Portsmouth's victory stretched the program's winning streak to 76 games, one more than Homer (Mich.) High School won in 2004 and 2005. That 2005 Homer team featured pitcher Josh Collmenter, who made his major league debut with the Arizona Diamondbacks earlier this season.

"Records are made to be broken," Homer coach Scott Salow said. "There are no hard feelings. I'm sure they'll do a good job carrying the torch. This has put Homer baseball back on the front page."

Several Portsmouth players said they were relieved the record had been broken, but they insisted the team's No. 1 goal is winning a fourth consecutive state championship.

"It's definitely, definitely relief," Portsmouth pitcher/outfielder Keegan Taylor said. "It's always nice to have something off your back, but to me we're not done. It's more than just this. Definitely not satisfied yet. We want to be the last team standing."

Pitcher Ricky Holt and catcher Connor McCauley are the Portsmouth players who made the biggest contribution to Thursday's win. Holt, a sophomore, pitched a complete game and held Pembroke to five hits. He struck out four and didn't walk a batter.

"Really happy and excited that we got that record," Holt said. "Now we can start getting ready for the playoffs. We still have to get better every game and get to our main goal, which is to bring another championship back to Portsmouth."

McCauley collected four hits, drove in three runs and stole three bases.

"Definitely my best hitting game of the season," McCauley said. "It's weird thinking we own a national record. Right now it feels pretty good, but after this weekend we're gonna start thinking about winning another championship. There's relief, but we still have work to do."

McCauley and Taylor are among the five players on this year's Portsmouth team who also played for the Portsmouth team that reached the 2006 Little League World Series. Shortstop Billy Hartmann, third baseman Matt Feeney and catcher/designated hitter Conor Trefethen are the others.

Feeney, Trefethen and second baseman Matt Main each had two hits for the Clippers, who raised their Division II record to 13-0. The loss dropped Pembroke's record to 7-6.

Portsmouth did most of its damage in the second inning, when it sent nine batters to the plate and took a 5-0 lead. The big blow in the inning was Main's two-run double.

Main made it 6-0 when he scored on a wild pitch in the top of the fourth, but Pembroke answered with two runs in the bottom half of the inning. Matt Gosselin and Zac Gauss each scored on Pat Flanagan's two-run single.

The Clippers padded their lead by adding three runs in the fifth and one in the sixth. McCauley's two-run single highlighted the three-run fifth.

Pembroke's Shane St. Onge pitched five innings in relief of starter Patrick Jarvis. Each pitcher surrendered five runs.

"Every day the focus was simply just getting better," Hopley said. "If we continue to get better, we're gonna continue to play good baseball. If we get complacent and we stop trying to get better, it's gonna end in the snap of a finger. It's the nature of the beast in high school baseball."

Hopley shouldn't have a problem getting his team refocused for its next game. Portsmouth will play at rival St. Thomas on Monday. Portsmouth overcame a 2-0 deficit to beat St. Thomas 4-3 earlier this season.

"They know what's coming," Hopley said. "They know there's not a team in New Hampshire that wants to beat them more than what's in front of us on Monday.

"My job will be to remind them that it's 76, and why can't it be 77? Why can't it be a bigger number?"

Shortstop Mike Fransoso (Maine), outfielder Mike Montville (Maryland), pitcher Ben Hart (UMass), and pitcher Nate Jones (Wake Forest) are former Portsmouth players who contributed to the streak and are now playing Division I college baseball.

Two players on this year's team –- Taylor and centerfielder Aidan O'Leary –- have committed to play Division I baseball next season. Taylor is headed to Northeastern, and O'Leary will play for Manhattan. Taylor is 6-0 this season and 20-0 in his varsity career.

Portsmouth's last loss came against Hollis-Brookline in the semifinals of the 2007 Class I tournament.

The Clippers used to make headlines for a different reason. Portsmouth was coming off an 0-18 season when Hopley became head coach in 1996. The program's losing streak reached 30 games before Hopley collected his first victory as a varsity head coach.

"[Back then] I would literally wake up and pray it was raining that day because it meant we weren't going to lose," he said.

Hopley played for the Portsmouth team that won a state championship in 1988. The Clippers also qualified for postseason play in 1989, but didn't play another postseason game until 2004.

"There's been 42 guys who put this uniform on during the course of this streak," Hopley said. "The fact that it's stretched out over four different teams speaks volumes about those 42 guys because every single one of them has done one thing or another to help us be successful.

"These guys finished what was started by the guys before them. It's a pretty cool thing."
May, 16, 2011
5/16/11
7:38
PM ET
By
Roger Brown
| ESPNBoston.com
KINGSTON, N.H. -- Senior Keegan Taylor struck out nine in five innings Monday to help the Portsmouth (N.H) High School baseball team tie the national record for consecutive victories by beating Sanborn Regional, 2-0.

Portsmouth, which raised its Division II record to 12-0, has won 75 games in a row. Homer (Mich) High School posted a 75-game winning streak during the 2004 and 2005 seasons.

"We owe a lot of respect to the past teams and the past players who have gone through the program," Taylor said. "It's not just this team right now. There are a lot of other teams who have contributed to the record."

Portsmouth can break the record by beating Pembroke Academy on Wednesday.

Both Portsmouth runs were unearned. The Clippers took a 1-0 lead in the first, and doubled that lead in the third.

Much of the game was played in heavy rain and the contest was called with one out in the top of the sixth.

Taylor, who has committed to play at Northeastern, struck out the final five batters he faced. He improved his pitching record to 20-0 during his varsity career.

Right fielder Connor McCauley collected two of Portsmouth's five hits.
May, 13, 2011
5/13/11
1:29
PM ET
By
Marc Thaler
| ESPNBoston.com
It's a head-scratcher of the highest order.

Tony Johnson, among the Granite State's most successful head football coaches, will not return for his 18th season at powerhouse Bishop Guertin High, the three-time defending Division II champion.
Also the Nashua school's athletics director for the past four years, Johnson announced his stunning decision on May 6. He first broke the news to his assistant coaches and student-athletes.
Word spread quickly.
Pinkerton Academy head football coach Brian O'Reilly – whose Division I champion Astros play yet another much-anticipated season-opening crossover contest with BG this fall – said his reaction was complete disbelief.
"Tony has obviously done an exceptional job at Bishop Guertin," said O'Reilly, entering his 34th season at the helm in Derry. "When I think of Bishop Guertin football, I immediately think of Tony Johnson."
O'Reilly, whose program is a 10-time Division I king, isn't alone.
On this topic, easily obtainable answers exist to four of journalism's five W's: Who?, What?, When?, and Where? The fifth question is much tougher to explain.
Why?
"My passion is coaching," said Johnson, who will remain BG's athletics director. "But really, (BG officials) wanted me to focus on being AD."
Four years earlier, Johnson became AD in addition to coaching football. He said his performance in both roles has been reviewed annually.
Johnson, a Guertin graduate (1977), simply said the powers-that-be wanted him to focus more attention on all sports programs.
Minus any details, which haven't emerged from behind Guertin's doors, this move is baffling. Guertin fields championship-caliber teams in a variety of fall, winter and spring sports.
Let's see how much longer Guertin football remains a force. Johnson and his loyal assistants are a big reason for BG's stranglehold on Division II.
Johnson took over in 1994, fresh off a winless campaign. BG reached the final in 1997, the first of 10 title-game trips under Johnson's tutelage.
The Cardinals finally finished No. 1 in 2004, securing their first crown since Johnson starred for the school's 1975 title team as a junior.
Johnson's juggernaut has won six of the seven state championships since 2004. All that separates the Cards from seven straight titles is, quite possibly, a controversial pass interference penalty late in the 2007 final against Exeter High. The infraction gave Exeter life, and led to a 14-13 comeback decision.
"It will not be the same," O'Reilly said. "Whoever follows (Johnson) is behind the 8-ball."
That's because the successor will work in a giant shadow cast by the former coach, still serving as AD.
"We'll open this thing up. We're going to do an open search," Johnson said. "I owe it to my kids to find the best coach I can."
JOHNSON'S PREPARED STATEMENT
BG's former head coach read this statement to select media members after informing the football team of his decision to leave the sideline:
"My heartfelt thanks goes to the thousands of young men I have had the honor of coaching and teaching over the past 17 years. I want to thank my loyal coaches, thousands of great parents, alumni and friends of BG for their contributions in achieving an unparalleled record of winning football games, developing outstanding scholar-athletes, and to their dedication of the highest principles of good sportsmanship and citizenship."
CLIPPERS CLOSE TO RECORD
Portsmouth High's baseball team (10-0) is close to tying the national record for consecutive wins.
The three-time defending Division II champion won its 73rd consecutive game on May 11. The Clippers beat Amherst's Souhegan High, 9-3.
But it was Portsmouth's 70th straight win that stands out. It certainly qualified as nail-biter baseball. The Clippers clinched a 4-3 comeback win against Dover's St. Thomas Aquinas High on May 2.
Pitching ace Keegan Taylor was tagged for a first-inning home run that placed the Clippers in a 2-0 hole. Jordan Bean, STA's top hurler and Taylor's teammate on the celebrated Portsmouth Little League squad that reached the national semifinals of the 60th World Series in 2006, belted Taylor's third toss of the game.
Portsmouth's third-inning four-spot erased the deficit.
Bill Hartman cracked an RBI double. Matt Feeney ripped a two-run single. Taylor tripled to plate Feeney with the game-winning run.
Taylor threw a four-hitter on 100 pitches. Northeastern's recruit recorded 10 strikeouts and walked one.
The current win streak record-holder is Michigan's Homer High, which beat 75 teams in a row, according to the National Federation of State High Schools Association.
If the Clippers defeat Durham's Oyster River High on May 13, they'll play for a share of the record on May 16 at Kingston's Sanborn Regional.
The potential record-breaker game is May 18 at Pembroke Academy.
LANCERS LOCKED IN
Londonderry High survived a fierce five-game stretch from April 30 to May 11, which kept its state-best girls' lacrosse win streak alive. The streak reached 48 straight games with a 14-4 Division I win over arch-rival Pinkerton on May 11.
It was Londonderry's lone lopsided win in the 12-day span.
The Lancers (11-0) edged the Bay State's Duxbury High, 12-11, on April 30. They worked a 10-8 comeback win at Pinkerton on May 3.
Three days later, Londonderry beat Concord High, 8-6. The Lancers kept the Crimson Tide off the scoreboard for the final 22 minutes, and erased a 6-2 second-half deficit.
They again faced Concord on May 10, and topped the Tide, 12-9.
From front to back, the Lancers displayed their balance. Attackers Leah Walter and Julia Wasserman, midfielders Jenny Thompson and Alexa Bedell, defenders Amy Johnson and Lindsay Conroy, and goalkeeper Crystalle Parent all made critical contributions.
"All the stuff we've been trying to teach throughout the year is just starting to come into place," Londonderry coach Bob Slater said. "This is when we wanted it. This is when we needed it."
SCHOLAR-ATHLETES HONORED
Twenty-nine seniors from schools throughout the state were the honored guests at the 24th annual Joe Yukica New Hampshire Chapter of the National Football Foundation and College Hall of Fame scholar-athlete dinner on May 4.
The number of standouts – celebrated by 200-plus members of the state's football community at the Executive Court in Manchester – tied the record set last year. At least one school from each of the six New Hampshire Interscholastic Athletic Association (NHIAA) football divisions was represented.
A five-man selection committee from the Yukica foundation chose from nearly 50 candidates nominated by their coaches. Prerequisites for consideration included football talent, good grades and high character.
This year's winners included:
Chris Almeida, Souhegan (Amherst)
Jared Barczak, Trinity (Manchester)
Nick Kepka-Calvetti, Souhegan
Matthew Cannone, Salem
Sam Carney, Hanover
Tim Croteau, Nashua North
Stephen Cuipa II, Bishop Guertin
Joseph DiPalma, Salem
Keith Farkas, Nashua South
Benjamin Fee, Winnacunnet (Hampton)
Dan Folger, Bishop Guertin
Nick Hession, Souhegan
Jake Holmes, Laconia
Max Jacques, Salem
Brandon Karkhanis, Nashua North
Jim Kemos, Bishop Guertin
Kevin Kosiorek, Mascoma (Canaan)
Doran Logsdon, Laconia
Anton Marinchik, Nashua North
Sam McClain, Bedford
James Murphy, Nashua North
Cody Patch, Lebanon
Jack Pearl, St. Thomas Aquinas (Dover)
Jonathan Roth, Lebanon
Michael Seaman, Epping
Luke Somers, Pinkerton
Matthew Sullivan, Winnacunnet
Michael Sullivan, Winnacunnet
Nicholas Sullivan, Newport
STARS TO SHINE
The Children's Hospital at Dartmouth-Hitchcock (CHaD) recently announced plans for New Hampshire's first East-West high school football all-star game. The inaugural contest is June 23, 2012, at the University of New Hampshire's Cowell Stadium.
The game will benefit CHaD and the Kristen's Gift fund for pediatric oncology.
Each team's roster will include 36 players based on nominations made by their head coaches. Players must compete for schools recognized by the NHIAA.
Every division will be represented by, at minimum, one athlete. A maximum four players may be chosen from a single team.
Route 3 and Interstate-93 are the dividing lines that create the "East vs. West" matchup.
"The team of organizers that we've assembled will do a masterful job in premiering the state's only all-star football game," event founder Nick Vailas said in a written statement. "New Hampshire football will be elevated by this platform, and players should aspire to make the teams' rosters in order to showcase their skills in an event that will raise awareness and funding for CHaD and Kristen's Gift."
GRANITE STATE GREATS
Bedford High goalkeeper Austin Lauzier made at least 20 saves in consecutive Division II boys' lacrosse contests on May 7 and 9. He stopped 21 shots in a 17-10 loss at Souhegan on May 7. He made 20 saves in an 11-8 win over Portsmouth two days later.
Jack Dowst, a midfielder at Manchester's Derryfield School, totaled seven goals and three assists on May 9. His 10-point effort paced the defending Division III boys' lacrosse champion in a 13-10 win over Lebanon High.
Pinkerton's Ryan Feney was a double threat on the baseball diamond May 9 at Rochester's Spaulding High. He struck out nine batters and hit a two-run homer in his team's 5-3 Division I win.
Mickenzie Larivee and Meggie Whitney each recorded five goals and an assist in Souhegan's 19-3 Division I girls' lacrosse win over Manchester Central High on May 10.
Julia Nolan led Litchfield's Campbell High to a 1-0 Division III softball win over Conant High of Jaffrey on May 11. She fanned 14 batters and celebrated her 100th strikeout of the season.
Oyster River girls' basketball star Danielle Walczak, a scholarship recruit for the University of Maine, secured a spot on Parade Magazine's 35th annual All-America high school team. The 6-foot 1-inch center will be profiled in the publication's May 15 issue.
Marc Thaler is a staff writer for the New Hampshire Union Leader & Sunday News. He can be reached at marc.thaler@gmail.com. You can read his blog, "New Hampshire GameDay" and follow him on Twitter @marc_thaler.
April, 28, 2011
4/28/11
12:45
PM ET
By
Marc Thaler
| ESPNBoston.com
The focus these past two weeks has been on win streaks.
New Hampshire is home to two teams, each with a consecutive victory count that's quite high – and continues to climb.

On the Seacoast, Portsmouth High's baseball team owns a state-record 68-game win streak, a run that's seven wins shy of matching the national record (75), according to the National Federation of State High School Associations. Michigan's Homer High set the standard in 2005.
Meanwhile, in the southern part of the state, the Londonderry High girls' lacrosse squad rides a state-best 42-gamer.
"[The win streak is] something that's talked about throughout the community. We see more people coming to games as we get closer," said senior Keegan Taylor, Portsmouth's Northeastern-bound pitcher. "As a team, we try not to think about it as much. It's not a distraction, but it is added pressure.
"Game-to-game is what we focus on most," he added. "You don't want to be that team that loses."
You'll hear the same sentiment echoed in Londonderry's camp. Here are three additional similarities that link Portsmouth and Londonderry, and their win streaks:
Tremendous turnarounds
– Portsmouth coach Tim Hopley and Londonderry mentor Bob Slater didn't inherit powerhouse programs. They built them.
Hopley's start 16 seasons ago was particularly inauspicious.
"We were on a 30-game losing streak midway through my first season. I started 0-10 in my coaching career and the team lost the previous 20 prior to that. I thought I was going to get fired. So, all this stuff we're in the middle of, I don't see it as a negative," Hopley said when asked if the constant questions about Portsmouth's win streak have grown tiresome.
Slater, in his sixth year guiding the girls, didn't take over a team trying to snap a long losing streak. But, he has often said, a defeatist's mentality hovered over the program.
Londonderry went 5-11 the year before Slater arrived. Six of those setbacks were at least eight-goal margins of defeat. Confidence among athletes was non-existent. The Lancers won 11 games in Slater's first season (2006).
"When I took the girls' program over, being in the concrete business, I said 'We're going to put the foundation in this year," Slater said. "Then, we're going to build the house the next year, and we're going to fill it.
"Lo and behold, we won two championships my fourth and fifth years," he added. "It's a game plan."
Succession of stars
– Graduation every spring is the great equalizer. Once-dominant teams can quickly disappear as rosters turn over.
The Clippers and Lancers lost their share of stars. As their streaks suggest, though, the talent pools are plenty deep.
Quality pitching has been a consistent theme at Portsmouth for three-plus seasons.
Southpaw Tim Welch (Bowdoin) and righty Ben Hart (UMass) pitched the program to the 2008 title, the first in the run.
Welch, at the time, was featured in Sports Illustrated "Faces in the Crowd" for not allowing a run all season (52 innings pitched, 9-0 record). Hart was also 9-0.
Pitcher Nate Jones (Wake Forest) and slugger Mike Montville (Maryland), who helped clinch crowns in 2009 and 2010, are also among the former stars responsible for three straight perfect campaigns.
This year, Taylor and Manhattan recruit Aidan O'Leary, a center fielder and designated hitter, are the leaders as three-year varsity players. The team ace, Taylor dominated his first two starts, totaling 26 strikeouts while scattering four hits.
Sophomore Ricky Holt, Portsmouth's No. 2 pitcher, should soon find himself atop the rotation.
Just like Portsmouth's streak, Londonderry's run has survived because new leaders continue to emerge.
Kayla Green – whose career totals include 261 goals and 172 assists for 433 points – paced LHS to its first Final Four in 2008. Now a Stonehill standout, she led the Lancers to their first title in 2009.
Virginia's Dana Boyle (257-79–336), arguably the best all-around talent to hail from the Granite State, and Vermont's Marcie Marino headlined last year's super-stacked squad.
This season, junior-laden Londonderry remains a juggernaut. Midfielder Jenny Thompson and attacker Leah Walter, both juniors, lead the high-powered Lancers. Freshman midfielder Alexa Bedell, already a force, is Londonderry's latest rising star.
Tunnel vision
– Players may discuss their squad's streak periodically. But it almost never comes up in conversation with the coaches.
That doesn't mean each mentor finds his team's feat insignificant. Hopley and Slater simply place far more importance on the team's need to be better the next time out. It's the reason, after all, that these streaks exist.
"The thing I want to make sure we're still doing is continuing to improve, so when push comes to shove (in the state tournament), we know how to handle it," Hopley said.
Likewise, Slater devotes complete attention to preparing for every opponent, regardless of record. He demands nothing less from the Lancers.
Of course, these teams and their streaks possess unique qualities. These two top the list:
Clipper quintet knows national pressure
– Five Clippers played for Portsmouth's 11- and 12-year-old all-star team that reached the United States semifinals of the 60th Little League World Series in 2006.
The quintet includes Taylor and the junior foursome of third baseman Matt Feeney, catcher Connor Trefethen, shortstop Billy Hartman and right fielder/back-up backstop Connor McCauley.
"We played on a big stage, in front of cameras," said Taylor, the starter in the LLWS national semifinal. "Being in the game, you're not personally thinking about pressure. But having that (experience) under your belt ... does make it easier to (compete) in big situations."
Lancers have a long way to go – Londonderry, unlike Portsmouth, is still several perfect seasons from challenging its sport's record for longest win streak. If the streak survives the week – which ends with games against sub-.500 Salem High on Friday and the Bay State's Duxbury High on Saturday – Londonderry will own a 44-gamer (Framingham High was the last team to top the Lancers).
That's 60 wins shy of Loch Raven High. The Baltimore-based program is said to own the record with 104 straight wins from 1973-82.
"We are definitely aware of (the streak). We are all so proud of it," said Thompson, a known name to several Division I women's college lacrosse coaches. "We all think about it all the time.
"Everyone wants to beat us," she added. "We are everyone's target."
Marc Thaler is a staff writer for the New Hampshire Union Leader & Sunday News. He can be reached at marc.thaler@gmail.com. You can read his blog, "New Hampshire GameDay" and follow him on Twitter @marc_thaler.
April, 27, 2011
4/27/11
12:43
PM ET
By
Roger Brown
| ESPNBoston.com
PORTSMOUTH, N.H. -- If you attend a Portsmouth High varsity baseball game this spring, you'll see a team with superior pitching, a team that plays sound defense and a team with no easy outs in its batting order. There's plenty of talent on the bench too.

It's the same makeup Portsmouth teams have had since 2008, when the Clippers won the first of their three consecutive state championships. Portsmouth is 4-0 entering Wednesday's game against Windham, and is considered by many to be the team to beat in Division II again this season.

The Clippers are also threatening to break the national record for consecutive victories. They've won 67 games in a row, which puts them eight victories away from a share of the record. Homer (Mich.) had a 75-game winning streak end in 2005.

"The winning streak is something I hear about a lot, but it's not something we speak about," Portsmouth coach Tim Hopley said. "We try to focus on what's right in front of us and the kids have done a good job taking it one game at a time. It has been a great ride."

Pitcher Keegan Taylor and outfielder Aidan O'Leary are among the leaders on this year's team. Both have committed to play Division I baseball next season, Taylor at Northeastern and O'Leary at Manhattan College.

Taylor has been contributing to the program's winning streak since he was a sophomore, when he won six games on the mound. He's 16-0 as a varsity pitcher, and is 2-0 this year with 26 strikeouts in 11 2/3 innings.

"Throughout the school the winning streak is talked about, but as players coach drills us on one game at a time," Taylor said.

Taylor is the latest in a long line of exceptional pitchers than have worn the Portsmouth uniform. That group includes Chris Anderson, Ben Hart, Tim Welch and Nate Jones.

The Minnesota Twins drafted Anderson, who was on the mound when Portsmouth ended a lengthy postseason drought by beating Timberlane (Plaistow) in the 2004 Class L tournament.

Hart and Welch led Portsmouth to its first Class I championship in 2008. Welch, who is now playing at Bowdoin, posted a 9-0 record and didn't allow a run – earned or unearned – that season. Hart continued his career at the University of Vermont, and transferred to the University of Massachusetts when Vermont eliminated its baseball program.

Jones was the ace on last year's staff. He was 20-0 with a 1.89 ERA during his varsity career and is now pitching for Wake Forest.

Infielder Mike Fransoso (Maine) and outfielder Mike Montville (Maryland) are some of the other Portsmouth players who have gone on to play in college.

"Work ethic has a lot to do with what we've been able to accomplish," Hopley said. "When you have guys who are willing to listen, work hard and implement stuff they're taught it makes it a lot easier.

"We had some pretty good players set the example by showing a good work ethic years ago and the younger players have followed that."

Portsmouth hasn't always been the program by which all others are measured. The Clippers won the Class L championship in 1988 and qualified for the Class L tournament in 1989, but didn't make its next postseason appearance until 2001. The program ended a 30-game losing streak in 1996, when Hopley took over as head coach.

"There wasn't a ton of good players back then," Hopley said. "The talent just wasn't there."

Portsmouth didn't win a tournament game under Hopley until 2004. The Clippers also won one tournament game in 2005 and 2006. Then, in 2007, the program dropped from Class L (the division with New Hampshire schools that have the largest enrollments) to Class I.

"We would not be on this run if we had remained in Class L," Portsmouth assistant coach Matt Gladu said. "Class L is much deeper, particularly the pitching.

"I think we might have been able to win one or two state championships, but three in a row? Probably not."

Kingswood (Wolfeboro, N.H.) coach Chip Skelly said it will come as no surprise to him if Portsmouth wins another state championship this spring.

"I attribute [the winning streak] to the program he has developed, and obviously the program stems from your coach," Skelly said. "Coach Hopley has done a nice job getting his program to a point where the expectations are the exact same year in and year out. They just change kids. It's an attitude. You can learn to win. You can also learn to lose."

It seems that Portsmouth has forgotten how to lose, though. The program's last loss came against Hollis-Brookline in the 2007 Class I semifinals. Bedford, which is 5-0 and the only other unbeaten team in Class I, and Souhegan are the teams that appear most capable of beating Portsmouth this season.

Portsmouth is scheduled to play Souhegan on Friday, and will meet Bedford on May 9. Both games will be on the road. Bedford is the team Portsmouth beat in last year's Class I title game.

"We're not 2009, we're not 2010 we're the 2011 team," Portsmouth third baseman Matt Feeney said. "We make our own destiny. We do what we do, and nothing else matters except for this season."
April, 13, 2011
4/13/11
2:48
PM ET
By
Marc Thaler
| ESPNBoston.com
There was a time when, before the season's first face-off, predicting the champion in Granite State boys' lacrosse was a pointless exercise.

Even in the preseason, Pinkerton Academy always had the crown locked up.
The Derry program's rich lacrosse history dates back decades, well before the NHIAA sanctioned the sport in 1994.
Coach Brian O'Reilly – who began his 30th season April 12 with a 400-122 career record – led his Astros to the first four NHIAA titles from 1994-97. O'Reilly & Co. won eight of the first nine championships through the 2002 campaign.
But in the eight seasons since that time, the Astros have won just one title (2006). They last played for the Division I championship in 2008.
"We need to get back to where we were. That's been taken from us the last several years in lacrosse," O'Reilly said. "We're not the defending champions. We haven't been the defending champions in a while."
Yet the Astros are this spring's preseason favorite. They narrowly edge Nashua's Bishop Guertin High, the defending champ that's appeared in six consecutive league finals and won three titles since 2005.
It's unknown whether the Cardinals consider their preseason position a slight. But this much is clear: Depth in Division I is lacking this spring. Pinkerton and BG are the runaway favorites to clash for the championship in June.
"I doubt anybody is talking about us as a top team right now, which is fine by us. It gives us a little more incentive to work hard and be there at the end of the year," said Exeter High coach Gerry Holly, whose reigning runner-up Blue Hawks rank behind Hanover High, the third-best club exiting the preseason.
Several teams, starting with Exeter, were senior-laden a year ago. Pinkerton was an exception. They boast experience, roster depth, speed, toughness and, perhaps most important, balance.
April, 12, 2011
4/12/11
2:27
PM ET
By
Roger Brown
| ESPNBoston.com
The Portsmouth (N.H.) High School baseball team extended the program's winning streak to 64 games when it opened the season with a 7-1 triumph over Kingswood on Monday.

Senior Keegan Taylor struck out 10 and held Kingswood to two hits in six innings. Taylor, who has committed to play baseball at Northeastern, improved his varsity record to 15-0. The Clippers also received four RBI from junior third baseman Matt Feeney.

Portsmouth, which has won the last three Class I state championships, is 11 victories away from tying the national record for consecutive wins. That record is held by Homer (Mich.) High School.

"We're not 2009, we're not 2010, we're the 2011 team," Feeney said. "We make our own destiny. We do what we do, and nothing else matters except for this season."

Portsmouth hasn't lost a game since the 2007 Class I semifinals.
January, 1, 2011
1/01/11
2:27
PM ET
By
Marc Thaler
| ESPNBoston.com
You can't ring in the New Year without a countdown.

In the spirit of the time-honored Dec. 31 tradition – counting down the final 10 ticks of the calendar year – here are the top items this reporter contributed to ESPNBoston.com High Schools since its launch in August 2010:
10. The 6-0-3 sets record. New Hampshire extended its win streak in the annual Shrine Maple Sugar Bowl to a series-record 10 games.
The Granite State's recent high school graduates topped Vermont in the 57th all-star football game, played at Windsor (Vt.) High's MacLeay-Royce Field, in early August, 34-20. The previous record for longest win streak was a nine-gamer set by New Hampshire from 1989-97.
New Hampshire's 14-point win makes it sound like the game was somewhat competitive. Guess again.
Despite committing seven turnovers, including four in the first quarter, and amassing 165 yards on 18 penalties, New Hampshire never trailed. The 2010 team did, however, twice lead by 20 points and ultimately improved the state's all-time record in the series to 42-13-2.
August, 18, 2010
8/18/10
6:13
AM ET
By
Marc Thaler
| ESPNBoston.com
Let's start, simply, with a three-syllable salute to the state whose high school sports provide the content for this notebook.

Six-oh-three!
The area code for New Hampshire — 603 — once again made for the most memorable post-game chant at the Shrine Maple Sugar Bowl on Aug. 7. The Granite State's recent high school graduates, on Windsor (Vt.) High's MacLeay-Royce Field, topped Vermont in the 57th annual all-star football game, 34-20.
New Hampshire clinched a Shrine-record 10th consecutive win in the series, eclipsing its nine-game streak from 1989-97.
As it relates to this year's game, here's how to best explain the superiority of New Hampshire's 35-player squad: It nearly doubled Vermont in turnovers, 7-4, including four first-quarter giveaways, and committed an astounding 18 penalties for 165 yards.
[+] Enlarge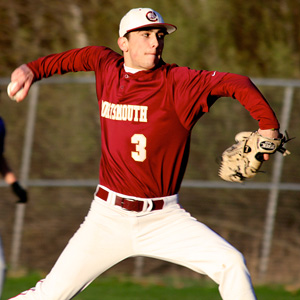 Courtesy of Julie BlackPortsmouth High's Keegan Taylor recently committed to Northeastern University. The right-hander figures to be the Clippers' ace in 2011 and will lead a team that enters the season with state-best 63-game winning streak.
And New Hampshire still won by two touchdowns.
"One-hundred-sixty-five yards in penalties?" Shrine assistant and retired Londonderry High coaching legend Tom Sawyer said in disbelief. "That's almost two football fields."
Fact is, New Hampshire never trailed. Instead, it twice built a lead of 20 points.