Boston High School:

Keith Leavitt
September, 19, 2014
9/19/14
9:48
AM ET
St. John's Prep senior outfielder Nick Latham has verbally committed to Boston College for the 2016 season, he announced last night on his Twitter account.
Couldn't be more excited to announce that I will be continuing my baseball career at Boston College! Thank you to everyone who has helped me

— Nick Latham (@nicklatham10) September 18, 2014
Latham put up impressive numbers out of the leadoff spot last spring for the Eagles, who earned a unanimous No. 2 seed in the inaugural MIAA Division 1A "Super Eight" state championship, finishing sixth in the tournament. On the season, he batted .310 with a .562 slugging percentage, with four home runs, 12 RBI and 17 walks.
The plan is for Latham to do a post-graduate year at a prep school following his graduation from St. John's Prep next May. Latham is undecided on post-graduate plans.
"Nick has an outstanding work ethic and is excited to be playing in the ACC for Boston College and Coach [Mike] Gambino. He has all the tools," Prep head coach Dan Letarte said.
Latham is the third Eagle to commit to a Division 1 program, joining senior outfielder Keith Leavitt (Penn State) and junior centerfielder Jacob Yish (Boston College).
May, 29, 2014
5/29/14
1:18
AM ET
By
Chris Bradley
| ESPNBoston.com
DANVERS, Mass. –- For just about everyone on the St. John's Prep bench, seeing Evan Roberts' celebratory shout and fist pump was the most emotion they'd seen from their stoic ace all year.
Roberts has dominated the very best that the state has had to offer this season, but when he caught a steaming line drive back up the middle and threw out a helpless Lowell High base runner to end the top of the seventh inning, he knew he had overcome his toughest challenge of the game.
[+] Enlarge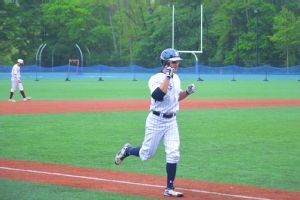 Brendan Hall/ESPNBoston.comPenn State commit Keith Leavitt homered twice and totaled 3 RBI for St. John's Prep.
The line drive came off the bat of Lowell cleanup hitter Conor Callery with runners on first and second in the seventh inning. It was the second and final time that a Lowell runner had reached second base on the day.
"That was their four hitter, he's a big guy and I knew I needed to get that kid out," Roberts said, "The double play, that was exactly what I wanted. It was very exciting."
Added Prep coach Dan Letarte, "The key play was the game was the liner hit right back to him. That was hit harder than the home runs, the umpire said. That takes [Lowell] out of their threa."
The Davidson-bound Roberts threw a complete game shutout for the Eagles, putting in perhaps his best pitching performance of the season in the first game in the history of the Super 8. Penn State commit Keath Leavitt single-handedly took over the game offensively for the Eagles, hitting two home runs and driving in three of the Prep's four runs on their way to a 4-0 victory.
"Four hits given up, and most of those early. We had a couple balls that I hoped would sneak through, but everything is pretty true on the turf with hops," Lowell coach Dan Graham said of Roberts. "We needed to catch some breaks early on in the game to chip away after they put that three run inning on us. He pitched a very good game. We knew he wasn't going to be overpowering, but his change of speeds...and obviously the numbers speak for themselves in the Catholic Conference."
The fact that zero Lowell runners reached third base displays just how dominant Roberts was, placing his fastball seemingly wherever he wanted to in order to set Lowell's hitters up for his hooking curve ball. He walked just one batter in the game, throwing nearly three out of every four pitches for a strike.
"Taking a lead with Evan is crucial cause when he gets a lead it's a good feeling. You feel like you're not going to lose with a lead and the ball in his hand. It's just a matter of the time of day we're all leaving," Letarte said with a laugh. "In two extra innings, he was so strong his pitch count was fine."
Leavitt was one of the few Prep hitters who was able to get to Lowell pitcher Brock Riley, who had no walks and pitched a complete game. Leavitt, who had three hits, smacked a home run to left-center field in the second inning. Ted McNamara added a solo shot two batters later.
"We were watching [Riley] before the game and you could tell he had a little bit of a herky-jerky wind-up," Leavitt said. "Coach [Ryan] Leahy pointed out that a lot of his pitches were going to drop off because of the way he was delivering the ball. The first one was a fastball on the outer part of the plate, so I was able to wait on it, sit back, and drive it the other way."
Just for good measure, Leavitt added one more run to the scoreboard in the fifth inning, this time taking a Riley curve ball deep to right field.
"The second one he started off with a first-pitch offspeed, so I knew 'okay, he's going to work offspeed, he's going to work in'," Leavitt said. "Then he threw a curve ball the next pitch and I was able to sit back and drive it. Good pitches for me to hit, I'm glad I took advantage of it," Leavitt said of the second home run, his sixth round-tripper of the year.
Said Letarted, "Keith's the type of hitter who can get hot, like any power hitter. He's been focused and those were two really quality at-bats."
The Eagles will take on the winner of tomorrow's game between third-seeded Bridgewater-Raynham and sixth-seeded Lincoln-Sudbury. Letarte said the Eagles will have a rare late practice Thursday so that the team can go and scout out their next-round opponent.
Regardless of opponent, Leavitt reiterated that it's all about plate confidence for the power-hitting Eagles, who were able to get to Riley by working their way into good counts and taking advantage of pitches to hit around the strike zone:
"It's difficult to pick up at first, but after the first time around you kind of get used to the wind up. At that point, it's just seeing the baseball, reacting, and hitting it. I think we all got used to him after the first time through and it was a good day for us."
May, 11, 2014
5/11/14
3:45
PM ET
Yesterday, St. John's Prep outfielder Keith Leavitt verbally committed to Penn State while on an unofficial visit to campus.

For the 6-foot-1, 200-pound Leavitt, this was a no-brainer despite having interest from St. John's (N.Y.) and a number of ACC schools, including Georgia Tech, Virginia, Duke and Boston College. The Nittany Lions are in rebuilding mode under new head coach Rob Cooper, and Leavitt wants to be part of the renaissance.

Here are a few comments from Leavitt, a Manchester resident, on his commitment this weekend:

Deciding factors: "Once I arrived at Penn State, immediately I was blown away by the facilities. Then I got a chance to meet the coaches, and it didn't take long for me to decide that this is the place I wanna be at the next level. [I liked] the coaching staff, their general attitude about what they were doing towards future. Basically everything they were about, I was for. I agreed with everything they said. I really look forward to playing for them."

What the coaching staff likes about him, and how he projects: "They were really imprssed with my hitting, the way the ball comes off the bat in my swing. They said they project me to be an impact in their lineup right away at the top of the order. That's something I wanna do, is come in and be an impact player right away. They like my mechanics. My swing is really short and compact, but at the same time powerful. The ball comes off the bat hard.

"Right now they have me as an outfielder, but I'm sure I'll find out more. Where I'll be, I'm not sure yet, but right now they have me projected there."

On relief and motivation from this commitment: "I'd be lying if I said it wasn't a relief. I went to a place I that feel comfortable and want to play at the next level. It feels great being comfortable at the next level, to have a chance to fulfill my potential to the best of my ability. It's a relief finding a place, but at the same time I need to keep working hard. I have very high goals for myself."
May, 11, 2014
5/11/14
12:00
PM ET
St. John's Prep junior outfielder Keith Leavitt has verbally committed to Penn State, Eagles head coach Dan Letarte told members of the Boston area media last night.

The 6-foot-1, 200-pound Leavitt, a Manchester resident, is one of the leading hitters this spring for an Eagles team that currently sits in first place in the Catholic Conference and has the inside track on a Division 1A "Super Eight" Tournament berth.

Letarte said he had been in contact with assistant coach Ross Oeder through the winter, before Oeder came to watch the Eagles on May 3. Leavitt and his father, Keith Sr., drove down to State College this past Friday to watch the Nittany Lions take on Indiana. Yesterday morning, after touring the facilities and meeting the coaching staff, Leavitt received an offer.

"He loved the place, and so do I and the coaches," Letarte said. "[Head coach Rob] Cooper is one of the best coaches in the country, in his first season and rebuilding. Keith will be part of that rebuilding process, and is projected to play right away. They have a Top 25 recruiting class coming in next year, and by the time Keith gets there he will be a part of something special. Great situation for him."
June, 9, 2013
6/09/13
9:26
PM ET
By
Andy Smith
| ESPNBoston.com
LOWELL, Mass. -- For 30 years, the mystique and aura of Atlanta Braves pitching great Tom Glavine has hung over the Billerica High School baseball program.

Glavine was on the mound pitching for Indians in 1983, the last time the school won the Division 1 North title. After the North title game Sunday, some on the team were left wondering if he had something to do with the team's 4-3 victory over heavily-favored St. John's Prep.

"We had an unknown person that came into our locker room and put on the bulletin board, 'The Spirit of Tommy Glavine is with you," said Billerica (18-6) coach Joe Higgins. "We don't know who did it, but I'll tell ya, I think his spirit and Gary DiSarcina's spirit, they're all here today. That was a great upset. The guys played great."

The Indians got on the board against Prep (22-2) starter Justin Snyder in the second after back-to-back singles from Max Frawley (2-for-4) and Chris Murphy (3-for-3, 3 singles). On Murphy's bloop hit to center, Frawley attempted to go first to third. The throw from center hit him in the back while he was running, sending the ball down the third base line, which allowed him to score easily.

Kyle Murphy (2-for-5) plated Robby Gambale in the third to give the team a 2-0 lead. Kyle got another RBI in the fifth when his double scored Eric Eknanian. He scored the eventual winning run after Mike Driscoll, Prep's third pitcher of the afternoon, was called for a balk. Driscoll made a move towards third, but never stepped off the rubber, causing the umpires to award Murphy home plate.

Since Dylan Lavery and Max Frawley each threw at least eight innings in Billerica's last two games, Higgins gave the ball to Murphy to start Sunday. He delivered, throwing 132 pitches in six innings, striking out eight while giving up three hits and walking six.

"I wanted to pound fastballs and try to get ahead on a lot of hitters," he said after the game. "I knew after the first time through the lineup, they would be able to time the fastball since they're a great hitting team. I worked in my change-up, which was really good for me today, and had a few good curveballs to catch them off balance. I threw a few to keep them thinking I had that in my back pocket."

As Murphy said, Prep struck the second time through the lineup. In the third inning, after Alex Moore (1-for-2, two walks) singled and Brandon Bingel (0-for-3, two walks) walked, Keith Leavitt (1-for-5) laced a double down the right field line. Both runners scored, tying the game at two, but Leavitt was thrown out at third trying to stretch the double into a triple.

Prep added another run in the fifth when Tommy Buonopane (2-for-4) scored on a wild pitch.

The Eagles put a scare into the Billerica faithful in the final two innings, but could not score the tying run. It had runners on second and third with two outs in the eighth and runners on the corners with two outs in the ninth.

On both occasions, Gambale, who came on in relief of Murphy in the seventh, was able to force a ground-out, ending any chance Prep had of tying the score.

Guaranteeing victory: After Saturday's 7-1 victory over Westford Academy, Bilerica's Eric Eknanian said the best team was going to win Sunday, and he believed his team is the best and can play with anybody.

It is one thing for a player to proclaim something like that coming off the emotional high of a state tournament semi-final victory, and it is another for it to be instilled in the fabric of a team. That belief and confidence runs through the entire Billerica team.

"We believe that 100 percent," said Robby Gambale. "We all have faith in it, we all believe in it, so we go out and prove it and do our job."

While they agree on the talent and ability of the team, they were quick to acknowledge the potency and achievements of a Prep team that came into Sunday riding a 22-game winning streak and still gave them all they could handle.

"We just beat the best team in the state, they've been ranked No. 1 all year," said Murphy. "If we play like that every day, we're going to go out and win the state championship."

As the teams exited the playing field on the way to their respective buses, some Prep players made it a point to seek out Murphy and Gambale and, in a show of good sportsmanship, congratulate them on the win and their quality pitching performances.
April, 24, 2013
4/24/13
10:14
PM ET
By
Bob McGovern
| ESPNBoston.com
DORCHESTER, Mass. -– Dustin Hunt spun around, crouched and watched as a frozen rope launched by B.C. High's Dan Daugherty flew to deep center field with runners on first and third.

The St. John's Prep closer then pumped his fist and was swarmed by teammates when sophomore outfielder Keith Leavitt tracked it down, clinching a 6-5 win for the visiting Eagles.

"When it came off the bat I was like, 'Oh no.' It was hit so hard, and it kept going," St. John's Prep head coach Pat Yanchus said.

"It was a little nerve-wracking, but we definitely have faith in Dustin," said Prep starter Brandon Bingel, who picked up a win after giving up four runs in five innings of work.

In the end, it was enough to propel No. 2 Prep (8-1) past previously undefeated No. 1 B.C. High (5-1).

After falling behind 3-1, Prep put together a five-run fifth inning to pull ahead of the host Eagles. Senior catcher Paul Crehan capped off the inning with a bases-clearing, three-run double to left field off of B.C. High starter Trent Berg, who left a fastball a little high.

Crehan had popped out in his previous two at bats and was looking for something he could hit a bit farther.

"I just didn't want to strike out, and the pitch came up high so I just hit it as far as I can. Anybody could be in that position, but I happened to be there," he said. "I was pumped. I didn't know if the ball was going to go over (B.C. High left fielder Sean Webster's) head or not. The wind was blowing out, but I was pumped to see it go over his head."

The B.C. High cut the lead to 6-4 in the bottom of the fifth inning when Tom Russo doubled in right fielder Tom Landry. They pulled within one with two outs in the seventh, but Hunt was able to complete the save with Daugherty's loud pop-out.

Berg effective in Losing Effort: Berg put together an impressive four-and-two-thirds innings for B.C. High. The lefty struck out eight Prep batters before senior Tommy Buonopane singled in pinch runner Nick Latham, kick-starting a five-run rally. Berg, who is more of a finesse pitcher, kept Prep off-balance with his two-seam fastball and looping curve.

Victory on the Basepaths: Latham's base running helped spark the Prep's fifth-inning surge. The sophomore pinch ran for Natty Cabral, who had been walked with two outs. He then stole both second and third base before scoring on Buonopane's in-field single.

"He's a smart baserunner, and he's pretty fast," Yanchus said. "He's not just a good baserunner, but he's a good outfielder. We were going to put him in the next inning anyway, so might as well just have him run. It worked out nicely."

Getting Away from the Heater: Bingel had a tough first inning for Prep, allowing three runs on three singles and a couple of infield errors. He said he used his fastball too much to start the game and was overthrowing. After the first inning, he settled down and used his slider to pitch three scoreless innings in a row.

"I started to pitch backwards, and that's what got be through the rest of the way," he said

Injury Puts Damper on Win: Prep senior third baseman Tyler Noe suffered a dislocated right shoulder during the top of the fifth inning. After reaching second base on a Landry error, Noe stole third and B.C. High's Tom Russo landed on him awkwardly. He held his right arm and stood behind the Prep bench in a sling with ice on his shoulder. Yanchus said there was no timetable for his return, but his parents were taking him to the hospital to get checked out.

"That's his trowing arm and his good shoulder. It popped out, and it took him awhile to get it back in," he said. "That's going to really hurt. He's great defensively, and he's our best baserunner. Hopefully he can come back."

Enter Sandman: Hunt has had limited experience as closer for Prep but looked pretty solid against B.C. High. The Northeastern commit struck out three batters in two innings and had good control of the strike zone. He pitched two-thirds of an inning on Monday against Malden Catholic and needed only seven pitches to shut down the side.

April, 5, 2013
4/05/13
12:15
AM ET
By
Chris Bradley
| ESPNBoston.com


DANVERS, Mass. -– Xaverian took an early lead and never looked back, even if things did seem to get a bit interesting along the way. The Hawks knocked off Catholic Conference foe St. John's Prep 6-5, after taking a 3-0 lead in the top of the first inning.

Senior Austin DeCarr got the start on the mound for Xaverian, and he pulled through stongly -— giving up just two runs on two hits in four innings pitched. He struck out five Prep batters and threw 67 pitches. It was all according to Xaverian coach Gerry Lambert's plan.

"Early season, I keep a pretty tight rein on the guys," Lambert said. I think he was at 66 or 67, and that is about our target early-season for our starters. As the year wears on, we're counting on him getting stronger, the weather getting warmer, and eventually he'll be fully stretched out.

"But I promised myself years ago as a coach, I will not sacrifice June 5 for April 5. He wanted to stay out there, I said no."

The Hawks (1-1) got off to a quick start, scoring three runs on Prep starting pitcher Dustin Hunt (3.2 IP, 5 K's, 7 hits, 6 runs) in the top of the first inning. Aaron Drummey started off the run for Xaverian with a base hit, Alex Person was hit by a pitch immediately after. Following a throwing error on a groundball to second base, DeCarr and Jake McLaughlin each chipped in with RBI singles.

"For us to get three in the first inning -— especially [after] they made a mistake, that's an early-season mistake, and we broke the door through," Lambert said. "A good team takes advantage…we were able to parlay that with a couple of extra hits."

Person came up big once again in the second inning, notching a line drive to center field. AJ King scored off the hit, Drummey was thrown out at the plate, and Person was then thrown out trying to stretch his run to third base. However, the damage was already done -— giving the Hawks a 4-1 lead.

Prep added a run in the bottom of the second, sophomore Keith Leavitt came around to score on a base hit by catcher Paul Crehan. Leavitt (2-4, 2B, 2 runs scored) also helped initiate the Eagles' rally in the bottom of the sixth—one inning after Andrew Elliot belted a two-run home run for Xaverian that narrowly cleared the fence in right center field.

"He's been a little out in front," Lambert said. "We talked a little bit about how he has to stay within himself. He obviously has some pop in his bat. If that had only been a double...we'd still be playing right now. We'll take it, it's a game of inches -— sometimes you're on the right side of it."

Down 6-2 in the bottom of the sixth, senior Nick Bragole drew a leadoff walk for Prep. Five pitches later, Leavitt slammed a ground-rule double down the right field line.

In the next at-bat, designated hitter David Bornstein got on base on an error, scoring Bragole, then Crenan (2-2, BB) and pinch-hitter Natty Cabral each had a pair of RBI singles—bringing the score to 6-5 after six innings.

"We had a tough stretch there, we had a passed ball and an error or two, and they jump on you," Lambert said. "Prep is a very opportunistic baseball team. They always are. When they take the momentum, they take it 100%. They've always been like that."

Justin Snyder (2.1 IP, 2 H, 0 R) got the job done on the mound in the top of the seventh the Eagles, forcing Drummey and Person to ground out and fly out, respectively, before striking out Elliot on a fastball to bring his team to bat with one last chance to tie the game.

Senior captain Tyler Noe started off the bottom of the seventh with a leadoff walk, stole second on the very next pitch, and advanced to third on a routine ground ball played by the third baseman. This brought up Bragole, Prep's clean-up hitter, with one out.

Bragole laid down a bunt, but Noe was gunned down via an underhand toss to the plate by Xaverian reliever Worth Walrod. Leavitt flied out in the next at bat to end the game.

"It's a step in the right direction for us early in the season," Lambert said. "We have a ways to go…so that maybe we only have one mistake rather than three or four -— but at least we didn't make five, cause that fifth one would have been the one that would have put them over the top. We were able to stop the bleeding there."


May, 3, 2012
5/03/12
10:23
PM ET
By
John McGuirk
| ESPNBoston.com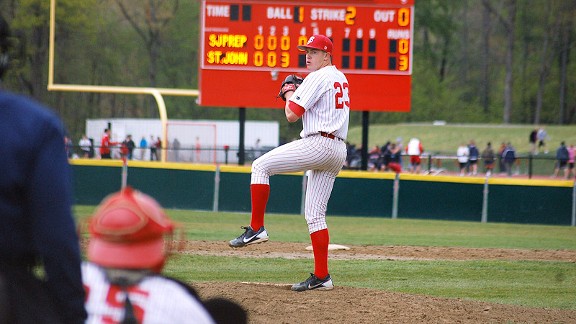 Brendan Hall/ESPNBoston.comSt. John's junior righty Ben White (5.2 IP, 9 K, 2 hits, 109 pitches) put in a workmanlike effort on the mound in the Pioneers' win over St. John's Prep.
SHREWSBURY, Mass. -- Prior to yesterday's non-league tilt against St. John's Shrewsbury, Pat Yanchus, the longtime helmsman of the St. John's Prep baseball program, noted that much of this season's success has been due in part to the Eagles' solid defensive play.
After watching his team commit four errors, all of which played a huge role in his club's 4-3 loss at Pioneer Field, Yanchus may want to re-track those statements.
The Eagles were generous on the defensive side. In turn, it also soured a solid performance by junior righty Dustin Hunt, who allowed just three hits and struck out seven in a complete game effort. All of St. John's runs were unearned.
"We've been playing great defense all year, but today we made some key errors, three in one inning, which was the game," said Yanchus, his team now standing at 11-3. "Dustin pitched great. That's the best he's pitched for us this season. He had all three of his pitches (fastball, curve and change up) working for him. It was a non-league game today so we're still in good position but you still would like to win these games and not give them away like we did today."
In the bottom of the third, the Pioneers struck for three runs on just one hit but capitalized on three Eagle miscues.
With two on and two out, Nick Sieber grounded a ball off of third baseman Tyler Noe's glove which plated Mike Sullivan, who walked. After Hunt issued a base on balls to Owen Shea, Eagles catcher David Maher tried to pick off Shea at first but his throw bounced away from first baseman Nick Bragole allowing Tom Petry, who singled, to score St. John's second run. The play continued as a throw to nail Sieber sprinting to third sailed into left field allowing the senior to come around and cross the plate.
"In a couple of ways we stole this game, but we're not going to give it back," said Pioneers coach Charlie Eppinger, his team improving to 10-2. "Anytime you beat St. John's Prep it's certainly a good victory. We ran the bases well and took advantage in what they gave us."
St. John's starter Ben White was doing a yeoman-like job keeping the Eagle bats silent over the first three frames. But in the fourth, the Prep offense finally awoke. Anthony Capuano walked and Brandon Bingel followed with a single. After a wild pitch advanced both runners, Capuano trotted home with the Eagles' first run on a pass ball.
White (5.2 IP, 2 hits, 9 K's, 109 pitches) set down St. John's Prep in order the following frame, but ran into trouble in the sixth. With his pitch count rising, the junior righthander loaded the bases by plunking Bragole, serving up a single to Andrew Donahue and walking Keith Leavitt. A meeting on the mound did little to sooth White as he then walked to Maher to force in Bragole to make it a 3-2 game.
Pioneer ace Mike Badjo was then called to the mound in place of White to try and get St. John's out of this mess. The senior did just that, striking out Rory Garrison and keeping the Pioneers' slim lead in tact.
"My arm felt the best it has felt all year," said Badjo. "Ben threw a great game for us but got into a little trouble late. I just wanted to come in and help him out. Starting a game in nice because you get your mind set before the game. But coming in relief is nice as well because you come into a pressure situation and that's what you live for. As a reliever you really don't have time to think, you just go out there and throw."
The Pioneers, who defeated the Eagles 4-2 back on April 13th, added a much-needed insurance run in their half of the sixth, on yet again, another St. John's Prep error. In the frame, Shea reached base on a one out walk. Scott Manea followed with a line single to right putting runners on the corners. With Tanner Johnson running for Manea, Eppinger called for a steal. Maher's throw to second was high, tipping off the glove of Bingel, the Eagles' shortstop, and sending Shea home with St. John's fourth run.
St. John's Prep's attempt of a comeback fell one run shy in the final inning. Badjo struckout the first two batters he faced but Capuano worked him for a walk. The senior moved to third following a steal and wild pitch. He came home after Petry, the Pioneer shortstop, failed to handle Bingel's hard grounder cleanly. However the damage was miniscule as Badjo was able to retire Bragole to end the contest and preserve the victory.
April, 3, 2012
4/03/12
11:29
PM ET
By
Brendan Hall
| ESPNBoston.com
DANVERS, Mass. -- There have been more interesting ways to open the high school baseball season. But not too many.

This afternoon's contest between host St. John's Prep and rival Peabody started out as a grind-it-out pitcher's duel, but things got untracked in the ninth inning. Peabody went up 4-1 to start then top of the inning, before the Eagles came back in the next stanza to tie it, thanks to several errors in the field, and eventually win in walk-off fashion in the 10th on a walk, taking the contest 5-4 in the season-opener for both squads.

"Yeah, kind of a crazy game," Prep head coach Pat Yanchus said. "I thought the pitching was good for the most part."

Peabody head coach Mark Bettencourt was a little more blunt -- "It was a bizarre game," he said.

"You know what it was?" he continued. "Strange things happen in the first game of the year. We're not going to say we didn't play well, because I thought we did play well. I thought when things got tight, we had a little bit of trouble. But so did they."

The Tanners took a 4-1 lead in the top of ninth, loading the bases up without a hit. Cleanup hitter George Tsnosis worked a walk from righthander Mike Driscoll to make it 2-1, followed by a fielding error and a beaning of Stephen Girolamo to make it a three-run lead.

But the trouble for Peabody started in the bottom half of the inning, with two outs. Prep's Brandon Bingel swung at a low third strike, which was misplayed by the catcher and allowed him to reach first on the passed ball. Next up was pinch-hitter David Bornstein, who reached first base safely thanks to an off-the-mark throw from the shortstop.

A single from freshman Keith Leavitt plated Bingel, and a passed ball in the next at bat allowed Bornstein to come home. Tyler Noe then reached first on another error from the shortstop, plating Leavitt and tying the game at 4.

In the bottom of the 10th, junior Nick Bragole worked to a 3-0 count, then fell back to 3-2, before finally drawing a ball low in the zone to plate Anthony Capuano for the winning run.

Starters go to work: Peabody's workhorse junior righty Pat Ruotolo got the no-decision, after striking out 10 in nine innings on 133 pitches, after some unfortunate errors in his final frame. But for most of the afternoon, he and Prep senior righty Rob DiFranco stole the show, battling

Ruotolo's fastball sat in the 83 to 85 range for most of the afternoon. But as the game went on, his 12-to-6 curve had a more defined drop to it, especially in the latter innings. Six of his 10 strikeouts came after the fifth inning; a big part of that was the curve, as well as the high heat he was able to dabble in there.

"When you're facing Patrick, you're going to show us you can hit his fastball before we start doing anything," Bettencourt said. "So we usually try to hold his breaking ball through the first round of the order if we can. I thought he did very well with that today. He established his fastball early, wasn't getting a ton of punch-outs, but a lot of times they were guessing. You saw a lot of pop-ups, fly-outs, to keep them off-balance.

"That's a good-hitting team. Towards the end, he started getting that adrenaline, and that's when that breaking ball starts coming into play."

In the top halves of the innings, DiFranco battled with the Tanner hitters, getting behind in the count but usually not out, striking out six while allowing just three hits and a walk.

"He wasn't getting the first strike over, but he was making them swing and miss," Yanchus said. "When he's down low, his ball sinks a lot, and they were swinging over the ball a lot."