Boston High School:

Keith Sullivan
October, 19, 2011
10/19/11
2:46
PM ET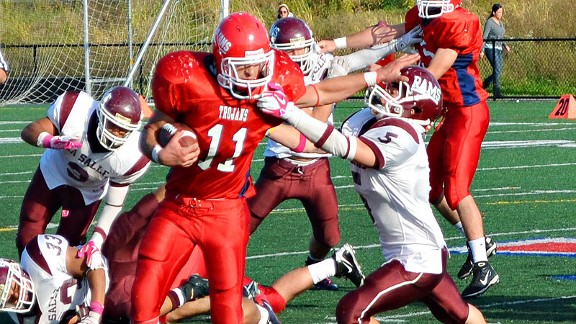 Scott Barboza/ESPNBoston.com Bridgewater-Raynham's Nick Schlatz has earned a reputation for being a hard-nosed player on both sides of the ball, resulting in his selection as a linebacker on our midseason All-State team.
The 2011 season is halfway over, and we've had our fair share of ups, downs, thrillers and surprises. Here are the staff's picks for ESPNBoston's MIAA All-State team at the midway point of the season.
NOTE: The finalized ESPNBoston MIAA All-State Team roster and second annual ESPN Boston Mr. Football Award will be announced on Monday, December 5.
OFFENSE
QB – Jonathan DiBiaso, Sr., Everett
QB – Nick LaSpada, Sr., Billerica
QB – Matt O'Keefe, Sr., Duxbury
RB – Melquawn Pinkney, Sr., Springfield Putnam
RB – Preston Cooper, Sr., BC High
RB – George Craan, Sr., Concord-Carlisle
RB – T.J. Norris, Sr., Longmeadow
TE – Jameson McShea, Sr., BC High
TE – Mark Riley, Sr., Needham
WR – Khary Bailey-Smith, Sr., Weymouth
WR – Damion Johnson, Sr., Dennis-Yarmouth
WR – Don Webber, Sr., Duxbury
WR – Malcolm Brown, Sr., Pope John XXIII
OL – Andrew VanderWilden, Sr., Concord-Carlisle
OL – Keith Sullivan, Sr., Oliver Ames
OL – Gordon Acha, Sr., Duxbury
OL – Rob Kosharek, Jr., Duxbury
OL – John Montelus, Jr., Everett
ATH – Armani Reeves, Sr., Catholic Memorial
ATH – Sacoy Malone, Sr., Springfield Central
K – Jules Murphy, Sr., Xaverian
DEFENSE
DL – Ralph Jonathas, Sr., Everett
DL – Brendan Battles-Santos, Sr., Nauset
DL – Maurice Hurst Jr., Jr., Xaverian
DL – Henry Bumpus, Sr., Concord-Carlisle
LB – Tim Joy, Sr., Chelmsford
LB – Luke Catarius, Jr., BC High
LB – Vondell Langston, Sr., Everett
LB – Dan Flink, Sr., Auburn
LB – Nick Schlatz, Sr., Bridgewater-Raynham
LB – Zack Hume, Jr., Nashoba
DB – Gordon McLeod, Sr., BC High
DB – Reilly Naton, Sr., Duxbury
DB – Casey DeAndrade, Sr., East Bridgewater
DB – Obi Melifonwu, Sr., Grafton
RET – Geeavontie Griffith, Sr., Boston Cathedral
October, 15, 2011
10/15/11
12:59
AM ET


EASTON, Mass. -- Field position can win an awful lot of football games and Oliver Ames exhibited that in its 17-9 victory over Hockomock Davenport rival Foxborough Friday night at Muscato Stadium.

After the Tigers' opening drive stalled on Foxborough's 6-yard line on a fourth-and-goal try, the Warriors promptly returned the ball, fumbling on their first play from scrimmage. OA (4-1) needed just four yards to take an early 7-0 lead.

The Tigers again set up shop inside the red zone on their next possession, after forcing the Warriors (3-3) three-and-out. Dean Soucie's block and recovery of a Foxborough punt had the Tigers at 14-yard line. Although OA couldn't make it a two-touchdown lead, Ryan McGrath's field goal provided an instant 10-0 lead.

"Last week [against King Philip], we didn't represent ourselves properly," Tigers head coach Jim Artz said, "and I think, this week, we came out with a little bit more vinegar and a little more nastiness to play the way we're capable of playing."

After a Foxborough field goal, OA extended its lead on quarterback Jared Schneider's second rushing touchdown of the game just before the half. That drive, too, started with the benefit of excellent field position near midfield.

"We came out first drive and didn't get in, but our defense played great the whole game," Schneider said. "We knew once we got down there, we've got to score every time."

With the luxury of field position, OA was also able to carry the tempo of the contest. The Tigers pounded the Warriors banged-up line (with two starters lost to injury this week) in the running game with senior running back Sam Langston's 22 carries for 168 yards.

"Sam [Langston] is amazing," Schneider said. "I think he's the best running back in the league, I don't care what anybody says. He's run the ball so well all season and he's carried us down the field."

CLAWING BACK
Foxborough had chances to come back in the second half, thanks to a couple of interceptions by senior corner Tony Gutierrez, one of which set up the Warriors' lone touchdown in the fourth.

Warriors quarterback Nick Sestito also exhibited a good touch on the ball, breaking off several big plays while exploiting OA's Cover-2 defense. Sestito found receivers open on the seam several times, with a couple of those balls directed toward physical 6-foot-4 split end Noah Cronin. The Warriors also have a nice complement to Cronin with shifty receiver Greg Stamatov (the Villanova-bound lacrosse goaltender) working underneath.

"He's our Wes Welker," Foxborough head coach Jack Martinelli said of Stamatov. "He's just able to get open."

However, the opportunities the Warriors had to gash the Tigers up the middle eventually ebbed away.

"We were being too aggressive with our pressure up front, too," Artz said. "We changed up our looks and that helped."

BOUNCING BACK
Artz made several mentions to the team's dissatisfaction with their effort in a 28-13 loss to King Philip last week. It should have been a statement game for the Tigers (Stoughton over Mansfield, anybody?), but OA got behind the 8-ball early and wasn't able to get into their game plan.

"We felt we weren't able to utilize our ground game last week because of the way the game developed because we fell behind so quickly," Artz said.

The Tigers were able to assert their will on the patchwork Warriors line behind hulking 6-foot-9, 300-pound right tackle Keith Sullivan.

In addition, OA found different ways to integrate Langston into the offense, throwing in a healthy dose of direct snaps to back and some Wildcat formations.

"[Langston] has been a workhorse all week," Artz said. "He's unbelievable. He doesn't go down on the first hit. You stop him for a second and he's still going to be churning, pop off and be four yards down the field."

EXTRA POINTS
It's neither here nor there, but Tigers place kicker Ryan McGrath can flat out boom the ball. His 34-yard field goal in the first quarter would've been good from 50, a testament to one observer's estimate that McGrath was hitting from 55 yards in the pregame warm-ups in inclement weather. McGrath also showed off his leg powering a touchback through the end zone in the second quarter.

In so many words: Wow.

Foxborough (3-3) 0 3 0 6 -- 9
Oliver Ames (4-1) 10 7 0 0 -- 17

1st quarter
OA – Jared Schneider 2-yard run (Ryan McGrath kick)
OA – McGrath 34-yard field goal

2nd quarter
F – Jake Soccorso 29-yard field goal
OA – Schneider 2-yard run (McGrath kick)

4th quarter
F – Kiivone Howard 1-yard run (Kick failed)