Boston High School:

Kelsey Saucier
June, 12, 2014
6/12/14
12:14
AM ET
By
John McGuirk
| ESPNBoston.com
WORCESTER, Mass. -- The transcendent climb of the Holy Name softball team did not begin in the postseason. In fact, it started a week prior when the Naps defeated then-unbeaten Nashoba Regional.

That victory game Holy Name a huge lift. One it hasn't come down from since.

On Wednesday night, the Naps faced another unbeaten foe and yet again, took care of business, upending West champion Westfield, 6-1, in the Division 1 state semifinal played at Rockwood Field.

Holy Name (22-2) will square off against Bridgewater-Raynham (24-1) there on Saturday for the state title beginning at 7 p.m. The Naps have played in the state final six times and have yet to win a title.

"Nashoba was the best team and were undefeated and had a great pitcher," Naps head coach Aimee Lee said. "After beating them I think it was a high for us and I think we haven't come down from it and we're still going."

Holy Name took advantage of a few Bombers' jitters in the first inning to take a 3-0 lead. It remained that way until Westfield (23-1) got a run back in the fifth. However, perhaps a bit complacent during the middle frames, the Naps offense re-awoke in their half of the seventh to put this game out of reach.

"I kept telling our girls in the later innings that I can't want this game more than them," Lee said. "I think once Westfield scored that run it brought us back to reality and we started hitting again in the seventh."

With Bridget Mias on base following a bunt single, senior Ama Biney smashed a triple to centerfield. A Heather Drummond (3 hits) double sent Biney to the plate. That was proceeded moments later by a Kelsey Saucier's RBI single and suddenly, Holy Name's was now up by five runs.

"It gets pretty exciting when everyone starts to hit the ball and everyone starts to get up again," Drummond said. "Then hits begin to string along and the other team gets down on themselves and we just keep it going. When we were up 3-1 I didn't feel safe. I wanted us to get more hits and more runs and we were able to."

Westfield, which defeated Longmeadow in the WMass final thanks to Annalise Eak's walk-off RBI single, appeared a bit nervous to start this contest and it eventually showed. Biney opened the first inning by reaching on an error. After stealing second, Drummond brought her home with a single. After Drummond advanced to third on a Saucier ground out, Bombers catcher Kaitlyn Puza tried to pick the junior off following a Sarah McNerney pitch. Unfortunately, the ball sailed into left field and Drummond scored easily with Holy Name's second run.

After Danielle Rocheleau kept the inning going with a single, Lauren Merritt hit a fly ball to centerfield that was dropped by Jessie Pratt. With Rocheleau now standing on third base, Deanna DiPilato sent her home with a ground out.

"I think we were a little tight early on," said Westfield head coach Joe Stella. "Holy Name overall has got to be the best team we've seen this year. They have pitching, defense, speed to burn and they can hit. I thought we calmed down after the first inning. We cut it to 3-1 and were getting our bats on the ball. But in the seventh things went the other way."

Saucer, Holy Name's senior ace pitcher, gave us six hits and struck out nine. McNerney, also a senior, surrendered 10 hits.

"We are a team that wants to score first," said Saucier, who will attend WPI next year. "Usually the team that scores first is the team that carries the momentum into the further innings. Westfield is a very good team. Even if we had a 10 run lead on that team you couldn't feel safe. That's why you have to play every inning as if it is your last and that's how we approached it."
April, 11, 2013
4/11/13
12:34
AM ET
By
John McGuirk
| ESPNBoston.com
GRAFTON, Mass. -- During the top of the sixth inning, and her team locked in a tight-fisted 1-1 duel against Division 1 foe Holy Name, Grafton ace pitcher Kendal Roy began to sing Neil Diamond's "Sweet Caroline" from inside her dugout. Her teammates quickly caught on and followed her lead. Suddenly a chorus of this famous song resonated all over Nelson Field.

This is the demeanor of the Indians. They play relaxed, are never uptight and have a great time playing the game they love. This off-beat conduct certainly has paid dividends for Grafton in the past. Last year, they won the Division 2 state championship boosted by the same mannerisms. On Wednesday, this personality helped carry them again as the Indians erupted for seven runs in the sixth to claim an 8-5 victory over the Naps.

"To us a 1-1 game is definitely different than losing 1-0," said Roy, who allowed six hits while striking out nine which gives her 59 for the season. "When we tied it, 1-1, we all looked at it as if it was a 0-0 game. Once we tied it we knew we were doing fine."

Holy Name hurler Kelsey Saucier (7 hits, 9 walks, 8 Ks) was in control early, holding the Indians to a single run through five innings. But things unraveled quickly for her in the decisive inning. The junior had lost command of her blazing fastball, as many pitches were starting to finish high above the strike zone.

Saucier opened the inning by plunking Tara FaFord, walking Michelle Goulet and allowing Marissa Ruggiero to reach safely on a fielder's choice to load the bases. With the pressure on, Saucier threw a belt-high fastball to Tess Fitzmaurice, who roped a three-run triple to center making the score 4-1. Makayla Ritzie followed by lining a double to left scoring Fitzmaurice. Ritzie would later score on a fielder's choice putting the Indians ahead 6-1. Two more Saucier walks resulted in two more runs on RBI singles from Roy and FaFord.

"It's the beginning of the season and we're not quite in shape yet," Naps coach Aimee Lee said. "I think that was a main factor today and once they started getting hits we started getting that feeling of being defeated."

That feeling didn't resonate for to long. Holy Name (2-1) made a valiant comeback attempt in the bottom of the sixth. A pair of Grafton errors led to two runs making it an 8-3 contest. The Naps closed to within three run following RBI by Heather Drummond and Deanna DiPilato.

But Roy bore down from there allowing no further damage.

"I owe this entire game to my team," added Roy, her team now 5-0. "We got some huge hits when we needed them and it really boosted our confidence and energy. These are the types of games that push us to be as good as we can be. Holy Name is a great team and we knew going in it would be a great game. These are the games that make us a better team."

The Naps grabbed a 1-0 lead in the opening frame when Ana Biney (3 hits) scored from second on a two-out single by Saucier. Holy Name had a couple of opportunities to add to its total in the early going but a couple of web gems from center fielder Kate Cardoza kept it a one run game.

Grafton eventually tied things in the fifth. Ritzie, the No. 9 hitter, led off with a single, stole second and took third on a pass ball. The junior came home moments later on a Saucier wild pitch.

"Everything seemed to come together for us in that sixth inning," Grafton coach John Gemme said. "But even before that Kate [Cardoza] made some great plays in center field for us which, if she hadn't, could've changed the complexion of this game [Ritzie] has been working really hard at getting her swing more compact and today it showed with her getting a couple of hits. For Tess [Fitzmaurice], getting that triple was huge. It was her first hit of the year and came at a good time. She has been working very hard on her hitting and it certainly paid off today."
April, 9, 2013
4/09/13
11:19
PM ET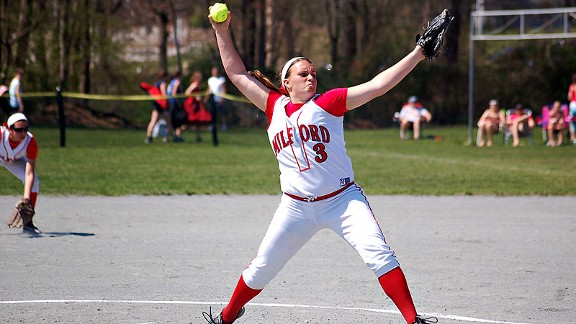 Brendan Hall/ESPNBoston.comReigning ESPN Boston Miss Softball Award winner Shannon Smith hopes to lead Milford to back-to-back Division 1 state titles.
STARTING ROTATION
Megan Colleran, Jr., North Attleborough
Anna O'Neill, Sr., King Philip
Lauren Ramirez, Sr., Dracut
Kendal Roy, Jr., Grafton
Shannon Smith, Sr., Milford
STARTING NINE
Tori Constantin, Sr. 2B, King Philip
Stephanie Cornish, Sr. 3B, Abington
Alexis DeBrosse, Sr. SS, New Bedford
Caroline Fairbanks, Sr. 3B, Milford
Nicole Lundstrom, Sr. C, Dighton-Rehoboth
Bella Picard, Sr. SS, Blackstone Valley Tech
Madi Shaw, Jr. SS, Bridgewater-Raynham
Dakota Smith-Porter, Sr., P/SS, Turners Falls
Reilly Weiners, Sr. C, Agawam
WATCH LIST
Olivia Antczak, Soph. P, Central Catholic
Allie Colleran, Jr. SS/OF, Concord-Carlisle
Megan Cook, Jr. P, Bellingham
Haley Currie, Sr. 3B, Burlington
Sara Dawson, Soph. P, Bridgewater-Raynham
Kaleigh Finigan, Sr. 3B, St. Mary's (Lynn)
Bridget Furlong, Sr. 2B, Malden
Courtney Girouard, Jr. P, Fairhaven
Galen Kerr, Sr. P, Concord-Carlisle
Taylor LeBrun, Soph. C, Milford
Rachel Levine, Sr. CF, Milford
Michaela Mazure, Soph. INF, Burlington
Shannon McLaughlin, Jr. P, Tewksbury
Paige Mulry, Jr. C, Boston Latin
MacKenzie Navarro, Jr. 1B, Taunton
Alicia Reid, Sr. CF, Abington
Kelsey Saucier, Jr. P, Holy Name
Rachael Smith, Jr. P, Winchester
Lauren Tuiskula, Sr. P, Leicester
Jurnee Ware, Sr. P, Hudson
June, 9, 2012
6/09/12
12:29
AM ET
HUDSON, Mass. -- The juggernaut known as Milford just keeps on rolling.

The Scarlet Hawks scored three runs in the third inning to break a 1-1 tie with Leominster and roll on to a 5-1 victory tonight in the semifinals of the Division 1 Central Mass. tournament. No. 1 Milford (21-0) faces No. 3 Holy Name (16-4) Saturday night in the finals beginning at 7 p.m. at Worcester State University. The fifth-seeded Blue Devils completed their season at 14-8.

While Scarlet Hawks' pitcher Shannon Smith has grabbed much of the attention on this team, and rightfully so, it was the bat of Rachel Levine that turned most heads.

The junior belted a home run, a triple and double, along with 3 RBIs, to ignite the Milford offense. With the game knotted at 1-1, the Scarlet Hawks scored three times in the third which was all Smith (1 run, 1 hit, 10 Ks) would need. Taylor Archer made it a 2-1 contest with a ground rule double to right. Levine followed with a two-run double to left. Her home run came in the sixth, belting a solo shot over the right field fence to extend the Scarlet Hawks' advantage to four runs.

"I've been working about with the inside pitch because I don't like to hit it and then I get it and hit a home run so it feels good," said Levine.

Levine's triple in the second inning put Milford on the board first. One out later, she scored on Taylor LeBrun's deep fly to left. Leominster tied the game in the top of the third. Junior Dominique Zarrella walked and moved to second on a ground out. Stephanie Storro then hit a routine grounder to first but the ball got past first baseman Samantha Bonvino allowing Zarrella to score from second. But in the bottom of the frame, Milford's offense went on the attack and the three runs scored was all Smith needed as she kept the Blue Devils in the check the rest of the way.

HOLY NAME 2, SHEPHERD HILL 0
In a pitcher's duel between Shepherd Hills' Molly Covill and Holy Name's Kelsey Saucier, offense would be at a premium. But in the Naps' fifth, Ama Biney, a sophomore, lasered a two-run single to centerfield which was all her team would need as they blanked the Rams 2-0 in the Division 1 Central Mass. semifinal.

"I was just trying to do whatever I could to help my team," said Biney, who finished 2-for-3 at the plate, including a double. "In that inning, with runners on, I was just trying to make contact."

No. 7 Shepherd Hill (14-9) had a chance to take an early lead. In the second inning, with a Samantha Miller standing on third, Emily Handon executed a suicide squeeze. However, Saucier was able to field the ball cleanly, tossing it to catcher Keara LaVallee in time to tag Miller out.

D3: ASSABET 2, QUABOAG 1
In a Division 3 semifinal, top-seed Assabet Valley (19-1) needed extra innings to edge No. 4 Quaboag 2-1. In a re-match of last year's Central Mass. final, won by the Cougars 9-1, it was the Aztecs who had the final laugh this time out. However, it did not come easy.

Assabet took a 1-0 lead in its half of the fourth thanks to a Brittney Lutz single that scored Jen Casavant, who led off the frame with a single.

The Aztecs appeared poised to keep the shutout in tact. In fact right up to the final out. In the final inning, the Cougars (18-4) appeared done after the first two batters were retired. But a triple off the bat of Allyson Smith was followed by a single from Danielle Sweet to tie the game after seven innings. Despite some of the wind taken out of their sails, the Aztecs never got down on themselves. In their half of the eighth, Chelsea Campana delivered an RBI walk-off single. Assabet will meet Blackstone Valley Tech Saturday at 3 p.m. in the final at Worcester State University.

"We had lost to Quaboag last year in the final so we wanted to come out and show them who we are," Campana said. "Blackstone, we know, will be a great competitor. We have beaten them three times this season already but it seems to get closer and closer each time that we play them. We're just hoping for another great game."