Boston High School:

Ken Lalli
April, 25, 2013
4/25/13
7:20
PM ET
By
Brendan Hall
| ESPNBoston.com
TAUNTON, Mass. -- It's a luxury for high school teams to have a burly, overpowering, Division 1-bound ace the top of the pitching rotation, an intimidator who can take on a big workload and quiet the opposition's bats on days when one's own aren't working.
To have two of them? That's an extravagance.
[+] Enlarge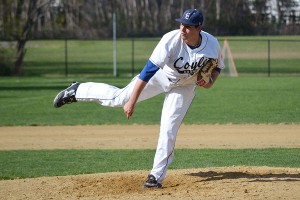 Brendan Hall/ESPNFordham-bound right-hander Donny May needed just 76 pitches to pick up the complete game win for Coyle-Cassidy.
One day after 6-foot-5, 240-pound Niagara-bound lefty Mac Curran went the distance in a win over Bishop Stang, the Warriors turned to senior Donny May, a 6-foot-3, 235-pound righty bound for Fordham, in their tussle with unbeaten Bishop Feehan. May went the distance, striking out seven, as they beat the visiting Shamrocks 3-1 at Hopewell Park to claim first place outright in the Eastern Athletic Conference.
Along with the seven K's, May allowed four hits, walked none and allowed one earned run. But perhaps most impressive was the fact he needed just 76 pitches to do it.
"My fastball was up there, everything was pretty much in synch," May said. "Feehan's a great team, I knew had to come here and compete. Especially having a great trainer here at school, getting me stretched out and loose really helps, loosening up the arm, getting going. Today everything was stemming off my fastball. When I can do that, game over."
Coyle (8-1, 3-0) spotted May three runs in the first two innings to give him some room to work with.
In the bottom of the first, with two outs senior catcher Ryan Kowalski reached first safely on a throwing error, setting up Curran for the longest hit of the day. Facing a 1-2 count, Curran blasted Teddy O'Heir's fastball deep to the right-centerfield gap, the ball one-hopping off the fence for a stand-up RBI double.
"I figured he'd throw me a curveball, because I got fooled on that, but he threw me a fastball down the dish," Curran said. "It was literally right down the middle, so I took it and hit it. I came off my front foot a little bit, but I still got a good piece...I looked up and said, 'I gotta go, I gotta start running'."
Coyle plated two more runs in the second for a 3-0 lead. First, senior third baseman Hunter Klugh drew a walk with the bases loaded to send home Cam Dorsey, with one out. In the next at bat, senior centerfielder Robby Robinson hit into a 4-3 putout at first base to score Alec Turner on a sacrifice.
Feehan (7-1, 1-1) got one back in the next stanza on a one-out RBI single from Alex Perry. But they were unable to muster another hit the rest of the way, going down 1-2-3 the final four innings -- including three straight flyouts to Robinson in center in the top of the seventh to end the game.
"We always circle [this game]," Warriors coach Ken Lalli said when asked about the magnitude of this win. "One of us is probably going to win the league, but we always circle these. Feehan is our rivalry, so this is always a big game."
Little Laboring for May:
Two factors continually contribute to days like today for May, where he needed just the 76 pitches to go the distance.
For one, May demonstrates surgery with his pitch sequences in at bats. His fastball has been clocked as high as 88 miles per hour so far this spring, and has movement that cuts inside on right-handed hitters. Mixing that in with a slider that moves hard in the opposite direction made for many a quick at-bat this afternoon.
"Donny's one of the smartest pitchers I've ever had the privilege of working with, because he understands about pitch efficiency," Lalli said. "He doesn't waste any pitches at all. Every pitch has a purpose, and that's why he's able to go the whole game all the time at only, like, 76 pitches."
The other major contributing factor is the speed with which he works. At 235 pounds, his legs can carry him deep into games -- "I honestly felt like I could go another three innings today," he quipped -- but he doesn't waste a lot of time on the mound getting ready for the next pitch. Think more Mark Buehrle, less Josh Beckett.
"He likes to get the ball and work," Lalli said. "Sometimes we've got to slow him down a little bit, but he just wants to get it done. He knows what he has to do, he's got a job to do, and he goes right at it. There's no messing around.
"He has great composure, so if the umpire calls it a ball it doesn't affect him. He's already thinking about the next pitch, where most guys would take their time and walk around. Great composure out there."
May, 16, 2012
5/16/12
11:19
PM ET
By
Tom Layman
| ESPNBoston.com
TAUNTON, Mass. — Bishop Stang's quick strike in the top of the first inning didn't waver the confidence of Coyle-Cassidy head coach Ken Lalli.

He has preached patience with his group this season and the five years that he's been at the helm, and ultimately he knew that this group of Warriors would be able to grind out a victory. The Warriors battled back from a three-run deficit in the first inning to grab their first Eastern Athletic Conference regular season title since 2003 with a 6-3 win at home over their bitter rivals.

The gameplan, which has netted the Warriors a 15-2 record, worked out just find for Lalli and company.

"I had complete confidence, because our game plan is to try and wear teams down and hit them hard in the fourth, fifth and sixth innings," said Lalli, whose team is 7-0 in conference play with one game left to go. "I knew that we would come around and do that. Things weren't going or way and they weren't really taking it to us. They had a lot of crazy plays, but I had complete confidence in Mac that he would just keep throwing and had complete confidence in our team to put the runs on the board."

Lalli was able to live with the Warriors ugly start in the field, which featured two errors and three runs by the Spartans. The Spartans only had one truly hard-hit ball in the inning as two runs came on a fielding error in centerfield and a botched pickoff play with men at first and third brought home Logan Sullo for a 3-0 lead.

Mac Stays the Course: Things could have gotten out of hand for Mac Curran in the first. Instead, the big left-hander buckled down to go the distance and not allow another run in his final six innings of work.

Curran lived around the plate with 81 of his 97 pitches going for strikes. He struck out seven and scattered eight hits — four of those being infield hits — while walking none for the complete-game victory.

"You just got to keep fighting," said Curran when asked how he was able to put the first quarter behind him. "Our goal is a championship...It came together today when I had to."

"He keeps his composure no matter what and keeps working hard," added Lalli. "That's what he's been doing for us all season."

The Spartans only put four men on in the final five innings and couldn't keep a rally going long enough with the game being one of a one-run variety until a couple of late runs by the Warriors.

"We had some runners on base and we got the big hit in the first inning, but we couldn't get it later on," said Bishop Stang head coach Jason Pacheco, whose team lost 14-1 to the Warriors in the first outing.
May, 4, 2012
5/04/12
8:53
PM ET
By
Mike Scandura
| ESPNBoston.com
TAUNTON, Mass. -– To say Coyle-Cassidy lefthander Mac Curran flies so far under the proverbial radar screen that he's almost invisible would be a major understatement.

"I think he definitely has (flown under the radar screen)," coach Ken Lalli said Friday after Curran blanked Somerset-Berkley, 10-0, in an Eastern Athletic Conference game. "He doesn't worry about exposure. He just comes and does his job and does it very well. That's what he focuses on.

"Some kids are out there looking for the exposure and when people come they're not as good as they say. He just figures when he's rolling along people are going to know about him because he's doing very well."

Curran, a 6-5, 240-pound junior pitched extremely well against the Raiders (4-8, 1-3).

In going the distance, he allowed one hit plus one walk and struck out 10.

Curran threw 62 of 85 pitches for strikes and faced only three batters over the minimum (one Raider reached on an error).

"He's very humble...he always stays humble," said Lalli. "He really matured in the last year and is very mature now."

Curran's maturity is reflected in his stats.

In five starts, he's 4-0 with a microscopic 0.22 ERA in 32 innings. In addition he's allowed only 17 hits plus 19 walks and has fanned 39.

"I've been working on my control and the last couple of outings have been okay," said Curran. "In this one it all came together with my best stuff.

"I worked all week. I did what I had to do and it worked out well."

One reason Curran's performance against the Raiders "worked out well" was that he had command of four pitches: a two-seam and four-seam fastball, a knuckle-curve and a changeup.

"My knuckle-curve slides across most of the time," said Curran. "I like when it slides because it works a lot better."

Because all of Curran's pitchers have been working "better," he's not afraid to throw any pitch regardless of count and the situation.

"I can throw my curveball and my changeup whenever I want," said Curran. "I think I threw probably five or six changeups. My curve was my off-speed (pitch) today."

Since many high school pitchers –- even seniors –- are fortunate to have two pitches, Curran without question is the exception rather than the rule.

"Most people have two pitches and he has four," said Lalli. "What I'm really impressed about is no matter how far down in the count he is or if we're losing, he never loses his composure. He's always like 'Give me the ball. Let's keep working. I'm going to get this done for you.'

"He's definitely a competitor who works out real hard."

Curran briefly flirted with a no-hitter today, since he retired the first 10 Raiders without a single ball being hit out of the infield.

Brett Turner's one-out single in the fourth ended that bid but, otherwise, Curran didn't allow any Raider to advance as far as second base.

The Warriors (11-2, 5-0), who've already clinched a berth in the MIAA playoffs, gave Curran all the support he would need when they scored three runs in the third.

As Lalli alluded to, Curran's success hasn't reached the point where he needs his head measured for a larger cap.

"I just try to stay humble and keep working and give it the best that I can and get on top," he said. "Everything's going well right now so I want just want to keep rolling."