Boston High School:

Kendall Hamilton
March, 7, 2013
3/07/13
12:41
AM ET
By
Chris Bradley
| ESPNBoston.com
LAWRENCE, Mass. -– Not too long ago, Derek Collins couldn't even touch his toes.
North Andover coach Mike McVeigh was impressed with Collins' play last Sunday against Concord-Carlisle, so much so that the veteran coach went out of his way to compliment his senior guard before practice the next day.
"Man, you look stronger," McVeigh said to Collins, hinting at how much he had improved since having back surgery last winter.
"Coach, I can touch my toes," Collins happily announced.
[+] Enlarge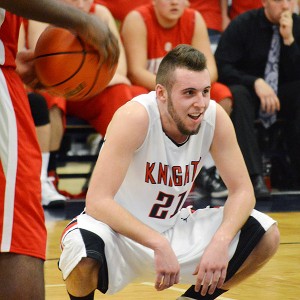 Brendan Hall/ESPNBoston.comDerek Collins sank seven 3-pointers to lift North Andover to its first Division 2 North Final appearance since 2007
On Wednesday night, he took another step in the right direction, tallying 26 points on seven three-pointers, but more importantly, leading the Scarlet Knights (19-4) to a 68-44 win over Wakefield (15-6) in the Division 2 North semifinals.
"That's the old Derek Collins right there," teammate Chris Bardwell (14 points, nine rebounds) exclaimed after the game, going back to Collins' younger days, "That's him in eighth grade. He came out to play, he was firing. It's awesome when you have someone like that who can shoot that good; it just takes pressure off of our offense."
North Andover jumped out to a quick lead in the first half, Collins and Isaiah Nelsen (20 points, eight rebounds) hit back-to-back threes in the opening minutes to build momentum that Wakefield was unable to match. However, behind some hot-shooting from Wakefield senior Kendall Hamilton (18 points), North Andover held just a 31-23 halftime lead.
That's when Collins got hot.
During a critical point in the game, North Andover game out of the third quarter gates with a sprint, led by Collins, who banged in four three-pointers in that one quarter alone. Just like that, the Knights held a 54-30 lead going into the fourth quarter —- a deficit that Wakefield was unable to even come close at chipping away at.
Following the statement victory, McVeigh embraced his star senior and joked about the Mohawk-style haircut that several players on the team got done for the playoffs.
"You're the best," he said to Collins, "and we've got to keep that haircut going."
Brown stays quiet:
Wakefield's sophomore power guard Bruce Brown has been the catalyst of the offense all year, but tonight, he managed just 10 points on 3-for-11 shooting from the field. That was all part of the plan, Bardwell said.
"That was our whole gameplan, was stopping him," he explained. "Pretty much our whole gameplan was playing the 1-2-2 and playing off him—letting him shoot. Every time he took it to the hole, we just jammed him. We did awesome on him."
Bardwell couldn't quite escape Brown's athleticism altogether though. Late in the fourth quarter Brown went up for a high-rising dunk in transition. Bardwell, looking to go for a block or force Brown to adjust his gather, could only joke about what happened next.
"Oh, that was awesome," Bardwell said with a laugh. "Getting dunked on. Yeah, that wasn't good. But whatever, I forget about it."
Bardwell and Nelsen were also able to contain Wakefield forward Mikol Blake-Green down on the post. Blake-Green, one of the most aggressive forwards and fiercest competitors around, has terrorized opposing teams on the offensive glass all year. Like Brown though, he was quiet against North Andover, mustering just eight points.
"We respect Wakefield an awful lot, there's nobody on our team, including the coach, who thought that was going to be the final score," McVeigh said. "[Brown] draws contact with the best of them, but we just tried to use that spacing theory, we space and jam. It was okay, coaches have to say what they want, but the kids have to do it--and the kids did it for 32 minutes."
Bring on the Bengals:
North Andover will move on to face Brighton in the Division 2 North championship on Saturday afternoon. Before the beginning of the regular season, the two faced off in a scrimmage where the Knights outplayed Brighton for nearly the two hours.
McVeigh, though, is cautiously optimistic.
"Who filmed the Brighton/Aorth Andover scrimmage?" he asked rhetorically to an ESPNBoston.com reporter, with a dash of sarcasm.
Bengals star point guard Malik James filmed the scrimmage, of course. Brighton coach Hugh Coleman was disciplining James for being late to a practice, and the returning All-State point guard did not play for the majority of the scrimmage. McVeigh knows they didn't get Brighton's best shot.
"Obviously [suspending James] worked pretty well if you see the way he's playing," he said.
Fresh off one of the best performances of his career, Collins addressed his performance, but also North Andover's business-like approach going into Saturday.
"My teammates found me open [tonight]—they found me in good spots and I was able to knock down some shots. It was just my teammates getting me the ball, really," he said. "Coach has been scouting the whole season, we'll have a good gameplan and we'll be ready."
February, 6, 2013
2/06/13
12:47
AM ET
By
Chris Bradley
| ESPNBoston.com
MELROSE, Mass. -– Led in scoring by freshman Sherron Harris, No. 17 Melrose continued its unexpected unbeaten run on Tuesday night, sweeping rival Wakefield at home 67-62 to clinch the Middlesex League's Freedom division outright.

The Red Raiders (15-0) had four different players in double-figures: Harris (26 points, six steals), Matt Sherlock (11 points), Frantzdy Pierrot (17 points, nine rebounds), and Samuel Jean-Gilles (12 points, 11 rebounds).

Bruce Brown, Wakefield's talented sophomore guard, spent all but two minutes of the first half on the bench, after picking up his third foul at the 5:42 mark of the first quarter.

Meanwhile Pierrot, a junior captain for the Raiders, set the tone early on with his defense and his athleticism. A built guard who is also a star soccer player, Pierrot forced several first half turnovers and dunked everything he could offensively. With two high-flying jams early in the first quarter, Pierrot's aggressiveness trickled to the rest of his team.

The aggressiveness spread in particular to the freshman Harris, who weaved through traffic for his game-high 26 and was also 5-for-8 shooting from behind the three-point arc. A smooth guard with quick hands, Harris was a consistent pest defensively throughout the entire game, finishing with six steals -- four of which game in the first half.

"He didn't play like a freshman in the first half," Melrose coach Mike Kasprzak said. "You probably saw his offensive game, but his defense set up most of those plays."

In addition to Brown, Wakefield has one of the best big men in the Middlesex League, Mikol Blake-Green, as well as senior captain Kendall Hamilton, who can legitimately play three different positions.

Keeping Wakefield off the glass is easier said than done, but Jean-Gillies and Pierrot were able to do so successfully in the second half. The two were able to help keep Blake-Green relatively quiet following the first two quarters; he scored eight points in the second quarter, but only scored five after that.

"They're a great team, [Wakefield] are going to be a force to be reckoned with," Kasprzak said. "Getting that lead was key, we obviously want to play better with that lead, but that has been us this year. We've had 20 point leads.

"But we love our guys, they play when it matters. They hit free throws when it mattered, they forced turnovers when it mattered, that's the key."

Brown's efficiency: Bruce Brown was only able to tally one basket before taking a lengthy stay to bench for nearly all of the first half, picking up three fouls in the opening minutes. Brown came out aggressive defensively, but it was to his own dismay, as for strategic purposes, he couldn't enter the game again until after halftime. The star sophomore, who recently came back from injury, made an immediate impact once he re-entered the game in the third quarter. He finished the game with 20 points and 10 rebounds, but his efficient 9-for-11 shooting from the field was what enabled Wakefield to make a late second half run.

"Hopefully next time we'll have him out there for all 32 [minutes]," Wakefield coach Brad Simpson said. "It's always good to have Bruce out there and playing. I thought collectively as a team we could have done better. We didn't rebound defensively down the stretch in the second half. Melrose got second chances and usually converted on them. That, to me, was the game in the nutshell."

Harris, the freshman who has seen Brown play on the AAU circuit, was very complimentary after the game.

"He has great athletic ability. He'll be great going through his junior and senior year. Bruce will go far, that's for sure," Harris said.

Freshman makes a statement: Harris, younger cousin of last year's Middlesex League MVP Jalen Adams, showed flashes of greatness against Wakefield, similar flashes that we saw last year from his older cousin.

Adams, a 2012 ESPN Boston All-State selection out of Melrose, transferred to Cushing Academy and reclassified to the Class of 2015 over the offseason. He has since seen his stock take off nationally, as he currently holds scholarship offers from Division 1 programs like UConn, Kansas State, and Providence.

Harris has learned a lot from his older cousin, but is also learning lessons daily from the older players on his team, who have taken him under their wing and shown him how to be a leader.

"The older guys on our team, Matt [Sherlock], Sam [Jean-Gilles], Frantzdy [Pierrot], toughen me up in practice to get me ready for the intensity of the games," Harris said. "They said coming into the Wakefield games or the playoff games there will be very big crowds, and lot of trash talking because the rivalry is huge. I use their advice a lot to help my game get better.

"They tell me to stay humble, because when you're a freshman playing on varsity, people usually talk about that. They just tell me 'shoot, even though you're a freshman doesn't mean you can't shoot' and 'play your game'."

Kasprzak is confident that Harris will be successful in a Melrose uniform. His advice for the youngster? Stay focused, and stay on track.

"Keep playing, don't listen to people outside of here, and stay in the program," Kasprzak said. "We don't brag we don't talk, but we have a chance to win the league this year and next year, that's never happened in Melrose history. He plays football and basketball, and we have tremendous programs here, so Melrose is a good place right now."

Frantzdy Frenzy: Pierrot has only been playing organized basketball for four years. In that time, though, he has been able to develop himself into one of the most talented guards in the area. As mentioned, he is also a striker on the Melrose soccer team, and has shown he has the ability to play both sports at the college level -- an opinion also expressed by his coach.

"Great athlete, the thing about him is that he's been playing for four years," Kasprzak said. "That fact that he's this good, we've been talking to a lot of college [coaches], and he's only a junior. He's a tremendous soccer player too."

Pierrot's positive and hard-working attitude has been contagious to his teammates this year. It's easy to see his fingerprints on the Red Raiders' style of play—they are unselfish offensively, relentless on the offensive boards, and do all of this in a humble manner.

"He's a student of the game, for a guy playing four years to do what he does, it's tremendous. It shows his heart, his desire, and his intelligence. Very intelligent kid," Kasprzak said.

They're humble, but being underrated in the pre-season helped fuel Pierrot and his team to an impressive undefeated start. They seem to play defense with a chip on their shoulder.

"We were picked third in our league, so we're just going to keep loving that up," Kasprzak said. "Playing the underdog role, that's us."
November, 25, 2012
11/25/12
1:34
PM ET
With the first MIAA-sanctioned practices of the 2012-13 season set to commence tomorrow, today we're looking at the top storylines and top players from across the state.

Check back with us later in the preseason for our first Top 25 poll and our Preseason All-State Teams. But for now, here are the storylines to watch, and our projected Super Teams.

***

Brendan Hall
ESPN Boston High Schools editor

Reading Machine Rages On
Had it not been for Andover and superstar Nicole Boudreau, the Division 2 state champ Reading Rockets would have been garnering far more attention last season. The Rockets were one of the state's most dominant forces from wire to wire, going 25-0 en route to the program's first state title. They were one of the state's most explosive offenses (64.3 points per game), and blew out nearly everyone -- their average margin of victory was 27.1, with their only threats coming in the North final (49-46 over Arlington Catholic) and Eastern Mass. Final (71-64 over Scituate, in overtime).

The conversation in Reading starts with Richmond-bound guard/forward Olivia Healy, a two-time ESPN Boston All-State and one of the early favorites for our Miss Basketball award. The 5-foot-10 senior can play any position on the floor, excels on the boards, and is as physical as they come. But every superstar needs a supporting cast, and you can't do much better than Assumption-bound guard Morgan O'Brien in that regard.

With Andover expected to level off following the graduation of one of the MIAA's best ever (Boudreau), we're most likely looking at Reading starting the year at No. 1 in our statewide girls' poll, which will be released later this preseason.

Fierce, Fierce City A
Over the offseason, the Boston City League voted overwhelmingly to split into three tiers for boys basketball, based on competitive balance. And with it, the city's "A" division instantly becomes the state's toughest league. City A is comprised of Brighton, New Mission, Madison Park, Charlestown and East Boston -- all teams expected to start the season in our statewide Top 25 poll -- and with the new scheduling setup, we're looking at appointment viewing in the city nearly every night.

Charlestown-Eastie, Mission-Brighton and Eastie-Madison are the city's three fiercest basketball rivalries. Now, on top of those series, we're getting two installments of Mission-Madison, Brighton-Eastie, Charlestown-Mission, Madison-Brighton, and so forth. Brighton and MP figure to be the favorites here, but this is going to be an absolute grinder of a league. Of the highest degree.

Swat Team
Anyone that watched the University of Kentucky last season can tell you how valuable Anthony Davis was despite an unpolished offensive game. Heck, he was named the Most Outstanding Player of the Final Four despite going just 1-for-10 from the field in the championship game.

Last year our Defensive Player of the Year award went to a guard, Stoughton's Marcus Middleton, but I'm looking at a number of frontcourt shot-blockers to contend for the award. Any conversation about swatters in the MIAA has to begin with New Mission's Isshiah Coleman, but keep an eye on Cambridge's Fredens Deneus, a 6-foot-6 junior who is expected to have a breakout season. Rockland's Tyler Gibson, a UMass-Lowell commit, will alter many a shot in the South Shore League. Also keep an eye on Holy Name's Dan Kegbeh, only 6-foot-1 but blessed with some impressive ups.

On the girls' side, Holy Name's Brianna Frias is my early favorite for Defensive Player of the Year. The 6-foot junior committed to Providence over the summer, and averaged six blocks per game last season as the Naps went 20-0 in the regular season and captured the No. 1 seed in Division 1 Central.

Sizzlin' Sophs
Across the state, there are a number of Class of 2015 players to get excited about. Springfield Central's Chris Baldwin has yet to play in an MIAA game, having played his freshman season down the street at Hillside School, but he is already garnering significant hype. Wakefield's Bruce Brown showed freak athletic ability at times during his freshman campaign for the Warriors, and figures to be regarded as one of the state's elite by season's end. Same for Mansfield's Brendan Hill and St. John's of Shrewsbury's Davon Jones.

Central Catholic junior Tyler Nelson is on the short list as everyone's favorite shooter, and deservedly so, but Newton North sophomore guard Tommy Mobley is as automatic as they come. He plays a different role for the Tigers than his older brother, 6-foot-8 Yale forward Greg Kelley, did several years ago. But when you talk about the elite shooters in the state, Mobley has the potential to be in that conversation.

Also keep an eye on Falmouth guard Craig Green, a three-sport star who's already on the radar for track and field. He turned many heads last June, when he placed third in New Englands in the 100-meter dash. He has run as fast as a 10.6 in the event so far in his young career.

On the girls' side, we all know the capabilities of Braintree's Molly Reagan. The 6-foot-1 center was a key cog in the Wamps' run to the Division 1 South title last March, and she already holds Division 1 offers. On the flip side, Archbishop Williams' Jaylen Williams committed to Penn State this past summer despite playing limited minutes for the Bishops.

But the potential speaks for itself. For one, Williams is 6-foot-3 and long. For another, there is plenty of pedigree. She is the daughter of former New England Patriots defensive lineman Brent Williams, and the younger sister of two high Division 1 college football players -- North Carolina offensive tackle Brennan Williams, and Ohio State linebacker Camren Williams.

Open Waters in the North
I'm not sure which will be the more interesting race in the North -- Division 1 girls, or Division 2 boys.

In Division 1 girls, we're looking at a number of contenders in the North. Nobody's counting out Andover in spite of the talent graduated, but it should be an interesting race in the Merrimack Valley Conference with Central Catholic and Billerica figuring to start the year high in many polls. Lincoln-Sudbury will be another contender, led by Lafayette-bound forward Ashley Lutz, as will be Lynn English and reigning Northeastern Conference MVP Catherine Stinson. The ultimate wild card might be Cambridge, led by Georgia Tech-bound guard Donnaizha Fountain. And don't count out Somerville, either, with Indira Evans in the fold.

Division 2 North will be an interesting bracket. New Mission returns a strong core, but so does Brighton, behind returning All-State guard Malik James, forwards Nick Simpson and Prince Unaegbu, and one of the state's best shooters, Daivon Edwards. Ditto Wakefield, with Bruce Brown expected to have a breakout year alongside seniors Kendall Hamilton and Mikol Blake-Green.

SUPER TEAMS

Boys
G - Jameilen Jones, Sr., BC High
G - Tyler Nelson, Jr., Central Catholic
G - Malik James, Jr., Brighton
F - Kamari Robinson, Sr., Springfield Central
F - Tyler Gibson, Sr., Rockland

Girls
G - Donnaizha Fountain, Sr., Cambridge
G - Sarah Hope, Sr., Medway
G/F - Olivia Healy, Sr., Reading
F - Ashley Lutz, Sr., Lincoln-Sudbury
C - Molly Reagan, Soph., Braintree

***

Ryan Kilian
Editor-in-Chief, New England Prep Stars

Central Reign
Can Central Catholic represent Eastern Massachusetts in the state finals this season in Division 1? Central returns a battle tested and veteran group that represented EMass Division 1 as the top seed in last season's MIAA tournament. Central boasts key returnees Tyler Nelson, Joel Berroa, Doug Gemmell and Nick Cambio.

Veteran Sophomore Talent
Mansfield's Brendan Hill and Wakefield's Bruce Brown are two of the top returning players in Massachusetts. They are also only sophomores. Both sophomores started and lead their respective teams deep into tournament play as freshman and we can expect even bigger seasons from both this year.

Best Frontcourt?
Massachusetts has a very strong group of point guards this season but the depth in the frontcourt is down in part of the continued flood of players to prep schools. New Mission (Nate Anderson and Isshiah Coleman) and Central Catholic (Gemmell and Cambio) are at the top of the frontcourt ranks but look out for North Andover and Charlestown to also have improved front lines with the development of returning veterans as well as additions of new talent to the mix.

Replacing Boudreau
It will be impossible to replace two-time Miss Basketball Nicole Boudreau (Boston College), but Andover does return senior Devon Caveany, and the glue of the squad in top defenders Jackie and Rebecca Alois. Expect some more classic Central Catholic and Andover battles for years to come in the MVC.

Special time for City of Braintree
The city of Braintree boasts some the best young female talent in the state, with Braintree High School and Archbishop Williams sharing city quarters.

Braintree returns Coach of the Year Kristen McDonnell and a lineup featuring returning senior Rachel Norton, and sophomores Ashley Russell, Bridget Herlihy, and Molly Reagan. Archbishop Williams returns Southern New Hampshire commits Olivia Conrad and Sara Ryan along with Alana Gilmer and Penn State commit Jaylen Williams.

SUPER TEAMS

Boys
G - Bruce Brown, Soph., Wakefield
G - Tyler Nelson, Jr., Central Catholic
G - Jameilen Jones, Sr., BC High
F - Brendan Hill, Soph., Mansfield
F - Kamari Robinson, Sr., Springfield Central

Girls
G - Kayla Burton, Sr., Newton South
G - Donaizha Fountain, Sr., Cambridge Rindge
G - Olivia Healy, Sr., Reading
G - Tajanay Veiga-Lee, Sr., Fenway
F - Saliah Serrette, Sr., Weston

***

Chris Bradley
ESPN Boston correspondent

Springfield Central Is Back
Saying that Kamari Robinson and sophomore transfer Chris Baldwin are the best frontcourt in the state is no stretch. Robinson helped lead Central to last year's division 1 state title, averaging a double double while the Golden Eagles went undefeated against MIAA opponents. The 6-foot-7 Baldwin is already drawing in interest from high major division 1 college programs. A strong, athletic forward who is known for his rebounding and sky-rising dunks, he'll make quite a duo with Robinson, a member of last year's ESPN Boston All-State Team.

Senior Cornelius Tyson could be primed for a big year as well. The 6-foot-1 guard made quite a showing in last year's state championship game against Brockton, knocking down four 3-pointers in the second half to lead Central to the Division 1 title.

Can anyone knock off St. John's of Shrewsbury?
The Inter-High has two legitimate Top 25 teams in Worcester South and Doherty. Will this finally be the year that St. John's doesn't run away with the Division 1 tournament in Central Mass.? The Pioneers have won five consecutive Central Mass. Division 1 championships, and return yet another talented core from last year's team. Sophomore point guard Davon Jones has already asserted himself as one of the best guards in the western half of the state, juniors Charlie Murray and TJ Kelley will be a tough duo on the post, and 6-foot-5 senior Ken Harrington is one of the best shooters in central Mass.

Brighton looking for revenge
Last year's loss to Mahar in the Division 2 state title game was demoralizing to say the least for the Bengals, but another year of maturity should help Brighton come tournament time this year. Junior playmaking guard Malik James will be one of the very best in the MIAA, and he'll have plenty of weapons around him with forward Nick Simpson and guards Theo Oribhabor and Daivon Edwards. The Boston City League will be a rock fight this year, but battle-tested Brighton will reap the benefits of a tough schedule come tournament time.

New Mission young, but talented
Sophomore guards Greg Bridges, Randy Glenn, and Juwan Gooding will make for quite a show this year when put together with 6-foot-5 forward Isshiah Coleman and 6-foot-7 forward Nate Anderson. The Titans will be young, with less experience at the guard position than many of their opponents, but when all is said and done this could end up being the most talented team in the state this year.

Who will emerge in D3?
Picking favorites in Division 3 is like splitting hairs. Wareham has Darien Fernandez, a waterbug considered one of the best point guards in the state. Danvers returns four starters from last year's state title team. Quaboag has one of the best inside-out duos in D3 with Thomas Jankins and sophomore Jake Wisniewski. Hopedale has a deep, versatile lineup. Whitinsville Christian has won three straight central Mass. championships. Out in Pittsfield, St. Joseph Central returns the majority of their core from last year's state finals team—including scoring guard Taverick "Tank" Roberson. Any of these teams could emerge and make a deep run into the tournament in February and March.

SUPER TEAMS

Boys
G - Malik James, Jr., Brighton
G - Tyler Nelson, Jr., Central Catholic
F - Jameilen Jones, Sr., BC High
F - Kamari Robinson, Sr., Springfield Central
F - Tyler Gibson, Sr., Rockland

Girls
G - Kayla Burton, Sr., Newton South
G - Sarah Hope, Sr., Medway
G - Donnaizha Fountain, Sr., Cambridge
F - Casey McLaughlin, Sr., Central Catholic
F - Olivia Healy, Sr., Reading

March, 11, 2012
3/11/12
1:58
AM ET
By
Corey J. Allen
| ESPNBoston.com
LOWELL, Mass. -– Spurred by an early effort from Malik James (18 points, six rebounds, five assists), Brighton jumped out to an early 11-2 lead in the first quarter and held the lead the length of the game, winning 66-59 in the Division 2 North Boys' Championship.

Although the margin of victory was only seven, the Bengals led by as much as fourteen in the fourth quarter, but could not open up the match.

"We [brought] intensity going into the game because we know if we had never came out, we could have been on the other of that scoreboard and we could have lost" James said after Brighton's victory. "We were in this predicament last year, so we had to rebound, we had to play defense, run our sets like coach said. Knowing that our big man [Tre Dowman] was out, the intensity just won us the game."

Not only did the Bengals' usual suspects -- James, and junior shooting guard Daivon Edwards -- come up big for the Bengals, but underclassmen, some who started the year on junior varsity but due to ineligibility of others, these young guns were able to shine on the big stage, but they got dirty doing it.

The Bengals held their largest lead at 14 numerous times during the game, even in the fourth quarter. While Brighton held the lead, there were times -- like the last four minutes of the game -- that Wakefield would show life, such as senior Keyon Armstrong's 5-for-5 campaign from the line in a matter of possessions, the final cutting the lead to 7 with 1:20 left in the game. Two free throws from junior forward Kendall Hamilton cut the margin to five at 63-58.

Close Cut: Brighton head coach Hugh Coleman believes in some way, that his team had an advantage with the Warriors when within five points, as opposed to maintaining that fourteen point lead or opening up the game for a definitive win.

"Anybody could be up by 14, you know, it eases the stress," Coleman said. "But what happens with us sometimes is we get complacent, and we think the game's over, and it causes us to shift the momentum to a team that's going to play hard for 32 minutes and get back in the game. So, sometimes, being up five is a little more comfortable."

Spread Out: Getting this late into the playoffs, close games can go either way very fast. Top notch shooters, defensive specialists, pure energy players all have the possibility to turn a five point margin upside down within a minute, so how does Coleman believe that his squadron will survive their highest peak yet?

"We have enough experience of being up and being down and understanding the difference to stress time and situation," Coleman said. "How to work a clock, keep that lead going and have teams come after us and follow us so we can increase that lead.

Show Discipline: "Damani Carter, No. 24, JV guy that comes up, just comes out, get some big rebounds, gets a layup, hits a three, just a great job," Coleman said of the 6-foot-2 sophomore. "I'm proud of our young guys and our bench because they've done a great job of just doing their part… If everyone takes care of their responsibility, as a whole, we'll come out on top."
January, 28, 2012
1/28/12
1:17
AM ET
By
Brendan Hall
| ESPNBoston.com



READING, Mass. -- Kenny Reed calmly brought the ball over half-court, planted, hesitated, then calmly watched as the feathery, NBA-range three-pointer he jacked up landed with seemingly the same effortless force he exerted walking into the shot. That gave Reading High a nice 16-6 cushion just five minutes into this big Middlesex League tilt.

And from that point on, it was all...Wakefield.

The Warriors responded immediately, soundly and forcefully over the remaining 27 minutes, outscoring the Rockets 28-6 over the remainder of the first half to take a commanding lead into the break. From there, Wakefield turned in some solid defensive rotations, created some key second-chance points, and hit their free throws to ice a 59-48 win at the Hawkes Field House.

"We just knew that we couldn't bow down, and had to step up our intensity," senior guard Keyon Armstrong (12 points) said of the Warriors' play following those opening minutes. "And just know that we couldn't let that get away from us."

But how did he feel after that all-too-easy walk-up three?

"A little...aggravated that I let it happen," Armstrong confessed. "But I know when the team comes together, we'll be alright."

Perhaps it wasn't that particular play, but rather the Warriors' own play on a whole, that woke them up. Whatever the case, Wakefield (9-3) turned up the pressure over the ensuing 10 minutes to take a 34-22 lead into halftime.

It started with some heady play around the rim from the Warriors' star freshman swingman Bruce Brown (18 points, 15 rebounds). He created some transition points with a steal in the halfcourt and some offensive rebounds to cut the Rockets' (10-3) lead to four at the end of the first quarter.

Then, to start the second, down 16-12, Brown crashed the glass on an errant jumper and tipped in a put-back, followed by a Kendall Hamilton (12 points) 16-footer from the baseline, cleared by a Mikol Blake-Green screen. On the ensuing Rockets trip down the floor, an errant Reed windmill layup was scooper up by Armstrong, who dribbled up to the near volleyball line, threw an outlet to Brown and watched as the frosh laid it in easily for an 18-16 lead.

Hamilton extended the lead to five the next trip down when he inbounded from the baseline to the left corner, where a wide open James Bourque sunk a three. From there, the Warriors never surrendered the lead; Reading never came within eight points in the second half.

"We never let the student body get into the action," Wakefield head coach Brad Simpson said. "That was nice. But, Reading's a good team, obviously you've got to bring your A-game if you expect to beat them. I think for most of the 32 minutes we played pretty well."

Playing through pain: Armstrong has been battling through a wrist injury recently, and Simpson made it a point to applaud the senior captain for his perseverance. One of the Warriors' most dynamic scorers, Armstrong is also often asked to defend the opposition's most dangerous scorer.

Tonight, that task was marking Reed when in man-to-man, with the bum wrist and all, and he held the senior point guard to a respectable 8 of 19 campaign from the field. Reed totaled 21 points on the night to lead Reading.

"He's playing with a lot of pain, and he just gave us a great effort tonight, despite the fact that he's not really 100 percent with his wrist," Simpson said of Armstrong. "He's kind of the motor that keeps us running at an optimum level."

Commanding the paint: With his stocky 6-foot-5 frame, and complimentary lower-body strength, Reading senior center Jerry Ellis-Williams looks the part of someone that, at this level of competition, can control the boards at will.

But there's a twist with Ellis-Williams' game -- the big guy can step out and get hot from deep. And with that in mind, the Warriors fed into that strategy, letting him fire away from the perimeter but keeping him grounded when he wandered into the paint. It worked, as Ellis-Williams finished with six points on 2-of-12 shooting from the field. But more importantly, he was just 1-of-8 from three-point range, picked up his second foul with 3:19 left in the first quarter, and third with two minutes left in the second quarter.

"My freshman year, he hit two three's to beat us in overtime," Hamilton said. "He's normally a good shooter, but we saw he kept missing, so we let him keep shooting."

Overall, the Warriors held a 38-32 advantage on the boards.

Brown a star in the making: Brown, a 6-foot-1 forward, has a unique skill set that demonstrates maturity beyond that of a 15-year-old. With a lean build and a skill set similar to that of high-major recruits like Wayne Selden or Jared Terrell, it isn't just that Brown is fearless attacking the rim -- it's that he makes it look smooth.

In one sequence, Brown picked up steam from behind the play and delivered a block on a would-be layup, getting called for a questionable on-the-arm foul. In the fourth quarter, he took off from just below the volleyball line across the paint for a one-handed slam and picked up a foul.

Doesn't seem like the work of a freshman, does it?

"It doesn't at all," Hamilton said. "He's one of those kids that's coming into his own. I mean, he's an amazing talent. He's like a little brother to me. He's getting there."

Hamilton added, "Hopefully, he stays one more year, so we can make a run at it," alluding to the growing public perception that at some point -- perhaps sooner rather than later -- Brown will try and take his talents to one of the more competitive prep school programs that operate under the NEPSAC.

Simpson called Brown's seamless, effortless-looking play "silky", drawing on his memories of watching former UCLA and Lakers star Jamaal Wilkes (nicknamed "Silky" himself) for added effect.

"I think he's just blessed," Simpson said of Brown. "You know, you look at another 15-year-old, they've got talent, they've got skills and stuff, but you also have to have that...he's 6-1, and he's blessed with the ability to jump. And when he jumps, he's up there."