Boston High School:

Kenny Pierce
December, 1, 2012
12/01/12
8:06
PM ET
By
Roger Brown
| ESPNBoston.com


FOXBOROUGH, Mass. -- It was the perfect ending to a perfect season, but Beverly High School football fans sure did have to sweat it out at the end.

Beverly completed the first unbeaten season in the program's history when it defeated Natick, 28-21, in the Division 2A Super Bowl at Gillette Stadium on Saturday.

Leading 28-21, Beverly looked like it was going to score a game-clinching touchdown, but quarterback David Rollins fumbled the ball on the Natick 3-yard line. Natick took over with 1:19 to play and no timeouts.

The RedhTawks moved the ball to the Beverly 46, where quarterback Troy Flutie attempted two Hail Mary passes that both fell incomplete near the goal line. Defensive back Brendan Flaherty knocked down Flutie's 34th pass attempt, which came on the game's final play.

"We were right there in the end," Natick coach Mark Mortarelli said. "I'm proud of the way our kids played. We lost to a good team and there's no shame in that."

Flaherty rushed for a game-high 175 yards and two touchdowns on 30 carries. Beverly completed its season with a 13-0 record.

"It takes a lot of effort and a lot of offseason training," Flaherty said. "It was good for the defense to end it the way we did, because we've been focusing on the pass all week."

Flaherty rushed for 112 yards and 15 carries in the second half.

"I thought we did a decent job on him at first, but he did what I was hoping wouldn't happen – he got stronger as the game went on," Mortarelli said. "He's the real deal on both sides of the ball."

Flutie tossed two touchdown passes to Brian Dunlap. Natick's other touchdown came on Nicholas Lee's 2-yard run. Samuel Lenson's third PAT kick made it a 28-21 game with 6:52 to play.

The Panthers went on a clock-killing drive on the ensuing possession, but coughed up the ball when Rollins tried to score on a quarterback sneak.

"Thank God they had [97] yards to go," Beverly coach Dan Bauer said. "These kids made plays when it counted."

Flutie completed 21 of 34 passes for 266 yards and two touchdowns. Natick finished 11-2.

"Troy did a great job," Mortarelli said. "He was right on the money. He had guys in his face and he was still completing passes."

Kenny Pierce scored two first-half touchdowns for Beverly. His touchdowns came on runs of four and 27 yards. Beverly led 14-7 entering the third.

"These kids worked hard," Bauer said. "They deserved it."

DEFENSE DELIVERS

The Beverly defense allowed 8.6 points per game during the regular season, and came up with one of the game's biggest plays when defensive back Ryan Shipp forced a fumble midway through the second quarter.

Flutie hit receiver Justin Robinson in stride for a 27-yard pass, but Shipp knocked the ball free when he tackled Robinson on the 2-yard line. Shipp then recovered the ball in the end zone.

Beverly drove the ball 80 yards for the go-ahead touchdown on the ensuing possession. Pierce capped the drive with a 4-yard run on a fourth-and-four play that helped the Panthers build a 14-7 lead with 2:54 left in the first half.

"Huge play," Bauer said.

The Panthers didn't allow more than 14 points in any of their 11 regular-season games, and surrendered 21 points in each of their two playoff contests.

FOOTNOTES

Flutie's second scoring pass to Dunlap was his 35th touchdown pass of the season. It was Dunlap's 18th TD catch and his 30th touchdown. Dunlap caught five passes for 60 yards in the loss. … It was Beverly's second Super Bowl victory in the last three years. The Panthers defeated Somerset 28-20 to win the Division III Super Bowl in 2010. … Flaherty's two TDs gave him 26 for the season. … Natick had a 367-347 edge in total offense. All of Beverly's yardage came on the ground. The Panthers attempted one pass in the game. … Beverly was 3-for-3 in fourth-down conversions. … Natick's Alex Hilger had eight receptions for 113 yards.

BEVERLY 28, NATICK 21
Beverly 0 14 7 7 – 28
Natick 7 0 7 7 – 21

First Quarter
N–Brian Dunlap 10 pass from Troy Flutie (Samuel Lenson kick), 5:38.

Second Quarter
B–Kenny Pierce 27 run (Harry Brown kick), 8:36.
B–Pierce 4 run (Brown kick), 2:54.

Third Quarter
B—Brendan Flaherty 3 run (Brown kick), 7:06.
N—Dunlap 6 pass from Flutie (Lenson kick), 3:24.

Fourth Quarter
B--Flaherty 4 run (Brown kick), 9:41.
N—Nicholas Lee 2 run (Lenson kick), 6:52.
November, 28, 2012
11/28/12
12:40
AM ET
By
Ryan Kilian
| ESPNBoston.com
BURLINGTON, Mass. – Beverly running back Brendan Flaherty was determined to return Gillette Stadium this season after missing out last year's playoffs.

The senior captain turned in the game of his career on Tuesday night as he erupted for 252 yards on 17 carries and four touchdowns to lead Beverly to a 34-21 win over host Burlington in the EMass Division 2A playoffs.

"We did not make it to the playoffs last season so it was constantly on our minds all off-season," Flaherty said after the game. "It is awesome to be back."

The Panthers opened the game with a two play, 42-yard drive capped off by a 37-yard dash by Flaherty 43 seconds into the opening quarter.

Burlington would answer that drive on the following possession as senior running back Marcus Odiah took a pitch to the right and ran it in from nine yards out for the game-tying score.

Flaherty and Burlington running back Anthony Cruz would exchange second quarter touchdowns with Beverly missing an extra point giving Burlington a 14-13 lead at the half.

Trailing 14-13 at the half, Beverly's defense shut the door on the Burlington offense allowing only a late fourth quarter touchdown pass en route to a 20-7 halftime edge.

"The kids worked hard and really got after it in the second half," Beverly head coach Dan Bauer said after the game. "They got a feel for their speed and Burlington is very fast and very physical up front."

Beverly received strong efforts defensively in the second half from junior linebacker Sean Winston (10 tackles), junior defensive end Zack Duguid (sack) and senior defensive back and running back, Dom Abate (forced fumble).

Flaherty would score two more times and senior running back Kenny Pierce would also add a 28-yard touchdown for the remaining second half Beverly scores.

Burlington received a great two-way game from senior wide receiver and defensive back Harrison Smoske (receiving TD, INT) and strong running games from Cruz and Odiah in their final games in a Red Devil uniform.

All-State Effort: Flaherty's four touchdown, 252-yard effort gives him 24 touchdowns to go with 1,322 yards rushing on the season.

"We came here and did what we had to do," Flaherty said. "Now we just have to look toward Saturday."

Flaherty had two touchdown receptions in a 28-20 upset, Super Bowl win over previously undefeated Somerset at Gillette Stadium in 2010.

"We are excited to get back," Flaherty said. "Sophomore year [2010] was our last time. We just have to finish this journey out now."

In the Trenches: The Beverly line was amazing all night as they opened holes for the Panthers' stable of backs to run through. Flaherty, Pierce, Abate and Isaiah White (4 carries, 96 yards) all found running room inside and outside the Red Devil defense on the evening.

"They have been awesome all year," Bauer said of his offensive line play. "All five of them work well together plus Brendan McGee, the tight end."

The Beverly line is made up of offensive linemen Mike Dooling, Duguid, Kevin Kennedy, Brian Perry, and captain Marc Babcock (fumble recovery) along with McGee.

"Our line did a great job blocking all night," Flaherty said. "If I score the line scores. It was really a team effort and a team win."

BEVERLY 34, BURLINGTON 21
BEV (12-0) 7 – 6 – 14 - 7– 34
BUR (10-2) 7 – 7 –0– 7 – 21

First Quarter
Bev – Brendan Flaherty 37 run (Harry Brown kick)
Bur – Marcus Odiah 9 run (Christopher Aria kick)

Second Quarter
Bev – Flaherty 2 run (kick failed)
Bur – Anthony Cruz 3 run (Aria kick)

Third Quarter
Bev – Kenny Pierce 28 run (Rush failed)
Bev – Flaherty 4 run (Brendan McGee pass from Dan Rollins)

Fourth Quarter
Bev – Flaherty 27 run (Brown kick)
Bur – Harrison Smoske 37 pass from Shane Farley (Arria kick)
November, 10, 2012
11/10/12
7:23
PM ET
By
Tom Layman
| ESPNBoston.com
BEVERLY, Mass. -— The mark of a truly good offense is to have the ability to put fear, well maybe not shriek out loud fear, into opposing coaches as they spend countless hours trying to figure out how to slow you down.

Beverly has that ability. Even though they were bottled up for 22 minutes in its pivotal game yesterday at Hurd Stadium, those in attendance knew the Panthers were one or two plays from changing their fortunes and posting points in bunches.

That play happened on the opening kickoff of the second half when Brendan Flaherty diced through the Marblehead special teams for 51 yards and kick-started an offensive attack in the Panthers 35-14 victory to secure the Northeastern Conference/Cape Ann League Tier 2 title.

Jim Rudloff knew what it was like as a member of the Beverly staff way back when, and yesterday he had to wrap his head around how to slow down the Panthers even if it was momentarily.

"Good luck to everybody that plays them going forward," said Rudloff. "You can come up with the most brilliant things for them in the world, but they are just too good. You make one mistake, you turn your hips the wrong way, and you can see it coming before it happens. You can hear the coaches on the sideline just say 'Oh, God,' and then they are gone."

The Panthers didn't throw a pass in the second half and put up 28 points in the final two quarters thanks to 274 rushing yards. Flaherty led all rushers with 190 yards on 19 carries, with 152 and two scores coming in the third quarter alone.

Kenny Pierce added 67 yards and the exclamation point touchdown in the fourth quarter, and the Panthers offense got contributing touchdowns from Isiah White and Dom Abate.

It's a "Pick-Your-Poison" kind of offense in Beverly and when they hit their stride it's really hard to slow down, most recently in the second half of yesterday's winner-take-all game.

"Definitely better in the second half," Panthers head coach Dan Bauer said of the offensive production. "It was a fight (in the first half)...It was a great team, program victory."

Fourth downs: The Magicians were trying to pull the trick of keeping the Panthers offense off the field for most of the game. The first drive was a near picture-perfect diagram in how to do it. Marblehead picked up four first downs on the first drive and converted on 1-of-2 fourth down conversions.

The Magicians didn't accumulate points, but the trend of going for it on fourth down started to rear it's head. Marblehead was 3-of-4 on fourth down in the first half and Ian Maag connected with Dylan Cressey for a 27-yard touchdown on fourth-and-6 to tie the game at 7 in the second quarter.

The success on third and fourth down didn't translate over, as the Panthers defense, led by Mike Dooling, Zach Dugid and Sam Mulumba, forced the Magicians' offense off the field and allowed their offense to get in a flow.

"When you got a kid like Maag and those running backs, they are good," said Bauer. "That's what teams are trying to do. Fortunately we were able to get some momentum and make some big plays."

BEVERLY 35, MARBLEHEAD 14
MAR (8-2) 0 – 7 – 0 – 7 --- 14
BEV (10-0) 0 – 7 – 14 – 14 --- 35

Second Quarter
B — Dom Abate 24 pass from Dave Rollins (Harry Brown kick)
M — Dylan Cressey 27 pass from Ian Maag (Joe Newall kick)

Third Quarter
B — Brendan Flaherty 6 run (Brown kick)
B — Flaherty 44 run (Brown kick)

Fourth Quarter
B — Isiah White 10 run (Brown kick)
M — Maag 1 run (Newall kick)
B — Kenny Pierce 34 run (Brown kick)
November, 9, 2012
11/09/12
1:42
AM ET
NO. 5 WALPOLE (9-0) AT NO. 21 NATICK (8-1)
The Skinny: The most anticipated regular-season matchup is finally upon us. A swelling crowd is expected to turn out for this one, as the Bay State Conference's Herget division title is on the line. Natick is looking to bounce back after coming up on the wrong side of one of the year's biggest upsets (a 40-34 loss to Wellesley), but Troy Flutie, Brian Dunlap and co. will have to do it against one of the state's stingiest defenses. Walpole hasn't allowed a point since Sept. 28, and hasn't allowed a touchdown since Week 3.

Scott Barboza: I'm shudder to think that we might not have any questions to answer during our Sunday night chat this week now that we're finally about to give our picks on this game. Walpole, 27-21.

Brendan Hall: I'm sure the primary topic of discussion in this Sunday night's Top 25 chat will be "What's your prediction for Natick-Walpole in 2013?" Walpole, 20-17.

NO. 17 NAUSET (9-0) AT PLYMOUTH SOUTH (6-3)
The Skinny: Raise your hand if you thought this would be the de facto Atlantic Coast League championship back in August. South's Dylan Oxsen leads the state in rushing touchdowns (28), doing so behind a uniquely modified pistol attack that gets the hard-charging junior downhill in a hurry. Written off a month ago, the Panthers are suddenly in prime position for their first postseason berth here, but they'll have to find a way to neutralize all the chicanery that comes with Nauset's single wing attack, led by running back Jimmy Sullivan.

Barboza: It's time we start considering Oxsen as a serious candidate for our Offensive Player of the Year Award. Plymouth South, 13-7.

Hall: If you know me, you know I'm a fiend for the ground-and-pound. For that reason, can't go wrong with either team, but I'm sticking with my preseason pick. Nauset, 28-21.

NO. 23 ABINGTON (9-0) AT EAST BRIDGEWATER (6-3)
The Skinny: Abington can clinch the South Shore League title with a win over the Vikings, and are the favorites here behind a dynamic offense led by Babila Fonkem, Pat Dwyer and Brandon Cawley. Defensively, the Green Wave are allowing just under seven points a game the last three weeks, but they figure to have their hands full trying to slow down quarterback Andrew Benson in the option game.

Barboza: I'm going to mention Brandon Cawley's name again just because the other night on Twitter he's said I only mention the running backs. JK guys, JK. Abington, 32-24.

Hall: If this is truly Abington coach Jim Kelliher's last season, then you can't find a more fitting farewell. Abington, 31-20.

SHARON (7-2) AT FOXBOROUGH (7-2)
The Skinny: Is the clock about to strike midnight on Sharon? The Eagles remain unbeaten in the Hockomock's Davenport division, but still have two big league games on the slate. The first one is Friday night, where they will attempt to contain tailback Kiivone Howard, who leads the Hockomock in rushing yardage (1,405).

Barboza: Foxborough quarterback Mike Slaby could be the difference-maker. Foxborough, 23-17.

Hall: What would a Hockomock League berth be without a little bit of mathematics? Foxborough, 21-7.

MARBLEHEAD (8-1) AT BEVERLY (9-0)
The Skinny: The Magicians claimed the CAL/NEC Tier 2 title last season with a senior-laden team. However, Marblehead's in the mix again, even after a surprise loss to Salem a few weeks back. Meanwhile, the Panthers can clinch the league crown with a win on Saturday. The vaunted Panthers offense (averaging 38 points per game) and its rushing attack is closing in on 3,000 combined rushing yards on the season, led by a backfield of Brendan Flaherty and Kenny Pierce. The Magicians have relied on 1,000-yard passer Ian Maag (13 touchdowns) for a bulk of their offense.

Barboza: It's been a nice bounce back run for Marblehead in an attempt at a repeat title, but, after all, this is the #yearofthepanther. Beverly, 28-14.

Hall: We love Jim Rudloff's mind games as much as the next guy, but the Magicians are simply overmatched here against one of the state's best rushing attacks. Beverly, 35-21.

BISHOP FEEHAN (6-2) AT SOMERSET-BERKLEY (9-0)
The Skinny: As in each of the last three seasons, the Eastern Athletic Conference title will be determined in a matchup between the Shamrocks and Blue Raiders. Feehan came away with a decisive victory last year, but Somerset-Berkley is looking to lay claim to its second crown in the last three years. The Blue Raiders are led by a dynamic back field of Garrett Carlos and Mike Garrant, but they'll encounter a physical Feehan front seven anchored by linemen Chris Barthe, Seamus Cuddy and Mitch Matrin.

Barboza: Nick Freitas escapes with EAC title No. 2. Somerset-Berkley, 27-20.

Hall: In terms of EAC supremacy, Feehan had the 2000's. And now, Somerset has the 2010's. Somerset-Berkley, 24-17.

FRANKLIN (7-2) AT MANSFIELD (6-3)
The Skinny: The Panthers get back into Hockomock Kelley-Rex play after a startling loss to Taunton two weeks ago. If Franklin is to hold out hope of hanging around in the division race, they'll need a win at Mansfield on Saturday. The Hornets are in a similar situation having dropped a close decision to North Attleborough two weeks ago. Look for the Hornets, led by Robbie Rapoza, to pound the ball on the ground and play some ball control in trying to keep the Panthers' spread attack on the sideline. Franklin junior quarterback Nick Zucco has been a revelation this year, but the Panthers can also run the ball behind Kyle Finamore. The Mansfield defense has been bolstered by junior linebacker Alex Ruddy, who currently leads the team in tackles.

Barboza: As predicted a couple weeks back, the Kelley-Rex picture is only obfuscated more. Expect another wild finish. And, of course, another prediction my friends in Mansfield will relish. Franklin, 38-36.

Hall: If the Hornets can establish the run game early, they can do just enough to hold off a furious Franklin rally. Mansfield, 27-24.

KING PHILIP (8-1) AT NORTH ATTLEBOROUGH (6-3)
The Skinny: Another pair of Kelley-Rex teams with one division loss meet in this rivalry game. The Red Rocketeers have cobbled together a three-game winning streak, following a three-game losing streak in the middle of the season. The better news yet for North in recent weeks its improving health, seeing several key contributors return to the field in recent weeks. Meanwhile, King Philip has rolled through Attleboro and Oliver Ames by a combined 75-21 margin since its loss to Mansfield.

Barboza: I find myself simply rooting for another chaotic finish to the Kelley-Rex division race, but I'm sticking with my preseason pick. KP, 24-21.

Hall: This is a new team with Sean Peters and Alex Jette both healthy. I'm looking at a return to early September form down the stretch for the Big Red. North, 30-23.
September, 6, 2012
9/06/12
11:06
PM ET
FRIDAY
NO. 1 EVERETT AT NO. 7 LEOMINSTER
The Skinny: Leominster has never beaten the Crimson Tide since this series began in 2002, but the Blue Devils have usually been a tough out. In 2009, the teams played to a 14-6 Tide win. The last two meetings, the Blue Devils got under the Tide's skin early before Everett's talent took over. But Leominster is brimming with excitement, its proud football culture awakened again following their first Super Bowl championship in a decade last fall. Everett, meanwhile, seems to be settled at every position but quarterback – and with a line averaging over 315 pounds, that will suffice. If Leominster is to pull off the upset, they'll have to a find a way to contain electric wideouts Jakarrie Washington and Jalen Felix.

Scott Barboza: Leominster turns it into a game, but still too many horses in the stable for Everett despite the questions. Everett, 27-20.

Brendan Hall: It's going to be a majestic crowd at Doyle, and some readers will undoubtedly conclude I'm biased towards Leominster because their defensive coordinator coached me 10 years ago at Oakmont. But I'm not. Even I'm not foolish enough to pick against the Tide in this one. Everett, 24-13.

NO. 2 BC HIGH AT NO. 22 BROCKTON
The Skinny: Injuries were an overarching theme of the preseason and both of these teams were affected. Bad news for BC High is Luke Catarius is out with a hairline ankle fracture, but Brockton should have Micah Morel in the lineup for their Week 1 challenge. We'll get a look at the reigning Div. 1 Super Bowl champions new-look offense with Brendan Craven under center and Brandon Owens in the backfield while the Boxers will be sporting a Georgia Tech-inspired scheme with Auggie Roberts back at quarterback.

Barboza: A Jackson Bockhurst field goal will be the difference. BC High, 17-14.

Hall: Things unraveled for Brockton pretty quickly in last year's meeting in Dorchester. The Boxers are fighting an uphill battle again this year, but at least it will be respectable. BC High, 28-14.

NO. 23 SPRINGFIELD PUTNAM AT NO. 14 SPRINGFIELD CENTRAL
The Skinny: With the schools sitting less than a mile from each other along Roosevelt Ave., the season-opening battle between these rival schools has become must-see as of late. Putnam won this contest last season, kick-starting an historic 2011 season that ended with their fifth Super Bowl title in eight seasons. Central will be looking for revenge, but it's not easy replacing 2,000-yard rusher in Sacoy Malone. Putnam, meanwhile, turns to a plethora of new faces to replace record-setting running back Melquawn Pinkney, including quarterback Kayjuan Bynum and running back Wayne Lowery.

Barboza: I came away very impressed from talking to Central QB Cody Williams last year at Gillette. He blossoms into the real deal this year. Central, 21-16.

Hall: I like the direction Central is headed in over the long run, but Putnam is still Roosevelt Ave (See what I did there?). Putnam, 7-6.

LA SALLE ACADEMY (R.I.) AT NO. 16 NORTH ATTLEBOROUGH
The Skinny: Big Red will have its hands full opening night with their challenger from just across the state line. The Rams feature a high-octane attack led by reigning Gatorade Player of the Year running back Josh Morris and senior quarterback Anthony Francis. The key to this one will be in the trenches where North's offensive line led by Eric Beckwith and Sean Peters could have the advantage.

Barboza: This Rams team is very talented, but North holds on – just barely. North, 28-26.

Hall: Josh Morris and Co. have been dying for that elusive win over a Massachusetts squad, and I think they finally get it here. La Salle, 17-13.

NO. 12 KING PHILIP AT DOVER (N.H.)
The Skinny: Self-admittedly, we don't know as much about Dover as we do KP, but we can be some what certain what the Warriors will be showing them on defense. And, of course, that's a variety of different looks and blitz and coverage schemes. Dover, which sits just outside of ESPN Boston correspondent Marc Thaler's Granite State Top 10 poll, will also have to contend with KP quarterback John Dillon, who will enjoy a greater role directing the offense in his second year as starter.

Barboza: KP's "Psycho" package gives Hockomock League teams fits, nevermind an offense that hasn't seen it. KP, 28-8.

Hall: Knowing little about Dover outside of what our loyal New Hampshire correspondents tell us, I'm going to trust their convictions on this one and say it will be close. But I'm still going with the team closer to Boston. KP, 20-10.

NO. 4 ST. JOHN'S PREP AT DRACUT
The Skinny: The Middies have been a bit of a bugaboo for St. John's Prep in recent years and some around Danvers feel Dracut has simply posed a matchup problem for the Eagles with its spread attack. Good news for Prep is that their secondary, with Lucas Bavaro, Gerry Kahari, Alex Moore and Johnny Thomas, has matured into a strength of the team. Dracut senior linebacker Zach Bassett could be the key to the game, trying to slow down Prep's running attack.

Barboza: Looking for a defensive struggle here. Prep, 14-7.

Hall: Classic trap game for The Prep, against a classic trap opponent that's had their number in recent years. Dracut, 10-6.

NORTH ANDOVER AT ANDOVER
The Skinny: North Andover's season starts with a Walsh at quarterback, but of another name. Brendan Walsh's younger brother Casey takes the helm of the Scarlet Knights' offense. It also marks North Andover's first Merrimack Valley Conference game. The Golden Warriors will counter with a high-flying attack that impressed during this summer's Northeast 7v7 passing tournament. Quarterback C.J. Scarpa has plenty of targets including Cam Farnham and Will Heikkinen.

Hall: I know it's a familiar rival that's been on the schedule for years, but North Andover is still in for a whole new ball game. And since it's now officially an MVC game, there will be no less than 172 points scored and 1,000 yards of offense. Andover, 35-30.

Barboza: Ditto. Andover, 31-20.

MARSHFIELD AT CATHOLIC MEMORIAL
The Skinny: Last year at this time, Catholic Memorial entered Marshfield's stadium with plenty of hype, behind three Division 1 FBS commits and a No. 4 preseason ranking in ESPNBoston.com's poll. They promptly got shut out by the Rams, 24-0, fueling their ensuing seven-game win streak. The Knights will no doubt be looking to exact revenge, and they'll look to Preseason All-State defensive end Peter Ngobidi to stifle the Rams' vaunted run game.

Barboza: Ngobidi is a dominant force and asserts his will here. CM, 7-0.

Hall: The Knights got embarrassed last year in Marsh Vegas, and I expect them to exact revenge here. CM, 16-13.

SATURDAY
NO. 24 HOLY NAME AT NO. 17 ST. JOHN'S (SHREWSBURY)
The Skinny: For all of Holy Name's success under Mike Pucko, the Naps have never beaten St. John's during his tenure. Could that change on Saturday? Holy Name turns to one of the state's most elusive scatbacks in Quron Wright, and will hope for a big day. St. John's has already hit the injury bug, with incumbent QB Connor Kurtz (knee) out for the season, but RB Shadrach Abrokwah is a nice fit for their hurry-up scheme, and is poised for a breakout senior season.

Hall: If the Naps are ever to beat St. John's, this has to be the year. Holy Name, 9-8.

Barboza: Hate to do this to the Naps, sorry. St. John's, 22-21.

NO. 9 DUXBURY AT NO. 8 BRIDGEWATER-RAYNHAM
The Skinny: B-R is itching to get over the hump after dropping its season-opener to the Dragons the past two seasons. The Trojans have some terrific talent between the tackles, led by Joey MacInnis, to pave for a big afternoon for junior tailback Arcel Armstead. Duxbury graduated one of its most talented classes ever from the 2011 Super Bowl champion squad, but still has plenty of talent left over to keep the state's longest active win streak (26) going. Look for guard Rob Kosharek, linebacker Marshall McCarthy and running back Jon Hurvitz to have big days.

Barboza: Now that Dan Buron's nephew Andrew (former Duxbury standout) has graduated, expect the Trojans to get back to their winning ways. B-R, 14-10.

Hall: After graduating one of the program's most talented classes ever, Marshall the Missile gets the full spotlight. And he usually gives the fans their money's worth. Duxbury, 14-10.

CONCORD-CARLISLE AT BEVERLY
The Skinny: C-C heads into its non-league tilt with the heavy NEC/CAL Tier 2 favorite already limping, losing its star running back Tim Badgley (ACL tear) for the season. If the Patriots are to repeat last year's Super Bowl championship success, sophomore quarterback Will Blumenberg will have to grow up quickly. Meanwhile, Beverly features one of the North Shore's most feared rushing attacks with the three-pronged approach of Kenny Pierce, Brendan Flaherty and Dom Abate.

Barboza: ETA on when the Kenny Pierce hashtag gets rolling again? We're looking at you James Coffey. Beverly, 27-14.

Hall: I'm excited to see what Will Blumenberg can do for the Patriots, but the Panthers just have too much in the tank to be stopped in this one. Beverly, 28-7.
November, 5, 2011
11/05/11
6:40
PM ET
By
Adam Kurkjian
| ESPNBoston.com


BEVERLY, Mass. -– As far as momentum swings go, you won't find many that top the one that happened Saturday in Swampscott's 21-13 victory over Beverly.

With the host Panthers up 13-7 late in the first half, Swampscott quarterback Michael Walsh swung a pass to Richard Sullivan in the right flat, but Beverly's Dan Brown arrived when the ball did and with authority.

The hit, which caused an incompletion, elicited a roar from the Beverly crowd and a corresponding one from Swampscott coach Steve Dembowski, who barreled over from his sideline to argue for either a personal foul or taunting penalty.

Neither came, but Dembowski ended up getting an even better result. On the next play, Walsh (240 all-purpose yards) converted a fourth and 3 when he picked up nine yards. Then, Walsh threw back to A.J. Baker, who found Walsh in the left flat with a wall of blockers leading him to the end zone for a 49-yard touchdown. Nick Meninno's PAT gave the Big Blue a 14-13 halftime lead and they never trailed again.

Walsh added a 12-yard touchdown run early in the fourth quarter and the defense forced two turnovers on downs in Swampscott (8-1, 3-0 in the NEC/Cal Tier 2) territory later on to seal it. It was a satisfying win for the Big Blue, who hadn't beaten Beverly (6-3, 2-1) since 2007.

"It feels incredible," said Swampscott linebacker Zach Kalapinski. "They're a great team."

"This was huge," said Walsh. "This was another step towards winning the NEC and that's where we want to be. So this was a big step towards that."

Beverly nearly took that step, as Brendan Flaherty (137 yards rushing, 91 receiving) was a major weapon for the Panthers, scoring on a 49-yard run on their first drive and a 27-yard reception on their second.

But Swampscott made just enough plays in the final minutes to hold off the hosts, turning the ball over on downs twice deep in Big Blue territory.

Swamp monsters: The Swampscott offensive line may not be the biggest around, but it's an underrated group that made the difference in the second half. The all-senior group of Mark Lausier, Sam Gold, Michael Wynne, Michael Bagarella and Abdi Yusef paved the way for 108 yards on the ground between Walsh and Evan Rhodes (71 yards rushing) in the final 22 minutes.

"We thought we could win the trench war," Dembowski said. "Last year we lost the trench war. We won the yards and all that stuff, but we didn't get the touchdowns."

No huddles here: Swampscott's offense is well-known for its no-huddle spread, but Beverly showed at times that its Wing-T could be executed at just as quick a pace. For much of the game, the Panthers operated without a huddle and kept the Big Blue on their heels for the entire first half. The tempo at which the Panthers played was impressive, and by the looks of it, will only be more elevated in the future. With quarterback Dave Rollins, running backs Flaherty, Dom Abate and Kenny Pierce and four offensive linemen returning next year, expect more defenses to be sucking wind when the Beverly offense takes the field.

SWAMPSCOTT 21, BEVERLY 13
SWA (8-1, 3-0) 7 - 7 - 0 - 7 --– 21
BEV (6-3, 2-1) 7 - 6 - 0 - 0 –-- 13

First quarter
B – Brendan Flaherty 49 run (Dave Rollins kick)
S – Michael Walsh 1 run (Nick Meninno kick)

Second quarter
B – Flaherty 27 pass from Rollins (kick failed)
S – Walsh 49 pass from AJ Baker (Meninno kick)

Fourth quarter
S – Walsh 12 run (Meninno kick)


October, 24, 2011
10/24/11
11:59
AM ET
HOW THE CONTENDERS FARED

Preston Cooper, Sr. RB, BC High - Had 15 carries for 168 yards on Everett before a serious ankle injury late in the third quarter. The midseason All-State selection is all but done for the season.
George Craan, Sr. RB, Concord-Carlisle - Ran for 244 yards and three touchdowns in the Patriots' 35-12 win over Acton-Boxborough, their first victory over the Colonials since 1987.
Jonathan DiBiaso, Sr. QB, Everett - In the win over BC High, he was 14 of 28 passing for 252 yards and a touchdown, and added two rushing scores. He's now three touchdown passes off the state all-time mark, and could break it this Friday against Medford.
Nick LaSpada, Sr. QB, Billerica - In the Indians' 28-20 double-overtime thriller over Haverhill, he accounted for both overtime scores. He finished with 167 yards passing and another 50 on the ground.
Sacoy Malone, Sr. RB, Springfield Central - Turned in a record-setting evening in the Golden Eagles' 49-7 rout of Northampton, rushing for 301 yards and seven scores on just 15 carries.
Matt Montalto, Sr. QB, Dennis-Yarmouth - Another game, another 200 yards of offense. This week, in a 42-0 blanking of Cranston West (R.I.), he threw for 143 yards and ran for another 102, totaling three scores.
T.J. Norris, Sr. RB, Longmeadow - Carried 10 times for 170 yards and four touchdowns in a 47-0 romp of Agawam.
Matt O'Keefe, Sr. QB, Duxbury - Threw for 87 yards on 3 of 4 attempts, and totaled three scores in a 40-7 win over North Quincy.
Melquawn Pinkney, Sr. RB, Putnam - After four straight weeks of going over the 250 mark, Pinkney settled for 95 yards and a touchdown on 22 carries in the Beavers' 28-20 win over Chicopee.
Nick Schlatz, Sr. RB/LB, Bridgewater-Raynham - Carried 33 times for 158 yards and two scores in the Trojans' 28-22 double-overtime thriller over Xaverian.
Brandon Walsh, Sr. QB, North Andover - Thew for three touchdowns and added a fourth on the ground in a 42-6 win over Lynn Classical.

ON THE RISE

Khary Bailey-Smith, Sr. WR, Weymouth - With another touchdown catch in a 45-19 win over Norwood, the senior caught one in every game this season, for a Division 1-best 10.
Dan Barone, Sr. QB, Holliston - The 5-foot-10, 170-pounder was a workhorse in the Panthers' 20-0 shutout of Hopkinton, carrying the ball 28 times for 217 yards and two touchdowns.
Chris Bettano, Sr. RB, Tewksbury - Carried 19 times for 119 yards and two touchdowns in the Redmen's 21-14 win over Lowell.
A.J. Doyle, Sr. QB, Catholic Memorial - Threw four touchdown passes in a 33-13 win over Malden Catholic.
Brian Dunlap, Fr. WR, Natick - In the Red and Blue's 21-12 win over Braintree, caught two first-quarter touchdown passes to give him a Bay State Conference and Division 2A best 11 on the season.
Greg Heineman, Sr. QB, Minnechaug - Was 26 of 37 passing for 343 yards in the Falcons' 21-14 win over Westfield.
Vondell Langston, Sr. RB/LB, Everett - It was his second straight week going over the century mark, rushing for 102 yards and two scores in the Tide's 35-21 win over BC High.
Trevor Leandro, Sr. QB, Dartmouth - In the Indians' surprise 56-28 blowout of New Bedford, was a perfect 5 for 5 passing for 146 yards and two scores, and tacked on another 146 yards on the ground for three scores on just 14 carries.
Obi Melifonwu, Sr. RB, Grafton - The UConn commit ran for 109 yards and three first-half touchdowns in a 37-19 win over Oxford.
Tim O'Brien, Sr. RB, East Bridgewater - Ran for 147 yards and two scores on just six carries, and added another touchdown through the air, in a 41-0 shutout of Norwell.
Kenny Pierce, Sr. RB, Beverly - Had his second game five-touchdown game of the season, this time on just nine carries for 256 yards, in a 47-0 blanking of Danvers.
C.J. Scarpa, Jr. QB, Andover - Threw for three touchdown passes in the Golden Warriors' 52-13 win over Methuen, giving him 16 on the year.
September, 27, 2011
9/27/11
10:14
AM ET
THE MYTH OF KENNY
By day, he's just an unassuming high school student. Come Friday night, he's a legend.
Beverly running back Kenny Pierce inspired some tall tales while racking up five touchdowns in the Panthers' come-from-behind 36-35 win over Lynn English. The hashtag #KennyPierce had Twitter abuzz on Friday night.
"I wanted to get it trending," tech savvy athletic director James Coffey said Monday at the high school.
While the myth of Pierce's performance, which was highlighted by an 81-yard touchdown return for a score, continues to grow, all the mild-mannered running back was concerned with was next week's game against Winthrop. For the returning Division 3 Eastern Mass. Super Bowl champions, it's just another test in getting back to where they want to be.
"We had everybody rooting against us last year," said Pierce of the Panthers who entered postseason play at 5-6 last season, "that just motivated us more. We just want to get back there."
SO FAR, SO CLOSE, SO UNDERRATED
Melquawn Pinkney's performance for Putnam Friday night is the stuff of instant legend: 17 carries, 421 yards, six touchdowns.
The undersized speedster was the catalyst Friday for a Putnam squad that is quickly erasing that "underrated" moniker, coming four yards short of the state record in his eye-popping performance (Lynn English's Brandon Guy went for 425 in a 2001 win over Swampscott).
The Beavers debut at No. 20 this week in our statewide MIAA poll, and it's a recognition well-deserved. Some wonder if these guys are on par with Longmeadow – we'll have to give it a few more weeks before we jump to that conclusion.
But back to Pinkney – just how underrated are these guys?
"Springfield as a whole is underrated. I guess they don't think our players are as good or as talented, but we've got some good players coming out of here."
He continued, "I went to a lot of showcases over the summer time, and I hung with the best of them."
SHOCKING THE HOCK
Two of the state's strongest two-tier conferences already find themselves full of twists and turns after a weekend full of surprises.
Stoughton provided the upset of the weekend when the Black Knights faced a Mansfield squad that had been averaging 33.5 points per game and promptly shut them out, 8-0. The Knights held a slim 3-0 lead headed into the fourth quarter, then tacked on a safety and last-minute field goal to preserve the shutout.
Did we see this coming? No. Were were totally shocked? As with most things, the truth lies somewhere in between. Take note of the youth on the squad, and pay attention to the secondary featuring juniors Marcus Middleton and Aaron Calixte. The latter is already known on the hardwood, ranked as one of the top junior point guards in New England; but on a whole, this is a unit that sticks out on film for its athleticism.
With King Philip off to a dominating start on defense (4.6 points per game allowed) and North Attleborough being its usual self; combined with promise from Foxborough and Oliver Ames; and the wild card that is Attleboro; this is far from the last upset. Fasten your seat belts.
NEW-LOOK TROJANS
If you weren't paying attention, you might not have recognized the Bridgewater-Raynahm offense in the Trojans' 28-15 win over Marshfield on Saturday.
[+] Enlarge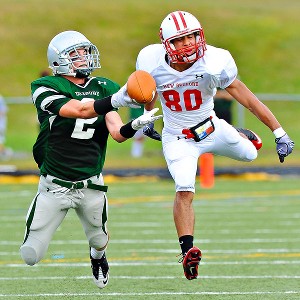 Jim Tarbox Reilly Naton leads a No. 2 Duxbury's defense, which Bridgewater-Raynham head coach Dan Buron calls the best he's ever seen.
After struggling to move the ball on the ground during their first offensive series, Trojans head coach Dan Buron made the decision to flex out hard-nosed running back Nick Schlatz out wide. Without Schlatz to key on the in backfield, B-R diversified it's approach, putting the ball in fellow running back Branden Morin's hands as well as letting quarterback Brad Deluliis make plays with his feet.
The spread look, which included four-receiver sets and some trips alignments, is a far cry from the meat and potatoes I-form rushing attack common at B-R.
"We've been doing it a little the last couple of years … with [Brad] Deluliis, Mike Connolly and even Billy Zolga last year, we spread it out and threw a little bit more," Buron said. "But now what we've done is split Nick Schlatz out there and then we have Arcel Armstead, who's a pretty good running back, too, on the other side, so people have to worry about them because they're good receivers, too."
Subtle adjustments like those have gotten the Trojan offense back on track after having a shutout thrown at them by Duxbury on opening night.
Though Buron was not without some weighty praise for the No. 2 Dragons and their swarming defense.
"That's the best defense I've ever seen," Buron said. "We were just trying to get out of there alive."
AUBURN'S O-LINE AMONG STATE'S BEST
With true Belichickian aesthetic, Auburn head coach Jeff Cormier tends to err on the side of caution when giving out praise. Compliments aren't exactly handed out like candy on Auburn Street – and honestly, when you've won a state-best 40 straight games, why change?
When pressed about making it 40 straight following Friday's 35-6 domination of St. Peter-Marian, "We're 3-0" was the repeated theme amongst coaches and players alike. But holding back on praise for the big guys in the trenches continues to be an upwardly difficult journey.
Tell you what, we're not afraid to say it anymore.
Auburn –- yes, Auburn, the birthplace of the modern rocket, tucked away neatly beneath the I-290 loop -– boasts one of the best offensive lines in the state. Doesn't matter if they're in Central Mass Division 3, or one of the power conferences in Eastern Mass. As a unit, they're already one of the biggest around, averaging 6-foot-3 and 250 pounds across. But what separates them from some of the state's other beefy lines is their surgery.
There's a significant difference between outweighing your opponent at the point of attack and overpowering them, and the Rockets certainly fall into the latter. Line coach Dana Giampa deploys an aggressive zone-blocking scheme (think Shanahan-era Broncos) that his players ran to near perfection on Friday night. Star SPM defensive end Jordan Knowles found himself out of the play most of the night, after factoring significantly in the Guardians' first two wins over Shepherd Hill and Fitchburg.
The unit of tackles Steve Domenick and Will Greelish; guards Matt Ramirez and Aaron Dyke; and center Jordan Giampa, paved the way for 462 rushing yards by the varsity, including 191 from Dan Flink.
"I think our offensive line is starting to come along, and I give a lot of credit to Dana Giampa for that, really working with those kids." Cormier conceded after the game. "They trust in what he's teaching."
Said running back Fred Taylor, "Our line stepped up big. Everybody basically had their A-game."
Time to start taking these guys seriously.
And by the way, what's scarier, the rushing totals reminiscent of 90's Nebraska, or the fact that the line is entirely comprised of juniors and sophomores?
September, 26, 2011
9/26/11
8:32
PM ET
BEVERLY, Mass. -- Beverly football came back to score a last-minute 36-35 win over Lynn English with the help of Kenny Pierce's five touchdowns (4 rushing and one kickoff return of 81 yards).

Pierce ran for 135 yards on 16 carries, but more than than, it was his clutch scores that had Twitter abuzz following the Panthers' dramatic win.

ESPN Boston caught up with Kenny "Powers" on Monday:


December, 1, 2010
12/01/10
1:40
AM ET
By
Corey J. Allen
| ESPNBoston.com
LYNN, Mass. -- Brendan Flaherty took 11 carries for 80 yards and added one 33-yard reception for a touchdown, leading the Beverly Panthers to a 41-14 win over Scituate in a Division 3 playoff semifinal.

"We were well prepared on defense," said senior captain George Kallas of keeping Scituate scoreless until the third quarter when Beverly was up 34-0. "We knew what they were going to try to do to us and we came out on fire."

Beverly opened up the scoring on a 25-yard run by Kenny Pierce less than five minutes in the game. After three plays brought the Panthers down to the Scituate 25, Flaherty took a handoff from quarterback Joe Wioncek and ran right, but stuffed the ball in Pierce's gut who took the ball outside left and scampered to the end zone.

Scituate got the ball and completed a first down on fourth and two, taking advantage of a bad kick by Beverly's George Kallas.

The next play, Beverly's George Kastrinakis (three tackles) ripped the ball from Scituate's Matt King as he was running and Beverly's Tony MacDonald (three tackles, sack) fell on the ball at the Scituate 46. Flaherty took the first play to the left for 13 yards. On the next play, quarterback Wioncek (106 passing yards, 2 TDs) dropped back into the pocket and launched a pass to Flaherty which he pulled in for Beverly's second score with 4:11 to go in the first.

Scituate took over from their 30, and faced with third and 13 from the 50, quarterback Tyler Park tried to complete the team's first pass on the day, but Blake Sullivan (three tackles) had different plans, intercepting the pass at the Scituate 40 with nine seconds left in the first quarter.

Beverly put some more space between themselves and the Sailors on an 8 play, 4:25 drive, capped by a 10-yard toss from Wioncek to Mark Giles in the back of the end zone.

Looking for a shutout, and to show their offensive might, Beverly scored one more touchdown in the first half, a Flaherty 25 pitch outside the left end, and another on their first possession of the second half, a 2-yard left jab with 5:44.

Flaherty finished his day of scoring with a 25-yard pitch left with 51 seconds left in the first half. Wioncek's kick made it 28-0.

Scituate went on to score twice in the second half, much to the chagrin of Beverly's defense.

"We need more intensity," added Kallas, looking to Saturday's matchup against Somerset. "We went up, but they scored because they kept their intensity. We need to do that."

B 13 15 6 7 -- 41
S 0 0 7 7 -- 14

1st quarter
B - Kenny Pierce 25 run (Joe Wioncek kick)
B - Brendan Flaherty 33 pass from Wioncek (kick failed)

2nd quarter
B - Mark Giles 10 pass from Wioncek (Giles pass from Wioncek)
B - Flaherty 25 run (Wioncek kick)

3rd quarter
B - Blake Sullivan 2 run (kick failed)
S - Wes Hawkins 11 run (Caleb Duvoisin kick)

4th quarter
B - Nick Theriault 1 run (Wioncek kick)
S - Matt King 3 run (Duvoisin kick)