Boston High School:

Kevin Brown
March, 1, 2014
Mar 1
1:14
AM ET
By
MIke Abelson
| ESPNBoston.com


STONEHAM, Mass. -- It seemed half of the North Shore was at Stoneham Arena for last night's Division 2 North quarterfinal between Beverly and Danvers.

They got their money's worth as both goalies stole the show and Beverly squeaked out a 2-1 victory in a shootout to advance to the semifinals Monday against Lincoln-Sudbury.

The Panthers got goals from Nick Albano and Connor Irving in the shootout. Irving also had Beverly's goal in regulation. Danvers' Kyle Cahill scored the Falcons' lone goal in regulation and its only goal in the shootout.

"I never thought it'd end like this," Beverly coach Bob Gilligan said. "We got some talented kids that can make some plays. We do the shootout at the end of practice the last few weeks, [and] there's a slew of them that can make some pretty good moves."

The shootout ended the game, but it was the goalies who stepped into the spotlight and thrived. Danvers' Alex Taylor turned aside 41 shots, including 18 in the third period alone. Beverly's Tim Birarelli stopped 20 Danvers shots.

Taylor's third period was spectacular as Beverly's offense clicked on every cylinder but was unable to solve the junior.

"Obviously in the third period he was immense," Danvers coach Kevin Brown said of Taylor. "In the second period he didn't see as many shots but third period he was there. I said last year the kid's a gamer. When there's a big game on the line the kid responds."

Taylor was aided by a Danvers defense that played smart for the entire game. The Falcons kept their sticks low and forced Beverly into numerous low-percentage shots that Taylor was able to gobble up. When Taylor did have to stop one for the highlight reel he was able to.

Taylor stopped the last 39 shots he faced, excluding the shootout.

"No one gave us a shot coming into this, but we all knew we had a shot," Taylor said. "I just didn't want to lose the game. There's such a huge rivalry, and I knew my team deserved more than that. It was just heartbreaking to go down like that."

Gilligan said that the Falcons played his team smart on the defensive end.

"They're goaltending came up big," Gilligan said. "They had a lot of blocks, we weren't getting the pucks through, but give them credit; they played well. I thought Taylor stood on his head at times. He had a lot of saves."

Birarelli backstopped the Panthers and gave the offense the security it needed to press deeper into Danvers' zone throughout the game. Danvers used their offensive opportunities effectively but Birarelli was ready at every turn.

Birarelli was at his best during the shootout when he seemed to blanket the entire net. He turned aside four Danvers shooters who all threw something different at him but never made him commit first. His pad save on Kevin Hodgkins ended the game.

"Even in practice you can tell he locks down," Irving said. "It's so hard to beat him side to side. He's such a good goalie; he's a big kid, he covers most of the net. He did an amazing job especially with all that pressure. He held the fort. He's the reason we won today. I love the kid."

DEFENSE STALLS OFFENSE: Having already played each other twice this season very little was unknown between the two teams. The biggest battle going in was how the Falcon defense would gum up Beverly's high-octane attack that averaged 4.55 goals a game.

Danvers did it with an aggressive forecheck and funneling the Panthers to the boards through the neutral zone. It took Beverly a while to adjust and the Panthers never seemed to fully adjust.

"In the beginning they were sending a two-man, and then a one-man, forecheck to try to cut down the center of the ice," Gilligan said. "Give Kevin credit; they played us pretty well. Our speed got sort of shut down."

Last night was only the fifth time this season that Beverly failed to score three or more goals.

"We put ourselves in good spots on the ice," Brown said. "Neutral zone, in the d zone shut down their speed early. We've seen them enough where we know what they do well; it comes down to effort. Our guys generally had the effort out there defensively."
March, 11, 2013
3/11/13
9:07
PM ET
By
Roger Brown
| ESPNBoston.com
LOWELL, Mass. – There may have been some in attendance at the Tsongas Center who hadn't heard of Brendan McDonough when Monday night's high school hockey game between Wilmington and Danvers began, but everyone was familiar with McDonough by the time the contest was over.
McDonough, a junior center, scored three goals and assisted an another to propel third-seeded Wilmington to a 7-2 victory over eighth-seeded Danvers in the Division 2 North championship game.
[+] Enlarge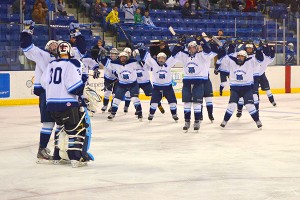 Scott Barboza/ESPNBoston.com Wilmington pulled out a NHL 94-inspired celebration after claiming their second straight Division 2 North title Monday at the Tsongas Center.
Cam Owens, Wilmington's all-time leading scorer, collected four assists in the victory, which raised Wilmington's record to 20-3-2. Luke Foley, Steven DeFuria, Dylan DiNatale and Jake Rogers scored Wilmington's other goals.
"McDonough's a sniper," Wilmington head coach Steve Scanlon said. "We've been getting after him to shoot a little bit more. McDonough and Owens – they really stress a defense out. Cam's a big-game player, but tonight was Brendan's turn."
The Wildcats, who are 11-0-0 against Division II competition this season, will play the Division 2 South champion for the Division 2 state title on March 17 at TD Garden. No. 4 Oliver Ames (17-4-2) and No. 7 Franklin (16-6-2) will meet for the Division 2 South title Tuesday night.
Wilmington beat Franklin in last year's Division 2 championship game.
"We're not concerned with who the opponent is," Scanlon said. "We worry about ourselves and getting ready for the game. We're looking forward to defending our title."
A.J. Couto scored twice for Danvers, which completed its season with a 13-7-4 record. Couto scored 10 goals in the four tournament games and finished his senior season with 38 points (28 goals).
"He stepped up and certainly did his job," Danvers coach Kevin Brown said. ""Speed is tough to scout sometimes, and they took advantage of the big ice surface. They have a good feeling for where their linemates are and they were making some area passes that were a little too much for us."
Wilmington goaltender Drew Foley, a junior, made 14 saves. Danvers sophomore Alex Taylor stopped 24 shots.
The Falcons led 2-0 after one period on goals by Luke Foley and Brendan McDonough. Foley opened the scoring when he swept a rebound past Taylor at 1:23, and McDonough doubled the lead on a high shot from the left faceoff circle at 11:27. Foley's goal marked the first time Danvers had trailed in the tournament.
Danvers cut into its deficit when Couto collected his 27th goal of the season at 3:09 of the second, but Wilmington regained a two-goal lead on McDonough's second goal of the game 50 seconds later.
McDonough's third goal came while the Wildcats were short-handed, and made it 4-1 at 7:02 of the second.
"I knew that if we played our game we were going to be fine," McDonough said. "I was just focused. First shift I felt good out there ... playing the body, skating well. Coming in tonight I thought I was going to have a big one."
After DeFuria and DiNatale added third-period goals to make it a 6-1 game, Couto scored his 28th goal while the Falcons were short-handed. Rogers capped the scoring with a power-play goal at 11:27.
"Getting a couple early helped out," Scanlon said. "The guys got some confidence and then started pouring it on. When we push pace we're in good shape.
"I thought overall depth and speed we had too much for them. Thrilled to be going back to the Garden."
March, 5, 2013
3/05/13
1:50
AM ET
By
Richard Murray
| ESPNBoston.com
BILLERICA, Mass. — Cam Owens sparked a monstrous second period for No. 3 Wilmington as the Wildcats iced No. 2 Lincoln-Sudbury, 6-0, in a Division 2 North semifinal.

Wilmington (19-3-2) was firing on all cylinders during the second period by blasting four goals past Lincoln-Sudbury goalie Erik Kessler (28 saves). Meanwhile, at the other end of the rink, Drew Foley was not tested nearly as much as Kessler, but Foley did his job turning away the 14 shots he faced to earn the shutout.

Wilmington's Anthony Castellano started the scoring at the 9:40 mark of the first period. Castellano fired a shot through traffic that Kessler never saw.

Owens opened up the second period by rifling a wrist shot past Kessler only 12 seconds into the period. That goal appeared to give Wilmington a big jump in its step.

"I put a little head fake on [the defense] and gave them the little shake and bake," Owens said. "I went wide with it, and I shot it far side under the goalies blocker. After that, the floodgates just opened."

Luke Foley, Billy Falter, and Dylan DiNatale played follow the leader behind Owens as they also added second-period goals to blow the game wide open.

In the third, Jake Rogers added the final goal of the game, becoming the sixth different Wildcat to find twine.

"We got a balanced scoring attack tonight, and those are the kind of contributions we need," Wilmington head coach Steve Scanlon said.

The defending champs face Danvers their next time out for the Division 2 North final.

DANVERS 5, CONCORD-CARLISLE 3
In the earlier game, No. 8 Danvers stayed on a roll by knocking off No. 12 Concord-Carlisle, 5-3.

A.J. Cuoto stayed hot scoring two goals after recording hat tricks in the Falcons (13-6-4) previous two-playoff games.

"A.J. [Couto] has been playing well as we have seen the past few games," Danvers head coach Kevin Brown said. "He is playing hard and mixing it up, so I am happy with A.J."

Couto's line was on fire scoring four-of-the-five goals that the Falcons scored as Rob Buchanan and Joe Strangie both lit the lamp too.

"Sometimes it just clicks at a certain point of the season, and we have made several different line changes throughout the season," Brown said.

Danvers wasted little time getting on the board as Buchanan scored only 39 seconds into the game. Strangie then followed with a power-play goal by screening the goalie and deflecting the puck past Concord-Carlisle goalie Ranger Beguelin (24 saves).

"We have to set a screen because most goalies will stop the puck if they see it," Brown said. "We like the guys around the crease, and Joe [Strangie] did a good job there."

Couto then followed with his own power play goal by connecting with the puck in mid-air to redirect a wide shot into the goal.

"I just saw the shot coming from the point, so I stuck my stick out to try and make contact," Couto said. "I got my stick on the puck, and it just happened to go into the net."

Nick McCormack got the Patriots on the board before the period ended by tapping home a rebound late in the first.

Seamus Vahey brought the Patriots within a goal in the second period, but Couto and Adam Merry countered sending Danvers into the third up, 5-2.

In the third, Matt Robinson added a goal for Concord-Carlisle, but Danvers goalie Alex Taylor (16 saves) held the fort down to preserve the win.
March, 2, 2013
3/02/13
3:10
AM ET

WOBURN, Mass. -- No style points are awarded for game-winning goals, there's only the result.

By A.J. Couto's standards Friday night, his third goal was by far the dirtiest. But it also will likely prove to be the most memorable goal of his life.

The Danvers senior forward scored during the first minute in each the first and second periods, giving the Falcons a puncher's chance against favored No. 1 seed Beverly in the teams' Division 2 North quarterfinal game. Couto, along with his fellow seniors, had never before experienced victory over their Northeastern Conference rival.

And so Couto found himself parked at the side of the Panthers' net. He watched the carom from a point shot come off the end wall and onto his blade. He threw it back toward the goalmouth, parallel to the goal line. The puck bounced off the blade of the goaltender's right skate and across the goal line.

Couto had his hat trick and only 11 seconds separated the Falcons from a fitting celebration.

When time elapsed and Couto's third was the difference in a 4-3 win over Beverly, his thoughts were still in the past.

"We saw how they went off the ice after they won the NEC championship," Couto said about Beverly's 4-2 win on Feb. 13. "That stuck with us. We were playing with that all game long."

The No. 8 seed Falcons (12-6-4) advance to play No. 12 Concord-Carlisle Monday in the sectional semifinal at the Chelmsford Forum.

To get there, Danvers needed some career games, including that of senior defenseman Kevin Anderson, who matched his season-long points total with a four-point game. Anderson scored a goal and had three assists to figure in each of the Falcons' markers.

Although Couto led Danvers in goals during the regular season with 17, Falcons head coach Kevin Brown noted that he's on an unprecedented clip of late.

"A.J. [Couto] is playing the best hockey of his career right now," Brown said. "He's put together a string of games. He's just got a nose for the net."

Beverly (18-2-1), while being outplayed early, kept pace with the Falcons. Connor Irving score a little more than two minutes after Couto's first of the game.

Anderson regained the lead for Danvers before hitting the room, sending a half-slap through a mass of traffic in front of Panthers goaltender Tim Birarelli at 12:02.

Couto extended the lead 42 seconds into the second with Anderson laying down the pass for the assist.

Again, the Panthers responded, following less than two minutes later with Nate McLaughlin's first of the game. The senior forward followed with his second to tie it at 12:39 of the second, burying a beautiful saucer pass feed from Ted Leathersich (2 A) on a 3-on-2 break.

After an up-and-down period in the second, which saw plenty of quality scoring chances for either side, the play bottled up in the third.

"I think it was a natural progression of the game," Brown said of the deciding period. "The kids left it out there in the first two periods. Credit to [Beverly] that they tied us when we had the momentum. It just kind of became a hockey game again."

The tension mounted as the Panthers turned some loose pucks into a couple of scoring chances on Alex Taylor.

While both teams encountered trouble breaking out of their own zone, the Panthers had the better of the shots in period, holding the Falcons to just one shot on goal – on the game-winner.

"I didn't really have that much of an angle, but I thought why not throw it on net," Couto said. "I saw it slide across the goal line, hit the back of his skate and then into the net."


January, 6, 2013
1/06/13
12:31
AM ET
By
Mike Abelson
| ESPNBoston.com
SALEM, Mass. -- Midway through the second period Danvers junior Matt Flynn skated up through the neutral zone. He was met at the blue line by Beverly's Jack Morency and planted Flynn with a huge hit.

That was yesterday's game in microcosm as the No. 10 Panthers were able to take Danvers' best shot and return it twice over in a 3-0 win at Salem State.

"Danvers is a tough to play and they played us real tough," Beverly head coach Bob Gilligan said. "We didn't give them a lot, but what we gave them our goalie Timmy Birarelli shut them down."

Birarelli stole the show for the Panthers. The sophomore turned aside all 24 Falcon shots, including 14 in a chaotic second period.

"I train myself to go the full 45," Birarelli said. "I knew they were going to come at us strong the whole 45."

The early part of the game belonged to Danvers, who forced the tempo with its physicality and pressure. Beverly senior Andrew Irving broke the tension six minutes into the game. Irving, who had the poked away moments before, flung it towards goal from behind the goal line and it bounced off of Danvers' Alex Taylor and in.

Irving was the offensive star of the game, adding a pair of assists to his goal.

"Worked hard, really came out all three periods playing," Irving said. "We knew we had to beat Danvers. It was a big game."

The Falcons put on a flurry in the final minute of the first period, peppering Birarelli with half a dozen shots, but they were unable to light the lamp. The Falcons continued the pressure with a sustained, multi-minute attack but it was all for naught.

"I've got to give them credit; they came to play," Danvers coach Kevin Brown said. "We need to learn some lessons from this game. Like I told the guys, it's early in the year so we need to move on. We'll be ready next time."

The Panthers were able to tack on a pair of goals in a three-minute span midway through the second to put the game out of reach.

Brown said that his team will have to play more consistent hockey if it wants to succeed but there is enough time left in the season to learn.

"If you want to be a top-level team you've got to be consistent for 45 minutes," Brown said. "We had a little spurt there, but they were pretty consistent all night."

The Falcons and the Panthers will meet again at Rockett Arena on Feb. 13.

CROWD SPURS ON GOALTENDERS
Thanks to a closed balcony there were hockey fans wedged into every corner of Rockett Arena. There were people behind the glass, next to the bench, and even on top of the ticket booth.

With thousands of eyes on them, both Birarelli and Taylor stood out and shined.

"It gives me a lot of energy," Birarelli said of playing in front of the crowd. "It's fun playing in front of a big crowd especially when your crowd is bigger than the other team."

Taylor, who turned aside 25 shots, several of them spectacularly, earned the praise from his coach.

"Obviously I think it was a huge game for him and confidence-wise too," Brown said. "I hope he learns that he can play at the top level and it takes a game like this to get there."

IRVING, TOP LINE DOMINATE FOR BEVERLY
Every coach in the Northeast Conference should be worried about Beverly's top line of Irving, his cousin Connor Irving, and Ryan Santo. The trio racked up five of Beverly's seven points and added even more scoring chances.

Irving's three points stood out, especially because he's only been playing forward for just under a year.

"I switched him from D to forward midway through last year and I told him he was going to play up this year, and you can see what he can do," Gilligan said of his captain. "He's going to be the dominant player in the league."

As a line the unit showed an ability to generate plays out of nowhere and constantly keep the Falcons blue liners out of sorts whether its even strength or on special teams.

"Going around a guy they're losing us," Irving said. "They don't know what to do."

"Man up or man down you've got to keep an eye on all of those guys," Gilligan said. "They got great skills and they're great team players."

PENALTIES SLOW DOWN FALCONS
Danvers set the tone early with big hits, and wound up paying for it in the penalty box. The Falcons racked up eight penalties, the Panthers were tagged with eight as well, and they were unable to get a solid rhythm going.

"It wasn't an ideal situation for us to get into a special teams battle, but it is what it is," Brown said. "They did a good job killing and we did, too."

Brown said he was looking for ways to improve and staying in even-strength situations, which the Falcons excelled at for stretches of the game, should be high on his list.

"The good, bad is that you don't want to sugarcoat a loss and you want to talk about ways you can improve," Brown said. "We'll focus on Winthrop on Wednesday and take the good out of what we can."
March, 3, 2012
3/03/12
12:09
AM ET
By
David Pollard
| ESPNBoston.com
STONEHAM, Mass. -- Friday night's Division 2 North doubleheader at Stoneham Arena finished with two teams moving on to the sectional semifinals in one fantastic night of hockey.

First up, No. 8 Wilmington knocked off top-seeded Lynnfield in a 2-1 nail-biter.

The Pioneers (18-4-1) brought their game early as the Wildcats (13-4-5) found themselves contained in their own defensive zone for the majority of the first period. But after a slow start, Wilmington's physical play began to open up space for their offense. The defense held strong and the offense was opportunistic, allowing the Wildcats to cling to a one-goal lead.

Goaltender Drew Foley stood on his head early for the Wildcats, stopping all 12 first period shots generated by Lynnfield's offense. The solid presence in net allowed Wilmington to survive the initial onslaught brought on by the Pioneers.

"He's our 'X' factor," Wildcats head coach Steve Scanlon said after the game. "He's one kid who doesn't get rattled, he's able to get scored on and bounce right back."

After the first period, the play began to tilt in Wilmington's favor. Both teams went up and down the ice, trading chances in a back and forth battle. Earning every inch of ice was a grind, especially for Lynnfield who began struggling to enter the offensive zone cleanly as the Wildcats began dominating the physical play.

It was captain Dalton Rolli who set the physical standard early and often, leaving Lynnfield bodies all over the ice.

"He's a real physical player." Scanlon said. "He's our captain; he's our leader, and he set the tone early he got out there and started banging bodies."

The Wildcats put the Pioneers' defense on their heels after the first period. After attacking the Lynnfield net for the first five minutes of the second period, Wilmington was able to put one home on a slap shot from blue-liner Brian Pickett which deflected through the open five-hole of goalie Joe Bassi.

Pickett added an early third period goal on a hard wrist shot from the slot that would prove to be the game-winning goal.

Lynnfield found their legs and were able to crack Foley to come within a goal of sending the game to overtime. Despite a frantic finish, the Wildcats held on and advanced.

NO. 5 NORTH ANDOVER 1, NO. 4 DANVERS 0
The night cap also played to a one-goal game with No. 4 Danvers facing off against No. 5 North Andover.

Despite carrying the play, the Scarlet Knights (16-4-4) found themselves knotted in a 0-0 tie with the Falcons (15-6-0) entering the third period. A late goal came with just more than three minutes left in the final frame, and North Andover made no mistakes with the lead, holding on to win 1-0.

The Falcons exhibited a "bend, don't break" mentality throughout all three periods of play. North Andover was consistently on the attack, utilizing their speed to back Danvers' defensemen off allowing them easy breakouts and access to the offensive zone.

Danvers survived numerous flurries and scrums in their own crease without letting the rubber cross the line.

The two teams entered the third period tied 0-0. Both had their opportunities, but North Andover was consistently able to generate offense until finally, with 3:20 left in the game, forward Derek Hunter jammed a bouncing puck through the pads of goalie Steve Wilkinson amidst a crowd of flying sticks and bodies.

Danvers head coach Kevin Brown understands a team can only withstand so much.

"You get to that point in the game, and they had just rung one off the post ... in games when it's tough to score like that it's usually a funny bounce one way or the other that seals it," he said. "Unfortunately, for us, the puck didn't bounce in our direction."

For North Andover, the win did not come easily, but their persistence paid off.

"We played a good game, you know, we had a lot of chances," North Andover coach Pete Marfione said. "Sometimes you get a little frustrated when it takes that long to bury one but we'll take a 1-0 win any day."

The victors of the two games will play each other on Tuesday, March 7 at the Chelmsford Forum for an opportunity to play for the Division 2 North title.
February, 12, 2012
2/12/12
12:27
AM ET
By
Brion O'Connor
| ESPNBoston.com
SAUGUS, Mass. -- For 30 minutes, two-thirds through their heavyweight bout with Saugus, the Danvers Falcons appeared poised to put a stranglehold on the Northeastern North crown. Kevin Brown's Falcons swarmed Saugus netminder Nicholas Hegarty, badly outshooting and outhustling Jeff Natalucci's Sachems at Kasabuski Arena.

In fact, Hegarty and Saige Tait's slick breakaway goal in the first period were the only reasons why the Sachems were deadlocked, 1-1, heading into the final 15 minutes. And that's when the Sachems flipped the switch, finding an extra gear and potting three unanswered goals behind Danvers goaltender Seth Kamens to take a 4-1 victory before their home crowd.

The Sachems' victory left the Northeastern North standings a dead heat between Danvers (12-4-0, 10-3-0), Saugus (10-5-2, 9-2-2), and Winthrop (10-5-2, 9-2-2), all on 20 points heading into the season's home stretch. It was also the Sachems' first win over Danvers in three tries this season.

"That's what we've been waiting for, that third period," said Natalucci afterward. "We needed to just outwork them. You know what you're going to get when you face them. They're going to work for 45 minutes, and we needed to outwork them for 15. And that's what we did. That was huge for us."

For Danvers, it was an opportunity lost, as the Falcons have now lost two straight after a torrid 10-game winning streak that vaulted them to the top of the standings.

"We're just playing good enough, and you can't play good enough to win," Brown said. "You've got to be better than good. And come down the stretch, against quality teams. You've got to play great. And we didn't play great. We only played good."

Asked if he felt the game was one that got away, Brown replied: "I don't think it got away. It went their way. Credit them. They found a way to get it done, and we didn't."

In the opening period, though, the Falcons did play great, consistently outworking the Sachems and pelting shots at Hegarty. The senior netminder was up to the task, blunting several quality Danvers bids.

"He's a big kid, he covers a lot of the net," Natalucci said. "When he comes out and challenges (the shooter), he's tough to beat."

Saugus got its break at the 7:56 mark of the first. Sachem defenseman Nick Sweeney poked the puck to Tait, who broke in alone on Kamen before calmly firing his shot 5-hole to give Saugus a 1-0 lead on its second shot of the night.

"It was a spark for the team," Tait said. "We needed something to happen, and finally the chance came."

Danvers' Joe Strangie narrowly missed knotting the game moments later, but he scuffed his backdoor bid at the left post, sending the puck just wide on the Saugus net.

"It comes down to opportunities," Brown said. "You play a high school game, it's only 45 minutes. The opportunities are few and far between. They took advantage of them, and we didn't."

However, Danvers held an 11-3 shot advantage after the first 15, and finally tied the game at 4:07 of the middle stanza. After Paul D'Orlando kept the puck in play by the right face-off dot, Jay Calcagno got off a quick snap shot that beat Hegarty short side, glancing off the right post and into the net.

Danvers kept the pressure on, and Hegarty had to come up big on Kevin Hodgkins backhand bid, flashing out the left pad to keep the puck out of the net. The Falcons third line of Calcagno, D'Orlando and Hodgins were flying, but the Sachems kept throwing bodies in front of shots, and pucks that did get through kept hitting Hegarty.

With 10 minutes to go in the third, the Sachems went on a power play, and cashed in. Drew Oxley ripped a shot fro the point that Kamens stopped but couldn't control. Tait drove the net, and after taking two whacks at the puck, buried it past Kamens on his third attempt for a 2-1 Saugus lead at 6:28.

For Danvers, the walls caved in during an 11-second stretch four minutes later. Christopher Sanderson was Johnny on the Spot when Kamens deposited a gift on the goal line. Saugus 's Guy Carpillo snapped a shot that Kamens appeared to have cleanly in his glove, but the puck slipped out and knuckled over his shoulder, landing behind him. The opportunistic Sanderson wasted no time tapping it into the open net.

Eleven seconds later, Saugus converted on a terrific 2-on-1, when Kurt Rodrigues drove hard down the left wing before scorching a pass across the crease, which Anthony Cieri slipped under Kamens for the 4-1 final.

"The last couple of practices, we've been going really hard, and we showed it out there," Tait said. "We've just got to keep up what we've been doing, and hopefully make a run. We'll build off this game, and keep going."

His coach agreed. "We knew, down low, it was going to be real difficult to get shots, and it was all about second effort down there. That's what we did," said Natalucci. "Saige's goal on the power play was second effort. The third goal was second effort. We had to drive the net. They make it difficult."

"We knew in the last 15 minutes we were going to have to outwork them if we were going to win this hockey game tonight, and we did," he said. "We battled, all night. I've got a lot of seniors in there, and they knew if we wanted a shot at the conference, we needed two (points). If we want a shot at the conference, we needed this one."

Danvers could take some consolation in outshooting the Sachems, 26-12, and knowing that they carried the play for the majority of the game. But to make a difference in the post-season, they'll have to finish as well as they start.

"The message is we. We stick together. We do it together," said Brown. "We'll get back to where we need to be. We'll get back on track. We're a good hockey team. We've done good things all year long. We know we can attain those things."