Boston High School:

Kevin Emmerling
March, 23, 2012
3/23/12
4:01
PM ET
First Team:
F – Brendan Collier, Sr., Malden Catholic
The two-time ESPN Boston All-Stater closed out his senior season with a second straight Super 8 title and claimed our Mr. Hockey Award. The Charlestown native and Boston University commit scored 26 goals with assists for 65 points, a figure which led all Division 1 scorers. Collier, who also plays golf and lacrosse at MC, plans on playing a year of juniors next year before joining the Terriers.
F – Ryan Fitzgerald, Jr., Malden Catholic
The Lancers' top-line pivot makes his second All-State team appearance, his first on the First Team. The North Reading native and Boston College commit again eclipsed the 50-point plateau (31-21-52), despite missing the first couple weeks of the season with a shoulder injury, and helped the Lancers to their second straight Super 8 title.
F – Sam Kurker, Sr., St. John's Prep
When looking up the term power forward, the Eagles senior winger and captain fit the mold. The 6-foot-2, 210-pound forward finished with 32 goals and 28 assists for 60 points. The Boston University commit has also seen time with U.S. National Team Development Program and skated with the U-18 select team at the Ivan Hlinka Tournament during the summer.
D – Colin MacGillivray, Jr., Malden Catholic
The Lancers blue-liner is made in the mold of an old school rugged defenseman. The 6-foot-1, 185-pound Peabody native played on MC's top pairing through the season while posting three goals and 10 assists for 10 points for the repeat Super 8 champions.
D – Nikko Markham, Sr., St. Mary's (Lynn)
The Catholic Central Conference Most Valuable Player and Spartans captain finished a sound career by leading St. Mary's to a No. 2 seed in the Super 8. The Salem native was among the top point-scoring blue-liners in the state with six goals and 12 assists for 18 points.
G – Peter Cronin, Jr., BC High
For the second straight season, the Eagles went as their netminder went, and Cronin led BC High to its first Super 8 finals appearance since 2007. Playing in each of the Eagles' 25 games, the Norwell resident posted a 2.00 goals against average and a 91.7 save percentage.
2nd Team:
F – Kevin Emmerling, Sr., St. John's (Shrewsbury)
Perhaps the most skilled skater in the state, the Pioneers' center provided a dynamic offensive punch to their Super 8 run. The Whitinsville native finished third in Division 1 scoring with 26 goals and 30 assists for 56 points. Emmerling is exploring his options for next year and hopes to play college hockey.
F – Conal Lynch, Sr., Boston Latin
Lynch also showed that Charlestown is again a hotbed of hockey, carrying the Wolfpack to a DCL/MVC Div. 2 championship. Lynch finished second in Division 2 in scoring with 35 goals and 18 assists for 53 points. The Wolfpack captain is weighing his options in pursuing prep or junior hockey next year.
F – Matt Sullivan, Sr., BC High
The senior captain was a true two-way center with a high hockey IQ. The Duxbury resident anchored the Eagles' top line, scoring 12 goals and 16 assists for 28 points and lifting BC High to its first Super 8 final appearance since 2007. He is pursuing prep and junior hockey opportunities for next season.
D – Casey Fitzgerald, Fr., Malden Catholic
The younger brother of Ryan, Casey catapulted himself onto the scene in his first year, filling the role of a puck-moving defenseman previously held by former All-Stater Conor Evangelista. The North Reading resident and Boston College commit tallied two goals and 15 assists for 17 points in his first year.
D – Peter Sikalis, Sr., Acton-Boxborough
The Colonials' captain was the impetus behind their run to the D1 North semifinals. Sikalis had eight goals and 11 assists for 19 points while eating up boatloads of ice time for head coach Bob Lavin. The imposing 6-foot-3 defenseman is exploring his hockey options for next year.
G – David Letarte, Sr., St. John's Prep
The captain has been the Eagles' backbone during the last three seasons, leading Prep back to the Super 8 once again. Letarte had a 2.08 goals against average and a 91.3 save percentage in 18 games played. He is currently mulling over college and junior hockey offers for next year.
"Best of the Rest"
Nick Bertoni, F, Franklin
Tom Besinger, F, BC High
Tommy Bishop, F, Chelmsford
Matt Brazel, F, Hingham
Trevor Cimino, F, Burlington
Frank Crinella, F, Springfield Cathedral
Paul Curran, F, Milton
Vin D'Amato, F, St. John's (Shrewsbury)
Jarrod Fitzpatrick, F, St. Mary's (Lynn)
James Gordon, F, Hingham
Danny Holland, F, Woburn
Mike Iovanna, F, Malden Catholic
Connor Irving, F, Beverly
Mike Kelleher, F, Central Catholic
Chris Leblanc, F, Winthrop
Bobby Mullins, St. Mary's (Lynn)
Ara Nazarian, F, Malden Catholic
Andrew Newis, F, Natick
Jack O'Hear, F, Catholic Memorial
Cam O'Neill, F, St. Mary's (Lynn)
Jake O'Rourke, F, Medway
Cam Owens, F, Wilmington
Brian Pinho, F, St. John's Prep
Dalton Rolli, F, Wilmington
Joe Strangie, F, Danvers
D.J. Walsh, F, Needham
Bryan Carter, D, Hudson
Connor Fenton, D, Braintree
Brian Furey, D, BC High
Pat Houghton, D, Westford Academy
Steve Mattos, D, Burlington
Nick Pandalena, D, St. John's Prep
Jake Secatore, D, Woburn
Brendan White, D, Malden Catholic
Joe Cerulo, G, Wakefield
Jordan Davis, G, Norwood
Mike Donadio, G, Franklin
Bailey MacBurnie, G, St. Mary's (Lynn)
Connor Murray, G, Needham
Connor Roddy, G, Medfield
Shane Starrett, G, Catholic Memorial
Steven Waites, G, Winthrop
Kyle Williams, G, Central Catholic
Coach of the Year
Chris Spillane, Franklin
Losing 15 seniors off of 2011's Division 2 state finalist team posed no problem to Spillane in guiding his team back to the Garden again. The 13-year Panthers bench boss is regarded as one of the finest in the state, but no season might have been more impressive for Spillane than getting this team back to the finals.
Finalists:
Karl Infanger, Natick
Mark Lee, St. Mary's (Lynn)
John McLean, Malden Catholic
March, 11, 2012
3/11/12
3:50
PM ET
By
John McGuirk
| ESPNBoston.com


NORTH ANDOVER, Mass. -- The mathematics were simple enough for St. John's (Shrewsbury). Win by two or more goals over BC High in yesterday's third round of the Super 8 Tournament and you have a chance of extending your season into the crossover round.

Things were looking good for the Pioneers after two periods as they held a one-goal lead. But in the game of hockey things can turn on a dime. Tom Besinger, on the power play, tied the game for Eagles at 12:09 of the third after stuffing in his own rebound. With nothing decided after 45 minutes, this contest moved into an extra frame where BC High would go on to prevail 3-2.

"It was a great effort by us," Eagles head coach John Flaherty said. "St. John's is a very good hockey team. We were ahead 1-0 and they came back to go ahead. We could've packed it in at that point but we didn't. I'm proud of our kids' effort and resilience."

Senior forward Matt Sullivan notched the game-winner at 6:02 of overtime after stealing the puck away from Chris Coveney inside the St. John's zone and flicked wrist shot past goaltender Mario Pizzeri glove side keeping the fifth-seeded Eagles (13-5-5) alive to play another day as they move into the crossover round beginning on Wednesday. The eighth-seeded Pioneers finish up at 15-7-3. All three of their loses in this tournament were decided by one goal, two coming by way of a shootout and overtime.

"We were up by one after two periods and I asked MIAA officials coming into the third period if we had to win by two goals," said St. John's coach Brian Murphy. "At first they didn't know but midway through the period they confirmed it.

"We're really proud with the way our guys played. They played these teams tooth and nail right to the end. We were certainly in every game and did ourselves proud. It's fun completion but just tough to lose."

BC High led 1-0 after one period when Sullivan, on the man-advantage, put back a rebound at 6:45.

Knowing their season was on the brink, the Pioneers needed to get their offense in gear in a hurry. In the middle period they did just that. An unassisted goal by Kevin Emmerling (6:18) and a Jay Duquette one-timer (10:59) propelled St. John's ahead 2-1 moving into the third.

The Pioneers opened up the frame strong and a couple of quality scoring opportunities were turned aside by Eagle netminder Peter Cronin (17 saves). That, in turn, would lead to Besinger making two swipes at the puck in front of Pizerri (33 saves) with the second one trickling through for the equalizer.

"St. John's wasn't the same team we saw earlier in the year," said Besinger, whose club defeated the Pioneers twice during the regular season 6-0 and 7-2. "They seemed to have some good chemistry going on. We just knew we had to continue to keep crashing the net in the third period and overtime period and were able to do that and come out ahead."


March, 2, 2012
3/02/12
6:25
PM ET
There are less than 48 hours remaining before the puck drops on the real Super 8 on Sunday at Merrimack College.

So we're taking this opportunity to break down the final eight:

1. Malden Catholic (15-1-4)
Marquee wins: Pretty much all of them, minus the Lancers' one loss to New Jersey powerhouse Delbarton.

Players to watch: F Brendan Collier (22-34-56); F Ryan Fitzgerald (26-14-40); F Mike Iovanna (14-23-37); F Tyler Sifferlen (9-14-23); F Ara Nazarian (10-16-26); D Casey Fitzgerald (1-15-16); D Colin MacGillivray (2-8-10); Brendan White (2-16-18).

The skinny: As in the last couple of years, this year's Super 8 is viewed as the Lancers' tournament to lose. Again, they have the best line in the state with Collier, Ryan Fitzgerald and Iovanna saddling into Mike Vecchione's former spot. But MC's true strength is depth. Sifferlen and Nazarian would occupy a spot on mostly any team's top line. Super frosh and BC commit Casey Fitzgerald has filled Conor Evangelista's role dutifully as a puck-moving defenseman.

X-factor: Goaltending. Connor Maloney watched last year's Super 8 from the BC High bench behind Peter Cronin. Now, it's his time to shine.

2. St. Mary's of Lynn (18-1-3)
Marquee wins: Malden Catholic (Kasabuski Tournament tie); Hingham (5-1); Cathedral (3-2).

Players to watch: F Bobby Mullins (9-20-29); F Jarrod Fitzpatrick (14-7-21); F Cam O'Neill (14-15-29); F Brendan Mageary (13-11-24); F Tim Aylward (10-10-20); D Nikko Markham (6-12-18); D Bryan Wilkins (1-7-8); G Bailey MacBurnie (1.30 GAA, 94.1 save %).

The skinny: So what were the Spartans to do without perennial league all-star Donald Hesse as their backbone? Well, Mark Lee found a more-than-legitimate starter in MacBurnie, a sophomore, who's played well along with a defensive corps led by Markham. Fitzpatrick has been another revelation in his first season with the Spartans. St. Mary's has greater scoring depth than in year's past. And they're young, as freshman Eric MacAdams (4-14-18) has impressed seeing top-line action.

X-factor: How do the Spartans react in a tight game. In last year's Super 8 play-in stab, and the Div. 1 tournaments of year's past, one-goal games have come back to haunt them. If they can sweat out a couple of close decisions in this tournament, they might find themselves at the Garden.

3. St. John's Prep (13-5-2)
Marquee wins: BC High (3-1); Hingham (2-1); Central Catholic (4-0).

Players to watch: F Sam Kurker (26-26-52); F Brian Pinho (14-20-34); F Tyler Bird (9-5-14), F Andrew Brandano (8-6-14); D Nick Pandalena (6-10-16); D Brent Murray (0-4-4); G David Letarte (2.02 GAA, 91.5 save %).

The skinny: We still haven't gotten over last year's championship game; it was simply amazing hockey. There's no Colin Blackwell, but Kurker (BU commit) has really blossomed this season and has taken this team on his back the way his former linemate did last year. Pinho and Bird, along with Kurker, are a formidable first line to skate against, and are strong in all three zones. Pandalena is a mountain of a defenseman, but beyond him, the Eagles blue line was green entering the season. Murray has elevated his play to comprise a formidable top pairing.

X-factor: Letarte. I believe we said this last year as well. When the senior is on his game, he can be airtight.

4. Hingham (16-4-2)
Marquee wins: Marshfield (6-2); Catholic Memorial (3-2); St. John's of Shrewsbury (4-0).

Players to watch: F James Gordon (21-17-38); F Matt Brazel (11-20-31); F Matt Hughes (13-11-24); F Ryan Linehan (8-12-20); F Patrick Mannion (6-12-18); F Sam D'Antuono (6-19-25); D Nolan Driscoll (2-7-9); G John Grenier (1.88 GAA, 90.1 save %).

The skinny: If this team had a motto, it would be "lacking experience, but not young." During the Harbormen's most recent Super 8 runs, a good portion of this year's roster watched from way down the bench, or up in the gallery. But this team has collectively raised its game and is benefitted by great coaching. Gordon's 20-goal season has been a pleasant surprise and Brazel is one worth watching for the next two years. The real revelation has been Grenier between the pipes. The Xaverian transfer is among the statewide leaders in goals against average.

X-factor: Grenier. He doesn't fit the current mold of a big, butterfly goaltender. Instead, he relies on aggressively challenging the shooter and cutting down angles. We'll see how it matches up with the precision passing games of MC and St. John's (S) in pool play games.

5. BC High (10-5-5)
Marquee wins: St. John's (twice); Prep (5-3); Cathedral (3-0).

Players to watch: F Matt Sullivan (9-15-24); F Tom Besinger (10-15-25); F Bartley Regan (7-6-13); F Steve DeForge (6-13-19); D Brian Furey (3-6-9); D Sam Topham (1-9-10); G Peter Cronin (2.00 GAA; 91.5 save %).

The skinny: Cronin lead this team to the crossover round last year, falling just short of an upset of MC. He was the revelation of last year's tournament and, as usual, the Eagles will look to their goaltender to continue his strong play. Besinger might be the shiftiest forward in the tournament not named Kevin Emmerling. He's not big, but he sure can skate. Furey has done a nice job leading a young Eagles blue-line corps this season. 'Moe' Regan has produced some dirty goals and has thrived in his role as a power forward, coming off his EMass D1 Super Bowl win.

X-factor: Sullivan. The Eagles' soft-spoken leader is a lead-by-example type, but thrives in big-game atmospheres. Wouldn't be surprised at all if he's a player we're talking about months after the tournament.

6. Springfield Cathedral (10-6-6)
Marquee wins: BC High (4-3); Needham (1-0); CM (3-1).

Players to watch: F Frank Crinella (13-15-28); F Thomas Quinlan (11-5-16); F Peter Crinella (5-8-13); F Brendan Ashe (7-7-14); D Matt Foley (0-12-12); G John Liquori (2.40 GAA, 88.9 save %).

The skinny: The Panthers cracked the top six this year after getting bounced in a play-in game last year. This is a team that isn't very flashy, but is consistently tough to play against, playing a brand of hockey that can be frustrating to opponents. Sophomore John Liquori has been steady, taking over for old stalwart Zac Rondeau. Liquori is the benefactor of a sound defensive squad that likes to play the body and takes care of its defensive assignments with diligence.

X-factor: Frank Crinella is perhaps the most talented player in the state who receives the least amount of deserved credit. This tournament could be a statement for him.

7. Central Catholic (13-3-5)
Marquee wins: Burlington (6-4, play-in game).

Players to watch: F Ryan Daigle (8-15-23); F Mike Kelleher (10-7-17); F Lloyd Hayes (15-8-23); F Alex Lester (7-9-16); F Zack Cote (10-4-14); D Jake Donahue (3-4-7); G Kyle Williams (2.13 GAA, 91.1 save %).

The skinny: Stop me if you're heard this one before, but the Raiders again used a spirited second-half push after a slow start to get back into the top tournament. If they continue the fast and physical brand of hockey they played against Burlington, the Raiders will provide a tough test. Kelleher's natural hat trick is a big boost to Central's chances going forward; if he gets going, he's one of the most potent pure scorers in the state.

X-factor: Williams. Shocking, right? As the goaltender goes, so goes the Raiders. And it's no coincidence that Central played its best while last year's ESPN Boston All-State netminder was at his finest.

8. St. John's of Shrewsbury (15-4-3)
Marquee wins: Needham (5-4, play-in game).

Players to watch: F Kevin Emmerling (25-28-53); F Vin D'Amato (23-14-37); F Jay Duquette (11-22-33); F Hunter Burdick (6-9-15); D Nick Rutigliano (1-10-11).

The skinny: Akin to Central Catholic, the Pioneers took perhaps their biggest win of the season on Monday. In that shootout with Needham, they showed why they can go toe-to-toe with any team across the state with the top line of Emmerling, D'Amato and Duquette running and gunning …

X-factor: … but then there's the defense. The Pioneers are going to need to tighten up in their own end. If they allow their three future opponents to enter the zone as they allowed the Rockets to run in the third period, there could be some lop-sided scores.
February, 27, 2012
2/27/12
8:48
PM ET
By
Roger Brown
| ESPNBoston.com


NORTH ANDOVER, Mass. -- As always, the game plan was to make the opponent play from behind – and St. John's (Shrewsbury) couldn't have executed it much better.

The Pioneers grabbed the lead 44 seconds into Monday night's Super 8 play-in game against Needham and never surrendered it. St. John's scored four first-period goals and advanced to the field of eight by posting a 5-4 victory at Merrimack College's Lawler Arena.

Vin D'Amato, Bryan Nelson, Mike Brown, Kevin Emmerling and Jay Duquette scored for the Pioneers, who raised their record to 16-4-3.

'It feels great," Emmerling said. "Now we just have to keep it going. I think a lot of people doubted us coming into this game. I think we had a lot to prove. We're gonna keep the foot on the pedal."

The Pioneers will be the tournament's No. 8 seed and face top-seeded Malden Catholic (15-1-4) Sunday at Merrimack College. St. John's will be making its first Super 8 appearance since 2003.

Although St. John's owned a five-goal lead late in the second period, the Pioneers had to sweat through some tense moments at the end of the third.

Needham trailed 5-2 when Lucas Davis and Jamie Arnao scored goals 32 seconds apart to make it a one-goal contest with 6:16 to play.

"You know these guys are a good team – they wouldn't be here if they weren't," St. John's coach Brian Murphy said. "They showed a lot of heart, a lot of desire. You don't want to panic too much and I thought our goalie (Mario Pizzeri) did a good job of hanging in there the last five minutes."

Duquette's goal made it 5-0 with 4:53 to play in the second period. Needham got on the scoreboard when D.J. Walsh blasted a slap shot past Pizzeri with 4.1 seconds to play in the second. It was Walsh's 16th goal of the season.

"They got one and then the momentum shifted and they started coming after it really hard," Murphy said. "We were just trying to hang on their at the end. The big thing is we wanted the win and a chance to move on."

Junior defenseman Brendan Joyce scored Needham's second goal. It came on a wrist shot from the left point 3:31 into the third.

"We just came out so slow," Needham coach Bill Guisti said. "When you look at the games we've lost this year we've lost them by spotting other teams leads. We don't have a lot of firepower to try to come back."

The loss dropped Needham's record to 16-5-1.

"Connor [senior goaltender Connor Murray] didn't have his best game tonight, but he's been great for us all year," Guisti said. "The bad news is we lost the game. The good news is we live to play again. If we start out like we did tonight we're not gonna be around for much more than one more game, that's for sure."

POINT MEN
Duquette, a senior forward, assisted on three of the Pioneers' four goals in the opening 15 minutes. He entered the contest with nine goals and 12 assists in 22 games.

Emmerling also collected three assists in the victory. He leads the team in goals (25) and assists (23).

Emmerling and Duquette skate on a line with D'Amato, who also collected an assist.

"They're a very skilled line," Murphy said. "The certainly can move the puck. They gave us the four-goal cushion. They're just good players."

RIGHT DIRECTION
The victory extended St. John's unbeaten streak to 10 games (8-0-2). The Pioneers haven't lost since dropping a 4-0 decision to Hingham on Jan. 18.

The team's defense has been consistently good during the streak. St. John's allowed 16 goals during the 10 games.

"We moved a couple pieces of the puzzle and our goaltender started playing well," Murphy said. "We started playing better team defense. I think that was the big thing. We know we can score goals, we just had to make sure we try to prevent some too."
February, 25, 2012
2/25/12
3:45
PM ET
FRANKLIN, Mass. -- With the Super 8 tournament selection and seeding meeting in the books, here's a couple of lingering impressions from Saturday's proceedings at MIAA headquarters.
LAST TO BE THE FIRST ONE OUT
Defending Division 1 state champion and Atlantic Coast League champion, No. 16 Marshfield (18-2-2) was the last team in contention for a Super 8 spot, only to split a second-round vote with St. John's of Shrewsbury, 3-3, with one vote going to Westford Academy.
The Pioneers ended up advancing to the field of 10, taking the No. 9 seed.
While the Rams weren't considered a shoo-in for the field, they did receive the No. 7 ranking from the Massachusetts State High School Hockey Coaches Association earlier in the day — a legitimate vote of confidence in their resume.
After the meeting, Marshfield head coach Dan Connolly didn't have any hard feelings on the decision.
It was time to get back to business.
"I'm going to go meet with the team, right now," Connolly said. "We've got practice this afternoon."
There's plenty to prepare for, with the Rams looking to make a repeat run to the Garden.
"We had a great regular season, but now it's over and it's on to the postseason," Connolly said. "The truth of it is that there a lot of great teams that got left out of the [Super 8] tournament too, when you talk about Westford Academy and Norwood and Reading and Milton and Falmouth."
He added, "Now we have to get ready for the D1 South tournament. It's going to be a battle, there are going to be a ton of great teams in that bracket.
CENTRAL AND WESTERN MASS REPRESENTED
Many pundits, us included, had Springfield Cathedral (No. 6 seed) targeted for the top six, but perhaps the surprise entrant into this year's field was St. John's of Shrewsbury. The Pioneers (15-4-3) pulled a play-in game with the ninth seed.
While we didn't have the Pioneers in our final field projection on Friday, we're not taken aback entirely by the Pioneers selection. Through the year, multiple Eastern Mass. coaches who've had St. John's on the schedule told us about how hard they were to play against, particularly the speed of first-liners Kevin Emmerling (24-25-49) and Vin D'Amato (22-13-35).
Now, whether they
should
have been put in ahead of the two-loss squad from Marshfield, we feel that will be a point for debate for quite some time.
The only thing that can silence that sentiment will be how the Pioneers perform on Monday night.
WE ARE SPARTA
We touched on it a bit
last year
, but Saturday only underscored the fact that St. Mary's of Lynn has become an official Massachusetts hockey powerhouse (the boys' team that is).
The Spartans (18-1-3) took the No. 2 seed, to no surprise, behind Malden Catholic, on Saturday. Last year, St. Mary's made its first Super appearance with a play-in game, which they went on to lose in dramatic fashion.
Now head coach Mark Lee can rest easy until his team opens up pool play.
SELF-CRITIQUE
So how'd we do in fingering the Super 8 field? I'd say so-so.
In our
last projection
, we had nine out of the 10 Super 8 participants correct, with St. John's (S) substituted for Westford Academy.
NOTES
… What should have been a happy day for the BC High community was overcast by the funeral for the father of sophomore forward Steve DeForge. Our thoughts and condolences go out to the DeForge family and the BC High community.
… Talk about putting in extra work. While others might enjoy any downtime afforded to them during school vacation week, St. John's Prep forward Sam Kurker (26-26-52) was out playing with the U.S. National Team Development Program U-18 team in an exhibition game at the University of Alabama-Huntsville on Friday night.
January, 24, 2012
1/24/12
12:30
PM ET
BOYS MIDSEASON ALL-STATE
F - Brendan Collier, Malden Catholic
F - Ryan Fitzgerald, Malden Catholic
F - Sam Kurker, St. John's Prep
D - Jared Beckwith, Catholic Memorial
D - Jake Secatore, Woburn
G - David Letarte, St. John's Prep

Others garnering consideration:
Tom Besinger, Soph. F, BC High
Tom Cahill, Sr. F, Pembroke
Liam Centrella, Sr. F, Andover
Frank Crinella, Sr. F, Springfield Cathedral
Peter Cronin, Jr. G, BC High
Kevin Emmerling, Sr. F, St. John's (Shrewsbury)
Connor Fenton, Sr. D, Braintree
Jarrod Fitzpatrick, Soph. F, St. Mary's of Lynn
Brian Furey, Sr. D, BC High
Danny Holland, Sr. F, Woburn
Pat Houghton, Sr. D, Westford Academy
Mike Iovanna, Jr. F, Malden Catholic
Mike Kelleher, Jr. F, Central Catholic
Chris LeBlanc, Sr. F, Winthrop
Conal Lynch, Sr. F, Boston Latin
Colin MacGillivray, Jr. D, Malden Catholic
Nikko Markham, Sr. D, St. Mary's of Lynn
Bobby Mullins, Sr. F, St. Mary's of Lynn
Brian Pinho, Jr. F, St. John's Prep
Casey Shea, Sr. F, Woburn
Shane Starrett, Jr. G, Catholic Memorial
Joe Strangie, Jr. F, Danvers
Kyle Williams, Sr. G, Central Catholic

GIRLS' MIDSEASON ALL-STATE
F - Natalie Flynn, Arlington Catholic
F - Kayla Smith, Woburn
F - Kati Goguen, Acton-Boxborough
D - Martha Findley, Duxbury
D - Emily Loebs, Acton-Boxborough
G - Courtney Davis, Woburn

Others garnering consideration:
Cassandra Connolly, Jr. D, Woburn
Lily Connolly, Jr. F, Duxbury
Jackie Denning, Jr. F/D, Lexington
Rachel Donahoe, Sr. D, St. Mary's of Lynn
Jane Freda, Jr. F/D, Hingham
Haley Gaughan, Sr. F, Canton
Samantha Girard, Fr. F, Dedham
Erika Kelly, Sr. F, Watertown/Melrose
Cali Loblundo, 8th G, Acton-Boxborough
Brooke Matherson, D, Walpole
Caroline McCarthy, Sr. F, Belmont
Tori Messina, So. D, Hingham
Annie Messuri, D, Acton-Boxborough
Megan Messuri, Soph. G, Arlington Catholic
Hannah Murphy, Jr. F, Duxbury
Rachel Myette, So. G, Duxbury
Shannon O'Neil, G, Austin Prep
Danielle Phalon, Sr. F, Stoneham
Casey Schaejbe, Sr. G, Arlington
Sarah Schwenzfeier, Jr. F, Hingham
Caroline Shaughnessy, So. D, Duxbury
Kaitlyn Spillane, Jr. F/D, Franklin
Bethany Welch, Jr. G, Walpole
Rebecca Zappalla, Sr. D, Arlington Catholic
January, 19, 2012
1/19/12
11:06
AM ET
By
Bruce Lerch
| ESPNBoston.com


HINGHAM, Mass. - It's a bit stunning to note that a team firmly entrenched in the mix for a Super 8 bid is making it happen with a defense and goaltender that are seeing the ice for the first time this season.

That has been the case with No. 4 Hingham, who rode that defense and the stellar play of netminder John Grenier to a 4-0 shutout of No. 19 St. John's (Shrewsbury) last night at Pilgrim Arena.

Grenier, a junior, only had to make 13 saves, thanks in great part to the work of his unheralded defense. Led by Nolan Driscoll, Pat Cahill, Andrew Flynn, Noah Ellis and Corbin Robichaud, the Harbormen (10-2-0) put on a shot-blocking clinic, as the stat sheet showed a total of 42 shot attempts by the Pioneers (8-4-1).

"Its not unexpected because although they didn't play in the games with us last year, they practiced with us every day most of those guys," Hingham coach Tony Messina said. "We know what they can do, they've been in the system for a couple years so we were hoping they could acclimate pretty quickly and they have."

"With the goalie, we didn't know how good John was or what he was capable of but he's been more than we expected, more than we could ask for," Messina continued. "Together, they've been pretty good. Its really been team defense too. We try to make sure the forwards are coming back to help and that's obviously a big thing. A lot of blocked shots, a lot of long sticks trying to get sticks on pucks. You have to against the best teams. Otherwise they'll eat you alive."

For his part, Grenier is also very appreciative of being able to man the cage behind such a hard-working blue line corps.

"It was huge," the junior netminder said of his defense's ability to block shot. "The shots they don't block, they could come in, come to me, and you don't know what happens when they get to the net. It either bounces out for a rebound or can get to the net. It's just not a good situation if it comes to the net. If they dont stop it its not any good."

SECOND LINE STEPPING TO THE FRONT
The bulk of Hingham's offense against the Pioneers came courtesy of its second unit. James Gordon had two goals and an assist, Matt Brazel had a goal and two helpers, and Sam D'Antuono dished out three assists.

The tenacity of the second line bore though particularly on rebounds, as Brazel and Gordon notched Hingham's first two tally's by being aware of where the puck was after shots.

Matt Hughes scored the third goal on a one-timer courtesy of a beautiful, cross-crease pass from Brazel, and Brazel and D'Antuono helped spring Gordon for his second, and the game's last, score with 1:03 left to play.

"They've been good for us all year," said Messina in praise of his second line. "They play hard in the offensive zone. the thing we to watch with them is coming back in the defensive zone, but they can put the puck in the net which is great. The first line was a little off tonight but the second line was great."

A PLAYER TO WATCH IN SHREWSBURY
One player from St. John's that immediately jumped off the page was senior forward Kevin Emmerling. The Whitinsville native is listed at a mere 5-10, 170 pounds, but skates with a flash and a flair that leaves no recourse but to generate offensive opportunities.

Emmerling is already drawing looks from Hockey East schools such as UMass-Lowell and Merrimack, a list that will undoubtedly grow as the season wears on.

"He's a very offensively skilled player, said Pioneers coach Brian Murphy of Emmerling. "He's got good speed and great hands. We're pushing him, trying to get him into college and get him ready. I think he can play at a high level, he just needs an opportunity.

PLAYING THE IRON
St. john's has designs on making a run at a Division 1 state championship, or even better, a cherished bid to the Super 8. A year ago, the the Pioneers were oysted by Winchester in the Div. 1 North quarterfinals, 2-1. In an effort to prepare themselves better, Coach Murphy has set up his schedule for his team to face no less than 11 teams from Eastern Mass., including stalwarts such as Hingham and BC High.

While the result haven't been what Murphny had hoped for (the Pioneers are 1-5 thus far against EMass. competition), the goal to is to improve and try and reach the same level of some of these opponents.

"The big thing is the pace, the quickness, the speed of the game. These guys are good players and they play hard and they play quick and so you're going to have to adjust to that pace if you're going to play at a high level," Murphy said. "Thats why we do it, thats why we play all these teams. We want to pick up that pace, we want to challenge ourselves and see if we can get up tthat level."

"Sometimes its frustrating, sometimes its difficult, sometimes you take your lumps but like we said to them in the locker room, we'll be in the tournament, which one who knows, and we just need to keep working, take one game at a time and see if we can get some good things out of this. We can't change it, we just try to see if we can build on it."
December, 9, 2011
12/09/11
6:04
PM ET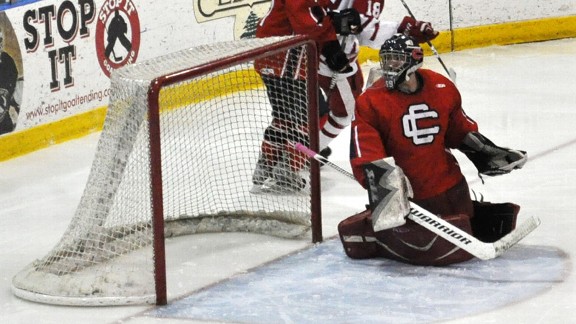 ESPNBoston.comCentral Catholic goaltender Kyle Williams surrendered just 43 goals last season while being named to ESPN Boston's All-State team. This year, the senior netminder kicks off the season in the same place on our First Team preseason All-State team.
Here is ESPN Boston's preseason MIAA All-State boys' ice hockey teams:
FIRST TEAM
F - Brendan Collier, Sr., Malden Catholic
F - Ryan Fitzgerald, Jr., Malden Catholic
F - Sam Kurker, Sr., St. John's Prep
D - Jared Beckwith, Sr., Catholic Memorial
D - Peter Sikalis, Sr., Acton-Boxborough
G - Kyle Williams, Sr., Central Catholic
SECOND TEAM
F - Liam Coughlin, Jr., Catholic Memorial
F - Casey Shea, Sr., Woburn
F - Matt Sullivan, Sr., BC High
D - Brendan White, Jr., Malden Catholic
D - Jake Secatore, Sr., Woburn
G - Peter Cronin, Jr., BC High
THIRD TEAM
F - Kevin Emmerling, Sr., St. John's (Shrewsbury)
F - Mike Kelleher, Jr., Central Catholic
F - Conal Lynch, Sr., Boston Latin
D - Connor Fenton, Sr., Braintree
D - Nick Pandalena, Sr., St. John's Prep
G - David Letarte, Sr., St. John's Prep
March, 24, 2011
3/24/11
4:59
PM ET
First Team

F - Colin Blackwell, St. John's Prep
The senior center and captain led the Eagles with 45 points (24 G, 21A) while earning MVP honors from the Catholic Conference. Playing on Prep's top lines, in addition to power play and penalty kill units, the Harvard commit was a +42 this season for the Super Eight finalists.

F - Brendan Collier, Malden Catholic
Collier was perhaps the most versatile player in the state. The junior BU commit scored the game-winning goal in the Lancers' Super Eight championship, but the winger was also a mainstay of MC's penalty kill units, playing defense. The Charlestown native tallied 63 points (24 G, 39 A) during the regular season while guiding the Lancers to their first D1A title.

F - Mike Vecchione, Malden Catholic
The Lancers captain and UNH signee led their potent offense with 70 points (26G, 44A) during the regular season. The senior winger also broke the Catholic Conference's all-time single-season scoring record during MC's run in the Super Eight. The Saugus native is looking at playing in either the British Columbia Hockey League or the United State Hockey League next year.

D - Connor Evangelista, Malden Catholic
The junior blue liner was perhaps the most underrated element to the Lancers' Super Eight title run. Whether it was through an outlet pass springing the rush or on the penalty kill, the Wakefield native did it all. Evangelista was among the state's top-scoring defensemen and contributed 25 assists during the regular season for the D1A champion Lancers.

D - Marc Hetnik, Catholic Memorial
The Knights senior was like having a fourth forward out there, who also readily handled the opposing team's top players night after night. The Chestnut Hill native is considering BU, Holy Cross and Merrimack among his college choices and is likely to play in the British Columbia Hockey League next year.

G - Kyle Williams, Central Catholic
The junior netminder spearheaded the Raiders' run to the Super Eight. With Williams carrying a bulk of the load, Central Catholic surrendered just 43 goals this season while posting a goal differential of +45. He was also a driving force behind the Raiders' Super Eight run and turned in a strong performance in a near upset bid against Malden Catholic.
"Line Change" Second Team

F - Tim Driscoll, Hingham
After scoring the winning goal in the Harbormen's Super Eight championship in 2010, the Holy Cross commit captained Hingham to a D1A return in 2011. The senior winger led the Harbormen with 34 points (12 G, 22A) during the regular season and is exploring opportunities to play a prep postgraduate year of hockey before enrolling at Holy Cross.

F - Ryan Fitzgerald, Malden Catholic
The talented sophomore was the fulcrum the Lancers' prolific top line, centering Collier and Vecchione. The BC recruit was MC's second leading scorer during the regular season, netting 66 points (24 G, 42 A) for the Super Eight champions.

F - Tyler Piacentini, Weymouth
The senior captain was the sparkplug to the Wildcats' Super Eight run. While he was often the smallest player on the ice, Piacentini was typically the most visible, letting his play to the talking. With a 61-point regular season (31 G, 30 A), he finished fourth in the state in scoring to MC's dynamic first line.
D - Chris Joyce, Needham
The senior blue liner was the Rockets' third leading scorer and a stalwart on defense who seldom left the ice. Joyce tallied 24 points in the regular season (7 G, 17 A) while leading Needham to yet another Super Eight appearance.

D - Alex Pompeo, Hingham
The senior was among the state's leading point-getters among blue liners and finished second on the Harbormen in scoring to Driscoll. Pompeo was an integral part of the Harbormen's Super Eight title run in 2010 and their repeat appearance in 2011.

G - Donald Hesse, St. Mary's (Lynn)
The Spartans netminder was among the state's leaders in all goaltending statistical categories, including a measly goals against average of 1.90 during the regular season. Hesse spurred St. Mary's to its first Super Eight appearance this season. The Salem native is considering playing hockey at several postgraduate prep schools next season.
Best of the Rest
F Garrett Allen, Dartmouth
F Mike Cashman, BC High
F Liam Centrella, Andover
F Tom Coleman, Needham
F Ryan Connors, Marshfield
F Liam Coughlin, Catholic Memorial
F Joe Czarnota, Reading
F Ryan Dempsey, Marblehead
F Ryan Doherty, Tewksbury
F Terence Durkin, BC High
F Kevin Emmerling, St. John's (Shrewsbury)
F Tommy Evangelista, Central Catholic
F Riley Flanagan, Weymouth
F Dan Graham, Arlington Catholic
F Anthony Hardy, Bridgewater-Raynham
F Mitch Hamor, Beverly
F Alex Holland, Woburn
F Jack Jenkins, Billerica
F Sam Kurker, St. John's Prep
F Chris Leblanc, Winthrop
F Nick Leonard, Central Catholic
F Conal Lynch, Boston Latin
F Chris Maguire, Waltham
F Jim McGrath, Medfield
F Dan O'Hear, Catholic Memorial
F Ross Olsson, Billerica
F Cam Owens, Wilmington
F Drew Oxley, Saugus
F Kurt Roderigues, Saugus
F Nick Roberto, Malden Catholic
F Jason Salvaggio, Xaverian
F Joe Scarfo, Winthrop
F Casey Shea, Woburn
F Devin Smith, St. John's (Shrewsbury)
F Andrew Taylor, Oliver Ames
F Zach Wells, Barnstable
F Andrew White, BC High
F Garrett White, Malden Catholic
D Steven Bellew, Hingham
D Steven Bristol, Weymouth
D Sean Kavanagh, Springfield Cathedral
D Cam Kennedy, St. Mary's (Lynn)
D Jake Kulevich, Marblehead
D Ryley MacEachern, Austin Prep
D Eric Muise, Peabody
D Alex Taddeo, Franklin
G Joe Cerulo, Wakefield
G James Cox, Braintree
G Peter Cronin, BC High
G Zac Rondeau, Springfield Cathedral
G Kyle Jacobs, Pembroke
G Chris Treon, Westwood
All Rookie Team (Top 5 to Watch for Next Year)
Shane Eiserman, F, St. John's Prep
Tyler Sifferlen, F, Malden Catholic
Tom Besinger, F, BC High
Sean Cleary, G, Barnstable
Nolan Redler, F, Winchester
Coach of the Year
John Flaherty, BC High
It took just one season for Flaherty, who took over for legend Joe McCabe, to get the Eagles back to the Super Eight after missing the playoffs in the previous two seasons. The BC High graduate guided the Eagles to a 15-6-3 record that included an appearance in the Super Eight crossover round. Flaherty also works at the school as its Director of the Fund.