Boston High School:

Kevin Makie
November, 28, 2012
11/28/12
3:59
AM ET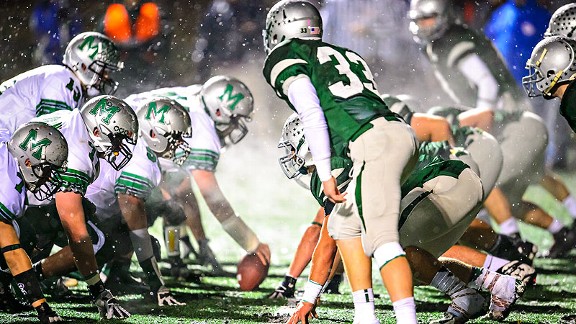 Jim Tarbox for ESPNBoston.comMansfield ended Duxbury's state-best 37-game winning streak with a 23-19 win over the Dragons in Tuesday night's Division 2 Eastern Mass. semifinal played at Bridgewater-Raynham.
BRIDGEWATER, Mass. -- In the ramp up to Tuesday night's Division 2 semifinal against Duxbury, Mansfield head coach Mike Redding devised the blueprint for a Hornets' victory. Playing a foe such as the Dragons, who had been perfect for nearly three seasons, the Hornets' veteran coach knew his time would need to be nearly flawless itself.
Mansfield delivered exactly that game in a 23-19 win over Duxbury. With the victory, the Hornets advance to play Reading in a rematch of their classic Gillette Stadium Super Bowl battle from 2010, but they also put an end to the Dragons' state-best 37-game winning streak.
"We had to do everything right to barely get out of here with a win," Redding said. "We got turnovers, we got a couple of three-and-outs, and some good ball control drives to kill the clock. Everything we needed to do, we had to, and we did all of it."
The ball control element for the Hornets (8-4) came in the form of Kevin Makie (123 rushing yards, TD) and Robbie Rapoza (67 yards, TD). The solid backfield did as it has done all season, churning out tough yards in key situations, particularly at the end of drives.
On defense, Mansfield was opportunistic, forcing three turnovers. Michael Barresi showed a nose for the ball with a fumble recovery and an interception on consecutive drives bridging the first and second quarters.
The Hornets' defensive success synergized with the offense, as Mansfield scored points following each of its three takeaways; the finest example of which was the second quarter when Duxbury (11-1) ran only three plays from scrimmage.
"We came into the game and we knew that if we played our hardest, got a couple of turnovers, didn't make any mistakes on offense, we'd have the game," Makie said. "The offense fought hard, the defense fought hard and created a lot of turnovers to help us out."
WHAT A DRAG?
The Dragons stayed in the hunt throughout, thanks in no small part to another spirited effort by senior running back Jon Hurvitz. The June bug-like back skittered past the Mansfield defense for 155 yards rushing and three touchdowns.
However, Mansfield dealt the knockout blow in the fourth quarter on Kyle Wisnieski's 74-yard touchdown pass to Brendan Hill.
"We stuck him at the backside tight end and we've been running that drag route all season long," Redding said. "People have been overplaying it, so we sold the drag and ran the flag inside. Their linebacker No. 55 [Marcus Urann] got a good hit in on Kyle [Wisnieski]."
While Hill was asked to stay around the line of scrimmage more in Tuesday's game in a blocking capacity, his rangy 6-foot-5 frame was able to slip away from the Duxbury secondary, rumbling down the left sideline to pay dirt.
Postgame, his teammates ragged on Hill for nearly getting caught from behind at one instant during his sideline scamper, but the basketball standout's athleticism also created separation on the play.
Plus, he's got a sense of humor to take it all in stride.
"I'm fast when it counts," Hill quipped.
And also appreciative of his quarterback: "[Wisnieski] makes it easy every time, he puts the ball right on my hands. It was a great call, the line stepped up big and gave him plenty of time to throw."
SNOW FALLING ON EMBERS
At the end of the evening, Wisnieski's bleach white jersey was as pristine at the clumpy flakes of snow falling across Southern New England.
Pass protection was point of emphasis at Mansfield practice this week, as the Hornets hoped to slow down a big and athletic Dragons defensive front seven.
As a result, the Hornets mixed up their passing schemes.
"We kept an extra guy in protection just to give us time and try to get three guys out [on the pattern] instead of four," Redding said. "That seemed to help a little bit."
From there, Wisnieski was able to cherry-pick the defense.
"They were bringing the heat all night," the junior signal-caller said. "They're big up front and our guys stepped up big. They stoned them at the line and gave me time to throw and make reads. It was great."
Duxbury – 6 0 7 6 -- 19
Mansfield -- 3 13 0 7 -- 23
First quarter
M - Mike Hershman 25-yard field goal
D - Jon Hurvitz 69-yard run (kick failed)
Second quarter
M - Kevin Makie 1-yard run (Hershman kick)
M - Robbie Rapoza 2-yard run (kick blocked)
Third quarter
D - Jon Hurvitz 15-yard run (Tucker Hannon kick)
Fourth quarter
M - Brendan Hill 74-yard pass from Kyle Wisnieski (Hershman kick)
D - Hurvitz 15-yard run (kick failed)
November, 10, 2012
11/10/12
9:31
PM ET
By
Ryan Lanigan
| ESPNBoston.com


MANSFIELD, Mass. -- Mansfield had its 1,000 yard rusher sidelined, lost their starting center and tackle during the game, and faced a second half deficit to a strong Franklin Panther team.

No big deal, right?

The Hornets overcame it all behind a strong rushing performance from senior Kevin Makie (28 rushes, 133 yards, 3 TD) and forced three interceptions to rally past the Panthers, 28-21, and clinched the Hockomock League's Kelley-Rex Division.

"I've been here 23 years," Mansfield head coach Mike Redding said. "It was one of the best second-half performances I've ever seen by a football team."

Despite drawing first blood on Makie's first score –- a six yard run -– the Hornets found themselves behind at the break.

After Mansfield's scoring drive, Franklin responded with a six-play drive that ended with Panther quarterback Nick Zucco finding a wide open Brandon Eccher over the middle for a 41-yard score.

Momentum swung back and forth as Mansfield went three-and-out but the Hornet defense responded with an Aurian Dawkins interception. But Mansfield's drive stalled and the momentum swung back to Franklin as Jeff Gray blocked a Mansfield punt.

After three straight rushes from senior Kyle Finamore (102 yards, TD), Zucco went over the middle again, this time to Robert Dellorco for an 18-yard touchdown to give Franklin a 14-6 lead at half.

"I thought the big thing in the second half was that we avoided penalties," Redding said. "No turnovers, very few offensive penalties, we executed great.

"The defense came to play in the second half, that was the critical piece, getting the ball back to our offense."

The defense started off right away, forcing a three-and-out from Franklin on their first drive. The Hornets then took the ensuing drive 10 plays, capped off by a Chris Buchanon run from 14-yards out. Quarterback Kyle Wisnieski found sophomore Brendan Hill in the back of the end zone for the successful two-point conversion to tie the game at 14.

It was a déjà vu performance from the Mansfield defense on the next drive, again forcing a three-and-out that led to more points o the ensuing Hornets possession. Senior James Comer, a 260 pound defensive lineman who had an interception in the first half, came up with the key stop on third down.

The Panthers used eight rushing plays –- a combination of Makie, Buchanon, and Alexander Rudy –- and one pass play to take their second lead of the game. On fourth and goal from the one-yard line, Makie took it to the right and into the end zone for the first play of the fourth quarter.

Franklin looked to respond on their next drive, getting into Mansfield territory behind the legs of Zucco, but their drive came to abrupt halt when Zucco was picked off by Michael Barressi.

Mansfield's next drive was the knockout punch.

The Hornets went 62 yards, including two huge third down conversion passes from Wisnieski (one to Michael Hershman for 14 yards, the other to Makie for 18) and a division-clinching fourth-down conversion from Mike Cunningham at the Franklin 11.

After the fourth down conversion, it was announced at Alumni Field that Hockomock rival King Philip had taken down North Attleboro 16-14, meaning if Mansfield won, they would clinch the Kelley-Rex.

Two plays later, Makie found the end zone for the third time on a three-yard burst to give the Hornets a 28-14 lead.

The Panthers didn't go quietly though, as Zucco orchestrated a 69-yard drive finished off by a 14-yard touchdown run from Finamore. With just 35 seconds left and no timeouts, Franklin attempted an onside kick but Barressi was able to recover for the Hornets, giving them the Kelley-Rex Division.

"It feels great," Makie said. "Everyone came in doubting us and we proved everyone wrong. KP got the big win and we're going to the playoffs."

Mansfield now has a date with Patriot League Keenan champ Duxbury, ranked No. 6 in ESPN Boston's latest statewide poll, on Nov. 27. The time and location are to be determined.

Big-Makie: With leading rusher Robbie Rapoza (1,067 yards, nine touchdowns) sidelined with an injury, the focus of Mansfield's offense turned to Kevin Makie.

Makie, who came in with 730 yards and eight touchdowns, took full advantage of his opportunity, racking up 133 yards and scoring the winning touchdown with just 2:28 left in the game.

"We just wanted to put up points, we knew that they had a good offense," Makie said.

Redding made it a point to note that Makie isn't playing at 100% either.

"Makie's been tough," Redding said. "Kevin has really stepped up and he's playing at about 90 percent with a high ankle sprain. We've got some tough cookies here."

Not much to be thankful for: When the ball is kicked off on Thanksgiving, there will be no playoff implications at stake in the Hockomock league. Entering this week, it looked as though it was going to come down to Turkey Day to decide who would represent the league in the playoffs, but Saturday changed that.

Earlier in the day, Sharon was able to edge out Foxboro to clinch the Davenport Division and earn a date with Pembroke, leaving 9-1 Stoughton on the outside looking in.

On the large side, it will be 9-1 King Philip left out of the playoffs. Ironically enough, it was KP's win over North Attleboro that allowed Mansfield to clinch with a win.

With no playoff implications, all teams will be playing for pride, including King Philip and Franklin who will play each other.

MANSFIELD 28, FRANKLIN 21
Franklin (7-3) 0 – 14 – 0 – 7 --- 21
Mansfield (7-3) 0 – 6 – 8 – 14 --- 28

Second Quarter
M – Kevin Makie 6 yard run (2 point failed)
F – Brandon Eccher 41 yard pass from Nick Zucco (Mike Carden kick)
F – Robert Dellorco 18 yard pass from Zucco (Carden kick)

Third Quarter
M – Chris Buchanon 14 yard run (Brendan Hill pass from Kyle Wisnieski)

Fourth Quarter
M – Makie 1 yard run (Michael Hershman kick)
M – Makie 3 yard run (Hershman kick)
F – Kyle Finamore 14 yard run (Carden kick)

October, 27, 2012
10/27/12
8:08
AM ET


NORTH ATTLEBOROUGH, Mass. – Bewitched, bemused, bewildered, be- anything about the way the season's gone so far in the Hockomock League. Trying to predict which teams will claim the respective division titles this year is a bit like tossing pebbles into the Manchester Pond Resevoir.

And so Friday night's battle between No. 19 Mansfield and North Attleborough did not disappoint, with the Red Rocketeers separating themselves in the fourth quarter in a 36-21 win. It only further obfuscated the playoff picture in the Kelley-Rex division, paired with a Franklin loss to Taunton.

"Welcome to the Hockomock League," North head coach Don Johnson quipped postgame.

The Red Rocketeers (5-3, 2-1 Kelley-Rex) have endured a seemingly never-ending tide of injuries throughout the season, but saw multi-threat running back and defensive back Alex Jette return for their showdown with the Hornets (5-3, 2-1).

North's early offensive play calls massaged Jette into the flow, running him across the field on passing plays as a decoy in the backfield, faking toss sweeps. They also put the ball in the hands of senior quarterback Ryan Perron (7 of 14, 162 yards, 2 TDs) who effectively piloted the Red Rocketeers' passing attack with a steady stream of screens and intermediate routes in three- and four-receiver sets.

Lately, Perron's also shown off a big-play capacity, however, and it showed Friday night with two touchdown passes. On the game's second play from scrimmage, Perron hit Jake Dellaire on a seam route for a 62-yard touchdown and an instant 7-0 lead. Just before the half, Perron connected with Jette on a shallow fade for a 40-yard touchdown pass which provided North with a 20-7 halftime lead.

"That was probably the biggest difference tonight, he made good decisions," Johnson said of his quarterback. "He was just playing with so much confidence tonight, running and throwing the ball."

Mansfield worked its way back in the second half behind a thumping run game. The Hornets bruised their way downfield on a 9-play, 64-yard drive to open the third, capped by Kevin Makie's 6-yard touchdown run to make it a one-score game.

The Hornets claimed their first and last lead of the game on the final play of the third quarter as quarterback Kyle Wisnieski hit Mike Hershman for a 35-yard touchdown. With a successful point-after try, Mansfield took a 21-20 lead.

On the ensuing drive, Perron again piloted the Red Rocketeers' offense, embarking a four-plus minute, 67-yard drive. Perron called his own number for his second rushing touchdown of the game, breaking a tackle in the open field to run 10 yards for a score. He then hit a wide-open Mike Lambert (INT, 2 PD) on a two-point conversion for a 28-21 lead with 6:32 to play.

Looking to even the score, Mansfield was hampered by a couple key penalty calls on its ensuing drive. The Hornets were stung by an illegal forward pass call on what would have been a huge third-down conversion pass to Brendan Hill on third and 14. The call resulted in a loss of downs and forced a Mansfield punt.

With the ball back in their hands and looking to soak the clock, North running back Dwayne Hunter broke the game open two plays later with a 75-yard touchdown run to ice it.

BIG IN STATURE
Listed at 5-foot-7 and 175 pounds, Hunter makes up in punch for what he lacks in stature. His running style belies his stature. He's willing to initiate contact, but also hard to bring down with his low center of gravity.

Hunter (8 carries, 127 yards, TD) came up huge for the Red Racketeers however in the fourth quarter. His 25-yard gain on an outside pitch to the left side on fourth and 2 set up North first and goal from the 10-yard line with under seven minutes to play in the fourth. The next play saw Perron run for the game-winning touchdown. The senior running back then placed an exclamation point on the evening with his 75-yard touchdown, made on his adept cutback across the teeth of a Mansfield all-out blitz.

"The linebackers were blitzing, so I had to cut it up quick," Hunter said of his run. They were overloading on one side, so I had to make a quick decision."

Johnson heaped praise on his back, calling Hunter a "tough nut."

Like the rest of this Red Rocketeers team, he just doesn't crack.

… BUT THEY BEND
North's defensive front seven looked strong throughout, but saw Robbie Rapoza (14 carries, 135 yards, TD) and Co. find success against them in the second half. Yet, the Red Rocketeers turned Mansfield's high-flying aerial attack, which scorched a good King Philip unit a week ago, into a relative non-factor.

Wisnieski was dealt with a steady stream of pressure, applied by rangy defensive end Tadkudzwa Chikomba (3 QB pressures) and linebacker Ben Jette.

Ben Jette, the fraternal twin of Alex, sealed a strong performance and the win for North with a strip-sack of Wisnieski on Mansfield's final offensive drive. Ben Jette finished with three tackles for loss, a sack and a forced fumble.

"That's why I'm so proud of these guys because we've been going through that now for about six weeks, asking guys to play different positions every week," Johnson said. "Losing Harry [offensive/defensive lineman Harrison Carmichael] tonight, he's one of our dominant players on both sides of the ball. We had to use [Sean] Peters at defensive end, he hasn't gotten many reps out there and he's banged up with his shoulder. We had to use [Eric] Beckwith as a guard … We've asked a lot of players to step up and they've done that."

The pressure applied by the Red Rocketeers up front came in concert with strong efforts from Alex Jette and Jack Blasé at the cornerback positions. Jette tallied three passes defended, two of which came on a promising Mansfield drive late in the second quarter that ended in a turnover on downs and set up Jette's touchdown reception.

"We didn't blitz as much as we normally do, we felt that we just couldn't give up the big play against them, so we played a lot more zone," Johnson said. "We'd bring one of two guys here and there, but I think we did enough to keep them off-balance."
October, 21, 2012
10/21/12
2:27
AM ET
By
Bruce Lerch
| ESPNBoston.com


MANSFIELD, Mass. -- Just when you think you have everything figured out in the Hockomock League, the curveballs start flying.

Mansfield welcomed No. 11 King Philip to Alumni Field on Homecoming armed with the knowledge that the Warriors defense had given up a scant six points per game while building a perfect 6-0 record. Obviously, the Hornets weren't too bothered by that fact, as they proceeded to run wild on their home turf.

Robbie Rapoza led the way with 205 yards and two touchdowns while Kevin Makie added 157 yards and a pair of scores as Mansfield blew past the Warriors, 46-33.

"We ran well and we hit some big plays passing the ball," Mansfield head coach Mike Redding said. "I just thought we were a little bigger up front and we worked hard on picking up blitzes and getting some push. I just thought all night we had a good push on our zone play, our iso play. And we got the ball outside enough to keep them honest."

The two teams traded punts and turnovers before the Hornets (5-2 overall, 2-0 Hockomock Kelley-Rex) started to pick up steam as Rapoza bounced outside and sprinted 80 yards down the left sideline for the game's first touchdown.

Mansfield captain Antonio Medeiros recovered a fumble on King Philip's (6-1, 1-1) ensuing possession and needed just one play to score again. Quarterback Kyle Wisnieski fired a bullet down the left sideline, and sophomore Brendan HJill leapt high into the air and batted the ball toward teammate Mike Hershman, who caught it and raced the rest of the way for a 55-yard score.

"I actually ran the wrong route on that," Hill admitted. "Me and Hersh [Hershman] were both running streaks and when the ball went up it looked like Kyle was actually throwing it out of bounds. I saw Hersh's guy come to me and saw him wide open and I thought, why not hit it to him and he can walk into the end zone."

More big plays were in store in this contest as Rapoza gave the Hornets an 18-0 lead with a 53-yard jaunt straight down the middle of the field.

King Philip returned the favor two possessions later as Fabio Cherant blocked a punt, which led to a one-yard plunge by quarterback John Dillon (276 yards, 4 TD passes).

Mansfield countered as Wisnieski led Hill beautifully down the right sideline for a 69-yard TD pass, the first of three scores in the final three minutes of the half. The Warriors seemed to gain some momentum following a 57-yard march that ended with a 14-yard scoring pass from Dillon to Sam McDonald, but the Hornets rebounded quickly enough as Wisnieski lofted a perfect fade pass to the 6-foot-5 Hill for a 6-yard score and a 32-12 advantage with three seconds left in the half.

Keeping its foot on the gas pedal, Kyle Hurley intercepted Dillon on KP's first drive of the third and four plays later, Makie broke loose for a 39-yard touchdown.

Dillon tacked on two more TD passes to Christian Vellante and McDonald to shave the deficit to 39-26 midway through the fourth, but Makie produced one more big play, going 61-yards to paydirt on the very next play. KP managed one final score as Dillon found Joe Cohrane for his fourth touchdown pass, but the Hornets were able to kill off the remaining time.

"This definitely means a lot and with them being ranked top 10 in the state it proves a lot," Rapoza said. "Everyone kind of doubted us and said we were going to lose this game by a lot but we came out and proved everyone wrong."

Makie added, "Coming into it we just wanted to be able to get yards every play, just move the chains and get first downs but we ended up getting the big plays and that helped us out.

KING PHILIP (6-1) 0 12 7 14 - 33
MANSFIELD (5-2) 12 20 7 7 - 46

M - Robbie Rapoza 80 run (kick blocked)
M - Mike Hershman 55 pass from Kyle Wisnieski (rush failed)
M - Rapoza 53 run (kick failed)
KP - John Dillon 1 run (kick failed)
M - Brendan Hill 69 pass from Wisnieski (Hershman kick)
KP - Sam McDonald 14 pass from Dillon (pass failed)
M - Hill 6 pass from Wisnieski (Hershman kick)
M - Kevin Makie 39 run (Hershman kick)
KP - Christian Vellante 27 pass from Dillon (kick good)
KP - McDonald 36 pass from Dillon (kick good)
M - Makie 61 run (Hershman kick)
KP - Joe Cochrane 10 pass from Dillon (kick good)


October, 6, 2012
10/06/12
12:29
AM ET
By
Josh Perry
| ESPNBoston.com


MANSFIELD, Mass. -- Attleboro stormed back in the second half of Friday night's Hockomock League Kelley-Rex divisional opener at Mansfield, but two crucial personal foul calls against star running back Malique Clark and several strong defensive stands helped the Hornets hold on for a 21-19 victory.

Trailing by eight points with less than seven minutes remaining in the game, Clark (15 carries, 142 yards, 2 TD; 2 catches, 69 yards, TD) eluded two Hornets tacklers in the backfield with a lightning quick cut and took off for a 72-yard touchdown. During the celebration, he was called for a personal foul for taking off his helmet.

Instead of attempting a two-point conversion from the three, Attleboro (4-1) was forced to try and tie it from the 18-yard line. The attempt was just broken up in the corner of the end zone with the Attleboro sideline screaming for pass interference.

Attleboro was immediately given another chance at the lead when the ensuing kick-off was fumbled by Mike Cunningham and recovered by the Bombardiers at the 33-yard line. On the first play from scrimmage Clark rushed up the middle for a yard, but was flagged for another personal foul that forced Attleboro back to the Mansfield 47. The Bombardiers would go three and out.

Following the game, Attleboro coach Kevin Deschenes admitted to not having seen the first personal foul but made it clear that it was not the officials that cost his team. He was proud of his team's ability to fight back.

"We played a lot better in the second half," Deschenes said. "As far as my kids are concerned, they stayed mentally tough and they fought back and we came two points shy of tieing the game."

Mansfield (3-2) head coach Mike Redding made the biggest call of the night with his team facing third and five at the 49, trying to run out the clock. Junior quarterback Kyle Wisnieski caught the Attleboro defense with a play action pass to wideout Brendan Hill for 24 yards that effectively sealed the game.

Mansfield lost its star back, Robbie Rapoza, to a suspected concussion in the first quarter and offensively lost its rhythm in the second half.

"The interception at the end of the half was big," Redding said. "Because it would have gotten us to 28, and it would have taken Malique out of the game, and they would have had to just throw. They have a great drive to start the second half and the game changed."

The first half was dominated by the Hornets. Mansfield limited the Bombardiers to only 12 plays from scrimmage and controlled the time of possession. It started on the opening possession of the game as Mansfield marched down field and Wisnieski hit Hill for a 12-yard touchdown to make it 7-0.

After a Clark fumble, Mansfield took advantage of the short field to score again. This time it was Wisnieski on a 1-yard keeper. Attleboro answered back on its next possession with a 63-yard bomb from Tim Walsh to Clark, but the Hornets came right back with a powerful 11-play, 71-yard scoring drive finished off by senior captain Kevin Makie from a yard out.

The Hornets turned the ball over three times in the second half, but the defense limited the Bombardiers to only six points off those giveaways. Redding was proud of the way his defensive unit stepped up under pressure.

"Push came to shove, our defense came up with some big stops with their backs against the wall and kept them out of the end zone," he said. "We'll take it any way we can get it right now."
August, 28, 2012
8/28/12
11:23
PM ET
By
Brendan Hall
| ESPNBoston.com
DORCHESTER, Mass. -– Thoughts and observations from tonight's scrimmage between No. 2 BC High and No. 19 Mansfield, in which Mansfield's varsity score three times to just one from the Eagles:
Matinee screening:
Mansfield struggled on its opening drive, thanks to pressure applied in interior defensive line from an assorted combination of Jack McDonald, Jaleel Johnson, Mark McGuire and Billy Breen. That prompted the Hornets to go to their screen game in their next three varsity offensive series, yielding favorable results.
[+] Enlarge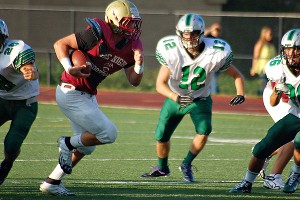 Brendan Hall/ESPNBoston.comBrandon Owens is expected to take over at tailback at BC High, and he showed some positive signs in Tuesday's scrimmage with Mansfield.
When the scrimmage went to "situational" play in the third and fourth varsity series (i.e., chain markers were brought in), seniors Roger Rapoza and Kevin Makie had big gains out of the backfield off screen passes to the flats from Kyle Wisniewski.
Makie was particularly efficient. In the third series, he took a screen in the left flat, shot up a seam and went untouched 32 yards down the sideline for a score. Makie also had a nice 45-yard reception in stride off a play-action pass, running a wheel through zone coverage up the right sideline to set up a touchdown plunge from three yards out.
"They came at us hard, and we had a little trouble protecting," Mansfield head coach Mike Redding said. "They did a good job pounding us. But what I like is how we got some spunk and got things going when the chains got up and we got to some down and distance. We at least walked out of here with some confidence."
BC High head coach Joe Gaff's explanation for how the defense got exploited on those screens was simple – poor execution.
"No idea, that's all we talk about around here is screens," he said. "We just didn't do a good job on screens. It was just clear as that. We didn't read where they were coming from, our D-linemen went upfield too much, and we just didn't hug the backs like we're supposed to."
Key injuries:
Another Preseason ESPN Boston All-Stater took to the trainer's table this evening, when BC High senior middle linebacker Luke Catarius left the field in the first defensive series with an injury to his right ankle, and did not return. Catarius, a Sandwich resident, made ESPN Boston's All-State Team a year ago and is a likely candidate for both our Mr. Football and Defensive Player of the Year awards.
It's worth wondering if Catarius' absence helped contribute to the Eagles' breakdown in pass defense, as the 6-foot, 215-pounder is the face (and quarterback) of the defense.
An early prognosis was not available.
"I think it's just a little sprain, that's all I'm hoping for," Gaff said. "He's a beast."
Owens poised for breakout?
Last weekend, we wrote about Xaverian junior defensive end Elijah Jolly
as a potential breakout player in the Catholic Conference this fall
. BC High's Brandon Owens is my pick for the conference's breakout player, and I would have said that two weeks ago. But the way he ran tonight made me feel safe about my conviction.
Though Owens only platooned part-time at linebacker last season, he still garnered enough attention from Division 1 FCS schools to make a verbal commitment to Bryant University last month, as a safety. This season, the 6-foot, 190-pounder figures to be the feature back in Gaff's pro-style offense, and looks capable of taking 20 to 25 carries a game.
On BC High's first offensive play of the night, Owens followed Catarius up the gut into the second level, bursting off for a 35-yard gain. Several times he took toss sweeps out of one and two-back formations, and turned the corner for gains of 8 to 12 yards. He can also bring some pop – on his final carry of the night, a dive, he lowered his shoulders and easily trucked a 250-pound Mansfield lineman and fell forward.
Owens also had the Eagles' lone varsity score, a short plunge in the second series.
There is little twist in Owens' arsenal. He is a one-cut, north-south runner with good first-step explosion that allows him to burst through the line of scrimmage at full speed. As an outside linebacker, he demonstrated good hands, shedding would-be blockers in run support.
"He runs hard," Gaff said. "He'll lose a few more pounds and get in better game shape. It's hard to knock him down for a loss, he goes forward. I thought he did a real nice job tonight."
Craven proving sufficient:
Brendan Craven enters his senior year at BC High having never started a varsity game at quarterback, yet he holds various Division 1 interest and even a scholarship offer, from FCS school Valparaiso University. How did this happen?
For starters, Craven was a fixture at camps, keeping his name afloat on the recruiting radar as he waited patiently the last two seasons behind current Stonehill College freshman Bartley Regan. The 6-foot-2 Craven has proven himself as a good rhythm passer over the summer, to go with sharp footwork and scrambling ability.
Physically, he's done all he can. The mental part will have to wait until the Eagles strap it up for real at Brockton on September 7, so for now we're left with glimpses of what could become.
And there were some good glimpses. Craven and Villanova-bound wideout Lincoln Collins, a preseason ESPN Boston All-State selection, looked like they were on the same page for most of the night. In the second series, Craven hit the 6-foot-4 Collins on a bubble screen for 15 yards, then three plays later connected for a 30-yard strike after faking a counter handoff up the middle.
There's still work to be done. Craven threw a pick-six in the third series saw repeated pressure from Hornets senior linemen Ollie Erickson, Jon Lawlor, Jamie Comer and Antonio Medeiros as the game wore on. But as he was repeatedly flushed out of the pocket by pressure in those third and fourth series, he demonstrated his pocket presence, to buy himself an extra second in the pocket with his footwork or breaking off for a run.
"He's done everything except game time, which is why situations like this are good," Gaff said. "It's good to have situations like this, with getting pressure, getting pressure. We'll clean this offensive line up, there's no question about it. That's our priority tomorrow, cleaning it up."
August, 23, 2012
8/23/12
4:19
PM ET
MANSFIELD, Mass. -- As a rising high school senior, Mansfield's Will Palanza is wise beyond his years. Talking to him for even a few minutes, you quickly find he's concerned with matters that often escape the grasp of adults.
For that reason, and many more, Palanza was named one of the Hornets' five senior captains for the upcoming football season. He's taken the job seriously, getting as much input from outside sources to prepare for his job as a leader.
[+] Enlarge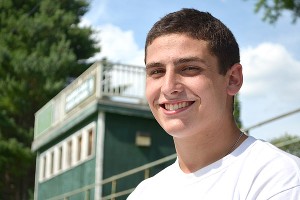 Scott Barboza/ESPNBoston.comMansfield football captain Will Palanza looks to lead the Hornets back to the postseason this year.
That quest for knowledge led Palanza into an unlikely friendship with the subject of a recent Oscar-winning documentary.
Palanza, a second-generation Mansfield athlete, met Manassas (Tenn.) football head coach Bill Courtney earlier this year at the Massachusetts premiere of
"Undefeated"
, a feature-length documentary by filmmakers Daniel Lindsay and T.J. Martin. After the film won the Oscar for Best Documentary Feature, Courtney made an appearance at a premiere event at the Patriot Place Showcase Cinema in Foxborough. Palanza and his teammates were given special invitation to attend. There, he struck up a conversation with Courtney, the beginning of a correspondence that continues today.
The subject of their talks and emails have been wide ranging.
"I've asked him questions on how can I do this better, or that better, or how to keep the team as one unit," Palanza said. "You can have problems with other people's egos on a team or whatnot; I want this year to be different. I want this team to come together. I asked him how to do that, how we can do things differently. We talked a lot about that."
Palanza, a 6-foot, 210-pound offensive guard and linebacker, knows a thing or two about football in Mansfield. His father, Rich, was a standout basketball player and his mother Martine ran track at Mansfield High. The eldest of seven children, Will has followed in the family tradition, as has his younger brother, Bo, who's a sophomore football player.
They both know what Hornets football means.
"This is town is pretty much formed around football, this sport," Palanza said. "It's amazing how it brings a lot of people together. I don't think any other sport is like this.
"It's an amazing thing. You come out here, starting in second grade, and it's something that builds over the years. You come and watch the high school team and you think 'I'd like to be like them some day.' And then one day you're already here."
So this fall, Palanza will have the opportunity to lead his teammates onto the field.
Mansfield football, after all, is a family. And that's something Palanza doesn't want to forget. It's also something he's discussed with Courtney, taking cues from his big-screen example.
"You have to put others before yourself," Palanza said. "We weren't elected captains to boss other people around. It's not about what the captains want, it about what they can do to make the unit better and more successful on the field."
Palanza wants to study criminal justice in college and he's considering the Coast Guard and Mass Maritime Academies in addition to Endicott and Assumption. He's keen on the idea of military academies and their high job placement track record.
He talked about the economy and his parents ability to put him and his six siblings through college and the struggle that can present.
He hasn't yet graduated high school, but Palanza's well versed in life.
He slipped his helmet on and ran back to practice. Lines of players were going through stretches.
Palanza took his place at the front of the lines, leading his team through the drills.
MANSFIELD AT A GLANCE 2011:
9-2 (Hockomock Kelley-Rex co-champions)
Coach:
Mike Redding (24th season, 196-61-4)
Players to watch:
Robby Rapoza, Sr. RB/LB, 5-10, 170; Kevin Makie, Sr. RB/DB, 5-11, 170; Brendan Hill, Soph. TE/DE, 6-3, 180; Mike Hershman, Jr. WR/DB, 5-11, 160; Will Palanza, Sr. OG/LB, 6-0, 210; Antonio Medeiros, Sr. OT/DE, 6-3, 245; Brian Spillane, Sr. WR/DB, 5-9, 150; James Comer, Sr. DT/OG, 5-11, 250; Ryan Galanti, Sr. OL/DL, 6-1, 200; Kyle Wisnieski, Jr. QB, 5-11, 160.
Strengths:
Playmaking ability in the passing game.
Weakness:
Lack of game experience at running back and linebacker.
Outlook:
Mansfield's graduating class of 2012 left the high school with a combined record of 21-3, with that also went many of the key members of the Hornets' 2010 Super Bowl championship squad. So there's been a bit of a sea change through the last two years. This year's model returns short on game experience, but with great potential. Hornets head coach Mike Redding has raved about the progress junior quarterback Kyle Wisnieski has made throughout the summer. Wisnieski will not be without targets either, as Brendan Hill and Mike Hershman are both among the state's most skilled at their positions. The question for the Hornets will be in who claims the bulk of the carries with leading rushers Greg Donahue and Blaine Taylor gone. Mansfield also graduated its leading tackler, linebacker Zach Schafer, who concluded his career ranked fourth on the Hornets all-time tackles list. Still, the Hornets do have some key returnees on the defensive side of the ball, with captains Robby Rapoza and Kevin Makie picking up the slack at linebacker and in the secondary, respectively. Defensive tackle James Comer will be a run-stuffer up the middle while rangy end Antonio Medeiros can pressure the quarterback.
May, 29, 2012
5/29/12
12:14
PM ET
By
Brendan Hall
| ESPNBoston.com
In between baseball and girls lacrosse games, I had the chance to check out a few football combines this past month. Emptying out the notepad, here are some leftover nuggets:
Massachusetts High School Football Coaches Association Combine
Gillette Stadium
Foxborough, Mass.
May 6
Earlier this month,
we checked in with several of the state's top prospects who were at the combine
, including Xaverian's Maurice Hurst Jr., Mills/Hopedale's Jon Baker, and Dighton-Rehoboth's Chuddy Nwachukwu. Today, with new information, I'm bringing to light some new information about some players with hidden potential.
Athletic Standard CEO Thomas Newman passed along some information regarding the tests his company ran during the combine, pasted below. I've added each player's school in parentheses:
The following Athletes all tested in the 95th percentile in the nation for vertical jump (Horsepower and the first indicator of genetic potential):

Sean Antonuccio (Masconomet)
Junior Oyaronbi (St. Clement)
Frank Ansah (Worcester South)
Terrance Gibson (Taunton)
Berny Platel (Fitchburg)
Shaun Callahan (Norwood)
Nick Patten (Medford)
Sean Eldridge (Bristol-Plymouth)
Isaiah Douglas (Bishop Feehan)
Dominque Leite (Brockton)
Alex Jette (North Attleborough)
Babila Fonkem (Abington)
Elias Camacho (Canton)
Jamal Williams (Taunton)
Justin Mount (Westford)
Shadrach Abrokwah (St. John's of Shrewsbury)
Quron Wright (Holy Name)
Kevin Makie (Mansfield)
Kaylan Philbert-Richardson (Archbishop Williams)
Thomas Johnson (Pembroke)
Daniel Kegbeh (Holy Name)


Lateral Speed (huge component for separation or locking down on defense)

Jhalen Bien-Aime (Boston Latin)
4.218 - Laser pro agility
4.01 - Stop Watch Conversion time


Additionally, it should be noted this kid was so raw any speed coach will bring this down to a sub 4.0 pro or a 3.8 stopwatch time. Great kid by the way, real gentleman

Watch List (these kids have one standout feature):

Andrew Benson (East Bridgewater)
6-foot-1, 175 lbs.
Vertical - 27.75
Pro Agility - 4.421

It doesn't appear that he will grow much more but depending on his football skills this would be a solid pick.

Ricardo Calixte (Brockton)
5-foot-10-3/4, 198 lbs.
6-foot-4 wingspan nearly (this kid will grow over the summer)

Vertical - 28 inches - Normalized Index 406
Pro-Agility - 4.43 - Normalized Index 330

I would keep a close eye on him because if he gets any taller or heavier he will easily tip into the strong D1 prospect.
Calixte's story is an interesting one. He has the athletic frame and raw tools to be an impact on defense (he also ran a 4.75 second 40-yard dash), but has played sparingly to this point -- allegedly, he didn't suit up for Friday night games last season due to religious obligations. The only points to his name in last year's box scores is a two-point conversion run. Micah Morel is probably the Brockton prospect with the highest ceiling right now, but keep an eye on Calixte.
Impact Performance Football Combine
Massachusetts Maritime Academy
Buzzards Bay, Mass.
May 26
Impact Performance Training owner Ross Jatkola put on his first combine on the turf at Mass. Maritime's Clean Harbors Stadium, attended primarily by athletes from the Cape Cod area.
Pound for pound, Dennis-Yarmouth was arguably the toughest team in the state last fall. The Dolphins' run to the Division 2A Super Bowl title this year, blowing out many of their opponents despite being routinely undersized (sometimes comically so), and everyone playing both ways, is testament to this. A lot of credit goes to Paul Funk and the remarkable building job he's done over the last decade to a program that won just six games in the 1990's. But credit also has to go to Jatkola, a D-Y grad and former University of Albany tight end who also works as the Dolphins' strength coach.
Cape Cod football is on the rise in Massachusetts -- a record five Cape teams made playoffs last year, with four of them winning Super Bowls -- and this was a good chance to see some of the rising stars in action. About three dozen competed, with Barnstable's Bryan Hardy winning the pro agility and Bourne's Josh Curry winning the 40-yard dash.
For the complete results
CLICK HERE
.
A few observations:
Peabody pleases
If I'm picking four quarterbacks for our preseason All-State team, Barnstable's Nick Peabody is probably on the list -- I would have said this in January. He has ideal quarterback size (6-foot-3, 225 pounds) puts a lot of zip on the ball, and has big-game experience (leading the Red Raiders to their first playoff appearance in 10 years). I know we have to take these things for what they're worth, but the way he threw the ball around in 7-on-7 drills reaffirmed my disposition. Saturday morning, he was putting the ball in tight spots all over the field, hitting teammates on 15-yard out patterns seemingly on a dime.
Linemen to watch
Two Class of 2013 linemen to keep an eye on are Barnstable's Tom Grimmer and D-Y's Joe Tyo. Grimmer is built low to the ground, going about 5-foot-11 and 250 pounds, but has good balance and posture. He won the bench press event, doing 26 repetitions at 185 pounds.
Tyo could be a late-bloomer. He's a raw prospect at 6-foot-4 and 250 pounds, didn't start on the interior defensive line until Week 3 of the 2011 season, and needs to build more upper-body strength. His frame has yet to fill out. But he also ran a 4.9 second 40-yard dash, and demonstrated terrific footwork in pass-blocking drills.
Next In Line?
It's too early to predict the next Matt Montalto, D-Y's 2011 ESPN Boston All-Stater at quarterback who will be suiting up for Bentley University this fall. But when the time comes, his cousin, Michael Dunn, could fit the bill. The freshman won the vertical jump at 9 feet 3 inches, and I'm told he'll be used in an "athlete" slasher role going forward for the Dolphins.
October, 1, 2011
10/01/11
1:34
AM ET
WRENTHAM, Mass. -- A late September game took on the feel of a late November must-win for No. 15 Mansfield football.
Facing perennial Hockomock League power No. 12 King Philip on Friday following an upsetting 8-0 blanking at the hands of Stoughton last week, the Hornets carried a playoff mentality into this week's game. And it showed. Mansfield held on for dear life in the waning seconds of the 27-26 win over the Warriors, denying a KP attempt at a potential game-winning two-point conversion.
[+] Enlarge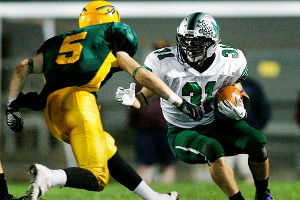 Jon Mahoney for ESPNBoston.comMansfield running back Greg Donahue had 15 carries for 120 yards and two touchdowns in No. 15 Mansfield's win Friday night at No. 12 King Philip.
"This was pretty much a playoff game for us," said senior captain Greg Donahue, who rushed for 120 yards and two touchdowns. "If we didn't get it, we would have a hard time making the playoffs."
Both sides emerged energized for the rivalry game, with the teams trading off three touchdowns in the span of 33 seconds in the first quarter.
Donahue had Mansfield (3-1) to a 7-0 lead eight minutes in with a 33-yard touchdown run. On the next play from scrimmage, KP's Charles Ruffin (21 carries, 158 yards) sped 61 yards down the field untouched to tie the score 15 seconds later. After the ensuing kickoff, Mansfield had the ball at their 43 before Blayne Taylor went 57 yards the other way for another rushing score.
After the point after was blocked, the Hornets held a 13-7 lead. That's how the score would remain after much less crisply played second quarter when neither team could gain any offensive momentum.
In the second half, Mansfield got another big play via the passing game with quarterback George Busharis finding Zach Schafer down the sideline for an 81-yard touchdown.
KP (3-1) responded in the fourth with John Dillon hitting Mike Viola on an 11-yard touchdown pass. But when Donahue punched in his second rushing score of the game with 5:08 remaining, it looked as though the Hornets had put it out of reach.
"I give our quarterback credit," Warriors head coach Brian Lee said of Dillon, a sophomore. "He hadn't really dealt with any adversity yet this season, like we saw tonight, and to come onto that kind of stage and play like did was impressive."
Dillon, who completed 13 of 29 pass attempts for 188 yards, spread the ball around to get KP back within a score with a 9-yard pass to Ruffin with 2:29 to play. The 10-play drive was extended by a key fourth-down conversion on an 18-yard connection from Dillon to Matt Aucoin.
KP recovered the on-side kick that followed with Mike Winbourne pouncing on the ball.
Dillon again led the Warriors downfield, despite a persistent Mansfield rush from the weak side, and he again turned a clutch fourth-down conversion into a scoring drive. Dillon linked up with Joe Cochrane on a 33-yard play on fourth and 19, before Ruffin scored his third touchdown of the game with a 1-yard run.
It was 27-26 with 44 seconds remaining.
It was also a familiar, sinking feeling for Redding whose team has been involved in four straight one-possession games to start the season.
"We've had four of these [close games]," he added. "I can't take it anymore."
After a timeout, Lee went for the kill, sending his offense onto the field for the 2-point conversion. Dillon again dropped back to throw and looked to Ruffin, streaking on a crossing route. It looked as though he might have time to sneak the ball into tight coverage with a crisp throw, however, Hornets junior defensive back Kevin Makie made perhaps a season-saving lunge at the ball, knocking the pass down before it could reach Ruffin's outstretched hands.
"We had one guy underneath and one guy over the top," Makie described the defense on the play. "We did a nice job jamming it and I just read [Ruffin] going across the middle. We knew they were going to do that, so we played it like that."
And, like that, the defending Division 2 Super Bowl champions kept their "postseason hopes" alive.
WHAT TO DO ON D?
Seemingly no matter what the Hornets threw at Dillon in the fourth quarter, the Warriors' young QB was able to handle. When Mansfield came at Dillon with a weak side stunt, the sophomore would coolly roll out and relieve the pressure. As the Hornets played more zone defense to neutralize the KP attack, Dillon had a knack for finding a receiver on the seam.
"They got into a groove," Redding said. "When we blitzed, they got people open. When we backed off, we gave them too much time."
Even two fourth-and-long situations didn't confound him.
"I'm not looking forward to playing defense against him for two more years," Redding exclaimed.
HEADING NORTH
With its Wing-T and quick screen passing game, Mansfield made adjustments at the half to try to slow down the Warriors' aggressive, athletic defense by running the ball more up the gut. The change was apparent on the Hornets' fourth-quarter scoring drive finished off by Donahue's 11-yard score. Redding has two talented runners in Taylor and Donahue, who complement each other well. But when push came to shove, it was time to simply run the ball up the gut.
"Taylor and Donahue ran hard," Redding said. "We ran a lot of double tight [ends] to try to go north and south with them. We're normally a Wing-T, perimeter team, but they have such great team speed that we wanted to go more north, south and attack them."
THE DUDE ABIDES
After yet another 100-yard rushing performance to go along with three touchdowns, Ruffin showed why he's one of the top backfield talents in the state. The KP senior made it a priority to bulk up in the offseason, adding more muscle to an already impressive frame. However, when Ruffin fell to the turf awkwardly after rolling his ankle on a third-quarter carry, it was as though the air had been let out of a balloon.
Ruffin missed the next offensive series, only to return and play an integral part of the Warriors' final drive at victory. When the penultimate 2-point play was broken up, Ruffin again rolled up on the grass in pain.
It was yet another gutsy performance from the Warriors captain.
"Charles is our
dude
," Lee said of Ruffin's performance.
Somewhere Jeff Bridges is surely smiling.
Mansfield (3-1) 13 0 8 6 -- 27
King Philip (3-1) 7 0 0 19 -- 26
First quarter
M - Greg Donahue 33-yard run (Mike Hershman kick)
KP - Charles Ruffin 61-yard run (Ryan Dunn kick)
M - Blayne Kelley-Taylor 57-yard run (kick blocked)
Third quarter
M - Zach Schafer 81-yard pass from George Busharis (Donahue run)
Fourth quarter
KP - Mike Viola 11-yard pass from John Dillon (Dunn kick)
M - Donahue 11-yard run (kick blocked)
KP - Ruffin 10-yard pass from Dillon (kick failed)
KP - Ruffin 1-yard run (pass failed)
September, 17, 2011
9/17/11
12:45
AM ET
By
Matt Noonan
| ESPNBoston.com


NEEDHAM, Mass. -- Quarterback Drew Burnett and his Needham Rockets offense came up 25-yards short of a game-tying touchdown with four seconds remaining in the fourth quarter, which allowed the No. 4 Mansfield to escape with an exciting 36-30 victory Friday night.

"[This was] two very good offensive football teams and both quarterbacks can throw," Mansfield head coach Mike Redding said. "This was a great non-league game for both teams. I think it'll help both of us in our league play, I hope they win the Bay State [Conference] and this was a great night of football."

"I thought we did great," said Needham head coach Dave Duffy. "We came out on the wrong end of the scoreboard, but I thought the way we played showed a lot about us against a very good team and they proved that at the end, but they played great and I couldn't be more proud of them."

Despite scoring the first touchdown of the contest, Mansfield (2-0) fell behind after Burnett hooked up with senior co-captain Mark Riley for two quick touchdown strikes before halftime. Riley led Needham's receivers with six catches for 102 yards, while the Hornets defense crushed the Rockets' running game, which tallied 60-yards on 20 carries.

Although, the biggest plays of the game came in the second half, as Mansfield rushed for three touchdowns, and held Needham's offense to just 10 points.

"They have so many good running backs, it's tough [saying, one's] better than the other and they kept running them out every three, four plays," said Duffy. "They have a bunch of good backs, so we were just trying to play our game and do the best we can. I thought we played well on defense, made a few mistakes, but we made a lot less mistakes than we did last week, so I think we're improving."

The Hornets' rushing attack was led by seniors Dylan Finerty, Greg Donahue and Blayne Taylor, who each registered one score in the final two quarters, as well as combined for 196 yards on the ground.

"I know [that my line] must have been dying, working every play," Mansfield senior quarterback George Busharis said. "They did a fantastic job, [and] gave Greg, Blayne, Dylan, [Mike] Farrell, [Kevin] Makie, Robbie [Rapoza] all big lanes to run in. We broke those two big ones and those small ones that counted in the last few minutes to run down the clock, so they were a huge factor."

All in all, it was a rather impressive win by Mansfield, but also, an extraordinary performance by Needham (1-1), which gained a great deal of confidence that they too can hang with the "big boys."

Some more thoughts:

-- Needham's offense relied heavily on Burnett in the first half, who completed 9-of-17 passes for three touchdowns and 153 yards. Their offensive line struggled to open gaps and holes for Needham's senior running backs Mike Vespa or Ian Riley. Burnett finished the game completing 16-of-32 passes for 326 yards and four touchdowns, but if the Rockets are going to be successful for the rest of the season, they're going to need to spread out their offense, as well as have their line create holes and gaps for their running backs and fullbacks. Duffy seemed rather pleased by the play of Burnett and his offensive unit, but again, they shouldn't put all the pressure on their quarterback's shoulders.

-- Give Mansfield's offensive line credit, as they opened a variety of running lanes and gaps for the Hornets' halfbacks, who tore apart the Rockets' defensive linemen and linebackers. Finerty commented about his line's production this evening by stating, "[Our] lineman held some good blocks and we just got some good yardage. The line did an incredibly job. [They were] lifting all summer. They were watching film every other day, they did a great job."

-- After watching just one Mansfield game, it's possible to state, they're a second-half team. Redding commented after the game that despite trailing Needham at halftime, he told his team that they needed to score on every possession in order to secure a victory. "We were down 12 [points] and we had to score every possession basically and the O-line picked up blitzes and is good as they are on offense, they were very good on defense too. " So far this season, Mansfield is 2-0 when trailing at halftime.

MANSFIELD 6 - 8 -7 - 15 -- 36
NEEDHAM - 7 - 13-7 - 3 - 30

1st Quarter
M - Mike Farrell 39-yard run (Mike Hershman kick no good)
N - Mark Riley 42-yard reception (Andrew Murochick kick)

2nd Quarter
M- Christian Debeauport 28-yard reception (Blayne Tayor run)
N - Riley 7-yard reception (Murochick kick)
N- Dan Pierce 27-yard reception(Murochick kick)

3rd Quarter
N - Nico Panepinto 76-yard reception (Murochick kick)
M- Dylan Finerty 51-yard run (Hershman kick)

4th Quarter
M- Taylor 4-yard run (Hershman kick)
N - Murochick 30-yard field goal
M - Greg Donahue 7-yard run (Taylor run)