Boston High School:

Kevin Quinlivan
February, 15, 2014
Feb 15
12:52
AM ET
By
John McGuirk
| ESPNBoston.com
MARLBOROUGH, Mass. – It's no secret that these are desperate times for the St. John's Pioneers.

With the regular season down to a few precious days, St. John's is pulling out all the stops in an effort of convincing the powers that be within the Super 8 tournament selection committee that they should be one of the 10 teams represented later this month.

On Friday night, the 12th ranked Pioneers made a strong case for themselves after grinding out a 4-4 tie against No. 2 BC High at New England Sports Center.

"I'm very pleased with the effort tonight," said St. John's head coach Mike Mead, whose club has now recorded ties in its last four contests "This was a playoff-like game. It gets you tournament-ready and that is what this last week of the season does for us. I think this result will definitely open some eyes. We are a team that is playing very well at the right time of the season. We can control only what we can control. If we are meant to be in the Super 8 then great. But if we're not then we're not."

The Pioneers travel to Coyle-Cassidy Saturday night before hosting Xavier (Conn.) on Monday before wrapping up the regular season Wednesday at Xaverian.

St. John's (9-4-6), which is still postseason bound (Division 1 North tournament) even if the Super 8 does not come calling, knows it probably should have came away victorious on Friday.

Kevin Quinlivan's rebound score coming at 13:08 of the third period pushed the Pioneers in front, 4-3. With a little more than a minute to go, the Eagles pulled goaltender Brandon Payzant for the extra attacker. It paid off. With only 58 seconds remaining, junior Pat Kramer blasted a shot from just inside the blue line. The puck appeared to tip off the stick of teammate Tim Larocque and sneak through the leg pads of Pioneer goalie Mario Pizzeri for the equalizer.

Officials credited Kramer with the goal but Larocque had positioned perfectly in front of Pizzeri to redirect the shot.

Throughout the course of this contest, BC High (12-1-4) held a distinctive edge offensively, out-shooting St. John's 38-21. But due to Pizzeri's performance, the Eagles were not able to pull away.

"They did a better job taking care of the puck then we did," BC High head coach John Flaherty said. "We had more chances but we didn't capitalize. Mario is a very good goalie and we knew that coming in. We knew that team would come ready to work because they need to. They know what is at stake for them. We knew that and shame on us for not responding. I'm happy that we pulled the tie out but what led up to that needs to be fixed."

Every time BC High took the lead, St. John's always seemed to have an answer. The Eagles went up first at 7:33 of the opening frame after Larocque sent a saucer pass over to Aidan Foley in front of the St. John's crease. The senior flipped a shot over Pizzeri's left shoulder giving his club a 1-0 lead.

At times, the Pioneers appeared to be puck watching instead of attacking the Eagles once they moved inside the offensive zone. However, Pizzeri (34 saves) was there to bail his club out on numerous occasions.

With just over two minutes remaining in the opening period, St. John's finally started getting its offense to click. Garrett Lehan, skating inside the Eagle zone, let go of a shot that caromed off of Payzant's pads. Alertly, junior forward Dan Barlok was positioned perfectly to pick up the rebound and send it into the net, knotting the game at 1-1 heading into the first intermission.

BC High, a 5-2 winner over St. John's back on Jan. 29, continued its offensive prowess for much of the middle period. The objective was simple enough – shoot as many pucks towards Pizzeri as possible and try to create traffic in front. The Eagles did just that but could not get anything past the senior.

"That was one of the most enjoyable games that I've ever played in," Pizzeri said. "I think we are a different team than the first time we played them. Our goal coming into this game was to make a statement and show the rest of the state that we deserve to be in the Super 8 tournament. I think tonight we did just that."

At the 9:39 mark, and with St. John's short a man after a too many men on the ice penalty, BC High regained the lead following a blast by Kramer's from the perimeter. However, the Pioneers late period magic would arise once again.

Off an errant shot that landed behind the Eagles net, Payzant went back to retrieve it, unknowing to him, that a pair of St. John's forwards were closing in on him fast. After losing control of the puck, the sophomore tried in vain to retreat back inside his crease. But he was a little late in doing so as Mike McGillicuddy was able to lift a backhand an open left side of the net at 12:14 to even things at 2-2.

For as much offensive output that BC High was demonstrating throughout, the only thing that mattered was the scoreboard. The Pioneers knew they were being out-played, particularly inside the defensive zone. But heading into the locker room deadlocked after 30 minutes certainly had to be a confidence booster.

That feeling didn't last long though. Just 37 seconds into the third, forward Steve DeForge muscled his way between two St. John's defenders and, with bouncing puck dancing on his stick, he managed to tuck a shot underneath Pizzeri's right arm and give the lead back to the Eagles 3-2. Things remained that way until Quinlivan's rebound tally midway through the period. A few moments later, St. John's let a golden opportunity to pad the lead slip through its fingers after Barlok broke in alone on Payzant (17 saves).

Aiming for the left side the net, the junior's hard wrist shot, instead, rang off the left post. As fate would have it. That missed chance would come back to haunt the Pioneers once BC High came back to tie the game in the waning seconds to no fault of Pizzeri.

"As I've said before, Mario does everything he can for us," said Mead. "He's a great leader. We aren't going to win many games 8-0. We're going to win games 3-2, 4-3, et cetera. It all starts on how Mario plays for us."
January, 30, 2014
Jan 30
1:10
AM ET
By
Jeff Cox
| ESPNBoston.com
DORCHESTER, Mass. – There was a power surge Wednesday night at UMass-Boston's Clark Athletic Center and it came from the BC High power play. The unit scored three of the team's five goals as the Eagles cruised to a 5-2 victory over St. John's of Shrewsbury.

"We moved the puck well. We try to talk about doing a little more with the puck. We got good shots and some good net presence," said BC High coach John Flaherty.

The first 10 minutes were scoreless, but BC High scored two power play goals 1:53 apart to break the game open.

Pat Kramer and Steve DeForge quickly moved the puck around the perimeter before finding Sam Topham on the weak side who was able to snap a shot into a wide open net with the defense and goaltending unable to get over in time for the first goal of the game at the 10:01 mark.

"Pat Kramer was carrying it up the wall. I yelled for the chip down low and he cycled it down. I kind of just tried to get it on net. There was a screen in front and it went in," explained Lemanski.

After a mostly ineffective power play Connor Noonan was able to convert when the puck squirted out from in back of the net. He moved away from the goal slightly before roofing a backhand from in tight. Kayser Raei assisted on the score.

The Eagles weren't done. Jake Lemanski gave the Eagles a 3-0 lead heading to the locker room for the first intermission when he scored a bad angle goal with 46 seconds to play in the opening period. Raei and Kramer got credited with assists on the goal after the duo did a nice job cycling in back of the net.

St. John's sophomore Chris Stalmok cut the lead to two when he scored on a turnaround shot 3:45 into the second period, but that would be as close as the Pioneers would get.

Eagles defenseman Billy Roche scored on an end-to-end rush less than three minutes later, cutting in from the left side, skating between two defenders before sweeping it into the back of the net.

"He stayed with the puck, Billy has good hand-eye," Flaherty said. "He made a nice rush up ice. The puck wasn't bouncing the way he wanted it to, but he didn't give up on it. He stayed with it and was able to put it in the net."

Lemanski added another power play goal in the third period to with assists going to Ryan Shea and Kramer.

"Pat had it on the wall. He looked for the point, but it was covered," Lemanski said. "I just tried to get open in front with my stick on the ice. We preach that a lot in practice. He laid it out there and I just tapped it in."

"He's a huge contributor for us on and off the score sheet. Jake can really shoot the puck. He fires the puck and has a good knack around the net. He's playing with a couple really good players. He's a complimentary player to a degree, but when he gets the puck around the net he can score goals," said Flaherty.

"We try to get movement all over the ice. We don't want anyone standing still. We don't want them to suck us in. We try to move the puck quick and get shots through," explained Lemanski on the success of the Eagles on the man advantage.

The power play unit is aided by two of the best puck moving defensemen in high school hockey, Topham and Shea.

"It's a great help to have those guys back there. They have experience and skill. It's good to be able to do those things and have them handle it and settle it down back there," explained Flaherty. "Those guys are an asset not only moving the puck up ice, but controlling the puck in the zone," he added.

Kevin Quinlivan added a late goal for the Pioneers, but the outcome was never in doubt thanks to the Eagles' terrific power play and some stellar penalty killing led by sophomore goaltender Brandon Payzant.

"You look at the score and what will get lost is the fact that Brandon Payzant played an excellent hockey game,"Flaherty said. "He squared up to pucks and he made some very good saves through traffic. We killed all our penalties and it was mainly because of our goaltending. We ran around a little too much and he bailed us out quite a few times."

Notes: Boston College head coach Jerry York was one of several college coaches in attendance. Merrimack and Northeastern were also represented in the stands by assistant coaches… BC High is off until next Monday when it faces rival Catholic Memorial at Conte Forum on the campus of Boston College… St. John's (Shrewsbury) looks to get back on track Saturday at the DCU Center against St. Peter-Marian.
January, 5, 2014
Jan 5
3:22
AM ET
By
John McGuirk
| ESPNBoston.com
CANTON, Mass. -- Prior to the start of Saturday night's non-conference tilt versus Archbishop Williams, Mike Mead, the first-year coach of St. John's (Shrewsbury), voiced his concern regarding the fact that his Pioneers had not played in a week and were about to square up against a highly-formidable opponent on the road.

Obviously his team felt differently. St. John's converted three first-period turnovers into goals and added two more scores in the middle frame to come away with a 5-2 triumph over the Bishops at the SportsPlex.

"The kids played very well tonight," said Mead, his club improving to 4-1-1. "All four lines played well together, [goaltender] Mario Pizzeri and all of our defense played well also. We were aggressive. We had our legs underneath us and we jumped on the puck well. We hadn't played since last Saturday so we were fresh."

The Pioneers stuck to an up-tempo style for the first two periods before converting back to a slow-down, defensive-minded final 15 minutes in an effort to maintain their lead. St. John's dictated the action from the opening face off, displaying an aggressive, in-your-face style that seemed to catch Archbishop Williams a little off-guard.

With the forwards causing all kinds of chaos inside the Bishops' defensive zone, that would eventually lead to turnovers – something uncharacteristic from the Bishops. At 6:14 of the opening period, the first of many turnovers, led to the Pioneers' first score. Junior forward Pat Storer stole the puck and broke in on Archbishop Williams netminder Matt McCaughey, beating the junior with a shot over his left shoulder.

But a little more than a minute later, forward Eric Keefe tied matters, pushing in a rebound past Pizzeri (30 saves).

The pace remained fast and furious throughout the period. With St. John's playing a man down, once again Archbishop Williams got careless with the puck resulting in Pioneer junior Kevin Quinlivan taking it just outside the right circle and beating McCaughey to go up 2-1 at 7:46.

"St. John's came out and played hard," Bishops coach Derackk Curtis said. "They back-checked and there were times when we got the puck to their blue line and they'd have all five guys back. They worked hard, blocked a lot of shots and were physical. The first period we kind of shot ourselves in the foot by not executing."

Once again, Archbishop Williams was able to answer the St. John's score with one of its own after Pizzeri couldn't snag a rebound that ended up on the stick of Nick Menzel, who pushed it into the back of the net at 13:58 knotting this contest at 2-2. But any momentum gained was gone in an instant. With just 40 seconds remaining in the period, Danny Barlok, another junior, stole an errant pass deep in the Bishops zone and slipped a shot past a shell shocked McCaughey to send St. John's into the first break ahead 3-2.

The Pioneers refused to take their foot off the gas pedal during the second. At times, Archbishop Williams (3-2-1) was seen standing around and watching St. John's make crisp passes around them without putting much pressure on the forwards. That was clearly evident midway through the frame when Chris Stalmok, a sophomore forward, was allowed two attempts just in front of the crease without being pushed out. Stalmok's second try found its way underneath McCaughey's pads giving the Pioneers a two goal advantage.

"We felt we let (Archbishop Williams) hang around in the first period so we wanted to come out and make sure we were ready for the second period," Mead said. "The boys responded and played very well in that second period. One of the things we focus on the fore-check and focus on cycling the puck down low and it seemed to work tonight."

With Archbishop Williams still playing back on its heels, another St. John's rush up the ice proved costly. A shot by Storer was stopped by McCaughey (30 saves) but the puck rolled off to his right to forward Mike McGillicuddy, who promptly backhanded it top-shelf to extend the Pioneers margin to three goals at 1:58.

"This is a huge win against a team like that," said McGillicuddy, a senior. "They are a Super 8 contender every couple of years and it was good to have that kind of lead on them going into the third period. It's nice to have a gap like that. In the third period we were focused on playing defense and not let them come back. A lot of goals do come off mistakes and if we can keep getting turnovers like we did tonight hopefully it will lead to a few more goals for us."

For the remainder of the game, as McGillicuddy stated, St. John's game plan was to blanket the defensive zone and force Archbishop Williams to shoot from the outside for the most part. The Bishops did send 12 shots Pizzeri's way in the period, but the senior stopped all to preserve the victory.

"We never really got going," said Curtis, his club having now lost two straight. "Sometimes when you are in those types of games one or two mistakes can really cost you. Tonight we made more mistakes then they did."
May, 10, 2013
5/10/13
10:23
PM ET
By
Chris Bradley
| ESPNBoston.com


SHREWSBURY, Mass. –- St. John's coach Charlie Eppinger knew the Pioneers needed a standout performance from star pitcher Ben White, and he got just that, as the Holy Cross-bound righty led St. John's (12-3) to a 5-1 victory over BC High (9-3).

White pitched all seven innings for the Pioneers, giving up just three hits and allowing one earned run. His control was pinpoint, walking no BC High hitters.

"That was the Ben White we're used to seeing," Eppinger said. "He had one rough outing against New Bedford earlier in the year, and has been real solid since. We knew we needed a good effort out of Ben."

The Pioneers drew first blood in the bottom of the second, as senior Micah Cummins singled and later came around to score to make the score 1-0.

BC High answered in the fourth inning though, as senior Ryan Tufts hit an RBI double to bring classmate Jake Marotta around to even the score. After that though, BC High's offense was literally nonexistent.

"For some reason, mentally we just weren't there," BC High coach Norm Walsh said. "We've got to change that, we've got to come out hungry every single game. We got a little complacent."

Walsh also said that his team has been struggling as of late with the approach of opposing pitchers. Generally, Eagles' hitters have been seeing fastball early in the count, and then see mostly off-speed pitches for the rest of their at bat.

"We've been getting pitched backwards, and we're not responding in terms of making our adjustment at the plate," Walsh said. "That needs to change, and that's what we're going to see—not too many teams are going to try to throw the ball by us. We've got to understand that, it's not like we aren't capable of it, because we are. It's all in the approach we have."

St. John's began to develop some momentum in the fourth inning after Walsh took starting pitcher Tommy McDonald out to keep a limit on his pitch count. Freshman Drew Rosen drove in P.J. Browne on a ball hit to right field that resulted in error. Kevin Quinlivan hit a single in the next at bat to get Rosen over to third, and then got caught in a pickle between first and second that ultimately allowed Rosen to score from third.

Eppinger was proud of how many players had a hand in the victory.

"A lot of it is a team effort, the team has really supported him," he said. "We expect so much of Ben, sometimes I think one player thinks they need to do it all. We have 20 players on the roster and we trust all of them."

The Pioneers built the lead further in the sixth inning, as cleanup hitter Jake Byrne smashed a solo home run over the center field fence. After getting hit by a pitch, Cummins came around soon after to score his second run of the game, bringing the score to 5-1.

"The insurance runs are huge, going out 5-1 instead of 3-1 against a lineup like that, you take the wind out of their sails and give yourself some confidence," Eppinger said.

After losing 7-4 to BC High on Monday, the Pioneers' coach said today's victory was just the confidence booster that his relatively young squad needed going into the final stretch of the regular season.

"It's time for us to compete at a state level," Eppinger said. "This gives us a lot of confidence that we can compete with anybody, but we've got to bring our A-game, we're not going to be able to come out and play mediocre baseball and beat a good team."


April, 15, 2013
4/15/13
7:27
PM ET
By
John McGuirk
| ESPNBoston.com
WORCESTER, Mass. -- Ben White has proven over the last couple of years that he is quite capable of pitching in any situation which presents itself. Spot the senior a six run lead and it is a near-certainty the opponent is done for.

Such was the case on Monday when St. John's of Shrewsbury jumped on rival St. Peter-Marian for six runs in the first two innings, en route to an 8-1 triumph.

While the Pioneer offense did its job, the day belong to White. The tall, lanky righthander was in control throughout during his seven innings of work on the mound, holding the Guardians to just one hit while striking out 13.

"This game is always a big rivalry game for us," said White. "It has gone back many years. That team always competes and I know all of those guys over there. My catcher Scott (Manea) called a great game and my defense was strong behind me when I needed them to be. I was throwing my slider, my change up and my two-seamer and we just continued working it in the zone and it worked today."

St. John's (3-1) took advantage of some early wildness from SPM righty Zach Zona. The UMass-bound senior, who tossed a no-hitter against Burncoat in his previous outing, got off to a rocky first inning by hitting a pair of batters sandwiched around a walk to load the bases with none out. Zona, who played for St. John's his first two years before transferring to SPM last season, then issued another walk to Jake Byrne forcing in the Pioneers' first run. Owen Shea and Joey Evangalista followed with RBI singles to make it 3-0.

Zona's woes continued the following frame. He walked Mike Sullivan and, with two out, he induced a Byrne grounder to short. What should have been the final out instead resulted in shortstop Cam Frederick misplaying the ball to keep the inning alive. Shea followed that up by launching an 0-1 pitch deep over the left field fence to put St. John's up by six.

"Zach was off with his control early on," Guardians coach Ed Riley said. "I give him credit for gutting it out there until he was relieved in the sixth. But when you fall behind after giving up three runs in the first and three more in the second against a quality pitcher like that, it is tough to comeback. Ben threw a great game for them and hats off to him."

The six runs proved to be more than enough ammunition for White, who will play at Holy Cross next season. White thoroughly mesmerized the SPM line up all afternoon. The Guardians lone hit came in the second on a Jon Roy infield single. From there, White retired the next 15 batters before a pair of errors in the seventh cost him the shutout as SPM (1-4) was able to get a run across.

"It was important for us to get going offensively," said Pioneers coach Charlie Eppinger. "We felt our pitching and defense would take care of itself but we needed to score. We know Zach well having spent his first two years here at St. John's and we know he's a very good pitcher. That's why we knew it would be important for us to get some runs off of him early.

"Ben is our ace this year. Last year he was our No. 3 and was sort of hidden behind two of our other pitchers. This year he is going to pitch in some big games for us from now to hopefully June. I thought today he worked hard and kept his composure. He was in control and Scott did a real nice job guiding him from behind the plate."

St. John's added solo runs in the fifth and seventh innings. In the fifth, Micah Cummins delivered an RBI single and in the seventh, with the bases full, Guardian reliever Danny Bushe plunked Kevin Quinlivan to drive in the eighth run.
April, 11, 2013
4/11/13
9:28
PM ET
By
John McGuirk
| ESPNBoston.com
SHREWSBURY, Mass. -- The mindset of Brandon Bingel is quite simple. The St. John's Prep pitcher knows his out pitch is a fastball and over his career here it has worked effectively. But against St. John's Thursday afternoon, Bingel knew the Pioneers were sitting dead red on his fastball and decided to change his repertoire up a bit.
[+] Enlarge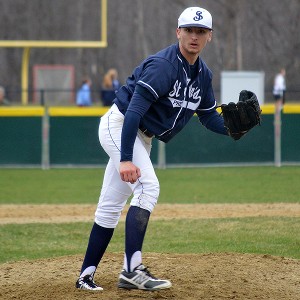 Brendan Hall/ESPN BostonBryant University-bound right-hander Brandon Bingel went the distance as St. John's Prep won its third straight game.
The Bryant University-bound right-hander mixed in a change up and a tight slider which kept the St. John's hitters off-balance long enough to earn a 2-1 victory at chilly Pioneer Field.
"I felt all of my stuff was on today," said Bingel, a senior. "Usually I like to go fastball until a team shows me they can hit it. I knew (St. John's) was a good hitting team so I decided to go with my slider and change which they really couldn't hit so it worked out."
After losing their season opener to defending Division 1 state champ Xaverian, the Eagles (4-1) have now rolled off four straight victories. This one, however, was far from easy.
With this contest tied 1-1 through five innings, Prep scored the eventual game winner in its half of the sixth. Tyler Noe was plunked by Pioneer starter P.J. Browne. The junior lefty's day was done at that point despite putting forth a strong outing by scattering three hits and fanning five.
Reliever Jacques Boilard was called upon to keep the game deadlocked. Noe stole second and advanced to third on a ground out. Senior Nick Bragole then grounded a single up the middle plating Noe with the go-ahead run.
Having scored 22 runs in its first two games, St. John's (2-1) went down unceremoniously over the final two innings as Bingel earned the complete game victory, surrendering five hits and striking out 11.
"Brandon had all three of his pitches going today," longtime Prep coach Pat Yanchus said. "St. John's is a very good team and always gives us a good game. There weren't a lot of hits today but we took advantage of the ones we got."
The Eagles grabbed a 1-0 lead in the third. Natty Cabral opened with a double to left and was bunted to third by Alex Moore. Cabral came home moments later on Tommy Buonopane's fielders choice.
St. John's answered back with a run of its own in the bottom of the frame. A bloop single by Micah Cummings was followed up by an opposite field Kevin Quinlivan double to left. With two runners in scoring position, Tom Petry grounded a single to left to plate Cummings. But Bingel avoided further trouble by striking out Mike Sullivan and Scott Manea ending the threat.
"Obviously Bingel is a heck of a pitcher," Pioneers coach Charlie Eppinger said. "We had some opportunities in that third inning and then in the fifth when Cummings led off with a double but we couldn't get a bunt down to advance him and we ended up failing to score in that inning. If you can't score in situations against a team like that it is going to come back to bite you and today it did."