Boston High School:

Kevin Wadsworth
November, 3, 2012
11/03/12
2:52
AM ET
BRIDGEWATER, Mass. – The fourth of quarter of Friday's instant classic between No. 1 Barnstable and No. 16 Bridgewater-Raynham was rife with hairpin plot twists and explosions. Every expanding moment brought more drama, heightened tension and – assuredly on both sidelines – greater anxiety. It was the stuff of Jack Bauer tracking down bad guys, MacGyver defusing a bomb threat, or a John Le Carré spy novel. Or maybe it was a little of all those things rolled into one -- and then some.
For whatever you care to call it, in recent memory, the yearly date between the Red Raiders and Trojans has morphed into a de facto championship game for the Old Colony League.
Friday's edition was but another spellbinding chapter.
Barnstable clung to a 27-25 lead behind an opportunistic defense before putting the game away in the final moments with the Red Raiders tallying their third interception of the game. In the process, Barnstable (8-0, 2-0) claimed its second-straight OCL championship and will return to the postseason, again to face Dual County League large division champion Lincoln-Sudbury in the Div. 1A Eastern Mass playoffs.
"Last year is a distant memory at this point," Red Raiders head coach Chris Whidden said. "It feels great for this group, these guys have done so much together, and they were obviously a big part of last year, but there's a pride in what they accomplished today.
"They derserve it. I know every coach can say that the group of kids you have deserve it, but if you really knew these kids, you'd know they truly have done more than most classes would do to get what they got tonight."
Barnstable showed its defensive mettle after a lack-luster showing against Billerica a week ago.
Jason Frieh (sack, 2 TFL) led the Red Raider defensive line bringing the pressure, but the contributions came from all around. Barnstable's defense pulled off a unique hat trick of interceptions, with one pick coming from a member at each level of its unit. Frieh seized momentum for the Red Raiders early in the second half with a 21-yard interception return for a touchdown. In the fourth quarter, inside linebacker Andrew Ellis collected a pick of his own before free safety Hayden Murphy closed out the victory with an interception with 1:03 remaining.
Frieh's pick-six extended the Red Raiders' halftime lead to 21-6, but the Trojans (5-4, 1-1) responded on the ensuing drive in the third with a 10-play, 74-yard drive capped by Jordan Cohen's 17-yard touchdown pass to Ryan Scripter.
Barnstable again made it a two-possession game on Nick Peabody's second touchdown pass of the game, a 31-yard connection to Tedaro France with 7:31 to play in the fourth.
From there, a dizzying sequence unfolded that was made for an episode of "24".
Events between the time 7:14 and 4:03 of the fourth quarter included:
An 82-yard kickoff return by B-R's Ryan Martin, (Score: 27-19, Barnstable, following failed two-point try).
A fumble recovery by the Trojans on Barnstable's following kickoff return, (Devin Morris' forced fumble was recovered by Mike Clifford, setting up B-R first and 10 from the Red Raiders' 20-yard line).
Ellis' interception, (setting up Barnstable first and 10 at their own 15).
Strip-sack by B-R's Aaron Conrad with Trojans recovery by Kevin Johnston at the Barnstable 5, (5:33 to play).
2-yard rushing touchdown by Brandon Gallagher, (Score: 27-25, Barnstable, 4:03 remained).
Following that frenetic sequence -- keep in mind there were only seven plays from scrimmage elapsed during that span – Barnstable had a chance at closing out the game by bleeding the clock. But the Red Raiders' ensuing drive sputtered flat once it hit the 50-yard line. Barnstable was forced to punt, but a masterful 41-yard punt from Ryan Litchman was downed at the Trojans' 6-yard line.
With a long field to go, B-R went to its 2-minute drill with 1:45 to play. The comeback ended at 1:03 when a last-ditch pass by Cohen was fielded by Murphy.
TEACH ME HOW TO DOUGIE
His dancing acumen aside, ESPN Boston Mr. Football challenger and Barnstable quarterback Nick Peabody showed he's got moves on the field.
Peabody (12 of 22 passing, 201 yards, 2 TDs) ripped up the carpet on a rambling 54-yard run in the first quarter. After juking a B-R safety into last Friday, Peabody broke down the left sideline before being chased down at the 1-yard line. He plunged into the end zone one play later for Barnstable's second touchdown of the game.
"We were reading the end on the play, and he kind of flew out with Hayden [Murphy]," Peabody said. "I just saw the hole, I hit it and there was just one safety. I was kind of shocked, I guess I put a move on him.
"Then, to be honest, I was scared I was going to get caught and I got caught on the one-yard line."
While Peabody will never be mistaken for a Randall Cunningham-like quarterback, he's still able to make plays with his feet. He ran for 78 yards on 15 carries, including the touchdown. A bulk of those yards came on zone read plays with Peabody pulling back an option to Murphy, who streaks across the field from the slot. It was a bread-and-butter play that Barnstable's run successfully on Friday and throughout the season.
It's yet another element that has made the Red Raiders offense so potent.
"We drill it until it makes you sick, but that's what makes it work," Peabody said.
CLOSING CREDITS
If you placed this year's B-R team in the year 2013, there's a real possibility the Trojans are playing through a playoff stretch.
While the MIAA playoff proposal has passed, it didn't come soon enough for the Trojans, who will again challenge for the dubious title of "Best Team in Massachusetts Not Playing past Thanksgiving" this year.
"I look at our team, we're five-and-four and we've lost to two teams that are undefeated, another team in St. John's Prep that has one loss and La Salle could play with anyone [in Massachusetts]," Trojans head coach Dan Buron said.
Don't interpret that statement as sour grapes though. Buron was downright grateful following his team's loss.
It was evidenced on the Trojans' final offensive play. As his players shuffled – dejected – back to the sideline, Buron met each and every one of them with a pat on the shoulder pads and the message: "Don't hang your heads."
"I told the kids they shouldn't have any regrets and they should be proud," Buron said of his postgame breakdown with the team. "I've never been more proud of a team because there were a couple of times in this game we could've folded."
Barnstable – 14 0 7 6 -- 27
Bridgewater-Raynham – 0 6 7 12 -- 25
First quarter
B - Dylan Morris 35-yard pass from Nick Peabody (Jason Frieh kick)
B - Peabody 1-yard run (Frieh kick)
Second quarter
B-R – Kevin Wadsworth 11-yard pass from Jordan Cohen (kick failed)
Third quarter
B - Jason Frieh 21-yard interception return (Frieh kick)
B-R - Ryan Scripter 17-yard pass from Cohen (Wadsworth kick)
Fourth quarter
B - Tedaro France 31-yard pass from Peabody (kick failed)
B-R - Ryan Martin 82-yard kickoff return (pass failed)
B-R - Brandon Gallagher 2-yard run (rush failed)
November, 1, 2012
11/01/12
3:58
PM ET
BRIDGEWATER, Mass. -- The Old Colony League title is on the line Friday night in our Game of the Week with No. 1 Barnstable visiting No. 16 Bridgewater-Raynham (7 p.m.) in a winner-take-all match-up.

Editors Scott Barboza and Brendan Hall broke down the weekend ahead, including the Trojans' take on the marquee tilt with interviews with senior captains Kevin Johnston, Joe MacInnis and Kevin Wadsworth and head coach Dan Buron.

(Video produced by Greg Story)


September, 8, 2012
9/08/12
10:04
PM ET
BRIDGEWATER, Mass. -- The hits just keep on coming for No. 9 Duxbury.
The Dragons ran their state best winning streak to 27 games with a 20-7 win over No. 8 Bridgewater-Raynham on Saturday. Even after two straight Super Bowl championship seasons and a historically good 13-0 campaign in 2011, Duxbury showed there's no need to revel in the glories of the past.
[+] Enlarge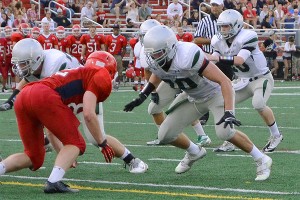 Scott Barboza/ESPNBoston.comDuxbury tackle Rob Kosharek anchors a physical, veteran offensive line that helped Jon Hurvitz run for 208 yards and two touchdowns Saturday.
Once again, they're for real.
Senior running back Jon Hurvitz provided the fireworks, racking up 208 yards on 17 carries with two rushing touchdowns. Despite breaking in a new quarterback, taking over for Matt O'Keefe, junior Sean McCarthy (rushing touchdown) was composed in the pocket and showed a tough nose in the running game out of the shot gun.
On defense, the Dragons looked strong again with linebacker Marshall McCarthy frequently dropping the hammer.
Trojans head coach Dan Buron remarked after the game that his team isn't likely to see a team as talented as their Week 1 opponent – and B-R's schedule is stacked.
In the end, there are simply too many horses to corral.
"Our [offensive] pace, I think, got to them in the second half," said Duxbury head coach Dave Maimaron whose team run at a hurry-up pace in the third. "I thought we could go as fast as we could around them, as much as we could."
A BREAK-OUT YEAR?
Hurvitz gained plenty of game experience last season while featuring at running back for the Dragons after Henry Buonagurio lost most of the season to injury.
He continued the pace in his season debut, breaking off touchdown runs of 22 and 61 yards.
Of course, Hurvitz believes the key to his success has been Duxbury's offensive line, which returns largely in tact this season.
"We've got [Grant] Kramer, [Rob] Kosharek, C.J. [LoConte], who's going to Army next year for lacrosse. We've got [Rick] Lippard and [Jack] Hurlihy, big guys who are all physical. It's fun to run behind them."
Hurvitz just fills in the blanks thereon.
"He doesn't need much room," Maimaron said of Hurvitz, "he just gets a little seam and he can bust it."
BRIGHT SPOTS FOR B-R
Even without the services of running back Arcel Armstead, the Trojans showed plenty of promise on offense, despite coming away with just one touchdown.
Sophomore Brandon Gallagher stepped into the Trojans' tailback role and Buron saw him "grow up" in the game's second half.
"I told him at halftime that he can't bounce to the outside, this isn't freshman football any more. Then, he made some nice cuts in the second half."
Buron also praised senior Jordan Cohen, who made his first varsity start on Saturday. Cohen showed good chemistry with receivers Ryan Martin, Ryan Scripter and Kevin Wadsworth and command of the offense.
"I thought Jordan Cohen, threw the ball pretty well in the second half," Buron said. "The big knock on us is that we can't throw the ball very well, but I thought he showed he could."
August, 29, 2012
8/29/12
11:40
PM ET
As much as time passes, things don't change much at Bridgewater-Raynham.

The faces and numbers change year to year, but the same mentality runs through the Trojans' ranks. They're tough-nosed football players, many of whom play on both sides of the ball. It's a concurrent theme during Dan Buron's 20 years at B-R's helm.

That tenure's also included plenty of playoff appearances. After an absence last year, the Trojans again will be vying for an Old Colony League championship. Albeit, B-R is now faced with a de facto two-game playoff series to gain entry to the postseason, but with a loaded Barnstable squad returning and a retooled Dartmouth ready to battle, the Trojans face the real possibility that they could end the season with the dubious distinction of being among the state's best teams not to play past Thanksgiving.

B-R's seniors are determined not to let that happen again.

"It comes down to leadership," Trojans senior captain Kevin Johnston said. "But we've been focused since day one this year. We have some veterans and some young talent coming back, but everyone's committed to doing everything they have to do."

The Trojans lost a bit of their heart and soul from last season with the graduation of talented backfield duo Branden Morin and Nick Schlatz. More than the carries or the defensive presence they provided, Johnston cited them as "role models," giving a blue print to this year's seniors.

That continuity of leadership has been another hallmark of B-R's success and this year's edition is no exception.

For the last two seasons, Ryan Murphy has spent the majority of the fall nursing two separate meniscus injuries. He vividly remembers the day of his first injury, playing with B-R's junior varsity squad as a sophomore. After suffering a tear in a game against Marshfield, Murphy took the long road back, working through rehabilitation and returning last year. He went back to square one after suffering a second tear and seeing his junior year shortened by injury.

That's all the motivation Murphy needs for 2012.

"I can't wait, I've worked so hard to come back," he said. "You look forward to your senior season for three years, we've worked nonstop to try and get to that point where we know we're good as we can be. That's what kept me going during therapy and workouts."

All that's left is kickoff.

"This year means everything," senior captain Kevin Wadsworth said. "To win the OCL this year, that would just be the cherry on top for my high school career."

BRIDGEWATER-RAYNHAM AT A GLANCE
2011: 9-2
Coach: Dan Buron (20th season, 149-59-2)
Key Returnees: Kevin Johnston, Sr. TE/DE, 5-11, 200; Dan Noviello, Sr. TE/DE, 6-1, 200; Joe MacInnis, Sr. OL/DL, 6-2, 260; Kevin Wadsworth, Sr. WR/DB, 5-11, 190; Ryan Scripter, Sr. WR/DB, 5-11, 180; Arcel Armstead, Jr. RB/LB, 5-10, 180; Jordan Cohen Sr. QB, 5-11, 160.
Strengths: Size, physicality and experience on offensive and defensive line.
Weaknesses: Lack of game experience at offensive skill positions.

Outlook: Another staple of B-R football has been its offensive line. But typically the Trojans have got it done with below average size, a further credit to the coaching staff. However, this year, B-R has size to boot with senior left tackle Joe MacInnis providing size the Trojans haven't had since the days of Marc Colombo. The question is who will be running behind that hulking line. It could be more a back-by-committee approach for B-R this season with Arcel Armstead looking for a breakout year. B-R's defense will be fueled by a pair of twin terrors at end. Johnston and fellow senior Dan Noviello feed off of each other as pass rushers.
November, 5, 2011
11/05/11
1:19
AM ET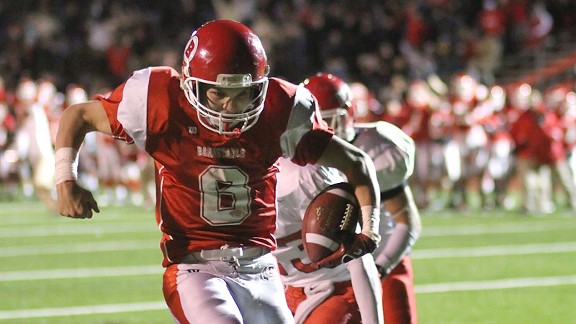 Eric Adler for ESPNBoston.comHayden Murphy's 5-yard touchdown in OT clinched Barnstable's first playoff berth since 2002, and sent the home crowd into euphoria.
HYANNIS, Mass. -- All 16 years and childish looks about him, Hayden Murphy could only offer sheepish grins to the cameras and tape recorders suddenly crowding the two feet in front of his face.
"This is my first interview, I can't talk, I'm sorry," he shrugged. "So much adrenaline."
How else should the floppy-haired slash-back have reacted after etching his name into Barnstable High's history books? The sophomore took a direct snap and darted across the goal line from five yards out, to deliver the host Red Raiders a thrilling 26-20 overtime shocker over No. 3 Bridgewater-Raynham. With the plunge, Murphy handed Barnstable its first outright Old Colony League title -- and postseason berth -- since 2002, and assured the Trojans no post-Thanksgiving football for the first time since 2008.
The call on Murphy's plunge was one that had worked for most of the second half for the Raiders (5-4, 3-0). With the Trojans (6-2, 1-1) respecting the passing attack of head coach Chris Whidden's spread scheme, that often left five or six players in the box. But rather than feed running back Theo France (17 carries, 159 yards, TD) the draw in conventional manners, Whidden called up a "Wildcat" package over a half-dozen times, with junior quarterback Nick Peabody split wide and Murphy -- a wideout, but also the team's third option under center -- taking the direct snap alongside France.
On this play, a designed quarterback counter, Murphy pushed the ball into France's belly as he pushed forward, but tucked it in himself and hauled it up the middle. The bench immediately emptied, and Murphy was mobbed.
"The linemen made me a huge hole, and I just ran right through it," Murphy smiled.
Said head coach Chris Whidden of the Wildcat strategy, "We've been repping it a lot in practice with Hayden, and as effective as it was, we kept going with it. Nick [Peabody] is one of our best blockers on the outside as a receiver, so it gets one of our best ballcarriers the ball, and one of our best blockers on the perimeter. Because either way, they're both going to be on the field, so you don't know what look we're going to give you."
But terrific as it was, the Trojans nearly pulled this one out after Branden Morin punched it in from five yards out with 2:09 left, to knot the game at 20. The Raiders fumbled the handoff at the Trojans' 14, but were able to force a three-and-out and take over at their own 37 with 52 seconds left.
Peabody marched the Raiders into B-R territory with two completions to James Burke, and with six seconds left Tom Mullen came in to attempt a 51-yard field goal. The sophomore's kick had the distance, but came up wide left.
B-R took the ball first in overtime, and on fourth down missed a short field goal attempt to give way to Murphy's heroics.
Concussion for Schlatz:
B-R head coach Dan Buron confirmed that senior captain and running back/linebacker Nick Schlatz went down with a concussion early in the second quarter.
An ESPNBoston preseason and midseason All-State selection, Schlatz scored on the very first play of the game, taking a sweep around the right 73 yards for the Trojans' initial 7-0 lead. He suffered the injury in the Trojans' first offensive series of the second quarter, getting stopped by Barnstable junior linebacker Andrew Ellis trying to convert a third and goal. The very next play, quarterback Brad Delulis rolled to his left and hit Eric Warbek for a two-yard touchdown pass an 13-6 lead, their final lead of the game.
Up to that point, Schlatz had 122 yards on 14 carries. He also picked off Barnstable's Nick Peabody on the Raiders' opening drive.
Fight the power:
Bridgewater kids come out of the womb rolling right, and while Buron sprinkled in some twins and trips looks out of one-back sets, the gameplan didn't deviate from those waggle and power principles that have made B-R one of the most consistent programs over the last two decades.
As usual, the Trojans looked to the stretch the field horizontally, with a convoy of blockers making room downfield. But the Raiders' linebacking corps was on its A-game tonight, between Ellis, Bryan Hardy and Ryan Litchman. After Schlatz's 73-yard scamper to start things off, the Raiders didn't allow another Trojans gain over 20 yards.
"Against Mansfield [last week, a 34-33 overtime loss], we struggled on anything C-gap and out," Whidden said. "So I put a little twist to our three-man front defensively, where Litchman's able to flow free, and I think that makes your blocking schemes a little bit more difficult. Now it's Andrew, Bryan or Ryan, one of the three of them is going to a little more space to roam."
Frenetic France:
One of the criticisms of Barnstable early in the season was that it was a team perceived to abandon the run too quickly when playing from behind.
And while Peabody deserves plenty of praise for the job he's done since taking over for the injured D.J. Crook under center, equal amounts need to be heaped the way of France's, for the balance he's given the Raiders this year out of the backfield. No longer a pass-happy bunch, the Raiders have often gone to France for draws and counters, to keep the defense honest when they leave too many players out of the box.
Witness France's 50-yard touchdown run late in the second quarter, a simple draw play in which he put on the burners once he got to the second level and blew by the safeties.
Raiders' playoff opponent set:
Lincoln-Sudbury beat its archrival Acton-Boxborough tonight, 21-14, to clinch their second straight Division 1A Playoff berth. They will face the Red Raiders, who will be looking for their first Super Bowl championship since beating BC High for the Division 1 title in 1999.
BARNSTABLE 26, BRIDGEWATER-RAYNHAM 20
BR (6-2, 1-1) 7 - 6 - 0 - 7 - 0 --- 20
BA (5-4, 3-0) 6 - 7 - 7 - 0 - 6 --- 26
First Quarter
BR - Nick Schlatz 73 run (Kevin Wadsworth kick) 10:42
Barn - Theo France 4 run (kick failed) 2:57
Second Quarter
BR - Eric Wabrek 2 pass from Brad Delullis (pass failed) 4:51
Barn - Theo France 50 run (Tom Mullen kick) 3:54
Third Quarter
Barn - Tedaro France 9 pass from Nick Peabody (Mullen kick) 6:17
Fourth Quarter
BR - Branden Morin 5 run (Wadsworth kick) 2:09
Overtime
Barn - Hayden Murphy 5 run
October, 22, 2011
10/22/11
10:54
PM ET
By
Bruce Lerch
| ESPNBoston.com
WESTWOOD, Mass. -- After the game that Bridgewater-Raynham's Branden Morin had Saturday afternoon, it wouldn't surprise me at all to learn that he drove the Trojans bus home from Westwood, too.

The 5-10, 190-pound senior captain picked off two passes, one which he returned 45 yards for a touchdown, the other basically ensuring his team would get a shot at overtime. He also added 49 yards on seven carries and scored what would end up as the game-winning touchdown as No. 5 B-R survived yet another epic battle against No. 6 Xaverian with a 28-22 victory in double overtime.

This was the third straight meeting between the two powerhouse programs to require more than just 44 minutes to determine a winner. Two years ago, Xaverian won in the triple overtime; last year, B-R took it in the first OT.

Maybe next year they'll shoot for four.

"It's ridiculous," Morin said afterward with a smile. "We're always going to OT with them. It never gets easier."

Defenses controlled the first quarter, and it was Xaverian (4-3) who broke through first when Austin DeCarr connected with Mike Warren (4 receptions, 84 yards) for a 58-yard touchdown strike less than three minutes into the second.

The Trojans (5-1) came storming back, pounding the ball with 6-2, 200-pound wrecking ball Nick Schlatz (33 carries, 158 yards, two TDs) powering his way behind a determined offensive line. Schlatz carried nine times on a 14-play drive and finished it off with a four-yard TD with 2:18 left in the half.

Then Morin came through with the first of several clutch plays, stepping in front of a DeCarr pass and racing 45 yards to the end zone to put B-R ahead, 14-7.

Morin related how he saw the play develop, "The QB was dropping back, I saw him looking at the receiver and I just read it the whole way and took it to the house."

Undeterred, the Hawks put together a terrific drive, showing tremendous balance between the pass and the run on a 17-play possession that ended with a six-yard touchdown run on an option keeper by Chris Calvanese. Jules Murphy's extra point tied the game at 14-14.

Both Kevin Wadsworth and Morin each had crucial, fourth-quarter interceptions with the Hawks broaching B-R territory, while Xaverian's defense held firm as the Trojans gambled a couple of times simply to keep the Hawks explosive offense on the sidelines.

In the first overtime, Calvanese picked up nine yards on first down and Taute Hunter bulled his way in from the 1 for the Hawks. DeCarr hit Warren on the conversion pass and Xaverian held a 22-14 advantage.

B-R needed just one play to respond as Schlatz took a pitch and cut back through the middle for a 10-yard score, and Morin threw an option pass to Joe Noviello to send it to a second OT.

The Trojans went first, and two Schlatz runs set up a three-yard TD by Morin, but Xaverian's Aiden Desrosiers stuffed Schlatz in front of the goal line on a shovel pass for a failed conversion.

Those missed points ended up not not mattering, as Eric Wabrek picked off DeCarr on 3rd-and-goal from the 16 to lock up the win.

BLUE COLLAR WORKERS
Schlatz is the type of back you can picture grabbing his lunch pail and putting on his hard hat before each game. His longest carry went for 27 yards, but it was the steady dose of positive yardage he made that kept the Hawks on the defensive.

Facing Xaverian's big defensive line and linebackers, the Trojans offensive line of Joe MacInnis, Pat Whooley, Eric DeMoura, Brian Pope and Nick Falconeiri, along with tight end Ryan Murphy, showed they are group with heart and toughness in paving the way to a 254-yard ground attack. In addition to Schlatz and Morin, Wabrek also chipped in with 35 tough yards and good blocking.

"We worked all week long and said, we have to come off flat backs, low and hard technique will win the game," B-R coach Dan Buron explained. "They're big but we thought if we stayed lower than them, it would neutralize their size. We went with a little bit of an unbalanced and tried to pick places to run and were able to get some double teams. That number 11 (Maurice Hurst Jr.) in particular is a pretty good player. We tried to run away from him but sometimes that's worse because he's so quick."

ONE MAN DOWN, ANOTHER STEPS UP
Trojans quarterback Brad Deluliis left the game with a bad ankle after being tackled on a running play in the first quarter. What could have become a disastrous situation was tempered by the poise of backup quaterback David Miller, who stepped right in without allowing the offense to miss a beat.

"He threw a couple good passes," praised Buron. "He was a little nervous and the timing was off a little bit but I thought he did a great job leading the offense and he was very poised."

SEARCHING FOR AN IDENTITY
While B-R makes no bones about who it is and what it does, Xaverian appears to be still trying to find ways to fit the right pieces into the right spots, Chris Calvanese among others.

The senior had a terrific all-around performance, seeing time at quarterback, running back, receiver and also on defense. Calvanese completed 5-of-7 passes for 37 yards, caught two more for 43 yards, added 79 yards and a TD on six carries. Defensively, he was in on four tackles and had an interception.

"I think that we're still trying to get ourselves to be more consistent on both sides of the football," said Hawks coach Charlie Stevenson. "Clearly today was not a good game defensively for us against the run. We didn't sustain our offense the way we should have either."

He continued, "I think Chris Cal had a great game on both sides of the ball. In my opinion, he was the best athlete on the field on both sides of the ball. I wish we had more guys to go around him right now. We're looking for them and hopefully we will get more guys to put around him so that we can really highlight his athletic ability as we go down the stretch."

BRIDGEWATER-RAYNHAM 28, XAVERIAN 22 (2 OT)
BR (5-1) 0 14 0 0 8 6 - 28
Xaverian (4-3) 0 7 7 0 8 0 - 22

X - Mike Warren 58 pass from Austin DeCarr (Jules Murphy kick)
BR - Nick Schlatz 4 run (Kevin Wadsworth kick)
BR - Branden Morin 45 interception return (Wadsworth kick)
X - Chris Calvanese 6 run (Murphy kick)
X - Taute Hunter 1 run (Warren pass from DeCarr)
BR - Schlatz 10 run (Dan Noviello pass from Morin)
BR - Morin 3 run (rush failed)
October, 15, 2011
10/15/11
7:44
PM ET


BRIDGEWATER, Mass. – No. 7 Bridgewater-Raynham has a lot to worry about in the coming weeks, with a Top 10 matchup against Xaverian next week and Old Colony League play set to start. So Trojans head coach Dan Buron was concerned that his team was looking past top-ranked Rhode Island squad La Salle Academy on Saturday afternoon.

The Trojans shook off their slow start, however, storming back with three scores in the second quarter while handing the Rams their first loss of the season, 27-16.

"I think that's a good quality win for us because that's a good, tough football team," Buron said.

B-R (5-1) spotted La Salle (5-1) a 3-0 lead largely on field position in the first quarter with Peter Picerelli drilling a 41-yard field goal.

The Trojans began to assert their will in the ground game on the ensuing drive, capping off an 11-play 80-yard drive on quarterback Brad Deluliis' 3-yard touchdown run with 6:15 remaining in the half.

The Rams took the lead back promptly with fullback Martin Bannerman rumbling 49-yards up the middle of the field on a gut trap for a touchdown.

Just 18 seconds later, the Trojans broke off a big play of their own with Nick Schlatz hitting the corner and striding 64 yards to the end zone.

"We played good in spurts, but you can't do that against these guys," La Salle head coach Geoff Marcone said. "If you play good in spurts, you're going to lose the game. That's what happened. They're a good football team and we just didn't give a good effort today."

B-R struck again before the half was out. As time expired, kicker Kevin Wadsworth rolled left on bootleg off a fake field goal. The Rams had the trick play almost perfectly defended, but Wadsworth found Brendan Page with a 4-yard pass on the flick of a wrist for a 21-10 Trojan lead.

"We called that and then I was going to call a timeout if it wasn't there, and I just said the heck with it," Buron said. "The kid that caught the ball [Page] was supposed to be blocking, but thank god he did. He made a nice catch.

"He was like the third option on that play, not even, he wasn't really an option, but it worked out."

After a scoreless third quarter, La Salle made it a one-possession game on Josh Morris' 5-yard touchdown run on an option left. After the two-point conversion failed, the B-R lead was down to five.

Then, the Trojans running game took over once again.

Branden Morin had five straight carries to finish off a 9-play drive that bled nearly four minutes off the clock and exhausted all of the Rams' timeouts.

B-R junior Matt Petty astutely recovered the ensuing kickoff on a squib kick, putting the game out of reach.

POUND, POUND, POUND
The Trojans receiver another solid performance from senior captain Nick Schlatz who racked up 135 yards on 23 carries.

But even when Schlatz wasn't able to go on the Trojans' final drive, Morin proved a more than adequate replacement. Morin chipped in 11 carries for 75 yards and a touchdown, spelling Schlatz and creating a viable 1-2 punch.

"Nick Schlatz was a little dinged up [on the last drive] and Branden Morin stepped up," Buron said. "[Fullback] Stevie Wentworth blocked well and Eric Wabrek does a great job of blocking, too."

It was an encouraging sign ahead of the Trojans' date with No. 5 Xaverian next week, which will pit B-R strength against a large, physical Hawks defensive line.

HOWDY NEIGHBOR
La Salle entered the game as our top-ranked Ocean State team at No. 7 in the ESPN Boston New England football poll.

At times, the Rams delivered on their top-billing, with Morris (16 car., 84 yards) showing flashes of the brilliance he's shown against in-state opponents this year.

"He's a big-play player," Marcone said of Morris. He can grind it out, but he make big plays happen for you, too. I'm a little biased in this opinion, but he's one of the best backs in our state. Hopefully, by the end of the year, he'll be the best."

For the most part, the Rams were effective in their ability to shoot the gaps against the Trojans' traps and counter runs. Senior middle linebacker and de facto captain of the defense Marcanthony Reynoso also put on a tackling clinic.

But, in the end, it came down to consistency.

"Every time we seemed to get momentum, there was a penalty, or we fumbled the ball, or there was a bad snap," Marcone said.

B-R (5-1) 0 21 0 6 -- 27
La Salle (5-1) 3 7 0 6 -- 16

1st quarter
LS – Peter Picerelli 41-yard field goal

2nd quarter
B-R – Brad Deluliis 3-yard run (Kevin Wadsworth kick)
LS – Martin Bannerman 49-yard run (Picerelli kick)
B-R – Nick Schlatz 64-yard run (Wadsworth kick)
B-R – Wadsworth 4-yard pass to Brendan Page (Wadsworth kick)

4th quarter
LS – Josh Morris 5-yard touchdown run (Pass failed)
B-R – Branden Morin 4-yard run (Kick blocked)