Boston High School:

Kieran Presley
January, 20, 2014
1/20/14
8:18
PM ET
By
Roger Brown
| ESPNBoston.com
For some, the recruiting process moves at a swift pace.

That was the case for Loomis Chaffee wide receiver/running back Kieran Presley, who received a scholarship offer from the University of New Hampshire last week, took an official visit to UNH over the weekend and committed to the school Monday morning.

Presley, who attended Amherst Regional before his post-graduate year at Loomis Chaffee, also had scholarship offers from Rhode Island, Albany and Maine.

"I was having conversations with UNH before the offer," Presley said. "I've been leaning toward UNH. They were my No. 1 for a while. The campus is beautiful. Once I got up there I knew it was the right spot."

UNH competes in the Colonial Athletic Association, and is one of the most successful Division 1 FCS programs in the country. The Wildcats made the FCS playoffs for the 10th consecutive season last year, and reached the national semifinals before losing to eventual national champion North Dakota State.

Presley said UNH recruited him as an athlete. He has also played defensive back, but said he expects to play on the offensive side of the ball in college. He rushed for a 1,009 yards in nine games during his senior year at Amherst Regional, and was a NEPSAC All-New England wide receiver for a 6-3 Loomis Chaffee team last season.

"Offensive is my thing," he said. "I'll probably play slot or running back, Basically whatever they need me for."

Presley took in Saturday night's men's hockey game between UNH and Union during his official visit. He also met Nashua (N.H.) South quarterback Trevor Knight during the visit. Knight, New Hampshire's Gatorade Player of the Year, has also committed to UNH.

"I made up my mind last night talking with Trevor," Presley said. "I had breakfast this morning then I met with Coach Mac (UNH coach Sean McDonnell). I told him I was coming to UNH and he seemed pretty happy.

"All the recruits seemed cool. When I went up there, everything seemed to click."
July, 1, 2013
7/01/13
5:53
PM ET
FIRST TEAM
G – Nick Marrocco, Jr., Duxbury
In his first season starting between the pipes for the Dragons, Marrocco was named an Eastern Mass. All-American while averaging 13 saves per game. Also a standout hockey player during the winter season, Marrocco is committed to Georgetown and was named Most Valuable Player of the bostonlax.net All-American game.

D – Rob Breed, Sr., Xaverian
One of the galvanizing forces behind the Hawks' run to the program's first state lacrosse title, the Eastern Mass. All-American was tasked with shutting down the opponent's top attacks.

D – Ben Cox, Sr., Medfield
Named the Tri-Valley League's Defensive Most Valuable player, Cox was a four-year member of the lacrosse team and part of back-to-back MIAA Division 2 state championship lacrosse teams. During the winter, Cox finished second on the Warriors hockey team in scoring, posting 12 goals for 38 points in 21 games. He will continue his lacrosse career at the University of Vermont.

D – John Sexton, Jr., Lincoln-Sudbury
The Notre Dame commit was a jack of all trades for the Warriors this season, taking faceoffs, playing on man-up situations and providing lockdown defense. Sexton was named an Eastern Mass. All-American and is a three-time Dual County League All-Star.

LSM – Nick Brozowski, Soph., Concord-Carlisle
A ground ball machine, the Maryland commit was named an Eastern Mass. All-American in addition to Dual County League All-Star honors.

M – Dan Delaney, Sr., Lincoln-Sudbury
The Eastern Mass. All-American tallied 38 goals and 20 assists while leading the Warriors to a Division 1 final appearance. Delaney will continue his lacrosse career at Fairfield University next year.

M – Keegan Dudeck, Sr., Longmeadow
The Lancers captain closed out his career on a high with a five-goal outburst in their Division 2 state championship win over Medfield. Dudeck tallied 38 goals and 17 assists for his senior season.

M – Jack Wheeler, Jr., Xaverian
Turning in a dazzling offensive display at Harvard Stadium, Wheeler was a key component to the Hawks' first-ever lacrosse championship. The Boston University commit and Eastern Mass. All-American tallied 42 goals with 15 assists this year.

A – Jay Drapeau, Jr., Westford Academy
Among the state scoring leaders in each of the last two seasons, Drapeau ripped off 71 goals in 2013. The Loyola commit was an ESPN Boston MIAA Lacrosse All-State second-teamer last year and also was a Hockey All-State Honorable Mention during the winter season.

A – Andrew Melvin, Sr., Medfield
The Eastern Mass. All-American helped lead the Warriors back to the Division 2 state championship game. Melvin will continue his lacrosse career at Bates College.

A – Nico Panepinto, Sr., Needham
Named ESPN Boston's third annual "Mr. Lacrosse" winner last week, the Fairfield University signee finished his high school career with 179 goals and 159 assists. Panepinto, also a standout on the football field for the Rockets, was a two-time Eastern Mass. All-American and ESPN Boston All-State selection.

Specialist – Derek Osbahr, Sr., St. John's Prep
Osbahr was an offensive weapon for the Eagles at the faceoff X as the best draw-winner in Eastern Mass. Also a member of Prep's Super 8 hockey squad, the Eastern Mass. All-American will continue his lacrosse career at Bentley University.

SECOND TEAM
G – Ryan Goodall, Sr., Dover-Sherborn
D – Jack Ullrich, Jr., Hingham
D – Jay Walsh, Sr., Duxbury
D – Ian Yanulis, Sr, BC High
M – Caleb Brodie, Jr., Hingham
M – Brendan Flaherty, Sr., Beverly
M – Mike Panepinto, Jr., Needham
M – Roby Williams, Jr., Wayland
A – Hunter Burdick, Sr., St. John's (Shrewsbury)
A – Nick Pino, Sr., North Andover
A – Tyler Reilly, Sr., Grafton
Specialist – Drew Kelleher, Jr., Longmeadow

Honorable Mention
Dom Abate, Sr. M, Beverly
Tommy Bannan, Sr. G, Hingham
Kevin Bletzer, Jr. M, Catholic Memorial
Rogers Boylan, Sr. D, Dover-Sherborn
Evan Boynton, Sr. D, Concord-Carlisle
Mike Carbone, Sr. A, Marshfield
Tucker Ciessau, Sr. A, Scituate
Matt Comerford, Sr. G, Reading
Pat Cronin, Jr. A, BC High
Matt Crowell, Jr. M, Medfield
Mark Dente, Sr. A, Reading
Kevin Farrell, Sr. FOGO, Billerica
Chris Frye, Sr. A, Walpole
Andrew Gallahue, Jr. A, St. John's Prep
Henry Guild, Sr. M, Lincoln-Sudbury
Carson Hart, Sr. M, Wayland
Keifer Heckman, Sr. A, Peabody
Eamon Hunter, Soph. LSM, Lincoln-Sudbury
Joe Igoe, Sr. M, Framingham
Reid Leveillee, Jr. D, Longmeadow
Giles Ober, Sr. G, Algonquin
Kieran Presley, Sr. M, Amherst
Brian Rotatori, Sr. M, Grafton
Drew Smiley, Jr. A, St. John's (Shrewsbury)
D.J. Smith, Sr. G, Billerica
Robert Treiber, Jr. G, Medfield
Luc Valenza, Sr. D, Foxborough
Tyler Weeks, Sr. D, Andover
Sam Wheaton, Sr. G, Minnechaug

Coach of the Year -- Ryan Liebel, Longmeadow
April, 8, 2013
4/08/13
2:24
AM ET
Attackmen:
Tyler Bogart, Soph., Catholic Memorial
Jordan Dow, Sr., Lincoln-Sudbury
Jay Drapeau, Jr., Westford Academy
Brandon Jaeger, Sr., Dover-Sherborn
C.J. LoConte, Sr., Duxbury
Andrew Melvin, Sr., Medfield
Nick Menzel, Jr., Archbishop Williams
Nico Panepinto, Sr., Needham
Robbie Pisano, Sr., Needham
Tyler Reilly, Sr., Grafton
Andrew Smiley, Jr., St. John's (Shrewsbury)
[+] Enlarge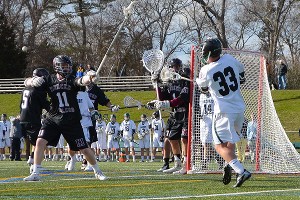 Scott Barboza/ESPN Army commit C.J. LoConte will look to shoulder a bigger part of the offense for defending Division 1 state champion Duxbury.
Midfielders:
Kevin Bletzer, Jr., Catholic Memorial
Will Blumenberg, Soph., Concord-Carlisle
Caleb Brodie, Jr., Hingham
Alec Brown, Sr., Wakefield
Tucker Ciessau, Sr., Scituate
Dan Delaney, Sr., Lincoln-Sudbury
Henry Guild, Sr., Lincoln-Sudbury
Carson Hart, Sr., Wayland
Davis Kraft, Sr., Algonquin
Matt LaCroix, Sr., Westfield
Drew O'Connell, Jr., St. John's Prep
Mikey Panepinto, Jr., Needham
Kieran Presley, Sr., Amherst
Bryan Rotartori, Sr., Grafton
Jack Wheeler, Jr., Xaverian
Long-stick Midfielders:
Nick Brozowski, Jr., Concord-Carlisle
Mike Elcock, Jr., Needham
D.J. George, Sr., Arlington Catholic
John Sexton, Jr., Lincoln-Sudbury
Defensemen:
Evan Boynton, Sr., Concord-Carlisle
Tim Gillis, Soph., Cohasset
Brian Uva, Sr., St. John's Prep
Luc Valenza, Sr., Foxborough
Jay Walsh, Sr., Duxbury
Tyler Weeks, Sr., Andover
Ian Yanulis, Sr., BC High
Goaltender:
Andrew Blood, Jr., Walpole
Matt Comerford, Sr., Reading
Ryan Goodall, Sr., Dover-Sherborn
Nick Marrocco, Jr., Duxbury
Giles Ober, Sr., Algonquin
Jake Reynolds, Jr., Scituate
D.J. Smith, Sr., Billerica
Robert Treiber, Jr., Medfield
Tighe Van Lenten, Sr., Masconomet
November, 23, 2012
11/23/12
6:12
PM ET
By
Brendan Hall
| ESPNBoston.com
1.
The biggest thing that stood out to me from yesterday's Natick-Framingham game was how efficient the Redhawks' passing game remained despite limited touches by Brian Dunlap. The sophomore has an unheard-of 30 receiving touchdowns since his first varsity start last season, but for the first time in his career did not register a touchdown catch.
I posed this question to the Framingham defense in my pick Wednesday, and I'll pose it again to Plymouth South -– how do you cover Brian Dunlap? But now, I'm wondering if bracketing or shading a safety to his side is even the best gameplan. The Natick coaching staff was pretty high on Alex Hilger before he missed most of the season with a broken collarbone, and yesterday we saw why. Athletically, he's a terrific target who can stretch the field. Between Dunlap, Hilger and the recently-blooming Justin Robinson, it might be a case of "pick your poison".
Still, I think the key on Tuesday will be running back Nick Lee, who injured his ankle last month but looked solid yesterday. He told me yesterday his right ankle was "100 percent", and anyone who watch Natick's No. 9 win over Walpole knows that wasn't the case.
***
2.
You could make a pretty solid list of elite players sitting at home after Thanksgiving -– Xaverian's Maurice Hurst Jr., Catholic Memorial's Peter Ngobidi, Needham's Mike Panepinto and Nantucket's Terrel Correia come to mind. But the one I was really looking forward seeing was Amherst running back Kieran Presley, who ended his career yesterday with 175 rushing yards and two scores on just 10 carries in a 35-15 win over Northampton.
We profiled Presley
after his ridiculous 359-yard performance in a Nov. 2 win over Chicopee
, and you can argue he is playing his best ball right now. He finished with 1,009 yards on the season, but 684 of those yards have come in the last three weeks – including four scores of 56 yards or longer. Head coach David Thompson also says there is varying degrees of interest from a scattering of Division 1 FBS and FCS programs, including UConn, Albany, Rhode Island, New Hampshire and James Madison.
It looks like the Hurricanes finally got their zone-blocking scheme down midway through the season, but unfortunately they'll be on the outside looking in. Just a hunch, Thompson has a good thing going forward with this program.
***
3.
I said this on FOX 25 last night, and it bears mentioning again. For the most part, there isn't an overwhelming favorite among any of the divisions in Eastern Mass. Out in Central Mass., Division 1 is wide open, and on paper Nashoba feels like the overwhelming favorite but this is a team that Doherty nearly upset earlier this season.
However, in Division 3 Central, it's Auburn, Auburn, or Auburn. The Rockets are No. 9 in our statewide poll, and No. 1 in the Telegram & Gazette's poll, for good reason. As a team, they've run for 2,863 yards and 44 touchdowns, with an average of 10 yards per carry, led by senior Tyler Desjardins (120 carries, 1,560 yards, 23 TD).
Much like USC's student body right or Nebraska's I-bone formation, there's not a lot of trickeration to the domination – everybody knows what's coming. The Rockets run primarily power sets with jumbo personnel, and have been blowing people off the ball all season. I've previously mused that in the past the Rockets have gotten by just on outweighing people at the point of attack (they average about 280 pounds across, after all), but this is a unit that seems to get more mobile every time out. All-State candidate Aaron Dyke is at the forefront of this, able to pull down and lead block on sweeps fluidly.
The rest of the field in Division 3 consists of Hudson, Tantasqua and Groton-Dunstable. To those three teams, I say good luck.
***
4.
Sharon's Dave Morse, Stoughton's Greg Burke and Plymouth South's Scott Fry are on many short lists for Coach of the Year, and deservedly so. But I think we should also consider Upper Cape's Mike Hernon for any such nod. In just his second year at the helm, he has the Rams in the playoffs as Mayflower Small champs, with a 10-1 record. The Rams are one of the highest-scoring teams in Division 4A (28.1 points per game), and they have junior running back Jon Dumont to thank for that. He had an impressive start to the season (89 carries, 889 yards, 11 TD in his first five games), and is a hard north-south runner with 40 speed allegedly in the 4.5 range.
***
5.
If Barnstable and Everett win out on Tuesday, then the Division 1A Super Bowl is by far the marquee game of the Gillette Stadium slate. Some of us -– myself included -– are probably wondering why that got the 3:30 p.m. slot instead of 6 p.m., which has been designated for Western Mass. Division 2. Especially considering the crowd for last year's Western Mass. Super Bowl, an early-afternoon contest between Springfield Central and Longmeadow, was thoroughly a ghost town.
All of that considered, I might end up eating my words if Wahconah makes it. I had a conversation with noted
Berkshire Eagle
columnist Howard Herman the other day, and he assured me that if the Warriors make it to the Super Bowl, the town of Dalton "will shut down". Hope he's right.
November, 6, 2012
11/06/12
1:59
AM ET
By
Brendan Hall
| ESPNBoston.com
Some thoughts and observations from this past weekend's slate of football around the state:
1.
Chris Sarni and the Wellesley Raiders are the darlings of the Bay State this week following their 40-34 win over Natick in one of the biggest upsets of the year, and rightfully so. Sarni is your classic undersized, overachieving high school quarterback, noted for his quick acceleration and vision, but also unafraid to tuck it and run downhill. But let's give credit to the offensive line, too, which kept his jersey clean all afternoon.
During the preseason,
I did a video with correspondent Greg Story for The Wellesley Channel
, discussing the Raiders' chances this season, and pointed out that while it would be an uphill battle for the Raiders under first-year head coach Jesse Davis, history says the best rebuilding jobs start between the hashes. Having been a varsity wrestling coach at Wellesley the last four years, Davis can tell you a thing or two about that.
"The crossover is undeniable," Davis said. "I've been preaching it since taking over the wrestling program. In terms of balance and strengths, close combat, playing with your hands, power angles, tackling, toughness, it's literally the best thing you can do as an offensive lineman."
Whereas in his first year he found himself dragging kids out, in year four it's become as much a staple of the offseason regimen as a bench press. This year's Raiders line averages roughly 210 across, but features four wrestlers –- left guard Ben Wardwell, center Dan Farina, and wrestling captains Will Dario (right guard) and Zach Zeytonjian (left tackle) –- who make up for lack of size with athleticism and first-step explosion.
"We want athletes on the offensive line," Davis said. "I don't want big, tubby, 300-pound kids. We want kids that can run."
Needless to say, toppling one of the state's most prolific offenses validates everything Davis has been preaching in year one. The Raiders may be out of contention for 2012 championship hardware, but definitely keep a watch out for them come next fall.
2.
I suddenly find myself intrigued with Amherst running back Kieran Presley, who broke the school's single-game record for yards from scrimmage in a 42-22 win over Chicopee. Presley ran for 359 yards on 21 carries and caught three passes for 60 yards, totaling four touchdowns; in the process he passed one of the Hurricanes' all-time greats, Marcus Williams, who totaled 402 in a 2001 win over Minnechaug. Williams went on to be the all-time leading rusher at the University of Maine, and had a cup of coffee with the Indianapolis Colts.
"He's probably one of the best athletes in Western Mass., he's been underrated," said first-year head coach David Thompson, himself a former offensive lineman at UMass. "He's a Hell of a lacrosse player, he can play basketball, he long jumps and ran a leg in the 4x200, that's the type of athlete he is.
"You can probably put him in any sport and he'll excel, and he's not gonna be a non-contributor—he'll contribute. He can easily go to college in two sports, that's the type of athlete he is. He has all the tools to play at the next level."
So why haven't we heard much about him until this fall? Presley didn't get many carries last year, running in a three-back system. This year, Thompson has installed a pro-style offense more suited to his strengths, utilizing modified "Ace" personnel groupings (in Thompson's case, one back with one tight end and three wideouts) with zone-blocking schemes up front. Presley is a patient runner, but a quick accelerator equipped with a few lacrosse-style moves and a gliding stride.
Rutgers is Presley's dream school, but he has seen varied degrees of interest across Divisions 1 and 2, among them UConn, Albany, Rhode Island, New Hampshire and James Madison. The Hurricanes are currently 5-3, and will go for their third straight win this weekend. They could be one of the more interesting playoff teams to watch, if everything plays out accordingly.
3.
Now that Barnstable has claimed the Old Colony League outright for the second straight year, many folks are clamoring for what would be the marquee Super Bowl championship game at Gillette Stadium, a rematch between the No. 1 (and undefeated) Red Raiders and Everett for the Division 1A title game. Not so fast, people. How quickly we all forget what happened last year, when the Raiders met Lincoln-Sudbury down in Taunton for a Tuesday night playoff and fell 14-13, helped by a ridiculous one-handed catch from Jack Harris. L-S appears to be on the inside track for a third straight Dual County League large division title, and I wouldn't be the least bit surprised if they're the ones marching into Gillette.
4.
I'll preface this by saying I am in no position to criticize college coaches for whom they decide to offer athletic scholarships and preferred walk-on spots to. And I'm fully aware how hard it is to get over the size of Holy Name's Quron Wright, even if he's the state's leading rusher. But after watching 5-foot-5 Trindon Holliday return a kickoff 105 yards on Sunday for the Broncos, and enjoying 5-foot-5 Division 2 product Danny Woodhead's steady place in the Patriots' running back rotation the last three seasons, you mean to tell me there isn't a college coach in New England willing to look past Wright's unmistakably Lilliputian frame and at least see if the kid can handle?
5.
If you're a fan of power running, you have to love Friday's matchup between Plymouth South and Nauset for pole position in the Atlantic Coast League. South's Dylan Oxsen leads the state in rushing touchdowns (28) and is two weeks removed from one of the more explosive performances of the season, a 301-yard, six-TD effort in a surprise rout of Dennis-Yarmouth. The Panthers run a modified pistol scheme, sometimes even utilizing two fullbacks in addition to Oxsen at tailback. Based on the highlights I've seen, the Panthers are very downhill, and very efficient at running power plays.
Then you have Nauset, masters of the single wing,
so respected they even have an entry devoted to them on Wikipedia
. At the helm is junior Jimmy Sullivan (972 rushing yards, 491 passing yards), the de facto quarterback in a quarterback-less offense, running behind Brown-bound two-way lineman Dakota Girard. Keith Kenyon's ancient offense adds another layer of mystique to a program already shrouded in it (Hey, the school is inside a national park, after all).
6.
This past summer,
I watched Andover win a 7-on-7 tournament at Gillette Stadium
running 5-foot-6 speedster Cam Farnham on underneath routes into the perimeters. Two weeks ago, I watched Billerica's Jordan Balarinho carve up the No. 1 team in the land with a heavy bevy of short, quick passes to the sticks. Now I see Lowell wideout Jack Galvin's stat line from last weekend's upset of Andover (15 catches, 159 yards, 4 TD) and it gets me thinking. I know we've joked about it, but maybe we really should consider renaming the Merrimack Valley Conference, "Death By 1,000 Shallow Crosses". Has a nice ring to it, no?