Boston High School:

Kiivone Howard
December, 29, 2012
12/29/12
5:17
PM ET
By
Brendan Hall
| ESPNBoston.com
The Massachusetts High School Football Coaches Association (MHSFCA) released its "Super 26" All-State Team yesterday. Selections are below as follows:

OFFENSE

Quarterback
Zach Bartak, Greenfield, 6'1" 200
Mackay Lowrie, Roxbury Latin, 6'5" 210
Nick Peabody, Barnstable, 6'4" 225

Running Back
Vincent Burton, Blue Hills, 6'2" 200
Dylan Oxsen, Plymouth South, 5'9" 185
Quron Wright, Holy Name, 5'6" 165

Wide Receiver
Will Heikkinen, Andover, 6'1" 196
Brian O'Malley, St. Sebastian's, 6'3" 195

Offensive Line
Aaron Dyke, Auburn, 6'4" 305
John Foster, Scituate, 6'5" 260
Rob Kosharek, Duxbury, 6'6" 265
Jack McDonald, B.C. High, 6'5" 275
John Montelus, Everett, 6'5" 325

DEFENSE

Defensive Line
Matt Comerford, Reading, 6'5" 275
Terrel Correia, Nantucket, 6'7" 275
Joe Previte, Brockton, 6'2" 260
Maurice Hurst, Xaverian, 6'2" 290

Linebacker
Cam Hanley, Walpole, 5'11" 210
Sha'ki Holines, Springfield Commerce, 6'4" 240
Zack Hume , Nashoba, 6'2" 235
Bryan Vieira, Thayer Academy, 6'3" 190

Defensive Back
Brendan Flaherty, Beverly, 6'1" 185
Kiivone Howard, Foxborough, 6'1" 185
Dylan Mann, Masconomet, 5'10" 180
Alex Moore, St. John's Prep, 6'1" 195
Justin Mount, Westford Academy, 6'2" 205
November, 23, 2012
11/23/12
6:27
PM ET
10. Matt Summers, Sr. RB, Athol
Racked up 223 yards and four touchdowns on just 12 carries, in the Raiders' 49-20 rout of Mahar.

9. Troy Flutie, Jr. QB, Natick
Threw for 319 yards and totaled three scores in the Redhawks' 26-14 win over Framingham, their first over the Flyers at Bowditch Field since 2006.

8. Kiivone Howard, Sr. RB, Foxborough
Ran for 181 yards on 14 carries and rallied the Warriors in the second half with three scores, as they upset Mansfield 27-21.

7. Marcus O'Diah, Sr. RB, Burlington
Became the school's all-time leading rusher with his 168-yard, four-touchdown effort in a 35-10 win over Lexington.

6. Cody Rothwell, Sr. RB, Pentucket
Ran for 251 yards and three touchdowns in the Sachems' 41-12 win over Triton.

5. Mike Panepinto, Jr. RB, Needham
In the 125th meeting between the Rockets and Wellesley, he stole the show with 29 carries for 290 yards and five touchdowns.

4. Mohammed Braimah, Sr. DE, Boston Cathedral
Tallied four sacks in the Panthers' 38-12 rout of Marian.

3. Darien Fernandez, Sr. RB, Wareham
Carried 22 times for 226 yards and four touchdowns in the Vikings' 52-12 rout of Bourne. Fernandez finishes his career at Wareham as the school's all-time leader in rushig touchdowns (35).

2. Alex Berluti, Sr. QB, Westwood
Completed 14 of 17 pass attempts for 269 yards and four touchdowns as the Wolverines clinched the Tri-Valley League Large title with a 42-14 romp of Holliston.

1. Dylan Oxsen, Jr. RB, Plymouth South
Ran for 239 yards and five touchdowns in the Panthers' 40-20 win over Plymouth North. And with it, he re-took the state's lead for rushing touchdowns (34), passing Holy Name's Quron Wright (33).
November, 9, 2012
11/09/12
1:42
AM ET
NO. 5 WALPOLE (9-0) AT NO. 21 NATICK (8-1)
The Skinny: The most anticipated regular-season matchup is finally upon us. A swelling crowd is expected to turn out for this one, as the Bay State Conference's Herget division title is on the line. Natick is looking to bounce back after coming up on the wrong side of one of the year's biggest upsets (a 40-34 loss to Wellesley), but Troy Flutie, Brian Dunlap and co. will have to do it against one of the state's stingiest defenses. Walpole hasn't allowed a point since Sept. 28, and hasn't allowed a touchdown since Week 3.

Scott Barboza: I'm shudder to think that we might not have any questions to answer during our Sunday night chat this week now that we're finally about to give our picks on this game. Walpole, 27-21.

Brendan Hall: I'm sure the primary topic of discussion in this Sunday night's Top 25 chat will be "What's your prediction for Natick-Walpole in 2013?" Walpole, 20-17.

NO. 17 NAUSET (9-0) AT PLYMOUTH SOUTH (6-3)
The Skinny: Raise your hand if you thought this would be the de facto Atlantic Coast League championship back in August. South's Dylan Oxsen leads the state in rushing touchdowns (28), doing so behind a uniquely modified pistol attack that gets the hard-charging junior downhill in a hurry. Written off a month ago, the Panthers are suddenly in prime position for their first postseason berth here, but they'll have to find a way to neutralize all the chicanery that comes with Nauset's single wing attack, led by running back Jimmy Sullivan.

Barboza: It's time we start considering Oxsen as a serious candidate for our Offensive Player of the Year Award. Plymouth South, 13-7.

Hall: If you know me, you know I'm a fiend for the ground-and-pound. For that reason, can't go wrong with either team, but I'm sticking with my preseason pick. Nauset, 28-21.

NO. 23 ABINGTON (9-0) AT EAST BRIDGEWATER (6-3)
The Skinny: Abington can clinch the South Shore League title with a win over the Vikings, and are the favorites here behind a dynamic offense led by Babila Fonkem, Pat Dwyer and Brandon Cawley. Defensively, the Green Wave are allowing just under seven points a game the last three weeks, but they figure to have their hands full trying to slow down quarterback Andrew Benson in the option game.

Barboza: I'm going to mention Brandon Cawley's name again just because the other night on Twitter he's said I only mention the running backs. JK guys, JK. Abington, 32-24.

Hall: If this is truly Abington coach Jim Kelliher's last season, then you can't find a more fitting farewell. Abington, 31-20.

SHARON (7-2) AT FOXBOROUGH (7-2)
The Skinny: Is the clock about to strike midnight on Sharon? The Eagles remain unbeaten in the Hockomock's Davenport division, but still have two big league games on the slate. The first one is Friday night, where they will attempt to contain tailback Kiivone Howard, who leads the Hockomock in rushing yardage (1,405).

Barboza: Foxborough quarterback Mike Slaby could be the difference-maker. Foxborough, 23-17.

Hall: What would a Hockomock League berth be without a little bit of mathematics? Foxborough, 21-7.

MARBLEHEAD (8-1) AT BEVERLY (9-0)
The Skinny: The Magicians claimed the CAL/NEC Tier 2 title last season with a senior-laden team. However, Marblehead's in the mix again, even after a surprise loss to Salem a few weeks back. Meanwhile, the Panthers can clinch the league crown with a win on Saturday. The vaunted Panthers offense (averaging 38 points per game) and its rushing attack is closing in on 3,000 combined rushing yards on the season, led by a backfield of Brendan Flaherty and Kenny Pierce. The Magicians have relied on 1,000-yard passer Ian Maag (13 touchdowns) for a bulk of their offense.

Barboza: It's been a nice bounce back run for Marblehead in an attempt at a repeat title, but, after all, this is the #yearofthepanther. Beverly, 28-14.

Hall: We love Jim Rudloff's mind games as much as the next guy, but the Magicians are simply overmatched here against one of the state's best rushing attacks. Beverly, 35-21.

BISHOP FEEHAN (6-2) AT SOMERSET-BERKLEY (9-0)
The Skinny: As in each of the last three seasons, the Eastern Athletic Conference title will be determined in a matchup between the Shamrocks and Blue Raiders. Feehan came away with a decisive victory last year, but Somerset-Berkley is looking to lay claim to its second crown in the last three years. The Blue Raiders are led by a dynamic back field of Garrett Carlos and Mike Garrant, but they'll encounter a physical Feehan front seven anchored by linemen Chris Barthe, Seamus Cuddy and Mitch Matrin.

Barboza: Nick Freitas escapes with EAC title No. 2. Somerset-Berkley, 27-20.

Hall: In terms of EAC supremacy, Feehan had the 2000's. And now, Somerset has the 2010's. Somerset-Berkley, 24-17.

FRANKLIN (7-2) AT MANSFIELD (6-3)
The Skinny: The Panthers get back into Hockomock Kelley-Rex play after a startling loss to Taunton two weeks ago. If Franklin is to hold out hope of hanging around in the division race, they'll need a win at Mansfield on Saturday. The Hornets are in a similar situation having dropped a close decision to North Attleborough two weeks ago. Look for the Hornets, led by Robbie Rapoza, to pound the ball on the ground and play some ball control in trying to keep the Panthers' spread attack on the sideline. Franklin junior quarterback Nick Zucco has been a revelation this year, but the Panthers can also run the ball behind Kyle Finamore. The Mansfield defense has been bolstered by junior linebacker Alex Ruddy, who currently leads the team in tackles.

Barboza: As predicted a couple weeks back, the Kelley-Rex picture is only obfuscated more. Expect another wild finish. And, of course, another prediction my friends in Mansfield will relish. Franklin, 38-36.

Hall: If the Hornets can establish the run game early, they can do just enough to hold off a furious Franklin rally. Mansfield, 27-24.

KING PHILIP (8-1) AT NORTH ATTLEBOROUGH (6-3)
The Skinny: Another pair of Kelley-Rex teams with one division loss meet in this rivalry game. The Red Rocketeers have cobbled together a three-game winning streak, following a three-game losing streak in the middle of the season. The better news yet for North in recent weeks its improving health, seeing several key contributors return to the field in recent weeks. Meanwhile, King Philip has rolled through Attleboro and Oliver Ames by a combined 75-21 margin since its loss to Mansfield.

Barboza: I find myself simply rooting for another chaotic finish to the Kelley-Rex division race, but I'm sticking with my preseason pick. KP, 24-21.

Hall: This is a new team with Sean Peters and Alex Jette both healthy. I'm looking at a return to early September form down the stretch for the Big Red. North, 30-23.
October, 5, 2012
10/05/12
10:59
PM ET
By
Ryan Lanigan
| ESPNBoston.com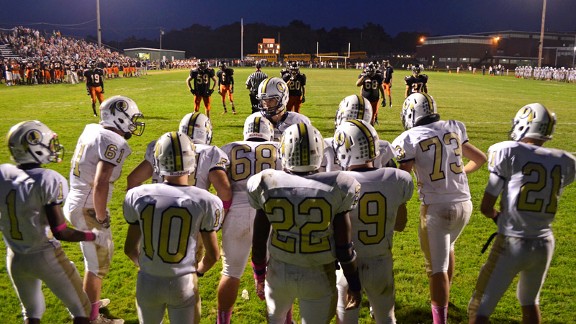 Scott Barboza/ESPNBoston.comStoughton endured a trying week and the death of teammate David Wade to earn a critical 20-0 victory over Foxborough Friday night at Anthony L. Sarno field.
STOUGHTON, Mass. -– Stoughton head coach Greg Burke has been saying it for a long time, and this year, his team is following through.
Play better than last week.
The Black Knights (5-0) remained unbeaten and again dominated on defense to knock down Foxborough, 20-0, in their first game since losing teammate David Wade less than a week ago.
Only one of the two teams on Anthony L. Sarno Field had a repeat performance from last week. Stoughton, who beat up on Mansfield in the rain last Friday 25-6, put on an encore performance with a relentless running attack and a bend-but-don't-break defense.
Fresh off a shocking 21-0 upset of North Attleborough, Foxborough (3-2) failed to put any points on the board, despite the majority of its drives entering Stoughton territory.
[+] Enlarge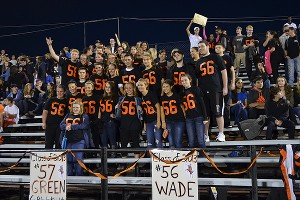 Scott Barboza/ESPNBoston.comBlack-and-orange T-shirts with Wade's No. 56 were made up for Friday night's game.
Minutes after a moment of silence to honor Wade, who wore No. 56, the Black Knights took their opening drive 53 yards on just four plays, as senior Marcus Middleton took a sweep to the left for a 40-yard score.
"We don't look like much," Burke said. "We don't have a lot of size, but we have some tough kids. They're unbelievable."
The Black Knight defense, which now only averages 5.2 points against a game with two shutouts, set the tone early with a big third down stop on Foxborough star running back Kiivone Howard.
As both teams traded possessions through the first half, it looked as though the Warriors caught a big break with less than two minutes to go.
On a first and goal from seven yards out, Stoughton's Aaron Mack carried to the right before being hit hard, forcing a fumble at the one-yard line, which Foxborough recovered.
As the Warriors tried to run the ball out of the end zone, they kept hitting a wall and were faced with 3rd down from their own 1. As quarterback Mike Slaby rolled out to the left, Stoughton senior Imani Pina punched the ball out. The ball fumbled around the goal line and then finally someone came jumping out of the pile with possession.
Pina, touchdown.
The senior scored with just 13 ticks left in the first half and gave Stoughton another boost before halftime.
"Pretty much all week we worked on [that play]," Pina said. "I saw the [quarterback] pull the ball so I stepped out of the box and just made a play. I tried to punch it out and it came out. I saw it on the ground and I picked it up."
In the second half, the Warriors were able to reach the Stoughton 10-yard line on two occasions, only for their offense to be thwarted on both occasions.
On their first try, a trick play gone wrong cost them 15 yards and their fourth down play went incomplete.
Two Stoughton drives and one play later, Stoughton quarterback Dan Eckler caught the Foxboro defense napping and found a wide open Middleton for a 67-yard touchdown pass. The extra point was no-good, but Stoughton went up 20-0 in the final frame.
On Foxborough's second attempt from Stoughton's 10, a drive that had gone 52 yards on eight plays, back up quarterback Nolan Rogers' (in for the injured Slaby) pass was picked off by Pina and Stoughton sealed the game.
STOPPING HOWARD
Foxborough's running back came into the game with a league-leading 12 rushing touchdowns, having scored 3 in each game thus far.
Stoughton consistently loaded the box with 8 or 9 guys and dared Foxborough to throw. Howard still found success, carrying the ball 24 times for 109 yards. He had could have had more, but the tough Stoughton defense was able to exploit some plays for big losses.
"It's [frustrating]," Foxborough head coach Jack Martinelli said. "We were on the field defensively too long. You have to answer, and we didn't. Simple as that."
October, 2, 2012
10/02/12
1:57
AM ET
RAIDER NATION HAS OFFICIALLY ARRIVED
Barnstable head coach Chris Whidden had barely left the turf of Everett Memorial Stadium on Friday night before his phone began buzzing like crazy. To call the city of Hyannis' reaction to the Red Raiders' double-overtime upset of the No. 1 team in the land an outpour would be on diplomat's terms.

"Let's put it this way, I think I had eight or nine texts on my phone by the time I got on the bus," he said.

It's been a wild few days south of the Sagamore Bridge since the the Red Raiders pulled off the virtually unthinkable. Many pundits predicted the hard-hitting, fundamentally disciplined Raiders to keep it close with Everett, holders of a 28-game win streak and the top spot in ESPNBoston.com's statewide poll since October 2010 -- but on the mainland, nobody actually believed they'd actually pull it off. And with it, Barnstable moves up two spots in our poll to No. 1, becoming the first Old Colony League team to be anointed the top team in the land in the history of our poll.

What statement does this make about Cape Cod football? Not much, really. That was made last year, when an unprecedented five teams from the Cape & Islands region (including Barnstable) qualified for postseason, with four of them winning a Super Bowl (Dennis-Yarmouth, Bourne, Mashpee, Nantucket). And the Cape is strong once again, with Nauset, Bourne, Wareham, Sandwich, Martha's Vineyard and the aforementioned Raiders all off to at least 3-1 starts or better.

No, this is more about the Barnstable program itself. After some tumult the last few years, the Raiders have taken off after settling with Whidden as their head coach, and Nick Peabody as their quarterback. Friday night, after going 0-for-10 with an interception in the first half, Peabody showed why he is on the short list for ESPN Boston's Mr. Football Award by throwing two second-half touchdown passes to his favorite target Dylan Morris, including the crucial one in the second overtime that clinched it.

The Red Raiders can score -- this much we know, after putting up 110 points in the first eight quarters of the season -- and have some gifted athletic versatility between Morris, Theo France and junior Hayden Murphy. But Friday's stunning upset was more a statement of Whidden's defensive prowess.

Barnstable threw a variety of man and zone coverages at Everett, primarily out of a three-deep shell, aimed at containing Everett's two superstar receivers, Jakarrie Washington and Jalen Felix. Up front, the Raiders began in a three-man front, but quickly found more success with four down linemen, and stuck with it. Where there was a weight disadvantage -- the Tide average over 300 pounds across, led by Notre Dame-bound left tackle John Montelus -- the Raiders made up for with quickness, athleticism, and length, behind Jason Freih, D.J. Goncalves and John Eldridge.

Whidden is known for his knack as a defensive play-caller. But it also doesn't hurt having two NFL vets and Cape football legends coaching up the defense, either. Falmouth grad and former Oakland Raider Willie Ford has the secondary's ear, while Barnstable grad and former Dallas Cowboys lineman Mike Dwyer has the defensive line.

"They're able to get so specific with the technique," Whidden said. "For a defensive lineman working different skills, different technique, whether it's pass rush or run defense, they're not the same moves or same techniques, so that's crucial. Same with the secondary, playing man coverage and zone coverage are completely different techniques. They got that repetition during the week."

This year's team-issue shirts at Barnstbale feature a bulls-eye on the back, a statement more to do with the target that comes with being the regining OCL champ. That target has just gotten a little bigger.

A lot, actually.

"They know now that teams are really gunning for us," Whidden said. "We pay attention to the way we celebrated on their field after the game. Now we've got teams coming at our place as the top dog, and we've got to make sure we avoid having anyone celebrate like that against us."

KEN LACHAPELLE -- VISIONARY, INNOVATOR, GRANDFATHER
For as long as Ken LaChapelle has been at the helm of Northbridge High football, there has always been a good quarterback calling the shots. But there is but one name to trump all names: Danny Brown.

Brown, widely considered the greatest in a long line of great Rams signal-callers, reminisced about his recruiting during the 2001 and 2002 seasons, when reached last week by ESPNBoston.com to reflect on LaChapelle. The one moment of the process that's always stuck with him, he says, is a meeting with the Dartmouth coaching staff during a visit, in which the staff raved about LaChapelle's offensive innovation, telling him the coach is "always one step ahead".

LaChapelle became the third coach in MIAA history to achieve 300 career wins on Sunday, with a 42-12 victory over Southbridge, to go along with 10 Super Bowl titles. Unique from the other two to achieve the milestone is that LaChapelle has done it all in one place, holding the Northbridge job continuously since 1976.

Unique, too, was his foresight to install the Run-and-Shoot offense upon taking the head coaching job, at a time when power-running formations like the Wishbone were all the rage. LaChapelle has light-heartedly mentioned in the past his desire to one day coach a game in which he didn't attempt a run (that was short-lived on Sunday, as quarterback Matt Phelan racked up 154 yards on 5 carries). Many of the spread principles you see in the state's top teams? Northbridge has been running it for decades, going back to the days of the San Diego Chargers' revolutionary "Air Coryell" offense.

Brown, like many Northbridge alums, was a lifer, first getting a taste of Rams football as a waterboy. He endured a great career at Harvard and had a brief stint in Europe before returning to Northbridge, where he is happily engaged and makes the hour commute each way every day to the Xenith helmets sales office in Lowell. It bears asking: What keeps a guy like LaChapelle, a 1965 grad, in Northbridge for 50 years?

The short answer is family. He has a half-dozen children and nearly two-dozen grandchildren littered around the southern plateau of Worcester County. He currently coaches two grandchildren, Daiton LaChapelle and Koby Schofer, and by the looks of it could coach many more.

How many more years? Brown says, with an honest tone, "he could go another decade".

That leaves plenty more opportunities for that elusive run-less game.

FAMILIAR TERRITORY
Bob Bancroft left a lasting legacy at Whitman-Hanson in his tenure as head football coach. On Friday, Bancroft's Pembroke squad left a loss behind.

The Titans rolled over their current head coach's old team in a 19-3 win. The Panthers entered the game with the momentum gained off a tight win over Foxborough.

But after taking an early 3-0 lead on a 28-yard field goal on Friday, it was all Pembroke. The Titans quickly reclaimed the lead with Brian Tinkham's first touchdown of the game before Ken Blasser's pick-six extended the Titans' lead in the fourth. Tinkham added his second score of the game as added insurance late in the fourth.

What's more is that it marked the second straight year Bancroft claimed victory over his former side, proof that the master still reigns.

WILD NIGHT IS CALLIN'
More than a change in No. 1 teams, Friday night was ripe with upsets as the rain poured down in bowls across the state. No place was that more prevalent than in the Hockomock League, where a couple of teams in Davenport (small school division) claimed wins over their Kelley-Rex counterparts.

Foxborough's defense stymied North Attleborough's offense, holding the Red Rocketeers to just 91 offensive yards, in a 21-0 blanking. Dynamic Warriors running back Kiivone Howard outgained North by himself, running for 130 yards.

North wasn't the only Kelley-Rex team with a struggling offense. For the second straight year, Stoughton knocked off Mansfield with a 25-6 win. Meaning that the Hornets came away with a grand total of six points during their meetings with the Black Knights in the last two seasons. Stoughton again showed its defensive mettle, with Adam Leonard notching a key strip-sack early in the game and Aaron Mack's strong play in the secondary.

With both teams coming off notable upsets of Top 25 squads, the Davenport picture will come into clearer view when the Black Knights and Warriors tangle this Friday.

IN MEMORIAM
With the one of the biggest football games of the season coming, football seemingly is the last thing on the minds of the Stoughton High community this week.

Less than 24 hours after celebrating another win over Mansfield, Black Knights player David Wade, 17, was killed on Saturday by a gunshot wound to the chest. Wade played football this year after being a member of the Black Knights cheerleading squad. He also competed with Stoughton's winter track team and played tennis.

Our thoughts are with David's friends and family at this time.
October, 1, 2012
10/01/12
2:20
PM ET
By
Brendan Hall
| ESPNBoston.com
THE CONTENDERS
Drew Belcher, Jr. QB, Reading
Threw for two touchdowns, and ran in a third, in a 26-0 shutout of Melrose.

Brian Dunlap, Soph. WR, Natick
Caught eight passes for 95 yards and two touchdowns in the Red Hawks' 29-0 shutout of Newton North.

Troy Flutie, Jr. QB, Natick
Completed 16 of 24 passes for 196 yards and three touchdowns in the Red Hawks' 29-0 shutout of Newton North, and added 34 rushing yards on seven carries.

Jon Hurvitz, Sr. RB, Duxbury
Ran for a touchdown in the Dragons' 28-0 shutout of Middleborough.

Dylan Morris, Sr. WR, Barnstable
In a performance that will go down deep into Hyannis folklore, Morris caught two second-half touchdown passes -- the second clinching it in the second overtime -- in the Red Raiders' historic 13-7 upset of Everett.

Nick Peabody, Sr. QB, Barnstable
After going 0 for 10 with an interception in the first half against Everett, recovered to throw two touchdown passes and 96 yards, to deliver the upset.

Andrew Smiley, Jr. QB, St. John's (Shrewsbury)
In the Pioneers' 46-14 thumping of Wachusett, completed 13 of 24 passes for two touchdowns and added 93 rushing yards on seven carries. It's the first time in four starts he didn't eclipse at least 330 yards from scrimmage.

Jonathan Thomas, Jr. RB, St. John's Prep
Carried 23 times for 224 yards and three touchdowns in the Eagles' 27-12 win over Brockton.

Cody Williams, Jr. QB, Springfield Central
Completed 8 of 12 passes for 172 yards and three scores in the Golden Eagles' 41-21 win over Chicopee.

Quron Wright, Sr. RB, Holy Name
In a 33-8 loss to Nashoba, the scatback ran for 251 yards and a score on 32 carries, bringing him within 420 yards of the school's all-time rushing mark.

ON THE RISE
Shadrach Abrokwah, Sr. RB, St. John's (Shrewsbury)
Ran for 146 yards and five touchdowns on 15 carries in the Pioneers' 46-14 win over Wachusett.

Garrett Carlos, Sr. RB, Somerset-Berkley
Kept up his torrid pace with 180 yards and two scores on 15 carries, in the Blue Raiders' 35-14 win over Wareham.

Jeff D'Auria, Sr. RB, Chelmsford
Ran for 290 yards and four touchdowns in a 35-27 win over Dracut.

David Harrison, Sr. ATH, Weymouth
In his first start at quarterback, moving over from his usual wideout position, he was 15 of 25 passing for 259 yards and four scores, including the game-winner with 23 seconds left, to beat Needham 32-27.

Kiivone Howard, Jr. RB, Foxborough
Carried 29 times for 130 yards and three touchdowns in the Warriors' 21-0 upset of North Attleborough.

Alex Medeiros, Jr. QB, Bishop Connolly
The running back, who's been filling in at quarterback for the Cougars, ran for 175 yards and two touchdowns on 12 carries in a 36-0 win over Marian.

Jon Ojukwu, Sr. RB, Nashoba
Exploded for a ridiculous 270 yards and five touchdowns on just 11 carries as the Chieftains rolled over Holy Name, 33-8.

Mikey Panepinto, Jr. RB, Needham
Ran for 224 yards and three scores in the Rockets' 32-27 loss to Weymouth.

Matt Phelan, Sr. QB, Northbridge
Completed 6 of 9 passes for 93 yards and a score, and added 154 rushing yards and three scores on just five carries, as the Rams rolled Southbridge 42-12 to earn coach Ken LaChapelle his 300th career victory.

C.J. Scarpa, Sr. QB, Andover
Completed 12 of 25 passes for 203 yards and two scores, in the Golden Warriors' 15-13 upset of Xaverian.

Jimmy Sullivan, Jr. QB, Nauset
In the Warriors' 20-14 win over Cardinal Spellman, carried 16 times for 147 yards and a score.

Brandon Watkins, Sr. RB, Martha's Vineyard
Did it all for the Vineyarders in a 41-8 rout of Randolph: 7 carries for 171 yards and 3 TD; 1 reception for 41 yards; and an interception.
September, 22, 2012
9/22/12
12:25
AM ET
By
Ryan Lanigan
| ESPNBoston.com


FOXBOROUGH, Mass. -– It didn't take long for the visiting Whitman-Hanson Panthers to put points on the board –- just 12 seconds, in fact –- and set the tone.

Sophomore Mike Lenane took the opening kick off 70 yards, almost untouched, to give the Panthers their second consecutive game with a score on the first play.

Senior quarterback Thomas Sapienza threw two first-half touchdown passes to classmate Dondre James, as the Panthers defense withheld a late rally, beating Foxborough, 21-20.

"We preach fast starts," Whitman-Hanson head coach Mike Driscoll said. "These guys know that and they responded big time tonight. They came ready to play."

The Panthers were able to get scores at key times. Besides the opening kick off, they scored on their very first drive -– only two plays –- as Sapienza found James for a 37-yard strike to make it 14-0 with less than four minutes played.

"He's just a great athlete, period," Driscoll said of James. "I'd match him up against anyone. Dondre makes those plays every week and he continues to make them."

With less than a handful of plays run from scrimmage, and a 14-0 lead, it looked as though the Panthers might runaway with the game, but the Warriors were able to respond their next possession. A combination of runs from Kiivone Howard and Luc Valenza was finished with a Howard sweep to the right for a 24 yard touchdown run, cutting the Panther's lead in half.

Both teams traded possessions for most of the remainder of the first half, including a blocked field goal by Foxborough. But with less than a minute in the half, Whitman-Hanson came out firing.

Sapienza's first and second passes went incomplete. Jake Walkins then grinded out five yards. And then, the dagger.

"He's a gamer," Driscoll said of his quarterback. "He hung in there. He threw that ball at the end of the half and that was the difference in the game."

Sapienza found a streaking James for a 32 yard strike, giving the Panthers a 21-7 lead with just 1.5 seconds left in the half.

"I saw one on one back coverage and Tom just got me the ball," James said. "It was a really good play."

Foxborough coach Jack Martinelli said his team didn't make too many adjustments in the second half, but rather just did what they were capable of.

Adjustments or not, something changed in the second half. The Foxborough defense clamped down, and on their second offensive series of the half, crutched by a unsportsmanlike penalty and a 31-yard run from Valenza, Howard punched it in from 1 yard out for his second touchdown of the game, bringing his team within one score.

As the Panther offense stalled, the Warriors defense seized their opportunity, forcing a fumble and recovering it with 9:18 left to play.

What had looked like a possible rout was now a touchdown away from a possible overtime thriller.

Foxborough's next possession went 10 plays, but ran out of gas and they were forced to punt with just over five minutes in the game remaining.

But again, the Warrior defense came through, stopping the Panthers and forcing a turnover on downs.

Seven plays later, Howard had a little déjà vu with another one-yard touchdown, this team leaping over the pile to bring it to 21-20 with just 1:18 left. Unfortunately for the Warriors, the extra point sailed wide right.

The Panthers recovered the onside kick attempt from the Warriors, and Luke Laubacher's long run sealed the deal for the now 3-0 Panthers. Foxborough drops to 2-1.

Howard Shines in Loss: After two games this season, a lot of people were starting to keep track of Foxborough's star running back. Through three games, Howard has amassed over 400 yards and nine touchdowns.

Friday night's 25-carry, 107-yard, three-touchdown performance helped spark the Foxborough comeback, which was impressive given the focus Whitman-Hanson put on him defensively.

"To me, he's one of the best around," Martinelli said. "Whitman[-Hanson] did a good job on him early on I thought. It was tough for us to get outside and that open up some things inside for him."

Redemption for Panther Special Teams: Despite beating Marshfield 39-24 last week, there were some mistakes that stood out on the Panther special teams.

Against Marshfield, they missed three extra points – something that would have cost them the game against Franklin on Friday night, who saw their winning chances vanish with a missed attempt.

And even more special, was Lenane, who fumbled a kick last week, was able to turn in a kick return for a score this week.

"Chris Ryan was 3-3 in the extra points, he's a great kicker," Driscoll said. "We told Mike this week they're going to kick to you and to be ready. He stepped up big time."

WHITMAN-HANSON 21, FOXBOROUGH 20
Whitman-Hanson (3-0) 14 – 7 – 0 -0 – 21
Foxborough (2-1) 7 – 0 – 7 – 6 – 20

First Quarter
W – Mike Lenane 70 kick return (Chris Ryan kick)
W – Dondre James 37 pass from Thomas Sapienza (Ryan kick)
F – Kiivone Howard 24 run (Kyle Will kick)

Second Quarter
W – James 32 pass from Sapienza (Ryan kick)

Third Quarter
F – Howard 1 run (Will kick)

Fourth Quarter
F – Howard 1 run (Kick failed)
September, 21, 2012
9/21/12
3:25
AM ET
NO. 3 XAVERIAN (1-1) AT NO. 15 BROCKTON (1-1)
The Skinny: Both teams are going to be seeing red after their respective performances last week with the Hawks taking an ole fashioned whooping at St. Joseph's Regional in New Jersey and the Boxers being shut out by the likes of Reading. This matchup will see some of the state's premiere lineman matching up with Michigan-bound Mo Hurst lining up across from preseason All-State Watch Lister Joe Previte of Brockton.

Barboza: The question might be is if the Boxers get back on the board again this week. I think they do, but it's still no enough. Xaverian, 27-14.

Hall: I want to know what St. Joseph's Regional alum Devin McCourty thinks of the New Jersey school's 62-0 beatdown of Xaverian last weekend. Xaverian, 24-17.

NO. 22 BC HIGH (0-2) AT DARTMOUTH (1-1)
The Skinny: The beleaguered Eagles might enjoy of bit of a reprieve if rumors are true that quarterback Brendan Craven will return for the tilt against the Indians. These will be two hungry squads as BC High looks for its first win on the season and Dartmouth hopes to bounce back from a disappointing loss to Attleboro last week. This could be a coming-out party for Dartmouth RB/LB Mitch Loranger, one of the more underrated talents in the state, while Tim Smith provides a nice change of pace running.

Barboza: Coach Rick White puts these games on the schedule when he feels like he has something in the bag, so you can't look past that. I think the Eagles escape the South Coast with their first win of the season, however. BC High, 16-14.

Hall: I'm in need of a bailout from North Attleborough Credit Union after picking the Eagles last week. Sorry, in this dire times of financial brevity, I can't take on too much more water. Dartmouth, 17-10.

WHITMAN-HANSON (2-0) AT FOXBOROUGH (2-0)
The Skinny: These are two traditional powers who have had some leaner years in recent memory, but seem again to be headed back in the right direction. The Panthers opened up their season with wins over ACL powers Plymouth North and Marshfield, with QB Tom Sapienza tallying over 400 yards on the air and ground in the victory over the Rams. The Warriors steamrolled their first two opponents (East Longmeadow and East Providnce, R.I.) by a combined 74-16 with running back Kiivone Howard putting his name into early Hockomock Player of the Year talk.

Barboza: The offensive weapons are there, but I wouldn't be surprised with a defensive struggle here. Foxborough makes the stops when it needs to behind linebacker Luc Valenza. Foxborough, 21-14.

Hall: Kiivone Howard has been one of the nicest surprises of the early season. Of course, folks in Foxborough will tell you that's no surprise. Foxborough, 30-25.

NO. 5 DUXBURY (2-0) AT NEW BEDFORD (2-0)
The Skinny: The Dragons put their state-best winning streak on the line against the Whalers after rolling through Plymouth North last week. Marshall McCarthy has been as good as he's ever been for Duxbury's defense, registering 26 tackles through two games. New Bedford will look for a big game from quarterback Mike Rapoza, who's a multi-dimensional threat having played running back and wide receiver as well.

Barboza: Jon Hurvitz and the Duxbury line could be primed for a big day. Duxbury, 28-10.

Hall: I fully expect the Dragons to head into October 5's showdown with Xaverian on a 30-game win streak. Duxbury, 21-0.

NO. 2 ST. JOHN'S PREP (2-0) AT NO. 1 EVERETT (2-0)
The Skinny: For the first time since 2010, we have the top two teams in ESPNBoston.com's statewide poll squaring off. Everett is 7-0 against the Catholic Conference since the 2009 MIAA Division 1 Super Bowl loss to Xaverian; that streak features three wins over the visiting Eagles, including the 2010 D1 Super Bowl. To snap the streak, Prep will have to play lockdown defense and get big production from its star running back Jonathan Thomas. For Everett, it's anyone's guess who will be lining up at quarterback this week, but Gilly De Souza has been very serviceable.

Barboza: I think both offenses are going to get theirs, but it's going to be decided by the defenses and who's able to force a fumble, come up with a pick, something to steal the game. Everett, 30-23.

Hall: No truth to the rumor Everett Superintendent of Schools Fred Foresteire was taking snaps under center this week. Everett, 23-21.

NO. 9 ST. JOHN'S OF SHREWSBURY (2-0) AT CATHOLIC MEMORIAL (1-1)
The Skinny: St. John's can lay claim to one of the state's most prolific offenses after an impressive showing the first two weeks, outlasting No. 24 Holy Name (47-40) and cruising past No. 16 Longmeadow (35-14). However, neither team has an individual as talented on the defensive side of the ball as CM's UMass-bound linebacker/defensive end Peter Ngobidi, one of the state's best off the edge. Conversely, the Knights struggled against Westford last weekend, and may have their hands full against a Pioneers squad with similar spread principles but at a breakneck tempo.

Barboza: I like the Knights' defense with Ngobidi and Kevin Bletzer, but too many options for them to stop. St. John's, 31-17.

Hall: Going forward, I'm suddenly very intrigued at how St. John's will be calling in its plays. St. John's, 30-14.

BB&N AT BELMONT HILL
The Skinny: Belmont Hill is entering its first season in decades without Kevin Fleming on the sidelines, and it comes out of the gate going right into the fire. BB&N took a 17-14 humbling at the Hillers' hands in the opening week of ISL play last year, and they have one of the best individual athletes this season in Wake Forest-bound tight end Brendan O'Neil.

Barboza: I'm still syphoning water from my boots after last year's "Car Wash" game. The memory will be fresh in the minds of the Knights as well. BB&N, 20-14.

Hall: Plain and simple, John Papas gets his revenge here. BB&N, 21-7.

THAYER ACADEMY AT GOVERNOR'S ACADEMY
The Skinny: ISL season opens up with plenty of hype behind Thayer and its numerous athletes, including Bryan Vieira, Aaron Gilmer and Ikenna Nwokeji. The Governors had runaway success last season under first-year head coach Jim O'Leary, and return arguably the most valuable player in the league in quarterback Tate Jozokos, a UNC lacrosse commit who was a dual-threat nightmare for many opponents.

Barboza: Simply stated, Gov's are running the table again this year. Governor's, 23-17.

Hall: Tate Jozokos can play on my Tuesday night Charlestown flag football team any day. Governor's, 28-13.
October, 15, 2011
10/15/11
12:59
AM ET


EASTON, Mass. -- Field position can win an awful lot of football games and Oliver Ames exhibited that in its 17-9 victory over Hockomock Davenport rival Foxborough Friday night at Muscato Stadium.

After the Tigers' opening drive stalled on Foxborough's 6-yard line on a fourth-and-goal try, the Warriors promptly returned the ball, fumbling on their first play from scrimmage. OA (4-1) needed just four yards to take an early 7-0 lead.

The Tigers again set up shop inside the red zone on their next possession, after forcing the Warriors (3-3) three-and-out. Dean Soucie's block and recovery of a Foxborough punt had the Tigers at 14-yard line. Although OA couldn't make it a two-touchdown lead, Ryan McGrath's field goal provided an instant 10-0 lead.

"Last week [against King Philip], we didn't represent ourselves properly," Tigers head coach Jim Artz said, "and I think, this week, we came out with a little bit more vinegar and a little more nastiness to play the way we're capable of playing."

After a Foxborough field goal, OA extended its lead on quarterback Jared Schneider's second rushing touchdown of the game just before the half. That drive, too, started with the benefit of excellent field position near midfield.

"We came out first drive and didn't get in, but our defense played great the whole game," Schneider said. "We knew once we got down there, we've got to score every time."

With the luxury of field position, OA was also able to carry the tempo of the contest. The Tigers pounded the Warriors banged-up line (with two starters lost to injury this week) in the running game with senior running back Sam Langston's 22 carries for 168 yards.

"Sam [Langston] is amazing," Schneider said. "I think he's the best running back in the league, I don't care what anybody says. He's run the ball so well all season and he's carried us down the field."

CLAWING BACK
Foxborough had chances to come back in the second half, thanks to a couple of interceptions by senior corner Tony Gutierrez, one of which set up the Warriors' lone touchdown in the fourth.

Warriors quarterback Nick Sestito also exhibited a good touch on the ball, breaking off several big plays while exploiting OA's Cover-2 defense. Sestito found receivers open on the seam several times, with a couple of those balls directed toward physical 6-foot-4 split end Noah Cronin. The Warriors also have a nice complement to Cronin with shifty receiver Greg Stamatov (the Villanova-bound lacrosse goaltender) working underneath.

"He's our Wes Welker," Foxborough head coach Jack Martinelli said of Stamatov. "He's just able to get open."

However, the opportunities the Warriors had to gash the Tigers up the middle eventually ebbed away.

"We were being too aggressive with our pressure up front, too," Artz said. "We changed up our looks and that helped."

BOUNCING BACK
Artz made several mentions to the team's dissatisfaction with their effort in a 28-13 loss to King Philip last week. It should have been a statement game for the Tigers (Stoughton over Mansfield, anybody?), but OA got behind the 8-ball early and wasn't able to get into their game plan.

"We felt we weren't able to utilize our ground game last week because of the way the game developed because we fell behind so quickly," Artz said.

The Tigers were able to assert their will on the patchwork Warriors line behind hulking 6-foot-9, 300-pound right tackle Keith Sullivan.

In addition, OA found different ways to integrate Langston into the offense, throwing in a healthy dose of direct snaps to back and some Wildcat formations.

"[Langston] has been a workhorse all week," Artz said. "He's unbelievable. He doesn't go down on the first hit. You stop him for a second and he's still going to be churning, pop off and be four yards down the field."

EXTRA POINTS
It's neither here nor there, but Tigers place kicker Ryan McGrath can flat out boom the ball. His 34-yard field goal in the first quarter would've been good from 50, a testament to one observer's estimate that McGrath was hitting from 55 yards in the pregame warm-ups in inclement weather. McGrath also showed off his leg powering a touchback through the end zone in the second quarter.

In so many words: Wow.

Foxborough (3-3) 0 3 0 6 -- 9
Oliver Ames (4-1) 10 7 0 0 -- 17

1st quarter
OA – Jared Schneider 2-yard run (Ryan McGrath kick)
OA – McGrath 34-yard field goal

2nd quarter
F – Jake Soccorso 29-yard field goal
OA – Schneider 2-yard run (McGrath kick)

4th quarter
F – Kiivone Howard 1-yard run (Kick failed)