Boston High School:

Kim Penney
March, 9, 2013
3/09/13
2:27
PM ET
By
Brendan Hall
| ESPNBoston.com
LOWELL, Mass. -– Few players across Massachusetts have separated themselves from the pack the way Reading's Olivia Healy has this season. But you don't get to 48 straight wins and now two straight Division 2 North titles with one player carrying the team on her back every night.
[+] Enlarge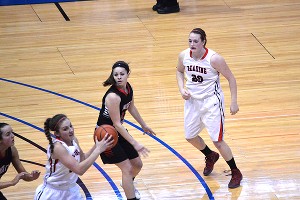 Brendan Hall/ESPN BostonWith star Olivia Healy facing a box-and-one, Sarah Haase (19 points, 11 rebounds) stepped up to deliver Reading its second straight D2 North title and 48th straight win.
Championship-caliber teams always get clutch production from serviceable role players. This morning in the D2 North final at the Tsongas Center, in a sluggish day of offense, that fell unto junior forward Sarah Haase. The 5-foot-9 pivot came up with 19 points and 11 boards as the Rockets downed North Andover easily, 50-33, for their second straight D2 North title.
"We've been here before, so I kind of expected what the stadium would look like," Haase said. "We came here early, got a good warmup. I just came to play, and I had my team's support, my team's help with the assists and everything. That helped out a lot."
The Richmond-bound Healy ended up with a quality night as well, tallying a double-double (18 points, 10 rebounds) while facing a box-and-one defense. But her ball movement helped the Rockets break their sluggish offensive start, tallying five assists on the afternoon -– several of those going to Haase.
"She was unbelievable," Healy said of Haase. "She owned the points, she kept on putting it in strong, but her rebounding was ridiculous too. She got some crucial rebounds, she got them for us at the Comcast Tournament [last month]. She's been stepping her game up."
Said Reading coach Kim Penney, "She's been working hard. We keep telling her, when Liv [Healy] gets the ball down low, you've got to dive because she's going to see you, and she made some nice passes to her."
Reading lead North Andover 23-11 at the break, holding the Scarlet Knights to just 26 percent from the floor (5-of-19) in the first half. Holding a 31-22 lead after three, the Rockets finished strong, shooting 60 percent from the floor (6-of-10) and going a near-perfect 7-of-8 from the line, including a 6-for-6 clip from Healy.
Defending Lumb:
Coming into the tournament with eight losses, North Andover made a surge to its first D2 North Final appearance since 1988 behind the returning health of senior forward Morgan Lumb, a University of Hartford signee.
This morning, the defensive duty fell unto senior guard Katie Starble, who marked Lumb the whole game; and while Lumb finished with 17 points, eight of those points came in the fourth quarter when the lead was already in hand.
"We take pride in our defense, we like to run the floor so hopefully our D sparks that. But it started with Katie tonight," Healy said. "She had a hand in her face every single time. Yeah, she got some shots off, but everything was contested. Nothing was open for her."
Swift dishes
: This isn't the first time Healy has seen a box and one, and it may not be the last in her high school career. So the 5-foot-10 senior knew exactly what to do – set up her teammates cutting to the basket.
"We have an offense off of box and one," Healy said. "If someone sets that, the rest of the team says 'It's my time to step up', and it's my job to give it to them as much as possible. Bridget [Clements] hitting threes, Katie [Starble] taking that outside shot…I mean, I'm already down low. I would rather see box-and-one more than anything, because it frees up my teammates on the court."
It's not often the Knights bust out the defensive call. But NA head coach Sue Breen applauded Mackenzie Mello's efforts marking Healy around the perimeter.
"She's just such a good defensive player for us," Breen said. "I don't think most teams have a kid that is that quick and long [Healy], and I think Mackenzie just did a great job on her. We haven't played a box-and-one much this year, because usually we can just go straight up, but we found we needed to do something different because we didn't want Olivia to score 45 points."
May, 15, 2012
5/15/12
11:17
AM ET
By
Brendan Hall
| ESPNBoston.com
The following coaches will be honored at the Second Annual Coach of the Year/Student Athlete Banquet on May 30, 2012. Each coach below has been named Coach of the Year by the MIAA for their respective sport:

Robert Mahoney, Notre Dame (Tyngsborough) -- Girls Volleyball
Amelia Davis, Algonquin -- Gymnastics
Kevin Burchill, Braintree -- Girls Ice Hockey
Jack Stoddard, Duxbury -- Boys Golf
Alex Naumann, Everett -- Boys Ice Hockey
Michael Foley, Framingham -- Swim
Fred Jewett, Hingham -- Indoor Track
Jim Leonard, King Philip -- Softball
Phil Maia, Lowell -- Cross Country
David Duffy, Needham -- Football
Frank Carey, North Reading -- Baseball
Rick Kates, Notre Dame (Hingham) -- Outdoor Track
David Gianferante, Notre Dame (Hingham) -- Girls Golf
Kim Penney, Reading -- Girls Basketball
David Curley, Rockport -- Boys Soccer
Ed Scollan, Westford -- Boys Basketball
Leslie Frank, Westwood -- Girls Lacrosse
March, 17, 2012
3/17/12
7:15
PM ET
By
Tom Layman
| ESPNBoston.com
WORCESTER, Mass. — Reading was honored before the Div. 2 state championship game for the sportsmanship the Rockets have shown in the 2011-12 season.

Apparantely being a good sport isn't the only thing the Rockets were good at this season.

Reading captured its first-ever state championship in dominating fashion with a 48-27 victory over Tyngsboro at the DCU Center.

Olivia Healy warmed up in the second half and finished with 16 points, 11 rebounds and six assists, while Melissa DalPozzo chipped in 10 points and eight rebounds.

The road has been 14 years long for head coach Kim Penney to a championship year, and the excitement and emotions were all over her face after the satisfying victory.

"We had a lot of alum in the crowd and we've got a lot of the people over the years that played for us that feel like they won it today with the girls," said Penney, who had to take a moment to collect herself. "It was an emotional roller coaster. It hasn't set in yet."

Defense Wins Championships: It's a cliché that has been uttered over and over again in the game of basketball, but when you can hold your opponent to under 20 percent shooting for the game and count on one hand how many field goals the Tigers were able to score in a 16 minute span then that cliché sounds more and more like reality.

The Tigers scored three field goals between the second and third quarters as the Rockets outscored their opponents 27-8 in that span.

"We are a pretty tall team and we have long arms," said Healy. "We have been working on our close outs more, so we are not over-running them so they don't have the open drive. It was basically just getting our hands up and making them shoot over us."

"It was a little bit different than the last couple of games when we were playing post players, while this team was more of a perimeter (team)," echoed Penney.

Quiet Night from Healy -- not so quiet: Things weren't easy for Healy offensively in the first half and most of the third quarter.

The junior wing was 1-for-8 in the first half for just three points, and she was consistently missing shots from inside the painted area that usually are automatic buckets for a player of her caliber.

The hustle to keep getting to the hoop in the second half started to pay off, as she got to the line nine times in the second and completed seven of them. Healy finished with 13 points, five rebounds and four assists in the final 16 minutes to keep the scoreboard tilted in the Rockets' favor.

"There was one time when I went up for an easy lay-up and I went up two times, three times and it just wasn't falling in," said Healy. "We stayed with it and the shots were going to fall in the second half," said Healy. "We just had to adjust and get used to our surroundings."
March, 13, 2012
3/13/12
11:57
PM ET
By
Tom Layman
| ESPNBoston.com
(Video courtesy of Lucas Shapiro)
BOSTON — Brian Buckley probably stated it best after his Scituate girls basketball team battled with Reading in a clash between two teams with a combined 47-0 coming into the TD Garden.
His words were simple and straight to the point.
"It's a shame somebody had to lose," he said.
It was probably a sentiment felt throughout the building, but in a fight for a chance to play in the state championship at the DCU Center the Rockets (24-0) were the ones that escaped unscathed with a 71-64 victory in overtime in the Div. 2 state semifinals.
The game had a little big of everything. From drama, to big-time players making big plays when it mattered to those same players filling up the stat sheets at an impressive rate. Morgan O'Brien led all scorers with 33 points for the Rockets. Her teammate, Olivia Healy, was all over the place with 21 points, nine rebounds, eight steals and five assists.
The Sailors (24-1) were led by Shannon Brady and her monster 28-point, 17-rebound double-double.
"Maybe a year from now, maybe even a month from now, they will realize that they were in one of the greatest games we ever witnessed in girls basketball at the Garden," said Buckley. "I've been coaching since 1974 and I have not been in a better game where we lost where I'm more proud of my team tonight."
[+] Enlarge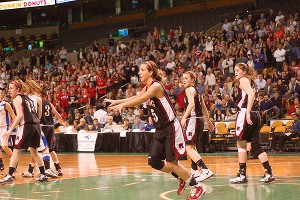 Brendan Hall/ESPN.comJunior Morgan O'Brien (33 points) made some crucial plays in overtime to help lift Reading to the Division 2 Eastern Mass. title.
Reading coach Kim Penney agreed with Buckley's sentiments.
"It was exciting, what a game," she said.
Brady Extends It:
Brady put up monster numbers in the game, but it was her play in the final moments that stood out the most.
O'Brien hit 1-of-2 from the line to give the Rockets a 59-57 lead, and the Sailors gobbled up the rebound on the second missed shot with 14 seconds on the clock. Kate Lemire, who came off the bench and was thrust into the point guard role, brought the ball up the court and found Annie Miller on the wing late.
The plan was to get Brady the ball in the post and let her do her thing. Reading also knew that too. With a couple of defenders draped all over her in the post, Brady rose and sent a right-handed hook shot into the hoop before the buzzer blew.
"We tried to get it inside to (Brady), especially at the end of the game," said Buckley.
The result was discouraging for Penney, but she knew it wasn't a lethal one.
"We were trying to double her the whole time in the halfcourt set," said Penney. "We were going full court at the time and we didn't have anyone fronting her at the time. They are a great team. They push the ball up the court so quickly. (Brady) hit the shot and we knew we didn't lose, but we knew that we had to keep plugging and win the whole thing,"
O'Brien Steps Up:
Healy is always the first name that comes up when the Reading girls basketball team comes up in conversation.
This time O'Brien decided to enter her name into that equation.
The junior stepped up in the second half when Healy was struggling with her offense to keep the Rockets close and ultimately help them get over the top. O'Brien scored 27 of her 33 points in the second half, and it was her persistence to get to the line that stood out in the final 20 minutes of play.
"The past few games I haven't been taking it to the hoop a lot, because the other teams know that I'm a shooter and they were blanketing me," said O'Brien, who was 12-of-17 from the stripe in the second half. "I knew I had to pick it up this game and I knew I could get to the hoop."
O'Brien hit a jumper to take a 58-55 lead after Katharine Callahan kept the possession alive. She also scored six of the 12 points in the overtime session for the Rockets to run away from the Sailors.
March, 10, 2012
3/10/12
8:23
PM ET
By
Shawn Myrick
| ESPNBoston.com
LOWELL, Mass. -- Olivia Healy remembers the Tsongas Center floors all too well.

Once a junior high student cheering from the stands in 2008, she notes watching her Lady Rockets drop a 52-40 semifinals loss to Lincoln-Sudbury and the lingering feeling of unfinished business she left with.

A 49-46 win over second-seeded Arlington Catholic (21-4) in the Division 2 North finals on Saturday and a first ever team trip to the TD Garden on Tuesday to face South champions Scituate (24-0) have sent her out of arena with a much happier disposition this time around.

"There is a picture of us with our faces painted sitting at the Tsongas," said Healy of 2008. "We were like 'We are going to get there some day' and now we are here."

Leading for three quarters the top-seeded Rockets (23-0) dominated the boards to out-rebound AC 37-22.

Despite consistently playing from behind, a quick 3-pointer by senior Emma Roberson at 11.8 seconds was a late sign of hope for the Cougars as it cut the score to 49-46. Despite setting up an open 3-point effort for AC'S Melissa Rogers along the sidelines, the freshman caught the back corner off the rim to close the final seconds.

The defending state champions struggled to control Healy and teammate senior Melissa DalPozzo below the rim, with Dalpozzo grabbing 13 rebounds and Healy 12. Healy led her squad in scoring with 12 points.

"We have been focus on (rebounding) all season," said Reading coach Kim Penney. "The team that out rebounds the other has a better chance. Even if you miss your own shot, you can get a second or third look at it."

Technical Fall: A final quarter technical by the Cougars lead way to an important nine points run for Reading.

Up 30-29 late in the third, junior Morgan O'Brien and Healy caught open lanes for four points before getting the call. After hitting both field goals, the Middlesex Large champs rotated senior Katie Clements up the perimeter for an open planted trey and a 39-29 lead at 6:50 in the final quarter.

"Yesterday we really worked on our role," said Healey. "Kat(ie) had those sideline jumpers and she (practiced) it for 30 minutes. She did exactly what she was supposed to tonight."

The Roberson Factor: Roberson poured in 19 points and 25 total to help keep the Cougars within range throughout the second half. Using speed to counter the Rockets size, AC's quick guard moved easily through the defense for quick lay-ins following Reading baskets.

A full-court layup to even the score at 43-40 with two and a half minute left epitomized the seniors night.

"Players who have done it in the past just step up," said AC coach Dave Brady. "We needed to look up and get down the court quicker. I was impressed with how she did."

A Slight Flight Delay: Both teams struggled to open the match and took most of the first quarter to get rolling. The teams combined for 15 turnovers in the first quarter and could only score two a piece for the first five and a half minutes.

A clean 3-pointer at the top of the arc by Healy at 1:10 helped both teams start rolling as they went into the break tied at 7-7.

The win was the second against AC for Reading, who beat them 58-32 in February.

"To beat them in this big climate," said Penney. "They are so together and locked in on what we are doing. (Our girls) really earned their right to be here."
February, 19, 2012
2/19/12
9:34
PM ET
By
Andy Smith
| ESPNBoston.com
READING, Mass. -- One team was playing for the third time in three days, but it certainly didn't look like it.

That team, No. 2 Reading, outplayed No. 4 Arlington Catholic Sunday in the finals of the Comcast IAABO Board 27 Basketball Classic and came away with a 58-32 victory. It marks the first time in school history that the Rockets ended the regular season undefeated at 20-0.

"These kids were really tired," said Reading coach Kim Penney. "For them to come out and play this hard is really a testament to their guts and desire to want to win."

In yesterday's semifinals, Reading played so sluggish in the first half that it trailed Bishop Feehan by 11 points at halftime. This time around, it took only three minutes for it to get a lead it would never relinquish.

"We knew we didn't play well against them when we played them in the preseason," said Reading junior guard Olivia Healy (20 points, eight rebounds), who was also named the tournament's Most Valuable Player. "We really wanted to attack them and show them what we're made of. We wanted to show them how strong we still were. We know we're going to see them again. They're a good team."

Reading found ease in spreading the AC (19-2) defense, utilizing backdoor cuts to get players behind the defense and get easy looks at the basket. When those lanes were not available, the Rockets were particularly effective in following their shots and getting second-chance opportunities.

Reading controlled the boards the whole game, outrebounding AC 37-19.

During four minutes of play spanning the end of the first quarter and opening minutes of the second, it went on a 12-2 run to stretch its lead to 14 points.

It certainly made it more difficult to keep up when Reading had difficulty missing most of its shots. Morgan O'Brien and Katie Clements combined to make seven 3-pointers in the game, and ended with 17 and 13 points respectively.

"Katie has been hitting a few three's for us every night," said Penney. "She's not hesitating at all, she's very confident. She's a senior and she's playing very well right now. I'm happy for her."

"I think with these girls, when you take the element of winning and losing out of it, we just want to play hard every night," she added. "If we win, great. If we lose, well we tried our best and that's all I can ask. Today, they did their best and wound up on the winning end of it.

Healy hounds Roberson: The matchup of the game was Healy on Arlington Catholic's Emma Roberson. She is the catalyst to most of what AC does: she's a high-energy guard that can shoot well and is not afraid to play physical under the basket and fight for rebounds. For most of the game, Healy shadowed Roberson around the paint, while the rest of the Reading defense set up in a zone.

Overall, Healy was successful in her efforts, holding Roberson to 9 points in the game.

"Emma is an excellent player, so we just wanted to contain her," said Penney. "I'm sure they're tired too, since they played yesterday too."

Healy said guarding Roberson was more of "a mental game", and hustle.

"I wanted it a lot today, and I knew that she was a great competitor," Healy said of Roberson. "I've seen her play during the summer across the country. It was just a matter of playing as hard as you possibly could after three days. I thought I was going to get boxed out really hard and I got some splits (in the defense) in the first half. Emma did a great job on me in the second half, so it was a battle of that matchup there."

No pain, no drain: After playing three games in a row, no one would blame Reading if it needed a well-deserved few days off to rest for the upcoming MIAA tournament. Penney is giving her team that, with three days off before it comes back for a scrimmage on Thursday against Pentucket. It remains to be seen how beneficial or detrimental the time off will be, since Reading is expected to receive the week off at the beginning of the tournament that is granted to the No. 1 seed.

It would be no surprise to see the two teams play each other again in the tournament. In fact, some even welcome the challenge.

"Oh, I hope we see them again," said Penney.
February, 19, 2011
2/19/11
12:43
AM ET
By
Brendan Hall
| ESPNBoston.com



READING, Mass. -- Unable to solve archrival Stoneham and its variety of presses and zones through the first 16 minutes of play, the Reading girls basketball team found itself challenging one another in the locker room at halftime, to step it up on their own defensive end.

Clearly, the message didn't fall upon deaf ears. The No. 10 Rockets finished the third quarter on a 17-2 run and cruised from there, never letting the lead cut to single-digits again as they downed the No. 15 Spartans, 69-56, to clinch the Middlesex League title outright after splitting it three ways a season ago.

Reading improved to 19-1, and swept the season series with the Spartans in this last year of a one-division Middlesex (the league splits into Large and Small divisions next season with the arrivals of Arlington and Wilmington). Stoneham fell to 16-2.

"At halftime, we talked about defense," said senior forward Carlene Kluge, who ended up with 13 points and five rebounds on Senior Night. "Our defense was not what we wanted it to be in the first half, so in the second half we picked it up. We got the steals, and made it more of a running game, so that was good."

Holding a 30-26 lead at the break and struggling with the many looks Stoneham head coach Angela Billings threw at them -- from a full-court man-to-man press, sideline traps and various 2-3 and 1-3-1 looks -- the Rockets looked to speed things up in the third quarter. Coupled with their size advantage, boasting at least four starters taller than 5-foot-8, it was a tough dosage to handle.

Five-foot-10 sophomore guard Olivia Healy (22 points, 12 rebounds, five steals) was at the forefront of the replenished attack, deflecting entry passes on the wing to start a series of fast breaks, and push the ball in transition to try and draw three-point plays. Reading outscored Stoneham 23-14 in the third to seize the lead for good, but it was the play of Healy and sophomore Morgan O'Brien (18 points) over the final two minutes that stretched the lead into the teens.

First, Healy swiped an entry pass at the three-point line, slipped by Stoneham point guard Ariana Tuccelli (11 points, five assists, five steals) and laid it in easily on a breakaway. The next trip down, she pulled up on the left wing for a three-pointer, holding her follow-through as the ball sank.

O'Brien then finished it out with 22 seconds left in the quarter, rebounding her own errant three-pointer and drawing a foul on the way up to a successful put-back, and then converting the free throw for a 53-40 lead headed into the final stanza.

Overall for the second half, the Rockets shot better than 41 percent from the field, and were 15 of 20 from the free throw line.

"Third quarter, our defense picked it up," Reading head coach Kim Penney said. "I thought our denial defense on the wing was much better. (We were) much more aggressive in the lanes, we got some steals."

When asked what sparked her in that third quarter, Healy said, "Wanting it so much. Wednesday we had off, but Thursday we had a great practice. It was all defense, we didn't take it easy, and it was like a spark under all of us. We just went. We just kept going."

As well as the Rockets can run, the first half showcased their ability to gun, too. They were 6 of 10 on three-pointers in the first half, including three from O'Brien, and went on an 8-0 run late in the second quarter to take a four-point halftime lead.

Senior center Melissa DalPozzo also had 11 points for Reading, while senior Alison Brennan also reached double-figures for Stoneham with 10 points.

"I told them I could not have asked for a better effort tonight," Billings said. "I mean, Reading shot lights out, without a doubt. You know, we got into foul trouble, that didn't help, but I thought our effort was outstanding."


January, 17, 2011
1/17/11
11:40
PM ET
By
Joe Jasinski
| ESPNBoston.com
STONEHAM, Mass. -- Dribbling out the final seconds of the fourth quarter with her team comfortably ahead by double digits, Reading sophomore guard Olivia Healy crashed onto the hardwood after drawing an intentional foul from a disgruntled Stoneham defender.

Though subsequently going 1 for 2 at the line had little effect on the game, the foul itself served as a microcosm for the contest's physical brand of play. Yet when 32 minutes of bumping and bodying by conference powers was completed, Reading (11-0) outfought Stoneham (9-2) on the road, 57-42, preserving its perfect record and position atop the Middlesex League.

"It's like, a lot of fouls," Reading head coach Kim Penney said of the game's brute style. "It was a tough one. [Stoneham] is a physical team. They didn't give up, that's for sure. They played hard until the very end, and you've got to give them credit for that. But our kids are just as tough."

Players wrestling for loose balls exposed both squads' grit. Stoneham's scrappy point guard, Ariana Tuccelli (eight points, five rebounds, three steals), ripped at a loose ball so hard during the first half that her opponent was sent to the floor. Minutes later, Reading captain Melissa DalPozzo (eight points, five rebounds) refused to surrender a rebound to two Stoneham forwards crashing the boards, forcing officials to call for a jump ball and separate the players.

Physical, indeed.

After a relatively sloppy first half for both teams—the Rockets led 20-15—Reading (11-0) came out of the gate on a 12-3 run, eight of which coming from forward captain Carlene Kluge (12 points, three rebounds, one assist), who was hindered by foul trouble for a good portion of the game. Altogether, the Rockets posted 21 points during the third-quarter scoring barrage.

"We had a great practice yesterday," Penney said. "We were focused and ready to go. [Kluge], especially, was ready to go. She stayed mentally tough for everyone else. Her composure is always there and she's a great leader."

When Kluge picked up her fourth foul midway through the third quarter, the Rockets welcomed contributions from the sensational sophomore tandem of Healy (16 points, 12 rebounds, three steals, two assists) and Morgan O'Brien (14 points, 10 rebounds, two blocks), who combined for 14 of Reading's 16 fourth-quarter points.

"[Healy] is one of the strongest players I've ever coached," Penney said. 'She wants the ball."

And for Healy, it's about believing in her counterpart's ability to execute, she said.

"We can trust her," Healy said of O'Brien. "She's a great ballhandler, left and right is perfectly fine for her, and that's a solid base to keep finishing off games."

For her final two points, O'Brien converted a fast-break layup while getting fouled from behind, sending her to the floor holding her knee. She did not return to the game, and had her knee looked at following the game.

Despite suffering its second loss in as many games, the Spartans' hardnosed defense had a phenomenal game statistically, forcing Reading to turn the ball over 22 times, while also tallying 11 steals, nine of which came in the first half.

For Stoneham (9-2), senior center and captain Vanessa Bramante led the way with a team-high 14 points to go along with five rebounds, four steals, one block and one assist. But a major turning point came with seven seconds left in the third period, when Bramante picked up her fourth foul on a controversial blocking foul as O'Brien attacked the basket.

Similarly, Healy picked up her fourth personal mere seconds into the fourth quarter, summoning her to the bench as Kluge—also with four fouls—re-entered the game. Stoneham's Bramante and Reading's Kluge fouled out within 30 seconds of each other with about three minutes to play.

The win puts the undefeated Reading squad in the conference driver's seat, while Stoneham falls to third place, behind one-loss Woburn. For the Spartans, tonight's third quarter exposes room for improvement, Bramante said.

"It's about coming in strong every game," she said. "And it really comes down to playing strong for all four quarters."