Boston High School:

Kyle Darrow
October, 20, 2012
10/20/12
6:37
PM ET
By
Mike Scandura
| ESPNBoston.com
BRIDGEWATER, Mass. -– The enormous gust of wind that blew over the Bridgewater-Raynham football field late Saturday afternoon wasn't a meteorological phenomenon.

Rather, it was Trojans coach Dan Buron exhaling after his team held off Xaverian and posted a 32-27 non-league victory.

And "held off" is the operative phrase.

After the No. 21 Trojans (4-3) seemingly put the game out of reach, when Jordan Cohen threw a 23-yard touchdown pass to Ryan Murphy for a 32-20 lead with 2:22 remaining, the Hawks (1-6) needed just over a minute to reduce their deficit when Austin DeCarr threw a 20-yard scoring pass to A.J. King and Kyle Darrow kicked the extra point.

Not surprisingly, Xaverian then attempted an onside kick. But much to Buron's chagrin, Xaverian's Ryan McLean smothered the ball at his team's 42 with 1:40 remaining.

DeCarr (24-48, 290 yards, TD) then passed his team to a second-and-goal at B-R's 5 with four ticks of the clock left. But DeCarr's pass for what would have been the winning touchdown fell incomplete in the end zone which allowed Buron to breathe.

"That's a good football team," Buron said of Xaverian. "I don't care what their record is. We play a tough schedule but one that's not nearly as tough as the one they do. And they've been in every game so I knew they weren't going to quit.

"I'm proud of the kids. I'm a little upset that we didn't get the onside kick but we have to work on those things. It's different in practice."

To a certain extent, this was a different B-R team than the one that was waxed 41-24 on October 12 by Rhode Island Division I power La Salle Academy.

"We played with a little more intensity today than we did last week," Buron said. "I don't know what the reason was for that. I thought the week prior to that we played with a lot of intensity and emotion against St. John's Prep.

"That's a good team and we came out on the short end but I was proud of the kids. We didn't look like the same team (against La Salle). But today we looked more like the team we had in our first five games."

Double trouble: One reason the Trojans prevailed was that they were proficient both on the ground and in the air.

Brandon Gallagher led the ground game by rushing for 90 yards and one score on 21 carries.

Jordan Cohen was superb at quarterback as he completed 13-of-19 passes for 201 yards and three touchdowns –- each to Murphy who snared eight balls for 150 yards.

"I thought Jordan played well today and hit the open receivers," Buron said. "What they were giving us was the flat and he hit the flat all day which opened up some other things."

One of the "other things" that was opened up was room for Gallagher to slice through Xaverian's defense.

"Gallagher is a tough running back who runs hard," Buron said. "When the blocking's there he's going to get extra yards. When there isn't any blocking, he's still going to get extra yards. Very rarely does he go backwards.

"He's a strong runner and is only a sophomore so he's only going to get better. But I'd like to credit the offensive line, too. I thought they played well in the second half against a much bigger defensive front."

How do you spell shootout? After a scoreless first quarter during which each team lost a fumble, B-R's Aaron Conrad recovered another Xaverian fumble on his team's 14.

B-R then covered 86 yards in eight plays with Gallagher busting into the end zone from the 5.

Xaverian countered with an eight-play, 64-yard drive which Shayne Kaminski capped by scoring on a 25-yard run that made B-R's lead 7-6.

B-R, seemingly in an eye blink, upped its lead to 12-7 when Cohen connected with Murphy on a screen pass that covered 20 yards for a score.

But DeCarr displayed his best passing of the game after the ensuing kickoff when he completed all five of his attempts for 80 yards which led to Kaminski running it in from the 2 for a 13-12 lead at halftime.

The Trojans got even late in the third quarter when Conrad intercepted a DeCarr pass and returned it 33 yards for a touchdown that gave B-R an 18-13 lead at the break.

But a short Xaverian punt gave the Trojans excellent field position, at their 40, and Cohen zipped a 17-yard touchdown pass to Murphy on the first play of the fourth period for a 25-13 advantage.

Buron's sentiments about Xaverian being a team that doesn't quit almost came back to haunt him when the Hawks' D.J. Sperzel recovered a fumble on B-R's 49 -– which led to a five-yard scoring run by Harry Walsh that pulled the Hawks within 25-20 with 5:02 left.

"Everybody on our schedule can beat us," Buron said. "That's the problem with playing a tough schedule so we have to come to play. Most every game we've been in has come down to the wire so we have to prepare for it."

BRIDGEWATER-RAYNHAM 32, XAVERIAN 27
XB (1-6) 0-13-0-14 – 27
BR (4-3) 0-12-6-14 – 32

Second quarter
B – Brandon Gallagher 5 run (run failed)
X – Shayne Kaminski 25 run (Kyle Darrow kick)
B – Ryan Murphy 20 pass from Jordan Cohen (pass failed)
X – Kaminski 2 run (pass failed)

Third quarter
B – Aaron Conrad 33 interception return (pass failed)

Fourth quarter
B – Murphy 17 pass from Cohen (Kevin Wadsworth kick)
X – Harry Walsh 5 run (Darrow kick)
B – Murphy 23 pass from Cohen (Wadsworth kick)
X – A.J. King 20 pass from Austin DeCarr (Darrow kick)
October, 13, 2012
10/13/12
8:50
PM ET
WESTWOOD, Mass. –- It hasn't always been pretty, but they've gotten the job done.
After taking a rather mundane 24-7 win over Xaverian on Saturday, John DiBiaso characterized the play of his No. 2 Everett Crimson Tide as 'up and down.'
In recent weeks, Everett has struggled through injuries, playing without five defensive starters last week against Cambridge. The Crimson Tide also went with their fourth string quarterback Raheem Wingard to start Saturday's game.
[+] Enlarge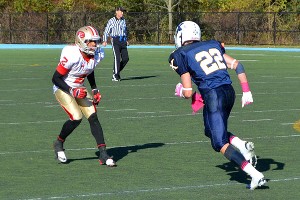 Scott Barboza/ESPNBoston.comEverett's Jakarrie Washington had three rushing touchdowns and an interception in the Crimson Tide's 24-7 win over Xaverian.
Still, Everett has endured. Jakarrie Washington made his presence felt on both sides of the ball against the Hawks, running for three touchdowns and picking off a pass. The Crimson Tide have also relied on their strengths, as they did against Xaverian, winning the battle at the line of scrimmage. On offense, Everett was able to move the pile. On the flip side, the Crimson Tide defensive line was dominant, led by outside linebacker C.J. Parvelus' three sacks.
Yet, DiBiaso felt compelled to point out some of his teams' deficiencies, even after the victory.
"Our offense struggled, but our defense played well," the Everett head coach said.
He added, "We still haven't developed an identity on offense, and we have to do that in the next couple weeks."
The consensus is, however, that the Crimson Tide (5-1) can almost move the ball at will when settled into their double wing sets. Washington (12 carries, 87 yards) found success running off the right side of the line.
Everett was also advantaged by great field position against the Hawks (1-5).
For the second straight week, Xaverian was unable to get down the long snapper to punter connection, with two botched snaps setting up Everett drives at the plus-30 and 31, respectively.
Washington capped both of those drives with touchdown runs.
DUAL THREAT
While Washington had a nose for the end zone, his biggest play of the day perhaps came on defense.
Everett's second offensive fumble lost of the first half set up Xaverian on the plus-side of the 50 with 1:27 remaining in the half. A few plays later, the Hawks had moved the ball to the 26 and eyed the end zone. On first and 10, Xaverian quarterback Austin DeCarr was looking for seven. That's when Washington, who provided blanket coverage on Hawks wideout D.J. Pagliuca, made one of the more athletic interceptions you'll see this season.
"They ran a little cross pattern, and we switched guys and I ran with it," Washington said. "I had [Pagliuca] beat and I became the wide receiver and just caught the ball."
STIFLE YOURSELF THERE
The Crimson Tide were able to force the Hawks' offense out of sync with solid pressure throughout. Parvelus (3 sacks) along with Jeff Soulouque (2 TFL, 1 sack, 2 QB hits) set up shop in the Hawks' backfield.
It was all part of the plan to keep DeCarr (11 of 28, 135 yards, TD) from conducting an air raid.
"We came into this game, we just wanted to put pressure on the quarterback, make him uncomfortable, get them off their game and then give the offense the chance to put as much points on the board," Parvelus said. "We wanted to bounce back from last week [against Cambridge] and have a good defensive week."
Everett –- 7 10 7 0 -- 24
Xaverian – 0 0 7 0 -- 7
First quarter
E - Jakarrie Washington 2-yard run (Gilly De Souza kick)
Second quarter
E - Washington 10-yard run (De Souza kick)
E – De Souza 38-yard field goal
Third quarter
X - D.J. Pagliuca 62-yard pass from Austin DeCarr (Kyle Darrow kick)
E - Washington 8-yard run (De Souza kick)
October, 7, 2012
10/07/12
2:09
AM ET
DUXBURY, Mass. -- It's a common adage on offense that you put the ball in the hands of your playmakers.

Well, to the same extent, Duxbury football head coach Dave Maimaron does that with his best defensive player. Maimaron, along with defensive coordinator Harry Taylor, entrust senior inside linebacker Marshall McCarthy with the ability to make his own decisions on the field. A three-year starter at his position, McCarthy is the quarterback of the defense, responsible not only for his own actions, but that of the unit.

With the game on the line against Xaverian on Saturday with one second remaining and a fourth-and-goal try from the 9-yard line, McCarthy again did what comes naturally.

"Smart Marshall, we call that," Maimaron said of the defensive call. "He picks a hole and he goes."

In this instance, McCarthy chose the A-gap and went barreling through, meeting Hawks quarterback Austin DeCarr in the backfield for sack. When the play was through, time expired and the Dragons escaped with their state-best winning streak in tact after a 20-16 win.

"Our guys, they just know when they're down there that they've got to pick it up," Maimaron said. "They just stepped it up every single time. Unfortunately, our offense kept putting them in that position."

Duxbury (5-0) lengthened its winning streak to 31 games, but sweated out some tense moments late in the fourth. Twice in the final three minutes of the game, the Dragons were faced with goal-to-go situations and held. In addition to having a potential game-winning score erased off the board for Xaverian (1-4), due to an illegal procedure penalty, the Dragons were unrelenting.

"They brought some very good pressure on us," Hawks head coach Charlie Stevenson said. "When you're down in the red zone and it's a condensed area, some times guys make those plays, some times they don't. Two plays before that D.J. [Pagliuca] made the play, we score a touchdown, but it gets taken off the board."

Two plays after Pagliuca's aborted score, Duxbury senior defensive back Jack Sullivan broke up a pass attempt on the goal line to force a turnover on downs with 2:28 to play.

After forcing the Dragons three-and-out on their ensuing possession, Xaverian had one last shot at the end zone with 1:08 to play. Moving quickly downfield on a couple of pass plays from DeCarr (14 of 31, 233 yards) to Pagliuca (4 catches, 58 yards, TD), the Hawks were within 12 yards of a victory.

That's when McCarthy (3 tackles for loss, 2 sacks, 1 forced fumble) came calling again.

STUMBLING BLOCKS
Duxbury won while lacking any kind of offensive rhythm. The Dragons were held under 200 offensive yards on the afternoon, thanks in no small part to the play of the Hawks' front seven. Xaverian was able to pressure Duxbury quarterback Sean McCarthy throughout. Maurice Hurst Jr. notched three sacks, and rangy outside linebacker Aiden Desrosiers created havoc with two hurries and two passes defended with tipped balls at the line.

The Dragons were also able to dial up pressure at key moments. Starting running back Jon Hurvitz was asked to play a greater role on defense, playing slot corner. Hurvitz disrupted a promising first-quarter Hawks' drive with a strip-sack. The fumble was recovered by Mike Klein.

"I give them credit, they're a good football team," Stevenson said. "They've won a lot games in a row, so they know how to win and they made the plays on both sides of the ball."

RUN BEHIND THE BIGS
Of course, no Duxbury game this season would be complete without a touchdown or two by Hurvitz. While being held largely in check in the running game, the shifty 5-foot-9, 185-pound back was again a deciding factor. Hurvitz rushed for Duxbury's second touchdown of the game for a 13-0 lead in the second quarter.

But it was a play in the passing game that gave Duxbury its margin for victory.

After Xaverian took a 14-13 lead with 6:13 remaining in the third on Shayne Kaminski's 30-yard touchdown run, Hurvitz regained the lead for the Dragons with his second score of the game. Running to the left on a slip screen pass, Hurvitz turned upfield running behind the pull of offensive lineman Rob Kosharek, who was inserted at left guard on the play. Twenty-four yards later, the Dragons were back on top.

"We usually try to run behind our big boys and Kosharek's obviously the biggest," Hurvitz chuckled.

With the Dragons' running lanes disrupted by the Hawks' front seven, Duxbury had to find other means of opening up space.

"They're a lot bigger than us up front, so we knew that coming in," Hurvitz said. "We thought we could get some movement, but they plugged the holes pretty good, so we had to go to our outside stuff."

Xaverian – 0 7 7 2 -- 16
Duxbury – 7 6 7 0 -- 20

First quarter
Duxbury – J.P. O'Neil fumble recovery (Tucker Hannon kick)

Second quarter
Duxbury - Jon Hurvitz 10-yard run (Hannon kick)
Xaverian - D.J. Pagliuca 34-yard pass from Austin DeCarr (Kyle Darrow kick)

Third quarter
Xaverian - Shayne Kaminski 30-yard run (Darrow kick)
Duxbury - Hurvitz 24-yard pass from Sean McCarthy (Hannon kick)

Fourth quarter
Xaverian – Safety – Joe Gaziano sack
September, 22, 2012
9/22/12
12:15
AM ET
By
Tom Layman
| ESPNBoston.com
BROCKTON, Mass. -- Raise your hand if you had Brockton with two wins, and two hard-nosed, convincing victories, against two of the preseason favorites in the Catholic Conference.
Didn't see too many hands raised outside of Rocky Marciano Stadium.
[+] Enlarge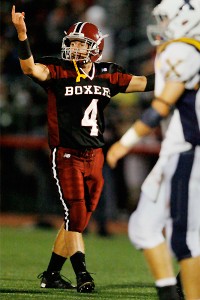 Jon Mahoney for ESPNBoston.comAustin Roberts withstood some tough hits from Xaverian's defense too lead the Boxers to their second victory over a top-5 team in three weeks.
But that's exactly where the Boxers find themselves after the first three weeks of the season. Brockton battered Xaverian last night in a 22-14 victory on the kickoff to the unveiling of the Rocky Marciano statue that will keep a watchful eye on the football team as they look to continue this turnaround season.
The Boxers shut out BC High and put on a balanced display against the scuffling Hawks to run its record to 2-1 on the season. Brockton was 0-4 against Catholic Conference competition last season.
"This month of September is tough, and it doesn't get easier with (St. John's Prep) next week," said Boxers coach Peter Colombo. "We've got two wins against the Catholic Conference and it's the best conference year-in-and-year-out in Eastern Mass. It's a good way to start."
BIG PLAYS FOR BOXERS
Colombo knows that his team is going to face opposing defenses that stack the box against the Boxers option-based offense. A run here to the outside, a dive up the middle and a couple toss sweeps will keep those defenses honest, but nothing allows the option to work best than a couple of big plays from the passing game.
That's exactly what Colombo got in the second half.
Austin Roberts connected with Micah Morel twice in the second half, one from 38 yards out and one from 17 yards, to stay comfortably ahead of the Hawks. The scores came off of the same play, but the only wrinkle was that Morel lined up on the backside for the second score.
"We knew eventually the safeties were going to come down and bite (on the run)," said Morel. "It's a play we've been working on for a long time, so it was good to finally pop it open."
"We need that out of Micah too," Colombo added. "We are expecting him to give us some offense this year. We've had people open in other games and we haven't capitalized. They are up there, eight or nine in the box trying to stop the run and we've got to take the pressure off by throwing the ball and completing passes. Finally tonight we got a couple of big ones."
XAVERIAN STRUGGLING
It hasn't been a great two weeks for the Hawks offense. They were held to 29 yards of total offense in the first half and only had 31 yards rushing, something that they went away from in the second half, for the game. It took two and a half quarters for Xaverian to pick up a first down.
Austin DeCarr threw two touchdown passes, but finished 12-of-32 for 97 yards, with 26 of those throws coming in the final two quarters.
The breaks just aren't falling the Hawks way in a two-week span that saw them go 0-2 and fall to 1-2 on the year. The Boxers fumbled the ball four times in the first half, but Xaverian was only able to recover one with seconds remaining in the second quarter.
"We didn't recover the football and that's the way the ball bounces sometimes," said Hawks head coach Charlie Stevenson. "They had some sustained drives in the first half and we had really miserable field position all half. We really had our hands tied because of the position we were in. That hurt."
BROCKTON 22, XAVERIAN 14
Xaverian (1-2) 0 – 0 – 7 – 7 – 14
Brockton (2-1) 0 – 8 – 7 – 7- 22
Second Quarter
B — Austin Roberts 3 run (Justin Ahanon rush)
Third Quarter
B — Micah Morel 38 pass from Roberts (Levion Merian kick)
X — DJ Pagliuca 27 pass from Austin DeCarr (Kyle Darrow kick)
Fourth Quarter
B — Morel 17 pass from Roberts (Ahanon kick)
X — Joe Denucci Jr. 10 pass from DeCarr (Darrow kick)