Boston High School:

Kyle DiCesare
April, 25, 2012
4/25/12
11:21
PM ET
By
Roger Brown
| ESPNBoston.com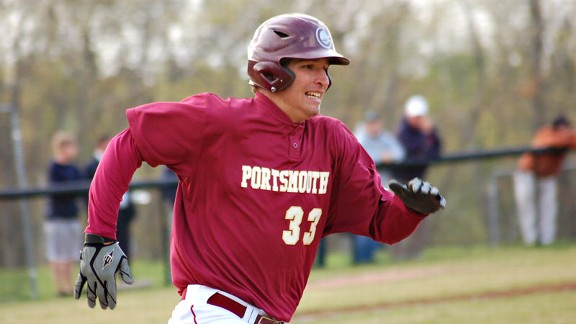 Brendan Hall/ESPNBoston.com Portsmouth's Kyle DiCesare had three extra-base hits for 4 RBIs to help the Clippers reclaim the nation's longest active win streak.
WINDHAM, N.H. -- History was made when the Portsmouth (N.H.) High School baseball team defeated Windham 10-0 Wednesday, but you wouldn't have known it by looking at how the Portsmouth players reacted to the win.
The victory established a national record for consecutive victories by a high school baseball team. The Clippers, who have won 88 games in a row, also set the national record for consecutive wins last season, when they stretched their winning streak to 76 games by beating Pembroke Academy.
Portsmouth ended the 2011 season with an 83-game winning streak, but Martensdale-St. Marys (Martensdale, Iowa) trumped Portsmouth by extending its winning streak to 87 games last spring.
"Last year, passing [the record] for the first time seemed like a bigger deal," Portsmouth centerfielder Kyle DiCesare said. "It's just another step closer to our goal this year. If you ask any of the guys our real goal is to win another championship."
Portsmouth, which raised its record to 5-0, has won the last four NHIAA Division II titles.
The Clippers scored three runs in the first inning, one in the third, five in the fourth and one in the fifth. The game ended after the fifth because of the 10-run mercy rule.
DiCesare led the Portsmouth offense with three hits (two doubles, triple) and four RBI. Leftfielder Dillon Crosby collected four hits and drove in two.
Junior Ricky Holt held Windham to two hits in 4 2/3 innings to pick up the win. Holt was also the winning pitcher when Portsmouth broke Homer (Mich.) High School's record last season with a 10-2 triumph over Pembroke Academy.
"I don't really feel it that much because the first one was a lot bigger," Holt said. "It's a good feeling though."
Holt improved his pitching record to 3-0 and has allowed one run in his three starts.
Portsmouth has outscored its five opponents 51-2 this season.
"It's weird because it's baseball," Windham coach Derek Lee said. "I could understand if it was basketball and you have your dominating center, your dominating point guard, but baseball anybody can lose at any given time. The fact that they have this streak in this sport...it's unbelievable how they've gone about doing this.
"If they win the championship again this year it's going to be quite an accomplishment, because they don't have any Division I scholarship players this year [six players from the Portsmouth program are currently playing Division I college baseball]. If they keep the streak this year it will be much more amazing than it already is."
Portsmouth's last loss came against Hollis-Brookline in the semifinals of the 2007 Class I tournament. The Clippers moved from Class L to Class I (now Division II)— a move based on the school's decreased enrollment— after the 2006 season.
Portsmouth coach Tim Hopley said he traded several emails with Martensdale-St. Mary's coach Justin Dehmer this week. Hopley said Dehmer sent him a text message wishing Portsmouth luck before Wednesday's game.
Martensdale-St. Mary's is scheduled to open its season May 21.
"We've done it a little differently than they have," Hopley said. "They've had a two-year grind of playing 40-plus games. I can't imagine what that would be like, basically playing a game every day and stringing all those victories back to back. For us it's been four-plus years and so many different kids."
Friday's game against Souhegan and Monday's contest at St. Thomas figure to be two of Portsmouth's toughest tests this season. Portsmouth defeated St. Thomas in the 2009 and 2011 championship games.
"If anyone beats them this year I think it will be St. Thomas," Lee said. "They have the horses to do it."
Hopley said he was fine with the fact that there was much more pomp and circumstance when the Clippers set the national record last year.
"I'm OK with it because we've asked the guys to focus on the here and now, and not get caught up in the big picture," he said. "We came here to win our fifth game of the season. It just so happened that we added on to some other things, like that big number."
March, 31, 2012
3/31/12
2:41
PM ET
By
Marc Thaler
| ESPNBoston.com
History will show Merrimack High survived the 16-team Division I boys' basketball bracket to win the 2011-12 tournament title as a 7-seed.
But these Tomahawks were hardly a Cinderella squad.
"We knew we were better than a 7-seed," said coach Tim Goodridge, whose team overcame a season-long rash of injuries to key contributors, and rattled off four postseason wins, the last one a 65-56 decision over No. 4 seed Manchester Central High that clinched the state crown March 17.
Goodridge's group was a preseason pick to reach the University of New Hampshire's Lundholm Gym for the Final Four. Cutting down the nets was a distinct possibility.
Yet the injury bug bit early –- and often. Kyle Richardson, the 6-foot 4-inch starting center, suffered a nasty knee injury in the preseason.
Dimitri Floras, early on offered a scholarship by UNH, missed a bulk of the regular season. The star junior broke his right wrist in late-January. Days later, 6-foot-3 senior Jared Peabody was sidelined with arm trouble.
Football standout Jackson King, a suffocating defender for the hoop team, also dealt with a freak injury. The senior, landing awkwardly after making a game-winning block in mid-February, broke his wrist. Classmate Bryan Courtemanche suffered a concussion.
"It felt like I was running a M.A.S.H. Unit for a while," said Goodridge, who led Merrimack to its third Division I title this millennium, and first crown since 2004. "The last game was probably the first time we had everyone in uniform – and we had no excuses."
Floras was a definite difference-maker. He made a cameo just before the tourney, but tweaked his ankle in the regular season's final week. Goodridge opted to sit Merrimack's maestro until "win or go home" became the slogan for every squad.
Goodridge made a good call.
The 6-foot-2 star scored 76 points in tourney wins over defending champ and 10-seed Bishop Guertin High of Nashua (62-51 overtime), 15-seed and surprise quarterfinalist Dover High (74-54), 6-seed Spaulding High of Rochester (53-39), and Central.
Merrimack's resilience, however, was truly tested during the regular season. Out of necessity, roles changed.
And changed.
And changed.
As a result, though, lesser-known talents were called upon to play key minutes. Dylan O'Brien, Brad Jarry, Connor Whelan and, before his concussion, Courtemanche took advantage of the opportunity.
Meanwhile, Jeff Giannelli, a towering 6-foot-7 presence in the post, and brothers Tyler and Eric Gendron assumed additional responsibilities.
The trio didn't disappoint, particularly Tyler, a 6-foot-5 senior, who filled in at point guard, and continued to score when needed. Gatorade, in turn, named him the Granite State's Player of the Year.
"I'm going to really miss this group. Eight seniors, 15 on the roster," Goodridge said. "For them to adapt all season long was tremendous."
TITLE NO. 18
The best part about a season concluding? Coaches whose teams win a title finally tell you what they really think.
Take Jim Mulvey, Portsmouth High's six-year coach. His second-seeded Clippers overwhelmed 5-seed Bedford High, 58-33, for the Division II boys' basketball title March 17 at UNH.
"I always told them we were the best team. We were the hardest working team," said Mulvey, whose star senior guard Kamahl Walker, erupted for 22 points, six steals, four rebounds and three assists. "Pressure usually gets to you, when you get to Durham, if you're not prepared. We were prepared."
Portsmouth's 25-point pasting earned the program its 18th state title dating to 1923. The championship erased back-to-back frustrating finishes for the team's 11 players, seven of whom were seniors.
A year earlier, Portsmouth lost the final by six points to defending champion Milford High. Two years earlier, the Clippers were KO'd by those same Spartans in overtime of the semifinals.
Fair to say Portsmouth (20-2 Div. II) was motivated?
"From Day 1," the Clippers coach said. "It's much easier to win with seniors. They're more prepared. They understand it. They get it."
Mulvey said his team really hit high gear midway through the season. Kyle DiCesare, also a standout football player, returned from a broken ankle that sidelined him in the fall.
DiCesare's return gave Portsmouth yet another offensive weapon, and further strengthened a defense that rarely allowed easy buckets.
Undersized big men Charlie Duprey (6-foot-4) and Gregg Tsougranis (6-foot-2) stood tall, especially in the final. Portsmouth's "bigs," plus DiCesare at 6-foot-2, matched up with Bedford's giant front line.
The Bulldogs boasted three players at least two inches taller than Duprey: Colin McManus (6-foot-10), Trevor Fahmy (6-foot-8) and Roger Larrivee (6-foot-6).
The mismatch never materialized.
"This team felt so much like 2009 to me," said Mulvey, referring to Portsmouth's previous title-winning team. "It just came together. It felt right. Unselfishness and commitment from all the kids. You just knew the kids were in it for one reason."
Marc Thaler is a reporter for the New Hampshire Union Leader & Sunday News. He co-hosts the "N.H. High School Sports Show" on Manchester's WGIR-AM 610 and the Seacoast's 96.7 FM every Saturday from 7-9 a.m. Read his "New Hampshire GameDay" blog and follow him on Twitter: @marc_thaler.
June, 24, 2011
6/24/11
4:18
PM ET
By
Roger Brown
| ESPNBoston.com
When it seemed clear that the Portsmouth (N.H.) High baseball team was about to extend the program's winning streak to 83 games by beating St. Thomas Aquinas in last Saturday's Division II championship game, the conversation in the Northeast Delta Dental press box turned to next season. How good will Portsmouth be in 20102?

The answer: pretty darn good.

Like most teams, the Clippers will have some significant pieces to replace, but Portsmouth will return most of its starting lineup. The key losses will be starting pitcher Keegan Taylor and center fielder Aidan O'Leary, both of whom have committed to play Division I baseball. Taylor will play for Northeastern, and O'Leary for Manhattan.

"We'll have a decent nucleus of five or six guys coming back," Portsmouth coach Tim Hopley said. "When you lose kids like [Taylor] and Aidan O'Leary it's significant."

Taylor, who earned the win in Portsmouth's 9-6 triumph over St. Thomas (Dover), was 10-0 this season and 25-0 during his high school career. O'Leary hit .434 with a team-high 13 stolen bases this season.

Right fielder Quinn McCann, who entered the championship game with a .424 batting average, will also be tough to replace.

Portsmouth will return the following starters: catcher Conor Trefethen, third baseman Matt Feeney, shortstop Billy Hartmann, second baseman Connor McCauley, first baseman Ricky Holt and outfielder Kyle DiCesare.

McCauley, who can also catch, was batting a team-high .439 entering the championship game. Holt will replace Taylor as the team's ace. He was 7-0 with a 1.56 ERA after he pitched a complete game against Laconia in the Division II semifinals. He pitched two scoreless innings in the championship game.

"Standing here right now I can't see how we're not going to drop off a bit, but I probably said that last year and the year before too," Hopley said.

Portsmouth's victory over St. Thomas handed the program its fourth-consecutive Division II championship. Portsmouth hasn't lost a game since the 2007 season.

The Clippers broke the national record for consecutive victories when they beat Pembroke Academy to push the winning streak to 76 games during the regular season.

Although some people would like to see the Clippers move up to Division I, Hopley scoffed at the suggestion.

"People ask us about that all the time," Hopley said. "My answer is simply, 'If we were the biggest school in Division II then I would understand it, but we're the fourth or fifth biggest school in Division II.

"The reality is if people expect us to move up based on success then 1) they haven't paid attention to the program for the entirety, and 2) I would expect that they voice those concerns about the other four schools that have a bigger enrollment than we do."

The Portsmouth junior varsity team lost five games this season, after suffering one loss from 2007 to 2010.

Portsmouth's latest victory was one of its strangest. Because of a lightning delay, the game didn't start until 10:25 p.m., and ended just before 1 a.m.

New Hampshire's pitching rules also forced Hopley to get creative with how he used Taylor. Pitchers are allowed to throw a maximum of 16 innings in the tournament and Taylor had five innings of eligibility left entering the championship game. Taylor started the game on the mound, but also pitched four innings of relief.

Taylor moved from the mound to right field after the first inning. He moved back to the mound in the fourth, after Holt pitched two scoreless innings.

"It was something new," Taylor said. "I've never sat that long. It must have been like 45 minutes that I was sitting out for. It was tough. I got a little cold.

"We were up in the air until five minutes before game time. I went to [Hopley] and said, 'OK, I can do that.' It was in my hands whether I wanted to do it or not."

Hopley said until the start of the game was delayed by lightning he planned to start Holt, and bring Taylor in at the beginning of the third.

"I was concerned with them getting momentum early," Hopley said. "Ricky being a sophomore in an unfamiliar setting – and certainly one that's full of pressure – I thought it might be best to go with Keegan because he's been on that stage before and he's very familiar with the hitters he was going to be facing.

"I put [Taylor] in a tough spot. We went back and forth all week long on how we were going to handle the whole pitching thing."

Taylor allowed six runs on six hits, struck out 11 and walked one. He struggled through the fifth, when St. Thomas (12-8) scored five runs on four hits to take a 6-5 lead.

Although Taylor put his team in a hole in the fifth, he pulled the Clippers out of it in the sixth. That's when he broke a 6-6 tie by hitting a two-out, two-strike pitch just inside the right-field line for a three-run triple that capped the scoring.

The Clippers (20-0) tied the game when Conor Trefethen started the inning with a double and ended up on third because of a throwing error. Kyle DiCesare followed with an RBI double that erased Portsmouth's 6-5 deficit.

Hopley called the victory over St. Thomas the program's biggest win in his 16 years as the program's head coach.

"What the program has accomplished [setting the national record for consecutive victories} and what we've gone through and the attention that it has earned, to get to this point and not finish it with a win that wasn't something that I was prepared to deal with," Hopley said. "It was a real important game for us. This was special."
June, 22, 2011
6/22/11
8:43
PM ET
By
Marc Thaler
| ESPNBoston.com
Considering the contest's national significance and how the seven-inning bout played out, there's just one way to sum up the Division II baseball final.
It was sensational.

Portsmouth High prevailed in a thriller – a game played in 2 hours, 8 minutes but over the course of two days – to stun Seacoast rival St. Thomas Aquinas High of Dover. The Clippers clinched a 9-6 win at the home of Double-A baseball's New Hampshire Fisher Cats.
The last title game of the NHIAA's "Super Saturday," a June 18 quadruple-header at Northeast Delta Dental Stadium in Manchester, ended with No. 1 seed Portsmouth (20-0) celebrating a fourth consecutive crown and national record-extending 83rd straight win.
"What the program has accomplished and what we've gone through, and the attention (the win streak) has earned, to get to this point and not finish it with a win, that wasn't something I was prepared to deal with," Portsmouth coach Tim Hopley said. "It was a real important game for us."
Three storylines from the much-anticipated matchup:
Strange time to start. The game was scheduled to start at 8:15 p.m. Portsmouth ace and Northeastern-bound Keegan Taylor didn't fire the first pitch until 10:23.
The last out wasn't recorded until 12:45 Sunday morning.
STA-Portsmouth followed the Division IV final, delayed 50 minutes by thunder. Weather was just one factor contributing to the lengthy game that pushed back the main event's scheduled start time.
"We gave both teams the option of coming back (to play Sunday). It was late. But everybody preferred to get it in," NHIAA executive director Pat Corbin said. "We had a tremendous crowd. For the kids, they'll always be able to say, 'We're the ones that played the latest game in the history of New Hampshire.'"
Dueling aces. Five summers ago, they were the Nos. 1 and 2 pitchers for Portsmouth's Little League World Series team that reached the U.S. semifinals. As the clock approached 1 a.m. Sunday, STA ace Jordan Bean and Taylor squared off in the game's key sequence.
May, 28, 2011
5/28/11
1:37
AM ET
By
Marc Thaler
| ESPNBoston.com
Round-trippers that clear the fence at Campbell High are a rarity. They're so rare, in fact, that nobody associated with the Litchfield school's softball program remembers a single batter going yard.
Correction: Nobody remembers a single batter going yard before May 13.

That's when sophomore designated hitter Chelsea Caynon slugged her way to a career-defining contest. Her 3-for-4 day at the dish included three towering home runs tagged in consecutive at-bats.
"I kind of thought all of them were lucky because nobody has done it before," Caynon of her Friday the 13th fireworks, the last of which was a walk-off that clinched a 13-1 Division III mercy win over Alton's Prospect Mountain High.
Caynon said she was mobbed by teammates after circling the bases for the third time. Her last blast, in the fifth inning, capped Campbell's 13-run outburst over three frames.
Campbell's No. 3 hitter connected in the third, fourth and fifth innings and knocked in five runs. The lasers all landed in the same spot, well beyond the left-field fence stationed 250 feet from home plate.
Coach Laurie Gatherum, in her sixth year at the helm, estimated the shots sailed 260 feet.
"When Chelsea comes up to bat, I get as far away from the third-base box as I can. She's come close to killing me. She's a dead-pull hitter," Gatherum said. "I get as close to the out-of-play line as possible.
"I almost want to warn the third baseman to back up. If she gets a piece of the ball, it's going."
Caynon's powerful performance actually carried into her next game. She went 1-for-3 with a homer against Hopkinton High, giving her four taters in a span of seven at-bats.
But Caynon isn't a stereotypical all-or-nothing power hitter. She closed the regular season with one strikeout in 64 plate appearances.
She also posted a .500 average (28-for-56) with eight walks, five home runs, one triple, 10 doubles, 25 runs scored and 32 RBI. Her production helped the Cougars clinch first place with a 15-1 record.
"I would say she is the best hitter that the program has ever had, as far as consistency and power," Gatherum said.
That's saying something. Caynon is, after all, just a sophomore.
"I wasn't really trying to hit three in row," she said. "I was just waiting for my pitch."