Boston High School:

Kyle Mann
June, 4, 2013
6/04/13
11:09
PM ET
By
Stephen Sellner
| ESPNBoston.com
HINGHAM, Mass. -— In arguably Hingham's biggest spot of the season, senior Cody Clifford stood calm at the plate.

The Harbormen had just tied the game at four and had a runner on third with two outs in the bottom of the sixth against Plymouth North in Tuesday's quarterfinals.

With the Eagles' infield in to try and cut down the potential go-ahead run, Clifford worked the count full and anticipated a fastball over the heart of the plate, knowing Plymouth North pitcher Kyle Mann couldn't afford to put another runner on base.

Clifford guessed right and drove Mann's heater through the infield and into right field to give Hingham its only lead of the game; one it held onto in the top of the seventh as John Carlson set down the Eagles in order to grab a 5-4 victory at Cronin Field.

The fourth-seeded Harbormen will play No. 1 seed Nauset in the semifinals of the Division 2 South Tournament, Thursday night at Adams Field in Quincy.

Fifth-seed Plymouth North took a 4-3 lead in the top of the sixth after Ryan Moskos willed the Eagles back on top after stealing second, third and finally home to send the Plymouth North dugout into a frenzy. While on third, Moskos capitalized on Carlson being left-handed and going through the windup, allowing him to take a big lead and jolt for the plate as Carlson's delivery was too slow and Moskos slid ahead of the tag to grab the lead.

But the Hingham bats finally came to life. After Austin Irvin and David Hutchins singled to put runners on the corners with one out, Plymouth North coach Dwayne Follette pulled starter Kenny Drew (5-1/3 innings, five runs, four earned, seven hits) in favor of the freshman Mann.

Mann's first pitch slipped through his catcher's legs, scoring the runner from third and allowing Brett Tivnan — who pinch ran for Hutchins at first -— to scamper all the way to third, forcing the infield in, which allowed Clifford's single to squirt through.

"We're a pretty good offensive team," Hingham coach Frank Niles said. "So we kept at it and ran the bases a little bit and I think we thought we could do it, so that's a big part."

But had it not been for Carlson, the Harbormen might have been out of this one early. Hingham starter Billy Boynton only lasted a third of an inning after the Eagles bats roped three hits and hit two balls in the hole that Hingham's second baseman and shortstop couldn't handle, leading to three unearned runs and an early exit for Boynton.

Carlson came in with the bases loaded and struck out the next two batters to retire the side and hold Plymouth North to just three. Carlson allowed only one run in his 6-2/3 innings of relief, striking out eight while surrendering just three hits and walking three.

"He's not afraid of anything," Niles said of Carlson. "He's a hockey guy and he stood tall today and he got us out of that first inning."

Carlson, who started the game in left field before replacing Boynton, mixed in his fastball and consistently threw his curveball for strikes, and said his team didn't do their part to help out Boynton.

"We didn't support him too much in the field, so I came in and did what I had to do — hit my spots and got the job done," Carlson said.

The Harbormen used a three-run third to tie the score. Stephan White and Joe Leahy led off the frame with back-to-back singles, and after a double steal put both runners in scoring position, Eddie Bowler drove home White with a groundout to second.

One batter later, Leahy took off from second to try and steal third, and when the throw got past the Eagles third baseman, Leahy raced on home to bring Hingham within one at 3-2. Then, Irvin belted a solo home run over the fence in right field to knot the score at three.
May, 11, 2013
5/11/13
6:44
PM ET
By
Brendan Hall
| ESPNBoston.com
ORLEANS, Mass. -- If there was ambiguity before, the facts are now crystal clear: the Nauset Warriors have officially entered uncharted waters in the Atlantic Coast League.
The Warriors (15-2, 9-2) came into their doubleheader with juggernaut Plymouth North this afternoon at Eldredge Park having never beaten the Blue Eagles under coach Lou Elia. Not only did they end up sweeping North, 3-2 and 4-2, to put themselves in a tie for first place with the Eagles (11-4, 8-2) -- they have also put themselves in position to make history. If they win their final league game on Monday, against Falmouth, they will clinch themselves at least a share of the ACL title for the first time in school history.
"This program's come quite a long way. We're all happy about it," Elia said.
[+] Enlarge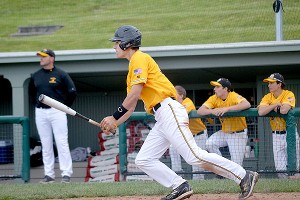 Brendan Hall/ESPNBoston.com Left fielder Colin Ridley had 3 RBIs out of the ninth spot to lead Nauset to a two-game sweep of Plymouth North.
North now has to win out in its final two games to stay in the hunt and keep a share of the ACL title, starting Wednesday against archrival Plymouth South followed by a May 21 battle with Marshfield.
"It was just their day," North head coach Dwayne Follette said. "Now, we're going to have to see what kind of character we've got."
Down 2-0 early in the first game, Nauset plated three runs in the bottom of the third to take the lead. Colin Ridley plated the first of his three RBI of the afternoon out of the nine hole to bring across the first run, then senior Nick Taber smacked a single for the go-ahead run.
That was the Warriors' final hit of the first game, only reaching base twice more on an error and a fielder's choice. But the defense behind starting righthander Ray Rowell was solid, stranding six runners to support the lefty's nine-strikeout, eight-hit effort.
North head coach Dwayne Follette, was left wondering what could have been after watching his team load up the bases in the top of the seventh with one out. Facing a 1-2 count, cleanup hitter Jake Prifti was hit on the knee and initially appeared to have been awarded first base, which would have brought home Brendan Beane for the tying run. The ruling instead was a called third strike, after it was determined Prifti had brought the barrel of his bat across the zone enough to merit a swing.
Follette was furious at the call, marching all the way into the infield grass to loudly voice his protest for several minutes.
"You can quote this, that is one of the worst calls I've ever seen," Follette said. "You got a hit batter in the knee, and the umpires just botched it. Listen, they [Nauset] deserved to win, I'm not taking anything away from them. [But that was a] horrible call in the first game."
There was no controversy in the second game, however, as Taber went the full seven on the hill and allowed just two hits.
North once again was once again active early at the plate, scoring two runs in the first inning on a two-run single to center from Prifti to tie the game at 2-2. But the Eagles managed just one hit the rest of the way, a base hit by Ryan Moskos in the bottom of the fifth.
The Warriors went ahead in the top of the fifth on a bloop single from Ridley, dropping in shallow right to score Will Shackleford. Ridley gave them the insurance in the top of the seventh with a base hit that scored Rowell from second.
"Colin's coming up big with us," Elia said. "He might be at the bottom of the order, but he's getting his pitches, he's being patient, and is able to come through."
High marks for aces:
Both Elia and Follette came away pleased with the performances of their starters.
The hard-throwing lefty Rowell pounded the zone with a bevy of fastballs in the first game, and after some trouble in the first two innings he settled nicely, getting himself out of jams with runners in scoring position in three of the final four innings.
Taber has tweaked his game since last spring, developing a cutter over the offseason to go along with a changeup and a sharp curveball. In dancing the ball around the plate, Taber kept his pitches low in the zone to stay ahead of the North hitters.
"They were locating, just locating," Elia said. "Nick has been with me for four years, he's one of only guys that's been in the varsity program for four years. He's got really good control, and he's got a couple of different pitches, and he's able to locate. So, he makes the most out of his pitches. He doesn't walk many people at all. He's got command of his pitches, and that's what's important."
Follette was pleased with the performance from junior righthander Kenny Drew, who struck out seven and scattered four hits on 72 pitches, to go along with the three earned runs. With staff ace Brian Christian unable to go today, Follette tapped freshman reliever Kyle Mann for his first varsity start in game two. The youngster demonstrates poise and high velocity in spite of his age, but did run into some trouble, allowing eight hits.
"I thought Kenny Drew, in the first game, pitched an incredible game," Follette said. "He didn't deserve that fate...We're pitching good enough to win, we're just not hitting enough. It's unfortunate. He pounded the zone."
Turning up the aggression:
Over the last two seasons, the Eagles have been held in high regard for their ambitious approach to the basepath, compensating for a deficit in hitting with a blend of high-risk baserunning and fielding tactics playfully dubbed "Dwayne Ball" by their Plymouth brethren for its uniqueness.
In the second inning of game one, they executed a vintage "Dwayne Ball" staple. Executing a double steal, freshman Joe Walsh was caught in a rundown on the basepaths just long enough for Derek Salvucci to come screaming home for the initial 1-0 lead.
In the first inning of game two, the Eagles stole four bags, including two from Cory Boudreau, to help manufacture two runs.
North's leadoff hitter, Ryan Moskos stole two bags on the day to bring his season total to 26, which is eight more than the entire Nauset team attained a season ago. So far this year, however, the Warriors have recorded 60 steals, including two today.
What prompted the more dramatic approach in 2013?
"We've been running hard. We look for our opportunities, and I've got a pretty quick team one through nine," Elia said. "I've got a very young team, only two seniors, and the kids I've got coming up are pretty fast. We practice it, we practice running bases every day. We practice reading the pitches, knowing when to go, picking and choosing our battles. They've become very good at that, knowing when to be aggressive."
In developing that aggression, seeing has been believing. Muscle memory is the M.O. in Nauset practices, repeatedly practicing drills that have them envisioning those first-to-third, second-to-third, passed-ball scenarios.
"We do a lot of visualization," Elia said. "We've done a lot of mental preparation for games right now. They're goal-oriented. They don't go by expectations, they go by goals, and I think that's helped them out quite a bit this year."