Boston High School:

Kyle Murphy
October, 2, 2014
Oct 2
2:02
PM ET
In our first "Telestrator" installment of the 2014 football season, ESPN Boston High Schools editor Brendan C. Hall and correspondent Mike Uva take a closer look at two of the biggest mismatches in this week's ESPN Boston Game of the Week, Attleboro at No. 24 Mansfield.
In the video below, we look at Attleboro offensive tackle Kyle Murphy, who has been a bull to deal with in the running game, while also looking at what makes Mansfield tight end Brendan Hill such a difficult threat in the passing game.
(Video by Greg Story)
The Telestrator - Attleborough vs. Mansfield from ESPN Boston on Vimeo.
August, 20, 2014
Aug 20
12:44
PM ET
On Monday,
we unveiled our statewide MIAA Top 25 preseason football poll
. Today, we continue our annual countdown of the poll with Nos. 20 through 16.
ICYMI:
25-21
NO. 20 DOHERTY
Coach:
Sean Mulcahy (24th season, 112-141)
2013:
12-1, Division 4 State Champions
Returning Starters:
10 (5 offense, 5 defense)
Key Returnees:
Jahkari Carpenter, Sr. RB/DB, 5-7, 160 lbs.; Javon Watkins, Sr. WR/RB/DB, 5-9, 170 lbs.; Eric Vecsey, Sr. QB/S, 5-10, 175 lbs.; Rickey Webster, Jr. DB/RB, 5-8, 160 lbs.; Dominique Lee, Sr. DB/RB, 5-9, 165 lbs.; Tavian Vassar, Jr. RB/DT, 6-1, 230 lbs.; James Shaugnessy, Sr. LB/WR, 5-11, 185 lbs.; Fitzroy Spencer, Sr. OL/DL, 6-2, 240 lbs.; Sean Moran, Sr. OL/DL/LB, 6-0, 240 lbs.; Manny Obisui, Sr. OL/DL, 6-2, 260 lbs.; Tariq Massenberg, Jr. DB/WR, 6-0, 160 lbs.; Aaron Adu, Jr. DB/WR, 5-11, 160 lbs.; Jack McGrail, Sr. DE/LB/TE, 6-1, 160lbs.
Strengths:
Athleticism, offensive line, defensive line, senior leadership
Weaknesses:
Inexperience at skill positions, inexperience at LB and DB
Outlook:
Repeating as state champions is never easy, nor is replacing a pair of Division 1 athletes and arguably the best quarterback in school history. That is the challenge Doherty is faced with in 2014, with Isaac Yiadom now playing for BC, Alfred Adarkwah off to UMass and Luke Brennan pitching for Franklin Pierce. Still, the Highlanders should be right in the thick of things in D4 Central thanks to one of the state's most experienced and athletic offensive lines, and the versatility of speedy running back Jahkari Carpenter. Consistent targets will need to emerge for senior quarterback Eric Vecsey, but the Highlanders never seem to lack for athletes. Doherty is stacked up front on defense, where junior Tavian Vassar's quickness and the power of both Fitzroy Spencer and Manny Obisui should provide some cover for a back seven looking to replace six starters. Some talented options are available in the secondary, where juniors Rickey Webster and Aaron Adu will fight for playing time against classmate Tariq Massenberg, who started at corner last year when Adarkwah was nicked up. The linebacker corps will be totally overhauled, but the move of star guard Sean Moran to MLB should make things a little easier, and the return of James Shaugnessy from injury is certainly a welcome site for defensive coordinator and Associate Head Coach Steve Bucciatlia. This year's group isn't quite as talented or experienced as last year's title team, but sleeping on Doherty would be foolish for anyone in Central Mass.
-JOE PARELLO
NO. 19 PLYMOUTH NORTH
Head Coach
: Kevin Cobban (3rd season, 11-10)
2013
: 8-3, lost to Plymouth South in Div. 3 Southeast final
Returning Starters
: Eight returning starters on offense; six returning starters on defense.
Key Players
: Christian Carr, Sr. RB; Cullin Cosgrove, Sr. QB; Jack Gallagher, Sr. OL; Gavin Johnson, Sr. C/G; Justin Cabral, Jr. OL; Brian Proctor, Jr. OL; Ryan Boudreau, Sr. S/CB;
Strengths
: Rushing game; experience on the offensive line and defensive secondary.
Weaknesses
: Depth on defensive line; special teams.
Outlook:
There was no secret to Plymouth North's formula for turnaround success last season: give it to Christian Carr. "That was our forte last year," Eagles head coach Kevin Cobbin said. "Everybody in the stadium knew what we were going to do, but we just kept doing it." The ground game will again be the bread and butter for North, with Carr coming off a season in which he broke the school's single-seasons rushing record. The Eagles return four starters on the offensive line, including Jack Gallager, who was lost after the second game of the season last year but Cobban says "might have been our best lineman." However, Cobban also sees the Eagles airing it out a bit more in 2014 behind incumbent three-starting quarterback Cullin Cosgrove. The Eagles also have an abundance of experience in their defensive secondary, where they return a full corps of three-year starters. While North lacks the same kind of experience along the defensive line, Cobban is confident the Eagles will be able to win the point of attack on either side of the ball. "The kids have bought into offseason workouts and we're bigger and stronger than we've been," Cobban said. This year also marks the Eagles' first year in the Patriot League, moving from the Atlantic Coast League. The shift means North will be establishing some new rivalries and reigniting some lost in time. "It doesn't matter that we're moving into a new league, we're just excited to play," Cobban said.
-SCOTT BARBOZA
NO. 18 ATTLEBORO
Coach:
Mike Strachan (Second Year, 9-2)
2013 Record:
9-2 (6-1), lost to Xaverian in Division 1 South sectional final
Returning Starters:
12 (6 offensive, 6 defensive)
Key Players:
Kyle Murphy, Jr. OL/DL 6-3, 235 lbs.; Brenden Massey, Sr. WR/DB, 6-0, 170 lbs.; Thomas Belin, Sr. RB, 5-11, 170 lbs.; Matt Elliot, Sr. WR/DB, 5-9, 190 lbs.; Nick Desmaris, Sr. WR/DB, 6-1, 160 lbs.; Tim Christensen, Sr. OL/DL, 6-2, 235 lbs.; Ross Killion, Sr. QB, 6-3, 185 lbs.; Tyler McGovern, So. QB, 6-1, 140 lbs.
Strengths:
Offensive and defensive line
Weaknesses:
Inexperience at quarterback and skill positions
Outlook:
Last season was one to remember for the Bombardiers with a change of leadership under new head coach Mike Strachan and his staff and a trip to the Division 1 South final. Now the test for the Bombardiers is to build off the success of last season and prove that they can be a perennial threat in the Hockomock League. That will be a difficult task without star quarterback Tim Walsh, whose dynamic ability to make plays with his feet and his arm aren't easily replicated, which head coach Mike Strachan admitted at the league's recent Media Day. While Attleboro may not have a settled quarterback position heading into camp, with Ross Killion being the senior but a lot of people close to the program talking about the talent of sophomore Tyler McGovern, the Bombardiers can rely on strength in the trenches. Senior Tim Christensen and junior Kyle Murphy, who is receiving interest from Clemson University after a breakout sophomore season, will anchor the offensive and defensive line and try to open holes for running back Thomas Belin. The senior did not see action until the fourth game of 2013, but he will be the focal point of the offense this year and his breakaway speed will be crucial. If teams bunch the line of scrimmage, then Attleboro can also look downfield to senior wideout Brenden Massey, who made several remarkable catches last season and was named to the ESPNBoston.com 2014 Preseason All-State team. Every team has to deal with the loss of great players to graduation and Strachan is expecting his players to step up in camp to prove that 2013 was not a fluke. "I think if we're going to build our program long term than we need to be like the Mansfields, North Attleboroughs, and KPs, and continue that level of player from year to year," he said. "We expect a lot of competition in camp."
-JOSH PERRY
NO. 17 SPRINGFIELD CENTRAL
Coach:
Valdamar Brower 6th season (45-16)
Last Year:
10-2. Beat Longmeadow 35-12 in WMass Divison 2 semifinal. Beat Westfield 44-20 in WMass Division 2 final. Lost to St. John's (S) 37-32 in Division 2 state semifinal
Returning Starters:
10 (5 offense, 5 defense)
Key Returnees:
Antoine Williams, Jr., RB/WR/S, Justin Bolden, Sr.,RB/MLB, Nate Smith, Sr, WR/S/KR, Issac Morales, Jr., WR/DB, Kaleb Hunter-Sams, Sr., OL/DL, Aaron Williams, Sr., QB/S; Tysean Williams, Sr., WR 5-11, 170; Tyreque Estrada-Crapps, Jr., RB/CB, 5-8, 170; Daryl Wiggins, Sr., OL/DL, 6-0, 340; Noah Mayberry, Sr., C, 5-11, 248.
Strengths:
Offensive line, team unity
Weaknesses:
Inexperience
Outlook:
The Golden Eagles have a major task ahead of them as they try to replenish their arsenal following the graduation of several key contributors from last year's highly-successful season. This will most-likely be felt on the offensive side of the ball. Cody Williams, the brilliant duel-threat quarterback, now playing for Monmouth University (NJ), was a three-year starter, having passed for 5,290 yards and 59 TDs during his remarkable tenure here. On the ground, Williams had a career rushing mark of 801 yards, scoring 19 times. Last season he threw for 2,214 yards and 24 TDs, while rushing for 578 yards and 12 TDs. Also gone are WR/CB/K Ju'an Williams, who finished last year with 823 receiving yards and 7 TDs, WR/CB Malik Johnson (595 receiving yds, 7 TDs), HB/S Troy Morrow (986 rushing yds, 4 TDs) and RB/SS DaQuan Clemons (536 rushing yds, 4 TDs). That group was the primarily nucleus in guiding the Golden Eagles to within a game of playing in the Division 2 Super Bowl before losing to St. John's of Shrewsbury in the state semifinal round last November. Without question, it was a very gifted and uniquely talented group of seniors _ all of whom will be sorely missed. However, as Brower is quick to point out, this is not the time to reflect on the past.The focus now turns to him and his staff attempting to developed a young squad, many of whom are considered to be untested and unproven, in preparation for this season.
"We are returning just three guys that started on offense and four that started on defense so right now we have a lot of inexperience and a lot of unseasoned guys," Brower said. "A lot of these kids will need to step up to the challenges that lie ahead of us this season. We will be able to evaluate throughout the preseason and especially after our first game to see where we are at and make the necessary adjustments along the way. Hopefully some of our younger guys took a few mental and physical notes by watching how those kids from last year conducted themselves, not only in games, but on the practice field and inside the locker room as well. But now it is their time. We continue to have high expectations for this program. No matter how we do, we still need to weather any storm that comes our way and continue to get better and not beat ourselves up when things go bad. There are many other teams that have younger players too so, for us, we just need to keep getting better everyday and not stop working until someone tells us our season is over."
Despite the number of departures, Central still has be considered one of the favorites to win the highly-competitive AA Conference mostly because Brower and his staff, as proven, are well-versed in getting the most out of their players. Last season, the Golden Eagles finished 7-0 in conference play, but are expected to face some fierce competition this season particularly from the likes of Westfield, East Longmeadow, Longmeadow as well as much-improved Holyoke and West Springfield squads. Central opens its season with a home date against powerful Everett on Sept. 5 -- marking the fourth consecutive year these two clubs have squared off against one another. The Crimson Tide hold a 3-0 lead in the series. "We love playing against Everett and it is my hope that this series will continue," said Brower. "Obviously they are a great team with a great tradition and are well-coached. We really enjoy playing them. For us, we want to continue to play the top programs in the state. That's how you get better as a team." As far as returners go, Crapps gives Central a solid two-way threat as a rusher and receiver out of the back field. He is a talented downhill runner who saw limited action last year due to the emergence of Morrow and Clemons. Bolden and Antoine Williams will also get their fair share of the work load as well. Tysean Williams should be the Golden Eagles' top receiving threat. The fleet-footed wide out hauled in four touchdowns a year ago. But it will be difficult for opposing teams to double up on him with Smith and Morales also on the field. Look for Mayberry to anchor a strong offensive line from his center position. And obviously, with Aaron Williams taking over the signal-calling duties, he will have some big shoes to fill however no one is questioning his pure athleticism to excel at the position. Defensively, Wiggins, at 6-foot, 340-pounds, is a beast with unlimited potential to be a sure-fire gap stopper. He will also be counted on heavily to keep constant pressure on opposing quarterbacks. One of the biggest question marks surrounds Hunter-Sams. At 6-2, 280, Hunter-Sams has shown traces of developing into a solid two-way lineman, but does he have the high motor to go along with it? Only time will tell as the skill level seems to be there. One intangible in the Golden Eagles' favor is the addition of Bill Watson, the former Putnam Voc head coach. Watson, who enjoyed a successful two-year stint holding down the reins with the Beavers, decided to leave the position at the conclusion of last season, moving across town to join Brower's staff and will serve as defensive coordinator. Watson's particular attention to detail, ability to motivate players and calling out the proper defensive packages on the fly will certainly be a major asset for Central moving forward. "He's a great addition," Brower said. "We've coached against one another and have gotten to know each other very well. He and I have always talked about working together someday. It didn't seem like it would be a reality until this last spring when things just happened to pan out. All of us here are ready to accept him with open arms. We both have similar philosophies and we both have a strong passion for the game. It is going to be exciting to have him with us."
-JOHN McGUIRK
NO. 16 LEOMINSTER
Coach:
Dave Palazzi (Fourth season, 29-8)
2013:
10-1, lost in Division 2 Central Final
Returning Starters:
Five (2 offensive, 3 defensive)
Key Returnees:
Nate Lambert, Sr. OG, 5-11, 195 lbs.; James Gurley, Sr. RB/CB, 5-9, 190 lbs.; Kevin Beran, Sr. DL; Hector Aponte, Sr. DL
Strengths:
Size, defensive line.
Weaknesses:
Inexperience
Outlook:
After a dominant three-year stretch that included back-to-back Super Bowl titles, an historic shutout of long-time rival Brockton and a district final appearance, the Blue Devils are hitting the reset button. Gone are All-State safety Jarell Addo and last year's Gatorade Player of the Year, Neil O'Connor. In their places are a whole lot of fresh faces, from linemen Alex Bourgeois and Jared McDonald; to skill guys like tight end Carlos Santana and receivers D'Andre Addo, Shane Crayton and Mike Lovewell; to a promising sophomore class led by Anthony Dandini, Dylan Tanner and 6-foot-4 athlete Noah Gray. "To be honest with you, I'm more excited than ever to coach this year," Palazzi said. "We know what we have this year, but we don't know what we have because there's no experience. So, it makes it more exciting, to see kids grow. It might be painful, it might be frustrating, but you know, that's why I love coaching." Defensive coordinator Charlie Raff has taken over at Oakmont, and in his place Palazzi promoted line coach and long-time compatriot Kevin Murphy, and also added former North Middlesex head coach John Margarita to the defensive staff. The Blue Devils under Palazzi have never blown you away with size, but they'll have more of it this year with the new blood. Still, the newbies are going to have to grow up quick this fall. They open with three preseason Top 10 opponents (at No. 5 St. John's, Sept. 13; vs. No. 7 Lowell, Sept. 19; vs. No. 8 Shepherd Hill, Sept. 26), then host No. 20 Doherty on Oct. 10. That's a brutal stretch for even the most experienced team, never mind one as green as the Devils.
-BRENDAN C. HALL
August, 13, 2014
Aug 13
12:31
AM ET
FRANKLIN, Mass. -- Tuesday morning on the field turf at Franklin High School, the Hockomock League held its first-ever football media day for its 12 member schools. Hosted by Franklin head coach and athletic director Brad Sidwell and HockomockSports.com editors Ryan Lanigan and Josh Perry, the event was attended by a handful of local area media for photo ops and interviews.
Here are some of the highlights from the first-ever Hock Media Day:
Kudos to Franklin AD/coach Brad Sidwell and @hockomocksports for putting together first ever Hock Media Day pic.twitter.com/plsKm0RqHn

— Brendan C. Hall (@BHallESPN) August 13, 2014
Attleboro captains (L-R) Kyle Murphy and Brendan Massey building potential D1 interest pic.twitter.com/BIBhPrAtcV

— Brendan C. Hall (@BHallESPN) August 13, 2014
Returning All-State TE Brendan Hill of Mansfield (L) says he has been cleared for contact pic.twitter.com/2YXazCN2Z6

— Brendan C. Hall (@BHallESPN) August 13, 2014
3. Check out the detail on these sweet new Oliver Ames' units ... pic.twitter.com/d2oie9cIlG

— Scott Barboza (@ESPNScottB) August 12, 2014
Stoughton should be one of the favorites in the Davenport pic.twitter.com/p30mtLrPoX

— Brendan C. Hall (@BHallESPN) August 13, 2014
July, 8, 2014
Jul 8
11:52
AM ET
Don't look now, but the first day of MIAA football practices is just 40 days away. Per our tradition every summer, ESPN Boston High Schools editors Brendan C. Hall and Scott Barboza whet your appetite for the gridiron with some players on the rise, surprise teams to watch, top teams and some food for thought.
Brendan Hall
ESPN Boston High Schools Editor
FIVE PLAYERS ON THE RISE
Drew Jean-Guillaume, Sr. QB/DB, Shepherd Hill
With a powerful frame and impressive speed honed during track and field season, Jean-Guillaume is a throwback-type option quarterback, a converted running back who's as adept at powering through defenders as he is at evading or blowing by them. The Rams will be heavy favorites in Division 4, and Jean-Guillaume will have plenty of room to work behind a reportedly heavy line led by Boston College commit Chris Lindstrom.
Mekhi Henderson, Soph. DB, Xaverian
In a defense full of household names, Henderson is one of the Hawks' brightest young stars. Often last season, he was left on an island against an opponent's top target, and often he held his own. With his coverage skills and raw ability, the coaching staff has a luxury to get creative in the secondary.
Shane Combs, Sr. ATH, St. John's (Shrewsbury)
It's assumed that Combs, a Notre Dame baseball commit and ESPN Boston All-State selection during the spring, will take the reins at quarterback from last year's Mr. Football finalist Drew Smiley. The Missouri transplant was one of the state's most productive rushers during the playoffs, going over the century mark in all five postseason contests as the Pioneers reached the Division 2 state final.
Mike Maggipinto, Jr. RB, East Longmeadow
Somewhat quietly, the 5-foot-5 scatback eclipsed the 2,000-yard mark last year for the Spartans, running behind a great blocking scheme that continued to find unique ways to get him in space. Between Maggipinto and Plymouth North's Christian Carr, this could be the year of the pint-sized running back.
Jahkari Carpenter, Sr. RB, Doherty
Among the area's most elusive, Carpenter was a weekly highlight reel during the Highlanders' run to the Division 4 state title, with runs like
THIS
, or
THIS
, or
THIS
. Junior Tavian Vassar is expected to have a bigger role in the backfield this year, which could make for an imposing thunder-and-lightning combination.
FIVE TEAMS THAT WILL SURPRISE
Billerica
The Indians hit a home run this offseason with the hiring of Duane Sigsbury as their new head coach, though they are considered a year or two away. Still, Sigsbury is one of the area's brightest offensive minds, with a track record of making programs relevant in a hurry (see: Boston Cathedral). Similar to his other stops, there are already some terrific talents coming up the pipe.
Boston English
The Blue and Blue made history last fall to end Brian Vaughn's first season at the helm, beating Boston Latin for the first time since 1997. Now, with dynamic dual threat Emmanuel Almonte leading the offense, they'll look to continue last year's momentum.
Cambridge
Long considered a powder keg for skill talent, head coach Ryan Saulnier has tapped into it, and found a lot of success running his brand of spread offense in his first season last fall. With Marcus Collins returning under center, and a new home in the Dual County League, the Falcons ought to be one of the most entertaining teams to watch in Division 2 North.
Leominster
Blue Devils graduated one of their most talented classes ever, but this is a program built to reload, not rebuild, under a great offensive mind in Dave Palazzi. Defensive coordinator Charlie Raff left to take over at Oakmont, but in his place comes former North Middlesex coach John Margarita. It's too early – not to mention, lofty – to make any Neil O'Connor comparisons yet, but keep an eye on sophomore Noah Gray this fall.
Springfield Central
Similar to Leominster, the Golden Eagles have many holes to fill on the heels of its most successful season in school history. But they should have a solid defense again, led by lineman Kaleb Hunter-Sams, and the coaching staff should get a boost from the addition of former Putnam head coach Bill Watson.
Hall's Preseason Top 10:
[+] Enlarge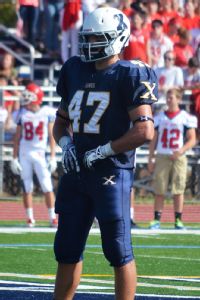 Brendan Hall/ESPNESPN Boston's reigning Defensive Player of the Year, Northwestern commit Joe Gaziano, leads a stacked Xaverian defense.
1. Xaverian
Little drama here as to who's the top dog. With a star-studded defense that includes the likes of Northwestern commit Joe Gaziano, ESPN Boston's Defensive Player of the Year in 2013; linebackers Noah Sorrento, Kenny Kern and D'Aundre Holmes; and defensive backs Damion Wood and Mekhi Henderson; as well as a potent running game behind UMass-bound tackle Joe Parsons, and an innovative playmaker in quarterback Jake Farrell; the Hawks figure to start the year No. 1 in many polls.
2. Everett
Crimson Tide are licking their chops after a disappointing end to 2013 season, and as usual they reload with some of the most gifted skill players in the area. The interesting question is how they'll fit Boston College-bound cornerback Lukas Denis into the offense; originally slotted as the successor to Jonathan DiBiaso at quarterback before injuries derailed his sophomore season in 2012, Denis showed flashes of brilliance in a multitude of positions last year.
3. Central Catholic
The Raiders' featured one of the state's best defenses a year ago in their D1 state title run, and they'll be held in high regard again thanks to linebacker Markus Edmunds and safety Mike Balsamo, who is fielding multiple Division 1 FCS offers at the moment. Also keep an eye on Matt Milano, who was statistically one of the state's most productive quarterbacks in the playoffs last year.
4. Mansfield
The Hornets dramatically altered their offense on the fly late in the season following a season-ending injury to wideout Brendan Hill, and it worked out as they took the D2 state title. A fully healthy Hill and another year of running back Miguel Villar-Perez, one of last fall's most pleasant revelations, should make the Hornets the favorite in a tough D2 South.
5. Bridgewater-Raynham
Trojans always get the benefit of the doubt for their powerful running game and their "anyone, anywhere, anytime" approach to scheduling, and they'll be a force again with Brandon Gallagher returning at tailback. But the question is whether the Trojans can sustain momentum and avoid last year's fate, when they reached No. 1 in our statewide poll early, only to sputter in the second half.
6. Shepherd Hill
In short, Boston College-bound offensive lineman Chris Lindstrom Jr. is a force. But the fact that he is the Rams' most dominant, yet possibly their lightest, should tell you something about what to expect in 2014. They're arguably Central Mass.'s most talented team this fall, and while there's a couple other heavy hitters contending in D4 – Holliston, Dennis-Yarmouth and Wahconah, for starters – these guys are my odds-on favorite. Look for them to put up a ton of rushing yards in head coach Chris Lindstrom Sr.'s double wing scheme.
7. Lowell
The Red Raiders made one of the biggest statements of the playoffs last fall in blanking St. John's Prep 41-0 in the first round of the D1 North tournament. Syracuse commit Shyheim Cullen was exceptional at interior gap blitzes, baiting and confusing potential blockers to create chaos up the middle, and he'll lead a talented defense that includes linebacker Nicolau Coury and defensive back Theo Bryant.
8. St. John's (Shrewsbury)
Boston College-bound free safety Davon Jones is one of several early candidates for Defensive Player of the Year after recording 125 tackles and eight picks a year ago. Offensive coordinator Chris Moriarty is as creative as they come, and how he utilizes Jones and athlete Shane Combs in the offense will be one of the more interesting storylines of the season's earlygoings.
9. Brockton
We're still in wait-and-see mode after another season of unrealized expectations in Brockton, but it's hard to deny the talent the Boxers have coming back. Keep an eye on Boston College-bound lineman Aaron Monteiro, who has some raw potential and a powerful frame at 6-foot-6 and nearly 300 pounds.
10. Dennis-Yarmouth
Division 1 recruit Michael Dunn lined up at nearly every offensive position last year for the Dolphins in their run to the D4 state final, and he may very well do it again. Defensively, this kid is a treat, regarded as one of the state's premier shutdown corners. As usual, Paul Funk's frenetic read option scheme will be a tall task to keep up with.
Others to Watch:
Attleboro, Barnstable, BC High, Doherty, Holliston, Marblehead, Oliver Ames, Plymouth North, Pope John Paul II, St. John's Prep, St. Peter-Marian, Tewksbury, Wahconah, Walpole
FOOD FOR THOUGHT:
1.
Spread offense has been the growing trend in Massachusetts over the last decade, and we're now seeing its influence at all levels of the game. But at the other end of the spectrum, we're seeing more and more teams dip into playbooks from decades and decades ago for some wild success in the running game. We've romanticized Nauset's Single Wing offense for years. At Holy Name, Mike Pucko dug into Dutch Meyer's World War II-era playbook and installed a fullback-less "Triple Wing" offense for the Naps' Thanksgiving contest with Milford, a game they won 35-14. Last year's D5 West Final featured a Pistol Flex Bone (Hoosac Valley) versus a Wishbone (Easthampton). Tewksbury, last year's D3 state champ, calls running plays out of an encyclopedia of formations from every family of offense. Factor in all of the traditional Double Wing success stories like Shepherd Hill, Holy Name and Somerset-Berkley, too. Running offense continues to diversify in this corner of the country, and if you're an X's and O's junkie like me, you are having a blast watching it.
2.
LSU took some negative backlash last fall when they received a verbal commitment from a freshman early in his season after an apparently intense summer of recruitment from a number of SEC schools, but this doesn't appear to be a trend going away any time soon. Early offers are still fairly uncommon for football prospects in this part of the country, though it's worth noting St. Sebastian's incoming sophomore Blake Gallagher received an offer from Nebraska last month. Beyond the concerns about pressure and bloated expectations, the biggest question I have is this: What if the recruit stops growing, or has just peaked earlier than his peers? I'm interested to see if Maryland head coach Randy Edsall's proposals for recruiting reform gain any traction. Among other things, his plan stipulates schools can't make a written offer until a player's senior year, and that the offer must come with permission from the school's admissions department.
3.
I'm on record as saying I hope the true state championship format the MIAA rolled out last year is here to stay, but I'm also in favor of giving it some tweaks. First and foremost, get rid of the second automatic qualifier for leagues. Weak leagues were rewarded at the expense of teams like Medway and Pope John Paul II, teams who finished with winning records in qualification period but were pushed all the way out of the eight-team field in their respective divisions to satisfy undeserved automatic berths. Leagues should be restricted to one automatic qualifier, or two if it is a two-tier league. I also question whether a seven-game regular season is enough of a window to properly gauge a team's strength. Expanding to an eight-game season and starting it on Labor Day Weekend could satisfy that, and could be a good gate opportunity for many schools as well.
***
Scott Barboza
ESPN Boston High Schools Editor
FIVE PLAYERS ON THE RISE
Michael Balsalmo, Sr. RB/FS, Central Catholic
A standout on the Raiders' Division 1 championship season a year ago, the 6-foot-2, 200-pounder holds a couple of offers (Bryant, Wofford) entering the season. Here's better there will be more to follow.
Christian Carr, Sr. RB, Plymouth North
For what Carr might lack in stature, he makes up for in elusiveness. A consistent 100-yard-per-game rusher in his junior season, he broke out with a 351-yard performance in the Eagles' playoff win against Dighton-Rehoboth.
Jake Gibb, Jr. QB, Stoughton
In his first season under center, Gibb led the Knights to the Division 3 South final before falling to Plymouth South. Gibb will have them contending for the Davenport division title again.
Kyle Murphy, Jr. OL/DL, Attleboro
The two-way lineman was a driving force behind the Blue Bombardiers' breakout season last year. It's only a matter of time before the 6-foot-4, 240-pounder starts getting colleges' attention.
James Sullivan, Sr. RB/S, Tewksbury
Sullivan announced himself to a statewide audience on the biggest stage last year, racking up 125 yards and three touchdowns in the Redmen's win over Plymouth South in the Division 3 state title game. With graduations, Sullivan will take on an even bigger role this year.
FIVE TEAMS THAT WILL SURPRISE
Braintree
The Bay State Carey should again be one of the more interesting races to watch across the state this year, and the Wamps might be primed to take a big step forward after last year's 4-7 mark. One to watch is inside linebacker Derek Anson, who's only added to his 6-foot-2, 225-pound frame.
Doherty
The Highlanders were historically good in 2013, capturing their first state title while beating Dennis-Yarmouth for the Division 4 championship. Although several key contributors have graduated, they can still make a run
Natick
It might not be the aerial display we've seen in recent years with Troy Flutie at quarterback, but the Redhawks will be one worth watching as Brian Dunlap returns from a season missed due to injury (Lisfranc fracture) last year.
Quincy
After a 7-4 campaign last season, are the Presidents ready to challenge for the Patriot Keenan title? With promising running back Jhave Handsom-Fields (8 TD as a sophomore) and quarterback James Lam returning, the time could be now.
Somerset-Berkley
The Raiders return a big class of juniors, including feature back Chip Wood back in the fold and Jacob Cabana rushing off the edge. Another EAC title could be in the cards.
Barboza's Preseason Top 10:
1. Xaverian
The Hawks will have some questions to answer on offense, but deserve the top spot on defense alone, with Defensive Player of the Year Joe Gaziano returning along with the state's best secondary group.
2. Central Catholic
The Raiders peaked at precisely the right time last year, capturing the first true statewide Division 1 title. Some of their biggest playmakers have graduated, but Michael Balsamo's primed for a breakout year.
3. Everett
The Crimson Tide are undoubtedly still smarting over last year's home playoff loss to Central Catholic. We all know what that means.
4. Bridgewater-Raynham
Here's betting tight end/defensive end Connor Reagan is one of next year's breakout performers.
5. St. John's (S)
You never know what you're getting from the Pioneers' offense game to game, and it'll be intriguing to see how the group develops this season. But you have to like any group with athletes of ilk of Shane Combs and Davon Jones.
6. Lowell
I'll take my chances with the linebacking corps the Red Raiders have returning, anchored by Shyheim Cullen and Nicolau Coury.
7. Brockton
The Boxers will not be pushed around inside the tackle box, with perhaps the biggest returning offensive line in the state, including Aaron Monteiro (6-6, 300) and Uzziah Hilliard (6-0, 280)
8. Mansfield
Mike Redding will come up with creative schemes to avoid Brendan Hill being double-teamed on both sides of the ball. Connor Finerty will also look to expand on a promising sophomore season.
9. Dennis-Yarmouth
The Dolphins fell just shy of the Div. 4 state title in a riveting matchup with Doherty. They might not be denied this year.
10. Tewksbury
The Redmen might not match the size and physicality of last year's state championship squad, but having James Sullivan in the backfield is still enough to win.
Others to watch:
Arlington, Attleboro, Billerica, BC High, Holliston, Leominster, Oliver Ames, Shepherd Hill, Stoughton, Wahconah, Walpole.
FOOD FOR THOUGHT:
1.
The football playoff system is here to stay – well, at the very least for two more years. While there are still pockets of dissent, the sentiment across the state is that the first year determining true state champions across six divisions was a success. It even drew over some who'd been opposed to the playoff proposal originally and voted against the measure. The build up and drama of the first seven weeks leading up the start of the tournament brought a different dimension of intrigue to the season. Still, detractors remain and, as Brendan ruminated earlier in this feature, there's still room for improvement regarding the means of automatic qualifiers and the discrepancies that exist between the respective athletic conferences' rubrics – including, most importantly, the weight of league games. But with one year in the books, I declare the system to be a success. Now, let's start tweaking the framework.
2.
Which brings me to my next point: get rid of Thanksgiving. This is going to be a highly unpopular opinion in some neck of the woods, but it's simply a reality of what's put in front of us. At the end of last season, I talked to many athletic directors who complained about a diminished gate return from their Thanksgiving Day games. That's a natural feedback of the playoff system – which in some place requires teams to "double up" with their Thankgiving rivals. In change, that has deemphasized the pomp and circumstance surrounding Turkey Day. As a result, that left some Thanksgiving Day matchups to resemble more of an exhibition game in tone – althought don't tell that to St. John's Prep and Xaverian, or Foxborough and Mansfield. The result is a hodgepodge of situations that follow teams into what used to be the biggest day of the regular-season football calendar: ie a non-playoff team vs. a team that's bound for a championship game, or two teams who are playing out the string on a season that's already ended. I counter those scenario's are really no different than what existed in the year B.P. (Before Playoffs), but the current arrangement has only emphasized was already apparent – Thanksgiving is an exhibition. Minus the Catholic Conference or Merrimack Valley Conference duels which resulted in playoff berths in previous years, Thanksgiving largely was such. Only now have the detractors used the playoff system to highlight the faults in Thanksgiving Day that already existed. What Thanksgiving Day has always been about is the rivalry. I ventured to North Attleborough last year when the Red Rocketeers (already eliminated from the playoffs) hosted Attleboro (who were just eliminated the previous week in the sectional final). The scene was what you'd become accustomed to – with an overflow crowd at Community Field. They were all there to watch an exhibition game. Why not make that game mean something more again? Why not play the game before the first frost?
January, 10, 2014
Jan 10
11:28
PM ET
By
Josh Perry
| ESPNBoston.com
ATTLEBORO, Mass. -– Senior guard Gerald Cortijo scored 17 points, including a go-ahead three-pointer with just 19 seconds left in the fourth quarter to help Taunton (6-2) pull out a 57-52 victory on the road at Attleboro (6-3) on Friday night.

With the score tied 49-49 with just 2:46 left in the game, Taunton guard Shaq Davis hit a free throw to give the Tigers the lead. On the next possession, Cortijo hit a turnaround baseline jumper over Brandon Clark to extend the lead to three.

Attleboro responded through an unlikely source. Senior guard Stanley Beaubrun hit a straightaway three-pointer that touched every part of the rim and hung precariously on the front before finally dropping in to tie things up. It was Beaubrun's first three since the second game of the season.

After a timeout, Attleboro came out in a match-up zone, but there was some confusion and Cortijo was left wide open in the corner. He buried the shot with just 19.1 on the clock. Attleboro was able to get two looks for its top scorer Tim Walsh (17 points) but he was not able to hit and Cory Green tacked on two free throws in the final second to ice it.

Taunton head coach Charlie Dacey knew that he could count on a big game from Cortijo after he had been forced to sit out Tuesday's match-up with the Hornets.

"He missed the Mansfield game and...he was ready for this. He's a competitor," said Dacey. "We always have a rock fight with them (Attleboro). It's not pretty basketball but slug it out a little bit, make a big hoop, and it's over."

Attleboro head coach Mark Houle was disappointed with the defensive mistake that left Cortijo open but noted several missed opportunities that the Bombardiers had throughout the game that could have made the difference.

"We were in a bit of a match-up zone and we didn't get to the spots," he explained. "We had several opportunities to change the game in the first half that we didn't take advantage of...So, it was a big play by Gerald but it was a 32-minute game and we didn't do it as well as they did tonight."

It was Attleboro that jumped out early. The Bombardiers built an 11-4 lead behind seven points from Walsh, but Taunton came right back with a 16-3 run between the first and second quarters. Cortijo was the spark off the bench with nine points during the run including a pair of three's and a drive that he finished by circling the ball around his back before scoring in traffic.

Taunton went into the break leading 26-22, but early in the third quarter Attleboro started to get the ball inside to good effect. Shawn Reardon showed some nice interior passing to get a pair of lay-ups for E.J. Santarpio. Sophomore Kyle Murphy added a putback basket to give the Bombardiers a 37-35 lead, but Green buried a three to end the quarter (his first points of the game) to put Taunton back on top.

"When we were successful, we started getting the ball inside, running our offense, and getting to the free throw line," said Houle. "Their defensive pressure was good, but overall the pace of the game, the tempo, was where we wanted it to be."

In the fourth quarter, Davis started to become more aggressive taking the ball to the basket and had a pair of lay-ups and four free throws in the fourth. He finished with 14 points (10 in the second half) and went over the 1,000-point mark for his career.

"Our execution wasn't great," said Dacey about the Tigers offense. "That's all we talked about at halftime and it got a little better in the second half. With better execution, we get better looks. We forced some shots."

Attleboro stayed in it, despite solid defense from Green and Cortijo on Walsh, by making its free throws. In one stretch, nine straight points for Attleboro were scored at the line. Santarpio (11 points, seven rebounds) went 5-6 in the fourth quarter from the line.

Dacey applauded the defensive work of his two guards for keeping Walsh mostly under wraps in the second half.

He remarked, "That was the tandem thing. One guy takes him, rests, and the other guy takes him. We know that we can't stop him; we just want to disrupt him. We made Walsh work for everything and, in my mind, that's the key."
October, 31, 2013
10/31/13
4:21
PM ET
EDITOR'S NOTE: Picks for Western Mass. are omitted, as the district concludes its final week of regular season this weekend)

Brendan Hall
ESPN Boston High Schools Editor

Division 1 North: Everett
Plain and simple, I just don't see John DiBiaso getting outcoached in this field.

Division 1 South: Attleboro
One of several surprise picks I'm going to lay down here. The Blue Bombardiers' program has long been a sleeping giant, and they've finally awoken this fall with a slew of skilled athletes, including quarterback Tim Walsh, tight end Luke Morrison, receiver Brenden Massey and promising young two-way lineman Kyle Murphy. The key may be junior Damon Belin, a speedy pass-catching running back who is elusive in space.

Division 2 North: Haverhill
Hard to think just two years after an 0-11 campaign, the Hillies are the No. 1 seed in a playoff tournament. Sophomore running back Ian Kessel, one of the area's leaders in yards from scrimmage, has been at the forefront of the renaissance, and I expect him to have a breakout campaign this next month.

Division 2 South: Natick
If there is one player capable of carrying his team on his back, it is quarterback Troy Flutie, who has put up video game numbers yet again (2,500-plus yards, 35 TD) with an assortment of supporting cast members.

Division 2 Central: Leominster
This is the most talented team of Dave Palazzi's tenure, and it may be his best coaching job yet. They are not the most physically intimidating team, but they are one of the most disciplined, and they squeeze every inch out of their talents, led by dual threat QB Neil O'Connor. The Blue Devils brought the biggest crowd ever to Gillette Stadium two years ago. I can only imagine what kind of caravan from this football-mad city would show up this year.

Division 3 Northeast: Tewksbury
There may be some bumps in the road in this field, but at the end of the day there isn't a team as deep as the Redmen in this field. They were the most dominant team in the MVC this season, and with a stable of running backs led by James Sullivan and Eddie Matovu, along with a scheme that draws formations from seemingly every family of offense throughout history, I just don't see how anyone knocks these guys off.

Division 3 Northwest: Arlington
Two Dubzinskis are better than one, and the father-son duo of head coach John Jr. and his father John Sr. as defensive coordinator has taken the Middlesex by storm this fall after showing promise a year ago. I don't know what direction this bracket is headed in, but the Spy Ponders are a safe pick.

Division 3 Southeast: Plymouth South
As long as Dylan Oxsen is carrying the rock, I don't see anyone but the Panthers taking this bracket. It's a different story after that, though.

Division 3 Southwest: Walpole
The Rebels' ground game has come along well, after hitting a few bumps. As long as the defense can hold up, their multi-dimensional stable of backs can do the rest.

Division 4 North: Bedford
Another field that can go in an assortment of directions, the ground game dictated by Olan Abner could be the difference.

Division 4 South: Dennis-Yarmouth
The Dolphins typically hit their stride in the second half of the season, and the way this offense is clicking, it's going to take a flawless defensive performance to shut down Spencer Tyler, Michael Dunn and company.

Division 4 Central: Doherty
Twitter follower and familiar 98.5 The Sports Hub caller "Aidan From Worcester" guarantees Shepherd Hill beats Doherty in this bracket. The Rams are a dangerous bunch, but the Highlanders have arguably the best grouping of pure athletes statewide across Division 4, so I'm sticking to my gut.

Division 5 North: Bishop Fenwick
Rufus Rushins gets much of the glory in this dominant run for the Crusaders, and deservedly so, but quarterback Nick Bona is the catalyst of this offense, and will be the difference in a close game somewhere down the line.

Division 5 South: Abington
The Green Wave lost some key bodies to start the year, but have been rolling ever since, capped with a convincing 36-7 rout of East Bridgewater. The versatile backfield of Al Freeman, Jason Halpin, quarterback Bryan Dwyer and promising sophomore Shawn Donovan will wear front sevens down.

Division 5 Central: Leicester
Tom Rodrick has been the driving force on both sides of the ball, but quarterback Drew Mazzeo puts the Wolverines over the top.

Division 6 North: Latin Academy
There are trendier picks in this field, such as Boston Cathedral, but the Dragons have one of the better overall athletes in this field in quarterback/safety Kyle Dance. He will be the difference.

Division 6 South: Upper Cape
Mike Hernon has done a fantastic job with this program, and while the Rams are a low seed headed into this wide-open field, Jon Dumont is a dangerous asset to this triple-option scheme who can take them deep.

Division 6 Central: Blackstone Valley Tech
Nic Wojnar is as elusive with his feet as he is throwing the ball in the Beavers' read option scheme. Expect big numbers from the senior this postseason.

***

Scott Barboza
ESPN Boston High Schools Editor

DIVISION 1 NORTH: Lowell
I've gone on record since the summertime months saying the Red Raiders are making an appearance at Gillette Stadium this year. Lowell has a tough road there, staring with a first-round road game at St. John's Prep in the No. 4 vs. No. 5 swing matchup, but I've like the strides this defense has made behind Alex Quintero and Shyheim Cullen.

DIVISION 2 NORTH: Haverhill
One of the tougher races to project in Eastern Mass., the Hillies enter as the No. 1 seed. Preseason favorite Reading, a buzz worthy Waltham team and old stalwarts Lincoln-Sudbury could all claim the prize, but I'm going with the upstart Hillies, vindication for the terrific job Tim O'Connor has done since taking over the program.

DIVISION 3 NORTHEAST: Tewksbury
Marblehead might have the best athlete in the field with two-sport standout Brooks Tyrrell, but Tewksbury proves too much to handle, with a three-headed rushing attack and a stout defense.

DIVISION 3 NORTHWEST: Melrose
The Red Raiders lone loss of the regular season came against Middlesex Freedom division rival Wakefield, coming on a late field goal, but I like Melrose the second time around. The teams couldn't meet until the sectional final and who wouldn't love ensuring a third meeting of the season by Thanksgiving rivals.

DIVISION 4 NORTH: Watertown
Perhaps a surprise pick coming out of the division, the Red Raiders have some athletes on the boundaries with T.J. Hairston. I think Bedford might be the team to watch here, but just playing a hunch.

DIVISION 5 NORTH: Bishop Fenwick
Pick the Crusaders to go all the way, on a tear through Gillette. They haven't just beaten teams, they've annihilated the CCL's best, including St. Mary's (first-round opponent) and Austin Prep, which they both will/can see down the road.

DIVISION 6 NORTH: Cathedral
Another North-based team I have running the field. As I mentioned earlier in the state championship Roundtable, I think the Panthers are just hitting their stride now. This could be the second championship of more to come.

DIVISION 1 SOUTH: Xaverian
Almost wanted to pull the trigger and go with Bridgewater-Raynham here, but I think the Hawks' defense, which has carried them through the regular season, continues to be the story in the postseason, leading them to Gillette.

DIVISION 2 SOUTH: Mansfield
If this were the World Cup, this would be referred to as the "Group of Death." Seriously, whichever team survives this gauntlet will be battle-tested. Ever since Week 1, it seems as though Mansfield's been a team of destiny; they follow through.

DIVISION 3 SOUTHEAST: Plymouth South
An intriguing bracket, littered with some of the Atlantic Coast League's finest, so look no further than the Panthers, the league's playoff representative from last season. Nauset and Plymouth North are lurking, but also don't look past an underrated rivalry game between Somerset-Berkley and Dighton-Rehoboth as a first-round appetizer.

DIVISION 3 SOUTHWEST: Oliver Ames
Another division strongly influenced by the presence of one particular league, in this case the Hockomock. OA and Stoughton drew the top two seeds, but let's not sleep on No. 4 seed North Attleborough, which plays up in the Kelley-Rex division. Whichever team emerges from the Red Rocketeers' first-round duel with Walpole could be a dark horse for the sectional title.

DIVISION 4 SOUTH: Westwood
Tons of Tri-Valley League talent to go around here, but I'm sticking with the regular-season champion. It wouldn't shock me in the slightest if Dennis-Yarmouth wears the sectional crown, but the Wolverines are a team that simply seems to get it done when the chips are on the table, led by dynamic senior quarterback Bo Berluti.

DIVISION 5 SOUTH: Cardinal Spellman
Old Rochester Regional enters the tournament with the No. 1 seeding, having posted some gaudy offensive numbers throughout the year behind running back Richie Phillips. I picked the Cardinals to win the state title from the start of the season, and while I like Fenwick a little more in terms of the state championship, I still envision Spellman returning to Gillette.

DIVISION 6 SOUTH: Millis/Hopedale
Perhaps no injury will have a greater impact on the outlook of the division than that of the Mohawks and lineman Jon Baker. Granted, I still like M/H's chances emerging from a wide-open field, thanks to running back Chris Ahl. That being said, the Mohawks' first-round date with Mashpee could determine the sectional champion.

DIVISION 2 CENTRAL: Leominster
I like the Blue Devils to advance to Gillette, but the sectional field is fraught with peril, too. Marlborough and St. John's (Shrewsbury) can score with the best of them, but I don't think anything short of an act of god slows down the Leominster caravan.

DIVISION 4 CENTRAL: Doherty
From season's start, I've tabbed the Highlanders as my statewide Division 4 championship favorite. However, the toughest matchup in the path might very well in their first-round test against No. 6 seed Quabbin.

DIVISION 5 CENTRAL: Leicester
Coming into the season, it would have been easy to project Auburn running away with another championship of sorts, but I'm going with the No. 1-seeded Wolverines, led by linebacker Tom Rodrick – a strong Defensive Player of the Year candidate.

DIVISION 6 CENTRAL: West Boylston
This is a case of what have you done for me lately? While No. 1 seed Littleton rolled through its Mid-Wach schedule undefeated, scoring at a clip of nearly 43 points per game, West Boylston notched a thorough win over previously mentioned Leicester two weeks ago. Granted, the Lions' lone loss of the season came at the hands of Littleton, but after a one-possession loss in Week 1, I'm banking on the second meeting having a different outcome.
October, 26, 2013
10/26/13
2:32
AM ET


WRENTHAM, Mass. – What a difference a year makes.

Friday's was the type of game Attleboro football would have lost in previous instances. There would have been a second-half comeback, or a costly mistake would have occurred on offense.

But, again, the No. 20 Blue Bombardiers proved this year's model there's one crucial difference – they close.

Attleboro closed out its regular season slate of Hockomock Kelley-Rex division play with a 19-12 win over host No. 15 King Philip. And, after a 4-7 campaign in 2012, the Blue Bombardiers advance to the Division 1 South playoffs with a 6-1 mark to date, their lone loss of the season coming against Hockomock rival and ESPN Boston statewide No. 1 Mansfield.

"We're feeling great right now," senior quarterback Tim Walsh said.

As in so many previous instances, Walsh had Attleboro flying out of the chute, requiring just three plays from scrimmage to get in the end zone, connecting with wide receiver Brenden Massey on a 30-yard score 65 seconds into action. The Blue Bombardiers started the drive deep in KP territory, after Stanley Beaubrun's 65-yard return of the opening kickoff to the Warriors' 27-yard line.

However, KP (5-2, 3-2 Kelley-Rex) responded immediately, embarking on a methodical 8-play, 62-yard drive, capped by J.J. Dillon's 6-yard touchdown pass to Joe Johnston. After both teams failed point-after tries, the score remained tied, 6-6.

The Warriors took 12-6 lead with 1:52 remaining in the first quarter, with Dillon going over center on a 1-yard touchdown run. KP started the drive at Attleboro's 36, after the Blue Bombardiers couldn't convert a fourth-down pass on a punt fake.

But Attleboro reestablished the lead heading into the half with Walsh (6 of 16, 121) throwing his second touchdown pass to Matthew Elliott from three yards out. The first successful point-after kick of the game from Michael Cannata provided the Blue Bombardiers with the 13-12 edge at intermission.

Attleboro padded its lead on its first possession of the second half. Junior running back Damon Belin (13 carries, 74 yards) ran in from nine yards out behind a pulling guard for the Blue Bombardiers' final margin of victory at 3:25 of the third.

KP would have four more cracks at a tying score, but the Warriors drives sputtered with a result of two punts and a turnover on downs before getting one last shot inside of the final minute.

After a 13-yard completion from Dillon to Johnston (19 carries, 126 yards) set up the Warriors on the plus-side of the 50, Attleboro's defense tightened again, forcing two incompletions. With one second remaining in the game, KP had one last heave at end zone from the Attleboro 43. However, when Dillon dropped back out of the shotgun, he was met by a gaggle of Blue Bombardiers defenders, who combined for the sack, ending the game.

Don't sleep on 'D': The Blue Bombardiers did something to KP that the Warriors' defense is accustomed to doing – pitching a shutout in the second half. They did so in style, posting five plays that resulted in no gain or a loss for the Warriors.

At the forefront of the Attleboro's second-half defensive charge was senior defensive tackle Brandon Pleas. The 6-foot-4, 240-pounder presented matchup problems for KP's interior linemen, scorching the Warriors with three tackles for loss, including a critical sack late in the fourth quarter.

Pleas creates a big, physical front for Attleboro, joined by impressive two-way sophomore lineman Kyle Murphy (6-3, 235 lbs.). When tight end/defensive end Luke Morrison (6-3, 220 lbs.) enters in sub packages as an edge rusher, the Blue Bombardiers present a size advantage in the box many area high school teams simply cannot match.

"The game plan was to establish the line of scrimmage and beat your man," Please said. "We lacked that in the first half, but in the second half, we came out and hit. That's what won us the game."

Breath of fresh air: After not seeing postseason play in more than a decade, Attleboro will enter the playoffs next week in head coach Mike Strachan's first year at the helm.

It goes without saying that the Blue Bombardiers' transformation has — in no small part — been a testament to their new coach. But Strachan maintains the team's on-field success stems from its commitment to detail in practice.

"I think it comes down to the way that we practice," Strachan said. "Every day, we have goals, we set goals for ourselves in practice. As silly as that might sound, we believe in it. We get better every day."

While Attleboro's new season starts next week with a home playoff game, the Blue Bombardiers took a sort of moment of reflection as to how far they've come, with a celebratory Gatorade shower for Strachan. For a team focused on incremental goals, it shouldn't be viewed as a premature celebration.

"I think we've accomplished a lot," Pleas said. "Words can't even explain it. These coaches are something else."
June, 9, 2012
6/09/12
4:42
PM ET
By
Ben Larsen
| ESPNBoston.com
CHICOPEE, Mass. -- Above all else, resiliency is what matters most. Forget the plus-fastball, 12-6 deuce or the ability to pull the string when changing speeds.

Sure, it can't hurt a pitcher to carry those attributes in his toolbox, but, above all else, resiliency is the key.

Westfield's Lee Albertson proved that much time and again Saturday in the Bombers' 2-1 Western Mass. Division 1 Final win over Minnechaug at Szot Park.

Albertson and his calm demeanor sliced and diced the No. 2 Falcons throughout a complete-game, two-hit, 13-strikeout performance. But it wasn't as easy as the box score might indicate.

Albertson battled out of four separate jams with Minnechaug runners in scoring position to limit the defending sectional champions to just one fifth-inning run.

"He made a point at practice to let me know he was ready for today," said Westfield head coach Rich Discenza, whose Bombers improved to 19-4 on the season and await the Central Mass. champion for Tuesday's Division I State Semifinal (7 p.m. Szot Park).

Albertson's escapability showed best in the fifth inning, incidentally, when Minnechaug was able to puncture his armor.

After Westfield went ahead 2-0, Minnechaug followed in their half of the fifth with a very similar stanza. Albertson retired the leadoff hitter, but hit Joe Snopek to put a runner on. After another strikeout, the wheels came off the track for the typically-grounded Albertson. He walked two batters and saw Kevin Baker's seeing-eye single plate Minnechaug's first run. He would get out of the jam quickly, though, avoid further damage.

The scoring action started in the top of the fifth with Westfield's Aris Laurencuent getting hit by a Bryan Goossens fastball. That would be the start of the Bombers' rally.

Ethan Atkocaitis followed with a sharp single to right field. Kyle Murphy then laced a liner to deep centerfield that was caught but deep enough to plate Jake Toomey --- who was pinch-running for Aris Laurencuent. Atkocaitis then scored on a passed ball.

The Little Things: A look at the Westfield roster won't raise any major eyebrows. There are good players and solid statistics but there aren't any 'superstars'.

None of that matters, though, to the 2012 Western Mass. Champions.

"It's a team-oriented thing," said catcher Evan Moorhouse. "We all know what we have to do. "We're going to go out there and play for each other and that's a huge thing."

Westfield's own "Bomber Ball" was on display in their two-run fifth inning. There was only one hit in the inning --- a Conner Laraway single --- yet Westfield was able to plate just enough offense.

With the bases loaded, Murphy saw the situation and acted accordingly with one out, getting the ball to the outfield to plate Jake Toomey from third with a sacrifice fly. And the Bombers capitalized on a mental error by Minnechaug pitcher Bryan Goossens to score their second run.

Tough Luck Loser: As memorable as Albertson's performance was, Minnechaug's Goossens matched him throughout.

The Siena-bound senior scattered just five hits and allowed just the one earned run. Like his counterpart, Goossens also managed to battle through numerous tough jams to keep it tight.

He was at his best in the top of the seventh inning. After allowing back-to-back hits to start the inning, he settled down and retired Westfield's top three batters in order to give Minnechaug one last chance at the plate.