Boston High School:

Leicester
October, 31, 2013
10/31/13
4:21
PM ET
EDITOR'S NOTE: Picks for Western Mass. are omitted, as the district concludes its final week of regular season this weekend)

Brendan Hall
ESPN Boston High Schools Editor

Division 1 North: Everett
Plain and simple, I just don't see John DiBiaso getting outcoached in this field.

Division 1 South: Attleboro
One of several surprise picks I'm going to lay down here. The Blue Bombardiers' program has long been a sleeping giant, and they've finally awoken this fall with a slew of skilled athletes, including quarterback Tim Walsh, tight end Luke Morrison, receiver Brenden Massey and promising young two-way lineman Kyle Murphy. The key may be junior Damon Belin, a speedy pass-catching running back who is elusive in space.

Division 2 North: Haverhill
Hard to think just two years after an 0-11 campaign, the Hillies are the No. 1 seed in a playoff tournament. Sophomore running back Ian Kessel, one of the area's leaders in yards from scrimmage, has been at the forefront of the renaissance, and I expect him to have a breakout campaign this next month.

Division 2 South: Natick
If there is one player capable of carrying his team on his back, it is quarterback Troy Flutie, who has put up video game numbers yet again (2,500-plus yards, 35 TD) with an assortment of supporting cast members.

Division 2 Central: Leominster
This is the most talented team of Dave Palazzi's tenure, and it may be his best coaching job yet. They are not the most physically intimidating team, but they are one of the most disciplined, and they squeeze every inch out of their talents, led by dual threat QB Neil O'Connor. The Blue Devils brought the biggest crowd ever to Gillette Stadium two years ago. I can only imagine what kind of caravan from this football-mad city would show up this year.

Division 3 Northeast: Tewksbury
There may be some bumps in the road in this field, but at the end of the day there isn't a team as deep as the Redmen in this field. They were the most dominant team in the MVC this season, and with a stable of running backs led by James Sullivan and Eddie Matovu, along with a scheme that draws formations from seemingly every family of offense throughout history, I just don't see how anyone knocks these guys off.

Division 3 Northwest: Arlington
Two Dubzinskis are better than one, and the father-son duo of head coach John Jr. and his father John Sr. as defensive coordinator has taken the Middlesex by storm this fall after showing promise a year ago. I don't know what direction this bracket is headed in, but the Spy Ponders are a safe pick.

Division 3 Southeast: Plymouth South
As long as Dylan Oxsen is carrying the rock, I don't see anyone but the Panthers taking this bracket. It's a different story after that, though.

Division 3 Southwest: Walpole
The Rebels' ground game has come along well, after hitting a few bumps. As long as the defense can hold up, their multi-dimensional stable of backs can do the rest.

Division 4 North: Bedford
Another field that can go in an assortment of directions, the ground game dictated by Olan Abner could be the difference.

Division 4 South: Dennis-Yarmouth
The Dolphins typically hit their stride in the second half of the season, and the way this offense is clicking, it's going to take a flawless defensive performance to shut down Spencer Tyler, Michael Dunn and company.

Division 4 Central: Doherty
Twitter follower and familiar 98.5 The Sports Hub caller "Aidan From Worcester" guarantees Shepherd Hill beats Doherty in this bracket. The Rams are a dangerous bunch, but the Highlanders have arguably the best grouping of pure athletes statewide across Division 4, so I'm sticking to my gut.

Division 5 North: Bishop Fenwick
Rufus Rushins gets much of the glory in this dominant run for the Crusaders, and deservedly so, but quarterback Nick Bona is the catalyst of this offense, and will be the difference in a close game somewhere down the line.

Division 5 South: Abington
The Green Wave lost some key bodies to start the year, but have been rolling ever since, capped with a convincing 36-7 rout of East Bridgewater. The versatile backfield of Al Freeman, Jason Halpin, quarterback Bryan Dwyer and promising sophomore Shawn Donovan will wear front sevens down.

Division 5 Central: Leicester
Tom Rodrick has been the driving force on both sides of the ball, but quarterback Drew Mazzeo puts the Wolverines over the top.

Division 6 North: Latin Academy
There are trendier picks in this field, such as Boston Cathedral, but the Dragons have one of the better overall athletes in this field in quarterback/safety Kyle Dance. He will be the difference.

Division 6 South: Upper Cape
Mike Hernon has done a fantastic job with this program, and while the Rams are a low seed headed into this wide-open field, Jon Dumont is a dangerous asset to this triple-option scheme who can take them deep.

Division 6 Central: Blackstone Valley Tech
Nic Wojnar is as elusive with his feet as he is throwing the ball in the Beavers' read option scheme. Expect big numbers from the senior this postseason.

***

Scott Barboza
ESPN Boston High Schools Editor

DIVISION 1 NORTH: Lowell
I've gone on record since the summertime months saying the Red Raiders are making an appearance at Gillette Stadium this year. Lowell has a tough road there, staring with a first-round road game at St. John's Prep in the No. 4 vs. No. 5 swing matchup, but I've like the strides this defense has made behind Alex Quintero and Shyheim Cullen.

DIVISION 2 NORTH: Haverhill
One of the tougher races to project in Eastern Mass., the Hillies enter as the No. 1 seed. Preseason favorite Reading, a buzz worthy Waltham team and old stalwarts Lincoln-Sudbury could all claim the prize, but I'm going with the upstart Hillies, vindication for the terrific job Tim O'Connor has done since taking over the program.

DIVISION 3 NORTHEAST: Tewksbury
Marblehead might have the best athlete in the field with two-sport standout Brooks Tyrrell, but Tewksbury proves too much to handle, with a three-headed rushing attack and a stout defense.

DIVISION 3 NORTHWEST: Melrose
The Red Raiders lone loss of the regular season came against Middlesex Freedom division rival Wakefield, coming on a late field goal, but I like Melrose the second time around. The teams couldn't meet until the sectional final and who wouldn't love ensuring a third meeting of the season by Thanksgiving rivals.

DIVISION 4 NORTH: Watertown
Perhaps a surprise pick coming out of the division, the Red Raiders have some athletes on the boundaries with T.J. Hairston. I think Bedford might be the team to watch here, but just playing a hunch.

DIVISION 5 NORTH: Bishop Fenwick
Pick the Crusaders to go all the way, on a tear through Gillette. They haven't just beaten teams, they've annihilated the CCL's best, including St. Mary's (first-round opponent) and Austin Prep, which they both will/can see down the road.

DIVISION 6 NORTH: Cathedral
Another North-based team I have running the field. As I mentioned earlier in the state championship Roundtable, I think the Panthers are just hitting their stride now. This could be the second championship of more to come.

DIVISION 1 SOUTH: Xaverian
Almost wanted to pull the trigger and go with Bridgewater-Raynham here, but I think the Hawks' defense, which has carried them through the regular season, continues to be the story in the postseason, leading them to Gillette.

DIVISION 2 SOUTH: Mansfield
If this were the World Cup, this would be referred to as the "Group of Death." Seriously, whichever team survives this gauntlet will be battle-tested. Ever since Week 1, it seems as though Mansfield's been a team of destiny; they follow through.

DIVISION 3 SOUTHEAST: Plymouth South
An intriguing bracket, littered with some of the Atlantic Coast League's finest, so look no further than the Panthers, the league's playoff representative from last season. Nauset and Plymouth North are lurking, but also don't look past an underrated rivalry game between Somerset-Berkley and Dighton-Rehoboth as a first-round appetizer.

DIVISION 3 SOUTHWEST: Oliver Ames
Another division strongly influenced by the presence of one particular league, in this case the Hockomock. OA and Stoughton drew the top two seeds, but let's not sleep on No. 4 seed North Attleborough, which plays up in the Kelley-Rex division. Whichever team emerges from the Red Rocketeers' first-round duel with Walpole could be a dark horse for the sectional title.

DIVISION 4 SOUTH: Westwood
Tons of Tri-Valley League talent to go around here, but I'm sticking with the regular-season champion. It wouldn't shock me in the slightest if Dennis-Yarmouth wears the sectional crown, but the Wolverines are a team that simply seems to get it done when the chips are on the table, led by dynamic senior quarterback Bo Berluti.

DIVISION 5 SOUTH: Cardinal Spellman
Old Rochester Regional enters the tournament with the No. 1 seeding, having posted some gaudy offensive numbers throughout the year behind running back Richie Phillips. I picked the Cardinals to win the state title from the start of the season, and while I like Fenwick a little more in terms of the state championship, I still envision Spellman returning to Gillette.

DIVISION 6 SOUTH: Millis/Hopedale
Perhaps no injury will have a greater impact on the outlook of the division than that of the Mohawks and lineman Jon Baker. Granted, I still like M/H's chances emerging from a wide-open field, thanks to running back Chris Ahl. That being said, the Mohawks' first-round date with Mashpee could determine the sectional champion.

DIVISION 2 CENTRAL: Leominster
I like the Blue Devils to advance to Gillette, but the sectional field is fraught with peril, too. Marlborough and St. John's (Shrewsbury) can score with the best of them, but I don't think anything short of an act of god slows down the Leominster caravan.

DIVISION 4 CENTRAL: Doherty
From season's start, I've tabbed the Highlanders as my statewide Division 4 championship favorite. However, the toughest matchup in the path might very well in their first-round test against No. 6 seed Quabbin.

DIVISION 5 CENTRAL: Leicester
Coming into the season, it would have been easy to project Auburn running away with another championship of sorts, but I'm going with the No. 1-seeded Wolverines, led by linebacker Tom Rodrick – a strong Defensive Player of the Year candidate.

DIVISION 6 CENTRAL: West Boylston
This is a case of what have you done for me lately? While No. 1 seed Littleton rolled through its Mid-Wach schedule undefeated, scoring at a clip of nearly 43 points per game, West Boylston notched a thorough win over previously mentioned Leicester two weeks ago. Granted, the Lions' lone loss of the season came at the hands of Littleton, but after a one-possession loss in Week 1, I'm banking on the second meeting having a different outcome.
October, 8, 2013
10/08/13
5:45
PM ET
By
Brendan Hall
| ESPNBoston.com
Here is our latest "Mr. Football Watch" following Week 5 of the 2013 season. Statistics can be sent to editors Brendan Hall (bhall@espnboston.com) and/or Scott Barboza (sbarboza@espnboston.com)

THE CONTENDERS*

Troy Flutie, Sr. QB, Natick
Boston College commit completed 14 of 27 passes for 228 yards and four touchdowns, and added 47 yards on the ground, in a 28-0 shutout of Norwood.

Brendan Hill, Jr. TE, Mansfield
Caught four passes for 76 yards and a score in the Hornets' 49-42 win over Attleboro.

Hayden Murphy, Sr. ATH, Barnstable
Ran for 115 yards and three touchdowns in the Red Raiders' 35-14 win over New Bedford.

Neil O'Connor, Sr. QB/S, Leominster
In just one half of football in the Blue Devils' 34-0 shutout of Wachusett, accounted for 201 yards of offense and capped things off with a nifty 90-yard interception return to the house.

Mike Panepinto, Sr. RB, Needham
Ran for 135 yards and three touchdowns in the Rockets' 34-12 win over Framingham.

Rufus Rushins, Jr. RB, Bishop Fenwick
Carried 24 times for 233 yards and four touchdowns in the Crusaders' commanding 42-20 rout of Cardinal Spellman.

Andrew Smiley, Sr. QB, St. John's (Shrewsbury)
In the Pioneers' 49-21 win over Nashoba, completed 23 of 29 passes for 335 yards, three touchdowns and no interceptions, and added 67 rushing yards.

Cody Williams, Sr., Springfield Central
Monmouth commit completed 13 of 18 passes for 202 yards and two touchdowns, and added 118 yards and a third score on the ground, in the Golden Eagles' 19-7 win over Longmeadow.

Ju'an Williams, Sr., Springfield Central
Caught five passes for 96 yards and a touchdown in the Golden Eagles' 19-7 win over Longmeadow

Kyle Wisnieski, Sr. QB, Mansfield
Completed 19 of 28 passes for 311 yards and three touchdowns in the Hornets' 49-42 thriller over Attleboro.

Isaac Yiadom, Sr. WR/DB, Doherty
Recorded a touchdown catch, his second of the year, in the Highlanders' 40-12 rout of Worcester South. Through four games he is averaging 30.9 yards per catch, and has recorded 37 tackles on defense.


FIVE ON THE RISE

Bo Berluti, Sr. QB, Westwood
Accounted for 255 yards of offense and three total touchdowns in the Wolverines' 43-41 double-overtime epic over archrival Holliston. But it will be his gutsy 25-yard, fourth and goal TD pass in the second overtime that will go down in folklore.

Derrell Fernandez, Sr. RB, Weymouth
Carried 225 times for 264 yards and five touchdowns in the Wildcats' 42-18 win over Brookline.

Mike McGillicuddy, Sr. WR, St. John's (Shrewsbury)
The elusive slot receiver caught nine passes for 113 yards in the Pioneers' 49-21 win over Nashoba.

Tom Rodrick, Sr. LB, Leicester
The UConn commit recorded 12 tackles, a sack, and blocked field goal in the Wolverines' 15-6 win over Auburn.

Alex Valles, Sr. RB, Danvers
Carried 24 times for 211 yards and three scores in the Falcons' 20-12 win over Revere.


TOP STATISTICAL LEADERS IN MASSACHUSETTS

Rushing
Brooks Tyrrell, Jr., Marblehead – 889 yards, 9 total TD
Johnathan Thomas, Sr., St. John's Prep – 748 yards, 8 total TD
Mark Wright, Sr., Auburn – 760 yards, 8 TD
Olan Abner, Sr., Bedford – 733 yards, 7 TD
Christian Perez, Sr., Northeast – 725 yards, 8 total TD

Passing
Dylan Kierman, Sr., Quabbin – 1,230 yards, 19 TD
John Rumney, Sr., Marlborough – 1,086 yards, 14 TD
Matthew Jeye, Sr., Holliston – 1,072 yards, 11 TD
Troy Flutie, Sr., Natick – 1,035 yards, 17 TD
Andrew Smiley, Sr., St. John's (Shrewsbury) – 955 yards, 11 TD

Receiving
Zach Elkinson, Jr., Holliston – 405 yards, 7 TD
Brian Daly, Sr., Marblehead – 395 yards, 8 TD
Dan Henrickson, Sr., St. Peter-Marian – 380 yards, 5 TD
Isaac Yiadom, Sr., Doherty – 371 yards, 2 TD
Mike Bombard, Sr., Chicopee Comp – 369 yards, 3 TD

Dual Threat
Dylan Kierman, Sr., Quabbin – 1,230 passing yards, 284 rushing yards, 21 total TD
Troy Flutie, Sr., Natick – 1,035 passing yards, 316 rushing yards, 18 total TD
Matthew Jeye, Sr., Holliston – 1,072 passing yards, 167 rushing yards, 14 total TD
Andrew Smiley, Sr., St. John's (Shrewsbury) 955 passing yards, 169 rushing yards, 16 total TD
Cody Williams, Sr., Springfield Central – 851 passing yards, 254 rushing yards, 13 total TD



*Not including teams who were idle last weekend.
October, 6, 2013
10/06/13
12:25
AM ET
By
Joe Parello
| ESPNBoston.com


LEICESTER, Mass. -- Star senior fullback/linebacker Tom Rodrick carried Leicester to a pivotal win over rival Auburn Saturday night, doing a little bit of everything in his final Homecoming game.

The UConn commit rushed for 75 yards, including a 32-yards score, threw several key blocks, recorded 11 tackles, one sack and blocked an extra point in the Wolverines' 15-6 win over the Rockets.

"Rodrick showed why he's a D-1 prospect," Leicester coach Tim Griffiths said. "We put some pressure on him, and he felt it all week. We were saying that, 'If you're the player you are, these are the games you have to step up in. You need to step up against the best.' And I consider Auburn the best."

Leicester (4-0, 3-0 SWCL) struck first when Rodrick and a horde of other Wolverines forced Auburn (3-2, 1-1 SWCL) senior Andrew Markvenas to fumble, leading to a recovery by Leicester's Ryan McKay at the Rocket 40. Two plays later, quarterback Nick Makie faked a handoff up the middle to Rodrick, but gave it to Shane Padeni on a reverse to the right side for a 41-yard touchdown run, giving Leicester a quick 7-0 lead.

Late in the first, Rodrick threw down Auburn freshman quarterback Steve Saucier, leading to a three and out, but the Wolverines' offense failed to take advantage, amassing a total of only 15 yards in the entire second quarter. Auburn would rally with a nine-play, 55-yard scoring drive just before intermission, capped off by a three-yard Markvenas touchdown run.

But instead of going to the half tied, Rodrick shot through the middle of the Auburn line and blocked the extra point attempt. Jake Morrow picked the ball up and ran it back 90 yards for two Leicester points, making it 9-6 Wolverines at the break.

In the second half the Wolverines would salt the game away with solid running by Rodrick, Padeni and McKay, but also excellent game management from Makie. The undersized signal-caller was stepping in for injured star Drew Mazzeo, and the Wolverines had originally planned to mix in several quarterbacks. But Makie played so well that Griffiths felt he couldn't pull him out.

"(Makie) was tremendous," Griffiths said. "We had like four quarterbacks lined up to play tonight, but none of them saw the field because of the job Makie did. He probably gets the game ball tonight, honestly."

In the closing moments of the third quarter, Makie converted a third and nine when a stepped up in the pocket and delivered a strike to Morrow for 14 yards. Then, on the first play of the fourth quarter, Rodrick put the game on ice, bursting through the middle of the line, breaking four tackles, and taking it the distance for a 32-yard touchdown.

"I told coach in the timeout that 41 (iso) might be open," Rodrick said. "I said my prayers, ran low, and it was there."

After the game, Rodrick was asked about his commitment to UConn in the wake of coach Paul Pasqualoni's firing. ESPN's No. 13 player in Massachusetts said he remains committed to the Huskies, but that he is also paying close attention to the coaching search going on in Storrs.

"As of right now, I'm committed, I can't say otherwise," Rodrick said with a chuckle. "(I'm monitoring the coaching search) pretty close. A couple other schools reached out."

The win puts Leicester in the drivers' seat for the top seed in Division 5 Central, heading into their CMass Division 5 Super Bowl rematch at West Boylston next Friday. Auburn will also be back at it next Friday, and the Rockets will have to rebound quickly as they travel to face a suddenly dangerous Gardner squad.
August, 19, 2013
8/19/13
8:17
AM ET
The MIAA football season officially kicks off today with the first sanctioned team practices. Below is our fourth annual ESPN Boston Preseason MIAA All-State Football Team, as well as our expansive "Watch List".

*Indicates returning All-State

OFFENSE

QB – Drew Belcher, Sr., Reading*
QB – Troy Flutie, Sr., Natick*
QB – Andrew Smiley, Sr., St. John's (Shrewsbury)*
QB – Cody Williams, Sr., Springfield Central
RB – Johnathan Thomas, Sr., St. John's Prep*
RB – Dylan Oxsen, Sr., Plymouth South*
RB – Mike Panepinto, Sr., Needham
RB – Brandon Gallagher, Jr., Bridgewater-Raynham
WR – Brian Dunlap, Jr., Natick*
WR – Isaac Yiadom, Sr., Doherty
WR – Jack Galvin, Sr., Lowell
WR – Ju'uan Williams, Sr., Springfield Central
TE – Rory Donovan, Sr., Cardinal Spellman
TE – Brendan Hill, Jr., Mansfield
OL – Jon Baker, Sr., Millis/Hopedale*
OL – Kent Blaeser, Sr., St. John's Prep
OL – Shawn Whitaker, Sr., Bridgewater-Raynham
OL – Cam Smith, Sr., Medway
OL – Sean Lee, Sr., Springfield Central
ATH – Dave Harrison, Sr., Weymouth
ATH – Neil O'Connor, Sr., Leominster

DEFENSE

DL – Andrew Bourque, Sr., Reading
DL – Will Greelish, Sr., Auburn
DL – Alex Quintero, Sr., Lowell
DL – Chris Tinkham, Sr., Lynn English
LB – C.J. Parvelus, Sr., Everett
LB – Sean Smerczynski, Sr., St. John's Prep*
LB – Brett McEvoy, Sr., King Philip
LB – Liam Kenneally, Sr., Reading
LB – Shayne Kaminski, Sr., Xaverian
LB – Tom Rodrick, Sr., Leicester
DB – Lubern Figaro, Sr., Everett
DB – Davon Jones, Jr., St. John's (Shrewsbury)
DB – D'Andre Drummond-Mayrie, Sr., Central Catholic
DB – Jarell Addo, Sr., Leominster
D-ATH – Kevin Bletzer, Sr., Catholic Memorial

***

WATCH LIST

Olan Abner, Sr. RB, Bedford
Mike Abruzzese, Sr. DB, Natick
Justin Ahanon, Sr. ATH, Brockton
Shaquille Anderson, Sr. RB, Cambridge
Nick Andreas, Jr. QB, Danvers
Charlie Aylward, Sr. LB, Catholic Memorial
Jordan Balarinho, Sr. QB, Billerica
Michael Balsamo, Jr. DB, Central Catholic
Malachi Baugh, Sr. RB, Stoughton
Joe Bellomo, Jr. RB, Holliston
Aidan Beresford, Sr. OL, Marshfield
Will Blumenberg, Jr. QB, Concord-Carlisle
Will Bolster, Sr. QB, Walpole
Ommel Bonilla, Jr. DL, Andover
Ryan Boucher, Sr. OL, North Reading
Andrew Boynton, Sr. WR, Natick
Luke Brennan, Sr. QB, Doherty
Joe Brown, Sr. OL, Central Catholic
Jake Burt, Jr. TE, St. John's Prep
Ryan Charter, Sr. QB, Needham
Max Chipouras, Sr. RB, Longmeadow
Jordan Collier, Sr. RB, St. Mary's (Lynn)
Nick Cordopatri, Sr. OL, Walpole
Nicolau Coury, Jr. LB, Lowell
Shyheim Cullen, Jr. LB, Lowell
Jeff D'Auria, Sr. RB, Chelmsford
Kyle Dance, Sr. QB, Latin Academy
Lukas Denis, Jr. DB, Everett
Joe DeNucci, Sr. ATH, Newton North
Kevin DiBona, Sr. LB, Duxbury
Steve DiCienzo, Sr. LB, BC High
Rob DiLoreto, Sr. WR, Reading
Brian Dolan, Sr. QB, Lowell
John Donnellan, Sr. DL, Reading
Isaiah Douglas, Sr. DB, Bishop Feehan
Angel Duarte, Sr. LB, Everett
Michael Dunn, Jr. ATH, Dennis-Yarmouth
Markus Edmonds, Jr. LB, Central Catholic
Derek Estes, Sr. DB, Barnstable
Michael Fawhemini, Sr. DB, St. John's Prep
Joey Fitton, Sr. OL/DL, Holy Name
Connor Gatto, Sr. OL, Northbridge
Joe Gaziano, Jr. DL, Xaverian
Micah Gregory, Sr. DB, Barnstable
T.J. Hairston, Jr. WR, Watertown
Jack Herlihy, Sr. OL, Duxbury
Michael Hershman, Sr. WR, Mansfield
Kejonte Hickman, Jr. QB, Boston Cathedral
Alex Hilger, Sr. WR, Natick
Sean Hoey, Sr. OL, St. John's Prep
Jon Holdgate, Sr. LB, Nantucket
Jeff Holland, Sr. ATH, Holy Name
Dom Hooven, Sr. OL, St. John's Prep
Jack Hubley, Sr. LB, Lincoln-Sudbury
Phoenix Huerta, Sr. QB, Somerville
Jordan Javier, Jr. ATH, Lynn English
Kervin Jean-Claude, Sr. LB, Brockton
Domingo Jenkins, Sr. RB, Taunton
Austin Jones, Sr. OL, Shepherd Hill
Anderson Jupiter, Sr. RB, Somerville
Brandon Kahari, Soph. DB, St. John's Prep
Devon Kellner, Sr. LB, Taunton
Rory Keohane, Sr. DL, BC High
Chris Kennedy, Sr. LB, Barnstable
Dylan Kierman, Sr. QB, Quabbin
A.J. King, Sr. ATH, Xaverian
Jimmy King, Sr. DL, Reading
Grant Kramer, Sr. OL, Duxbury
Fodee Kromah, Sr. DB, Holy Name
Noah Kung, Sr. OL, Walpole
Michael Kwegyir-Attah, Sr. LB, Haverhill
Jaleel Kyles, Sr. DB, Springfield Putnam
Mitch Laferriere, Sr. LB, BC High
Keagan Latta, Sr. WR, Lowell
Aaron LeClair, Sr. RB, Brockton
Matt Long, Soph. RB, Weymouth
Wayne Lowery, Sr. DB, Springfield Putnam
Steve Manning, Sr. DL, Abington
Kenneth Marshall, Sr. LB, Springfield Central
Ryan Martin, Sr. WR, Bridgewater-Raynham
Ngaiiva Mason, Sr. RB, Lowell
Liam Matheson, Sr. RB, Dennis-Yarmouth
Eddie Matovu, Sr. LB, Tewksbury
Sean McCarthy, Sr. QB, Duxbury
Eric Mercer, Sr. LB, Melrose
Kens Morantus, Sr. LB, Waltham
Connor Moriarty, Sr. ATH, Walpole
Luke Morrison, Sr. TE, Attleboro
Hayden Murphy, Sr. ATH, Barnstable
Kevin Nunes, Sr. WR, New Bedford
Nick Orekoya, Jr. DB, Billerica
Luis Ortiz, Sr. TE/LB, Springfield Central
Derek Pacheco, Sr. DL, Barnstable
Connor Peck, Sr. OL, Catholic Memorial
Khai Perry, Sr. RB, Duxbury
Kylan Philbert-Richardson, Sr. RB, Archbishop Williams
Wes Quinzani, Sr. DB, Duxbury
Aaron Rabb, Sr. DL, Whitman-Hanson
Deion Raper, Sr. DB, Brockton
Kerry Raymond, Soph. RB, Brockton
Eddie Rivera, Jr. RB, Leominster
Justin Robinson, Sr. WR, Natick
Owen Rocket, Jr. WR, St. John's Prep
Sergio Rodriguez, Sr. OL, Somerville
Rufus Rushins, Jr. RB/LB, Bishop Fenwick
D'Vante Sewell, Sr. DB, Springfield Commerce
Ben Sheehan, Jr. RB, Minnechaug
Tim Smith, Sr. RB, Dartmouth
Joel Sodeinde, Sr. OL, Dartmouth
Jimmy Sullivan, Sr. QB, Nauset
Jack Sylvester, Sr. RB, Andover
Thomas Tabur, Sr. OL, Northbridge
Tyrone Thornton, Sr. DB, Newton South
Nick Thyden, Sr. WR, Quabbin
Griffin Tighe, Sr. DL, Franklin
Coby Tippett, Soph. ATH, Xaverian
Taj-Amir Torres, Jr. WR/DB, Amherst
Spencer Tyler, Sr. QB, Dennis-Yarmouth
Luc Valenza, Sr. LB, Foxborough
Jason Valera, Sr. LB, Leominster
Alex Valles, Sr. DB, Danvers
Kahlil Walker, Sr. DL, Springfield Central
Casey Walsh, Sr. QB, North Andover
Isaiah White, Sr. RB, Beverly
Jamal Williams, Sr. RB, Brockton
Mayson Williams, Sr. ATH, Leominster
Raheem Wingard, Sr. QB, Everett
Kyle Wisnieski, Sr. QB, Mansfield
August, 7, 2013
8/07/13
10:14
PM ET
By
Brendan Hall
| ESPNBoston.com
Leicester High senior fullback/linebacker Tom Rodrick has verbally committed to UConn for the 2014 season, he announced tonight on Twitter.
Officially commit to the university of Connecticut #goUconn #godsgood

— Tom R (@DoctorTom315) August 7, 2013
The 6-foot-3, 240-pound Rodrick has been an integral part of the Wolverines these past two seasons, helping them capture a MIAA Division 5 Super Bowl title in 2011 and a return trip to the title game in 2012. This past season, he led the Wolverines in tackles (92) and led Central Mass. in sacks (14), and offensively recorded 437 yards and eight touchdowns from the fullback position. At camps this offseason, Rodrick has recorded 40-yard dash times as low as 4.57 seconds.
At the time of his commitment, Rodrick also had an offer from UMass, while Rhode Island and Villanova have also expressed varying degrees of interest. He visited UConn practice today, after which he made his pledge to the Huskies' 2014 recruiting class.
"It just felt right," Rodrick said. "I really liked practice, I like [head coach Paul] Pasqualoni and I like their linebackers coach [John Wholley], I like how the team is put together."
According to Wolverines head coach Tim Griffiths, the program has never sent a player to a Division 1 FBS program before Rodrick. To be the first, Rodrick said, "is an honor".
"We've got so many people who have gone through Leicester that we still talk about...We've had so many awesome players, it's an honor to be the first," Rodrick said.
At UConn, Rodrick will likely fit into a hybrid edge defensive player, playing mostly outside linebacker but potentially playing a five-technique defensive end on third downs. At Leicester, Rodrick rarely plays with his hand in the ground, but would like to improve on his pass rush technique before arriving in Storrs.
"As a defensive end I'd like to put on a couple more pounds, up to 250," he said. "I have a few [moves], rip and swim, stuff like that, but I need to work on my hammer a little bit better. That was something I really liked about Coach Pasqualoni, he's coached so many great defensive ends."
Rodrick admits the decision between UConn and UMass was a tough one, as his brother currently attends the latter as a student.
"It was pretty big, to be honest," he said. "But with that said, UMass did a very good job recruiting me. They sent me 15 letters yesterday, from the whole coaching staff...It was definitely [a tough decision], especially because the coaches at UMass seemed like genuine guys. I've got nothing bad to say about UMass at all, it was actually kinda tough telling them I'm going to UConn."
Scouts Inc. ranks Rodrick as the No. 14 overall prospect in Massachusetts, saying: "Rodrick is a two-way player in high school. Is a full back who gets a lot of quick hitting carries. Runs very up right and may be susceptible to direct shots if defender has angle. Will need to add size and strength to his frame but looks to be capable of supporting. Most likely a low level Division 1 prospect." (
Full evaluation HERE
)
Below are some highlights from his junior and sophomore seasons:
June, 6, 2013
6/06/13
12:43
AM ET
By
John McGuirk
| ESPNBoston.com
WORCESTER, Mass. -- Early on, you had a feel that Kendal Roy was on her game.

The Grafton hurler had the dubious task of trying to curtail top-seed Hudson in Wednesday's Central Mass. Division 2 semifinal held at Worcester State University's Rockwood Field.

Having lost to the Hawks back on April 20, Roy had no intentions of seeing that defeat be played out again, especially in the postseason. There would be no déjà vu this time around as Roy put forth a masterful performance inside the circle, allowing just two hits and striking out 12 to lead the Indians to a 3-0 victory.

"It always feels good to beat a very good team," Grafton coach John Gemme said. "A lot of teams want to be where we are and to face good competition and be here at Worcester State."

No. 4 Grafton (21-2) will now play in its third consecutive final here on Saturday beginning at 5 p.m. The Indians will face No. 3 Leicester for a third consecutive year. Both teams split the previous two district final meetings.

Against Hudson, Roy started strong and stayed that way. Through the first 5 1/3 innings, the junior flirted with perfection having allowed no hits or walks until it was broken up on a Laura Hydro infield single.

Meanwhile, the defending state champion Indians had already built its three run lead against Hawks stellar pitcher Jurnee Ware.

To Hudson's credit, it wasn't going down without a fight. Kara Knights led off the Hawks seventh with a single. Haley Gaffney then reached on an error. One out later, Chelsey Scovil lined a single to right loading the bases. Poised and determined, Roy regrouped and struck out the next two batters to seal the win.

"Hudson has always been a team with strong hitters," said Roy. "They started to get with how I throw in the later innings so I knew I had to change up my game plan a bit. I started going inside on them a lot more to get them off-balanced. It's a hard pitch to hit when it's right at your letters."

Ware never quite got into a rhythm as she surrendered six hits and struck out four. Two walks to open the game put Ware in trouble early. Grafton got a run out of it thanks to Roy's RBI fielder's choice. The Indians added another run the next frame. Michelle Goulet singled and scored on Ali Page's single.

Ware appeared to settle down a bit after that. But in the fifth, the senior ran into more problems. Singles by Page and Tara Faford had runners at second and third. Page sprinted home on Roy's ground out to shortstop. Ware was able to avoid any further damage in the frame and keep it a three-run game.

But on this night, a three-run cushion looked very favorable. At the plate, the Hawks were showing little resistance against Roy until they finally woke up a bit in the final inning before having the lights turned out on them putting an end to this tilt.

"We didn't go down without a fight," said Hudson first-year coach Mary Beth Ryan, wrapping up her season at 20-2. "Give credit to Kendal [Roy], she kept us on our toes.

"Grafton is a great team. They made some great plays tonight. Jurnee [Ware] struggled some early. You put a couple people on and it comes back to haunt you. But I thought she battled back hard too."

Leicester 3, Notre Dame Academy 2
Everything was working right for Notre Dame Academy. Facing one of the better hitting teams in all central Mass, Rebels pitcher Casey Arpin was baffling the Wolverines at every turn with a nice mix of fastballs and off-speed junk.

Through the first five innings of Wednesday's Division 2 Central Mass. semifinal, the junior had allowed no runs and given up just four hits.

Meanwhile, Arpin's teammates had staked her to a two-run lead after scoring a pair in the third inning. But Leicester (20-2) managed to hold its frustrations in check and finally found its offensive nitch in the sixth. The Wolverines scored three runs in the frame to come out on top, 3-2, and advance to Saturday's final. Leicester last reached the final in 2011.

The seventh-seeded Rebels close out their year at 17-6.

The Wolverines difference-making frame began with Kelly Shea reaching base on a dropped fly ball from left fielder Caroline Andreoli. The one play seemed to light a fire underneath the Wolverines. Lauren Tuiskula smashed a double to left plating Shea to make it 2-1. Samantha Rivers followed by singling to right to score Tuiskula to deadlock this contest. Rivers would score the go-ahead tally after Ashley George grounded a hard single up the middle.

Tuiskula, now in the pitcher's circle, served up a one out double to Meghan Sullivan but left here there after retiring the next two Rebel batters to end the game.

"It shows you just have to keep fighting and keep playing," Leicester coach Dave Stanick said. "We made a couple of mistakes to give them their runs but we started to hit the ball and put it in play. We get a runner on after a dropped ball. It's unfortunate but it's part of the game and from there we were able to take advantage of that. This year when teams have made mistakes we have taken advantage of them."

The Rebels led by two after Sullivan doubled and scored on an error by second baseman Kiley Hennessey. NDA's second run came via an RBI single from Victoria Pitney.

"We just didn't make the plays in that particular inning and that's the way it goes," Rebels coach Ed Savage said. "We knew Leicester was a very good hitting team and my pitcher did a nice job keep the ball away from them. We knew we had to pitch most of their hitters on the outside corner to be successful. But give Leicester credit because when we made a mistake they took advantage of it. So hats off to them."

Quaboag 7, Hopedale 1
Leading 1-0 through four innings, Quaboag busted its Division 3 CMass semi-final tilt against Hopedale wide open in its half of the fifth. The seventh-seeded Cougars plated six runs against Blue Raiders pitcher Lauren Kapatoes and rolled to a 7-1 victory.

Quaboag (17-6) meets Assabet Valley, the No. 4 seed, in Saturday's final here beginning at 3 p.m. Assabet took the CMass title last year. No. 6 Hopedale completes its season at 16-7.

In the fifth, the Cougars loaded the bases setting up an Andrea Koslowski RBI single. Danielle Sweet, who reached on a fielder's choice and Koslowski would both score shortly thereafter on a Blue Raider error to lead 3-0. The frame continued with a bases-loaded walk to Harlie Wdowiak. Moments later, Sarah Nye plated two more with a line single to right.

The Cougars struck for a run in the fourth inning. Koslowski led the frame off with a double to center field and and scored on Wdowiak's deep fly to center. Kapatoes drove in Hopedale's lone run in the seventh on a SAC fly.
May, 5, 2013
5/05/13
8:32
PM ET
Undefeated Bridgewater-Raynham assumes the top position in our latest
MIAA softball Top 25 poll
, the first time the Trojans have ever claimed the No. 1 spot.
B-R takes the top billing from Milford, which saw a 35-game win streak go by the wayside in a 1-0, 10-inning loss to new No. 2 North Attleborough. It also marks the first time since the midway point of last season that Milford wasn't No. 1. The Red Rocketeers jump 10 spots from No. 12 following the win over the defending Division 1 state champions.
The shakeup at the top wasn't the only movement in this week's poll, however, as six new teams enter the rankings.
COME ON DOWN
Among those six teams entering the Top 25 this week, five are making their season debuts. Sandwich checks in at No. 17, in their first appearance of the season, bolstered by the three no-hitters spun by Julia Sullivan during the first month of the season.
Danvers makes its first-ever Top 25 showing, sporting a 10-0 record in the Northeastern Conference and check in at No. 20. Methuen and Nashoba -- also making first-time Top 25 appearances -- follow at Nos. 21 and 22, respectively. Leister returns to the poll at No. 23, while Dual County League power Boston Latin cracks the poll for the first time this season at No. 25.
April, 9, 2013
4/09/13
11:19
PM ET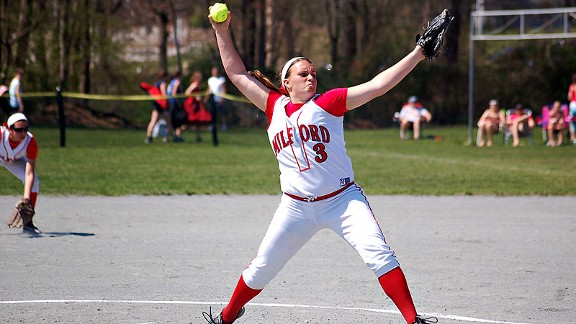 Brendan Hall/ESPNBoston.comReigning ESPN Boston Miss Softball Award winner Shannon Smith hopes to lead Milford to back-to-back Division 1 state titles.
STARTING ROTATION
Megan Colleran, Jr., North Attleborough
Anna O'Neill, Sr., King Philip
Lauren Ramirez, Sr., Dracut
Kendal Roy, Jr., Grafton
Shannon Smith, Sr., Milford
STARTING NINE
Tori Constantin, Sr. 2B, King Philip
Stephanie Cornish, Sr. 3B, Abington
Alexis DeBrosse, Sr. SS, New Bedford
Caroline Fairbanks, Sr. 3B, Milford
Nicole Lundstrom, Sr. C, Dighton-Rehoboth
Bella Picard, Sr. SS, Blackstone Valley Tech
Madi Shaw, Jr. SS, Bridgewater-Raynham
Dakota Smith-Porter, Sr., P/SS, Turners Falls
Reilly Weiners, Sr. C, Agawam
WATCH LIST
Olivia Antczak, Soph. P, Central Catholic
Allie Colleran, Jr. SS/OF, Concord-Carlisle
Megan Cook, Jr. P, Bellingham
Haley Currie, Sr. 3B, Burlington
Sara Dawson, Soph. P, Bridgewater-Raynham
Kaleigh Finigan, Sr. 3B, St. Mary's (Lynn)
Bridget Furlong, Sr. 2B, Malden
Courtney Girouard, Jr. P, Fairhaven
Galen Kerr, Sr. P, Concord-Carlisle
Taylor LeBrun, Soph. C, Milford
Rachel Levine, Sr. CF, Milford
Michaela Mazure, Soph. INF, Burlington
Shannon McLaughlin, Jr. P, Tewksbury
Paige Mulry, Jr. C, Boston Latin
MacKenzie Navarro, Jr. 1B, Taunton
Alicia Reid, Sr. CF, Abington
Kelsey Saucier, Jr. P, Holy Name
Rachael Smith, Jr. P, Winchester
Lauren Tuiskula, Sr. P, Leicester
Jurnee Ware, Sr. P, Hudson
January, 31, 2013
1/31/13
10:32
PM ET
Leicester softball senior pitcher Lauren Tuiskula has given a verbal commitment to Amherst College.

The left-hander led the Wolverines to back-to-back Division 2 Central title game appearances and winning a sectional crown in 2011.

Last year, Tuiskula registered an ERA of 0.93 while batting .610 at the plate. In 2011, she tallied an 1.00 ERA with a batting average of .524.
July, 13, 2012
7/13/12
12:18
AM ET
Bay State Games communications coordinator Craig Kaufman sends along results from today's plethora of action:
WOBURN, Mass. -– A busy Thursday at the Bay State Games saw the start of the soccer, field hockey, basketball, ice hockey and boys' lacrosse competitions, as well as the continuation of the 2012 baseball tournament and the conclusion of the girl's lacrosse event. Friday will see all of these scholastic results continue and baseball will draw to a close with all the medal positions still hanging in the balance. Friday night will also see the beginning of the 2012 Bay State Games swim competition at Harvard University.

GIRLS LACROSSE

Bronze Medal Game: Southeast 14, Metro 6
Gold Medal Game: Northeast 13, West 11

BASEBALL

Northeast 5, Metro 5
Metro almost pulled an upset by taking a 5-3 lead in the top of the sixth inning but had to settle for a tie as Northeast came back to tie the game and then stranded the winning run on base in the bottom of the inning.

Austin Johnson (Brookline) drew a bases loaded walk and Nick Bruno (Lynnfield) followed with an RBI single before Jonathan Santana Arias (Somerville) knocked in two more runs as Metro plated four runs in the sixth. Kyle Hood (Arlington) had scored an unearned run for Metro in the second.

Northeast scored single runs in the second, third and fourth innings and then took advantage of three walks and two hit batsmen in the bottom of the sixth to tie the game at 5. Justin Freeman (N. Chelmsford) drove in a run for Northeast, as did Colby Morris (Newburyport), who drew a walk with the bases full.

Central 4, Southeast 1
Southeast scored in the top of the first when Cameron Hanley (Walpole) doubled home Sean Scales (Weymouth), but Central, led by Jake Ryan (Whitinsville), who went 2-2 with a run scored and an RBI double, had taken a 4-1 lead by the bottom of the fifth. Zack Tower (Auburn) also drove in a run for Central, who got good pitching from their rotation, including starter Christian Doskocil (Sterling), who went three inning s and struck out two.

West 3, Coastal 0
Austin Salnitis (Lenox) went five innings, allowing four hits and striking out seven for West, who ran their record t o3-1. West got on the board in the fourth when Kenny Potts (Southwick) drew a walk and scored on a double by Phillip Jasak (Palmer). They added another run in each of the next innings with an RBI single by Andrew Noonan (Springfield) and an RBI double by Jake LaBranche (W. Springfield).

Coastal was led at the plate by Andrew Mancini (N. Easton), who went 2-2 with two singles.


BOYS SOCCER

Metro 1, Southeast 1
Metro scored first in the 20th minute when Thayrone Miranda (Somerville) connected on an assist from Walter Guzman (Chelsea), but the Southeast team equalized in the 67th minute on a connection from Nick Savage (Milton) to Marquardt.

Coastal 2, Central 2
Coastal scored first through Joshua Medeiros (New Bedford) in the 34th minute, but Central scored twice to take a 2-1 lead with Riley Steele (Sutton) and Lukas Ritzer (Sutton) connecting. Coastal salvaged a draw with a 58th minute goal by Ty Catunto (New Bedford).

West 3, Northeast 0
West got three second half goals from Mark Richards (Springfield), David Serafino (Ludlow) and Nicholas Martinelli (East Longmeadow).


GIRLS SOCCER

Northeast 3, Metro 0
North got three goals in the first half, their first just three minutes into the game. Megan Cullen (Amesbury) scored the first two goals for Northeast and Alexa Cicolini (Methuen) finished the job in the 31st minute.

Southeast/Coastal 1, Central 0
Lauren Farrell (Rockland) scored the only goal in the 48th minute as Southeast/Coastal edged Central.

West 8, Metro 0
Jennifer Delasco (Lenox) and Mary Edwards (E. Longmeadow) each scored twice, with Stefano adding an assist. Jordan Bates (Chicopee) and Kiley Baran (Granby) added two assists apiece as West rolled to their first win of the tournament.

Northeast 4, Southeast/Coastal 1
Megan Cullen (Amesbury) scored four straight goals for Northeast to give them the victory after Jessica Murphy (Norwood) had given Southeast/Coastal a 1-0 lead in the 26th minute. Cullen started her scoring spree just a minute later.

West 4, Central 0
West endured an onslaught of Central possession early before scoring four times in the second half. Sharlotte Pernice (W. Springfield) scored twice, and Christina Ferriter (Springfield) and Brianna Voight (Springfield) also tallied for West.


FIELD HOCKEY

Metro/Northeast 3, Southeast 2
Central 2, Coastal 1


BOYS LACROSSE

Southeast 16, Northeast 4
Steve Righini (Weymouth) scored four times for Southeast, while Conor Martin (Plainville), Sean Williams (Scituate), and Jack Vail (Franklin) each tallied twice, with Martin adding two assists. Six other players tallied single goals, including Nicholas D'Innocenzo (Medway), who also added an assist. Tyler Boardo (Weymouth) and Daniel Sprague (Weymouth) combined for nine saves in goal.

Northeast got two goals from Derek Lawton (Bishop Guertin) and a goal apiece from Devlin Crane (Arlington) and John Curcuru (Gloucester). Evan Connolly (Peabody) made 13 stops in net and Joshua Nelson (Medford) spelled him for five saves.

Central 10, Metro 9
Joshua Daigle (Marlborough) and Alex Sabel (Algonquin) each scored twice and added an assist, while Thomas Whiting (Hudson) notched two goals as well. Matthew McIntire (Milford) made ten stops in the winning effort.

Jack Trottier (Tyngsborough), Brian Walsh (Lowell) and Joey Pescatore (Waltham) each scored twice for Metro and Ben Foley (Tyngsborough) added a goal and two assists in a losing effort. Scott Powell (Swampscott) made 9 stops in the Metro net.


BOYS ICE HOCKEY

Northeast 8, Southeast 7
Metro 6, West 1
Central 12, Coastal 2
Southeast 8, Metro 2


GIRLS ICE HOCKEY

Central/West 9, Metro 1
Southeast/Coastal 4, Northeast 2


BOYS 11-12 GRADE BASKETBALL

Central 82, Metro 47
Central was led by Tyler Delorey (Worcester), who scored 22 points, including four three-pointers. Matt Mobley (Worcester) also chipped in 18 points, including two buckets from downtown.

Coastal 75, West 59
Coastal got 25 points from Chris Green (Taunton), including four three-pointers, while Paul Maurice (Taunton) added 22 points.

Central 89, Coastal 80
Central got 26 points from Delorey, who nailed three shots from downtown and also got 17 points from Jacek Louisville (Worcester). Tommy Keyes (Somerset) led the way for Coastal with 19 points.

Northeast 79, West 78
Northeast's Devin Thompson (Winthrop) led all scorers with 22 points and two three's in the fourth quarter. Anthony Smith (Springfield) was the top scorer on West with 17 points.


BOYS 9-10 GRADE BASKETBALL

Central 68 Metro 64
Matt Grose led Central with 19 points and Bobby Flanagan put up 15. The Metro squad was led by Keith Burns (Belmont) with 22 points while Christian Lejuene (Waltham) added 14.

West 73 Coastal 41
The West squad was led by Keith Natale (Hatfield), who had 22 points and Conner Eckstrom (Greenfield) pitched in 15. The Coastal region had Tom Galanek (Plymouth) and Kent Mertz (Dennisport) score 8 points each.

Northeast 72 Coastal 60
Anthony Gilardi (Malden) led the Northeast squad with 24 points while Cody Broges (Dartmouth) picked up the slack with 16. Liam Gerrity (Barnstable) was the leading scorer in the game with 26 points and Pat Danner (Plymouth) had 10 points for Coastal.

West 67 Metro 40
West's Keith Natale (Hatfield) had 20 while Conner Eckstrom (Greenfield) pitched in 11. The Metro squad had Jaewoo Chung (Arlington) score 11 points.


GIRLS BASKETBALL

Northeast 73 Southeast 71
Northeast lead scorer Amanda Williams (North Andover) scored 13 points. Sarah Hood (Burlington) added 12 points to the scoreboard. Katie Lowerre (Sharon) led the way for Southeast with 18 points

Metro 72 Central 24
Melissa Baptista (Somerville) led the Metro region with 15 points. Kaila Duarte (Boston) score 13 points throughout the game which included making both of her free throws in the 4th quarter. Central was led by Kristen Smith (Littleton) chipping in 7 points.

West 66 Coastal 55
Keri Paton (Russell) contributed 17 points to West which included 13 points in the 4th quarter. Tea Spellacy (Belchertown) contributed 11 points to the scoreboard as well. Norma Waggett (Saugus) led Coastal with 25 points.

Southeast 68 Central 39
Lowerre led Southeast to victory against Central contributing 21 points. Montana Burke (Bromfield) and Abrielle Peltier (Leicaster) both chipped in 8 points for Central.

Metro 66 West 32
Metro got 14 points by Maggie Mulligan (Brighton) leading the team. Spellacy scored 11 points for West and Paton added 8 more to the scoreboard.

Northeast 62 Coastal 36
Hood tallied 14 points in Northeast's last game against Coastal. Williams and Courtney Walsh (Windham) added to the scoreboard. Coastal's Rachel Camara (Fall River) contributed 10 points and Brianna Camara (Fall River) chipped in 7.
June, 22, 2012
6/22/12
10:52
PM ET
By
Ben Larsen
| ESPNBoston.com
SPRINGFIELD, Mass. -- And the streak goes on.

In the 12th annual Shrine Chowder Bowl All-Star Classic, Central Massachusetts hung on to edge Western Mass., 14-6, making it nine straight victories for the visitors.

Central Mass. took that eight-point lead early in the second quarter and looked back only for a minute, ultimately withstanding one late final scoring chance for Western Mass.

"It feels great," said Central Mass. Offensive MVP Luis Feliz of Clinton, who scored the go-ahead touchdown on an 11-yard run with 9:42 to go in the second quarter. "This will be a great memory."

West seemed to have a shot at tying late in the fourth quarter. After forcing a turnover on downs, the hosts had a first down on their own 43-yard line. Two errant snaps later, though, they were forced to punt from their own end zone facing a 4th-and-45.

The ball bounced their way again, though, just one play later as Central fumbled on the very next play from scrimmage. Agawam safety Alex Efstratios picked it up and gave Western Mass. one more shot.

Minnechaug quarterback Greg Heineman and the Western squad moved the chains quickly thanks to completions to Tevin Jones and Melquawn Pinkney and hard-earned yards on the ground by T.J. Norris.

It would all be for naught, though, as Heineman, facing a 4th-and-15 on the Central Mass. 30-yard line, was sacked for a 14-yard loss.

On the first drive of the game, Central marched quickly after a 58-yard kickoff return by Leicester's Tyler Goodney. Nashoba quarterback Trevor Wyand led an efficient six-play drive that resulted in a five-yard touchdown pass to Leominster's Kevin O'Connor in the back of the end zone.

West answered back quickly, though on the ensuing drive. Heineman checked down to Pinkney, who caught a short pass and then took it 80 yards, weaving his way through many would-be tacklers for an impressive touchdown.

"It really meant a lot to put on a show for my city," said Pinkney, a recent graduate from Springfield Putnam. "It felt really good to get out there."

Reversing the curse? Entering Friday's matchup, it had been eight straight victories for Central and nine wins in all 11 games played since the Chowder Bowl's inception in 2001.

Despite the friendly nature of the charitable classic, the Western side was determined to turn the tides.

"We wanted to win pretty bad," said Minnechaug head coach Steve Allosso, who served as the head coach of the Western squad. "I know recently, we've been beaten pretty bad. The kids were fired up. I was fired up. After meeting these kids, it was a blast."

Contrast in styles: Different styles of offense were seen throughout the game and the contrast was seen early on.

Wyand, the quarterback from Nashoba, led a smart and efficient ground attack from the first play on. Quabbin's Kenny Goodnow, the other Central Mass. signal caller, sprinkled in a few more passes, but for the most part, the visitors were ground oriented Friday.

On the other side of the field, Heineman threw the ball 20 times, connecting on nine passes for 98 yards. Dayvon Williams of Springfield Commerce also went to the air, narrowly missing teammate Tevin Jones on a home run ball in the first half.
June, 7, 2012
6/07/12
1:29
AM ET
HUDSON, Mass. -- Earlier in the week, Blackstone Valley Tech standout and the nation's leader in batting average, Bella Picard suffered a hairline fracture to her left ankle after being struck by a pitch against Worcester Tech in a Division 3 quarterfinal contest.

Yesterday, with the ankle heavily wrapped, Picard was in the line up versus Uxbridge in a Division 3 semifinal match up at Hudson High School. Despite playing in pain, the junior never let is show as she went 2-for-3, including a triple to help lead the Beavers to an 8-5 victory over the Spartans.

No. 6 BVT (17-4) advances to the Central Mass. final to be played on Saturday at Worcester State University beginning at 3 p.m.. The Beavers will face the winner of today's Quaboag/Assabet Valley winner.

Uxbridge, which was coming off a 15-1 quarterfinal rout of No. 2 Murdock continued its hot hitting against the Beavers in the early-going.

The Spartans erupted for four runs in the opening inning keyed by a Samantha Wise two-run single. BVT got a run back in the bottom of the first which served as a prelude to the third when it scored five times to put this one out of reach. A bases-loaded two-run single by Megan Ferscheke and a two-run Uxbridge error allowed the Beavers to take the lead for good.

BVT scored solo runs in the fifth and sixth innings, respectively on RBIs from Megan McFadden and Amber Wheaton. Beaver pitcher Alycia Wagner survived the first inning nightmare by keeping Uxbridge off the board until the seventh when it managed a run.

"Our whole thing is no pressure," said Picard, a junior "We weren't worred (after we fell behind). We always seem to struggle in the first inning of games. We feel we have nothing to lose in this tournament. We're going out there to have fun."

D2: LEICESTER 3, NOTRE DAME ACADEMY 1
In a Division 2 affair, defending Central Mass. champ Leicester was able to survive a scare from No. 7 Notre Dame Academy, to secure a 3-1 triumph.

No. 3 Leicester (20-2) will meet Grafton (4-3 winners over Hudson on Wednesday) in Saturday's final beginning at 5 p.m. at Worcester State University. The Rebels close their season at 15-8.

The third-seeded Wolverines trailed 1-0 after the first five frames but the offense finally arrived at a most crucial time in their half of the sixth. Lauren Tuiskula led things off with a triple to right field. Hailey Terrien followed that up with a double to let, tying the game at 1-1.

For Rebel pitcher Casey Arpin, who was doing a good job keeping Leicester in check for much of this contest, things continued to worsen in the inning. Julia Hebert blasted a hard grounder back at Arpen, which deflected off of her glove, allowing Terrien to come in with the eventual game-winner. Ashley George gave the Wolverines some insurance by striking a single to right that plated Hebert.

Just prior to Leicester's dramatics, NDA had an opportunity to pad its lead in the top of the inning. But a perfectly-executed relay from Terrien in right field to second baseman Amanda Stanick to catcher Jill Witkowski gunned down Emilia Froio, who was trying to score from second on a base hit by Meghan Sullivan.

"These kids have battled all year and have a never give up attitude," Leicester coach Dave Stanick said. "We hit the ball hard in that sixth inning and ran the bases well. I jokingly said let's not wait that long next time to do that. Late in the game we still felt it was just a matter of time for us that if we get enough chances we'll come through and we did."
December, 2, 2011
12/02/11
5:33
PM ET
EASTERN MASS
Division 1: BC High (9-3) vs. Needham (9-3), 6 p.m., Gillette Stadium
BC High players to watch:
FB/LB Luke Catarius; QB Bartley Regan; RB/DB Deontae Ramey-Doe; TE/DE Jameson McShea; WR/DB Gordon McLeod; WR/DB Lincoln Collins OL Mike Prendeville; LB Zach West.
Needham players to watch:
Mark Riley, Sr. TE; Nico Panepinto, Sr. WR; Ryan Charter, Sr. QB; Mike Vespa, Sr. FB/LB; Dan Pierce, Jr. WR/DB; Ronny Rosser, Soph. DB; Andrew Murowchick, Sr. K.
The skinny:
The Eagles again disposed Chelmsford for the second time this season while Needham thrashed New Bedford to set up this playoff matchup. Both of these teams have overcome notable injuries this season to offensive leaders (Preston Cooper at BC and Drew Burnett at Needham, respectively) to arrive on the big stage.
X-factor:
Needham tight end Mark Riley. Big enough to play tight end and athletic enough to play wideout, he presents matchup problems. Will it be talented outside linebacker Zach West tailing Riley throughout the game? The matchup is worth watching.
Scott Barboza:
It's a testament to the Rockets for having the depth and moxie to get to this stage, but pure talent will take over in this one.
BC High, 27-20.
Brendan Hall:
Sorry, BC High fans. Not giving you the glory this time.
BC High, 35-7.
Division 1A: Everett (12-0) vs. Lincoln-Sudbury (11-1), 7 p.m., Bentley University
Everett players to watch:
QB Jonathan DiBiaso; RB/LB Vondell Langston; WR/DB Kenny Calaj; WR/DB Jakarrie Washington; WR/DB Jalen Felix; WR/DB Jaylen McRae; OL/DL Jon Montellus; OL/DL Ralph Jonathas.
Lincoln-Sudbury players to watch:
Matt Cahill, Sr. QB; Dan Cellucci, Sr. RB; Chris Giorgio, Sr. RB; Brian Carroll, Sr. RB; Kyle Ashley, Sr. OL/DL; Jack Harris, Sr. WR.
The skinny:
Everett brings its high-flying offense (state-best 41.8 points per game) into Bentley University where it will be the overwhelming heavy favorite against the Warriors. Jonathan DiBiaso (104 career TD passes) has a number of dangerous targets to throw to. L-S counters with a rushing attack led by Cellucci, Giorgio and Carroll.
X-factor:
Everett's offensive line anchored by junior tackle John Montelus -- one of New England's top Class of 2013 prospects -- is one of the state's best. If they give DiBiaso time to get into a groove early, this could be over quick.
Barboza:
Again, great ride for the Warriors, but this is the Crimson Tide we're talking about. Can we host our own "Bowl Championship Series" playoff next weekend with BC High, Duxbury and Everett? The invites are in the mail.
Everett, 37-28.
Hall:
Look at it this way. Jonathan DiBiaso has at least gotten to win one Super Bowl at Gillette, and next year the Tide will be back here on the Foxborough turf.
Everett, 35-0.
Division 2: Duxbury (12-0) vs. Tewksbury (7-5), 3:30 p.m., Gillette Stadium
Tewksbury players to watch:
RB/CB Chris Bettano; QB/S Kevin Saunders; OL/LB Derek Tarpey.
Duxbury players to watch:
Reilly Naton, Sr. WR/DB; Khai Perry, Soph. RB; Andrew Buron, Sr. WR/DB; Matt O'Keefe, Sr. QB; James Burke, Sr. WR/DB; Don Webber, Sr. WR; Max Randall, Sr. LB; Gordon Acha, Sr. OL/DL; Rob Kosharek, Jr. OL/DL; Joe Guilfoile, Jr. WR/DB.
The skinny:
Duxbury received its biggest scare of the season, sweating out a 7-0 win over King Philip to advance while the Redmen earned a 21-6 win over Reading in one of the more surprising results of Tuesday night. However, Tewksbury comes in having played a battle-tested schedule with several wins over Merrimack Valley Large opponents while Duxbury also boasts marquee non-league wins in the regular season over the likes of Xaverian and Bridgewater-Raynham.
X-factor:
Dragons wide receiver Don Webber is perhaps the finest route-runner in the state and is often double-covered by opposing defenses, allowing room for Andrew Buron, Guilfoile and Naton to work underneath. It will be interesting to see what Brian Aylward's inventive coaching staff has up its sleeve.
Barboza:
Expect the Dragons to look to power the ball a bit more than they did against King Philip on Tuesday. The way this defense is playing right now, all it seems the offense needs is three points to victory.
Duxbury, 24-14.
Hall:
Redmen are going to throw the kitchen sink at Duxbury, but the Dragons are about as steady and consistent as they come.
Duxbury, 28-14.
Division 2A: Dennis-Yarmouth (12-0) vs. Wakefield (10-2), 3 p.m., Manning Field (Lynn)
Dennis-Yarmouth players to watch:
Matt Montalto, Sr. QB; Dylan Hodsdon, Sr. WR/RB/LB; Damion Johnson, Sr. WR/S; Quan Lovett, Sr. WR/DB; Rufus Hamilton, Sr. WR/DB; Hunter Oppedisano, Sr. OL/LB; Tommy Kennedy, Sr. OL/DL; Joe Furness, Sr. RB.
Wakefield players to watch:
LB Zach Bates; RB Josh Puccio; RB/DB Dan Cardillo; QB James Bourque; E/DB Nick Calderone.
The skinny:
D-Y scored one of the most eye-opening victories of Tuesday night with a 46-20 dismantling of a talented Walpole defense. Wakefield, which scored a dramatic 7-6 win over Marblehead, will have to dictate tempo early to keep All-State quarterback Matt Montalto from getting into a groove.
X-factor:
Damion Johnson draws plenty of attention from the secondary, when Dylan Hodsdon gets going in both the running and passing game, the Dolphins can kick it into another gear.
Barboza:
No disrespect to Walpole, but the Dolphins' score on Tuesday didn't even do it justice as to how thorough their victory was.
D-Y, 34-24.
Hall:
The Cape's dream season is almost complete.
D-Y, 21-0.
Division 3: Concord-Carlisle (12-0) vs. Oliver Ames (7-4), 9 a.m., Gillette Stadium
Concord-Carlisle players to watch:
RB/DB George Craan; RB/DB Tyquan Culbreath; TE/DE Henry Bumpus; RB/LB Tim Badgley; OL/DL Andrew VanderWilden; OL/LB Thomas Kleyn; OL/DL Trevor Castrichini.
OA players to watch:
Jared Schneider, Sr. QB; Brian Rezendes, Sr. RB/LB; Jake McDougall, Sr. OL/LB; Alex Tepper, Sr. WR; Keith Sullivan, Sr. OL; Brian Crosby, Sr. RB/DB; Dean Soucie, Sr. RB/LB
The skinny:
The Patriots were denied a Super Bowl title at Gillette last year by Duxbury and Oliver Ames is representing the Hockomock as a league champion of any kind for the first time since 1964. The Tigers rumbled past previously unbeaten Pembroke to earn a berth while C-C slipped past defending champion Holliston, 32-27.
X-factor:
Much has been written about Craan and Culbreath in the C-C backfield, but Badgely is a key cog in the Patriots' offensive machinery -- not to mention, the experience he brings to their linebacking corps.
Barboza:
Line of the day during Thursday's media day at Gillette Stadium posed by C-C's Bumpus, Kleyn and VanderWilden to the Needham captains: "Why don't you guys have mohawks, too?"
C-C, 31-23.
Hall:
Patriots playing for a regional title at the home of the Patriots. How can you pick against that?
C-C, 30-17.
Division 3A: Hamilton-Wenham (12-0) vs. Bourne (12-0), noon, Manning Field (Lynn)
H-W players to watch:
QB/DB Trevor Lyons; RB/LB Elliott Burr; WR/DB Matt Putur; OL/DL Taylor Drinkwater.
Bourne players to watch:
Drew Girouard, Sr. TE/DL; Nick Pereira, Jr. WR/DB; Jason Moriarty, Sr. QB; Joe Epps, Sr. RB/DB; Jack Schmitt, Sr. OL/DL.
The skinny:
H-W, owners of one of the state's stingiest defenses (7.3 points allowed), gets put to arguably its toughest test of the year in a Bourne squad led by running back Joe Epps. The senior is second in Div. 3A in scoring (19 rushing TD), and is coming off an impressive performance in a Tuesday night playoff against Bishop Feehan (11 carries, 112 yards, 3 TD).
X-factor:
The Generals must find a way to keep Epps, arguably one of the fastest running backs south of Boston, from getting to the corner. The 170-pounder has some wheels.
Barboza:
Epps has to among the fastest players we've seen all year save for Armani Reeves.
Bourne, 27-24.
Hall
: Robert Perryman's not walking through that door. But Joe Epps is.
Bourne, 24-21.
Division 4: Cardinal Spellman (12-0) vs. Mashpee (12-0), 8 p.m., Gillette Stadium
Spellman players to watch:
RB Pat Hinkley; RB Dan Kustka; OL/LB Dan Barry; OL/DL Kevin Grey; OL/DL Joe Glynn.
Mashpee players to watch:
Jordan Keli'inui, Sr. RB; Graham Kilpatrick, Sr. OL/DL; Jared Taylor, Jr. RB/LB; Zach Orcutt, Sr. QB/S; John Bernard, Sr. RB/LB.
The skinny:
Mashpee has run over opponents with a wrecking crew in the backfield comprised for Keli'inui and Taylor. Spellman is a near mirror image with Hinkley and Kustka combining to run for over 2,000 yards this season replacing the dynamic play of graduate Blaise Branch.
X-factor:
Hinkley. A shoulder injury sustained while making a tackle in the Cardinals' win over Shawsheen on Tuesday threatens Hinkley's availability in Saturday's game. Will he be ready to go? If not, that's a huge loss for Spellman on both sides of the ball.
Barboza:
You heard it here first, Hinkley does his best Willis Reed/Pedro Martinez/Curt Schilling impression and delivers when it counts.
Spellman, 14-13.
Hall:
Even if Pat Hinkley is 100 percent, and even though there isn't a more deserving coach than Ron St. George, it's going to be hard to break this Falcons D.
Mashpee, 14-10.
Division 4A: Boston Cathedral (12-0) vs. Blue Hills (11-1), 10 a.m., Bentley University
Cathedral players to watch:
OL/DL Treyvon Clegg; RB Geeavontie Griffith; QB/S Matt Owens; RB/DB Carlos Bermudez; QB/DB Antonio Thomas; OL/DL Mohammad Briamah.
Blue Hills players to watch:
Vincent Burton, Jr. RB/S; Isaiah Teixeira, Sr. RB/LB; John Curran, Sr. QB; David Neil, Soph. WR.
The skinny:
Burton has accumulated 52 rushing touchdowns since the start of his sophomore season, but this may be the fastest defense he's faced yet. Cathedral is coming off an emotional last-second win Tuesday night against Chelsea, and can score in a hurry with Griffith (2,107 rushing yards, 23 TD) leading the charges.
X-factor:
We strongly advise against
punting to Carlos Bermudez
.
Barboza:
Things I enjoy about my job: having phone conversations with Cathedral head coach Duane Sigsbury about computer technology. High hilarity.
Cathedral, 17-14.
Hall:
I repeat, don't punt to Carlos Bermudez.
Cathedral, 14-0.
Division 5: Latin Academy (7-4) vs. Nantucket (9-2), Noon, Taunton High School
Barboza:
The Whalers shalt harpoon the Great White Whale ... Um, something like that.
Nantucket, 17-13.
Hall:
Because I want to see colleagues Corey Allen and Jack McCluskey happy.
Latin Academy, 12-6.
CENTRAL MASS
Division 1: Leominster (9-3) vs. St. John's (Shrewsbury) (8-4), 11 a.m., Gillette Stadium
Leominster players to watch:
RB/DB Geraldo Rivera; QB Garrett DelleChiaie; TE/LB Shaun Addo; RB/DL Cortez Ludden; E/DB Kevin O'Connor; OL/DL Jeffrey Cheng.
St. John's players to watch:
E/LB Drew Orton; RB/DB Sean Wilson; QB Connor Kurtz; OL Ryan Anger; OL Brendan Melanson; WR Efrain Montalvo.
The skinny:
Leominster is back on the big stage after beating Twin Cities rival Fitchburg for the second time in six days in Tuesday's playoff game, while the Pioneers blew out crosstown rival Shrewsbury. These teams are no strangers to each other either. The Blue Devils made a statement in a 23-15 overtime win over St. John's in Leominster in October.
X-factor:
Rivera is one of the most explosive players outside of 495, or anywhere in the state for that matter. If he gets going early, watch out.
Barboza:
The second time is even sweeter.
Leominster, 28-21.
Hall:
I'm sure the post-game celebration back in the Twin Cities will be huge, too.
Leominster, 17-16.
Division 2: Nashoba (12-0) vs. Holy Name (8-4), 2 p.m., Fitchburg State
Barboza:
The Naps will do it with 12 men playing both ways on the field.
Holy Name, 13-10.
Hall:
Chieftains will finish in our poll where they're likely to start 2012 -- in the Top 10.
Nashoba, 21-14.
Division 3: Auburn (11-1) vs. Hudson (9-3), 3 p.m., Worcester State
Barboza:
Might be one of my favorite matchups of the day.
Auburn, 24-21.
Hall:
This one will be by the hair, but overall there is more firepower in Auburn than Hudson's talented backfield.
Auburn, 28-27.
Division 4: Southbridge (8-4) vs. Northbridge (7-5), 12:30 p.m., Worcester State
Barboza:
North over South.
Northbridge, 17-10.
Hall:
I'm trying to stay on Dave Lefort's good side.
Division 5: Leicester (8-4) vs. Clinton (6-6), 10 a.m., Worcester State
Barboza
: What everybody from outside of New England thinks we sound like: "JAWWWWNNNNN LESSSSSTAHHHHH." I'm going with his namesake.
Leicester, 23-17.
Hall:
I'm Irish, so naturally I'm biased on this one.
Clinton, 20-10.
Division 6: Assabet (11-1) vs. Bay Path (10-2), 11 a.m., Fitchburg State
Barboza:
Picking blind here, so I'll go with the girls' hockey hotbed.
Assabet, 20-14.
Hall:
Aztecs are one of the most consistent vocational schools around.
Assabet, 18-12.
WESTERN MASS
Division 1: Springfield Central (10-2) vs. Longmeadow (10-2), 1:30 p.m., Gillette Stadium
Central Players to Watch:
Sacoy Malone, Sr. RB; Cody Williams, Soph. QB; Rich Williams, Sr. TE/LB; Aaron Owens, Jr. LB/FB; Ismael Figueroa, Jr. OL/DL; Quentin Jones, Sr. DE.
Longmeadow Players to Watch:
T.J. Norris, Sr. RB; Frankie Elder, Jr. QB; Austin Sierra, Jr. RB; Robbie McClure, Jr. OL/DL; Devante Clarke, Jr. RB.
The skinny:
Central ended Longmeadow's 52-game league winning streak when the two met back in October, and this should be an exciting rematch. Two of the region's strongest running games face off here, with the Eagles averaging nearly 220 yards per game behind the workhorse Malone (1,916 yards, 20 TD). Norris (1,313 yards, 23 TD) looks poised again after missing some time with an ankle sprain.
X-factor:
The emergence of Sierra during Norris' injury has given the Lancers another threat out of the backfield. Central's defense, which has forced 21 fumbles, will have to keep the running game in check.
Barboza:
The Lancers' reign is interrupted -- at least for one year. We'll see if the Golden Eagles have more in store past this year.
Central, 17-14.
Hall:
It's been a dream season for the Golden Eagles, and things are only going to get better from herein.
Central, 21-20.
Division 2: Springfield Putnam (11-1) vs. Springfield Commerce (8-4), 12:30 p.m., Westfield State
Barboza:
I feel like this game should be played at Blunt Park.
Putnam, 34-21.
Hall
: No disrespect to Commerce, but Pinkney is going to run in whichever direction he wants.
Putnam, 28-10.
Division 3: Mt. Greylock (11-0) vs. Lee (10-2), 10 a.m., Westfield State
Barboza:
In the words of Tenacious D, "Swimming in a sea of Lee."
Lee, 31-24.
Hall:
I grew up in Westminster, home to half of Mt. Wachusett, so naturally I'm biased towards the hills.
Mt. Greylock, 14-3.
Division 4: McCann Tech (10-1) vs. Pioneer (8-3), 3 p.m., Westfield State
Barboza:
Going with the volleyball powerhouse here.
Pioneer, 21-16.
Hall:
My father went to college at the former North Adams State, so take a guess where I'm going with this one.
McCann Tech, 13-7.