Boston High School:

Leroy Hamilton
February, 11, 2012
2/11/12
7:56
PM ET
By
Lucas Shapiro
| ESPNBoston.com
No. 6 Brighton beat No. 9 New Mission in convincing fashion last Wednesday thanks to their 1-2-1-1 diamond. Their press caused New Mission to rush their offense and force turnovers, which ultimately shifted the momentum of the game in Brighton's favor.

Brighton head coach Hugh Coleman made the executive decision to stay in the press for the majority of the game not to run up the score, but because he knew it would keep his team playing hard. He took advantage of the fact that he has numerous quick players on his team and made sure he was using them to their strengths.

Here is a breakdown of how it worked:

What is it?

Brighton's 1-2-1-1 press forces players to get trapped along the sidelines. It is a press that cuts off the middle and leaves the opposite side of the court's sidelines open, which is often times a tough and long pass for the guards. When it is passed to the opposite sidelines, however, there are always three Brighton defenders always back on defense.

Forcing Turnovers

The main goal of any type of pressure is usually to force turnovers. Brighton's press only directly forced three turnovers in this game.



Only one of those plays led to a Brighton basket. This may prompt one to ask, how was Brighton's press so effective?

Rushed Offense

The way that their press hurt New Mission was not so much the idea of forcing turnovers. Instead, it made New Mission rush things on offense.



As you can see from each clip, New Mission had a false perception of being on a fast break whenever they broke the press. In three out of the four clips (the first, second, and last clip), New Mission took a shot that they thought was a good shot because they were on a "fast break". If you look closely in these clips, the Brighton players back on defense outnumber the New Mission players on offense.

The confusion and bad decision making allowed for Brighton to get in transition on the other end. It also helped that Brighton's offense was running smoothly. The press served as an extra punch after any Brighton scored basket.

How To Break It

New Mission did not do a bad job of breaking the press. The main man to credit would be DaShawn Fennell. He did a great job of attacking at the right time. He was smart with the ball and took advantage of any openings he found.



The key to breaking this press (or any press) is patience and poise. Players have to take openings when they see them. For example, on the last clip, Brighton's players did not get back on defense. Leroy Hamilton saw this and instantly attacked the basket. The open three-pointer is intriguing, but not a good shot in transition, especially since Brighton usually has more people back on defense in the paint. Players must also attack it, draw double teams, and find the open players.

This takes toughness and intelligence, two of the attributes that separate the good basketball players from the not so good ones.
January, 17, 2012
1/17/12
2:57
PM ET
By
Brendan Hall
| ESPNBoston.com
With many teams across the state reaching the midway point of their schedule this week, here are my mid-season picks for our annual MIAA All-State, All-Defensive, and Coach of the Year awards.

THE SUPER TEAM
G – Aaron Calixte, Jr., Stoughton
G – Steve Haladyna, Sr., St. John's Prep
G – Tyrese Hoxter, Jr., Charlestown
F – Jake Layman, Sr., King Philip
F – Isshiah Coleman, Jr., New Mission

BEST OF THE REST
Yadoris Arias, Sr. G, Lawrence
Tyler Delorey, Sr. G, Holy Name
Matt Droney, Sr. G/F, Catholic Memorial
Joey Glynn, Sr. F, Cardinal Spellman
Leroy Hamilton, Sr. F, New Mission
Jameilen Jones, Jr. G, BC High
Kevin LaFrancis, Sr. C, Acton-Boxborough
Alex Lopez, Sr. G, Springfield Commerce
Damian Lugay, Sr. G, Weymouth
George Merry, Sr. C, Danvers
Marcus Middleton, Jr. G, Stoughton
Matt Mobley, Sr. G/F, St. Peter-Marian
Brian Mukasa, Soph. G, Sharon
Tyler Nelson, Soph. G, Central Catholic
Quinton Perkins, Sr. G, Fitchburg
Luis Puello, Sr. G, Central Catholic
Colin Richey, Jr. G, Whitinsville Christian
Kamari Robinson, Jr. F, Springfield Central
Tyrell Springer, Sr. G, Springfield Central
Michael Thorpe, Sr. G, Newton North

ALL-DEFENSIVE
G – Luis Puello, Sr., Central Catholic
G – Anthony Hodges, Sr., Holy Name
F – Jake Layman, Sr., King Philip
F – Antonio Ferreira, Sr., Stoughton
C – George Merry, Sr., Danvers

COACH OF THE YEAR FINALISTS
Scott Boyle, Lowell
Hugh Coleman, Brighton
Paul Connolly, Newton North
Paul DiGeronimo, Fitchburg
John Gallivan, Stoughton
Paul Neal, Lawrence
Brendan Smith, Boston Latin
Malcolm Smith, East Boston
Mike Vaughan, Mansfield
John Walsh, Danvers
December, 29, 2011
12/29/11
1:23
AM ET
By
Brendan Hall
| ESPNBoston.com
DORCHESTER, Mass. -- Since the matchup was first announced last summer, basketball fans of all levels all around the greater Boston area had been eagerly awaiting the arrival of Jersey City powerhouse St. Anthony to the Kroc Center, to take on rising Boston power New Mission.
Tonight in front a packed house, and greeted pre-game by a performance from local hip-hop artist Moufy, the much-anticipated game -- the nightcap of the first day of the first annual Shooting Touch Shootout -- had arrived. And in short, the Friars played the part of an overwhelming Goliath, while the defending MIAA Division 2 state champion Titans played the part of David -- minus the rock.
The Friars (5-0) overwhelmed the Titans from start to finish, at one point going 15 minutes without allowing a field goal, cruising to an all-too-easy 68-25 win.
St. Anthony's 6-foot-9, UCLA-bound star Kyle Anderson got off to a sluggish start, but came around to lead the team with 12 points, seven rebounds and six steals in three quarters of action. 6-foot-6 senior center Jerome Frink led the way on the boards with 10 rebounds.
From the get-go, it was evident that the Friars' speed and length was going to be a significant problem for the Titans (3-2). Jonathan Deane gave the Titans their only lead of the game, albeit a brief one, with a gliding layup for a 4-3 score. That was four minutes into the game, and would be the last Titans field goal for the next 14:28; they hit just five free throws the remainder of the half to trail 30-9 at the break. Leroy Hamilton ended the drought with a euro-step in transition, to cut it to 35-11.
"We came out ready to compete, but the plan fell apart once guys stopped believing in what we wanted to do," Mission head coach Cory McCarthy said. "Young, inexperienced, looking at the crowd, they played into it. They were in awe of them. If you're from the city, you're not supposed to be in awe of anybody...we were ready to take pictures.
"We can't fall in love what they do. We looked like a JV basketball team today. That's not indicative of our talent, the character of our kids, it's not who we are. It's not New Mission basketball."
And when they stop playing New Mission basketball, McCarthy continued, "bad things happened", referring to last night's poor start in the BABC Holiday Classic against St. John's Prep -- Mission trailed 18-2 after the first quarter.
McCarthy did say "we played a better first quarter than last night", though how much better is up for inspired debate. Like the Prep game the night before, the Titans were overwhelmed to start; but the Friars posed a plethora of matchup nightmares that few teams in the talent-rich Garden State can tango with, let alone the Bay State.
Up top, 6-foot-3 junior guards Hallice Cooke and Josh Brown harassed the Titans' guards high around the perimeter, cutting off lanes to the basket, trapping at the sidelines, forcing sloppy handoffs and arguably sloppier shot selection at times. When the Friars went to a 2-2-1 press, deploying four defenders high in the backcourt and a deep trailer, players like Anderson, Brown and Tariq Carey were able to pick pockets from the middle of the floor.
The masterstroke came in the second quarter, where the Friars didn't allow a field goal -- even better, they yielded just seven field goal attempts for the quarter.
It doesn't get any prettier on the boards. The Titans were outrebounded by nearly a 4-to-1 ratio.
"At this point through five games, no one's been able to get any rhythm going against us," Friars head coach Bob Hurley said. "We mix it up a little bit, we play man, play a little press, and we don't expect to press against smaller teams. But we did manage to get a bunch of turnovers off of it today because we're long, and Kyle had a bunch of good plays in the press.
"We played a little zone in the back, and we're very long and we heard from last night that they had trouble shooting the ball well, so we thought the points we were going to lead them with were forcing them to make outside shots with big, long guys going after them."
Mission stars benched:
McCarthy sat two of his starters and star players, junior forward Nate Anderson and freshman point guard Greg Bridges, for the first quarter for arriving late to a shootaround this morning. Could their presence have stopped the early bleeding? That's up for debate, but perhaps McCarthy should get some credit here for sticking to his principles -- even with a monster opponent like St. Anthony on tap.
"It affects the team, but I gotta do what I gotta do," McCarthy said. "Right? That's number one...sorry, I'm not going to tolerate that at New Mission."
A Modest Proposal:
McCarthy was asked how the experience of playing against St. Anthony's length will help them out when they get back to playing the smaller squads on their MIAA schedule, and he used his answer to springboard into a topic that has become a growing hot-button issue among the public school coaching fraternity the last few seasons: out-of-season contact.
Rule 40.1 in the current MIAA Handbook states:
"Unless otherwise permitted in this rule, between seasons a coach may conduct a meeting(s) with team candidates only to elect captains, collect equipment, issue equipment, to provide for physical examinations, to conduct legitimate fund-raising events, or to offer wellness workshops or activities."
"This is what we produce, and you wonder why prep schools are stealing our kids," he said. "Because our kids can't practice and work with our kids year-round. You're telling me as a coach to be a role model for four months out of the year. That's the situation we're dealt with as coaches, and I feel handcuffed that way.
"They're telling me to take eight months off. I shouldn't be taking eight months off, I should be working with my kids year-round. We should be able to work with teams year round, and this is an indictment. We can't match up with a team like this when we've had three weeks of basketball working with them. That [St. Anthony's discipline] was instinctive. Right now, we're robotic."
McCarthy's comments will likely rub some the wrong way. But with an increasing number of students transferring high schools once or twice, usually to prep schools, more and more state-association schools are becoming frustrated with having less control, and the inability to take action. Sanctioning a limited number of days out of season, some feel, would at least give coaches the ability to check in with players, see where they're at, and offer instructions to make sure they're prepared when tryouts begin.
Either way, we're sure McCarthy's comments will be sparking up plenty of debate.
December, 28, 2011
12/28/11
12:12
AM ET
By
Brendan Hall
| ESPNBoston.com



CHELSEA, Mass. -- St. John's Prep head coach Sean Connolly was reminded of his team's 18-2 run to start the nightcap of Tuesday's slate of games at the BABC Holiday Classic, and offered some pointed praise.

"We've been disappointed with our defense early on in the season, and we came out and played a lot better defense today," he said following his Eagles' 69-60 win over the Titans, which puts them in Thursday's finals. The Eagles also beat New Mission in the opening round of the "Class A" division last year's BABC tournament.

Down the other end, New Mission head coach Cory McCarthy was reminded of the start, and offered one of his trademark long, exaggerated groans.

"They kept five guys in the paint, and they dared us to shoot the ball," he said. "And the problem was, we couldn't stretch the floor."

Losing one of their leading scorers Percio Gomez (18 points per game) for disciplinary reasons, and playing star forward Isshiah Coleman for less than 20 minutes due to foul trouble, didn't help matters. But it was domination on both ends of the floor to start the game for Prep (4-0), which opened the game in a sagging man-to-man defense aimed at filling the lanes to force perimeter shots from the Titans (3-1) and taking away dribble-drive penetration.

When the Titans did try to go inside, the Eagles were usually in proper position for drawing contact and using aggression against them; three charges were called on Mission in the opening stanza.

"We were scared of them penetrating, so we really wanted to get the help defense in, and make them have to beat us from the outside," Connolly said. "We did a good of helping up, and stepping in and taking charges."

It was very efficient to start, as the Eagles led 18-2 after one quarter and 37-22 at the break. Mission stormed back in the fourth quarter with a 15-5 run, cutting the Eagles' lead to 56-53 on a Leroy Hamilton (16 points) layup from the baseline with 3:51 to go. But the Prep was particularly efficient in free throws in the fourth quarter to ice it, with the Eagles hitting 15 of 16 from the line -- including a perfect 8 of 8 by Owen Marchetti (12 points).

For the game, the Prep was a very respectable 35 of 38 from the free throw line.

"Our team shot pretty good from the line," said senior guard Mike Carbone, who led all scorers with 18 points. "I don't know how many we missed, but that was definitely our best game from the line."

Senior Steve Haladyna had yet another double-double with 14 points and 10 rebounds, while Freddy Shove also had 11 points and six boards.

Rinse and repeat: As impressive as the Eagles' game-opening defensive stand was, they were also just as efficient in breaking the Titans' 2-2-1 full court press. Over and over again, the Prep ballhandler would push the ball up one sideline to halfcourt and heave it down court towards the opposite sideline as a second trapping defender approached.

"We wanted to throw it over the top," Connolly said. "We'd seen them before, and thought they really overextended those two back guys, so we wanted to try to beat it over the top. We felt dribbling through it wasn't a good option for us, we wanted to pass over it."

McCarthy admitted his players were "a little undisciplined" in their press, "because we were too anxious."

"Usually, our idea of our pressure is to challenge the ballhandler," he said. "We backed up. We were just so inexperienced, that we'd be looking at the score as we were running back on defense. The score concerned us so much today. But you know, it happens. We're talented, but we can't be on a pedestal because we have a lot of growing pains to do."

Carbone steps it up: Connolly praised Carbone's effort the last few games, after getting off on a shoddy start to the season.

While not incredible, consider tonight a spin in the positive direction. The spunky 5-foot-8 senior came out firing, with a little bit of his customary swagger, and was 3-of-5 from three-point range, his only field goals of the night (he was 3 of 9 from the field overall). From the free throw line, he was a perfect 9 for 9.

"I haven't been shooting the ball that well lately, and it's gotten to my head," Carbone said. "In practice, I've been focusing on my shot more than anything else I've done. I don't know, it's just the adrenaline, you know? I got into it."

Fab Froshies: One of the most intriguing subplots of this game was the matchup between two freshman point guards, Prep's Marcos Echevarria and Mission's Greg Bridges. Both are undersized for their position, but are quick off the dribble and demonstrate maturity and an overall even keel when it comes to shot selection and distribution.

When the Titans mounted their comeback in the second half, it was Bridges that kick-started it. The 5-foot-5 waterbug notched six assists in the third quarter alone, and eight overall for the game. Echevarria won't be lighting up the score sheet on many nights, what with the Eagles' four seniors' abilities, but he showed a good understanding of Connolly's motion offense, and initiated ball movement.

"I thought their kid played well, he didn't turn the ball over," McCarthy said of Echevarria.

As for Bridges, McCarthy continued, "He has to learn to force the action a little bit, because even as a freshman he makes good decisions. He could do that [six assists in third quarter] all the time. He's still a freshman, still a young boy, so I think what ended up happening is he didn't try to do too much when I wanted him to do more.

"It's scary to say that of a freshman, but he's so talented that he should do a lot more. He should look for his shot, look for the action, and I know that's crazy to say about a freshman but he should force the action. He has to be involved, and he wasn't involved the way he should have."
May, 30, 2011
5/30/11
5:06
PM ET
Tomorrow at 7 p.m. at Waltham High School, the Boston Warriors AAU program will hold its 3rd Annual College Showcase Night to showcase its juniors and sophomores, as well as several uncommitted seniors.

The evening will begin with 45 minutes of individual skill work, with the players split up between big men and guards. Former Providence College and Atlanta Hawks star Troy Brown will be working the big men; Watertown High coach Steve Harrington, a two-time MIAA state champion coach, will be working out the wings and guards.

The last 75 minutes all of the players will be split up to run five-on-five games on both courts, in front of the college and prep school coaches on in attendance. Below is the preliminary list of players expected to be in attendance:

Kachi Nzerem, 6-5, New Mission / Marianapolis
Nate Anderson, 6-6, New Mission
Kenny Reed, 5-10, Reading
Matt Droney, 6-4, Catholic Memorial
Max Risch, 6-6, Old Rochester
Jared Lewis, 6-3, Malden Catholic
Jordan Lewis, 6-1, Malden Catholic
Corey Gomes, 6-6, Uxbridge
Abiodun Akanni, 6-4, Fitchburg
Ryan Jann, 6-3, Westford Academy
Jerry Ellis-Williams, 6-5, Reading
Tyson Hallowell, 6-2, Middlesex
Sam Musler, 5-11, Belmont
Isshiah Coleman, 6-5, New Mission
Leroy Hamilton, 6-3, New Mission
Anthony Bell, 5-10, Boston Cathedral
Tony Alexander, 6-3, Boston Prep
Kyle Howes, 6-1, Maynard
Chris Murray, 6-1, Littleton
Joseph Connelly, 6-1, Beaver Country Day
Mark Melanson, 6-2, Burlington
Patrick McHugh, 6-4, Watertown
Isaac Carp, 5-10, Pingree
Ben Lawhorn, 6-3, Lincoln-Sudbury
Terrence Manning, 5-10, St Rafael's (R.I.)
Mario Payne, 6-0, Lincoln-Sudbury
March, 19, 2011
3/19/11
1:01
AM ET
By
Brendan Hall
| ESPNBoston.com
ROXBURY, Mass. -- With three seconds to go in last Saturday's Division 2 North final at the Tsongas Center, and in need of a clean inbounds pass to hold on to their 56-54 lead over Boston City rival Brighton, the New Mission Titans gathered themselves in the timeout, and thought of nobody better to heave a Hail Mary to than Leroy Hamilton.
Head coach Cory McCarthy was hesitant at first, but in the end thought he would be the perfect guy for Charles Gunter to heave the long pass over the Bengals' defense, which stuck all five players in the backcourt for intense pressure.
[+] Enlarge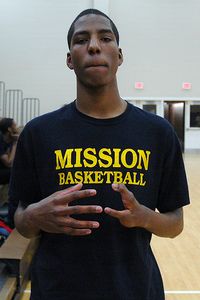 Brendan Hall for ESPNBoston.comDespite being born with a deformed left hand, Leroy Hamilton has emerged as New Mission's leading rebounder and one of its leading scorers (11 points per game).
Said senior guard Darius Davis, "I was actually the one that said do it, because Charlie's taking the ball out, and for two possessions in a row they didn't want the ball in my hands. So I just told Charles, if you can't get it to me to to shoot free throws, then just throw it long, get enough air under it and let Leroy catch it. And I've got faith that he's not going to drop the pass."
Sure enough, the 6-foot-3 junior came up with the ball, and the Titans avoided the upset bid to capture the North sectional title.
One glaring problem, though: common logic says that Hamilton shouldn't have even gotten a grip on the ball.
See, Hamilton, a 16-year-old junior starting forward on Mission's state finalist basketball squad, was born with a deformity on his left hand that has left him with just two fingers his whole life, with a pinky and a thumb twice as thick as a normal thumb.
Hamilton is a quiet kid in the hallways at this Roxbury-based high school. So subtle does he make it that from a distance, it's tough to tell. And tucked away amidst all the hype surrounding the Titans' Northeast-10 ready backcourt of seniors Samir McDaniels, Kachi Nzerem and Davis, Hamilton slides by even more anonymously. Yet he is no less crucial to the team's success, as they prepare for Northbridge today at 4 p.m. at Worcester's DCU Center, for the Division 2 state championship.
"It's sort of like natural selection, he's adapted," says head coach Cory McCarthy, who is also the school's Dean of Students. "Natural selection says what, we don't need our pinkies? Seriously though, I don't even think half the school knows. Because he's just so high-functioning."
To the outsider, daily routines might seem like a chore to Hamilton, but it's something he's grown numb to -- "Just gotta work with it," he shrugs to each question about his daily functioning.
"Some people look at it as a handicap, but I don't really look at it that way," he said. "It's like, I do everything that everybody else does. It's just the same. I feel like everybody's different, but we're all the same at the same time, you know?"
Only, it shouldn't. Human nature says Hamilton shouldn't be one of the Titans' leading scorers (11 points) and rebounders (six) right now, let alone starting every game. He shouldn't be the one cleaning up the glass on the weakside post, or stepping back for 15-foot perimeter shots with that light backspin and perfect 60-degree arc. He shouldn't be the one dropping 13 points -- all of them in crucial moments -- over Hopkinton at the TD Garden on a Tuesday night in a playoff game.
Yet there he is, dunking on breakaways. There he is, taking senior center Charles Gunter hard into the post in practice, dizzying him with spin moves and drop steps, dropping a floater with his left -- yes, that's right,
finishing
with his left.
"It's a quick pivot, he goes either left or right, with or without his disability," Gunter said. "You never know what his next move is. He'll go left with his left, real quick dribble, pull up or spin."
Said McCarthy, "You never know how he gets it off. His body has caught up to whatever disability he has."
If anything, though, perhaps the left hand actually works to his advantage. Too much grip out of one's guide hand, as many a player will tell you, can sporadically alter the shot. So with such limited use of the hand, forcing it into a guide role, it gives Hamilton just the right amount of soft touch to keep the shot straight and slick.
All of it has the Titans playing inspired, in a program that is never short on inspiration.
"Leroy is very down to Earth, very respectful, always trying to do hard and go hard," Gunter said. "He's always looking to better himself as a person and player, just a cool dude to be around, very high spirited very playful, never really down at all. When we need help with something, he acts so he'll get better at it, especially with plays and stuff. He just doesn't let his disability make him any less a hard worker than he is."
McCarthy admits that should he ever decide to leave Mission, Hamilton -- who he's already penciled in as a co-captain next season -- "is the reason I'd come back."
"Always, definitely," he said when asked about Hamilton's impact on him personally. "I feel like he is the single most coachable kid I've ever had, maybe because I don't take him for granted. I feel like there's a lot worse people in the world that would deserve that. If he could function like everyone else, he'd be amazing. It's a huge credit to his work ethic, he works so hard. We would have to tell him to go home, he's still here.
"If he could live in a gym, he'd live in a gym, and I'd be right there with him. Great kid, he'll come to games and whatever I tell him to do he listens."
And with that, the conversation drifts back to his playing ability. Practice has ended 20 minutes ago on this late Friday afternoon at the Reggie Lewis Center, and McCarthy watches from the bleachers as Hamilton stays on the court knocking down shots with Jeremiah Burke High's ubertalented female point guard, Mississippi State commit Khadijah Ellison, who stands casually rebounding.
Hamilton has just nailed his fifth straight shot from the same spot 12 feet out along the left baseline, with that same parabolic arc and slow rotation.
"I think it's because of that balance, it gives him just the right amount of touch," McCarthy said. "I feel like more than anyone else, every time he shoots the ball, it's going in. It's crazy."
He then points to the court.
"I mean, look at him, he's on fire right now!" he exclaims. "He doesn't miss."
March, 18, 2011
3/18/11
3:53
PM ET
By
Brendan Hall
| ESPNBoston.com
We've got you covered from the first tip-off to the final buzzer tomorrow at Worcester's DCU Center, home of six MIAA basketball state championships. But for now, to whet your appetite, here's high school editor Brendan Hall's picks for each of the six games.
DIVISION 3 GIRLS: LEE (24-1) VS. ST. MARY'S OF LYNN (23-4)
The Lowdown:
In a season of relative unknowns in Division 3, the Wildcats of Lee dominated Western Mass again, albeit to nobody's surprise. Puncutated by wins over Division 1 finalist Amherst and Division 3 juggernaut Sabis (which was averaging nearly 70 points per game before falling in the D3 West final to Lee), the Wildcats are at it again with that famously dogged press of theirs. Always undersized yet always relentless, they blitzed Pentucket a year ago on the DCU floor en route to their sixth state title in 20 years, and could be up to their same old tricks tomorrow morning. St. Mary's, meanwhile, has size all over the place, led by the senior "Twin Towers" of 6-foot-2 center Tori Faieta and 5-foot-11 forward Cassi Amenta. The Spartans beat Lee a month ago, 71-60, in a tournament just before the start of the MIAA playoffs.
Hall's Pick:
History says to never take Lee lightly -- no matter what shape or size it comes in. But unfortunately, there is just too much size to be accounted for on St. Mary's side of things. Not that they're unbeatable, but I just think the Spartans will control the glass.
St. Mary's, 50-45.
DIVISION 3 BOYS: WHITINSVILLE CHRISTIAN (22-2) VS. WATERTOWN (19-5)
The Lowdown:
Another matchup that on paper looks uneven, the Whitinsville Christian Crusaders boast plenty of size behind 6-foot-9 Hans Miersma, who dominated Lenox in Wednesday night's Central/West semifinal. Meanwhile, Watertown's tallest player is 6-foot-3 senior forward Connor Stockdale -- whom head coach Steve Harrington likens to another point guard on the floor -- and Marco Coppola, one of the state's leading scorers with 25 points per game. Whitinsville excels in the 2-3 zone but isn't afraid to quickly drop it and play straight man should they get into early trouble. But this is Harrington's Raiders, which means you're likely to see four things: weakside post, four out, pick and roll, perimeter shots. In other words, don't take the Raiders lightly, especially if they don't try to challenge Miersma immediately at the rim.
Hall's Pick:
The tale of the tape favors Whitinsville, just based on the size it wields in the frontcourt. But Steve Harrington is one of the best coaches in New England, and you can guarantee he's going to draw up a hell of a game plan to try and neutralize the size advantage.
Whitinsville Christian, 65-64.
DIVISION 2 GIRLS: ARLINGTON CATHOLIC (20-6) VS. MILLBURY (23-1)
The Lowdown:
The Arlington Catholic Cougars -- led by Emma Roberson, Nicole Catizone, and sisters Rachel and Maura Buckley -- can be viewed as a green bunch with all of their youth abound. But on Monday night at TD Garden, they pulled off one of the more impressive feats in recent EMass Finals history, clawing back from 18 down with six minutes left in the first half to take a halftime lead over Hopkinton and hold it up. Meanwhile, Millbury has burned opponents in the transition game all season long, beating opponents in the playoffs so far by an average of 16.5 points per game. Out on the break, seniors Julie Frankian (19.1 points, 8.3 rebounds) and Sydney Bloomstein (9.5, 6.1) have been as formidable duo as we've seen in Division 2.
Hall's Pick:
Sorry, AC. That was an amazing comeback you pulled over Hopkinton over the Garden. But this is Julie Frankian's moment in the sun.
Millbury, 60-48.
DIVISION 2 BOYS: NORTHBRIDGE (20-5) VS. NEW MISSION (21-4)
The Lowdown:
Mission was the odds-on favorite in Division 2 headed into the season, and hasn't done a whole lot to convince otherwise. Led by three Northeast-10 ready senior guards in Samir McDaniels, Kachi Nzerem and Darius Davis; as well as Charles Gunter, Leroy Hamilton, and Isshiah Coleman on the blocks; the Titans have begun to find that scoring touch around the rim that was missing for stretches this season. They also like to wear opponents out with a smothering, physical man-to-man defense -- as head coach Cory McCarthy often tells reporters, "The uglier, the better." Good news for the Titans: Northbridge relishes in that style, too. Eight of its players were on the Rams squad that won a Division 2 football Central Mass Super Bowl this past fall, and have brought that aggressive mentality to the floor with forwards (and brothers) Thomas and Harrison Murphy. Also watch out for Corey Pryor, who burned Sabis on Wednesday night with a series of uncontest layups en route to 24 points.
Hall's Pick:
Cory McCarthy is known to fill up a reporter's notebook fairly quickly with his endless arsenal of money quotes. But the one that still resonates above the rest is the one he gave our correspondent Adam Kurkjian back in
December
: "I love these kids. I would do anything for these kids. And I feel like they will eat glass for me." Remember that one if this is close in the waning minutes.
Mission, 58-47.
DIVISION 1 GIRLS: ANDOVER (26-1) VS. AMHERST (22-2)
The Lowdown:
Amherst, written off the in preseason after the transfer of Mariah Lesure to Tabor Academy, has rolled through Western Mass, and arrives in Worcester after a thrilling overtime defeat of Algonquin in Tuesday's Central/West state semifinal. Much of the Hurricanes' emergence has to do with the maturation of their junior class led by Brianna Leonard (11.1 points), Morbasaw Nkambeo (10.0) and Kristen Ferrola (9.3). The Golden Warriors, meanwhile, were one of several heavy favorites in Division 1 headed into the season, and save a lone regular-season blip to Central Catholic have done nothing to deter that thinking. Much has been made of Andover's Division 1-ready backcourt led by Marist-bound senior Natalie Gomez-Martinez and BC-bound junior Nicole Boudreau, the state's newly-anointed Gatorade Player of the Year. But the Warriors excel on the boards, too, behind junior Ally Fazio and sophomore Devon Caveney.
Hall's Pick:
At the risk of jinxing this...should Andover win, I don't think it's out of the realm to think the Warriors have a shot next season at making it the first Division 1 girls three-peat since Haverhill in the mid-90's. Long Live The MVC.
Andover, 70-60.
DIVISION 1 BOYS: ST. JOHN'S PREP (24-1) VS. ST. JOHN'S OF SHREWSBURY (21-5)
The Lowdown:
After the loss of Ryan Kelley (ACL tear) and stalemate of a Central Final defeat of Fitchburg (40-38), some questioned whether Shrewsbury was ripe for the picking. The Pioneers put an end to that doubt on Wednesday night, handling a talented Northampton squad with physical defense and clutch shooting from Matt Harrington. Head coach Bob Foley is known for his Princeton-ish offense, this year led by forward pivots Matt Palecki and Richard Rodgers, but we've seen the Pioneers transition teams to death in state championships past (Lynn English, 2009, anyone?). This marks the fourth straight D1 final appearance for SJS, while Prep is making its first appearance since 1974. The matchup of the day might be Pat Connaughton versus Rodgers (we'll just assume that's what Prep head coach Sean Connolly will do for now), but the Eagles have prided themselves all year long on the work of their role players. Every game, it's a different kid stepping up, between Steve Haladyna, Freddy Shove, Mike Carbone, Owen Marchetti and Isaiah Robinson.
Hall's Pick:
It's going to be a rockfight on the court, and both student sections are going to be rocking out. And I do mean rocking. I literally can't wait. By the way, every high school fan ever, you've got your work cut out for you after Northampton's "Full Metal Jacket" routine the other night at DCU.
Prep, 45-41.
February, 10, 2011
2/10/11
12:53
AM ET
By
Brendan Hall
| ESPNBoston.com
ROXBURY, Mass. -- The capacity crowd at the Tobin Community Center having dispersed minutes ago, Samir McDaniels slouched in the bleachers, head bowed, casually sipping a Poland Spring bottle as he took in some relaxed deep breaths after two hours of congestion. He needed a minute after this one.
Battling the flu all day, the New Mission senior guard was advised by head coach Cory McCarthy to sit out tonight's pivotal Boston City South rematch with No. 13 Brighton. Ten minutes before tip-off, though, McCarthy was told otherwise.
"Cory wasn't going to let me play, but I told him I was going to play regardless of whether he let me or not," McDaniels said. "No disrespect, but I've got to be there for my team."
Same for fellow senior guard Darius Davis, who was battling similar symptoms and had a temperature of 102 degrees at game time ("No excuses," he said). Both he and McDaniels went the full 32 minutes, and put in double-doubles as the No. 5 Titans fought off a late Brighton surge to win, 65-58, and sweep the season series with the Bengals -- a win made even more intriguing when considering they'll be missing the third wheel of the much-hyped backcourt, senior Kachi Nzerem (hip pointer), at least another two weeks.
"It's kinda scary," McCarthy said. "Because, you know, there would have been no excuses, but guys were dragging. You could tell, you can look in their faces right now, they're dragging. But, you know, they love the game, and they want to protect our house. They want to protect Mission Hill. They want to protect the neighborhood, the school, what we're about."
When these two teams battled last month in Brighton's gym, a New Mission win, McCarthy characterized the game as
"ugly basketball"
-- granted, a style the Titans often tell reporters that they embrace.
And while the second installment featured far less pressing and more organization in the half-court, it wasn't a symphony, either. Both teams shot less than 40 percent from the floor for the game, and coupled with a slew of unforced turnovers on both ends, things boiled down to physicality as the Titans threw six different zone looks to try and confuse the Bengals' young lineup.
"We started off way too sluggish, way too casual," Brighton head coach Hugh Coleman said. "We didn't attack until late, we didn't play aggressive until late. You can't do that against a good team like that. But again, we're young, with alot of room to grow, so to me that was more immaturity and youth than anything else."
New Mission (11-3) opened the game in a 2-3 zone, but didn't stay in it for long as the Bengals' first four field goals were all three-pointers, starting the game off 4 of 8 from deep. McCarthy was unsure how many minutes to expect out of McDaniels (22 points, 12 rebounds) and Davis (19, 11), but both were a force on the boards early, and started fast breaks with deflections on the perimeter. And while the Titans went with a deeper bench, they never left those two off the floor.
A buzzer-beating Davis three-pointer gave the Titans a 17-14 lead over Brighton (10-2) at the end of the first quarter. New Mission used 8-0 runs at the start of the second and third stanzas to take a comfortable 45-30 lead headed into the fourth.
The Titans went a stretch of roughly six minutes without a field goal over the final minutes of the third and start of the fourth, but found spark again when Leroy Hamilton (11 points) stepped up with a three to make it 51-34 with five minutes left. From therein, though, the Bengals made a furious rally behind guards Malik James (19 points) and Kevon Young (20), getting great looks on the perimeter and outscoring the Titans 24-14 over the final four minutes.
In all, the Bengals made nine 3-pointers. But New Mission used its athleticism to its advantage, with McDaniels and Davis drawing contact on hard drives and going a combined 11 of 12 from the free throw line in the second half, to keep this from getting too close for comfort.
"They worked hard. They worked hard," McCarthy said. "That's a tough team to hold down, as you can tell. But I think people came to play. Guys stepped up without Kachi -- that's 18 points a game, you know. That just shows the resolve this team has. They've been fighting adversity all day, all year, and it's showing. We're starting to build that mental toughness that I've been crying about, really complaining about, so they showed up."
January, 16, 2011
1/16/11
11:46
PM ET
By
Corey J. Allen
| ESPNBoston.com
SPRINGFIELD, Mass. – Coach Cory McCarthy is not happy.

"We were 15-25 from the free throw line," the New Mission boys' basketball coach repeated three times after the game. Despite the No. 8 Titans defeating Sabis Charter School (Springfield) 61-38 at the Hoophall Classic, McCarthy was upset about the free throws as well as missed layups.

"I am completely confused as to why we would miss so many layups. We missed 24 layups," McCarthy said.

How many times did he repeat '24'? Think of Allen Iverson's infamous 'practice' press conference from 2002.

"Not just put backs, easy layups. 24. We missed 24 layups!"

Sabis (5-6) coach Jim Mack saw an upside to the Titans' inability to make good on their offensive rebounds.

"We got lucky with that," said Mack. "If they scored underneath, it would have been worse than it actually was."

And the game was not a total wash for McCarthy, either.

"The best thing about tonight's game is that we held a good basketball team to ten field goals for an entire game," said McCarthy of Sabis, which put up 45 field goal attempts. "That's a good accomplishment."

New Mission (6-3) junior Leroy Hamilton led the charge, keeping the Bulldogs from getting to the hoop, with four steals.

"He's going to be my leader next year," added McCarthy of Hamilton, who scored seven points, but according to McCarthy had a tough game, as he's usually in double digits. "But he made up for it on defense."

Offensively, New Mission was led by the game's MVP, senior Kachi Nzerem (23 points, 9 rebounds).

"It's more of a team win," Nzerem said. "Most of my points came from my teammates…passes from Darius [Davis], Charles [Gunter] and Samir [McDaniels]."

New Mission executed their half-court press and stifled Sabis, but Mack could not to get his Bulldogs biting the way he had hoped.

"I think our biggest issue is we play in spurts," said Mack. "Not being able to sustain any type of energy is starting to really hurt us...We tried to trap early, but it's hard to develop any kind of press when you turn the ball over as many times as we did."

The leading rebounder for New Mission was Darius Davis (10), who also added nine points.

"Coach tells me that I have the length, so just outwork guys, not letting any team out-rebound us," said Davis, whose Titans beat the Bulldogs off the glass, 46-30.

This philosophy is shared by McCarthy, who despite watching his team struggle to make the easy baskets, was not worried because their rebounding and pressure defense was ever-present.

"Once we're aggressive, there aren't too many teams that can play with us because of our size," McCarthy noted. "When we're rotating and moving well, I know [our offense] is going to come. We may not be scoring a lot of points, but we're turning teams over. Our whole game plan is to wear teams out with our half-court press and then go with our man to man strong for the second half."

"The average height for our starters is 6-4," added McCarthy. "For those guys to be able to dribble the ball and play like guards is very helpful. For whatever it's worth, New Mission is not a flashy basketball team. We're about second chance points and managing the game."

BUT COACH...
Late in the fourth quarter, New Mission senior Charles Gunter missed a free throw, making him 4 of 8 for the game.

"I was going to yell at him for missing another free throw," said McCarthy. "He never misses free throws! That was four in a row.

"But before I could even get it out of my mouth, he knew it was coming. He read the ball off the rim, which is something that we practice, and he put it back in. I was happy about that."
December, 30, 2010
12/30/10
12:58
AM ET
By
Michelle Bradley
| ESPNBoston.com
CHELSEA, Mass. -- Mansfield's 20 points in the fourth quarter barely beat the 19 points tallied by No. 4 New Mission, but the Hornets picked up a 61-54 victory on Wednesday at the BABC Holiday Tournament.

Mansfield improves to 3-1 on the season, while the fourth-ranked Titans fall to 3-3.

A basket scored by the Hornets' senior Mike Lofton erased an early 5-5 tie, igniting a 11-2 rally that put Mansfield ahead of New Mission, 18-7, by the end of the first quarter.

Hornets freshman Kevin Connor scored three of the first six points in the second quarter, helping the Hornets to a 14-point cushion over New Mission. Trailing 25-13, the Titans' senior Darius Davis hit back-to-back shots from long range, bringing the Titans within eight points of Mansfield.

Finishing the quarter with seven points, Connor ended out the half with a pair of free throws, making the score 29-19.

Back-and-forth traffic in the third was halted by a 6-0 run by New Mission, which included four points scored by junior Leroy Hamilton. Mansfield outscored the Titans 6-4 to close out the quarter, making the score 41-35.

Despite New Mission coming within four points of the Hornets, 52-48, halfway through the fourth quarter, the game momentum stayed with Mansfield. The Hornets didn't look back, taking a 8-6 scoring advantage in the final minutes of regulation, securing its third win of the season.

Three of Mansfield's seniors finished the day in double figures, with Jeff Hill leading all scorers with 16 points, followed by Lofton with 15 and Leonard Richardson with 12 points.

Mansfield's head coach Mike Vaughn said, "[Hill] was good throughout the game; he is by far our effort leader on this team."

"He hit some free throws, which really made a big difference in the end."

New Mission's Davis ended the day with 14 points, while Leroy Hamilton recorded 12.

"I think both teams came out kind of sluggish, but we were able to make some plays down the stretch," said Vaughn. "It was good to get out of here with a win."

EVERETT ESCAPES
24 seconds.

An entire game of basketball all came down to the final 24 seconds for Everett as the Crimson Tide edged past Springfield's Putnam Vocational Technical High, 47-46.

"I'm really proud of these kids, it's been a different person [leading the team] every game," said Everett head coach Bippy Manuel.

Everett started out with a quick 7-2 lead over the Beavers, including five points scored by by senior Andrew Brant. Putnam (3-4) was able to get within two points of the Crimson Tide, 10-8, but a 5-2 run to close out the quarter gave Everett a 15-10 lead.

The Crimson Tide defense held Putnam to just two points for the entire second quarter, while its offense was led by Brant with six points. A jump shot by sophomore Gilly DeSouza at the buzzer gave Everett a 28-12 lead at the break.

The halftime break was exactly what Putnam's offense needed, as the Beavers went a 7-0 run to open the third quarter, led by junior Jordan Almore with five points.

Putnam continued its offensive burst, cutting its deficit to two points, 34-32. A shot from beyond the arc by senior John Toledo gave the Beavers their first lead of the game, 35-34.

Everett was outscored 25-12 to end the third quarter, falling behind 37-36 lead.

Refusing to give up, the Crimson Tide quickly scored six points in the opening minutes of the four quarter to take 43-37 lead.

With two minutes remaining in the game, Putnam's seven point deficit was quickly erased by a 6-0 rally. A pair of shots from the free throw line by junior Melquan Pinkney brought the Beavers within one point, 47-46.

Everett answered back by stalling the Beavers' offensive attack in the final 24 seconds of the game, edging out a 47-46 victory.

Almore led all scorers with 17 points, while Brant finished with 16 points and Everett's senior Erno Deshommes tallied 14 points.