Boston High School:

Levy Gillespie Jr.
February, 15, 2013
2/15/13
12:49
PM ET
By
Chris Bradley
| ESPNBoston.com
On Thursday night, Captial Prep (Conn.) point guard Kahlil Dukes became the 17th player in the history of Connecticut boys high school basketball to score 2000 points. The milestone was just another on the long list of awards and accolades that he has achieved over the course of his career.
Dukes has been a mainstay in New England high school basketball for the last four years -- and he didn't waste any time either, scoring a combined 62 points in his first two high school games as a freshman. He kept those high scoring totals up, averaging 29 per game as a freshman and going on to score his 1000th point as a sophomore. He was also named to the Connecticut High School Coaches' Association's All-State Team the last two seasons.
The University of Southern California offered him a scholarship last April. His AAU club Connecticut Basketball Club (CBC) was in Las Vegas in July, and that was when Dukes made the decision to commit to the Trojans. One of the first people he told was Montverde Academy guard Kasey Hill. The Florida-bound Hill, the ninth-ranked player in ESPN's Class of 2013 rankings, befriended Dukes on the AAU circuit last summer.
[+] Enlarge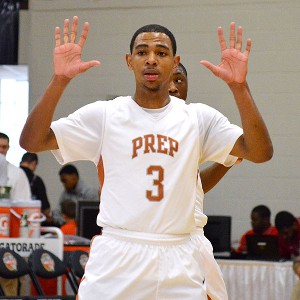 Jimmy Kelley for ESPNBoston.com Kahlil Dukes is headed to USC to play college basketball.
"I was just happy for him, I knew how much he wanted that. I just told him to keep working," Hill said.
Dukes' commitment was partly a basketball move, certainly. The Trojans play in one of the nicest venues in all of college basketball, the $150 million Galen Center. USC's athletic programs are consistently some of the most successful, and most well funded, of any athletic department in the country.
He couldn't hide his excitement with the facilities on his official visit this past fall. While other recruits went to house parties after they watched the Trojans' football team trounce Pac-12 rival Cal, Dukes went to the gym to get shots up at 11 p.m.
"I was there alone. A high school kid on his official visit, and I was the only person in the gym," Dukes said.
His high school coach, Levy Gillespie, Sr. has known Kahlil since he was a kid. Gillespie's son, Levy, Jr., is a junior on Capital Prep's squad who is quite the talented guard himself, scoring his 1000th point against famed Brooklyn, N.Y. power Lincoln last month at the Hoophall Classic in Springfield.
"He's always been a focused kid," Gillespie Sr. said, "He's in the gym all the time, he's not a party guy. He's not hanging out late with guys. He goes to the gym at 6 A.M., goes to school, and works out afterwards. Then he goes home, washes his practice gear, does homework and goes to bed. He's a creature of habit."
On his relationship with the Gillespie's, Dukes added, "I've known Levy and his did since I was like seven or eight years old. We've won and lost by 40 together. They were there when I committed [to USC] and when we traveled everywhere. They've been with me since I was little."
Even despite all the long nights in the gym, the hundreds of hours that he has spent studying his own gametapes—a habit he has exercised most of his high school career, Dukes has developed goals for himself that stray far beyond the basketball court. When he enrolls at USC this August, he will do so with the intention of studying at USC's School of Cinematic Arts.
Yes, the lightning quick guard with the smooth jumpshot and killer crossover wants to be a filmmaker.
"I like the writing part, I do a lot of writing and spend a lot of time on that in my free time," he said. "I like to express myself and tell a story that I see through my eyes. That has a lot to do with how directors make films, and I think I have a talent in that."
"I always wonder what the director was thinking [when I watch a film]," Dukes continued. "How did he think a part of his film would effect people?"
He knows the ball will stop bouncing eventually, and when it does, he wants to have a plan for the rest of his life.
"I think it's fair to say that I have goals outside of basketball," he said. "This game doesn't last forever. My body is killing me already—I'm a senior in high school, so I know one day my time [as a basketball player] will be over."
He's also done a number in reaching out and mentoring some of Capital Prep's younger talents. As a part of his senior justice project at Capital Prep, he started the Kahlil Dukes Basketball Academy, a program that he created himself to mentor some of the promising young freshmen on Prep's varsity team. At weekly sessions with the freshmen players, Dukes would work them on skill development, stress the importance of academics, and teach the young players how to become people of high moral character.
"There's a lot the game can do for you. I talked to academic counselors about what they liked in students. I taught the kids that with things they are good at—master them, things they aren't good at--get better at it. I taught them about training right, and having the right attitude, too."
Learning the right attitude was admittedly a process for Dukes, but being mentored by Gillespie and learning from other star players like Hill and his good friend Kris Dunn, a former McDonald's All-American who is now a freshman at Providence, has humbled him and brought to light in his own eyes what is important. Hill, for example, wasn't surprise in the slightest when he heard about what Dukes wants to study at USC.
"A lot of guys like us, we try to not to get cocky," Hill said, "We just love to play basketball. People may look at us differently or look at us a different type of way [because of stardom], but really we just happen to be regular guys who are good at basketball."
The only thing on Dukes' mind this basketball season is winning a state championship. Capital Prep made it to the Class S state championship last March, but fell to Immaculate in a hearbreaking loss. It was a day Dukes will never forget, partly because he had a bad shooting day and was never able to get any type of rhythm going offensively. Through a lot of film studying in the offseason, he realized he needed to tweak his game a little bit.
"I just try to be very efficient now," he said. "Freshman year I was averaging 29 a game, but the thing is I was taking 22 shots a game. I've scored 28 points or more a lot this year, but I'm taking a lot less than 20 shots."
Last week Dukes had his biggest game of the year against University High, a game that he and his teammates knew would be a war given both teams' regular season success thus far. His efficiency was on full display, as he scored 40 points on 15-for-27 shooting from the floor. He also dished out 10 assists, many of which went to Gillespie Jr., who scored 33 points and had eight assists of his own.
Even following his best game of the season, Dukes expected more out of himself.
"I watched the game tape, I had 40 points and I missed five layups and two free throws," Dukes said. "The thing is, I should have had 60. I missed five threes, two of which were wide open, and those five layups. One of the layups was so clean that I missed it -- like I was too open, it made me so mad. I want to be a winner, I want to win."
Now moving to 16-2 with the win last night, Capital Prep has emerged as one of the best teams in Connecticut. They've made it clear that if they advance to another state title game this year, the leadership of Dukes and his captains will be solely focused on the state title. The vocal leadership, Gillespie says, is an aspect that Capital Prep needed from Dukes.
"A couple years ago he wasn't a vocal leader," Gillespie said, "He was a scorer who went and did his own thing. But I think with helping and giving back to people, he's bought into that [leadership]. Kahlil is a deep kid if you get to know him and talk to him."
January, 19, 2013
1/19/13
4:04
PM ET
By
Chris Bradley
| ESPNBoston.com
SPRINGFIELD, Mass. – Brooklyn power Lincoln High didn't really know what to expect coming into Saturday's Hoophall Classic showdown with Hartford, Conn.'s Capital Prep.

The Railsplitters (16-3) were a late addition to the Hoophall field, after previous entrant St. Joseph Central of Pittsfield had to back out because several players on the team have the flu.

USC commit Kahlil Dukes was the lone bright spot for Capital, scoring 29 points in a losing effort. Shaquille McFarlan led Lincoln in the scoring column, finishing with 16 as the Railsplitters picked up a 95-68 victory.

Isaiah Whitehead, ranked No. 41 player in ESPN's latest "Super 60" Class of 2014 rankings, finished with nine points. At 6-foot-4, the strong-bodied junior guard demonstrates a lengthy motor and consistent outside jumper. He told reporters after the game that he holds offers from Arizona, Florida, Kansas, Kentucky, Lousiville, Syracuse, and UCLA, amongst several other high-major Division 1 offers.

Coming into the game, he said Lincoln knew keying on Dukes defensively would give them a good chance of winning the game.

"After the first quarter, we were hoping to stop Kahlil on the break, he's super quick," Whitehead said. "We felt like we had a good chance of winning if we did that."

Lincoln did just that, holding Dukes to just six points in the first half. Down 51-24 at halftime, the lead Lincoln had built in the second quarter turned out to be insurmountable.

Gillespie scores 1,000th: Still only a junior, Capital Prep guard Levy Gillespie, Jr. notched his 1,000th point late in the fourth quarter.

"It was pretty good, I just wish we could have won the game, or a close game at least," Gillespie said.

Gillespie scored his 1,000th point on the first of two free throws with a few minutes left in the game. Quickly between free throws, he ran over to the sideline for a quick embrace with his father, head coach Levy Gillespie, Sr.

"He just said 'good job'," the younger Gillespie said of the exchange.

Gillespie's scoring total was something that had been highly anticipated by Capital Prep for the last few games. Dukes hinted that reaching the milestone was most likely a relieving moment for Gillespie.

"It was huge, long season and we were trying to get it out of the way for him so he wouldn't think about it so much," Dukes said.

Dukes holds firm to USC commitment: USC head coach Kevin O'Neill was fired earlier this week, but Dukes left no uncertainty in regard to his commitment to the Trojans program. The 5-foot-11 guard committed to USC late last July, and signed a National Letter of Intent during the NCAA's early signing period in November.

Trojan assistant coach Bob Cantu, whom Dukes developed a close relationship with over the course of his recruitment, was picked as interim head coach following O'Neill's firing.

Under NCAA rules, once a player has signed a National Letter of Intent, he or she must ask permission from the school to be released from their scholarship. But generally, when there is a coaching change, players are usually granted their request.

"I was pretty much in, I didn't know [O'Neill] well, Coach Cantu recruited me," Dukes said. "For me it was just a matter of staying loyal to the program and loyal to the team. I'm a Trojan all the way."

He added, "Sometimes it's hard to stay together when stuff like that comes up, but after I spoke to Athletic Director Pat Haden and Coach Cantu, they told me about their plans going forward."

Dukes, who also has high aspirations as a filmmaker, mentioned that he has a lot that he wants to accomplish at USC, on and off the court.

"It's the number one school in the country for film majors, I wasn't really worried about the [O'Neill] situation."
September, 29, 2010
9/29/10
12:04
AM ET
The third annual "New England Elite 75 Showcase -- Frosh/Soph Edition" took place on Saturday at Boston University's Case Gymnasium and included many of the top underclassman prospects the New England region has to offer. The event featured two sessions, with the freshmen taking the court in the morning and the sophomores in the afternoon.

Here is a look at five lessons we learned after taking in the day's action:

1. Noah Vonleh is a Potential Star in the Making

Haverhill High School sophomore Noah Vonleh stood out as the most impressive prospect at the event. What sets him apart is a combination of three factors. First, he has the talent to dominant his peers right now. Second, he has demonstrated the work ethic to consistently improve his game. Third, his physical upside is tremendous. Vonleh only recently celebrated his 15th birthday and already stands 6-foot-7 with a strong body. He could still be growing and is certainly still growing into his body and consequently hasn't nearly peaked athletically. He has terrific economy of motion, taking the ball off the defensive glass and going coast to coast in three or four dribbles and only requiring a single bounce to get to the rim in a half-court set, to go along with a rapidly developing skill set. If this young man continues to work hard and make good decisions, the sky could be the limit.

2. The Class of 2013 has Tremendous Depth

New England has some very well known talent in the class of 2013. Connecticut native Kuran Iverson is the second ranked player in the country and Everett native Nerlens Noel is third, according to ESPNU's most recent Terrific 25 list. But beyond the obvious star power of Iverson, Noel, and Vonleh the region, and the state of Massachusetts specifically, has great depth in the class. Beaver Country Day guard Rene Castro already owns a scholarship offer from Boston College, Brimmer & May's Jake Fay has one from UMass, and a variety of others in action on Friday had the potential to earn similar opportunities including Milton Academy's Ikemefuna Ngwudo, Cushing Academy's Andrew Chrabascz, Springfield Central's Cornelius Tyson, and Weymouth's Jared Terrell.

3. Getting to Know the Class of 2014

This was our first major opportunity to check out the incoming freshmen and there was plenty to like. Milton's Jeremy Miller has the size and raw talent to potentially be a high level prospect down the road. Fellow big men Aaron Falzon (Newton North) and Bonzie Colson Jr. (St. Andrew's) have similar upside. There are plenty of talented local guards including Lawrence Academy's Johnnie Vassar, Cushing Academy's Idris Taqqee and Stoughton's Jonathan Joseph. The state of Connecticut also offers a particularly talented group with the likes of Jared Wilson-Frame, Levy Gillespie Jr., Winston Morgan and Kahari Beaufort.

4. Prep Talent Arriving Earlier than Ever

New England has always been the hub of prep school talent in the country, but it used to be that talented players only arrived for their post-graduate, or sometimes senior, seasons. Saturday's event showed they are now coming much earlier and opting to play in the NEPSAC for multiple seasons. Some of the event's top prospects, like Northfield Mount Hermon's Dekeeba Battee, Worcester Academy's Asur Madison, Winchendon's Dennis Green and the Kent School's Travis Berry are all from outside of the region but are boarding students at local prep schools.

5. One Year Can Make a Big Difference

There was a notable difference between the morning and the afternoon session as the sophomores delivered a significantly higher quality of play. The biggest difference was obviously physical as players were bigger, stronger, faster and more athletic given the extra year of physical maturity. But the other interesting trend was the higher caliber of basketball acumen. Some examples were more obvious as the sophomores tended to both share the ball more as well as play without it, but others were more subtle like looking into the post, using jab fakes or understanding how to defend from the weak side of the floor.