Boston High School:

Liam Porter
May, 5, 2011
5/05/11
10:32
AM ET
The North-South game of the 33rd Annual Shriners Football Classic kicks off this June 17 at 7 p.m., and for the second year in a row the contest will be held at Gillette Stadium. Below are the rosters for both squads participating in the game:
NORTH
Ryan Adams, Northeast, DE
James Aloisio, Masconoment, OT
Eric Apgar, Acton-Boxborough, RB
Anthony Arcari, Tewksbury, RB
Manny Asprilla, Everett, WR
Derek Bent, Shawsheen, TE
Brian Bourque, Reading, DB
James Brao, Hamilton-Wenham, LB
Cal Carroll, Methuen, QB
Brendan Casey, Boston Latin, DT
Thomas Chub, Masconomet, OL
Mitchell Colley, Arlington, LB
Sean Connolly, Tewksbury, FS
Tyler Coppola, St. John's Prep, RB
Matt Costello, Everett, WR
Anthony Courtouis, Lowell, WR
Jeff Covitz, Reading, OL
Nate Cyr, St. John's Prep, OL
Ned Deane, Andover, LB
Ryan Delisle, St. John's Prep, TE
Jake Giovanucci, Dexter, DE
Mike Grassa, BB&N, DB
Will Guinee, Malden Catholic, OL
Mike Harper, Methuen, LB
Zach Hayes, Chelmsford, S
Justin Hood, Billerica, DE
Brian Hurley, Wilmington
Zach Ingalls, Westford, DB
George Kallas, Beverly, OT
Ben Koopman, Marblehead, C
Chris Malonis, Dracut, WR
Tyllor MacDonald, Lynn English, DB
Tom Meade, Malden Catholic, LB
Trae Musumarra, Central Catholic, LB
Zach Nardone, Bishop Fenwick, DT
Paul Nwokeji, Thayer Academy, OL
John O'Connell, Northeast, DL
Daniel Omorgie, Lynn Classical, DE
Xavier Peralta, Central Catholic, DB
Ony Ramos, Lawrence, DB
Peter Savarese, BB&N, RB
Jordan Shairs, Gloucester, RB
Matt Silva, Dracut, QB
Bradley Skeffington, Salem, DB
Zach Smerlas, Lincoln-Sudbury, DL
Brian Strachan, St. Sebastian's, WR
Dave Summiel, Shawsheen, DT
Chris Unis, Gloucester, DE
Trae Weathers, Revere, RB
Sean Whittaker, Methuen, OL
Peter Yasi, Swampscott, DE

SOUTH
Matt Allen, Pembroke, SE
Ryan Barrett, Holliston, TE
Rob Barrus, Weymouth, LB
Adam Boari, King Philip, OL
Blaise Branch, Cardinal Spellman, RB
Lance Burlingame, New Bedford, OL
Jack Carrier, Cohasset, SE
Dylan Colarusso, Weymouth, RB
Joe Colton, Xaverian, DB
Tom Condon, Whitman-Hanson, OL
David Conroy, Walpole, SE
Nate Crary, Dennis-Yarmouth, DL
Seth DeMello, Somerset, RB
Mike Devin, Bridgewater-Raynham, OL
Mike Driscoll, Rockland, FB
Connor Fraser, Abington, DL
Jake Golden, Hingham, OL
Mitchell Graziano, Silver Lake, DB
William Greene, Oliver Ames, DE
Ernest Guy, Foxborough, OL
Joseph Hak, East Bridgewater, OL
Matt Hallisey, Duxbury, SE
Brian Harrington, Rockland, DE
Jordan Henderson, Barnstable, WR
D.J. Jamieson, West Bridgewater, RB
Randall Jette, Martha's Vineyard, DB
Dan Johnson, North Attleboro, SE
Andrew Kestenbaum, Dartmouth, OL
Matt Lockwood, Seekonk, RB
Albert Louis-Jean, Brockton, SE
Denis Maguire, Duxbury, LB
Jamel Marshall, Mansfield, RB
Zach Martin, Mashpee, RB
Alec May, King Philip, TE
Sean Mayo, Holliston, QB
Paul McCarthy, North Attleboro, DB
Kyle McGuire, Mansfield, OL
Dave McSweeney, Medway, OL
Obum Obukwelu, BC High, OL
Trevon Offley, Brockton, RB
Jon Page, Bourne, RB
Tyler Park, Scituate, QB
Liam Porter, Natick, OL
Ethan Rayner, Holliston, OL
Nate Robitaille, Attleboro, DB
Andrew Siden, Natick, TE
Kevin Stanton, Cardinal Spellman, LB
Jeff Synan, Plymouth North, OL
Chris Tamasi, Xaverian, LB
Ryan Vaughn, Norwell, OL
February, 2, 2011
2/02/11
2:15
PM ET
The first day of the football National Letter of Intent signing period has arrived, and we've got you covered all day (though we'll probably be buried under snow ourselves). Here is a list of Massachusetts athletes committed to Division 1 programs headed into today's big day.
Any commitments can be sent to Scott Barboza at sbarboza@espnboston.com or Brendan Hall at bhall@espnboston.com.

(NOTE: The Ivy League does not recognize National Letters of Intent)
DIVISION 1 FBS
Taariq Allen
, Rivers – Nebraska
Manny Asprilla
, Everett – Boston College
Dalton Gifford
, Bridgton Academy (Maine)/Barnstable – UConn
Marcus Grant
, Lawrence Academy – Iowa
Harry Keselman, Oliver Ames - Temple
Anthony Knight
, Lawrence Academy – Nevada
Albert Louis-Jean
, Brockton – Boston College (enrolled in January)
Brian Miller, Andover
– Boston College
Paul Nwokeji
, Thayer Academy – UConn
Rodman Noel
, Milford Academy (N.Y.)/Everett – NC State
Mike Orloff
, Lawrence Academy – UCLA
Liam Porter
, Natick – Boston College
Max Ricci
, Lawrence Academy – Boston College
Richard Rodgers
, St. John's (Shrewsbury) – Cal
Andrew Siden
, Natick – Tulane
DIVISION 1 FCS
Jeff Anderson, Longmeadow - Brown
Ryan Barrett
, Holliston – Bryant
Connor Candito, Bridgton Academy (Maine)/St. John's (Shrewsbury) - Sacred Heart
Jamie Casselbury, Philips Andover - UMass
Connor Caveney, Cushing Academy - Sacred Heart
Matt Costello
, Everett – Princeton
Jeff Covitz
, Reading - Bryant
Ryan Delisle
, St. John's Prep – Harvard
Anthony Fabiano
, Wakefield – Harvard
Ryan Flannery, North Attleborough - Columbia
Justin Flores, Tilton School/Woburn - Maine
Dan Giovacchini
, Lawrence Academy – Brown
Will Guinee, Malden Catholic - Dartmouth
Greg Hilliard
, Suffield Academy (Conn.)/Brockton – UMass
Clay Horne
, Lawrence Academy – Villanova
Brandon Howard, Worcester Academy/King Philip - UMass
Randall Jette
, Martha's Vineyard – UMass
Isaiah Jones
, Mahar - Maine
Andrew Kestenbaum
, Dartmouth – Rhode Island
Ben Koopman, Marblehead – Holy Cross
John Lavin
, Falmouth – Bryant
Dan Light
, St. John's (Shrewsbury) – Fordham
Harrison Lyons, Avon Old Farms (Conn.)/Norwell - Bryant
Alec May, King Philip - Georgetown
Brian McDonald, Hebron Academy (Maine)/Westwood - Sacred Heart
Andrew Mizzoni
, Gloucester – Holy Cross
Obum Obukwelu
, BC High – Harvard
Ben Patrick
, Rivers – UMass (preferred walk-on)
Jason Richard, Milford Academy (N.Y.)/Weston - Sacred Heart
Peter Savarese, BB&N - Dartmouth
Zach Smerlas
, Lincoln-Sudbury – Brown
Keshaudas Spence, Taft (Conn.)/Catholic Memorial - Sacred Heart
Charlie Storey
, Milton Academy - Dartmouth
Brian Strachan
, St. Sebastian's – Brown
Cam Sullivan, Westfield - Bryant
Jeff Synan, Plymouth North - Bryant
Ben Ticknor
, Milton Academy - Dartmouth
John Wallace
, Somerville – UMass
Ryan Welch
, Lawrence Academy – UNH
Conor Wyand, Nashoba - Brown
DIVISION 2 RECRUITMENTS REPORTED
Nick Broughton, Marblehead - Merrimack
Matt Delaney, Barnstable - Assumption
Chris Mooney, Stoneham - Assumption
Mike Muir, Xaverian - Bentley
Bobby Richman, North Attleborough - Bentley
Chris Unis
, Gloucester - Merrimack
DIVISION 3 RECRUITMENTS REPORTED
Eric Bertino, BB&N - Middlebury
Ned Deane
, Andover - Amherst
Mike Devin, Bridgewater-Raynham, Bowdoin
James DiBlaisi, BB&N - Trinity
Josh Friedland, Marblehead - Bates
Jake Giovanucci, Dexter - Bowdoin
Mike Gustafson, Belmont Hill - Washington & Lee
Brett Harasimowicz, Duxbury - Middlebury
Mike Hogan, St. John's (Shrewsbury) - Wesleyan
Matt Perlow
, Marblehead - Bowdoin
Mike Tomaino, Gloucester - Bates
December, 21, 2010
12/21/10
3:08
PM ET
The Massachusetts High School Football Coaches Association announced its All-State team on Tuesday.
Eastern Mass Division 1 Super Bowl champion
Everett
led the way with three selections, with quarterback Jonathan DiBiaso, wide receiver Matt Costello and defensive back Manny Asprilla taking honors.
Here's the list of honorees:
OFFENSE
Quarterback
Jonathan DiBiaso
, Jr., Everett
Nick LaSpada
, Jr., Billerica
Tom Murphy, Sr., Northbridge
Running back
Isaiah Jones
, Sr., Mahar
Jamel Marshall
, Sr., Mansfield
Jordan Shairs
, Sr., Gloucester
Receiver
Matt Costello
, Sr., Everett
Richard Rodgers
, Sr., St. John's (Shrewsbury)
Offensive line
Lance Burlingame
, Sr., New Bedford
Jeff Covitz
, Sr., Reading
George Kallas
, Sr., Beverly
Obum Obukwelu
, Sr., BC High
Liam Porter
, Sr., Natick
DEFENSE
Defensive line
Brian Miller
, Sr., Andover
Zach Smerlas
, Sr., Lincoln-Sudbury
Chris Unis
, Sr., Gloucester
Linebacker
Seth DeMello
, Sr., Somerset
Dan Giovacchini
, Sr., Lawrence Academy
Matthew LeBlanc
, Sr., Wachusett
Mike Mercadante
, Sr., Minnechaug
Conor Wyand, Sr., Nashoba
Defensive back
Manny Asprilla
, Sr., Everett
Dan Johnson
, Sr., North Attleborough
Joe Colton
, Sr., Xaverian
Albert Louis-Jean
, Sr., Brockton
Brian Strachan
, Sr., St. Sebastian's
November, 24, 2010
11/24/10
11:11
AM ET
Correspondent Roger Brown is reporting that Natick High offensive lineman
Liam Porter
verbally committed to Boston College last night, according to Red and Blue head coach Mark Mortarelli.
Porter, the eighth-ranked overall prospect in the state, had just one Division 1 FBS scholarship offer, from the Eagles. He is the fourth in-state prospect for the Class of 2011 to commit to BC, joining Andover's
Brian Miller
, Everett's
Manny Asprilla
, and Lawrence Academy's
Max Ricci
.
After starting the season 4-0, the Red and Blue have won just two of their last six games, and head into their Thanksgiving matchup with archrival Framingham at 6-4.
A little more on Porter, per Scouts Inc.:

Porter flashes good run blocking skills, especially when asked to pull and trap; will need to improve his explosion and playing strength to compete against top BCS defensive linemen. Presently plays tackle with the size for the position at the major level of competition however his overall blocking skills appear better suited for the offensive guard spot. Shows good flexibility, balance and agility playing out of a three point stance; needs to improve his initial quickness and explosion coming off the ball; his pad level is too high but his good base and leg drive allow him to sustain and get movement. Flashes the quickness to get out of his stance when pulling; can seal up-field and locate defenders on the move showing the ability to play on his feet in space. With his athleticism and agility this guy has the potential to make all the necessary run blocks at the next level of play. His nimble feet should be an asset in pass protection; flashes good short set ability; can bend but all areas of footwork and hand use will need to be addressed. We see flashes of an attempt to finish blocks; what we would like to see is a nasty, more consistent attempt to dominate opponents. Presently Porter does not project high as a BCS prospect. However we like his size and athleticism; if his explosion, playing strength and finishing attitude improve, this is a guy worth watching.
More details to come later today.
August, 24, 2010
8/24/10
4:48
PM ET
By
Brendan Hall
| ESPNBoston.com
NATICK, Mass. -- Few swan song seasons went as well as Tom Lamb's in 2009, what with an explosive offense that put up more than 35 points a game headed into their Division 2 Super Bowl shutout defeat at the hands of Reading.
[+] Enlarge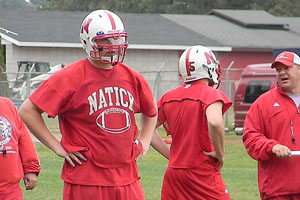 Brendan Hall/ESPNBoston.comSenior offensive tackle Liam Porter has an offer from Boston College and is considered one of the state's best run blockers.
The offensive-minded Lamb will be most known in his stints at Natick for his run with Doug and Darren Flutie in the early 1980's. But he always had a few tricks up his sleeve in his second run at Natick, and turned out quite a few players that went on to endure careers in the Division 1 ranks, from Billy Flutie to Reshaude Goodwyn to the McCummings brothers (Thad, Theo and current UConn freshman Scott).
A changing of the guard is in place. But while everything around the Natick locker room looks new, nothing's really changed.
Sure, new head coach Mark Mortarelli was the defensive yin to Lamb's offensive yang in his last 10 years as an assistant coach. But he seems to bring about the same encouraging calm that made Lamb such a respected coach in the community. It's still a bit surreal not seeing the ol' ball coach in the hallways -- "You're so used to hearing his voice in practice, it's a little weird," admitted tight end Andrew Siden -- but the machine isn't exactly broken. So Mortarelli's not making too many fixes.
"It's been easier than expected, because of the staff we have," Mortarelli said of the transition. "Everyone's coached with Tom, we've only got two new additions on the staff. But because Tom's still here...he's in the building, he's been a mentor to all of us, so he's always around if anyone has questions.
"But overall, I think the staff is so familiar with each other from over the years, that I don't feel like it's all on me. Everyone takes a piece of everything."
Meanwhile, the Red and Blue return just four starters -- two offensive (Siden, senior Liam Porter) and two defensive (Glen Duffy, Nick Parks) -- but they're four pretty good ones. Porter, a 6-foot-6, 300-pound road grater with deceivingly quality feet, holds a scholarship offer from Boston College (nothing new in Natick, eh?) and paved the way for Natick's stable of rushers to go off for nearly 2,800 yards a season ago.
"I think that he takes football very seriously," Mortarelli said. "He's not just a big mauler who wants to rely on just his size and speed. He really focuses alot on his technique."
Siden, at 6-foot-4 and 230 pounds, showed promise at the tight end spot in 2009 (257 receiving yards, four touchdowns) while playing through a hip injury, and will be a two-way presence this year at defensive end and h-back. Says Mortarelli, "He works out like a maniac."
Meanwhile, Glen Duffy, younger brother of leading tackler Kevin Duffy (123 tackles), is expected to be a rock at middle linebacker. "He's like another coach out there," Mortarelli said.
Last year's fateful ending, a 26-0 shutout in the snow at Gillette, hasn't been lost on these guys. "Even when I'm not in the weight room thinking about it, it's always on the back of my mind," Porter said. "It sits with you."
But to the rest of the team, Mortarelli suggests, it doesn't register quite as much, and perhaps it's to their benefit.
"I feel like we're almost starting so new now, that the kids are more into proving that we're not going to slide as a program," Mortarelli said. He added with a chuckle, "the coaching staff remembers, though."
At once, everything's new yet nothing's new around these parts.
NATICK AT A GLANCE
2009:
12-1 (11-0 Bay State), lost in Division 2 Super Bowl
Coach:
Mark Mortarelli (first year, 0-0)
Players to watch:
Glen Duffy, Sr., LB/RB, 5-10, 185 lbs. (54 tackles); Erik Swanson, Sr., TE/DE, 5-10, 185 lbs.; Liam Porter, Sr., OT/DT, 6-6, 300 lbs.; Andrew Siden, Sr., TE/DE, 6-4, 230 lbs. (10 catches, 257 yards, four touchdowns); James Smith, Jr., TB/DB, 5-9, 165 lbs.; Josh Cappadonna, Sr., DT, 6-0, 255 lbs.; Matt Manchester, Sr., FB/LB, 6-0, 200 lbs.; Nick Parks, Sr., NG/FB, 6-0, 205 lbs.; Faisal Kanaan, Jr., QB/DB, 6-0, 185 lbs.; Tim Dunn, Jr., OT/DT, 6-1, 235 lbs.; Nate Black, Sr., OG, 5-10, 200 lbs.
Strengths:
Size on offensive and defensive lines, senior leadership.
Weaknesses:
Experience at skill positions.
Outlook:
With the graduation of a truly star-studded cast of skill players, and just four returning starters, the Red and Blue will be returning to a more traditional offense, running out of the I formation and utilizing Siden in an h-back role. "We're going to run the ball between the tackles, control the ball and not turn it over," Mortarelli said. Personnel notwithstanding, there are no dramatic scheme changes on the defensive side of the ball. They'll still switch around from 5-3 and 4-3 fronts, only it's the front seven, not back, that will catalyze the unit, led by Duffy at linebacker. "We expect Duffy to be the best linebacker in the league," Mortarelli said. "The kids all respect him so much." Kanaan figures to be the incumbent starter at quarterback, but watch out for freshman Troy Flutie -- the son of Darren is competing for varsity playing time, and could enter the season as the backup.
July, 23, 2010
7/23/10
12:23
PM ET
By
Brendan Hall
| ESPNBoston.com
Good week for offensive linemen, at least in terms of publicity.
Yesterday, we told you about Dartmouth's Andrew Kestenbaum, a 6-foot-4, 300-pound senior who
could be getting some offers soon
. Today we present to you Natick's Liam Porter, who picked up a scholarship offer from Boston College in the last month and, according to his head coach Mark Mortarelli, has one potentially on the way from the University of Virginia.
The 6-foot-6, 315-pound senior (again, can't teach size) demonstrated a high potential for the Red and Blue last season, with the holes he paved for a hard-nosed stable of running backs. The Red and Blue were one of the state's most prolific offenses in 2009, averaging 32.9 points per game and finishing 12-1 after losing to Reading in the Division 2 EMass Super Bowl at Gillette Stadium.
"He has good, quick feet and nice long arms that colleges like to see when they look at offensive linemen," Mortarelli told correspondent Roger Brown. "He also has a nasty streak that's beneficial when you play football. He competes on every play. He likes to be the top dog out there. There were games last year when we rode him up and down the field all night."
Brown has more about Porter on his recruiting
blog
.