Boston High School:

Lou Marinelli
November, 6, 2011
11/06/11
11:06
PM ET
By
Roger Brown
| ESPNBoston.com
His name is Casey Cochran, and he's the most prolific quarterback who's ever played high school football in Connecticut.
Cochran, who's in his senior season at Masuk High School in Monroe, owns the state record for career passing yards (9,797), career completions (573) and career touchdowns (104). He passed the century mark in touchdown passes when he threw for five touchdowns in a 55-6 victory over New Milford on Oct. 28.
Cochran guided New London High School to Connecticut's Class SS title in 2008 before he transferred to Masuk. His father, Jack, coached that New London team. It's one of eight teams Jack has guided to a CIAC state title (he's tied with New Canaan's Lou Marinelli for most state titles by a Connecticut head coach).
Cochran helped Masuk win the Class L title last season, when he passed for 3,345 yards and 40 touchdowns (seven interceptions). Following his junior season he was named Connectcut's Gatorade Player of the Year. Cochran has completed 88 of 111 passes for 2,097 yards and 29 touchdowns in eight games (all victories) this season. Masuk extended the program's winning streak to 21 games by beating Pomperaug 49-3 on Saturday night.
Cochran recently spoke with ESPNBoston.com and was asked him about his passing records, his decision to attend the University of Connecticut and the possibility of winning another state championship this season:
Q: You've set quite a few records this season. Are you proudest of one more than the others?
[+] Enlarge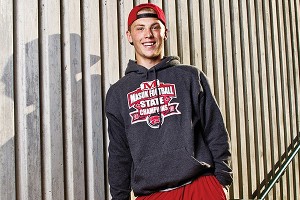 Christopher Beauchamp/ESPNHSMasuk (Conn.) QB Casey Cochran recently eclipsed the 100-touchdown-pass plateau for his career and is the state's all-time leader in scoring passes.
A: "Not necessarily. Coming into the year I had heard that there were a couple records coming up, but I tried to keep my mind away from them. I've found that not looking at the stats and just going out and playing, going out and winning games, you'll eventually get there. So my mindset has kind of shifted. Early in my career it was all about getting the best stats, the awards and everything. Quarterbacks are measured too much about their stats. I feel like wins are a lot more important than how many yards you threw for … how many touchdowns you threw. Completion percentage is also very important. There are a lot of guys who go out and throw 50 touchdowns, but they might have only completed 50 percent of their balls. I think a high completion percentage and winning percentage are the true stats people should look at."
Q: What do you consider your strength to be as a quarterback?
A: "I believe accuracy, and I believe reading coverages. That's what it's come down to the past two years – reading coverages and putting the ball where it needs to be. Getting my offense out of plays that can't work versus a defense pre-snap, and getting it to the right receiver post-snap."
Q: What was it like to play for your father and how much has he contributed to your success growing up as a football player and as a quarterback?
A: "It was a great experience playing for my father. Not many kids get to play for their father at a high level in high school. He instilled a great work ethic in me and that really carried through into my years in high school. He's taught me to have a great work ethic in everything I do -- not just in sports. If you're gonna do something, do it right. That's really rubbed off on me. I've taken that stuff to heart, and I really think that all my accomplishments have come down to hard work. He's really helped me a lot in both aspects – work ethic as well as learning the game."
Q: Are you still on pace to graduate from high school in December?
A: "Yes, and I'm supposed to start up in Storrs in January as well."
Q: What were some of the things that sold you on Connecticut as a college and a football program?
A: "First of all, it's the home-state team. It's really an honor to play for your home state. The coaching change (Connecticut hired Paul Pasqualoni to replace Randy Edsall when Edsall became Maryland's head coach). I believe Coach Pasqualoni is a very good coach. I really like the coaching staff and everyone on it. I got closer with them during the offseason, so it was a very easy choice once the [scholarship] offer came."
Q: Are you concerned at all with all of the conference reshuffling? Is that troublesome to you at all?
A: "No. I've been trying not to worry about it too much during the season. I made a commitment to Coach Pasqualoni and the UConn football team. I trust that the athletic director, the UConn president as well as the Big East commissioner will put UConn and entire Big East in a great position."
Q: Is this year's team the best team you've played on.
A: "I think every year has been a little different. I think this year we're very tight-knit as an offense. We have a lot of timing. We've done a lot of work together. Being able to do passing leagues in the winters and the summers and just the work we've put in in the offseason has contributed to us being a great offense this year. Our running back, Colin Markus, is a great runner, and he sets up a lot of our passes. The play action is when he's running so hard and the defense tends to come up a little bit. That's when we can get over the top. Our O line, coming into the year they were a pretty young O line, but they've stepped it up. As an offense together we really work together well and a lot of hard work is paying off for all of us."
October, 26, 2011
10/26/11
1:22
PM ET
By
Roger Brown
| ESPNBoston.com
We're starting off this week with five games to watch during Week 7 of the Connecticut high school football season:
DARIEN (6-0) at STAPLES (5-0), Saturday, 10:30 a.m.

This may be the most important game during the FCIAC regular season, since the winner will have an excellent chance to reach the FCIAC championship game Nov. 18 at Trumbull.
Darien overcame an eight-point deficit in the final minute and remained unbeaten by defeating Wilton 35-34 in double overtime last weekend. The Blue Wave has outscored its opponents 178-94 this season.
Staples has given up more than 16 points once in its five games and has allowed 64 points this season.
HILLOUSE (4-2) at XAVIER (6-0), Friday, 7 p.m.
Xavier quarterback Tim Boyle is expected to return from a shoulder injury suffered in Week 1. Boyle, junior, has scholarship offers from Boston College and Syracuse.
The Xavier defense has allowed 34 points (three shutouts) this season. Cheshire is the only team that has scored more than seven points against Xavier.
Hillhouse has won four in a row and nearly knocked off an unbeaten Xavier team last year (9-6). Hillhouse has scored 182 points during its four-game winning streak.
WEST HAVEN (5-1) at HAND (6-0), Friday, 7 p.m.
Intriguing matchup between a team from Class LL (West Haven) and a team from Class L (Hand). Both teams have scored 214 points through six games.
West Haven has won two in a row since suffering its only loss against Notre Dame-West Haven (28-15). The Blue Devils have scored at least 28 points in each of their five victories, but will be facing a defense that has surrendered 55 points all season.
MASUK (6-0) at NEW MILFORD (3-3), Friday, 7 p.m.
Masuk, the No. 2 team in ESPN Boston's New England Top 10, has been an offensive machine, scoring at least 49 points in each of its six victories, but has done so against opponents that are a combined 6-30. Masuk quarterback Casey Cochran, who has committed to the University of Connecticut, needs three touchdown passes to reach 100 for his career.
Things figure to get a little tougher for Masuk this weekend. New Milford has won three of its last four and has scored 106 points in those three victories.
COGINCHAUG (5-0) at VALLEY REGIONAL/OLD LYME (5-0), Friday, 6:30 p.m.
A matchup between unbeaten Class S teams that have each been playing excellent defense.
Coginchaug has won three games by shutout, and Valley Regional/Old Lyme has outscored four opponents 172-14 since opening the season with a 48-47 triumph over North Branford.