Boston High School:

Lou Silva
November, 2, 2013
11/02/13
12:12
AM ET
By
Phil Garceau
| ESPNBoston.com
HYANNIS, Mass. -– Blink and you might miss it.

That sums up the opening minutes of the Division 2 South matchup between Marshfield and Barnstable.

The Red Raiders scored two touchdowns in the first six plays from scrimmage, and never looked back, going on to knock off Marshfield 48-29.

Junior running back Justus Chaffee set the tone early, breaking out a 49-yard touchdown scamper on the fourth play of the game. Two plays later, senior Hayden Murphy picked off Rams quarterback Jack Masterson and returned it to the house to give the home squad a 14-0 lead less than three minutes in.

"Our starters performed well," said Barnstable head coach Chris Whidden. "We saw this team before and we were pretty well-prepared and they executed."

Marshfield had no answer for the Raiders duo of Chaffee and Murphy. The two combined for 339 yards on the ground and five rushing touchdowns. And they owe it all to their offensive line that had their way to the Marshfield front four.

"Our line dominated from the first snap," said Murphy. "We were able to run the ball like we wanted to. I give all the credit to the line, they did a fantastic job."

After turnovers by both teams, Masterson directed a nine-play, 85-yard drive midway through the second quarter and scored on a 10-yard scramble to make it a game again, but it was all Barnstable after that.

Hayden Murphy scored on touchdown runs of seven and one yard to give Barnstable a 28-7 lead going into the half.

Whatever adjustments that were made at the half didn't work either as Clyde Perry picked off Masterson's pass on the second play of the third quarter and returned it to the Rams 7-yard line, setting up Kristian Lucashensky's seven yard scoring run.

"We got beat up on both sides of the ball plus the turnovers," Rams coach Lou Silva said. "That's not a good formula. You can't do that in these types of games."

Holding a 35-7 lead early in the third quarter, the Raiders run game took over, and more importantly kept the clock running. A 50-yard punt return from Derek Estes down to the Marshfield 1-yard line set up Murphy's fourth touchdown of the game.

Marshfield needed a miracle and caught a glimmer of hope. The Rams special teams blocked two punts giving them the ball deep in Red Raider territory but were only able to capitalize on one drive, a 14-yard hookup between Frank Catamoso and Masterson.

That's when Chaffee took it upon himself to crush all hopes of a comeback when he broke loose for a 49-yard scoring run. The shifty 5-foot-7 back ran into the pile and somehow came out on the other end looking like he was shot out of a canon.

The Murphy-Chaffee show: Murphy ran 196 yards on 20 carries. Chaffee added another 145 on 11 carries. Six touchdowns, an interception and a big third down sack.

Marshfield simply had no answer for the two seniors. The pistol offense that the Red Raiders run compliments both runners. With the windy conditions both teams had to tweak their game plans a bit. But Barnstable picked a good time to have their best run game of the year.

"It doesn't happen if Chaffee isn't as dynamic as he was," Whidden said. "I cant over estimate the effect that Justus has. When Justus runs like he did today, now all of a sudden they have to key Justus just as much as they do Hayden."

The Raiders offense is very balanced and will give defensive coordinators fits. Try to take away one tailback, the other will get you. Sell out against the run game, and Lucashensky will make you pay.

Which leads us to our next point...

Can we just fast-forward to next week? "Every time you win, your reward is a tougher challenge."

Whidden's words couldn't be any more accurate. Next week, Troy Flutie and company come to town. Pass-happy Natick will make the trip to meet Derek Estes' pass defense.

There is no easy matchup in this loaded Division 2 South bracket. The Raiders defense will be put to the test against this high-octane offense.

Estes is one of the top coverage cornerbacks in the state, and leads a stingy defense that doesn't like seeing the ball thrown on them.

Murphy is looking forward to the challenge. "How do you prepare for Flutie? We'll work on that tomorrow. I'm confident we can beat any team in the state."

Whidden is just as confident. "If we put our best foot forward, we can play with anybody."

No matter the outcome, the game will not disappoint.



No. 7 Barnstable 48, Marshfield 29
M 0 7 7 15 -- 29
B 14 14 13 7 -- 48

First Quarter
B - Justus Chaffee 49 run (kick fail), 9:24
B - Hayden Murphy 35 interception return (Derek Estes pass from Kristian Lucashensky), 8:34

Second Quarter
M - Jack Masterson 10 run (Aaron Skulky kick), 5:58
B - Murphy 7 run (kick failed), 4:04
B - Murphy 1 run (Mike Bilodeau pass from Lucashensky), 0:00

Third Quarter
B - Lucashensky 7 run (rush failed), 9:26
B - Murphy 1 run (Dereck Pacheco kick), 6:20
M - Masterson 6 run (Skulky kick), 2:13

Fourth Quarter
M - Frank Caranoso 14 pass from Masterson (Skulky kick), 5:15
B - Chaffee 49 run (Pacheco kick), 4:19
M - Jacob Maher 17 pass from Troy Rodrigues (Jeff Keans pass from Rodrigues), 0:06

October, 26, 2013
10/26/13
12:50
AM ET
By
Phil Garceau
| ESPNBoston.com
MARSHFIELD, Mass. -– The playoffs started a week early for the Dolphins and Rams as both squads we looking at similar situations. Win and your in. A loss and it gets, murky, to say the least.

And if this game is any indication of how the rest of the playoffs will go, buckle up.

After Marshfield took a 36-33 lead with 3:04 left on the clock, Spencer Tyler drove him team 82 yards in 10 plays in just under two minutes, hitting Cory Desimone for an eight yard score to give the Dolphins a thrilling 40-36 victory over rival Atlantic Coast League rival Marshfield.

"They battled from start to finish," said D-Y coach Paul Funk following the game. "There were so many times we could have folded our tent. That's a heck of a team over there and we just battled and battled and battled."

The Rams got the ball back at their own 35 with 1:22 to play and made every second count.

Jack Masterson guided the Rams to the D-Y 11 yard line with two seconds to play, going 4-for-6 for 44 yards. With time for one final play, Masterson threw it up for Dan Dalton but the pass fell incomplete and the Dolphins faithful erupted.

"The kids were battling like crazy," said Marshfield coach Lou Silva. "To consider yourself a player you got to make plays and in that second half a lot of our kids made plays."

Following the final Rams score, Michael Dunn (8 rush, 72 yards) returned the kickoff 75 yards, but the play was negated due to a holding penalty. Tyler (20-35, 282 yards 4 TDs; 10 rush 93 yards) set up shop at his own 15 and went 3-for-8 on the drive for 55 yards. He connected with L.K. Metz for a 40 yard strike and a huge defensive pass interference on Marshfield on third down in the end zone gave D-Y the ball at the six yard line and a fresh set of downs.

"We just knew we had to be confident," said Tyler about the final drive. "We knew our offense was clicking so we were all very confident."

"That's a lot for a high school kid to have that compsure," offensive coordinator Joe Jamiel said of his senior quarterback. "He made a great read and a great throw."

After the teams exchanged touchdowns on the first six drives, the Dolphins began to pull away toward in the third quarter. After stopping the Rams on three consecutive drives, Tyler hit Andrew Jamiel for a 24 yard score with 5:08 to play giving D-Y a 33-21 lead.

The Rams responded with a three yard score from Ben Joyal that was set up by a Jack Masterson 47-yard hookup with Dalton cutting the lead to 33-28 with 7:20 to go.

After an unsuccessful onside kick, the Dolphins took over at midfield but Tyler fumbled the snap and Marshfield took over with a short field. Marshfield marched downfield and took the lead on Joyal's three yard run, but left too much time for the D-Y offense.

"I'm just really proud of how hard our coaching staff and players worked this week," said Funk. "We worked 27/7 for this game."

Hot Start: The first defensive stop didn't come until 3:07 of the second quarter. Marshfield took their first three drives and marched 76, 68 and 41 yards for touchdowns. The Dolphins were nearly identical, going 76, 68 and 67 yards.

The Dolphins didn't bring out their punter, Liam Matheson until the fourth quarter.

Whoever draws these two squads in the postseason will have their hands full. After back-to-back losses earlier in the season, the Dolphins are averaging 41.5 points per game and have scored over 40 the last three.

"He's (Tyler) grown leaps and bounds," said Jamiel. "He has the ability to see the field and make the right decisions. He's really come a long way."

The Dolphins don't know who'll they'll have in the Division 4 South playoffs until Sunday at the earliest. But the way the Dolphins are playing right now, good luck to who gets the unlucky draw.

"We'll practice hard all week and whoever we play, we'll be ready for them," said Dunn.

Marshfield on the other hand, may need some help to get into the Division 2 South playoffs. A win would have cemented themselves in the playoffs. If they do get in, it will be another tough draw for their opponent. Marshfield is averaging 31.8 points in their last five games, but more dangerously, their composure in close games makes them stand out.

Two last second victories over Nauset and Plymouth North and then went punch for punch with D-Y makes them dangerous.

"Winning those two close games boosts the kids confidence," said Silva. "It tells me we have some battlers. Kids that aren't going to give and battle to the last whistle."

Michael Dunn. Playmaker. Dunn's athleticism, strength and speed gives him a unique ability to change the outcome of a game on his own. Weather is be on offense, defense or special teams there is no way to stop him. At least the Dolphins opponents haven't figured out a way yet.

After the Dolphins turned the ball over in the first quarter, Dunn picked off Masterson to swing the momentum back. After a fumble early in the second half, Dunn picked off Masterson again; refusing to lets the Rams capitalize off the D-Y miscues.

He returned a kickoff in the final minutes, albeit negated from a holding call when D-Y was on the brink and he blew by the Rams defensive backs a handful of times, creating the home run play. Opening up the deep threat also opens up other options, such as Mike Anderson, Jake Pawlina and rising star Andrew Jamiel.

As long as Dunn is healthy, and Tyler is under center, D-Y can go toe-to-toe with any team in the state.


No. 23 D-Y 40, Marshfield 36
DY 13 14 6 7 -- 40
MA 14 7 0 14 -- 35

First Quarter
M - Robert Rovito 56 run (Aaron Skulky kick), 9:15
D - Corey Desimone 2 run (Drew Tardiff kick), 8:05
M - James Marzelli 4 run (Skulky kick), 3:55
D - Michael Dunn 34 pass from Spencer Tyler (kick blocked), 1:15

Second Quarter
M - Jack Masterson 9 run (Skulky kick), 7:55
D - Dunn 43 pass from Tyler (L.K. Metz pass from Tyler), 5:50
D - Tyler 43 run (kick fail)

Third Quarter
D - Andrew Jamiel 24 pass from Tyler (pass failed), 5:08

Fourth Quarter
M - Ben Joyal 3 run (Skulky kick), 7:20
M - Joyal 3 run (Masterson rush), 3:04
D - Cory Desimone 8 pass from Tyler (Tardiff kick), 1:22

November, 16, 2011
11/16/11
5:19
PM ET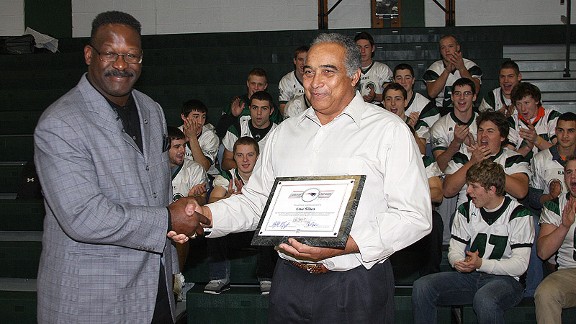 Courtesy of New England PatriotsMarshfield head coach Lou Silva, right, was honored as the New England Patriots Coach of the Week after earning his 200th career victory.
Marshfield High School's Lou Silva has been named the New England Patriots High School Football Coach of the Week after earning his 200th win with his team's 35-7 victory over Falmouth High School on Thursday, Nov. 10. Silva is the 45th coach to reach the 200-win plateau. It was also a historic night for quarterback Mark Pomella, who set the school record for single season passing yardage. The Rams got on the board early, returning the opening kickoff for a touchdown en route to the team's seventh win.
The New England Patriots Charitable Foundation will donate $1,000 to Marshfield High School's football program in Silva's name in recognition of his Coach of the Week selection.
Patriots and Pro Football Hall of Fame linebacker Andre Tippett, the team's executive director of community affairs, visited Coach Silva and his team on Tuesday, Nov. 15 at Marshfield High School. The visit and check presentation will be featured on the team's weekly television magazine show, Patriots All Access, which airs at 7 p.m. on Friday, Nov. 18 on WBZ-TV in Boston and later on Patriots.com.
This season marks the 16th year in which the Patriots have joined the National Football League in conducting the High School Coach of the Week program, which recognizes outstanding high school coaches and promotes youth football throughout New England. Tippett oversees the program as part of the New England Patriots Charitable Foundation's commitment to youth football initiatives.
"It was a pleasure to visit with Coach Silva and his players after the Rams' milestone victory," said Tippett on Tuesday. "Coach Silva preaches that you play the game the way you practice and that was certainly on display last week as the team got off to a fast start and never looked back. The Patriots are proud to offer our congratulations and present this week's Coach of the Week Award to Coach Silva and the Marshfield football program."
At the conclusion of the season, one high school coach will be named the New England Patriots High School Coach of the Year and will receive an additional $2,000 contribution toward the school's football program.
In previous years, Tippett has invited the Coach of the Week and senior captains for a visit to Gillette Stadium, but decided to take the award on the road in 2011 so he could visit the schools that benefit from the program. This year is also the first year the Patriots will accept nominations for High School Coach of the Week. Anyone who knows a high school football coach in New England who has a great week or reaches a personal career milestone is encouraged to submit a nomination at nominatecoach@patriots.com.
November, 12, 2011
11/12/11
3:21
AM ET
It started on Sept. 20, 1981, in a 13-7 win over Cohasset, and now 199 wins later, Marshfield football head coach Lou Silva sits on career win No. 200, following the Rams' 35-7 win over Falmouth Friday night.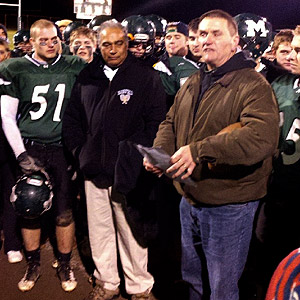 Jeremy Silva for ESPNBoston.comMarshfield High School principal Bob Keuther presents football head coach Lou Silva with a game ball following the Rams' 35-7 win over Falmouth on Friday night, giving Silva his 200th career win.
Quarterback Mark Pomella set the tone for the win, setting the Marshfield school record for a passing yardage in a single season, breaking a 25-year-old mark (1,274 yards). Pomella completed four of five pass attempts for 88 yards and two touchdowns, bringing his yardage total for the season to 1,286 yards with one game to play. The previous record was held by Sean Finucane.
The Rams ran out to a 35-0 lead by halftime, but the shutout bid was dashed in the third quarter. Brian Mey returned the opening kickoff 85 yards for a touchdown. Sean Camire hauled in both of Pomella's touchdown passes.
Silva's career record now stands at 200-121-12.
October, 15, 2011
10/15/11
2:21
AM ET
By
Brendan Hall
| ESPNBoston.com



MARSHFIELD, Mass. -- Tommy Kennedy had tasted an elusive victory over longtime Atlantic coast power Marshfield once before, as a member of Dennis-Yarmouth's freshman team. But tonight's victory, amidst the mud on a soggy night at James Anderson Field, is in its own classification.

"Freaking nothing like this, never ever," the senior two-way lineman beamed, moments after his Dolphins shut out the Rams 14-0 to control their destiny in the Atlantic Coast League. "First time doing it on the varsity field, nothing better, nothing better."

It's the first time the Dolphins (6-0, 3-0) notched a victory over Marshfield since head coach Paul Funk took over in 2001. And considering the Dolphins had won a total of six games in the 1990's before the former Everett assistant took over, we'll just assume it's been quite a while altogether.

"It's a big win," Funk said. "These kids sold out, they gave it everything they had, I give them all kinds of credit in the world. They're a great group, they've practiced hard all week, and they took it to them. They won that game for us. I said it to these guys up front, offensive and defensive lines, they played great."

Indeed, on a night sprinkled with on-again, off-again rain showers, muddying the long grass, the undersized D-Y linemen controlled the line of scrimmage, paving the way to 163 first-half rushing yards (230 overall) and another night with over 200 yards of offense from gritty quarterback Matt Montalto (22 carries, 148 yards, TD; 6 of 13 passing, 82 yards).

On each of their first two drives of the games, the Dolphins marched all the way down the field on long drives to make it 14-0. They went 80 yards in 15 plays and six minutes on their first one, punching it in from four yards out on a dive from fullback Joe Furness. The second time down, thanks to some generous field position, Montalto capped a 12-play, 55-yard drive with a one-yard sneak for the 14-0 score with 4:33 to go in the half.

"Best running back we have," Kennedy laughed of the 5-foot-10 Montalto, whom he opened holes up the middle for tonight. "I'm glad I don't have to tackle him. He's slippery, he's fast, he'll run through you, he'll juke you out, he'll stiffarm you, he'll do anything."

Meanwhile, the Rams (3-3, 1-1) were held to 39 yards of offense in the first half, and were unable to punch in any of their scoring opportunities. Twice, the Rams turned the ball over on downs inside the D-Y red zone. A third time, on the Rams' opening drive of the second half, quarterback Mark Pomella was picked off by free safety Damion Johnson on a fade down the right sideline. Playing a deep Cover-2, Johnson read Pomella's eyes and broke towards the near pylon, plucking the ball out of the air and charging upfield 20 yards before getting pushed out.

Keying Johnson: Based on the defensive sets the Rams rolled out, it appears head coach Lou Silva was erring on the side of caution when it came to respecting the Dolphins' vaunted pass game. D-Y utilizes three and four-receiver sets to set up underneath and crossing routes, as well as quick screens to the flats; but they are at their most dangerous when getting the 6-foot-2 Johnson -- considered one of the state's elite jump-ball receivers -- loose in space.

With the Rams taking a linebacker or two out of the box, that opened up the middle of the field for dives and isolation plays. With the linebackers playing gaps and the linemen conversing playing their lanes, that opened up the running game in between the hashes, evidenced by the 230 yards rushing.

Montalto didn't go as vertical in the passing game as he's done in past games. But when he did, he targeted Johnson four times for passes of 10, 12, 20 and 17 yards. The first three were seven-yard skinny posts, hitting him square in the chest. The fourth turned out to be one of the game's most crucial play, a 12-yard out route to the right sideline on third and four that gave the Dolphins a fresh set of downs with less than five minutes to play.

"We just wanted to see if we were getting single coverage with him, that's all," Funk said of the strategy.

Little guys get it done: Few personify D-Y's modus operandi on defense as well as Kennedy. He's generously listed at 5-foot-10 and 215 pounds, and sports a thick mohawk, but admits he's more like 5-6, 205, pointing to his stomach and cracking, "I've got some meat."

Like many members of the Dolphins' front seven, Kennedy doesn't intimidate with his physical appearance. But he is quick, and was as key a contributor as any in shooting the inside gaps and preventing the Rams from breaking off long runs up the middle (they never pulled off a run from scrimmage of more than 12 yards).

Deploying a 50 Slant Angle defensive front -- favored against Wing-T schemes like Marshfield's, for its ability to load the box without bailing on pass coverage -- made guys like Kennedy and equally-diminutive defensive end Matt Quatrucci (5-foot-8, 160 pounds) look like playmakers. They'll likely get passing marks for the way they helped bottle up a sound rushing attack led by Mike Williams, Ryan Talanian and quarterback Mark Pomella.

"They're tough, hard-nosed kids," Funk said. "That old saying, it's not the size of the dog in the fight, it's the size of the fight in the dog. They got it, they got it. They're tough."

Said Kennedy: "I'm powerful, man. I can push them around. But usually [for me], that's what it's about, shooting the gaps. I've got one gap, the linebacker's looking at the other, and the rest is history."

Staying on the field: Perhaps the best example of how efficient the Dolphins were in the run game tonight was by how well they did at keeping the chains moving. The Dolphins converted 7 of 11 third downs on the night, including five of their first six.

DENNIS-YARMOUTH 14, MARSHFIELD 0
D-Y (6-0, 3-0) 7 7 0 0 --- 14
MSH (3-3, 1-1) 0 0 0 0 --- 0

First Quarter
Joe Furness 4 run (John Terrio kick) 3:12

Second Quarter
Matt Montalto 1 run (Terrio kick) 4:42
October, 9, 2010
10/09/10
11:26
PM ET
By
Neil Carroll
| ESPNBoston.com
WESTFORD, Mass. -- The mettle of the Westford Academy Grey Ghosts was tested in the fourth quarter but the team responded accordingly and held off the visiting Marshfield Rams, on their way to a 27-13 victory on Saturday night.

Marshfield pulled to within seven points of No. 20 Westford after head coach Lou Silva dialed up a 44-yard touchdown on a double-pass from Charles LaPaglia to Jonathan Fraser early in the fourth quarter. But after that score the Grey Ghosts showed their grit.

On its next offensive possession, Westford's drive came to a third and 14 in Marshfield territory when quarterback Patrick Dugan tossed up a 34-yard touchdown to Mark Cornelius. The touchdown stretched the lead back to 14 and put an end to any chances Marshfield had at a comeback.

"Toward the end we knew we needed a score going down the field to ice the game," Dugan said about the final touchdown. "After a blown coverage on my behalf…[Mark Cornelius] and I knew we needed to step up, make a play and get the job done."

The game marked the return of a healthy Cornelius to the Grey Ghosts' lineup after he was limited in the last two games due to injury.

The receiver helped spread the field for the Westford offense and finished with two catches for 78 yards and one touchdown. He also added an interception on the last play of the first half.

"We knew it was cover zero coming in, so we knew they were going to play us man-to-man and took it a little personally," Dugan said about the connection between he and Cornelius.

Dugan completed 6 of 10 passes for 141 yards and three touchdown passes to three different receivers as the offense had an all-around solid night.

The Grey Ghosts defense was no slouch either.

The Rams struggled to get past the front-seven of Westford's 3-4 defense. On the defensive line Mike Mizzoni, Joe Donnelly and Scott Herald stuffed the gaps and linebackers Zach Ingalls, Ethan Stokes, Mark Hennessy and Cam Martin made the stops.

"We tried to play hard-nosed defense and smash them as much as we can," said Mizzoni. "Its just a lot of reacting from what they do."

Marshfield ended the game without a player running for more than 30 yards on the night.

"Our front seven has done a great job all year," Westford head coach Rich McKenna said of his defense. "Last year, our run defense was a little suspect so all the kids took offense to it and are really trying to prove everyone wrong."

Ingalls played big at outside linebacker for Westford but was also a dependable running option on offense. The senior captain played multiple positions on offense for the Grey Ghosts and finished the game with 13 carries for 58 yards and a 25-yard touchdown catch. He also had an 85-yard kickoff return touchdown on the opening kickoff.

"Zach Ingalls is an awesome football player and we are blessed to have him," McKenna said. "The kid just has a non-stop motor."

Both teams struggled on special teams. Westford blocked a punt and a point after touchdown attempt and Marshfield blocked a punt as well.

M - 6 0 0 7 - 13
W - 7 7 6 7 - 27

First quarter
W - Ingalls 87 kickoff return touchdown (Justin Mount kick)
M - Bryan Mey 7 run (kick blocked)

Second quarter
W - Ingalls 25 pass from Dugan (Mount kick)

Third quarter
W - Mount 31 pass from Dugan (kick failed)

Fourth quarter
M - Fraser 44 pass from LaPaglia (Brendan Doherty kick)
W - Cornelius 34 pass from Dugan (Mount kick)
September, 17, 2010
9/17/10
1:28
AM ET
By
Neil Carroll
| ESPNBoston.com
SUDBURY, Mass. – The difference in the final score was seven points in favor of Lincoln-Sudbury on Friday night, but the game really was decided by six inches.

On a critical fourth down, with one minute and 23 seconds left in the fourth quarter, L-S needed six inches to get a first down and lock up a victory over Marshfield. The Warriors lined up in a tight Wing-T set, and Marc Pace ran the ball off the right side for less than a yard.

The referees brought the chains over for a measurement and awarded L-S with a fresh set of downs to burn off the remaining time on the clock and take a 14-7 win.

"You have to give Lincoln-Sudbury their due," Marshfield head coach Lou Silva said. "They played a lot better than we did and they deserved to win."

The game was a prototypical defensive struggle, but L-S broke through in the fourth quarter.

With 2:13 remaining, the Warriors had the ball on the Marshfield 12-yard line and, surprisingly, went with a fade to the corner of the end zone into double coverage. Quarterback Matt Cahill lofted the ball up and fellow-junior John Harris brought it down one-handed against his chest for the touchdown catch.

The Warrior sideline erupted as the team took the lead for the first time in the game.

"It's indescribable when you catch it like that," Harris said of the play. "It was late in the game and the team really needed it. As an offense, we marched and marched but were stopped, and our defense was stopping them. Our offense made some mistakes, but we stepped up in the end."

Harris finished the night with three catches for 78 yards, including a 58-yard touchdown catch. Cahill passed for 96 yards, completing 6 of 11 attempts with two touchdowns and two interceptions.

For L-S, the offense wasn't pretty. But in the end, got the job done.

"We have an inconsistent offense," said L-S coach Tom Lopez. "We really haven't found ourselves as a team. Part of it's my fault bouncing between two offenses…but we just haven't gelled yet."

Marshfield's offensive unit was just as inconsistent.

The visiting team scored its only touchdown of the night on Michael Williams' 8-yard touchdown run in the second quarter. Williams finished the night with five carries for 58 yards and did not touch the ball in the second half.

Most of Marshfield's offense was piled up by senior running back Tom Pomella. The fullback gained 78 yards on 11 carries for the Rams.

However, the Warriors defense was outstanding. The group was led by junior Tyler Daway at linebacker, and seniors Zach Smerlas and Lawrence Stevenson on the defensive line.

Daway sacked Marshfield's Mark Pomella once in the second quarter on a key fourth down, and then on a third down in the third quarter, as the Rams offense seemed to be putting things together.

"There is no way to describe how it feels as a quarterback to know that if your offense stalls out, as a team, the defense is going to go out there and get the ball back," Cahill said about the defense.
September, 12, 2010
9/12/10
1:39
AM ET


MARSHFIELD, Mass. – Jonathan Fraser was Mr. Opportunity on Saturday. When the opportunities came knocking in Marshfield's season-opener versus Dracut, Fraser seized upon them.

After falling behind 7-0 to the Middies, it came on a play call that was a variation of the old halfback option pass. Later, it came on a loose ball Fraser scooped up and took 68 yards to put the Rams on top.

In a microcosm, Fraser's contributions were telling of how Marshfield claimed its 33-20 win. The Rams made plays and Dracut was the team shooting itself in the foot.

"We didn't know what to expect tonight," Rams head coach Lou Silva said. "Based on last year and what we had coming back, we really weren't sure. I was really proud of our kids tonight. There were a couple of times they could've folded, but they hung in there."

Marshfield (1-0), the defending Eastern Mass Division IIA champions, lost 24 players from last year's squad and will rely on players like Fraser to make plays this season.

The first chance to do so came on a pass from Charles LaPaglia — the Rams' starting tight end. LaPaglia split out wide and took a swing pass from quarterback Mark Pomella. He then faked the run, pulled back and hit Fraser in stride for a 35-yard touchdown.

"We practiced that play all week," Fraser said. "We knew it was coming. There's a little pressure to think about having the ball in the air all that time, but we nailed it.

"We've run variations of it [in the past], but I didn't think they were expecting for our starting tight end to be able to throw the ball that far."

Fraser made his next big play on the ensuing drive, a 68-yard fumble recovery for a touchdown.

"Our middle linebacker Joe Hastry made a nice strip on the ball and it came right up to me," Fraser said. "It was a like a routine ground ball, then I just had to beat that guy to the end zone."

Marshfield held a 20-7 halftime lead despite accruing just 64 yards of total offense in the first half.

But Dracut (0-1) looked poised for a comeback at the start of the second half. Senior quarterback Matt Silva hooked up with running back Keith Hamel on an 81-yard touchdown on the first play from scrimmage of the third quarter.

Silva accounted for each of the Middies' three touchdowns (two passing, one rushing) while completing 16 of 25 passing attempts for 267 yards. He also registered 16 carries for 72 yards.

But the Rams' bend-but-don't-break defense held just enough to secure the win, creating turnovers at opportune times — such as Fraser's fumble recovery and a fourth-quarter interception by LaPaglia to stall a promising Dracut drive.

"We just wanted to make them work for it," Silva said. "We knew that they were going to move the ball, we just didn't want to give them home runs. But they did have two of them."

Running back Brian Mey, who also had an interception, added two second-half touchdown runs to put the game out of reach.

For Dracut, there were just too many miscues to win.

The Middies muffed a punt return (with a Marshfield recovery by Zackary Pappas), which led to the first Rams' touchdown, and also had a punt blocked (by LaPaglia — what didn't he do?) that set up a drive which yielded a 5-yard Tom Pomella touchdown run.

"We had a punt blocked, we had a muffed punt, there were too many mistakes," said Jason Houston, who was coaching his first game as the Middies' helmsman. "They came back and scored off of those mistakes and if you looked at the scoreboard, it made a difference in a big way."