Boston High School:

Luc Valenza
July, 1, 2013
Jul 1
5:53
PM ET
FIRST TEAM
G – Nick Marrocco, Jr., Duxbury
In his first season starting between the pipes for the Dragons, Marrocco was named an Eastern Mass. All-American while averaging 13 saves per game. Also a standout hockey player during the winter season, Marrocco is committed to Georgetown and was named Most Valuable Player of the bostonlax.net All-American game.

D – Rob Breed, Sr., Xaverian
One of the galvanizing forces behind the Hawks' run to the program's first state lacrosse title, the Eastern Mass. All-American was tasked with shutting down the opponent's top attacks.

D – Ben Cox, Sr., Medfield
Named the Tri-Valley League's Defensive Most Valuable player, Cox was a four-year member of the lacrosse team and part of back-to-back MIAA Division 2 state championship lacrosse teams. During the winter, Cox finished second on the Warriors hockey team in scoring, posting 12 goals for 38 points in 21 games. He will continue his lacrosse career at the University of Vermont.

D – John Sexton, Jr., Lincoln-Sudbury
The Notre Dame commit was a jack of all trades for the Warriors this season, taking faceoffs, playing on man-up situations and providing lockdown defense. Sexton was named an Eastern Mass. All-American and is a three-time Dual County League All-Star.

LSM – Nick Brozowski, Soph., Concord-Carlisle
A ground ball machine, the Maryland commit was named an Eastern Mass. All-American in addition to Dual County League All-Star honors.

M – Dan Delaney, Sr., Lincoln-Sudbury
The Eastern Mass. All-American tallied 38 goals and 20 assists while leading the Warriors to a Division 1 final appearance. Delaney will continue his lacrosse career at Fairfield University next year.

M – Keegan Dudeck, Sr., Longmeadow
The Lancers captain closed out his career on a high with a five-goal outburst in their Division 2 state championship win over Medfield. Dudeck tallied 38 goals and 17 assists for his senior season.

M – Jack Wheeler, Jr., Xaverian
Turning in a dazzling offensive display at Harvard Stadium, Wheeler was a key component to the Hawks' first-ever lacrosse championship. The Boston University commit and Eastern Mass. All-American tallied 42 goals with 15 assists this year.

A – Jay Drapeau, Jr., Westford Academy
Among the state scoring leaders in each of the last two seasons, Drapeau ripped off 71 goals in 2013. The Loyola commit was an ESPN Boston MIAA Lacrosse All-State second-teamer last year and also was a Hockey All-State Honorable Mention during the winter season.

A – Andrew Melvin, Sr., Medfield
The Eastern Mass. All-American helped lead the Warriors back to the Division 2 state championship game. Melvin will continue his lacrosse career at Bates College.

A – Nico Panepinto, Sr., Needham
Named ESPN Boston's third annual "Mr. Lacrosse" winner last week, the Fairfield University signee finished his high school career with 179 goals and 159 assists. Panepinto, also a standout on the football field for the Rockets, was a two-time Eastern Mass. All-American and ESPN Boston All-State selection.

Specialist – Derek Osbahr, Sr., St. John's Prep
Osbahr was an offensive weapon for the Eagles at the faceoff X as the best draw-winner in Eastern Mass. Also a member of Prep's Super 8 hockey squad, the Eastern Mass. All-American will continue his lacrosse career at Bentley University.

SECOND TEAM
G – Ryan Goodall, Sr., Dover-Sherborn
D – Jack Ullrich, Jr., Hingham
D – Jay Walsh, Sr., Duxbury
D – Ian Yanulis, Sr, BC High
M – Caleb Brodie, Jr., Hingham
M – Brendan Flaherty, Sr., Beverly
M – Mike Panepinto, Jr., Needham
M – Roby Williams, Jr., Wayland
A – Hunter Burdick, Sr., St. John's (Shrewsbury)
A – Nick Pino, Sr., North Andover
A – Tyler Reilly, Sr., Grafton
Specialist – Drew Kelleher, Jr., Longmeadow

Honorable Mention
Dom Abate, Sr. M, Beverly
Tommy Bannan, Sr. G, Hingham
Kevin Bletzer, Jr. M, Catholic Memorial
Rogers Boylan, Sr. D, Dover-Sherborn
Evan Boynton, Sr. D, Concord-Carlisle
Mike Carbone, Sr. A, Marshfield
Tucker Ciessau, Sr. A, Scituate
Matt Comerford, Sr. G, Reading
Pat Cronin, Jr. A, BC High
Matt Crowell, Jr. M, Medfield
Mark Dente, Sr. A, Reading
Kevin Farrell, Sr. FOGO, Billerica
Chris Frye, Sr. A, Walpole
Andrew Gallahue, Jr. A, St. John's Prep
Henry Guild, Sr. M, Lincoln-Sudbury
Carson Hart, Sr. M, Wayland
Keifer Heckman, Sr. A, Peabody
Eamon Hunter, Soph. LSM, Lincoln-Sudbury
Joe Igoe, Sr. M, Framingham
Reid Leveillee, Jr. D, Longmeadow
Giles Ober, Sr. G, Algonquin
Kieran Presley, Sr. M, Amherst
Brian Rotatori, Sr. M, Grafton
Drew Smiley, Jr. A, St. John's (Shrewsbury)
D.J. Smith, Sr. G, Billerica
Robert Treiber, Jr. G, Medfield
Luc Valenza, Sr. D, Foxborough
Tyler Weeks, Sr. D, Andover
Sam Wheaton, Sr. G, Minnechaug

Coach of the Year -- Ryan Liebel, Longmeadow
June, 19, 2013
Jun 19
2:50
PM ET
The Hockomock League recently announced its boys' lacrosse All-Stars and season Most Valuable Player.

Here's a look at the list, courtesy of Ryan Lanigan and HockomockSports.com:

Editor's note: League all-star lists may be sent to editors Scott Barboza (sbarboza@espnboston.com) or Brendan Hall (bhall@espnboston.com).

MOST VALUABLE PLAYER
Pat Ward, Canton

ALL-STARS
Kurt Leavitt, Canton
Ben Lodge, Canton
J.C. Marcone, Canton
Conor O'Brien, Canton
Pat Ward, Canton
Tyler Ames, Foxborough
Alex Pacitti, Foxborough
Luc Valenza, Foxborough
Kyle Finamore, Franklin
Mike Patjane, Franklin
Jake Sargeant, Franklin
Mike Sullivan, Franklin
Connor Eshmann, King Philip
Brendan Murphy, Mansfield
Matt McIntire, Milford
Eric Overdahl, Milford
Josh Rosenblum, Sharon
June, 14, 2013
Jun 14
2:49
PM ET
The Eastern Mass Lacrosse Coaches Association announced its boys' lacrosse 2013 All-Americans.

Here is the list:

FIRST TEAM
ATTACK
Jay Drapeau, Jr., Westford Academy
Nico Panepinto, Sr., Needham
Andrew Melvin, Sr., Medfield
Nick Pino, Sr., North Andover

MIDFIELD
Mike Panepinto, Jr., Needham
Dan Delaney, Sr., Lincoln-Sudbury
Jack Wheeler, Jr., Xaverian
Caleb Brodie, Jr., Hingham
Brendan Flaherty, Sr., Beverly

DEFENSE
John Sexton, Jr., Lincoln-Sudbury
Ben Cox, Sr., Medfield
Rob Breed, Sr., Xaverian
Jack Ullrich, Jr., Hingham
Jay Walsh, Sr., Duxbury

SPECIALIST
Nick Brozowski, Jr., Concord-Carlisle

GOALIE
Nick Marrocco, Jr., Duxbury
D.J. Smith, Sr., Billerica

SECOND TEAM
ATTACK
Tucker Ciessau, Sr., Scituate
Andrew Gallahue, Jr., St. John's Prep
Mark Dente, Sr., Reading
Henry Guild, Sr., Lincoln-Sudbury

MIDFIELD
Dom Abate, Sr., Beverly
Roby Williams, Jr., Wayland
Matt Crowell, Jr., Medfield
Eric O'Brien, Sr., Reading
Joe Igoe, Sr., Framingham

DEFENSE
Luc Valenza, Jr., Foxborough
Tyler Weeks, Sr., Andover
Rogers Boylan, Sr., Dover-Sherborn
Evan Boynton, Sr., Concord-Carlisle

SPECIALIST
Kevin Farrell, Sr., Billerica
Derek Osbahr, Sr., St. John's Prep

GOALIE
Ryan Goodall, Sr., Dover-Sherborn
Tommy Bannan, Sr., Hingham
May, 29, 2013
May 29
12:22
PM ET
WALPOLE, Mass. – Walking away from an 8-7 win over Walpole in a Division 2 tournament preliminary round matchup, Foxborough head coach Matt Noone referred to his team as the "Road Warriors."

His Warriors have proved themselves a worthy adversary on the road during the regular season, and they were want to continue the trend on Tuesday facing the Rebels. They ran with it.

"We took the adversity, we took the seed, and we went, 'alright, let's prove what we can do,'" Noone said.

Despite trailing the Rebels 5-3 at half, Foxborough (13-7) pulled ahead in the third on the backs of attackmen Tyler Ames and Kyle Sperzel, who both tallied hat tricks.

Yet, it all came down to the defense, as Walpole (11-8) made it a one-goal game late in the fourth. In the final minute, with possession and coming out of a timeout, the Rebels cycled the ball around the attacking zone, looking for attack Chris Frye, who'd already scored five goals (for six points) on the afternoon. With less than 30 seconds to play, Warriors senior pole Ryan Smith sealed the victory, forcing a Rebels turnover with a deft stick check.

While the Rebels – in particular Frye – were able to get theirs, the Warriors held (just enough) when it counted most.

"Nice little slap check there," Noone said of Smith's crucial defensive play. "I had Brendan [Lovely] on [Frye] at the beginning of the game, but Brendan was a little too aggressive on him. So I wanted to change it. Lukey [Valenza] ended up on him for a while in the third quarter and then Ryan ended up on him."

However, the defensive struggle against the Rebels began even before the game's start, with Foxborough's coaching staff implementing a zone defense.

"We knew they like the inverts, so we put a zone in today and I think our zone did well today," Noone added.

It was a bittersweet end for the Rebels, in particular Frye – a 60-goal scorer this year who ended the season with a dazzling display of skill and a pure nose for the cage.

"It was a game of runs," Rebels head coach Jason Andalo said. "We made ours early, they made theirs late and we came up one short."
April, 8, 2013
Apr 8
2:24
AM ET
Attackmen:
Tyler Bogart, Soph., Catholic Memorial
Jordan Dow, Sr., Lincoln-Sudbury
Jay Drapeau, Jr., Westford Academy
Brandon Jaeger, Sr., Dover-Sherborn
C.J. LoConte, Sr., Duxbury
Andrew Melvin, Sr., Medfield
Nick Menzel, Jr., Archbishop Williams
Nico Panepinto, Sr., Needham
Robbie Pisano, Sr., Needham
Tyler Reilly, Sr., Grafton
Andrew Smiley, Jr., St. John's (Shrewsbury)
[+] Enlarge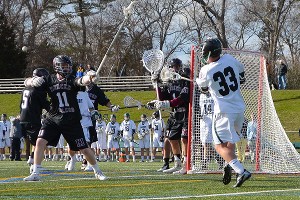 Scott Barboza/ESPN Army commit C.J. LoConte will look to shoulder a bigger part of the offense for defending Division 1 state champion Duxbury.
Midfielders:
Kevin Bletzer, Jr., Catholic Memorial
Will Blumenberg, Soph., Concord-Carlisle
Caleb Brodie, Jr., Hingham
Alec Brown, Sr., Wakefield
Tucker Ciessau, Sr., Scituate
Dan Delaney, Sr., Lincoln-Sudbury
Henry Guild, Sr., Lincoln-Sudbury
Carson Hart, Sr., Wayland
Davis Kraft, Sr., Algonquin
Matt LaCroix, Sr., Westfield
Drew O'Connell, Jr., St. John's Prep
Mikey Panepinto, Jr., Needham
Kieran Presley, Sr., Amherst
Bryan Rotartori, Sr., Grafton
Jack Wheeler, Jr., Xaverian
Long-stick Midfielders:
Nick Brozowski, Jr., Concord-Carlisle
Mike Elcock, Jr., Needham
D.J. George, Sr., Arlington Catholic
John Sexton, Jr., Lincoln-Sudbury
Defensemen:
Evan Boynton, Sr., Concord-Carlisle
Tim Gillis, Soph., Cohasset
Brian Uva, Sr., St. John's Prep
Luc Valenza, Sr., Foxborough
Jay Walsh, Sr., Duxbury
Tyler Weeks, Sr., Andover
Ian Yanulis, Sr., BC High
Goaltender:
Andrew Blood, Jr., Walpole
Matt Comerford, Sr., Reading
Ryan Goodall, Sr., Dover-Sherborn
Nick Marrocco, Jr., Duxbury
Giles Ober, Sr., Algonquin
Jake Reynolds, Jr., Scituate
D.J. Smith, Sr., Billerica
Robert Treiber, Jr., Medfield
Tighe Van Lenten, Sr., Masconomet
September, 22, 2012
9/22/12
12:25
AM ET
By
Ryan Lanigan
| ESPNBoston.com


FOXBOROUGH, Mass. -– It didn't take long for the visiting Whitman-Hanson Panthers to put points on the board –- just 12 seconds, in fact –- and set the tone.

Sophomore Mike Lenane took the opening kick off 70 yards, almost untouched, to give the Panthers their second consecutive game with a score on the first play.

Senior quarterback Thomas Sapienza threw two first-half touchdown passes to classmate Dondre James, as the Panthers defense withheld a late rally, beating Foxborough, 21-20.

"We preach fast starts," Whitman-Hanson head coach Mike Driscoll said. "These guys know that and they responded big time tonight. They came ready to play."

The Panthers were able to get scores at key times. Besides the opening kick off, they scored on their very first drive -– only two plays –- as Sapienza found James for a 37-yard strike to make it 14-0 with less than four minutes played.

"He's just a great athlete, period," Driscoll said of James. "I'd match him up against anyone. Dondre makes those plays every week and he continues to make them."

With less than a handful of plays run from scrimmage, and a 14-0 lead, it looked as though the Panthers might runaway with the game, but the Warriors were able to respond their next possession. A combination of runs from Kiivone Howard and Luc Valenza was finished with a Howard sweep to the right for a 24 yard touchdown run, cutting the Panther's lead in half.

Both teams traded possessions for most of the remainder of the first half, including a blocked field goal by Foxborough. But with less than a minute in the half, Whitman-Hanson came out firing.

Sapienza's first and second passes went incomplete. Jake Walkins then grinded out five yards. And then, the dagger.

"He's a gamer," Driscoll said of his quarterback. "He hung in there. He threw that ball at the end of the half and that was the difference in the game."

Sapienza found a streaking James for a 32 yard strike, giving the Panthers a 21-7 lead with just 1.5 seconds left in the half.

"I saw one on one back coverage and Tom just got me the ball," James said. "It was a really good play."

Foxborough coach Jack Martinelli said his team didn't make too many adjustments in the second half, but rather just did what they were capable of.

Adjustments or not, something changed in the second half. The Foxborough defense clamped down, and on their second offensive series of the half, crutched by a unsportsmanlike penalty and a 31-yard run from Valenza, Howard punched it in from 1 yard out for his second touchdown of the game, bringing his team within one score.

As the Panther offense stalled, the Warriors defense seized their opportunity, forcing a fumble and recovering it with 9:18 left to play.

What had looked like a possible rout was now a touchdown away from a possible overtime thriller.

Foxborough's next possession went 10 plays, but ran out of gas and they were forced to punt with just over five minutes in the game remaining.

But again, the Warrior defense came through, stopping the Panthers and forcing a turnover on downs.

Seven plays later, Howard had a little déjà vu with another one-yard touchdown, this team leaping over the pile to bring it to 21-20 with just 1:18 left. Unfortunately for the Warriors, the extra point sailed wide right.

The Panthers recovered the onside kick attempt from the Warriors, and Luke Laubacher's long run sealed the deal for the now 3-0 Panthers. Foxborough drops to 2-1.

Howard Shines in Loss: After two games this season, a lot of people were starting to keep track of Foxborough's star running back. Through three games, Howard has amassed over 400 yards and nine touchdowns.

Friday night's 25-carry, 107-yard, three-touchdown performance helped spark the Foxborough comeback, which was impressive given the focus Whitman-Hanson put on him defensively.

"To me, he's one of the best around," Martinelli said. "Whitman[-Hanson] did a good job on him early on I thought. It was tough for us to get outside and that open up some things inside for him."

Redemption for Panther Special Teams: Despite beating Marshfield 39-24 last week, there were some mistakes that stood out on the Panther special teams.

Against Marshfield, they missed three extra points – something that would have cost them the game against Franklin on Friday night, who saw their winning chances vanish with a missed attempt.

And even more special, was Lenane, who fumbled a kick last week, was able to turn in a kick return for a score this week.

"Chris Ryan was 3-3 in the extra points, he's a great kicker," Driscoll said. "We told Mike this week they're going to kick to you and to be ready. He stepped up big time."

WHITMAN-HANSON 21, FOXBOROUGH 20
Whitman-Hanson (3-0) 14 – 7 – 0 -0 – 21
Foxborough (2-1) 7 – 0 – 7 – 6 – 20

First Quarter
W – Mike Lenane 70 kick return (Chris Ryan kick)
W – Dondre James 37 pass from Thomas Sapienza (Ryan kick)
F – Kiivone Howard 24 run (Kyle Will kick)

Second Quarter
W – James 32 pass from Sapienza (Ryan kick)

Third Quarter
F – Howard 1 run (Will kick)

Fourth Quarter
F – Howard 1 run (Kick failed)
September, 21, 2012
9/21/12
3:25
AM ET
NO. 3 XAVERIAN (1-1) AT NO. 15 BROCKTON (1-1)
The Skinny: Both teams are going to be seeing red after their respective performances last week with the Hawks taking an ole fashioned whooping at St. Joseph's Regional in New Jersey and the Boxers being shut out by the likes of Reading. This matchup will see some of the state's premiere lineman matching up with Michigan-bound Mo Hurst lining up across from preseason All-State Watch Lister Joe Previte of Brockton.

Barboza: The question might be is if the Boxers get back on the board again this week. I think they do, but it's still no enough. Xaverian, 27-14.

Hall: I want to know what St. Joseph's Regional alum Devin McCourty thinks of the New Jersey school's 62-0 beatdown of Xaverian last weekend. Xaverian, 24-17.

NO. 22 BC HIGH (0-2) AT DARTMOUTH (1-1)
The Skinny: The beleaguered Eagles might enjoy of bit of a reprieve if rumors are true that quarterback Brendan Craven will return for the tilt against the Indians. These will be two hungry squads as BC High looks for its first win on the season and Dartmouth hopes to bounce back from a disappointing loss to Attleboro last week. This could be a coming-out party for Dartmouth RB/LB Mitch Loranger, one of the more underrated talents in the state, while Tim Smith provides a nice change of pace running.

Barboza: Coach Rick White puts these games on the schedule when he feels like he has something in the bag, so you can't look past that. I think the Eagles escape the South Coast with their first win of the season, however. BC High, 16-14.

Hall: I'm in need of a bailout from North Attleborough Credit Union after picking the Eagles last week. Sorry, in this dire times of financial brevity, I can't take on too much more water. Dartmouth, 17-10.

WHITMAN-HANSON (2-0) AT FOXBOROUGH (2-0)
The Skinny: These are two traditional powers who have had some leaner years in recent memory, but seem again to be headed back in the right direction. The Panthers opened up their season with wins over ACL powers Plymouth North and Marshfield, with QB Tom Sapienza tallying over 400 yards on the air and ground in the victory over the Rams. The Warriors steamrolled their first two opponents (East Longmeadow and East Providnce, R.I.) by a combined 74-16 with running back Kiivone Howard putting his name into early Hockomock Player of the Year talk.

Barboza: The offensive weapons are there, but I wouldn't be surprised with a defensive struggle here. Foxborough makes the stops when it needs to behind linebacker Luc Valenza. Foxborough, 21-14.

Hall: Kiivone Howard has been one of the nicest surprises of the early season. Of course, folks in Foxborough will tell you that's no surprise. Foxborough, 30-25.

NO. 5 DUXBURY (2-0) AT NEW BEDFORD (2-0)
The Skinny: The Dragons put their state-best winning streak on the line against the Whalers after rolling through Plymouth North last week. Marshall McCarthy has been as good as he's ever been for Duxbury's defense, registering 26 tackles through two games. New Bedford will look for a big game from quarterback Mike Rapoza, who's a multi-dimensional threat having played running back and wide receiver as well.

Barboza: Jon Hurvitz and the Duxbury line could be primed for a big day. Duxbury, 28-10.

Hall: I fully expect the Dragons to head into October 5's showdown with Xaverian on a 30-game win streak. Duxbury, 21-0.

NO. 2 ST. JOHN'S PREP (2-0) AT NO. 1 EVERETT (2-0)
The Skinny: For the first time since 2010, we have the top two teams in ESPNBoston.com's statewide poll squaring off. Everett is 7-0 against the Catholic Conference since the 2009 MIAA Division 1 Super Bowl loss to Xaverian; that streak features three wins over the visiting Eagles, including the 2010 D1 Super Bowl. To snap the streak, Prep will have to play lockdown defense and get big production from its star running back Jonathan Thomas. For Everett, it's anyone's guess who will be lining up at quarterback this week, but Gilly De Souza has been very serviceable.

Barboza: I think both offenses are going to get theirs, but it's going to be decided by the defenses and who's able to force a fumble, come up with a pick, something to steal the game. Everett, 30-23.

Hall: No truth to the rumor Everett Superintendent of Schools Fred Foresteire was taking snaps under center this week. Everett, 23-21.

NO. 9 ST. JOHN'S OF SHREWSBURY (2-0) AT CATHOLIC MEMORIAL (1-1)
The Skinny: St. John's can lay claim to one of the state's most prolific offenses after an impressive showing the first two weeks, outlasting No. 24 Holy Name (47-40) and cruising past No. 16 Longmeadow (35-14). However, neither team has an individual as talented on the defensive side of the ball as CM's UMass-bound linebacker/defensive end Peter Ngobidi, one of the state's best off the edge. Conversely, the Knights struggled against Westford last weekend, and may have their hands full against a Pioneers squad with similar spread principles but at a breakneck tempo.

Barboza: I like the Knights' defense with Ngobidi and Kevin Bletzer, but too many options for them to stop. St. John's, 31-17.

Hall: Going forward, I'm suddenly very intrigued at how St. John's will be calling in its plays. St. John's, 30-14.

BB&N AT BELMONT HILL
The Skinny: Belmont Hill is entering its first season in decades without Kevin Fleming on the sidelines, and it comes out of the gate going right into the fire. BB&N took a 17-14 humbling at the Hillers' hands in the opening week of ISL play last year, and they have one of the best individual athletes this season in Wake Forest-bound tight end Brendan O'Neil.

Barboza: I'm still syphoning water from my boots after last year's "Car Wash" game. The memory will be fresh in the minds of the Knights as well. BB&N, 20-14.

Hall: Plain and simple, John Papas gets his revenge here. BB&N, 21-7.

THAYER ACADEMY AT GOVERNOR'S ACADEMY
The Skinny: ISL season opens up with plenty of hype behind Thayer and its numerous athletes, including Bryan Vieira, Aaron Gilmer and Ikenna Nwokeji. The Governors had runaway success last season under first-year head coach Jim O'Leary, and return arguably the most valuable player in the league in quarterback Tate Jozokos, a UNC lacrosse commit who was a dual-threat nightmare for many opponents.

Barboza: Simply stated, Gov's are running the table again this year. Governor's, 23-17.

Hall: Tate Jozokos can play on my Tuesday night Charlestown flag football team any day. Governor's, 28-13.
June, 1, 2012
6/01/12
11:47
PM ET
By
Ryan Kilian
| ESPNBoston.com


READING, Mass. – No. 10 seed Foxborough (16-3) continued their dominating brand of defensive lacrosse as they defeated No. 7 seed Reading 3-1 in a Friday evening Division 2 first-round matchup.

In a game that featured two All-American goalies and two disciplined team defenses, it was not a surprise that it would be a low scoring affair. Foxborough senior goalie Greg Stamatov and Reading junior netminder Matt Comerford were both on point all game saving eight and 12 shots, respectively.

Reading would strike first in the opening quarter as junior Greg Connery beat his man on a left side dodge and beat Stamatov and give the Rockets a 1-0 lead.

The one-goal Reading lead would hold up through the second quarter as both teams pitched shutouts in the scoreless second. The inability of both offenses to get quality shots on net was more a credit to the defensive game plans of both coaches and the discipline rotations of the players.

Foxboro's aggressive on-ball defense stood out all evening, highlighted by the play of sophomore close defender Luc Valenza, who possesses some of the fastest hands in Massachusetts lacrosse.

Foxborough senior midfielder Jake Soccorso would tie the game in the third quarter with 1:49 remaining after both teams fought off the first penalties of the contest.

With the game tied at 1-1 in the fourth quarter Foxborough patiently controlled the majority of the possessions. Both defenses remained flawless until Foxborough junior midfielder Tyler Ames beat his man from X and snuck a shot past Comerford to give Foxboro a 2-1 lead with 3:52 remaining in the game.

Ames would add the third and final goal, with under a minute to play, to seal the win for Foxborough. The goal was a result of Comerford leaving the net in an attempt to gain a final possession for the Rockets.

"I am proud of these guys," Foxborough head coach Matt Noone said. "Greg Stamatov is a great goalie but we have a great 10 people in front of him as well."

Reading, playing without key members of their attack and defense, competed all game but could never muster enough quality opportunities to gain momentum.

"Both teams played outstanding and both teams have incredible goalies that played very well," Reading head coach Charlie Hardy said. "Foxborough was great tonight and all of the credit goes to them."

Lockdown D: The Foxborough defense has allowed only two goals in their last four games, including two wins over Bishop Feehan and Mansfield to conclude the regular season. They shut out Silver Lake 9-0 in the preliminary round of the D2 tournament and maintained their consistency on Friday.

"We are just a little town in Foxborough in the south that is finally here," Noone said. "I think we proved it by beating Reading and I think we proved it last year."

Stamatov has been the rock in net for Foxborough all season but the Villanova bound senior deferred all credit to his teammates.

"Everyone was all over the place and ready to help," Stamatov said. "They forced shots that were down the alley and not good angles and I can make those saves a little bit easier."

Next up: Foxborough will travel to Concord on Tuesday to take on No. 2 seed Concord-Carlisle (18-0) in the D2 EMass quarterfinals. C-C boasts one of the state's best defenses with All-American goalie Doug Gouchoe (Air Force) and All-American close defender Henry Bumpus (Brown, football) leading the way. C-C defeated Wakefield 15-6 on Friday to advance to the quarters. Faceoff is scheduled for 4 p.m.

"I do not know too much about them but I see that they are beating everyone so that is going to be a tough game," Stamatov said. "If we just play our system we can beat anyone."


April, 21, 2012
4/21/12
7:01
PM ET


FOXBOROUGH, Mass. – Foxborough boys' lacrosse dug in against Sandwich in the second quarter. The Blue Knights closed to within in a goal, and headed into the third quarter, Sandwich held a man-up.

The Blue Knights continued to exhibit patience with the ball and had several clean looks at the cage in the opening minutes of the second half.

And there was Greg Stamatov.

The Warriors' goaltender and Villanova signee swatted and scooped his way to five of his nine saves in the third quarter. On calmer seas, the Warriors settled in for the fourth and added to their lead, taking a 6-2 win over the Blue Knights at Gillette Stadium.

"He kept us in the game during that storm in the second quarter," Foxborough head coach Matt Noone said of Stamatov, "and then we were able to get some separation a little bit in the fourth quarter, but what a game. My defense played well in front of him, too, but what can you say about Greg Stamatov? We'll miss him when he's gone."

The Warriors' victory was capped on the second goal of the day from attack Tyler Ames (2 G, A), but the offense was balanced. Seven Foxborough (6-2) players recorded points.

Foxborough defensive unit was also game behind poles Conor Lynch, Al Noonan and Luc Valenza.

OFFENSE COMING ALONG
Of the players Foxborough lost to graduation, they were particularly hard hit on offense.

Ames is among the group that has tried to pick up the slack.

"Things have been really clicking lately," the junior attack said. "We've tried some different things in practice and then brining those things onto the field. Coach has told us with all of those kids graduating from last year, we have to step up. There more we've gotten into this season, we're trying to fill those shoes and get after it."

Ames showed quick hands on a nice pass across the crease on Anthony Fertitta's goal with 6:56 to play. He then capped the victory with a goal, flying through the air across the cage with under four minutes.
April, 6, 2012
4/06/12
5:20
PM ET
FOXBOROUGH, Mass. – Here are a smattering of thoughts from No. 25 Foxborough's 10-2 non-league win over Barnstable on Friday morning:

DEFENSE LEADS TO OFFENSE
The Warriors (2-0) are built from the crease out, with ESPN Boston All-State goaltender Greg Stamatov leading the way. However, against the Red Raiders (1-2), Foxborough's defenders were able to eliminate any kind of possession game for Barnstable early, and conversely were able to set up their own offense.

Long poles Conor Lynch, Al Noonan (4 ground balls) and Luc Valenza, along with long-stick middie Brenden Lovely (4 GB) bottled up the Red Raider attacks' dodges and were able to use their speed to capitalize on Barnstable's turnovers.

FINER POINTS
Foxborough head coach Matt Noone lost a bunch of key offensive contributors to graduation from last year's squad, so the offense has been a work in progress during the early weeks.

The Warriors displayed their skill against Barnstable though, particularly on Mike Campbell's dazzling third-quarter goal, scored nearly with his back to cage off a dodge. Campbell netted a hat trick along with fellow attack Tyler Ames.

Midfielder Anthony Fertita also had a three-point game with two goals and an assist.

"Right now, our defense is strong and our offense has come along, but that's natural for the offense to be a little behind the defense this early in the season," Noone said. "But we have guys that stepped up today. Mikey Campbell stepped up on attack and obviously Greg Stamatov in goal is just great."

WIDE OPEN HOCK
After some early season shockers, it looks as through the Hockomock League title are very much up for grabs.

Noone was in agreement.

"I think [the league] is wide open," he said. "Obviously, Franklin and Foxborough have had a mark on their backs with us winning the small Hock and Franklin winning the big Hock. But the other day Mansfield beat Franklin and North Attleborough beat King Philip.

"For now, we're just worrying about what we can do here in Foxborough."