Boston High School:

Lucas Depina
November, 24, 2011
11/24/11
6:37
PM ET
By
Adam Kurkjian
| ESPNBoston.com
BRIDGEWATER, Mass. -- The Bridgewater-Raynham seniors came into their Thanksgiving Day showdown with Brockton knowing it would be the last high school game of their careers.

They then proceeded to help make sure it became that way for their counterparts, as well.

After dominating the first half then holding off a spirited Boxer rally in the second half, the Trojans won the second annual Cape Cod Cafe Bowl, 14-8.

Combined with New Bedford's win over Durfee, B-R's defeat of Brockton (5-6) denied the visitors a chance at playing in an Eastern Mass. Division 1 semifinal despite winning the Big Three Conference outright. Due to a league rule that prohibits a team from making the postseason with a sub-.500 overall record, it will be New Bedford that goes to the playoffs for the second year in a row.

"We knew they weren't going to lie down, that's for sure," said B-R coach Dan Buron of Brockton. "We treated it like a playoff atmosphere for us."

Leading the way for B-R (8-2) were senior running backs Nick Schlatz (26 carries, 136 yards, 2 TD) and Branden Morin (12 carries, 79 yards), who combined for 178 yards in the first half as the Trojans built up a 14-0 lead.

Perhaps just as importantly, those two touchdown drives ate up nearly 15 minutes on the clock, effectively keeping Brockton's offense off the field.

Brockton finally got on the board in the fourth quarter when Moise Edouard recovered a fumble near midfield to help set up a 22-yard touchdown pass from Austin Roberts (81 yards rushing, 89 yards passing) to Lucas Depina. After a poor snap on the PAT, Roberts alertly picked the ball up and found Jerrod Shelby for the two-point conversion to pull his team within 14-8.

Although Brockton was able to force a B-R punt, the Boxers could not earn a first down on their final possession as the Trojans ran out the clock.

All it takes is one: You know what you're going to get with B-R. The Trojans are going to run the ball, then they're going to run it again and after that, they will run it some more. It seems pretty simple but it's a lot harder to stop than it sounds. However, while Brockton couldn't slow down the ground assault in the first half, the Boxers made stops in the second half.

As B-R proved, though, all that running only sets up a great look out of play action. With B-R ahead 14-8 and just 4:14 remaining, the Trojans faced a third-and-6 from their own 31.

Quarterback Brad Delullis -- who had attempted and misfired on one pass all morning -- faked a handoff, rolled to his right and hit Eric Wabrek (fumble recovery, interception) for the 6-yard gain and first down. The play allowed the Trojans to run off an extra minute and was another example of why opponents hate to line up against this team. B-R lulls you to sleep sometimes but it can be a winning formula.

An irreplaceable pair: Buron spoke highly of his seniors after the game, and two in particular stood out on Thursday in Schlatz and Morin. Asked after the game by one reporter how he is going to replace them, he simply said, "You can't." Schlatz, at 6-foot-2, 200 pounds, is simply a battering ram with enough speed to get to the outside on several toss plays, especially in the first half. Morin found his space in the middle of the Brockton defense, knifing ahead on traps and dives in the teeth of the Boxer front. Each player found himself in the middle of the action on defense, with Schlatz playing an active role at safety. Buron said the two made as good of a backfield pairing as he's had, which is high praise given the players who have passed through his system.

Mistakes doom Boxers: When the Boxers look back on this game, they will no doubt lament how several errors kept them from pulling off the comeback win. On the opening drive of the second half, the Boxers drove right down the field and seemed poised to score. Roberts then made a run down to the goal line that was called back due to a holding call that was vehemently protested by the Brockton sideline. After the Boxers then moved inside the 5, they fumbled soon after and Wabrek recovered to end the threat. On the Trojans' ensuing possession, Brockton had B-R stopped near the 20 but a late hit extended the drive another five minutes. Combine those mistakes with the fact that Brockton had its first drive stall in the B-R red zone, and there will be plenty of talk in Boxer-land about how this was a winnable game that got away.

BRIDGEWATER-RAYNHAM 14, BROCKTON 8

Brockton (5-6) 0 0 0 8 – 8
Bridgewater-Raynham (8-2) 7 7 0 0 – 14

FIRST QUARTER
BR – Nick Schlatz 2 run (Kevin Wadsworth kick)

SECOND QUARTER
BR – Schlatz 6 run (Wadsworth kick)

FOURTH QUARTER
B – Lucas Depina 22 pass from Austin Roberts (Jerrod Shelby pass from Roberts)
November, 12, 2011
11/12/11
8:51
PM ET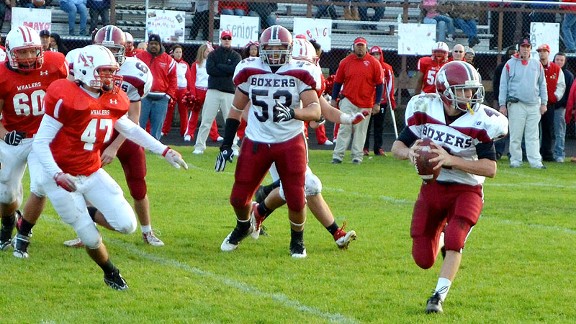 Scott Barboza/ESPNBoston.comRunning the option behind QB Austin Roberts, Brockton wrapped up the Big Three regular-season title with a 38-9 win at New Bedford.
NEW BEDFORD, Mass. -- Although their postseason fate has yet to be determined, Brockton football can emerge from Saturday's 38-9 thumping of Big Three rival New Bedford with a couple of certainties.
The first point is that junior quarterback Austin Roberts with 15 carries for 146 yards can shoulder the load, though that's not all that much of a surprise at this point in the season. The second, and perhaps most encouraging sign, was that the Boxers' defense was downright dominant in the second half, allowing the offense to score 29 unanswered points with the benefit of turnovers and tremendous field position.
That led Boxers head coach Peter Colombo to exclaim that his team had played their finest half of the season in an up-and-down kind of season.
"The defense allowed us to get our bearings and win this football game," Colombo said. "It was just a tremendous job by the D."
The Boxers (5-5, 2-0) spotted the Whalers (4-5, 0-1) an instant 9-0 lead with New Bedford's defense coming up with a safety before quarterback Myles Medeiros took in a 1-yard touchdown run.
Brockton closed the gap with Roberts' 48-yard bomb to Jerrod Shelby in the second quarter. Then, the Boxer defense made it first of a string of pivotal stops on defense, twice halting the Whalers from getting first downs inside the red zone in the final minute of the half. That kept the score within two points at the half.
"I think, momentum wise, it was huge. We don't want to come back here, down a touchdown-plus."
From there, the persistent thumping of Roberts in the ground game and the tenacious defense carried Brockton.
"I've never seen a quarterback have to the throw the ball away that much in a game," Colombo said, "and that's a credit to Bob O'Neill, our defensive coach, and the kids executing his game plan."
RUN IT AGAIN, AUSTIN
The Boxers found success in the running game by repeatedly running the option behind Roberts, mixed in with the hard-nosed running of Richard Marsh and the highlight-reel flash of speedster Josh Brewster.
But it was the 5-10, 175-pound quarterback that frustrated the Whalers so. Roberts runs with a low center of gravity, making him hard to tackle. He also carries a running back's mentality, often initiating contact with defenders and driving for extra yards past the initial hit.
"I just take whatever I'm given," Roberts said.
IT'S NOT ROCKET SCIENCE … OR IS IT?
With Brockton claiming the Big Three's regular season title with Saturday's win, the scenario for Brockton's postseason prospectus is simple: they win, they're in.
Having beaten the Whalers, all the Boxers have to do is beat 11-th ranked Bridgewater-Raynham in the team's Thanksgiving Eve matchup. However, if the Boxers lose to the Trojans, they might not represent the conference in the playoffs, despite being league champions.
Nonsense you could say.
Well, opinions aside, the Big Three football league charter directs that the league's playoff representative must have at least a. 500 record. So if the Boxers falter against B-R and dip to 5-6 on the season, the Whalers would be playing past Turkey Day, providing they win over Durfee.
"We can't control anything that any other team does," Whalers head coach Dennis Golden said. "We have to worry about playing the best Thanksgiving game that we can play … We'll take it as it comes."
With offensive playmakers Marcel DePina and Jaraud Wood leaving the game in the second half due to injuries and coupled with the copious amount of turnovers the Whalers committed on Saturday, they have other matters to worry about.
But, somehow, New Bedford might still live to play another day past Thanksgiving Day.
Wild.
Brockton (5-5, 2-0) - 0 7 14 17 -- 38
New Bedford (4-5, 0-1) - 9 0 0 0 -- 9
1st quarter
NB - Safety
NB - Myles Medeiros 1-yard run (Mike Rapoza kick)
2nd quarter
B - Jerrod Shelby 48-yard pass from Austin Roberts (Lucas Depina kick)
3rd quarter
B - Roberts 26-yard run (Depina kick)
B - Richard Marsh 5-yard run (Depina kick)
4th quarter
B - Depina 42-yard pass from Paul Mroz (kick blocked)
B - Josh Brewster 1-yard run (Depina kick)
B - Lucas DePina 30-yard field goal
November, 4, 2011
11/04/11
10:08
PM ET
By
Tom Layman
| ESPNBoston.com
BROCKTON, Mass. — Catholic Memorial has come a long way since a disappointing 24-0 loss on opening night to Marshfield.

The No. 9 Knights have ripped off six straight victories against teams in Massachusetts after dominating Brockton, 26-0, last night at Rocky Marciano Stadium.

The final two games of the regular season will help decide the Catholic Conference for the Knights. With tilts against No. 8 Xaverian and No. 5 BC High left on the schedule, quarterback A.J. Doyle knows his team just needs to keep status quo.

"We just have to play our game," said Doyle. "We can't beat ourselves. I mean we have the talent and we've always had the talent. We are going into the games against Xaverian and BC High and they are always supposed to beat us. We always used to go in with that mentality, but this year this is a different CM team."

Knights head coach Alex Campea knows that giving away a victory in the conference in the final two weeks could be detrimental to his team.

"As we say every game is a championship game," said Campea. "We look at each one of those as being vitally important. You lose one and you may be done. So we can't afford to do that."

Doyle makes connection: Doyle was efficient on the night as he connected on 10 of his 13 throws for 157 yards and two touchdowns, but it was the symmetry he had with David Berment that set the Knights apart.

Berment finished the night with four receptions for 91 yards and two touchdowns.

The friendship off the field, according to Doyle, has made the relationship on the field a growing combination for the Knights.

"Me and Dave are best friends. We've been really good friends since sophomore year when we had a lot of classes together," said Doyle. "Me and him are kind of on the same page all the time."

Berment and Doyle connected for a 19-yard score and a 57-yard strike on the night. The first came when Doyle scrambled left and found Berment. In the third quarter, Berment found himself wide open behind the defense and Doyle's lofted pass fell right into his arms in stride.

Lucky bounces go Knights' way: The Knights were good all night, but they did get lucky on two different occasions. The Boxers were forced to punt with less than two minutes to go in the first half and they nearly got the ball back on the 1-yard line.

Lucas DePina boomed a punt with the wind and Armani Reeves had a tough time fielding the punt. The ball kicked around and a Knights player was able to smother it at the 1-yard line when two Boxers had a good shot of getting a hand on it. The Knights ran out the rest of the quarter to get to the half 13-0.

The Boxers almost got the ball back again on the opening kickoff of the second half when the Knights had trouble for a second time trying to return the kick. Both situations would have put Brockton in great field position on a night when they had time cracking the Knights' red zone.

"It's rolling around and it's been that type of year for us," said Brockton head coach Peter Colombo. "We haven't really got a bounce."

Brockton needs two wins: That's the recipe for a trip to the postseason for the Boxers.

Brockton's record now stands at 4-5 on the season and it needs a victory against New Bedford next week to win the Big Three, and will need to beat a stout Bridgewater-Raynham on Thanksgiving to make the playoffs.

CATHOLIC MEMORIAL 26, BROCKTON 0
CM (5-1) 6 – 7 – 7 – 6 – 0 --- 26
BR (4-5) 0 – 0 – 0 – 0 –-- 0

First Quarter
Armani Reeves 28 run (kick failed)

Second Quarter
David Berment 19 pass from A.J. Doyle (Michael Keane kick)

Third Quarter
Berment 57 pass from Doyle (Keane kick)

Fourth Quarter
Reeves 41 run (kick failed)
October, 15, 2011
10/15/11
5:58
PM ET
By
Roger Brown
| ESPNBoston.com
DERRY, N.H. -- Saturday afternoon's 21-14 victory over Pinkerton Academy not only breathed some life into the Brockton High School football team, it saved Brockton coach Peter Columbo some money as well.

As Columbo noted after the game, the victory came on a day when his father, former Brockton coach Armond Columbo, celebrated his 80th birthday.

"That's all he wanted was a win, so now I don't have to buy him anything," the younger Columbo said.

Junior quarterback Austin Roberts provided a spark for the Boxers, who entered the contest with a 2-3 record. Roberts, who was inserted the lineup when starting quarterback Paul Mroz was injured during last weekend's victory over Fitchburg, completed 14 of 22 passes for 207 yards and three touchdowns. He seemed to come up with a big play whenever Brockton needed one.

"[Roberts] has emerged," Columbo said. "He had to start some games two years ago as a freshman. Paul came out of nowhere last year and led us to eight wins, and [Roberts], to his credit, kept working and waiting for his turn, and it came up last week.

"He's a great leader. He knows our system and he knows how to make plays. I can't coach what he does once the ball's in play. We're gonna ride it."

After Pinkerton fullback Kevin Davies scored on a 1-yard run to help the Astros build a 14-7 lead early in the third quarter, Roberts responded by throwing two touchdown passes to senior Jerrod Shelby. Shelby's second touchdown catch came on a 3-yard pass with 3:45 to play.

"Get the ball to you playmakers I guess," Roberts said. "He's a great playmaker.

"We all talked about how great of a team Pinkerton is. We knew if we could come out and beat them it was going to send a message to all of Massachusetts that we're back and we're rolling."

Pinkerton took the lead when Davies scored on a 1-yard run in the first quarter, but Brockton answered when Roberts hooked up with Lucas Depina for a 60-yard touchdown pass with 10:34 left in the half.

"We feel good because that's a great football team," Columbo said. "I don't know who's gonna contest them up here. We knew that we needed to make a statement that we can play with the good teams."

THE BIG PLAY
Pinkerton, the No. 3 team in ESPN Boston's New England top 10, shredded the Brockton defense when it opened the third quarter with a six-play, 79-yard scoring drive that handed the Astros a 14-7 lead.

Pinkerton was on the move again the next time it had the ball, but a personal foul resulted in a 15-yard penalty after the Astros had moved the ball to the Brockton 22-yard line. The drive stalled when Pinkerton failed to convert on a fourth-and-nine play.

Brockton took possession on its own 18 and moved the ball 82 yards on 20 plays to tie the game.

"We came out in the second half and were able to motor right down the field, and we did it again until we got that 15-yard penalty," Pinkerton coach Brian O'Reilly said. "[The penalty] was the biggest play in the game because of that fact that it stalled us and then they went on a 20-play drive."

Brockton converted on three fourth-down plays during the 82-yard drive. One of the conversions was a 10-yard run by Roberts on a fourth-and-10 play. Roberts extended the ball forward as he was falling to the ground and picked up the first down by about two inches.

"Give them credit," O'Reilly said. "They kept going for it on fourth down … and made them all."

DEFENSIVE POSTURE
Pinkerton entered the game with a 6-0 record and had outscored those six opponents 251-50. The Astros had scored at least 41 points in each of their five league games.

Pinkerton had 14 plays of 10 yards or more against Brockton, but none of those were scoring plays.

"This is the first team to adjust to our offense," O'Reilly said. "Defensively they did some nice things against us. They did some stuff that no one else has done. People will try to copy it, so we'll need to take it to the next level."

FEELING NO PRESSURE
O'Reilly said an ability to put pressure on Roberts hurt his team.

"We knew that [Roberts] brought an entirely new dimension to the Brockton team," he said. "He is a difference maker. Had they gone with the original quarterback you wouldn't have seen this today. We couldn't get any pressure on him. We're gonna have to work on some pass-rushing situations because there was way too much time for him to throw the ball.

"We didn't get any heat on him and when we did have a chance to sack him he ran around our ends. He was the difference today."

NUMBERS GAME
Brockton has won nine of the last 10 meetings with Pinkerton. The Boxers have a 12-4 edge in the series, which began in 1996.

BROCKTON 21, PINKERTON 14
Brockton (3-3) 0 7 0 14
Pinkerton (6-1) 7 0 7 0

1st Quarter
PA – Kevin Davies 1 run (Ryan Coombs kick), :58

2nd Quarter
Bro-- Lucas Depina 60 pass from Austin Roberts (Depina kick), 10:34

3rd Quarter
PA—Davies 1 run (Coombs kick), 10:18

4th Quarter
Bro—Jerrod Shelby 3 pass from Roberts (Depina kick), 9:50
Bro—Shelby 3 pass from Roberts (Depina kick), 3:45.
September, 3, 2011
9/03/11
1:19
AM ET
By
Adam Kurkjian
| ESPNBoston.com
It's not often that a Brockton Boxer is literally a boxer.

Austin Roberts, though, a junior Swiss Army knife for the Division 1 powerhouse and No. 5 team in the state, actually puts on gloves and hits people when he's not doing it in shoulder pads.

Roberts lives in East Bridgewater, but is able to attend Brockton because his father Ralph -- an assistant coach with the Boxers -- is a sophomore English teacher at the high school. He started boxing in his early teens at Eddie Bishop's Gym in West Bridgewater.

"I've definitely became tougher because of boxing," said the 5-foot-8, 175-pounder, who is 2-1 in three amateur bouts. "It's an awesome experience sparring with people a lot better than me. It teaches you to remember to stay in the ring no matter how much you're taking a beating. It made me a better foottball player in that sense.

"I love being an underdog. I'm, you know, a smaller person. I'm only 5-8. Going against taller people bigger people, you have to out-tough them every chance (you) get."

"He loves it maybe moreso than I thought," noted Ralph. "He does like getting in the ring with people."

He got one such chance earlier than expected in 2009, when a suspension to starting quarterback Sam Previte forced the freshman, then only around 5-6 and 150 pounds, into action against Waltham on Thanksgiving and a date with unbeaten Xaverian in the Division 1 semifinals.

Against Waltham, Roberts completed 9-of-16 passes for 148 yards and a touchdown in an 18-11 win.

Facing unbeaten Xaverian the following Tuesday was a different animal. Still, the freshman didn't go in to the situation intimidated.

"I was just thankful for the opportunity to get the experience as a freshman," he said. "I was more excited than anything."

When Xaverian took a 21-6 lead deep into the fourth quarter, the game looked finished.

But Roberts led the Boxers on a two-minute drill that culminated in a 28-yard strike over the middle to Dominique Williams, now a safety at Boston College. Williams ran in the two-point conversion out of the Wildcat and it was 21-14 with 1:28 to play.

The Boxers nearly recovered an onside kick, but Xaverian was able to hold off the comeback bid and eventually win the Super Bowl the following Saturday.

"Yeah, I mean I've thought about that (onside kick) over and over thinking what could have happened," Roberts said.

By the time his sophomore year rolled around, Roberts was first on the depth chart at quarterback before Paul Mroz eventually overtook him. However, that didn't keep Roberts off the field. His strength as a quarterback to this point in his career has been running the option, so he did that in spots and also held for extra points as well as other various special teams duties.

"Obviously I was a little disappointed that I wasn't able to get the starting job," Roberts said. "But I was contributing and I wanted to have a good attitude by just getting better and waiting my chance."

This season, those chances are abundant. While he still comes in and runs the option, he also starts at outside linebacker and slot receiver and rarely comes off the field.

"Auggie comes in and immediately runs the option as well as any high school quarterback I've seen," said coach Peter Colombo. "That's good to know we have that. He's also playing on defense, playing at wide receiver, showing his versatility.

"Guys that play multiple positions are intelligent players and they wouldn't be able to do that without that and I think it showed on defense; he's just always around the ball. If the ball hits him in the hands, it's going to be our football."

"As a freshman and sophomore game the game was very fast," Roberts said. "This year we're able to get to the plays faster. I know the plays a lot better. I also got work last year at the J.V. level and now I can crank it up to the next level to varsity."

So far, the whole defense has cranked it up to another level in that respect.

"(The defense is) tougher than last year," Roberts said. "We had to be. We're smarter, too. We've got a lot of smart kids on the field. I don't know. We've got to clean it up before (the BC High) game. I think we know we've got work to do."

Sounds like he's ready to rumble.

Coach: Peter Colombo (9th season, 72-23-1)
Last year: 8-3
Key returnees: Paul Mroz, QB, 6-2, 195, Sr. (64-of-130 passing for 1,322 yards, 12 TD, 7 INT, 398 yards rushing on 59 carries, 6.75 yards per carry, 8 TD); Josh Brewster, RB, 5-9, 175, Sr. (177 yards on 34 carries, 5.21 ypc); Dino Hyppolite, DT, 6-0, 250, Sr. (30 tackles, 1 sack, 2 fumble recoveries); Jesse Monteiro, WR/CB, 5-8, 170, Sr. (16 catches for 271 yards); Lucas Depina, WR/K/P, 6-2, 180, Sr. (4 catches, 162 yards, 3 TD); Khahleell Alcide, LG, 6-0, 220, Sr.; Jerrod Shelby, WR/TE/OLB, 6-4, 190, Sr.; Devante Cartwright, CB, 5-9, 170, Sr.; D.J. Brown, DB, 6-0, 190, Sr.; Austin Roberts, OLB/QB/WR, 5-8, 175, Jr.; Ryan Kelley, ILB, 6-2, 210, Jr.; Joe Previte, OT/DT, 6-2, 260, Jr.; Anthony Davis, G/DE, 6-0, 250, Jr.; Micah Morel, S/QB, 5-11, 175, Jr.; Moise Eduard, OLB/RB, 5-8, 225, Jr.
Strengths: Quarterback, speed, offense, young talent.
Weaknesses: Inexperience on defense, pass rush.
Outlook: Offensively, the Boxers have the potential to be better than a year ago despite losing speedy wideout Albert Louis-Jean (Boston College) and shifty running back Trevon Offley (Suffield Academy). Mroz, with a year of experience under his belt and a deep group of weapons to spread the ball around to in Brewster, Depina, Monteiro, Depina and Cartwright. Brewster will get to run behind an offensive line that includes three three-year starters in Alcide, Previte and Davis. The defense has strength on the defensive line but has lacks a pure pass rusher off the edge. The linebackers are sure tacklers and the secondary has excellent corners and a safety in Morel that is already drawing FBS interest despite not having started a single varsity game yet. The schedule offers no favors with BC High, Xaverian and St. John's Prep in the first four weeks. If the Boxers survive that stretch relatively unscathed, there is nothing holding them back from their first appearance at Gillette Stadium since 2008.
November, 25, 2010
11/25/10
4:11
PM ET
By
Andrew Clark
| ESPNBoston.com
BROCKTON, Mass. -- It was the first annual Cape Cod Bowl, the nickname given to the newfound Thanksgiving day rivalry between Brockton and Bridgewater-Raynham. For the playoff-bound Trojans, it appeared to be the beginning of a beautiful friendship, as they edged the Brockton, 23-21, at Marciano Stadium.

"This was a big win for us and I'm really proud of the way our team played," B-R head coach Dan Buron said following his team's win. "This match-up is a really exciting thing. For our guys, years after this, they aren't going to be thinking of the playoffs. They are going to be talking about the win over Brockton."

On their first possession of the game, the Trojans (9-2) didn't waste any time. Junior tailback Nick Schlatz (16 carries, 78 yards) ripped off a run of 25 yards on B-R's first play. On the very next snap, senior quarterback Billy Zolga rolled out of the pocket and found Brad Deluliis in the back of the end zone for a 14-yard touchdown pass. Zolga completed the two-point conversion pass to Steve Wentworth, and the Trojans jumped out to a quick 8-0 lead.

However, the Boxers (8-3) struck right back on their next possession. Led by two consecutive 32-yard runs by tailback Trevon Offley (17 carries, 144 yards, three touchdowns), Brockton quickly marched down the field. Following a pair of short runs by quarterback Paul Mroz, Offley capped off the drive with a 3-yard touchdown run, cutting the B-R lead, 8-7.

Things looked to be going Brockton's way early on. On B-R's next possession, Brockton's wunderkind cornerback Albert Louis-Jean picked off Zolga and returned the ball to the 1-yard line. Offley then punched the ball in for his second TD of the game, giving Brockton the 14-8 lead.

But in the second quarter, the wheels started to come off for the Boxers. The Trojans dominated the clock in the second quarter as they kept pounding the ball against the Brockton defense. Led by Schlatz, the Trojans gave the Boxers trouble all day, and following a Schlatz touchdown and another two-point conversion at the end of the quarter, the Trojans took a 16-14 lead going into the half.

It was more of the same for B-R in the third quarter. On the Trojans first possession of the half, they monopolized the clock once again through their bruising running game. Zolga finished the drive when he found Sean McCall for a 20-yard touchdown pass and the Trojans began pulling away, 23-14.

As things began to look down for Brockton, the Boxers found new life in the beginning of the fourth quarter after recovering a B-R fumble. Brockton strung together a few big plays as the clock was winding down, as Mroz connected with both Jesse Monteiro and Louis-Jean for 20-yard pass plays. Offley, who was one of the few bright spots on the day for the Boxers, ran for his third TD of the game. But it proved to be too little, too late, as the Boxers fell 23-21.

Earlier this year, Brockton and Bridgewater agreed to a 10-year deal to play each other in the Thanksgiving game. Ultimately, for Buron, he is elated for his program to begin a rivalry with what he sees as the strongest program in the state.

"When I'm somewhere else in the country, and I tell them I'm from Bridgewater, they don't really know where it is," Buron said. "But when I say 'It's just south of Brockton,' then they know. When you think of Massachusetts football, you think of Brockton."

NO. 13 BRIDGWATER-RAYNHAM 23, NO. 17 BROCKTON 21

B-R 8 8 7 0 --- 23
Brockton 14 0 0 7 --- 21

1st Quarter
B-R - Brad Deluliis 14 pass from Billy Zolga (Steve Wentworth pass from Zolga)
Brock - Trevon Offley 3 run (Lucas Depina kick)
Brock - Offley 1 run (Depina kick)

2nd Quarter
B-R - Nick Schlatz 5 run (Sean O'Donnell pass from Zolga)

3rd Quarter
B-R - Sean McCall 20 pass from Zolga (Mike Chicoine kick)

4th Quarter
Brock - Offley 1 run (Depina kick)
November, 5, 2010
11/05/10
11:48
PM ET
By
Corey J. Allen
| ESPNBoston.com
WEST ROXBURY, Mass. -- Lucas Depina may well have antifreeze flowing through his veins.

With Brockton's No. 1 receiver Albert Louis-Jean out with a leg cramp, Depina caught a 41-yard pass from quarterback Paul Mroz on fourth and nine with seven seconds remaining in the game to boost the No. 2 Boxers (8-2) past No. 23 Catholic Memorial, 19-18, evading the upset that might have been.

"[Depina] catches the ball when he really needs to," Mroz said. "I prayed to God before that play, and God answered those prayers."

Trailing 13-12 with 5:20 left in the game, Catholic Memorial (5-3) got the ball at their own 21 with their sights on a score, going right to the air while field goal kicker Tom Byrne was warming up his leg on the sideline. Two passes from A.J. Doyle to William Earl (4 yards) and John Gorman (21) put CM on their own 45.

A pair of nine-yard runs by Earl and Donovan Henry (8 carries, 86 yards) moved the ball down to the Boxers' 36. Brandon Hamel dashed twice to the left, picking up 14 yards on each carry, setting up a first and goal from the 8.

Doyle (five carries, 28 yards) rushed for five yards before being wrapped up by Giovanni Hyppolite (four tackles). Henry was stopped at the line of scrimmage by Brockton's David Hylton and Zach Apotheker (five tackles) for no gain. The successful run game left Brockton vulnerable to a quick hitch from Doyle to Armani Reeves in the left flat, who swept into the end zone to put CM up 18-13.

The dictatorial drive could have knocked Brockton out, but the Boxers refused to bow out without a battle.

"Unbelievable, gutsy, gutsy performance on a rough night," Boxers head coach Peter Colombo said to his team after the game. "We didn't play our best, but we won a football game. We showed a lot of heart, I am very proud of everybody."

On the ensuing kickoff, a seven yard return by Jesse Monteiro put Brockton on their 40. After a Mroz pass went off the hand of Trevon Offley (24 carries, 150 yards), he found Ryan Kelley to his left, who took the ball up the sideline and was pushed out of bounds by Dimitri Claude(fumble recovery, four tackles) at the Knights' 42-yard line with 36 second left. Mroz rushed for one yard down to the 41 before a failed pass and a rush by Offley, both for no gain, brought up fourth and nine with 16 seconds left.

On the following play, Brockton went in for the win, sending their receivers into the end zone. With their go-to receiver, Albert Louis-Jean, on the sidelines with a leg cramp, Mroz tossed the ball up top to a wide open Depina, who pulled in the ball and fell past the plane, bringing much of the Brockton sideline with him into the end zone for a victory fête.

"He's got about five catches this year, and three or four of them are for touchdowns," added Colombo. "For a kid that has had a limited role this year, he's had a huge impact on the offense. He understands that on a lot of teams, he may be the go-to receiver, but this year he's got to play his role and he was ready when we called on him. "

One Foot, One Point, Huge Win
Without Depina's extra point kick in the third quarter, the score with seven seconds remaining would have left the Boxers tied with CM, but his ability to the boot conversion with ease was extremely valuable to the outcome of the game. "Lucas is just a high level athlete," said Colombo. "He's a high level volleyball player and a high level soccer player, which is where the kicking comes from."

No. 2 Brockton 0 0 7 12 -- 19
No. 23 CM 0 0 12 6 -- 18

C - Donovan Henry 60 run (pass failed)
B - Trevon Offley 13 run (Lucas Depina kick)
C - Henry 82 pass from Camren Williams (rush failed)
B - Offley 38 run (rush failed)
C - Amani Reeves 3 pass from A.J. Doyle (rush failed)
B - Depina 41 pass from Paul Mroz (rush failed)
November, 2, 2010
11/02/10
10:34
AM ET
By
Adam Kurkjian
| ESPNBoston.com
The MIAA regular season is almost over, and we've gotten a chance to see a lot of talented football players showcase their skills over the past few months. You probably already know the names and teams to look out for, but we're taking sometime today to look at a number of under-the-radar underclassmen who haven't gotten a ton of attention so far, but - given their talent level - that won't last very long.

(Listed in alphabetical order):

Lucas Bavaro, OLB/S, 5-11, 162, St. John's Prep, Class of 2013
Yes, Lucas is the son of Mark Bavaro, who went from Danvers High to Notre Dame to the NFL as an All-Pro tight end. Lucas isn't the same type of player, but he has a bright future ahead of him. Bavaro is a fluid athlete who can both be an asset in pass coverage and against the run. His best attribute is his instinctual nature as a play develops. He simply knows where the ball is going to be before it gets there. He delivered one of the biggest hits we've seen all season in a game against Mt. St. Joseph's (Md.), where he laid out a Gaels' receiver in the right flat. Expect to see a lot more of that in the future.

Christopher Burke, LB, 6-2, 200, Gloucester, Class of 2012
There aren't a whole lot of Fishermen who start that aren't seniors, but Burke is a player who has earned his spot among a truly spectacular defense on the North Shore. Burke is like everyone else on the Gloucester defense in that he can run fast and hit hard. Burke has good size and the potential to add weight to his frame. He plays well in space and is an aggressive player on both sides of the ball (he also plays on the offensive line). There are many reasons why it is tough to run the ball on the Fishermen, and Burke is a big reason why.

Kenny Calaj, RB/WR/OLB/DB, 5-11, 180, Everett, Class of 2013
As you can see by the number of positions that are listed next to his name, one of the biggest strengths to Calaj's game is his versatility. Last year, Calaj started at cornerback as a freshman. This year, Calaj plays closer to the line of scrimmage and no one has been able to get the edge to his side all season. People who have seen Everett this season and watched their defense have noticed Calaj, but we're curious to see what happens next year when he will be more of a factor on an offense that will have to replace receivers Matt Costello and Manny Asprilla. Whatever happens, Calaj will be fun to watch the next few seasons.

Luke Catarius, FB/LB, 6-0, 210, BC High, Class of 2013
The last time BC High won a Super Bowl, it had a player a lot like Catarius on its roster named Tyler Horan, now a baseball player at Virginia Tech. Another player Catarius reminds us of is former North Attleborough star and current starting fullback for UConn, Anthony Sherman. On offense, Catarius is a punishing lead-blocker and runner between the tackles. Defensively, he's just always around the ball, and if he's able to get his hands on the ball-carrier, then he's going down. On top of that, Catarius plays with the type of enthusiasm and intensity you like to see in a player.

Lincoln Collins, WR, 6-3, 170, BC High, Class of 2013
Collins is a little bit more of a project than most of the other players on this list, but he has gotten better each time we've seen him. His ceiling is pretty high. He reminds us a little bit of former Xaverian and current University of New Hampshire wide receiver Kevon Mason at the same stage. The biggest difference between the two is that Mason didn't start until his senior year and by that time Mason was a lot faster than Collins is now. Collins isn't a burner, but he has shown good hands and has the size to be a mismatch against most defensive backs at this level. The more he plays and gets bigger and stronger, the more it will be harder to ignore his ability.

Casey DeAndrade, RB/S, 6-0, 175, East Bridgewater, Class of 2012
DeAndrade may play at a smaller school, but he is good enough to play at any of the bigger schools around here. DeAndrade is just a playmaker on either side of the ball. He possesses good speed and knows what to do with the ball in his hands. Defensively, he's the type of player that can cause receivers to play with alligator arms. DeAndrade has a solid build and looks more filled-out than his listed weight of 175 indicates.

Lucas Depina, WR/S, 6-1, 190, Brockton, Class of 2012
The Boxers seem to have a bevy of tall, speedy athletes on the perimeter this year, and Depina is one of the best of the lot. Depina doesn't start on defense yet, but when he does get in you can see his vast potential at the safety position. Depina is every bit of 190 pounds and pursues well to the ball in the run game. Overall, his game is a little reminiscent of former Boxer safety/wideouts Nate and Darren Thellen. Brockton's depth has limited Depina's playing time a bit this season but shouldn't overshadow his ability.

Colby Enegran, FB/DE, 6-2, 225, Xaverian, Class of 2012
As a sophomore, Enegran battled injury problems and wasn't able to get much varsity experience. This year, Enegran has been able to stay healthy and has gotten better with each viewing as a starting strongside defensive end for the Hawks. Enegran has good strength and can be overpowering for offensive tackles at this level. He hasn't gotten many reps at fullback, but he is a bear on that side of the ball as well.

Ryan Farrell, S, 6-1, 190, Xaverian, Class of 2012
The Xaverian coaches have been high on Farrell for a while, and this fall we've been able to see why. Farrell is a thickly-built, aggressive player who could be just as comfortable playing outside linebacker. Like DeAndrade, Farrell is the type of player who can be intimidating for opposing receivers going over the middle. Just a physical, aggressive player, Farrell has his best playing days ahead of him.

Ray Gobbi, G, 6-0, 288, Xaverian, Class of 2013
A native of Brockton, Gobbi is the type of mauling interior lineman that the Hawks used to lack for much of the last decade. While Gobbi at times has had some typical struggles of a sophomore starting on varsity against the Hawks' difficult schedule, you can see why he's earned a spot on the front five. Gobbi's strength at this point is his run-blocking, and one can expect to see him make huge strides each year under one of the best offensive line coaches in the state in Dennis Lozzi.

Kurt Hunziker, MLB/FB/H-back, 6-3, 215, Masconomet, Class of 2012
Hunziker has been a starter at Masco since his freshman season, and he looks like a man among boys sometimes. Hunziker is listed at 215 pounds, but he looks a lot more like 225 or 230. Hunziker moves well for a player his size and is a punishing tackler. He patrols the middle of the field well in the passing game but that's not his strength. Overall, Hunziker is light on his feet and an intimidating player at this level who also flashes good ball skills when needed.

Giovanni Hyppolite, DT, 6-0, 240, Brockton, Class of 2012
The height and weight listed here is taken off the Brockton program but doesn't look very accurate. Hyppolite may be 6-feet tall, but he is closer to 270 than 240. The Boxers are extremely deep at defensive tackle, but Hyppolite is one of the more essential pieces of that unit. Hyppolite plays with great leverage and quickness of the snap and has been able to get into opposing backfields all season. With another year of strength and conditioning, this already productive tackle will be even more so next season.

Ryan Kelley, LB, 6-2, 205, Brockton, Class of 2013
Kelley has been injured for most of the season, but he won a spot at inside linebacker early on and when he returns it will be a big boost to the Boxer defense. In a program with a lot of young talent, Kelley may have the most potential out of anyone. Kelley runs well and has the frame to add a lot of good weight. Kelley is one of the more complete linebackers in his class in terms of his overall versatility and it will be interesting to see how effective he is the rest of the season coming off his injury.

Jack McDonald, OT, 6-4, 255, BC High, Class of 2013
We talked to BC High coach Jon Bartlett at the Xaverian passing league this past summer about who some of the candidates are to start on an offensive line that lost four starters, and he raved about the progress McDonald made. McDonald didn't start at the beginning of the season but he does now, and he simply doesn't look like a sophomore. He has good length and we can only imagine how big and strong he will be by the time he's a senior. BC High always produces quality linemen and McDonald looks to be the next in a long line of great ones.

Gordon McLeod, WR, 6-0, 170, BC High, Class of 2012
Another player Bartlett was very optimistic about in that same conversation at the Xaverian passing league was McLeod. As a sophomore, McLeod was integral in his team's Thanksgiving Day win over Catholic Memorial. McLeod will need to keep adding weight as he still looks a little skinny, but there's no denying the speed he has. Truly one of the most underrated skill players in the state, McLeod has the speed to be a vertical threat to go along with very good hands.

Jameson McShea, TE/DE, 6-4, 230, BC High, Class of 2012
Like a few players on this list, we've put the height and weight that is listed on the roster, but we wouldn't be surprised if McShea is closer to 245 or 250 based on what we saw at the Everett game. If we had to compare McShea to a recent player from around the area, it would be former Eagle and University of Virginia standout Jack Shields. McShea has good hands and is a load to bring down once he gets a head of steam. But, like Shields, we wouldn't be surprised if McShea isn't converted to an interior offensive lineman at the next level.

John Montelus, OT, 6-4, 245, Everett, Class of 2013
When we talked to Everett coach John DiBiaso this past summer, he compared Montelus to Gosder Cherilus at the same stage. Cherilus went from Somerville to Boston College to the Detroit Lions, so it's pretty high praise. Montelus is the type of tackle prospect that major college programs covet because of his long arms and excellent footwork. Everett offensive line coach Mike Milo is one of the best you will find anywhere, not just in the state, and expect him to draw every bit of potential out of this promising tackle.

Alex Moore, RB/DB, 5-11, 176, St. John's Prep, Class of 2013
This is another player who looks a lot bigger than his listed height and weight on the St. John's Prep roster. Moore is part of a young secondary at the Prep, but he could just as easily be an outside linebacker like classmate Lucas Bavaro. His speed and physicality jump out at you in person. He is simply an impressive looking athlete who can bury a ball-carrier when he gets to him. He will get a look at the starting tailback job when Tyler Coppola graduates but his position at the next level is likely on defense.

Kevin Painten, OL/DT, 6-0, 250, Xaverian, Class of 2012
Yet again, we wouldn't be surprised if Painten were a little heavier than his listed weight. Overall, Painten's best quality is his footwork. He plays a lot like Brockton's Hyppolite, using his low center of gravity to get the best of opposing linemen. Painten is a two-year starter at offensive tackle, but his height will keep him on the interior at the next level. Xaverian will have a very good offensive line next year and Painten is a big reason why.

Hunter Taute, FB/ILB, 6-2, 225, Xaverian, Class of 2013
Like Brockton's Kelley, Taute has been injured most of the season but he is just getting healthy now. The Xaverian coaches are very excited about Taute's potential on both sides of the ball. A bowling ball of a player, Taute is a lot like Catarius. Right now, Taute is mostly getting reps at fullback but the Xaverian coaching staff wants him to eventually get time at middle linebacker, as well.

Jonathan Thomas, CB, 5-7, 137, St. John's Prep, Class of 2014
Thomas looks a lot more thickly-built than 137 pounds. Either way, it's impressive that Thomas has been able to crack the starting lineup and play at the Prep as a freshman. Thomas has had to cover the likes of Albert Louis-Jean, Matt Costello and Richard Rodgers this season and held his own. Obviously, Thomas will need to get bigger, but we can see Thomas being a force by the time he's a senior.

John Warner, TE, 6-7, 225, Xaverian, Class of 2012
Warner is just starting to scratch the surface of his potential. Obviously at this stage Warner's best attribute is his height, and he used it well this past weekend when he leapt for a jump ball in the end zone for a touchdown against St. John's of Shrewsbury. If Warner hits the weight room hard this offseason and works on his speed, he will be able to have his pick of schools by this time next year.

Jakarrie Washington, WR/RB/CB, 5-10, 160, Everett, Class of 2013
Everett has speed all over the field, and one of their fastest players is this talented sophomore. Right now, Washington plays wide receiver, but we wouldn't be surprised if he went the same route as teammate Manny Asprilla and eventually saw time at cornerback. Washington is also someone who will make an effective running back at this level, as he possesses outstanding speed and change-of-direction skills.
October, 15, 2010
10/15/10
11:43
PM ET
By
Adam Kurkjian
| ESPNBoston.com
BROCKTON, Mass. -– You want to see an exciting high school football game? Go see No. 4 Brockton. Chances are you'll get your money's worth.
The Boxers have lived on the edge in every game but one this season. The hosts escaped an upset bid from Pinkerton Academy (N.H.) Friday night at Marciano Stadium with a 21-14 victory, sealed in the final minute when senior Ralph Cherry intercepted a Chris St. Onge pass inside the Boxer red zone with 20 seconds remaining.
With the victory, Brockton improves to 5-1, while Pinkerton drops to 5-2.
"It was big, real big," said Cherry, who also had a fumble recovery, of his game-saving pick, which was initially deflected by cornerback Davidson Barthelmy. "Defense came together at the end. We always have our backs to the wall but we came together as a family, got the interception, game over."
Other than a few key defensive stops and turnovers, the Boxers were able to come away victorious due to the running of senior tailback Trevon Offley, who had 188 yards and a touchdown on 24 carries. Quarterback Paul Mroz only completed four passes, but one of them was a 48-yard touchdown to Albert Louis-Jean (3 catches, 68 yards) to open the scoring. Mroz also had a 2-yard touchdown run in the second quarter to help give the Boxers a 13-8 lead at the half.
Here are a few observations on yet another dramatic Brockton contest:
Getting Offley back from a shoulder injury earlier in the season has been huge for the Boxers. Sure, the Brockton offensive line has been improved over the course of the season, but what makes Offley so special is that he can make a big play when the hole isn't there. As good as the Brockton passing game has looked at times with Mroz finding players like Louis-Jean, Cherry and juniors Jesse Monteiro and Lucas Depina, having Offley dance around defenders opens this offense up that much more. Or, as coach Peter Colombo said, "He's the bread and butter." Generously listed at 5-feet, 8-inches tall, Offley isn't the biggest back around, but if you want to find a more elusive player with his combination short-area quickness and lower-body strength, you'll be looking a long, long time, because you're not going to find anyone like that around here.
Speaking of that offensive line, the Boxers were faced with a dilemma two weeks ago when junior left guard Khahleell Alcide went down with an injury that will likely keep him out another few weeks. The solution that offensive line coach David Grein came up with was to put 6-3, 300-pound defensive tackle William Carruthers in his spot next to senior left tackle Jacques Janvier (6-1, 300). That move has paid off pretty well so far. When Brockton runs to that side, Carruthers and Janvier – who have the nifty footwork and explosiveness off the snap that belies their bulk – simply collapse the edge to make way for Offley, who knows what to do with holes that large. "I'm pleased with the way our offensive line is starting to come together and give (Offley) the room he needs," Colombo said.
The Boxers have a ton of playmakers on defense, but the one who is probably making the most right now is senior defensive end/outside linebacker Saquaan Louis (6-1, 215). "Tiny," as his teammates call him, isn't at all tiny, neither in stature nor ability. According to the Boxer coaches, Louis made 19 tackles against Fitchburg. He didn't have that many against Pinkerton, but he did make the most bone-jarring hit of the night when he absolutely leveled an Astro back on a run up the gut in the second quarter. The play resulted in a fumble and recovery by James Flores. Louis is most likely headed to a junior college or prep school next year, but whatever Division I school happens to pick him up after that will be lucky to have him. Louis has the ability to not only play at that level, but be a difference-maker from the outside linebacker spot. If you want a comparison to a recent Boxer linebacker, think Tyronne Pruitt (Boston College).
Although it technically would have been an upset if Pinkerton won, the Astros are an excellent team that could compete with anyone in Eastern Mass. If you want to pinpoint it, Pinkerton runs the Wing-T, but the Astros aren't a typical Wing-T team in that they run it out of more formations and with greater versatility than is typically run around these parts. Also, while Brockton definitely had a speed advantage, the Astros have their fair share of burners. Freshman Manny Latimore (5-9, 175) looks and runs like a senior, while junior Emmitt Smith (5-9, 150) was shaking the Brockton defenders out of their shoes all night. The two combined for 152 yards on 26 carries and a touchdown. But maybe the most impressive-looking player on the Astros' roster is junior lineman Jesse Trottier (6-3, 265). Pinkerton fell just short against the Boxers, but with just nine seniors on the roster and a bevy of underclassmen starting, the Astros have a lot to look forward to and will only get better from having faced a team of Brockton's caliber.
Pinkerton 0 8 6 0 - 14
Brockton 7 6 8 0 - 21
B - Albert Louis-Jean 48 pass from Paul Mroz (Lucas Depina kick)
P - Kevin Davies 4 run (Branden Rodgers pass from Sean Conroy)
B - Mroz 2 run (rush failed)
P - Manny Latimore 1 run (rush failed)
B - Trevon Offley 4 run (Austin Roberts rush)
October, 2, 2010
10/02/10
11:38
PM ET
By
Corey J. Allen
| ESPNBoston.com
BROCKTON, Mass. -- On fourth and goal from the Brockton 14-yard line, senior defensive back John Bright deflected a pass to Ryan Delisle, stopping a 69-yard and nearly 6-minute drive by St. John's Prep to seal the 17-14 win for No. 3 Brockton at Rocky Marciano Stadium.

"They're a good, physical, tough football team," Brockton head coach Peter Colombo said. "They can control the football, and I was proud of our defense for hanging in there."

On St. John's final drive, the Brockton defense was put to the test. After 12 snaps, No. 17 St. John's Prep (2-2) was at the three yard line, and having averaged 5.5 yards per carry on the drive up to that point, not showing any sign of letting up before they broke the plane on another 60-plus-yard drive.

Late in the second quarter, the Eagles flew 66 yards in 33 seconds, landing in the Brockton (3-1) end zone on the heels of senior Tyler Coppola's 3-yard bum rush, where he carried a Brockton defender across the goal line for St. John's first score in the game.

Getting the ball back early to start the third, St. John's Prep looked like they were going to give up a three-and-out after a holding call pushed the Eagles back, with the ensuing pass going for what would have been a first down without the penalty. After a rush for lost yardage by Coppola, the Eagles' punt was mishandled by Brockton, and they regained control of the ball.

Three plays later, on third and inches, St. John's Prep senior quarterback Tommy Gaudet rolled right and into the end zone from 38 yards out.

Back on the 3-yard line with less than three minutes to go, a St. John's offside penalty set them back to the 8. A loss of six yards on a Coppola rush and a pair of passes (one overthrown and the other dropped) would leave the Eagles 14 yards out and one opportunity to win.

The pass was well on its way into Delisle's hands, but Bright batted the ball down to raise the spirits of the Brockton faithful.

"They're kids, it's emotion, they're excited", St. John's head coach Jim O'Leary said about the off sides call on the goal line. "You can see the goal line from there. The play is away [from the direction the off sides was called].

"Like I told the kids, it's not one play that makes that difference. We had a couple of dropped balls down there [on the goal line] and it gets us into doing things that we don't want to do."

After St. John's took the lead early in the second half.

Brockton responded promptly with a simple two-minute drill: A Paul Mroz quarterback sneak; a 39-yard bomb down the left sideline from Mroz to Albert Louis-Jean; a jarring three-yard effort by Trevon Offley; and a pair of rushes by Mroz, the second a one-yard sneak past the plane in a pile. Lucas Depina's extra point gave the Boxers back the lead, which they were able to hold onto for the rest of the game.

"Good teams win tough games under adversity," added Colombo. "We've got a lot of work to do. We got a win, we're 3-1 after playing the iron of the Catholic Conference; it's a good place to be."

What can three points do for you?

Before St. John's prep scored in under a minute to close out the first half, Brockton's 6-foot-1 junior kicker, Lucas Depina, sailed a 41-yarder straight through the uprights, which brought the City of Champions stands to their feet and gave Brockton their margin of victory.

"Lucas is raising some eyebrows," said coach Colombo. "He's got a big-time leg and he's only a junior. He kicks it off the grass. We're allowed to use a tee but he kicks it right off the grass, which is the way that the college kids have to kick it. Lucas gives us a weapon, that with the schedule we playing, having the ability to make three [points on a field goal] and to convert the extra point."

"I didn't want to miss," said Depina.

He doesn't differentiate between extra points (he made both) and long kicks. He even thinks he could've gone for more yards if he needed to.

"I could've gotten it in from 50 [yards] at that point."

SJP 0 8 6 0 14
B 7 3 7 0 17

B – Jesse Monteiro 8 pass from Paul Mroz (Lucas Depina kick)
B – Lucas Depina 41 FG
SJ – Tyler Coppola 3 run (Copolla rush)
SJ – Tommy Gaudet 38 run (rush failed)
B – Mroz 1 run (Depina kick)
September, 25, 2010
9/25/10
8:05
PM ET
By
Brendan Hall
| ESPNBoston.com


WESTWOOD, Mass. -- Tommy Jenkins had just dropped a golden touchdown opportunity on second down in the first overtime of his No. 2 Xaverian Hawks' battle with No. 1 Brockton. But his quarterback, junior Chris Calvanese, had enough faith to call his number again, rolling right and heaving a -- let's be fair here -- prayer to the back right corner of the end zone as he was being dropped in the FieldTurf.

The high and short ball, with plenty of air under it, somehow landed softly in Jenkins' hands in single-coverage. But not until he heard the roar of the capacity home crowd did Calvanese feel assured.

"That's how I knew it was a touchdown," the junior quarterback said of his throw. "I did not see...I saw one-on-one coverage, and Tommy Jenkins made a great play. I just threw it up there. It's just...unbelievable, just unbelievable."

And so, in his third start under center for the Hawks, Calvanese shook off a series of late cramps and delivered some late-game heroics, enough for his head coach Charlie Stevenson to call this afternoon's 23-20 double-overtime win over Brockton one of the greatest wins in school history.

"There's another kid who, under really difficult playing circumstances (temperatures touched 90 degrees), really sucked it up and played hard," Stevenson said of Calvanese, who finished with 125 yards passing and completed eight of his final nine passes. "He really gave us everything he had, so I can't ask for anything more, and that goes for our players and our team too."

Xaverian (3-0) now leads the all-time series over Brockton (2-1) by a margin of 14-13, dating back to 1988.

The game was far from over following Calvanese's strike. Joe Colton was railroaded square onto his back at the pylon by Miami-bound safety Albert Louis-Jean on the Hawks' failed point-after attempt (teams must go for two in overtime), and the Boxers fired right back with a six-yard scamper from Trevon Offley (19 carries, 117 yards, three touchdowns). But on the point after, Offley was stuffed short of the goal line by Zach Bartlett.

Zach Maiuri then picked off Brockton's Paul Mroz on the next possession, setting up Jules Murphy's game-winning field goal from 19 yards out. The home crowd went into a frenzy, and a handful of Hawks jumped up into the bleachers to join their fans.

And for good reason. The Hawks, defending Division 1 Super Bowl champs, will almost assuredly sit at No. 1 on our rankings come Monday.

"My hat goes off to Brockton, they really took it to us all day long," Stevenson said. "It's just one of those games that will go into Xaverian-Brockton history books as another one of those affairs, you know what I'm saying? Hopefully, we go and do it again in December with them."

With just over two minutes left in the game and Brockton clinging to a 14-7 lead -- not to mention, against a Xaverian defense that was without star linebacker Chris Tamasi (left leg) for all but 30 seconds of the fourth quarter -- Offley burst up the middle and shook three Xaverian defenders en route to a 34-yard scamper that put the Boxers at midfield. But the ensuing snap was fumbled, and Bartlett fell on it to give the Hawks the ball with 1:33 to go at their own 45.

Calvanese connected with Mike Muir -- who, just a few plays earlier, separated his shoulder and popped it back in -- on the first play of the drive for a 29-yard completion, stepping out of bounds at the right sideline. Calvanese went to Muir again on the next play, diving at the right sideline for eight yards, but the Hawks had to use a timeout as their quarterback was slow to get up following another leg cramp.

But the junior got on his feet, delivered a flare pass to Nick McDaniels that stopped the clock again. Following an eight-yard Joe Colton jet sweep that put the ball at the nine, Calvanese rolled right on first and goal, and found Muir just inside the right pylons for the game-tying score.

"He separates his shoulder, then comes into the football game and makes a catch like that to tie it up -- I mean, a separated shoulder, OK? Who says Xaverian guys aren't tough?" Stevenson laughed.

Brockton head coach Peter Colombo was visibly frustrated with his team's production down the final stretch of the fourth quarter -- "It's a fun game to play in, but not fun to lose like that," he said -- but offered nothing but the highest of praises for his workhorse back.

"He was tremendous, tremendous," Colombo said. "I've got to look at the film to see why he didn't get in on the two-point conversion, because I really thought we had them beat there, too. We just didn't put them away when we could have, and that's what's going to haunt me."

No. 2 Xaverian 23, No. 1 Brockton 20

B - 0 14 0 0 6 0 --- 20
X - 7 0 0 7 6 3 --- 23

X - Joe Colton 3 run (Jules Murphy kick)
B - Trevon Offley 12 run (Lucas Depina kick)
B - Offley 14 run (Depina kick)
X - Mike Muir 9 pass from Chris Calvanese (Murphy kick)
X - Tommy Jenkins 9 pass from Calvanese (rush failed)
B - Offley 6 run (rush failed)
X - Murphy 19 field goal
September, 10, 2010
9/10/10
11:24
PM ET
By
Adam Kurkjian
| ESPNBoston.com
BROCKTON, Mass. -– In the non-league season opener for both teams, No. 1 Brockton took down No. 4 BC High, 16-6, Friday night at Marciano Stadium. Brockton senior quarterback Paul Mroz was brilliant in his first-ever varsity start, as he rallied the Boxers from an early deficit with 181 yards throwing and two touchdown passes.

Here are a few quick thoughts from the game:

- Mroz has the chance to have a special year under center for the Boxers. After BC High took an early 6-0 lead in the first quarter, Mroz fired a laser down the far sideline for classmate Albert Louis-Jean, who was wide open and walked in for a 55-yard touchdown. In the second quarter, he added another score with a 27-yard toss to junior Lucas Depina. Although he did throw one interception in the BC High red zone, Mroz (7-of-11 passing) looked completely in control of the Boxer offense the rest of the night. Brockton used a lot of play-action and teams will have to respect Mroz's running ability, as well, as he picked up another 38 yards rushing.

Mroz had the quote of the night regarding play-action: "Play-action is like cheese, you know? I just fake it and then eat the cheese."

- Starting Boxer running back Trevon Offley injured his shoulder in the first half and didn't return. But his replacement, junior Josh Brewster, performed admirably in his stead. Brewster finished the night with 62 yards on 15 carries, doing most of his work on a Boxer drive that took eight minutes off the clock in the fourth quarter. That drive set up Depina's game-clinching 19-yard field goal with just over two minutes to go. Unlike Offley, who is a shifty runner that can juke defenders out of their shoes, Brewster is a north-south bruiser who is tough to bring down with one tackler.

- If Friday night is any indication, the Eagles will be able to run the ball on most of their opponents this season. Juniors Preston Cooper (103 yards on 16 carries, TD) and Deontae Ramey-Doe (51 yards on 9 rushes) made up the bulk of the BC High offense. Each possesses tremendous quickness to the edge, several times getting to the corner quicker than the Brockton defenders. Cooper's touchdown was on a well-executed Wildcat run for a 30-yard score.

- For the second consecutive year, BC High senior Obum Obukwelu, a UConn verbal commit as of this week, made a living in the Brockton backfield. Obukwelu had a sack and several tackles for loss and was generally unblockable for most of the night. The 6-foot-1-and-a-half-inch , 260-pounder gets off the ball as fast as anyone in the state and has outstanding strength to go along with it. Expect many double- and triple-teams to come Obukwelu's way this season, although it may not matter. At the high school level, there are not a lot of offensive linemen in this state that can handle him.

BROCKTON 16
BC HIGH 6

BC High (0-1) 6 0 0 0 – 6
Brockton (1-0) 7 6 0 3 – 16

FIRST QUARTER
BC – Preston Cooper 30 run (rush failed)
B – Albert Louis-Jean 55 pass from Paul Mroz (Lucas Depina kick)
SECOND QUARTER
B – Depina 27 pass from Mroz (kick failed)
FOURTH QUARTER
B – Depina 19 FG