Boston High School:

Luis Guerra
September, 25, 2013
9/25/13
10:15
PM ET
By
Josh Perry
| ESPNBoston.com
SOMERVILLE, Mass. – Somerville head coach George Scarpelli could only shake his head as he talked about the turmoil that his team has faced this season. Scarpelli was speaking before his squad faced fellow top five team Masconomet Wednesday at Dilboy Stadium.
From the start of training, the well-publicized allegations against several Highlanders' J.V. players have placed a cloud over the program. Yet, the team has succeeded on the field. But coming into Wednesday's game, Somerville was preparing to play against one of the top teams in the state without seven of its starters, who were missing from both injury and internal discipline.
By the end of the game, Scarpelli was shaking his head again after his inexperienced crew held off a formidable challenge from Masco. A strong performance by senior keeper Luis Guerra and a second-half goal by senior Luis Salguero pushed the Highlanders to a 2-1 victory in an entertaining, end-to-end contest.
[+] Enlarge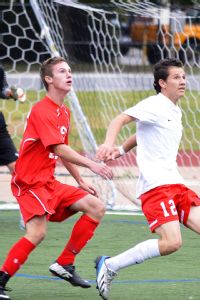 Josh Perry for ESPNLuis Salguero's winner in the second half kept Somerville ahead of a late Masconomet charge.
"It's been tough…mentally, physically…I've said to people that we haven't even put together two practices as a whole team to actually physically train together as team," reflected Scarpelli after his team held on for the victory. "One thing that I was nervous about on this team was depth, but the good thing is that we saw some pieces that can now fill in."
Masco started the game strongly, as Somerville's inexperience showed in the opening minutes. The Highlanders were forced to scramble away a corner in the opening minute and Masco senior midfielder Adam Grammer forced Guerra into a good save with his legs. After that save, Somerville started to gain control through senior captain Francisco Neto.
In the 15th minute, Neto earned a free kick from 25 yards out that the midfielder then curled towards the top corner. Masco keeper Willie Stewart got across to palm it away for a Highlanders corner. Neto played the ensuing corner into the box where Jonathan Figueroa hit the bouncing ball on the volley to open the scoring.
The Chieftains came right back, but Guerra saved at the feet of Edison Forbes. Guerra was forced into several great saves in the first half as Masco pressed forward and he was quickly off his line to keep Max Craig from getting to a through ball. In the 30th minute, Jeff Panella played in Grammer, who beat the offside trap, and on a two-man breakaway he unselfishly fed Craig, but the senior slid the ball wide of the open net.
It was a moment that could have turned the game and Scarpelli was proud of the way that his team recovered and even created another chance before halftime. Daniel Raphael forced into a sliding block to prevent Salguero doubling the advantage.
"We stuck in there, we hung in there, we didn't quit, we didn't lay down and I was nervous after that one play that they missed that we would turtle-up and hang back I give a lot of credit because they pushed forward and kept going," said Scarpelli.
The second half continued the pattern. Masco would push forward and create chances, but the Chieftains were denied by solid goalkeeping and inability to finish. Stephen Pease missed over the bar from inside the six-yard-box, Grammer had a shot from a corner cleared off the line by Neto and Guerra, and then the captain also had a header saved on a free kick.
Masco head coach David Mitchell rued his team's missed chances.
"The difference in the game was that they finished their opportunities and we didn't," he remarked. "They didn't get too many looks, I actually think we had more, but we just didn't have enough composure in the box."
Scarpelli credited his senior keeper. He noted, "They had the better chances, but Luis came up big with a few huge saves on breakaways and crosses. You can see how he stands out above just about every keeper in the state. He's so good; it's impressive. That's why I'm going to enjoy this last year."
Somerville continued to look for the second goal that could put the game away, but Salguero again could not keep his shot down off a Neto cross. From the goal kick, Masco had another chance, but again Grammer was unable to finish a breakaway as Jose Ayala slid in to clear the ball off the line. Two minutes later, the lead was doubled.
Salguero took a feed from Neto and this time planted an unstoppable shot from the edge of the box into the bottom corner to make it 2-0. Instead of sending Somerville to an easy win, however, the Highlanders backed off for a second and Grammer's flick eluded Elliot Rippe straight into the path of Craig, who finally was able to finish a breakaway and get Masco back within one.
In the end, Masco pressed but could not find the equalizer. Mitchell was pleased with the performance of his team in a state tournament atmosphere, despite the defeat, "Adam created some good stuff, Max Craig played well up top just distributing balls, and Jeff Panella – I don't think he missed a ball in the air all day. We're a good team on the attack; I'm just disappointed that we didn't finish the chances that we created."
There was relief from the Somerville players with one player commenting that he could not believe that they had won. It was another positive sign for Scarpelli that his team is capable of going all the way.
"We had three J.V. players starting that game and you wouldn't know where there were, so I'm proud of them," he remarked. "These are the games we have to see…that prepare you for the state tournament."
November, 15, 2012
11/15/12
12:23
AM ET
By
Josh Perry
| ESPNBoston.com
(Highlights courtesy of The Needham Channel)
LYNN, Mass. -- Mac Steeves scored two first-half goals, including one from the penalty spot, to bring Needham back from a goal down in a 2-1 victory over previously unbeaten Somerville on Wednesday night at Manning Field.
The Rockets' 6-foot-4 forward was a menace throughout. In addition to scoring goals, Steeves was a towering presence in the midfield and defense as Needham dropped back midway into the second half.
Needham head coach Don Brock, who will be looking for the third state championship of his illustrious career, spoke after the game about the team's many uses for Steeves in late-game situations.
"We've been doing it for several years with Mac," he said. "He can play anywhere on the field. He's one of the taller players and he's got a tremendous boot."
Somerville started the game brighter, with its own star Felix De Bona forcing Needham goalie Kevin MacMillan into two early saves. The Highlanders jumped out to a 1-0 lead in the 13th minute when Francisco Neto's cross from the left caromed into the net off the knee of Rockets defender Jack Nardi.
Gradually, Needham started to get more control of the ball in the midfield through senior captains Brandon Miskin and William Corkery.
The game changed in the 25th minute when Steeves, who had already had an early chance well-saved by Luis Guerra, was played in by an incisive through ball from Miskin. The team's leading scorer made no mistake with a cool finish into the bottom corner.
Just before the break, Steeves went down in the box as he battled with Somerville defender Andre Rolim (who also received a yellow card). A penalty was given and Steeves sent Guerra the wrong way to give Needham its first lead of the night.
The call was hotly disputed by Somerville head coach George Scarpelli.
"It's disheartening," he said. "You play that long and that hard, you know...It was tough when you lose on something like that. You're talking about two kids that battled all night long. This is why you preach- finish your chances and we would have been there."
The second half saw little in the way of goalmouth action as the Rockets dropped back into a defensive shell. Both goalies were only forced into one save apiece following the halftime interval.
Scarpelli saw the strategy being implemented and knew that it would be problematic for his team given the size and strength of the Rockets.
"They dropped off," he said. "They put six guys in the back and left one kid up top and it worked. I give a lot of credit to Needham. Coach Brock is a legend, he knows how to play these games and he did it."
For Steeves, and the rest of the Needham seniors, it was a job well done and sets up a chance to win the program's first state title since the turn of the millennium.
"Our team, collectively, just played a great game," Brock said. "Our defense has improved so much all season. I think we just put together a good game there and knocked off a very, very good team."
Needham will advance to the state championship game to be played Friday night at 7:30 p.m. against Amherst, at Worcester State University.
Tournament Notes:
After Needham's win, Don Brock commented that he wished that the Rockets would be taking on Ludlow in the state finals so to "get even with them." Brock, who has more than 600 wins in his career, will have the chance to add his fourth state title on Friday Night.
Brock will not get Ludlow, but he will be facing a West region team. Amherst held off Leominster 1-0 in the semifinal game played at Nashoba Regional to advance to Worcester. This was not the expected semifinal matchup as most predicted a rematch of last year's battle (in the metaphorical and literal sense) between top seeds Worcester North and Ludlow. It was fitting that the two teams that knocked off the top seeds would get to play each other. Amherst have now won three in a row by 1-0 scorelines (the game against Ludlow was scoreless into penalties but goes down officially as a 1-0 win), but it will be a tough task to keep the Rockets off the board.
Franklin will face Nashoba in the D1 girls final after the Panthers beat Beverly 2-0 in the early game at Manning Field. Kristi Kirshe, who is on the list of submitted names for All-American status, ended a two-game scoreless streak and notched her 100th goal of her career on an early free kick. Kirshe was dropped into a midfield role against Beverly as they looked to disrupt its attack. The star of the game was Julia Bireley, who was given the man-marking job on Beverly junior striker Caitlin Harty. Harty has scored an incredible 50 goals this season, but barely got a whiff of the goal thanks to the attentions of the junior defender. Friday's early game should be a classic between two teams that have been ranked all season. Nashoba knocked off Minnechaug, who beat the favorites East Longmeadow in the sectional.
Groton-Dunstable will attempt to defend its D2 boys' state title after handing Belchertown its first loss of the season. The opponent will be the mustangs of Medway who have advanced to the state finals despite losing their best player, Matt Coakley. Sutton will also look to defend its title (Division 3) when it takes on Watertown in the finals. The D3 North sectional champs advanced with a win over Dover-Sherborn in penalties.
It will be a battle of unbeaten in the D2 girls' championship game as Medfield (the 2010 state champs) will face West sectional champions Belchertown. This is the final season for the Orioles at this level and they will have a tough task against the Warriors, who received national top 25 votes in the latest NSCAA poll released yesterday.