Boston High School:

Luke Brennan
December, 10, 2013
12/10/13
12:53
AM ET
By
Brendan Hall
| ESPNBoston.com
Saturday's inaugural MIAA Football State Championships at Gillette Stadium crowned victors in six divisions, which meant plenty of highlight reel-worthy plays were jam-packed into the day. Here are my Top 10 plays from the weekend:
(Video clips courtesy of Hudl.com)
Honorable Mention –- Rufus' Rumble
Glad to see we'll have another year of Bishop Fenwick running back Rufus Rushins, because the junior is a lot of fun to watch when he gets a full head of steam downhill. The Crusaders shut out Northbridge, 28-0, for the D5 state title, thanks to Rushins' 158 yards and three scores on 15 carries.
10. Follow Your Blockers
Dennis-Yarmouth's L.K. Metz follows every fundamental rule here as he jukes and jives his way to a very nice kick return, taking a Doherty squib kick all the way down to the Highlanders' 6-yard line to set up an eventual score. Doherty went on to win the Division 4 state championship, 28-26.
9. Ball Hawk
Mansfield's Aurian Dawkins shows great awareness and ball instincts on this end zone interception, jumping a would-be TD throw to St. John's receiver Mike McGillicuddy and laying out for the pick. Mansfield doubled up the Pioneers, 28-14, to win the D2 state title.
8. Bassett Hounds the Skippers
Littleton running back Travis Bassett had the best statistical performance of the day, carrying 22 times for 263 yards and four TDs, and adding a 29-yard catch off a screen pass for a fifth TD, and adding two interceptions, as the Tigers routed Cohasset 52-35 for the D6 state title. There are plenty of highlight plays for Bassett, but my personal favorite is this 78-yard scamper. Just look at the afterburners he puts on this one.
7. Isaac to the Post
Boston College commit Isaac Yiadom had a big day on both sides of the ball for Doherty, including this 64-yard catch and run for a touchdown. Yiadom finished with seven catches for 137 yards and a TD.
6. D'Andre Dumps 'Em
UNH commit D'Andre Drummond hits the R3 button on this 52-yard touchdown run for Central Catholic, leaving one unfortunate Xaverian defender in the turf. The Raiders doubled up Xaverian, 34-17, for the D1 state title.
5. Run, Rocco, Run
Cohasset's Rocco Laugelle is off and running on this 77-yard interception return for a touchdown. Watch as he slips away from about five tacklers en route to paydirt.
4. Poetry in Motion
Doherty QB Luke Brennan (12 for 20, 259 yards, 2 TD) threw a couple of pretty balls on the afternoon. But none were prettier than this 41-yard bomb to Alfred Adarkwah, plopping the ball safely into the lanky senior's bread basket, right over the top of double coverage.
3. Cody's Crackback
As the title implies, Central Catholic receiver Cody Demers laid one of the most vicious sticks of the day, this crackback block springing loose quarterback Matt Milano to toss a 31-yard touchdown pass to Cam Manning. This play made it 7-0 Raiders, and effectively set the tone for the evening.
2. Jump Ball
We couldn't get our hands on video of this impressive TD catch by Tewksbury's Kevin Dick, late in the Redmen's 42-14 rout of Plymouth South for the D3 state title. But it probably works out better that way, as photographer Eric Adler passes along a frame-by-frame account of the grab.
Best I can do for now. Courtesty @EricJAdler, here's Kevin Dick's TD catch in 4 frames: pic.twitter.com/KpmkWc3mr4

— Brendan Hall (@BHallESPN) December 9, 2013
December 9, 2013
December 9, 2013
December 9, 2013
1. Megatron
Simply put, Demers was just awesome on Saturday. This TD catch permeates those sentiments.
December, 7, 2013
12/07/13
5:42
PM ET
By
Phil Garceau
| ESPNBoston.com
FOXBOROUGH, Mass. – As the old saying goes, you live by the big play, you die by the big play. Both teams in the Division 4 final had gotten to this point with their homerun hitters so it was only fitting that the team that made the bigger plays would take home the hardware.
The dual threat of Doherty's Issac Yiadom and Alfred Adarkwah torched the Dolphins secondary for nearly 200 yards and a pair of long scores as the battle of two explosive offenses went in favor of the Highlanders, 28-26.
"It's crazy, it feels like it is unreal," said Yiadom. "At the beginning of the season, we were all talking about being state champs we finally got here and accomplished our dream."
A Highlander touchdown score midway through the fourth quarter gave the Central champs a 28-14 lead and seemingly the Div. 4 state championship game, but the never-give-up Dolphins made for an interesting final five minutes. L.K. Metz had his game of the season and Spencer Tyler orchestrated two scores setting up a 2-point conversion with 56 second remaining to tie the game.
[+] Enlarge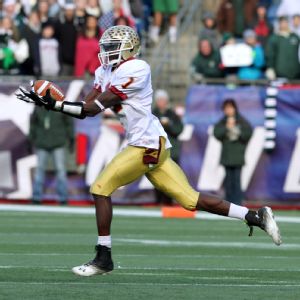 Brendan Hall/ESPNBoston.comBoston College signee Isaac Yiadom (7 catches, 138 yards, TD) was a terror for Doherty as the Highlanders captured their first state title in school history.
Tyler seemed to have Andrew Jamiel open in the end zone, but penetration from the Highlanders defense forced Tyler to his right and the pass intended for Mike Anderson fell harmlessly at his feet.
"When it was 21-7 and 28-20, we didn't expect to lose, we still though we were going to win and we played all the way to the end," said Paul Funk who coached his Dolphins to their second finals appearance in three years. "That's how those kids play, they play hard like that."
In the end it was the play of Yiadom and Adarkwah that separated the teams.
Adarkwah continued his torrid pace this postseason catching his seventh touchdown in his fifth postseason game, and it could not have come at a better time.
With 10 second remaining in the first half in a 7-7 ball game, the Highlanders were facing fourth and 10 from the Dolphin 41-yard line when they sent Adarkwah deep. He beat Michael Dunn, who was pressing off the line, and the safety help in Liam Matheson was a moment too late as Adarkwah hauled in the deep bomb from Luke Brennan to give the Highlanders a 14-7 lead heading into the half.
"As the game goes on with short quarters, you try to figure out what they are doing to you, they were doing a good job pressing our outside kids," Doherty coach Sean Mulcahy said after his team earned the second Superbowl title in the programs history. "Alfred finally beat the press coverage and got over the top on them and Luke made a great throw."
"It was a big play for us right before the half and big momentum for us."
On Doherty's first drive of the second half, Brennan dialed up the long ball again, finding Yiadom alone on a deep crossing route. Brennan hit him in stride and the Boston College commit went 64 yards untouched for to put the Doherty up 21-7 midway through the third quarter.
The Dolphins got life on the following drive when Spencer Tyler marched his troops downfield, setting up a Cory Desimone 2-yard scoring run to cut the deficit to 21-14.
But the Highlanders responded with an 8-play, 71 yard drive capped off by Jahkari Carpenter's 1-yard run to seemingly bury the Dolphins 28-14 with just under five minutes to play.
But L.K. Metz returned the ensuing kickoff 64 yards to the Highlanders 9-yard line and Tyler found sophomore Andrew Jamiel on the following play for a 9-yard score. On the PAT, Jahkari Carpenter broke through the protection and blocked Drew Tardiff's kick to keep the score at 28-20.
"Metz was outstanding. Metz is a gamer," said Funk. "I'd take him any day. He's a gamer, he was ready, he played great on both sides of the ball."
After the onside kick failed, the Dolphins needed to rely on their defense for a stop, which they had a difficult time with in the second half. Facing a third and third and four with just over two minutes remaining, Brennan couldn't handle the snap and lost 11 yards on the play.
The Dolphins took over on their own 21 with no timeouts. Tyler converted a fourth down to Dunn and a long screen pass to Metz set up D-Y at the Doherty 13. Two plays later, Tyler called his own number and scampered into the end zone from six yards out to set up a game-tying two-point attempt.
With the Dolphins season and championship hopes hinging on one final PAT, the Doherty defense rose to the occasion with penetration from their line and good coverage in the secondary to secure their first championship title since 1980.
"We're tough. We've been down before in games and come back," said Tyler. "We've had tough games long the way, tough games in Marshfield. We've had a lot of tough games so we were prepared for this one but bad play at the end."
After watching his team build for the last few years, Sean Mulcahy was proud to see his players finally brake through.
"It says that a Worcester city team with good players can play with anybody. Right now, we are very competitive team at the highest level of football in central mass and we're proud of that and this team caught fire at the end of the year and finished the job of what has been building for a few years."
DMHS 0 14 7 7 -- 28
DY 7 0 7 12 -- 26
First Quarter
DY-Spencer Tyler 11 run (Drew Tardiff kick), 0:16
Second Quarter
DMHS-Luke Brennan 8 run (rush fail), 1:38
DMHS-Alfred Adarkwah 41 pass from Brennan (Jahkari Carpenter run),, 0:00
Third Quarter
DMHS-Issac Yiadom 64 pass from Brennan (Brennan kick) 4:57
DY-Cory Desimone 2 run (Tardiff kick), 2:21
Fourth Quarter
DMHS-Carpenter 1 run (Brennan kick), 4:43
DY-Andrew Jamiel 9 pass form Tyler (kick blocked), 4:13
DY-Tyler 6 run (pass fail), 0:56
December, 4, 2013
12/04/13
12:27
AM ET
Ahead of Saturday's six MIAA Football State Championships at Gillette Stadium, today we are bringing back our "Tale of the Tape" series to break down each participating team's matchups headed into the game.
In the Division 4 Final, ESPN Boston High Schools editors Brendan Hall and Scott Barboza take a closer look at Central champ Doherty and South champ Dennis-Yarmouth, respectively.
Division 4 State Championship
DOHERTY (11-1) vs. DENNIS-YARMOUTH (10-2)
at Gillette Stadium, 11:30 a.m.
When Doherty has the ball:
Quarterback Luke Brennan, a Franklin Pierce baseball commit, has a live arm. And with Boston College-bound athlete Isaac Yiadom (31 catches, 748 yards, 6 TD), tight end Mitch Celaj (24 catches, 441 yards, 2 TD) and boundary receiver Alfred Adarkwah (27 catches, 513 yards, 11 TD) at his disposal in the passing game, he has put up terrific numbers in his senior season (2,079 yards, 24 TD). Yiadom is averaging 17.7 yards per touch as a factor in both the running and passing games, as dangerous on speed sweeps from the slot (30 carries, 334 yards, 4 TD) as he is receiving.
Package that with Adarkwah on the other side, and that has left many a defense in a bind. Measuring 6-foot-4 with a 6-foot-7 wingspan, Adarkwah has an exceptionally large catching radius – seemingly any ball landing from his knees up above his head is catchable. This is perhaps none more evident than his ridiculous four-game stat line for these playoffs: eight catches, six touchdowns.
The key, however, may lie in the running game. Often deploying a two-back three-receiver set out of a shotgun, Tyler Kmon provides a nice change of pace for their most elusive weapon, junior tailback Jahkari Carpenter. As one of Central Mass.'s rushing leaders (134 carries, 1,287 yards, 8 TD), he has been on a tear through these playoffs, averaging 9.6 yards a carry. Don't let him get to the edge, because every single week of these playoffs, it seems like he comes up with some ridiculous run where he jukes about 100 defenders.
EVERY
. . .
SINGLE
. . .
WEEK
. . .
When D-Y has the ball:
With the Dolphins offense, seemingly any of its talented athletes can break a big play at any given moment.
The fulcrum is senior quarterback Spencer Tyler. From the Dolphins' spread, Tyler can create with his feet and is well-capable of striking downfield on big-hit plays. Yet, for Tyler's arm strength, D-Y is at its best in the screen game. The Dolphins utilize a plethora screen concepts and funnel the ball through a cadre of athletes set out across the formation -- whether in the backfield or out wide. Michael Dunn, L.K. Metz and Jake Pawlina are among the tide of seemingly interchangeable, yet dynamic athletes D-Y pulls out at every turn. Meanwhile, sophomore Andrew Jamiel has emerged as a downfield threat as the season has progressed.
In its matchup with Doherty, however, D-Y senior running back Cory Desimone should have an increased workload. Desimone is as close to a three-down back that the Dolphins have and they will rely on him to gain tough yards inside the tackle box.
When Doherty is on defense:
In short, there's lots of athleticism abound in the back seven here, between Yiadom (100 tackles) at free safety, Adarkwah shuffling in and out of the box, and linebackers Celaj and Peter Franco (84 tackles, 6 sacks, 2 INT) roaming the middle. While Yiadom doesn't have the interception totals of his breakthrough 2012 season, he still covers a ton of ground in the deep field, forcing quarterbacks into second-guessing throws.
Don't overlook the Highlanders' defensive line, which packs both bulk and punch. Senior Matt Smalls (63 tackles, 6 sacks, 1 INT) is a load off the edge at 6-foot-3 and 230 pounds, equipped with an explosive first step and a good rip move to the outside. Keep an eye on promising sophomore Tavian Vassar (56 tackles, 12 sacks), who alternates between middle linebacker and defensive tackle. The 5-foot-11, 220-pounder is built low to the ground and disruptive.
When D-Y is on defense:
In the early going of its Division 4 Eastern Mass. final against Bedford, D-Y struggled early to slow down Bedford's Olan Abner. While the Highlanders don't have a back as physical as Abner, the Dolphins will have to contend with Jahkari Carpenter, who could exploit D-Y's difficulty in containing stretch plays. The group tasked with leading the charge will be an underrated Dolphins defensive line, led by tackles Spike Elizondo and Angelo Hardaway.
The strength of D-Y's defense might be its linebacking corps, anchored by Chip Evangelista and Metz. After a strong second-half effort against Bedford, Dolphins head coach Paul Funk praised the efforts of his linebackers, calling Metz the factor that "stirs the drink," defensively. The art of the Dolphins defense is to collapse the interior line and allow for its athletic group of linebackers to step up and make tackles.
Of course, the greatest question entering is how the Dolphins secondary will match up with Doherty's tall, rangy receivers. A player like Metz could be used to shadow Yiadom across the formation, but how does D-Y game plan for Adarkwah on the perimeter?
November, 23, 2013
11/23/13
10:02
PM ET
By
John McGuirk
| ESPNBoston.com
LEOMINSTER, Mass. -- Before they had time to blink, the Doherty Highlanders were trailing 16 points to Western Mass. power Wahconah Regional.

Like a Mike Tyson fight (pre-Buster Douglas, of course), Doherty found itself lying on the canvas in a heap after the Warriors came out swinging right from the outset.

With one foot firmly planted on the Highlanders' throats, Wahconah failed to complete the task when it had the chance and let Doherty off the hook. Helped by a couple of Warrior miscues, Doherty was able pull itself up, and in the process, save its season after rallying back to post a 22-16 triumph in today's Division 4 state semifinal played at Doyle Field.

"It seemed our kids were so excited about this game and the atmosphere that we got tired after two plays," said Highlanders head coach Sean Mulcahy, his team finishing with 325 yards to the Warriors' 257. "Wahconah took it to us early and I think our kids did panic a little bit."

Doherty (10-1) faces Dennis-Yarmouth (a 21-14 winner over Bedford on Saturday) in the final on Dec. 7 at Gillette Stadium – time to be announced.

While some pundits assumed the Highlanders' overall talent-level would be far too great for the Warriors (10-1) to handle, it appeared to be the other way around in the early going.

On the Warriors' opening possession, senior quarterback Ethan Wells, who played marvelously all game long, directed his club on a 53-yard scoring drive with Wells completing the drive by connecting with junior wide out Ryan Washburn for a 26-yard scoring reception. Matt Salvatore's proceeding conversion catch had the Warriors in front, 8-0.

Wells put his diversity on display for the Highlanders, demonstrating his capabilities throwing the football as well as running with it. He finished with 129 yards on 30 carries and was 6 of 13 passing for 93 yards. Lining up in the shotgun throughout, Doherty's defense appeared baffled about what Wells would do next, consistently loading the box to take away the run.

Yet, the strategy didn't seem to faze Wahconah. After a second consecutive Highlanders punt, the Warriors were given a short field to work as they set up on Doherty's 43-yard line. Four runs by Wells, netting 17 yards, positioned running back Darrow Brown to bust through for a 10 yard scoring run with just over a minute remaining in the initial quarter. Brown then threw a pass to Cole Morrison for the two-point conversion pushing the Warriors out to a 16-0 advantage.

In spite of the deficit, it was certainly still within reach for Doherty, and its plethora of talent, to jump back into it. All the Highlanders needed was something to fall their way and provide a much-needed lift. It came in the form of running back Jahkari Carpenter.

With Doherty's running game totally inept during the opening frame, Carpenter changed that early in the second thanks to his 59-yard jaunt. That was immediately followed by senior quarterback Luke Brennan's 19-yard touchdown scamper to make it 16-6 after the conversion run failed.

"Our defense made some great adjustments after [Wahconah] went up by 16 points," said Brennan, who finished with 93 yards on 6 of 15 passing. "Our offense eventually clicked and that's what we did the rest of the game. Everyone kept their poise. We knew it was going to be a war. We knew we needed to grind for four quarters and keep our composure the whole game no matter what happened and that's what we did."

On the ensuing kickoff, the Warriors made a critical error which in turn provided the momentum shift Doherty grasped hold of and didn't surrender.

Senior Eli Pease had the ball squirt through his hands that ended up sitting on the 1-yard line. After a delay-of-game penalty, Wells had no place to go inside his own end zone and was smothered by the Highlander defense resulting in a safety.

"Once we got that safety I felt our kids could finally breathe a little and now start to play," Mulcahy said.

He added, "We'll enjoy this and now get ready for Burncoat on Thanksgiving. We'll worry about Gillette after Thanksgiving."

With 4:47 still left before halftime, Doherty came all the way back. Carpenter's 42-yard zig-zag touchdown and Mitch Celaj's conversion catch had this contest knotted at 16-16. Carpenter finished with 114 yards on 14 attempts.

"We did a great job coming out for this game," Warriors coach Gary Campbell Jr. said. "Offensively and defensively we were executing. But in the second quarter the wheels came off. All you can ask for are opportunities. If you get them phenomenal and if you don't that's the way it goes. Doherty is a quality team but I was pleased to see our kids hang with them through four quarters like they did. We'll fight with anybody but this one will sting a little.

"I thought Ethan [Wells] played great for us today. He is our heart and soul. He's a tough kid who is still deciding on attending either RPI and WPI. It doesn't matter where you put him on the field. He's just a very smart, tough player that can play anywhere."

It only got worse Wahconah after a shotgun snap deflected off of Pease, who was in motion, resulting in Highlander senior Peter Franco's recovery on Wahconah's 40. But Doherty running back Issac Yiadom gave the ball back to the Warriors, coughing it up inside the 10. Yiadom carried the ball four times for 40 yards.

Wahconah's offense did nothing following the turnover and had its punt partially blocked. Doherty took over on the 16 and needed only one play to take a 6-point lead. Alfred Adarkwah's 16-yard scoring grab from Brennan with 16 seconds before halftime had the Highlanders in a much-better frame of mind than what transpired during opening 11 minutes.

The second half was a bend-but-don't break style offense and defense from both teams. Doherty had a chance to pad its lead late in the third but Carpenter lost control of the ball inside the Warriors 10. Likewise, Wahconah put forth its best drive of the game following the turnover. Beginning at his own 8-yard line, Wells' legs did much of the work in moving the Warriors all the way the Highlanders' 6. Facing a fourth-and-goal Wells' pass to the back of the end zone was battered down by senior Shawn Jackson.

Doherty regained possession and eventually ran out the clock for the triumph.
November, 20, 2013
11/20/13
2:21
AM ET
By
Brendan Hall
| ESPNBoston.com
Here is our latest "Mr. Football Watch", following the third weekend of MIAA State Championship Playoffs. As always, coaches and/or statisticians are encouraged to send statistics to editors Brendan Hall (bhall@espnboston.com) and/or Scott Barboza (sbarboza@espnboston.com)

EDITOR'S NOTE: This will be the final "Mr. Football Watch" of the 2013 season. The five finalists for our Mr. Football Award will be announced on Monday, Nov. 25, with the winner announced on Dec. 9.

***

THE CONTENDERS

Luke Brennan, Sr. QB, Doherty
Threw for 191 yards and three touchdowns, but most importantly delivered the game-winning touchdown pass to Isaac Yiadom with five seconds left, as the Highlanders captured their first Central Mass. title since 1980 with a thrilling win over Shepherd Hill.

Davon Jones, Jr. FS, St. John's (Shrewsbury)
Totaled 10 tackles and an interception, in the Pioneers' 51-42 thriller over Leominster for the D2 Central title. He leads the team in tackles (91) and interceptions (5).

Neil O'Connor, Sr. QB, Leominster
Totaled 289 passing yards and two touchdowns, in a 51-42 loss to St. John's in the D2 Central Final.

Dylan Oxsen, Sr. RB, Plymouth South
Carried a career-high 39 times for 160 yards and a touchdown in the Panthers' 7-6 win over rival Plymouth North for the D3 Southeast title. He is the state's leader in playoff rushing yardage, with 737.

Andrew Smiley, Sr. QB, St. John's (Shrewsbury)
Completed 14 of 22 passes for 250 yards and three scores, and added 201 yards rushing and three more scores on 20 carries, in the win over Leominster. That puts him over the 2,000-yard passing mark for the second straight season; he currently has 2,787 yards of offense with 38 touchdowns.

Cody Williams, Sr. QB, Springfield Central
Completed 15 of 22 passes for 344 yards and four touchdowns in the Golden Eagles' win over Westfield in the D2 West Final.

Ju'an Williams, Sr. WR, Springfield Central
Made five catches for 119 yards in the Golden Eagles' 48-22 dismantling of Westfield in the D2 West Final.

Kyle Wisnieski, Sr. QB, Mansfield
Completed 20 of 27 passes for 284 yards and four touchdowns in the Hornets' 41-16 win over Barnstable in the D2 South Final. He is completing 70 percent of his passes in the playoffs.

FIVE ON THE RISE

Olan Abner, Sr. RB, Bedford
Ran for 139 yards and a touchdown in the Buccaneers' overtime win over Pentucket for the D4 North title, his third straight week going over 100 yards rushing.

Jahkari Carpenter, Jr. RB, Doherty
Ran for 119 yards and two touchdowns to help lead the Highlanders past Shepherd Hill for the D4 Central title. He has 230 yards rushing and four touchdowns in the last two weeks.

Michael Dunn, Jr. CB, Dennis-Yarmouth
Held Holliston's top target Zach Elkinson without a catch, and made an interception for his own cause -- his sixth of the season -- as the Dolphins captured the D4 South title.

Michael Hershman, Sr. WR, Mansfield
Exploded for seven catches for 132 yards in the Hornets' 41-16 win over Barnstable, for the D2 South title.

Shayne Kaminski, Sr. RB, Xaverian
Ran for 200 yards and two scores to help rally the Hawks past Attleboro for the D1 South title, his second 200-yard rushing game in three playoff games.

PLAYOFF STATISTICAL LEADERS

Passing
Kyle Wisnieski, Sr., Mansfield – 689 yards, 9 TD
Matthew Jeye, Sr., Holliston – 647 yards, 5 TD
Luke Brennan, Sr., Doherty - 607 yards, 11 TD
Drew Smiley, Sr., St. John's (Shrewsbury) – 588 yards, 10 TD
Neil O'Connor, Sr., Leominster – 575 yards, 5 TD
Mike Milano, Sr., Central Catholic – 516 yards, 4 TD
Troy Flutie, Sr., Natick – 504 yards, 6 TD
Dana Parello, Sr., Waltham – 494 yards, 6 TD
Tim Walsh, Sr., Attleboro - 469 yards, 8 TD
Cody Williams, Sr., Springfield Central – 417 yards, 5 TD

Rushing
Dylan Oxsen, Sr., Plymouth South – 737 yards, 8 TD
Alex Givins-Perry, Sr., Bartlett – 710 yards, 5 TD
Christian Carr, Jr., Plymouth North – 618 yards, 8 TD
Brooks Tyrrell, Jr., Marblehead – 512 yards, 6 TD
Koby Schofer, Soph., Northbridge – 466 yards, 8 TD
Malik Garrett, Sr., Melrose – 466 yards, 7 TD
Shayne Kaminski, Sr., Xaverian – 447 yards, 5 TD
Mike Panepinto, Sr., Needham – 418 yards, 6 TD
Olan Abner, Sr., Bedford – 395 yards, 3 TD
Shane Combs, Jr., St. John's (Shrewsbury) – 386 yards, 5 TD
November, 12, 2013
11/12/13
3:16
PM ET
By
Brendan Hall
| ESPNBoston.com
Here is our latest "Mr. Football Watch", following the second weekend of MIAA State Championship Playoffs. As always, coaches and/or statisticians are encouraged to send statistics to editors Brendan Hall (bhall@espnboston.com) and/or Scott Barboza (sbarboza@espnboston.com)

THE CONTENDERS

Zach Elkinson, Jr. ATH, Holliston
In two playoff games, Elkinson is averaging 16.9 yards per touch. That includes nine carries for 91 yards and four touchdowns, and nine catches for 221 yards and four more scores.

Troy Flutie, Sr. QB, Natick
Threw his 102nd career touchdown pass in Friday night's loss to Barnstable. He needs one more TD pass to tie the state's all-time mark, and he has two more chances, starting this Friday against Needham.

Brendan Hill, Jr. TE, Mansfield
Caught seven passes for 152 yards and three touchdowns in the Hornets' win over Needham.

Hayden Murphy, Sr. RB, Barnstable
Recorded 21 carries for 158 yards and three touchdowns, four catches for 36 yards, 10 tackles and 1.5 sacks in the Red Raiders' 27-13 win over Natick.

Neil O'Connor, Sr. QB, Leominster
In two playoff games, he has amassed 487 yards of offense, including 11.2 yards per rush, with seven touchdowns.

Dylan Oxsen, Sr. RB, Plymouth South
Ran for 227 yards and three touchdowns in the Panthers' 21-7 win over Dartmouth, punching their ticket to the D3 Southeast Final.

Mike Panepinto, Sr. RB, Needham
Carried 23 times for 182 yards and two scores in the Rockets' loss to Mansfield

Andrew Smiley, Sr. QB, St. John's (Shrewsbury)
Completed 13 of 16 passes for 193 yards and three scores, and added five carries for 73 yards and two more scores, in the Pioneers' throttling of Marlborough in D2 Central.

Cody Williams, Sr. QB, Springfield Central
Totaled 134 yards of offense and two touchdowns in the Golden Eagles' 35-12 win over Longmeadow

Kyle Wisnieski, Sr. QB, Mansfield
Completed 14 of 18 passes for 228 yards and four touchdowns, in the Hornets' 42-35 win over Needham.

FIVE ON THE RISE

Christian Carr, Jr. RB, Plymouth North
Ran for 351 yards and three touchdowns in the Blue Eagles' win over Dighton-Rehoboth, setting up a much-anticipated battle with cross-town rival Plymouth South for the D3 Southeast Championship this Friday.

Mike Elcock, Sr. WR, Needham
Caught six passes for 148 yards and a score in the Rockets' loss to Mansfield. He leads D2 Eastern Mass with 13 touchdown receptions.

Lubern Figaro, Sr. DB, Everett
The Wisconsin commit came up with two crucial interceptions, and some tremendous defense on top receiver Jack Galvin, in the Crimson Tide's 21-0 shutout of Lowell.

Malik Garrett, Sr. QB, Melrose
Through two playoff games, the dual threat signal-caller has accumulated nearly 550 yards of offense. He has 364 yards rushing and five TDs on just 29 carries, while he is 12-for-20 through the air for 185 yards and two more scores.

Tim Walsh, Attleboro
Led the Blue Bombardiers in rushing with 122 yards on 11 carries, while completing 7 of 11 pass attempts for 146 yards and 3 TD in their Div. 1 South semi-final win over Bridgewater-Raynham.

PLAYOFF LEADERS

Passing
Matthew Jeye, Sr., Holliston – 528 yards, 5 TD
Troy Flutie, Sr., Natick – 504 yards, 6 TD
Kyle Wisnieski, Sr., Mansfield – 405 yards, 5 TD
Mike Milano, Jr., Central Catholic – 371 yards, 3 TD
Ryan Charter, Sr., Needham – 361 yards, 4 TD
Luke Brennan, Sr., Doherty – 359 yards, 7 TD
Marcus Collins, Jr., Cambridge – 355 yards, 4 TD
Andrew Smiley, Sr., St. John's (Shrewsbury) – 338 yards, 7 TD
Dana Parello, Sr., Waltham – 312 yards, 4 TD
Neil O'Connor, Sr., Leominster - 286 yards, 3 TD

Rushing
Dylan Oxsen, Sr., Plymouth South – 577 yards, 7 TD
Christian Carr, Jr., Plymouth North – 551 yards, 7 TD
Alex Givins-Perry, Sr., Bartlett – 477 yards, 3 TD
Mike Panepinto, Sr., Needham – 418 yards, 6 TD
Brooks Tyrrell, Jr., Marblehead – 383 yards, 5 TD
Malik Garrett, Sr., Melrose – 364 yards, 5 TD
Hayden Murphy, Sr., Barnstable – 353 yards, 6 TD
Chris Dumont, Sr., Manchester-Essex - 321 yards, 5 TD
D.J. Engelke, Sr., Pentucket – 299 yards, 3 TD
Kevin Rosado, Jr., Northeast – 284 yards, 6 TD

Receiving
Alex Hilger, Sr., Natick – 278 yards, 4 TD
Mike Elcock, Sr., Needham – 258 yards, 3 TD
Brendan Hill, Jr., Mansfield – 228 yards, 3 TD
Elijah Booker, Sr., Cambridge – 225 yards, 2 TD
Zach Elkinson, Jr., Holliston – 221 yards, 4 TD
November, 2, 2013
11/02/13
12:42
AM ET
By
Joe Parello
| ESPNBoston.com


WORCESTER, Mass. -- A game that had the makings of a shootout quickly turned into a route for host Doherty, as Highlander quarterback Luke Brennan threw five touchdowns in a 54-27 win over Quabbin in the first round of the MIAA Division 4 Central playoffs.

While the final score wasn't indicative of a competitive game, the visiting Panthers and senior quarterback Dylan Kierman made the home crowd nervous early. Kierman, the Central Mass. leader for passing yards and touchdowns, opened the game by leading Quabbin on a 7 play, 84-yard drive that ended when he found classmate Nick Thyden for a 16-yard score.

"They were playing zero coverage (No high safeties), and we knew they were going to play zero coverage," Kierman said. "We also knew we would get a quick touchdown against them, because that's what we do to zero coverage. But after that they started mixing things up, rotating and jamming, and really starting messing with my reads... They're a great team, and I take my hat off to them."

"(That first drive) they got to us," Doherty senior receiver and defensive back Alfred Adarkwah said. "We just had to come back and tighten up the coverage. We got a few coverage sacks and were able to force him out of the pocket. We started to just play as one, because on defense, it's 11 hats to the ball."

Adarkwah would also have a hand in Doherty's great offensive day. The 6-foot-4 receiver has been unstoppable in the red zone, and on Doherty's first drive, he hauled in a 12-yard fade route for a touchdown from Brennan. On Quabbin's next drive, Doherty senior Tyler Kmon came on the blitz and sacked Kierman for an 11-yard loss.

After the Panther punt, junior running back Jahkari Carpenter quickly ripped off a 38-yard run, before Kmon punched it in from 14 yards out.

Kierman would again drive the Panthers deep into Doherty territory, but four straight incompletions ended their next drive. Two plays later, Brennan found Adarkwah deep down the left side for a 74-yard touchdown to put the Highlanders up 21-7.

But Quabbin wouldn't fade away quite yet. Facing fourth and 15, Kierman found classmate Justin Coppolino for 24 yards, then hit Thyden for a 19 yard score. But just before the half, the Highlanders would begin a run that would put the game away.

Two minutes before intermission, star receiver Isaac Yiadom lined up in the Wildcat and took it himself for a 20-yard rushing touchdown to give Doherty a 28-14 halftime lead. Only five plays into the second half, Brennan found Adarkwah for the third time, this one an 11-yard score on a hard out route.

A sack from Doherty senior Peter Franco led to a Quabbin four-and-out, and Brennan struck again moments later, this time to junior Javon Watkins from 18 yards out. Finally, Brennan's day ended after the next Doherty drive, when he evaded the rush, sprinted right, then fired a 49-yard bomb downfield to senior Mitch Celaj for his fifth touchdown of the game.

"I'm a big believer in giving respect where respect is due," Kierman said of Brennan. "He definitely deserves all the respect he's going to get after a game like tonight. I've always thought he was a really great quarterback, one of the best in Central Mass."

Next up for Doherty is a match up with undefeated Hudson, a team that will present many different challenges than Quabbin. While the Panthers' spread passing game is difficult to prepare for, Doherty's team speed on defense made it well equipped to handle Quabbin's style. The Hawks, meanwhile, are a power running, ball control type of offense.

It will be yet another challenge in Division 4 Central for the Highlanders, but they're not going to complicate things.

"We're good, but to get to the Super Bowl, we have to be great," Adarkwah said. "We just have to work as a unit in practice... We have to just keep the media (And outside expectations) out of our heads, because if we don't play well, the media won't be here."
October, 12, 2013
10/12/13
1:47
AM ET


WORCESTER, Mass. – It only took 30 seconds for No. 17 Doherty to make a statement in Friday night's showdown with Leominster at Foley Stadium.

The Highlanders zipped 70 yards downfield on two passing plays to hang a quick six on the No. 6 Blue Devils' defense. Doherty scored on each of its first two possessions, underscoring the point about its dynamic group of athletes.

But, while the Highlanders continued to cling to a lead through halftime (19-10), Leominster showed the mettle of a cagy, playoff-proven crew during the second half. Then, the Blue Devils erased the mistakes of the early going and effectively stepped on the neck of the Highlanders, outscoring them 37-7 in the final two quarters for a 47-26 victory.

In a matchup of two of the Central district's top playoff contenders in their respective divisions, Leominster conducted a clinic as to what the Highlanders will need to adopt if they, too, hope to make a run at a section title – that is a killer instinct.

"We weren't putting ourselves down," Blue Devils running back/ corner back James Gurley said of the locker room scene at the half. "We'd been in this position before. We know how to come back – we're Leominster, we play four quarters."

Gurley and his teammates dropped the hammer in the second half, when the junior tallied both of his rushing scores, as well as an interception. From upping the defensive ante, to the flawless execution of sustained drives it was all there for the Blue Devils (5-0) – at least coming out of the intermission.

Doherty (4-1) landed the first blow just 38 seconds in. Luke Brennan moved the Highlanders up-field 70 yards for a touchdown on two plays from scrimmage, finishing with a 29-yard lob to Shawn Jackson on a jump ball.

After the Highlanders forced Leominster into a turnover on downs, Doherty utilized a short field to grab a near-instant 12-0 lead on Brennan's 6-yard pass to Alfred Adarkwah.

"I think they wanted to go to Adarwah there and he hurt us," Leominster head coach Dave Palazzi said of Doherty's fast start. "It was a great game plan on their part and it worked for them."

Doherty held a 19-10 lead at halftime, despite not having a single target at Boston College commit receiver Isaac Yiadom.

Yiadom would play a greater role for the Highlanders in the second half, but the Blue Devils simply ran away.

To start the second half, Doherty remained aggressive, with head coach Sean Mulcahy rolling the dice, calling for an onside kick. The play worked, with Brennan chasing the bounding ball and falling on it for a successful recovery.

However, the Highlanders' ensuing drive stalled after some penalty trouble. Then, the Blue Devils went to work, engineering a methodical 9-play, 76-yard drive capped on Gurley's first of two touchdown runs.

After a successful two-point conversion, Leominster trailed 19-18.

The Blue Devils soon had the ball in their possession again after inside linebacker Jason Valera picked off a Brennan pass. Following a 53-yard return by Valera and tacking on an unsportsmanlike penalty at the play's end, Leominster set up shot first and goal from the 6.

"They had a little bit of momentum going, and we needed a big play," Palazzi said of Valera's pick. "We finally got one."

Two plays later, the Blue Devils had their first lead of the game, 24-19, on Matt Banchs' 2-yard touchdown plunge.

The momentum snowballed from there. After forcing Doherty three-and-out, Neil O'Connor (16 of 23, 287 yards) connected with Shane Crayton for the pair's second touchdown play of the game. The 63-yard pass on the roll out from O'Connor, hitting junior wideout on the backside post, and the following 2-point conversion provided Leominster with a 32-19 lead at 9:17 of the fourth.

Doherty would respond with Yiadom getting untracked on a 40-yard touchdown reception from Brennan (12 of 26, 217 yards), but the Blue Devils kept piling it on.

Gurley helped shut the door, knocking in his second rushing touchdown of the game before picking off a pass on Doherty's next possession.

Blue Devils backup quarterback Nick Xarras capped scoring with a 1-yard touchdown run out of their goal-line double wing set.

"It was a team win in every aspect of the game," Palazzi said. "We did a great job coming back from the onslaught at the beginning."

Two-way player: O'Connor continued his campaign for this year's Mr. Football award with another impressive showing.

On offense, in addition to his 287 passing yards, O'Connor ran for 72 yards on six carries. Twenty-nine of those yards came on one awe-inspiring fourth-quarter carry on which O'Connor broke four tackles before being wrestled down by a pair of Highlanders defenders at the Doherty 13. The run helped set up Leominster's second to last score, providing the Blue Devils with a two-possession lead.

Palazzi also lauded O'Connor's play at safety, helping to neutralize Doherty's passing attack in the second half.

"He's playing against a lot of these great athletes and he's a competitor out there," Palazzi said of O'Connor. "He threw the ball well, he ran the ball well and he played tremendous defense. [He was] going a hundred miles per hour on every play."
August, 30, 2013
8/30/13
11:46
PM ET
By
Joe Parello
| ESPNBoston.com
Some of the best talent in Central Mass was on the field at Foley Stadium in Worcester Thursday, as No. 22 Doherty hosted No. 11 St. John's (Shrewsbury) for a scrimmage.

Each team's varsity starters scored a pair of touchdowns, and the both defenses showed flashes that they may be forces in 2013.

Some notes and observations from Thursday's scrimmage:

Doherty's Dynamic Duo: The Highlanders will have to replace star tight end/linebacker Noah Robinson and, at least on the offensive end, they seem to have found their answer. Alfred Adarkwah is listed as a wide receiver, but the 6-foot-4 senior lined up at tight end frequently, creating mismatches against the St. John's linebackers. On Doherty's first drive of the game, Adarkwah got just behind the linebackers and split the safeties on an out-up-and in, then broke a tackle on his way to a 30 yard score.

Isaac Yiadom, a do-it-all athlete and ESPN Boston Preseason All-State selection, lived up to his star billing. The versatile senior made a fantastic catch on a wheel route up the left sideline for 30 yards, displaying great body control and concentration on a ball that was slightly underthrown. Yiadom also scored Doherty's other varsity touchdown, breaking contain on a receiver sweep, then cutting back against the grain for a 35-yard touchdown run.

Defenses clearly fear Yiadom, and the emergence of Adarkwah at both receiver and tight end should help ease the loss of Robinson. The two were particularly effective when lined up on the same side of the formation, with quarterback Luke Brennan rolling their way.

"They both have strengths," Doherty coach Sean Mulcahy said. "Isaac is obviously a dual-threat as a runner and receiver, and Alfred is a really tough matchup for anyone that's not really tall. We have a quarterback that can get them both the ball, and as we go we'll figure out, team-to-team, how we can use them best."

Pioneer Defense Continues to Improve: They're not there yet. At least, not according to St. John's coach John Andreoli, but the Pioneer defense does look significantly better than last year's group that surrendered nearly 30 points a game. After giving up a quick score to the Highlanders, St. John's tightened things up on the defensive line, thanks largely to sophomore nose tackle Josh Angel. The young tackle is still a work in progress according to his coach, but he sure is hard to move at the point of attack.

A week after facing Brockton's power running game, the Pioneers were given the challenge of adjusting to Doherty's spread formations. Andreoli gave his defense passing marks on that adjustment.

"Early in the game we had three third down situations where we just lost contain," Andreoli said. "That's just about us being disciplined, and we did a better job of that after the first drive. On the other hand, we did a real good job against the run, especially against the inside run game.

But I was encouraged about the first two weeks here, after facing two totally different offenses and the way our defense has adjusted to what we've seen."

Smiley Shaking the Rust Off: Preseason All State quarterback Drew Smiley looked a little rusty in the Pioneers' scrimmage against Brockton last week, but he was back to running the St. John's "Blur Offense" efficiently Thursday. Smiley led the Pioneers on a quick 75-yard touchdown drive on his first series, connecting on three of three passes for 30 yards, and rushing for another five yards. The drive was capped by junior running back Shane Combs taking a read handoff for a 45-yard score off left tackle.

On the next St. John's drive, Smiley threw a perfect fade route for a 22-yard touchdown just over the outstretched arms of Adarkwah who was back playing safety. Smiley did fumble when he was sacked by three different Highlanders on his team's next drive, but it looked like he was trying to do too much when he just should've eaten the ball. Other than that one play, it was a pretty perfect day for Smiley.

"Overall we got enough snaps for Drew and he looked good," Andreoli said. "Next week we'll get him a little more, and we're hoping to get some guys back on that side of the ball next week, so we want to be at full strength and getting to game speed by the time we scrimmage New Bedford next Saturday."

Doherty's Young Talent: The star of the scrimmage after the starters left the field was easily Doherty's Ricky Webster. The younger brother of Doherty's 2012 leading rusher Abdulla Webster, the speedy sophomore scored two touchdowns in the second half of the scrimmage. The first was an uneventful five-yard dive, but the second was a 75-yard highlight reel run where Webster got the corner, broke a tackle, then outran everybody down the left sideline. He also looked good in coverage as a corner on defense. No matter what he was doing, Webster just looked fast.

Mulcahy knows that Webster is a great athlete, but he wants him to become a great football player.

"He's gonna be a very good player, but he needs to get to practice," Mulcahy said. "He's very talented. He's good enough, talent-wise, to probably get in the mix for some carries this year. But we've got to get him here every day getting better."

Jones and Brennan Leave With Minor Injuries: On the injury front, both teams played without key players in the second quarter, but both should be back after the long weekend. St. John's junior receiver/safety Davon Jones didn't reenter the game after the first quarter ended, and Doherty quarterback Luke Brennan sat out the second quarter as well. Both injuries are considered minor and both coaches feel they will have their stars back after Labor Day in preparation for the start of the season.

Before Brennan went out, he delivered several memorable plays, including a Ben Roethlisberger-like scramble were he stepped up into the pocket, pounced back off a would-be tackler, turned around and scrambled to his right before flinging it 30 yards for a first down. He also delivered a big hit while running down the sideline on a busted play during the scrimmage's first drive, lowering the boom on a St. John's linebacker that was probably expecting him to step out of bounds.

Jones was his usual versatile self, splitting time between receiver and running back on offense. He got around five touches and broke two runs for first downs. On defense, he nearly recorded the scrimmages only interception as he sat deep in coverage, and baited Brennan into throwing the post to Yiadom. Jones broke hard on the ball, undercutting the route perfectly, but just couldn't hold onto it.
August, 22, 2013
8/22/13
8:35
PM ET
By
Brendan Hall
| ESPNBoston.com
Sean Mulcahy still clearly remembers the first time he knew he had something special with Isaac Yiadom.

Back then, in 2011, he was a wiry 6-foot, 147 pounds, freshly transplanted from Alexandria, Va., where he quickly moved into the starting secondary as a freshman at Robert E. Lee High. Raw, skinny, but blessed with a solitary blend of speed and leaping ability, Yiadom was placed at free safety for the Highlanders' first preseason scrimmage, Westborough.

On one of the first plays from scrimmage, the Rangers called a toss play to the alley, and Yiadom -- lined up 10 yards off the ball in a "man free" look, in the middle of the field -- came sprinting across the field, wrapping up the wingback cleanly in the space between the hash mark and numbers, before he could turn the corner.

"I was like 'Holy Cow'," Mulcahy recalled. "Those kinds of things you can't coach. What would have taken a normal kid, maybe he gives up three yards [on the play], Isaac made the play and they lost three yards. He's a great open-field tackler. Literally, if we needed him to play at linebacker, he'd be more suited for us to be successful at middle linebacker. But we've gotta protect him too."

Two years, two inches and 30 pounds later, Yiadom is one of the fastest-rising commodities in Massachusetts, becoming the first of seven Bay State prospects to pledge to Boston College's 2014 recruiting class, in late March, and building buzz ever since. Last season, he had 48 touches for 972 yards of offense, which included 22 carries; with his signature running play, an end-around, he averaged nearly 13 yards a carry.

Blessed with 4.5 speed and a 37-inch vertical leap, Yiadom also made six interceptions and 60 tackles as a strong safety. He will likely fit into a cornerback role at BC, with hopes that his long arms can provide some stiff coverage. During outdoor track and field season, Yiadom is among the state's best in the 400-meter dash (49.99 seconds) and triple jump (46-foot-6). Scouts Inc. ranks Yiadom as the No. 4 overall prospect in Massachusetts, higher than highly-touted Division 1 prospects such as Everett defensive back Lubern Figaro (12 offers), Natick quarterback Troy Flutie (BC) and Tabor Academy athlete Miles Wright (undecided).

Of course, he benefited from the impact last year of two-way star Noah Robinson, who became a matchup problem at tight end, as well as a strong stable of running backs and the terrific arm of returning quarterback Luke Brennan, who committed to Franklin Pierce University for baseball earlier this month. Yiadom began to see more physical, bracketed coverage towards the end of last season, but now he'll expect full-on scheming against him as the Highlanders' top option.

That suits him just fine. After all, the Highlanders are expecting big things this year out of receivers Alfred Adarkwah and Shawn Jackson.

"Towards the end of the season they were beating me up a little harder," Yiadom said. "But [physical play] kind of excites me at the same time. I like it, too, because it opens new ways for Luke to find Alfred or Shawn."

Which brings us to one of the more intriguing developments of the offseason. In passing leagues this summer, in an effort to stress defenses, the Highlanders toyed with Yiadom and the 6-foot-4, 170-pound Adarkwah on the same side of formations. With his big hands and long arms (6-foot-7 wingspan), Adarkwah can stretch a defense vertically and seal a defender off deep downfield. That could blend well with Yiadom's speed; running the two of "smash" and "snag" combo routes, along with bubble screens, the strategy had some success this summer.

"I definitely think it's gonna be his best season this year," Yiadom said. "Last year he did great, but we had Noah Robinson and great receivers [around him]. This is gonna be his best year because he can draw a lot of attention. He stretches for the ball. He just doesn't drop the ball -- even in passing league, he just doesn't drop it. He's hungry this year, it's gonna be a good year."

DOHERTY AT A GLANCE
Coach: Sean Mulcahy (23rd season, 100-143)
Last season: 9-3, lost in Div. 2 CMass Playoffs
Returning Starters: 10 (seven offense, three defense)
Key Returnees: Sr. WR/DB Isaac Yiadom, Sr. QB Luke Brennan, Sr. WR Alfred Adarkwah, Sr. RB/LB Pete Franco, Sr. OL/DL Jack Halloran, Sr. E/DB Shawn Jackson, Sr. E/DB Mitch Celaj, OL/DL Matt Smalls
Strengths: Skill players, passing game, secondary, athleticism.
Weaknesses: Experience at offensive and defensive lines, linebackers.
Overview: Defensively there might be growing pains at first for the Highlanders, who are looking to replace eight starters, mostly in the front seven and none more significant than linebacker Noah Robinson (125 tackles, five sacks). But with the BC-bound Yiadom at free safety leading the defensive backs, one has to wonder how much time that can buy his teammates in front of him on pass rushes -- his closing speed is without peer in the Central Mass. region, and he takes terrific angles on passes. Offensively, the questions are in the trenches, where there is experience to be replaced. But the Highlanders run a perimeter-oriented offensive scheme, which suits their deep stable of talented skill players. Expect Yiadom, who racked up nearly 1,000 yards of offense on just 48 carries last season, to be the focal point of defensive game plans, and see his fair share of bracket coverage. But one of the more interesting developments over the summer has been their usage of the 6-foot-4 Adarkwah, who could be in for a breakout season. With long arms that give him a wide catching radius and help him lock up defenders when blocking downfield, the Highlanders may experiment with him and Yiadom on the same side of formations, which could stretch the limits of pass defenses they face. Overall, the Highlanders have plenty of firepower on offense, directed by Brennan under center, but the defense will have to grow up quick if they are to replicate last year's success and fulfill some heady preseason expectations.
August, 6, 2013
8/06/13
11:43
PM ET
By
Brendan Hall
| ESPNBoston.com
This is the second installment in our "Summer Snapshot" series, checking in with some of Massachusetts' top teams leading into the MIAA football preseason. To see all of our Summer Snapshots, CLICK HERE.
Long on athleticism but often short on results, this last decade has seen an impressive turnaround for once-dormant Doherty High. Last fall was an historic season for the Highlanders, which took some of Central Mass.'s heavyweights to the wire (Nashoba) and gave others a swift humbling (Holy Name, Shepherd Hill). They finished 9-3, losing the rematch with Shepherd Hill in the MIAA Central Mass. Division 2 playoffs, but by all accounts 2012 was a high water mark.
At safety they'll return
Isaac Yiadom
-- a Boston College commit, the state's No. 4 overall prospect, and the program's highest-profile recruit since current UConn linebacker Yawin Smallwood -- but there are questions everywhere else with the graduation of eight starters. Can the Highlanders continue the momentum that's been building for the last few seasons? We checked in with them this morning as part of our annual preseason football gallery.
DOHERTY AT A GLANCE
Coach:
Sean Mulcahy (22nd season, 98-143)
Last season:
9-3, lost in Div. 2 CMass Playoffs
Final ESPN Boston Rank:
NR
Returning Starters:
10 (seven offense, three defense)
Key Losses:
LB Noah Robinson, RB/DB Terence Hall, DB Abdullah Webster, DB Sam Oppong, OL/DL Dave Ritchotte, OL/DL Robbie Nay, LB Maurice Morales, OL/DL Octavio Rodriguez
Key Returnees:
Sr. WR/DB Isaac Yiadom, Sr. QB Luke Brennan, Sr. WR Alfred Adarkwah, Sr. RB/LB Pete Franco, Sr. OL/DL Jack Halloran, Sr. E/DB Shawn Jackson, Sr. E/DB Mitch Celaj, OL/DL Mitch Smalls
Overview:
Coming off one of their most successful campaigns in years last fall, the Highlanders must find a way to replace eight starters on defense, most notably Robinson (125 tackles, five sacks). Normally that's a daunting task, but the presence of one of the state's best pass defenders in Yiadom, a fluid athlete who covers plenty of ground at free safety and demonstrates great leaping ability, should keep things clean in back. Perhaps the quality secondary can help shore up the youthful front seven. Offensively, Yiadom is the top option, and has great rapport with Brennan, a Franklin Pierce University baseball commit. But keep an eye on Adarkwah, a big target at 6-foot-4 and 170 pounds, who could have a breakout senior campaign. With his long, lanky frame, Adarkwah has an exceptionally large catching radius and does a quality job sealing off defenders downfield on run plays. In the newly-aligned Central Mass. district, Doherty figures to be one of several favorites in Division 4, but they'll have a tougher schedule to endure, including a must-see matchup with D2 favorite Leominster in the final week of the regular season.
Stopped by Doherty High this morning to check in with the Highlanders. Had some fun with this photo shoot pic.twitter.com/JDrQnKmYfp

— Brendan Hall (@BHallESPN) August 6, 2013
Look for Doherty in our annual preseason football photo gallery later this month pic.twitter.com/KxVAHTtQOS

— Brendan Hall (@BHallESPN) August 6, 2013
WR/DB and Boston College commit @isaacshowtime showing off his vert at today's shoot pic.twitter.com/1q2O8Ng22D

— Brendan Hall (@BHallESPN) August 6, 2013
August, 4, 2013
8/04/13
9:36
PM ET
By
Brendan Hall
| ESPNBoston.com
Doherty High Class of 2014 righthanded pitcher Luke Brennan has committed to Franklin Pierce University, he announced this morning.
Just committed to Franklin Pierce ¾¾ #fpu #ravens

— Luke Brennan¾ (@lukeprimetime12) August 4, 2013
The 6-foot-1, 175-pound Brennan went 5-2 last spring for the Highlanders, striking out 83 batters in 43.1 innings and recording a 3.22 ERA; his fastball has touched as fast as 87 to 88 miles per hour. At the plate, he batted .345 with 17 RBI.
"I want to play and I want to win, and I think Franklin Pierce will give me a great opportunity to do both," Brennan told ESPNBoston.com.
Brennan also stars for the Highlanders' football team, where he is one of the region's top returning quarterbacks. Last season, he completed 59 percent of his passes for 1,835 yards and 22 touchdowns as the Highlanders made the MIAA Division 2 Central playoffs.
November, 12, 2012
11/12/12
4:35
PM ET
By
Brendan Hall
| ESPNBoston.com
We updated our statewide MIAA Top 25 Football Poll this afternoon, following Week 10 of the high school season. It was a wild weekend of action, and there is some movement up and down the list.
For the complete poll,
CLICK HERE
.
A few notes and observations:
Plymouth South, Doherty make debut:
Following respective wins over Nauset and Shepherd Hill, Plymouth South and Doherty make historic debuts in the poll. It's the first nod in the football poll for both the Panthers and Highlanders in the three-year history of our high school section. You'll be hard-pressed to find a more astonishing way to clinch a league championship than what transpired in Plymouth on Friday night, as leading rusher Dylan Oxsen (29 rushing TDs) converted a 62-yard hook-and-ladder play with eight seconds left to beat Nauset and claim both its first playoff berth and first Atlantic Coast League title in the school's 25-year history.
Doherty makes its debut in the poll following a 32-28 win over Shepherd Hill, keyed by a touchdown pass from Luke Brennan to Isaac Yiadom in the game's final minutes. It marks the first time in our history that a team from the Inter-High conference has been ranked in our poll. The Highlanders are 8-2 and have clinched both their league and a Division 2 Central playoff berth.
Hockomock returns:
Mansfield (19) and Sharon (25) make their returns to the poll after clinching their respective divisions of the Hockomock League on Saturday night. Mansfield beat Franklin, then clinched the Hock's Kelly-Rex division minutes later when King Philip took down North Attleborough on a last-second field goal. Sharon, meanwhile, clinched its first playoff berth in school history after beating Foxborough, 14-7, to win the Davenport division outright. Forever a doormat in the Hockomock, the Eagles' rags-to-riches triumph is one of the best stories in football this fall.
The highest-rated Hockomock team, Stoughton, sits at No. 15 at 9-1, following a 25-21 win over Bridgewater-Raynham. But by virtue of the Black Knights' loss to Sharon last month, they'll be sitting at home following Thanksgiving. Once again, the Hockomock has potentially a 10-1 team with no playoffs. You have to think the league can't wait for next year's new playoff system.
Ups and downs:
Natick's 21-14 win over Walpole created some shuffle in the top half of the poll. Walpole drops eight spots to No. 13, making room for Duxbury to slip back to No. 5 after a few weeks holding down the six spot. Meanwhile Natick jumps up 10 spots to No. 11, just a week after they dropped 11 spots by virtue of an upset from Wellesley. The shuffle also made room for Beverly, champions of the CAL/NEC's second tier, to make its debut in the Top 10 at No. 10.
Here's how the poll breaks down this week by league affiliation:
Hockomock - 4
Merrimack Valley - 3
AA - 2
Middlesex - 2
Bay State - 2
Atlantic Coast - 1
Big Three - 1
CAL/NEC - 1
Catholic Conference - 1
Dual County - 1
Greater Boston - 1
Inter-High - 1
Mid-Wach B - 1
Old Colony - 1
Patriot - 1
South Shore - 1
Southern Worcester County - 1