Boston High School:

Luke Morrison
December, 13, 2013
12/13/13
12:28
AM ET
By
Brendan Hall
| ESPNBoston.com
Saturday's six inaugural MIAA State Championships put a bow on another thrilling season of high school football in Massachusetts. This year was filled with highlight reel-worthy plays, including two that made SportsCenter's "Top 10 Plays" in consecutive months. This year, more than any other year, it felt like there was a deep volume of wild plays and wilder finishes.
Here are my 10 best plays from the 2013 MIAA football season:
(Video clip of play No. 2 is courtesy of The Needham Channel. All other clips are courtesy of HUDL.com)
Honorable Mention -- The Megatron
In case you missed Cody Demers' ridiculous touchdown catch for Central Catholic,
our No. 1 play from last Saturday's state championships
, here it is again. Because it is that good:
10. Velociraptor Valenza
Foxborough linebacker Luc Valenza, a UMass lacrosse commit, dished out his fair share of violent hits this fall for the Warriors. Arguably none were more brutal, though, than the one he delivered here in the third quarter of their Thanksgiving loss to Mansfield:
9. Behind the Back
This Top 10 list is littered with nifty run-backs, but on pure athleticism, Weymouth sophomore defensive back Matt Long makes a strong case here. Watch as he returns a
behind-the-back
interception 52 yards to the house in the Wildcats' 49-14 rout of Braintree:
8. Juke 'Em Jahkari
There was a point this season where it seemed like every week, Doherty junior running back Jahkari Carpenter was ripping off a ridiculous run like the 55-yard catch-and-run TD he made here in the D4 Central semifinals against Hudson:
7. Zach's Zig-Zag
As the name implies, watch as Holliston junior Zach Elkinson pounces on an errant pass and, after some shake and bake, puts on the afterburners for a 70-yard interception return touchdown, late in the Panthers' win over Medway:
6. Phone Booth
We've seen some nice-looking one-handed catches from time to time, but none in as tight of quarters as Attleboro tight end Luke Morrison, who reels in this catch with a Xaverian defender sewing him up nicely, in this Division 1 South Final:
5. The Pinball Run
Penn State-bound St. John's Prep tailback Johnathan Thomas led all rushers statistically in Massachusetts through three games, before being lost for the season with a knee injury. It's possible that with a full season we could have dedicated an entire Top 10 entry to his best runs, because we're pretty sure he would have made runs like this 42-yarder in the Eagles' win over Brockton -- in which he breaks about a bajillion tackles -- somewhat routine.
4. The Ed Reed
It takes endurance to pull off interception returns like the one Leominster's Neil O'Connor did here late in the second quarter of the Blue Devils' rout of Wachusett. The state's Gatorade Player of the Year changes direction several times as he takes it 89 yards to the house:
3. The Miracle at Mahar
Strictly reading by box score, this was one of the season's best finishes, as Greenfield evaporated an 18-point deficit in the final four minutes of regulation to knock off Mahar, 30-29. But the ending, a 40-yard tip-drill Hail Mary from Connor Eckstrom to Parker Hickey with five seconds left, puts this over the top:
2. Can't Catch Cliff
Needham's Cliff Kurker made national headlines with this 70-yard punt return in a win over Framingham, breaking free of five tacklers after he was thought to initially be stopped on forward progress. He was the talk of the town after this play, which reached No. 1 on SportsCenter's "Top 10":
1. Johnny Unstoppable
This one never gets old. You might go another decade without seeing a play quite like this. Thomas made No. 1 on SportsCenter's "Top 10" after this record-setting 107-yard interception return late in Prep's win over Central Catholic, the longest touchdown in school history.
November, 29, 2013
11/29/13
2:04
PM ET
By
Brendan Hall
| ESPNBoston.com
1. Troy Flutie, Sr. QB, Natick
Broke the state single-season passing touchdown record with a near-perfect day through the air, completing 16 of 20 passes for 263 yards and a record seven TDs, as the Redhawks beat Framingham 48-13. He is now the state's single-season (47) and career (112) touchdown pass record holder.

2. Brooks Tyrrell, Jr. RB, Marblehead
Carried 25 times for 300 yards and six touchdowns in the Magicians' 51-13 win over Swampscott.

3. Emmanuel Almonte, Jr. QB, Boston English
Threw game-winning touchdown pass with no time remaining, as the Blue and Blue upset Boston Latin, 14-12, for their first win over the Wolfpack since 1997. English had allowed 49 points per game in the three previous installments of this rivalry.

4. Conor Moriarty, Sr. RB, Walpole
Racked up 300 rushing yards and three touchdowns on just 10 carries, in the Rebels' 48-14 win over Weymouth.

5. Peter Gallant, Sr. RB, Gardner
In the Wildcats' 39-6 win over Oakmont, carried 23 times for 298 yards and two touchdowns, the highest single-game rushing total in series history.

6. Drew Belcher, Sr. QB, Reading
Totaled six touchdowns (three rushing, three passing) as the Rockets rallied from 24 points down in the final six minutes of regulation to beat Stoneham in triple overtime, 44-36.

7. Luke Morrison, Sr. TE/DE, Attleboro
Recorded five tackles for loss, including four sacks, in the Blue Bombardiers' 34-19 win over North Attleborough.

8. C.J. McCarthy, Sr. RB, North Reading
Carried 48 times for 276 yards and four touchdowns in the Hornets' 42-35 thriller over Lynnfield.

9. Jeff Costello, Soph. QB, Lexington
Ran wild in the Minutemen's 56-21 win over Burlington, totaling 197 rushing yards and five scores, and adding 169 yards and a score through the air on 10 of 19 passing.

10. Shaquille Anderson, Sr. RB, Cambridge
In the Falcons' 41-7 rout of Somerville, carried 13 times for 209 yards and three scores, and added a 47-yard touchdown reception.
November, 28, 2013
11/28/13
9:54
PM ET
NORTH ATTLEBOROUGH, Mass. – Hilda has left the building.

For all the accolades heaped upon Attleboro football this season, pulling itself from the depths of more than a few sub-.500 seasons in recent years, the truest bellwether to a successful season by the Blue Bombardiers is how they fared against border rival North Attleborough.

The Thanksgiving Day rivals, and Hockomock League foes, already had met in the regular season –the result of the MIAA's new playoff scheduling plan. Attleboro won Round 1, but still, the Division 1 South tournament finalists wouldn't have found true redemption without a Thanksgiving win over the Red Rocketeers.

Attleboro capped its statement season with a 34-19 win over Big Red in the 93rd edition of the holiday classic. The victory marked the second straight season the Blue Bombardiers took the "Hilda" trophy home to Attleboro and ends the season at 9-2, having made a playoff run which ended just one win shy of a Gillette Stadium appearance.

"It's a new era in Attleboro," senior defensive and tight end Luke Morrison said. "It's going to be strong."

Morrison helped the Blue Bombardiers to a fast start. Attleboro claimed a 13-0 lead before North (6-5) even touched the ball.

Following a 69-yard opening drive with quarterback Tim Walsh running for a 34-yard touchdown, the Blue Bombardiers recovered the ensuing kickoff. Set up on the plus-side of the 50-yard line, Attleboro again moved methodically down the field in 11 plays. Walsh (13 carries, 74 yards) had his second score in as many drives with a 1-yard plunge over center.

Nearly eight minutes had elapsed before the Red Rocketeers set up shop on their first drive. It was a brief one, however, as Morrison set up shop in the backfield, registering three straight tackles for loss, including two sacks of quarterback James Kummer (10 of 19 passing, 124 yards, TD).

"As a defense, we're a whole team, not an individual," Morrison said. "We all contributed."

Morrison finished with four sacks and five tackles for loss. Attleboro's Ryan Bowen was named Defensive Player of the Game while junior running back Damon Belin (96 yards, 2 TD) was awarded the honor on offense.

Despite threatening to run away with the game early, North clawed its way back to tie the game at 13-all behind two rushing touchdowns from Chris Hunter.

Yet, Attleboro was still able to regain the lead before the first half was out, with Belin running for his first score of the game (from 5 yards out) with 23 seconds remaining.

"I think everybody now sees that he can play," said Walsh of Belin, who shockingly started the season on Attleboro's J.V. squad.

The Blue Bombardiers parlayed the momentum into the second half, with Tommy Burns providing the capstone to a 9-play scoring drive with a 1-yard run with 5:16 to go in the third.

North had one last rebuttal, as Kummer hit Jake Lang on a slant for a 31-yard touchdown with 7:44 remaining in the fourth quarter, before Attleboro put it out of reach on an 8-yard run from Belin.

"We went down with a seven-game losing streak last year and we just wanted to up our work ethic," Walsh said. "We hadn't had a great season in a long time. And somehow beating North twice? That's just amazing.

"I just feel like pride in the town is back."
November, 16, 2013
11/16/13
10:39
PM ET
By
Ryan Lanigan
| ESPNBoston.com
WESTWOOD, Mass. -- Xaverian senior Shayne Kaminski had 151 yards on 21 carries and two touchdowns in the second half alone as the top-seeded Hawks beat Attleboro, 35-28, in Saturday afternoon's Division 1 South final.
Attleboro took a 14-7 lead into halftime and extended it to 21-7 on the opening drive of the second half, but Xaverian responded quickly and continued to gain momentum, scoring 28 straight points.
"We came out in the second half and we needed to run the football because obviously we didn't want to give them more opportunities offensively because they're very explosive," Xaverian head coach Charlie Stevenson said. "We really took control of the line of scrimmage in the second half and Shayne was just a monster."
[+] Enlarge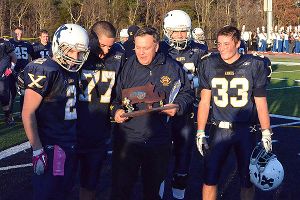 Scott Barboza for ESPNBoston.com Xaverian claimed the Division 1 South title and will face North champion Central Catholic at Gillette Stadium.
The Hawks opened scoring in the second quarter when quarterback Jake Farrell was able to escape Attleboro defenders in the backfield before firing a pass down field to a wide open Coby Tippett for a 48-yard touchdown. Attleboro responded on its next drive, taking it to the Xaverian 32 before Attleboro quarterback Tim Walsh found Brenden Massey in one-on-one coverage for a touchdown, making it 7-7.
Patrick Dunn then intercepted Farrell on the next drive and Attleboro marched 63 yards before Walsh hit a wide open Luke Morrison, who had just made a spectacular one-handed, 35-yard catch on the previous play, for a 6-yard touchdown with 36 seconds remaining in the half.
But the second half belonged to Kaminski, who finished with 30 carries for 200 yards.
After Attleboro made it 21-7, Xaverian drove 70 yards on eight plays — five of them runs by Kaminski — before the senior went through a big hole towards the right side for an 18-yard touchdown. On the next series, Xaverian junior defensive back Ernest Simon picked off Walsh. Though the offense was forced to punt, the kick pinned Attleboro inside their own 30 and after a hold, Attleboro's offense was forced to punt. However Walsh, who also handles punting duties, decided to run with the ball and was taken down short of the first down, giving Xaverian the ball at the Attleboro 31.
The Bombardier defense held its own, stopping the Hawks on fourth and goal from the 2-yard line, but the Hawks defense again stepped up, forcing a punt and Xaverian took over at the Attleboro 37-yard line. Two plays later, Kaminski went to the right, losing his shoe before scampering all the way for a touchdown to tie the game 21-21.
"That was a credit to the offensive line, that was probably the biggest hole I've seen all season," Kaminski said. "Shoe or no shoe, it's expected for me to take that to the house."
It was the Hawk's defense stepping up big again as Walsh had three straight incompletions on the ensuing drive and was forced to punt again. On Xaverian's first play, Farrell was able to hit Nick Colantuoni for a 53-yard touchdown and Xaverian had their first lead since the second quarter at 28-21, with just 5:47 to play.
"Jake [Farrell] is a competitor and things might not have gone his early but he stayed after it and they were tough defensively," said Stevenson. "I'm sure their quarterback had some frustration too with our defense. I think [Farrell] made some big plays for us when he had to and he completed that big pass to Nick [Colantuoni], great fake on his part."
As Attleboro tried to respond on their next drive, defensive back Damion Wood put the final touches on a superb Xaverian defensive effort in the second half. As Walsh looked for an open receiver, he floated one across the field but Wood came away with the interception, taking it 24-yards for the pick-six and giving the Hawks a 35-21 lead with 5:14 left.
"They're a very good football team and very well coached and have good skill players," Stevenson said. "They gave us everything we could handle all over the field on both sides of the ball. I really have to congratulate Coach [Mike] Stratchan for the job he's done there, he's really done a fantastic job there. Those kids really played their hearts out. I really give all the credit to him and all of his players and his staff."
Attleboro took their next drive 68 yards in less than two minutes, capped off with a Damon Belin 16 yard touchdown catch from Walsh, but Xaverian recovered the onside kick attempt and used seven straight Kaminski runs that resulted in three first downs, allowing the Hawks to take a couple of kneel downs to run the clock out.
"They did a great job, they had seven in the box all day and they played pressed coverage on us and their athletes matched up very well with us and then they got momentum," Stratchan said. "That was the end of it for us.
"I gotta' give a lot credit to them. They're physical and they're well coached and they have good match ups."
Xaverian will now play for the Division 1 Super Bowl at Gillette Stadium on Dec. 7. They will face off against Central Catholic, which defeated Everett, 20-14, in Saturday's Division 1 North final.
October, 31, 2013
10/31/13
4:21
PM ET
EDITOR'S NOTE: Picks for Western Mass. are omitted, as the district concludes its final week of regular season this weekend)

Brendan Hall
ESPN Boston High Schools Editor

Division 1 North: Everett
Plain and simple, I just don't see John DiBiaso getting outcoached in this field.

Division 1 South: Attleboro
One of several surprise picks I'm going to lay down here. The Blue Bombardiers' program has long been a sleeping giant, and they've finally awoken this fall with a slew of skilled athletes, including quarterback Tim Walsh, tight end Luke Morrison, receiver Brenden Massey and promising young two-way lineman Kyle Murphy. The key may be junior Damon Belin, a speedy pass-catching running back who is elusive in space.

Division 2 North: Haverhill
Hard to think just two years after an 0-11 campaign, the Hillies are the No. 1 seed in a playoff tournament. Sophomore running back Ian Kessel, one of the area's leaders in yards from scrimmage, has been at the forefront of the renaissance, and I expect him to have a breakout campaign this next month.

Division 2 South: Natick
If there is one player capable of carrying his team on his back, it is quarterback Troy Flutie, who has put up video game numbers yet again (2,500-plus yards, 35 TD) with an assortment of supporting cast members.

Division 2 Central: Leominster
This is the most talented team of Dave Palazzi's tenure, and it may be his best coaching job yet. They are not the most physically intimidating team, but they are one of the most disciplined, and they squeeze every inch out of their talents, led by dual threat QB Neil O'Connor. The Blue Devils brought the biggest crowd ever to Gillette Stadium two years ago. I can only imagine what kind of caravan from this football-mad city would show up this year.

Division 3 Northeast: Tewksbury
There may be some bumps in the road in this field, but at the end of the day there isn't a team as deep as the Redmen in this field. They were the most dominant team in the MVC this season, and with a stable of running backs led by James Sullivan and Eddie Matovu, along with a scheme that draws formations from seemingly every family of offense throughout history, I just don't see how anyone knocks these guys off.

Division 3 Northwest: Arlington
Two Dubzinskis are better than one, and the father-son duo of head coach John Jr. and his father John Sr. as defensive coordinator has taken the Middlesex by storm this fall after showing promise a year ago. I don't know what direction this bracket is headed in, but the Spy Ponders are a safe pick.

Division 3 Southeast: Plymouth South
As long as Dylan Oxsen is carrying the rock, I don't see anyone but the Panthers taking this bracket. It's a different story after that, though.

Division 3 Southwest: Walpole
The Rebels' ground game has come along well, after hitting a few bumps. As long as the defense can hold up, their multi-dimensional stable of backs can do the rest.

Division 4 North: Bedford
Another field that can go in an assortment of directions, the ground game dictated by Olan Abner could be the difference.

Division 4 South: Dennis-Yarmouth
The Dolphins typically hit their stride in the second half of the season, and the way this offense is clicking, it's going to take a flawless defensive performance to shut down Spencer Tyler, Michael Dunn and company.

Division 4 Central: Doherty
Twitter follower and familiar 98.5 The Sports Hub caller "Aidan From Worcester" guarantees Shepherd Hill beats Doherty in this bracket. The Rams are a dangerous bunch, but the Highlanders have arguably the best grouping of pure athletes statewide across Division 4, so I'm sticking to my gut.

Division 5 North: Bishop Fenwick
Rufus Rushins gets much of the glory in this dominant run for the Crusaders, and deservedly so, but quarterback Nick Bona is the catalyst of this offense, and will be the difference in a close game somewhere down the line.

Division 5 South: Abington
The Green Wave lost some key bodies to start the year, but have been rolling ever since, capped with a convincing 36-7 rout of East Bridgewater. The versatile backfield of Al Freeman, Jason Halpin, quarterback Bryan Dwyer and promising sophomore Shawn Donovan will wear front sevens down.

Division 5 Central: Leicester
Tom Rodrick has been the driving force on both sides of the ball, but quarterback Drew Mazzeo puts the Wolverines over the top.

Division 6 North: Latin Academy
There are trendier picks in this field, such as Boston Cathedral, but the Dragons have one of the better overall athletes in this field in quarterback/safety Kyle Dance. He will be the difference.

Division 6 South: Upper Cape
Mike Hernon has done a fantastic job with this program, and while the Rams are a low seed headed into this wide-open field, Jon Dumont is a dangerous asset to this triple-option scheme who can take them deep.

Division 6 Central: Blackstone Valley Tech
Nic Wojnar is as elusive with his feet as he is throwing the ball in the Beavers' read option scheme. Expect big numbers from the senior this postseason.

***

Scott Barboza
ESPN Boston High Schools Editor

DIVISION 1 NORTH: Lowell
I've gone on record since the summertime months saying the Red Raiders are making an appearance at Gillette Stadium this year. Lowell has a tough road there, staring with a first-round road game at St. John's Prep in the No. 4 vs. No. 5 swing matchup, but I've like the strides this defense has made behind Alex Quintero and Shyheim Cullen.

DIVISION 2 NORTH: Haverhill
One of the tougher races to project in Eastern Mass., the Hillies enter as the No. 1 seed. Preseason favorite Reading, a buzz worthy Waltham team and old stalwarts Lincoln-Sudbury could all claim the prize, but I'm going with the upstart Hillies, vindication for the terrific job Tim O'Connor has done since taking over the program.

DIVISION 3 NORTHEAST: Tewksbury
Marblehead might have the best athlete in the field with two-sport standout Brooks Tyrrell, but Tewksbury proves too much to handle, with a three-headed rushing attack and a stout defense.

DIVISION 3 NORTHWEST: Melrose
The Red Raiders lone loss of the regular season came against Middlesex Freedom division rival Wakefield, coming on a late field goal, but I like Melrose the second time around. The teams couldn't meet until the sectional final and who wouldn't love ensuring a third meeting of the season by Thanksgiving rivals.

DIVISION 4 NORTH: Watertown
Perhaps a surprise pick coming out of the division, the Red Raiders have some athletes on the boundaries with T.J. Hairston. I think Bedford might be the team to watch here, but just playing a hunch.

DIVISION 5 NORTH: Bishop Fenwick
Pick the Crusaders to go all the way, on a tear through Gillette. They haven't just beaten teams, they've annihilated the CCL's best, including St. Mary's (first-round opponent) and Austin Prep, which they both will/can see down the road.

DIVISION 6 NORTH: Cathedral
Another North-based team I have running the field. As I mentioned earlier in the state championship Roundtable, I think the Panthers are just hitting their stride now. This could be the second championship of more to come.

DIVISION 1 SOUTH: Xaverian
Almost wanted to pull the trigger and go with Bridgewater-Raynham here, but I think the Hawks' defense, which has carried them through the regular season, continues to be the story in the postseason, leading them to Gillette.

DIVISION 2 SOUTH: Mansfield
If this were the World Cup, this would be referred to as the "Group of Death." Seriously, whichever team survives this gauntlet will be battle-tested. Ever since Week 1, it seems as though Mansfield's been a team of destiny; they follow through.

DIVISION 3 SOUTHEAST: Plymouth South
An intriguing bracket, littered with some of the Atlantic Coast League's finest, so look no further than the Panthers, the league's playoff representative from last season. Nauset and Plymouth North are lurking, but also don't look past an underrated rivalry game between Somerset-Berkley and Dighton-Rehoboth as a first-round appetizer.

DIVISION 3 SOUTHWEST: Oliver Ames
Another division strongly influenced by the presence of one particular league, in this case the Hockomock. OA and Stoughton drew the top two seeds, but let's not sleep on No. 4 seed North Attleborough, which plays up in the Kelley-Rex division. Whichever team emerges from the Red Rocketeers' first-round duel with Walpole could be a dark horse for the sectional title.

DIVISION 4 SOUTH: Westwood
Tons of Tri-Valley League talent to go around here, but I'm sticking with the regular-season champion. It wouldn't shock me in the slightest if Dennis-Yarmouth wears the sectional crown, but the Wolverines are a team that simply seems to get it done when the chips are on the table, led by dynamic senior quarterback Bo Berluti.

DIVISION 5 SOUTH: Cardinal Spellman
Old Rochester Regional enters the tournament with the No. 1 seeding, having posted some gaudy offensive numbers throughout the year behind running back Richie Phillips. I picked the Cardinals to win the state title from the start of the season, and while I like Fenwick a little more in terms of the state championship, I still envision Spellman returning to Gillette.

DIVISION 6 SOUTH: Millis/Hopedale
Perhaps no injury will have a greater impact on the outlook of the division than that of the Mohawks and lineman Jon Baker. Granted, I still like M/H's chances emerging from a wide-open field, thanks to running back Chris Ahl. That being said, the Mohawks' first-round date with Mashpee could determine the sectional champion.

DIVISION 2 CENTRAL: Leominster
I like the Blue Devils to advance to Gillette, but the sectional field is fraught with peril, too. Marlborough and St. John's (Shrewsbury) can score with the best of them, but I don't think anything short of an act of god slows down the Leominster caravan.

DIVISION 4 CENTRAL: Doherty
From season's start, I've tabbed the Highlanders as my statewide Division 4 championship favorite. However, the toughest matchup in the path might very well in their first-round test against No. 6 seed Quabbin.

DIVISION 5 CENTRAL: Leicester
Coming into the season, it would have been easy to project Auburn running away with another championship of sorts, but I'm going with the No. 1-seeded Wolverines, led by linebacker Tom Rodrick – a strong Defensive Player of the Year candidate.

DIVISION 6 CENTRAL: West Boylston
This is a case of what have you done for me lately? While No. 1 seed Littleton rolled through its Mid-Wach schedule undefeated, scoring at a clip of nearly 43 points per game, West Boylston notched a thorough win over previously mentioned Leicester two weeks ago. Granted, the Lions' lone loss of the season came at the hands of Littleton, but after a one-possession loss in Week 1, I'm banking on the second meeting having a different outcome.
October, 26, 2013
10/26/13
2:32
AM ET


WRENTHAM, Mass. – What a difference a year makes.

Friday's was the type of game Attleboro football would have lost in previous instances. There would have been a second-half comeback, or a costly mistake would have occurred on offense.

But, again, the No. 20 Blue Bombardiers proved this year's model there's one crucial difference – they close.

Attleboro closed out its regular season slate of Hockomock Kelley-Rex division play with a 19-12 win over host No. 15 King Philip. And, after a 4-7 campaign in 2012, the Blue Bombardiers advance to the Division 1 South playoffs with a 6-1 mark to date, their lone loss of the season coming against Hockomock rival and ESPN Boston statewide No. 1 Mansfield.

"We're feeling great right now," senior quarterback Tim Walsh said.

As in so many previous instances, Walsh had Attleboro flying out of the chute, requiring just three plays from scrimmage to get in the end zone, connecting with wide receiver Brenden Massey on a 30-yard score 65 seconds into action. The Blue Bombardiers started the drive deep in KP territory, after Stanley Beaubrun's 65-yard return of the opening kickoff to the Warriors' 27-yard line.

However, KP (5-2, 3-2 Kelley-Rex) responded immediately, embarking on a methodical 8-play, 62-yard drive, capped by J.J. Dillon's 6-yard touchdown pass to Joe Johnston. After both teams failed point-after tries, the score remained tied, 6-6.

The Warriors took 12-6 lead with 1:52 remaining in the first quarter, with Dillon going over center on a 1-yard touchdown run. KP started the drive at Attleboro's 36, after the Blue Bombardiers couldn't convert a fourth-down pass on a punt fake.

But Attleboro reestablished the lead heading into the half with Walsh (6 of 16, 121) throwing his second touchdown pass to Matthew Elliott from three yards out. The first successful point-after kick of the game from Michael Cannata provided the Blue Bombardiers with the 13-12 edge at intermission.

Attleboro padded its lead on its first possession of the second half. Junior running back Damon Belin (13 carries, 74 yards) ran in from nine yards out behind a pulling guard for the Blue Bombardiers' final margin of victory at 3:25 of the third.

KP would have four more cracks at a tying score, but the Warriors drives sputtered with a result of two punts and a turnover on downs before getting one last shot inside of the final minute.

After a 13-yard completion from Dillon to Johnston (19 carries, 126 yards) set up the Warriors on the plus-side of the 50, Attleboro's defense tightened again, forcing two incompletions. With one second remaining in the game, KP had one last heave at end zone from the Attleboro 43. However, when Dillon dropped back out of the shotgun, he was met by a gaggle of Blue Bombardiers defenders, who combined for the sack, ending the game.

Don't sleep on 'D': The Blue Bombardiers did something to KP that the Warriors' defense is accustomed to doing – pitching a shutout in the second half. They did so in style, posting five plays that resulted in no gain or a loss for the Warriors.

At the forefront of the Attleboro's second-half defensive charge was senior defensive tackle Brandon Pleas. The 6-foot-4, 240-pounder presented matchup problems for KP's interior linemen, scorching the Warriors with three tackles for loss, including a critical sack late in the fourth quarter.

Pleas creates a big, physical front for Attleboro, joined by impressive two-way sophomore lineman Kyle Murphy (6-3, 235 lbs.). When tight end/defensive end Luke Morrison (6-3, 220 lbs.) enters in sub packages as an edge rusher, the Blue Bombardiers present a size advantage in the box many area high school teams simply cannot match.

"The game plan was to establish the line of scrimmage and beat your man," Please said. "We lacked that in the first half, but in the second half, we came out and hit. That's what won us the game."

Breath of fresh air: After not seeing postseason play in more than a decade, Attleboro will enter the playoffs next week in head coach Mike Strachan's first year at the helm.

It goes without saying that the Blue Bombardiers' transformation has — in no small part — been a testament to their new coach. But Strachan maintains the team's on-field success stems from its commitment to detail in practice.

"I think it comes down to the way that we practice," Strachan said. "Every day, we have goals, we set goals for ourselves in practice. As silly as that might sound, we believe in it. We get better every day."

While Attleboro's new season starts next week with a home playoff game, the Blue Bombardiers took a sort of moment of reflection as to how far they've come, with a celebratory Gatorade shower for Strachan. For a team focused on incremental goals, it shouldn't be viewed as a premature celebration.

"I think we've accomplished a lot," Pleas said. "Words can't even explain it. These coaches are something else."
September, 26, 2013
9/26/13
1:59
PM ET
1. SPECIAL TEAMS PLAYED A MAJOR FACTOR IN XAVERIAN'S 49-13 DRUBBING OF BRIDGEWATER-RAYNHAM, RETURNING TWO BLOCKED PUNTS FOR TOUCHDOWNSW, BUT A.J. KING (2 TDs) DIDN'T HAVE A BAD DAY EITHER. IS THIS XAVERIAN SQUAD CAPABLE OF ROUTINELY PUTTING UP BIG NUMBERS?

Brendan Hall, ESPN Boston High Schools Editor: If this were 2012, or any other recent year for that matter, I would lean towards labeling that game an anomaly. Xaverian squads typically aren't known for blowing up the scoreboard, instead moving the chains rather steadily behind a conservative multiple offense and relying on change-of-pace backs to grind out the tough yardage. I've been in this for 10 years, and this year's Xaverian team feels like one of the more unpredictable squads that I can recall. And when I say that, I mean you just don't know that they're going to throw at you. Certainly, Jake Farrell brings about an escapeability intangible they typically haven't had with quarterbacks, and there is some promising sophomore talent.

By the way, whoever the special teams coach is at Xaverian, give that man a raise. If you think the B-R game was an aberration, ask the BB&N coaches how their scrimmage with the Hawks went.

Scott Barboza, ESPN Boston High Schools editor: I know we all thought the Hawks' defense would be ahead of the offense entering the season, but this looks like a much-improved group thus far. I like the one-two punch Shayne Kaminski and Noah Sorrento provide in the backfield. They have some legit targets in the passing game with King and D.J. Sperzel and Jake Farrell has looked great at quarterback. If the offensive line keeps creating holes and pass protecting the way they have in the first two weeks, I don't foresee a slowdown.

John McGuirk, ESPN Boston correspondent: With the talent Xaverian has they should continue to put up decent numbers. They have four 'big' games left on the schedule in Barnstable, Brockton, BC High and St. John's Prep. All four of those programs are outstanding but all have issues on defense as well which should work in the Hawks' favor.

2. NASHOBA OWNS THE STATE'S LONGEST ACTIVE WIN STREAK (28 GAMES), BUT TWO TOUGH OPPONENTS LAY AHEAD IN WACHUSETT AND ST. JOHN'S OF SHREWSBURY. DO YOU SEE THE CHIEFTAINS MAKING IT TO 30 STRAIGHT?

Hall: Wachusett matches up evenly on paper with Nashoba, but watch out for St. John's. Andrew Smiley is heating up (380 passing yards the last six quarters), and the running game seems to be hitting a groove with St. Louis transplant Shane Combs taking over the feature role. The "blur" offense is a whirlwind to handle when all is going right, and you always have to watch where Davon Jones lines up. I see the Pioneers stopping Nashoba's streak at 29.

Barboza: I think it'll end at No. 29. The Chieftains will get by Wachusett, but I think the Pioneers' athletes, particularly on the perimeter, will prove too much to handle.

McGuirk: I see Nashoba reaching 30 straight wins. Wachusett is going through a down year, having already lost to St. Peter-Marian and Fitchburg. And what has been noted many times, St. John's biggest weakness the last couple of seasons has been its porous defense and inability to make tackles consistently. If you look past those next two games, the Chieftains will face a pair of unbeatens (Marlborough and Leominster). That is where the streak could possibly come to a close.

3. BETWEEN THE SUPERB STARTS FROM BROCKTON, TAUNTON, TEWKSBURY AND WESTFIELD, THE TRIPLE OPTION IS MAKING A COMEBACK. WHICH TEAM RUNS IT BEST?

Hall: It's tough to argue against Westfield's ridiculous numbers -- there are running backs that will go a whole season not putting up as many rushing yards as the Bombers have their first two games of the season. But it's hard to argue against Brockton's talent. Aaron LeClair and Jamal Williams get to the perimeter quick, and the Boxers can steamroll you inside with counters and dives. All four of these teams have a dynamic playmaker in the backfield -- LeClair, Tewksbury's Eddie Matovu, Westfield's Ben Geschwind and Taunton's Domingo Jenkins -- but I will give Brockton the edge here because of what they have in the trenches. Aaron Monteiro, the Boxers' prized prospect at 6-foot-5 and 290 pounds, is a road grader at left guard with a pretty high ceiling.

Barboza: As of right now, I don't see how you can argue with Westfield. The Bombers are running roughshod over opponents behind senior fullback Ben Geschwind. After running for 348 yards and six touchdowns as a team during last week's 49-20 win over West Springfield, Westfield has scored 109 points in two games, with Geschwind averaging more than 150 yards per game.

Josh Perry, HockomockSports.com: I can't say whether or not Taunton runs it better than other teams in the state, but I can say that the Tigers do make it look fun. With Gerald Cortijo and Steven Harrison giving star back Domingo Jenkins some help in the backfield, the Tigers have speedy and shifty runners. It's almost enough to make you forget just how good the ground game would have been without Jamal Williams' move to Brockton. Taunton's ability to run the triple option will of course get a much tougher test this week against King Philip and its strong defense, but the Tigers are unique among the other Hockomock teams and it can be fun to watch.

McGuirk: The way Westfield is dominating the competition (109 points in two games), I would say the the triple option is working best for them. They have the right personnel to execute it and coach Bill Moore is very good at putting the right players in place to keep it rolling effectively, especially his tandem of Ben Geschwind and Jake Toomey, who are both averaging over 10 yards-per-carry.

4. TWO OF THE MERRIMACK VALLEY CONFERENCE'S BEST SQUADS, CENTRAL CATHOLIC AND LOWELL, SURRENDERED A COMBINED 73 POINTS AGAINST NON-LEAGUE TOP 10 OPPONENTS LAST WEEKEND. ARE WE HEADED FOR ANOTHER SEASON OF HIGH SCORES IN THE MVC?

Hall: Tough to tell, because Tewksbury has more than pulled its weight in the defensive end so far. If there's one team that can avoid track meets, it's the Redmen. Everyone else, good luck. We anointed the MVC "Death By 1,000 Shallow Crosses" a year ago, and with the amount of spread offense and no-huddle tempo deployed in this league, we could very well be in for another season of Wild West scores.

Barboza: I'd take my chances with the defensive units of Andover, Central Catholic, Lowell and Tewksbury against just about any offense in the state, but what comes into play in the MVC is the teams' offensive style of play. With so many teams in its ranks adopting the spread offense, the big numbers put up seemingly on a weekly basis are more a function of the pace of the game, with shortened drives as opposed to rushing-oriented, ball-control styles of play. But as long as MVC teams continue to live and die by the sword (or the spread), I think we'll continue to see some lopsided numbers.

Mike Abelson, ESPN Boston correspondent: Yes and no. Central and Lowell, when the blur is working as advertised, can drop basketball scores on lesser teams because of the athletic talent. That being said, through three weeks there are only two MVC teams averaging 30 or more points. Central is one, and the other, North Andover, hasn't won a game. The only two remaining undefeated teams, Tewksbury and Methuen, are averaging 27 and 18 points a game, respectively, and winning games without all the flash and dash of putting up buckets of points. Yes, the MVC will have it's share of high-scoring contests (I'll put the over/under for Central-Chelmsford at 90.5), but it won't consistently translate to W's.

5. AFTER A ROUGH FIRST WEEK, HAS BARNSTABLE FIGURED IT OUT? CAN THEY KNOCK OFF NO. 1 XAVERIAN?

Hall: I feel like this is a sneaky good matchup. Let's not forget Barnstable was our preseason No. 12 before getting shell-shocked by Dennis-Yarmouth in the opening weekend. There is talent, between versatile athlete Hayden Murphy, shutdown corner Derek Estes and elusive scatback Justus Chafee.

Defensively, Barnstable typically likes to stretch vertically and keep everything in front of them, which can be a bad matchup against spread teams like Dennis-Yarmouth. Last week against BC High, they looked like they cleaned up a lot of their mistakes. Xaverian's offense, while a bit more creative, has some similarities to BC High's. Going the other way, the Red Raiders use some funky misdirection in the run game to prevent linebackers from filling gaps. On their first touchdown against BC, for instance, a receiver backpedaled off the line of scrimmage, feigning a bubble screen, putting several defenders on their heels as Chafee came up the gut on a zone read.

That kind of stuff can keep even the best defenses on their toes. Expect some fireworks, and some dynamic playcalling, in this one.

Barboza: This is a yes-and-no proposition to me. I think the Raiders righted ship after an embarrassing loss to Cape rival Dennis-Yarmouth in Week 1, going on the road to beat another Catholic Conference foe in BC High. But I think Barnstable would need to play a near perfect game, while forcing the Hawks into some turnovers in order to make it four straight defeats of an ESPN Boston No. 1 squad. I'm not saying it will not be a close game, I just like Xaverian a little bit more.

Perry: In a preseason roundtable, I said that Barnstable was a team that was getting overlooked because of the players that it lost from last year. I'll stick by that and say that the Raiders give Xaverian a run for their money. The No. 1 ranking has been more of an albatross than an honor this year, so I'll say that Barnstable has a good chance of causing the Hawks problems.

McGuirk: Barnstable is good but Xaverian is playing with a lot of confidence, especially following the huge win over B-R last week. The Hawks should take care of the Red Raiders who gave up 37 points to D-Y in Week One but did bounce back nicely last week against BC High.

Abelson: In Hayden Murphy I trust. In the ESPN Boston poll curse I believe. Barnstable, 27-21.

6. THE HOCKOMOCK LEAGUE'S KELLY-REX DIVISION MIGHT BE THE STATE'S MOST UNPREDICTABLE RACE THIS FALL. AS LEAGUE PLAY OPENS UP THIS WEEK, PROJECT YOUR CHAMPION AND DARK HORSE.

Hall: Mansfield was the prohibitive favorite in most minds heading into the season, and so far they've done little to suggest otherwise. Consider that nearly three weeks out from their shocking upset of Dunbar (Md.), the Hornets are still without five starters. They're already a dynamic offense, between quarterback Kyle Wisnieski, 6-foot-5 flex tight end Brendan Hill, and space-carving tailback Miguel Villar-Perez. Hard to go against that.

For dark horses, I like Attleboro. I think it's understated how big their line is, particularly at defensive tackle, and there are plenty of weapons on offense between quarterback Tim Walsh, tight end Luke Morrison and receiver Brendan Massey. This program has long been a sleeping giant, and new coach Mike Strachan has re-awakened those sentiments.

Barboza: All along, I've penciled in Mansfield as the team to beat in the Kelley-Rex. I believe they had the most complete group of talent on either side of the ball, and also had the most upside. The scary part is that, due to injury, the Hornets might not have yet hit their apogee and will continue to strengthen as the season progresses.

Now, for the sleeper, I know we've talked up Attleboro up a lot in the early going -- to the point that I really think they're a threat in Division 1 South. Seeing that the Blue Bombardiers are for real in the first two weeks of the season, I'm going to go with Taunton. I don't think Chris Greding has gotten enough credit for the job he's done turning around the Tigers program in short order. Of course, an infusion of talent led by Domingo Jenkins helps, but I wouldn't be at all surprised if Taunton knocks off one of the Hock's "Big Three" -- King Philip, Mansfield, North Attleborough -- at some point this season.

Perry: The favorite heading into the Hockomock League season is defending champions Mansfield and its new spread attack that takes advantage of its great weapons like senior quarterback Kyle Wisnieski and junior tight end Brendan Hill. Attleboro has gotten a lot of hype from media, me included, in the preseason as a sleeper in the Hock. A new coaching staff, a new field, and new schemes on both sides of the ball have made the Bombardiers a much more confident crew and better utilize the weapons that it has. The Bombardiers were only a few mental mistakes from beating Mansfield last season and Tim Walsh is on fire running the spread formation – watch out for Attleboro. Of course, watch out for KP, Franklin, and North Attleborough, too. It really is up for grabs

McGuirk: The Kelly-Rex Division is solid with four teams still unbeaten (Mansfield, Attleboro, North Attleboro and Taunton). When it is all said and done. I believe it will come down to Mansfield and North Attleborough for the title because of their high-octane offenses. Attleboro has to be considered the darkhorse here because of its stingy defense which could carry them through. It will be interesting to watch all four of these team beat up one another during the season and see who survives.
September, 13, 2013
9/13/13
11:39
PM ET
By
Mike Scandura
| ESPNBoston.com
ATTLEBORO, Mass. -- Perhaps the New England Patriots and the New York Jets should have taken a page from Attleboro High's playbook – specifically the page that details passing.

Just ask No. 24 Bishop Feehan.

Attleboro senior quarterback Tim Walsh completed 11-of-14 passes for 220 yards and four touchdowns (he also ran for another), while junior wide receiver Brenden Massey caught five balls for 130 yards and four scores.

As a result, the Bombardiers presented first-year head coach Mike Strachan with his initial victory – a 35-3 romp over the Shamrocks in the season opener for both teams.

"We've had a couple of scrimmages and they're both pretty special kids," Strachan said of Walsh and Massey. "There's enough to work on out there that we can improve on. But we're pretty excited about that combination."

That's like saying Joe Montana was "pretty excited" about throwing to Jerry Rice.

"It was huge play-calling by the coaches and huge play up front," said Walsh. "We had tons of time all night. It made it a lot easier for me.

"Receivers were running crisp routes and getting wide open. It made it made my job a lot easier."

How wide is wide-open?: Perhaps the play that best underscored how wide-open Attleboro receivers were came on the Bombardiers' last score.
Walsh dropped back and had enough time to devour a sandwich before launching a 30-yard touchdown pass to Massey who was all by himself as he crossed the goal line.

"We made some mistakes … there were too many penalties and too many missed assignments for us," said Strachan. "But, overall, when you have a leader like Timmy … he's a great quarterback and a great leader.

"But, again, we're expecting some great things from those two."

"Great things" didn't start happening for Attleboro until early in the second quarter. That's when the Bombardiers covered 69 yards in nine plays with Walsh tossing a 38-yard touchdown pass to Massey.

Then, after Feehan went three-and-out, Attleboro came right back, with Walsh connecting with Massey on a 49-yard scoring bomb that made the score 14-0 heading going into intermission.

Attleboro received a big lift when Stan Beaubrun returned the second-half kickoff 77 yards, which set up a six-yard touchdown pass from Walsh to Luke Morrison.

The Shamrocks again went three-and-out and Attleboro promptly upped its lead to 28-0 when Walsh dashed five yards off right tackle for a touchdown.

Feehan's pressure non-existent: "I don't even think we got stopped the whole second half," said Walsh. "We were up 14-0 and got the ball (to start the second half). There was a huge return that continued the momentum and then we just put it in."

Feehan averted a shutout when Brendan Mulligan kicked a 24-yard field goal 57 seconds into the fourth quarter.

Other than that, the closest Feehan came to scoring was late in the second quarter when Michael Gallagher led a ground game that enabled the Shamrocks to reach Attleboro's 9. But Feehan was penalized for holding and, after a Matt Jesser pass fell incomplete, Attleboro blocked a 36-yard field goal attempt by Mulligan.

"We've been telling our kids to finish strong in everything we do," said Strachan. "Again, we're pretty happy for our first game.

"I think we go into a game trying to do certain things. I think Massey did a great job of stepping up tonight. He was put in a position where he could make plays, and he did. I hope that's the case for us every week, that we different kids that can do that for us."

ATTLEBORO 35, FEEHAN 3
ATT (1-0) 0-14-14-7 - 35
FEE (0-1) 0-0-0-3 - 3

Second quarter
A – Brenden Massey 38 pass from Tim Walsh (Mike Cannata kick)
A – Massey 49 pass from Walsh (Cannata kick)

Third quarter
A – Morrison 6 pass from Walsh (Cannata kick)
A – Walsh 6 run (Cannata kick)

Fourth quarter
B – Brendan Mulligan 24 field goal
A – Massey 30 pass from Walsh (Cannata kick)
August, 21, 2013
8/21/13
6:03
PM ET
Brendan Hall
ESPN Boston High Schools editor
Best QB:
Cody Williams, Springfield Central
Best RB:
Johnathan Thomas, St. John's Prep
Best WR:
Brian Dunlap, Natick
Best TE:
Brendan Hill, Mansfield
Best OL:
Jon Baker, Millis/Hopedale
Best DL:
Jon Baker, Millis/Hopedale
Best LB:
C.J. Parvelus, Everett
Best DB:
Lubern Figaro, Everett
Best passing offense:
Natick
Best rushing offense:
St. John's Prep
Best offensive line:
St. John's Prep
Best defensive line:
Reading
Best linebackers:
Reading
Best secondary:
Everett
THREE TEAMS THAT WILL SURPRISE
Medway
Coach Dave McSweeney's affinity for power football isn't a secret, and this season he'll have two road-graders to run behind in Kevin Sheehan (6-4, 285) and Cam Smith (6-5, 290, Lafayette commit). If there's any exhibit for why we needed to change the postseason format, the most glaring sample might be the Mustangs, who went 19-3 from 2009-10 with no playoff berth. In this new playoff system, a gameplan like the Mustangs' is built for the long haul.
Lynn English
Perhaps this isn't a surprise pick so much as an affirmation. In a Division 2 North that is perceived to be wide open after heavy favorite Reading, the Bulldogs have enough talent to make a deep run. There has always been elite talent at the skill positions, but Preseason All-State selection Chris Tinkham gives them a presence in the trenches they've lacked the last few years, a rare "war daddy" type who overpowers the interior gaps. The biggest question will be where the Bulldogs put junior Jordan Javier, a 6-foot-4 transfer from Haverhill who is a matchup problem at his natural split end position but also throws one of the prettiest balls you'll see on the North Shore.
Quabbin
The Panthers struggled to a 4-7 tune last season in a weak league, but there is some promise. Quarterback Dylan Kierman is an underappreciated talent, who should get a boost from the return of slippery receiver Nick Thyden. The Panthers run a unique "Air Raid" scheme, and another year of experience with it could surprised teams in Division 4 Central.
THREE BREAKOUT ATHLETES TO WATCH
Lukas Denis, Jr. ATH, Everett
After an injury-shortened 2012 season in which he was the assumed successor to record-setting quarterback Jonathan DiBiaso, but barely saw the field, Denis is moving to the perimeter, where he will take a role similar to the hybrid slot-back role that Manny Asprilla made legendary in 2010. Defensively, he should serve as a terrific compliment in the secondary to highly-touted safety/cornerback Lubern Figaro, and has already begun to pick up some Division 1 FBS interest.
Alfred Adarkwah, Sr. WR, Doherty
Standing a long 6-foot-4 with a 6-foot-7 wingspan, Adarkwah has an unusually large catching radius for a high school receiver. This summer in passing leagues, the Highlanders toyed with Adarkwah and Boston College-bound receiver Isaac Yiadom on the same side of 2x2 formations. Head coach Sean Mulcahy has to be excited with the possibilities that opens up -- just imagine sending those two on a post-wheel combo route. Or better yet, imagine running them on a bubble screen, taking advantage of both Yiadom's elite speed and Adarkwah's great downfield blocking skills.
Taj-Amir Torres, Jr. ATH, Amherst
Already a household name in track and field, where he was named the state's Gatorade Player of the Year last spring as a sophomore after winning New Englands in the 100-meter dash, he's about to get a whole lot more attention. Boston College, UConn and UMass have already offered Torres, who made just 24 catches last season
but made some incredible feats of athleticism
. Hurricanes head coach David Thompson told us earlier this month
"[We're] trying to get the ball in his hands every opportunity we get"
, so expect bigger numbers in 2013.
WAY TOO EARLY STATE CHAMPION PICKS
Div. 1
- Everett
Div. 2
- Springfield Central
Div. 3
- Walpole
Div. 4
- Doherty
Div. 5
- Auburn
Div. 6
- Millis/Hopedale
***
Scott Barboza
ESPN Boston High Schools Editor
Best QB
- Drew Belcher - Sr. Reading
Best RB
- Johnny Thomas - Sr. St. John's Prep
Best WR
- Brian Dunlap - Jr. Natick
Best TE
- Rory Donovan - Sr. Cardinal Spellman
Best OL
- Jon Baker – Sr., Millis/Hopedale
Best DL
– Joe Gaziano – Jr., Xaverian
Best LB
– Eddie Motavu – Sr., Tewksbury
Best DB
- Lubern Figaro - Sr. Everett
Best passing offense
- Natick
Best rushing offense
- St. John's Prep
Best offensive line
– Bridgewater-Raynham
Best defensive line
- Reading
Best linebackers
- Leominster
Best secondary
- Everett
THREE SURPRISE TEAMS
St. Mary's (Lynn)
OK, so a team coming off an 11-2 season and a Super Bowl appearance might not exactly be a surprise, but with a couple of other Catholic Central teams garnering the buzz in the preseason, let's not forget the Spartans have another season with Jordan Collier (1,495 yards, 18 TD).
Hingham
We've heard them knocking, but can they come in? The Harbormen have whittled the gap in recent years, particularly against Patriot League nemesis Duxbury, but they're still waiting to break through. They could have an in-road in Division 3 Southwest. An early non-leaguer against Oliver Ames should be a bellweather for things to come, but the real proof will come Oct. 5, against those aforementioned Dragons.
Wakefield
The Warriors fell short of their goal of winning the Middlesex League's Freedom division last year, but should be in the mix in a wide open Division 3 Northwest race. We'll have a better impression after a visit from Lynn English in Week 2.
THREE BREAKTHROUGH ATHLETES
Joe Johnston, Sr. RB/S, King Philip
Anybody who saw Johnston's hard-nosed 157-yard, 2-touchdown performance against North Attleborough last year knows Johnston's style. He's a burden for would-be tacklers inside the box, and once he kicks it outside, he's also very hard to catch.
Grant Kramer, Sr. OT, Duxbury
The younger brother of Boston College tackle Aaron Kramer, Grant is now ready to assume the role as the next great lineman on the Dragons' line (and there have been some very good ones in recent memory). He currently holds offers from Coastal Carolina and Villanova but has also expressed interest in attending West Point.
Connor Moriarty, Sr. RB, Walpole
When Rebels starter Mike Rando went out with an ankle injury near the midway point of the regular season last year, it was Moriarty who carried the load down the stretch. Expect even bigger numbers this year.
WAY TOO EARLY CHAMPIONSHIP PREDICTIONS:
D1
– St. John's Prep
D2
– Springfield Central
D3
– Walpole
D4
– Doherty
D5
– Auburn
D6
– Millis/Hopedale
***
Josh Perry
ESPN Boston correspondent
Best QB
- Drew Belcher, Reading
Best RB
- Jonathan Thomas, St. John's Prep
Best WR
– Brian Dunlap, Natick
Best TE
– Brendan Hill, Mansfield
Best OL
– Jon Baker, Millis-Hopedale
Best DL
– Andrew Bourque, Reading
Best LB
– Kevin Bletzer, Catholic Memorial
Best DB
– Lubern Figaro, Everett
Best passing offense
- Natick
Best rushing offense
– St. John's Prep
Best offensive line
– St. John's Prep
Best defensive line
- Reading
Best linebackers
– Catholic Memorial
Best secondary
- Everett
THREE TEAMS THAT WILL SURPRISE:
Attleboro
A new coaching staff, the energy of a new field complex, and a strong crop of returning seniors could make the Bombardiers the surprise team of the Hockomock League. Attleboro has always been a sleeping giant and the program continues to find solid athletes, it's now up to the new staff to build a system that fits the talent on the roster. With a couple of league rivals dealing with injuries and suspensions, Attleboro could sneak up on people.
Barnstable
Everyone assumes that there will be a significant drop off for the Red Raiders due to a big graduating class, but there is still potential to be a solid team in D2 and in the OCL. This may not be a another season with Barnstable holding the top spot in the poll, but it shouldn't be written off either.
Stoughton
The Knights are expected to finish behind Oliver Ames in the Davenport, but don't be surprised if they pull an upset or two and give the Tigers a run at the title. Watch out for running back Malachi Baugh, who will be getting the majority of the carries this season and is a beast to try and bring down.
THREE BREAKTHROUGH ATHLETES TO WATCH
Luke Morrison, Sr. TE/DE, Attleboro
Attleboro's giant tight end/defensive end is a monster match-up on both sides of the ball and could be a real threat as Tim Walsh's favorite target in the Bombardiers passing attack.
Ryan Charter, Sr. QB, Needham
Mike Panepinto has deservedly drawn praise as the star man on the Needham offense, but the senior quarterback, who has been under center for 1-1/2 seasons already, will have high expectations as the Rockets try to get back on top in the Bay State.
Kyle Wisnieski, Sr. QB, Mansfield
With the graduation of running backs Robbie Rapoza and Kevin Makie and the continued injury problems for wide receiver Michael Hershman the key cog for the Hornets offense will be its senior quarterback. Wisnieski's ability to spread the ball around and pick the right options out of a still talented receiving corps that includes Brendan Hill is going to be the key for Mansfield's run at a Hockomock title.
WAY TOO EARLY STATE CHAMPION PICKS:
Div. 1
– St. John's Prep
Div. 2
- Nashoba
Div. 3
– Bishop Feehan
Div. 4
- Doherty
Div. 5
- Auburn
Div. 6
– Millis-Hopedale
***
Ryan Kilian
Founder and Editor-in-Chief, Massachusetts Prep Stars
Best QB
- Drew Belcher, Reading
Best RB
- Johnathan Thomas, St. John's Prep
Best WR
- Brian Dunlap, Natick
Best TE
- Rory Donovan, Cardinal Spellman
Best OL
- Jon Baker, Millis/Hopedale
Best DL
- Alex Quintero, Lowell
Best LB
- C.J. Parvelus, Defense
Best DB
- Lubern Figaro, Everett
Best passing offense
- St. John's (Shrewsbury)
Best rushing offense
- St. John's Prep
Best offensive line
- St. John's Prep
Best defensive line
- Reading
Best linebackers
- Duxbury
Best secondary
- Everett
THREE TEAMS THAT WILL SURPRISE
Bedford
While Wayland and Concord-Casrlisle have earned the DCL Small Championship the past few years do not sleep on Bedford in 2013. The Bucs play one of the toughest schedules in Division 4 and the return All-DCL running back Olan Abner.
Chelmsford
While Lowell, Central and Andover are getting most of the early press in the MVC Large, the Chelmsford Lions return one of the State's top running backs in Jeff D'Auria, a seasoned young quarterback in Jack Campsmith and a nice nucleus of tough experienced defenders.
Archbishop Williams
If Archies can find early offensive balance to take some of the work load off the shoulders of star senior back Kylan Philbert-Richardson, they could make some noise in the D5 playoff hunt.
THREE BREAKOUT ATHLETES TO WATCH
Ian Kessel, Soph. RB, Haverhill
The St. John's Prep transfer saw late game carries last season as a freshman for Prep's Super Bowl Champion squad. The speedy halfback is now back home in the MVC Small, and with the graduation of work horse, All-State RB Chance Brady (Tufts), there should be plenty carries to go around.
Devin Lekan, Sr. DE/TE, Chelmsford
D'Auria and Campsmith return to lead the offense for Chelmsford's but it is the Lion defense could be the story if they stay healthy. The Lions feature the 2nd team all-MVC performer was the most impressive player in the games I saw last season.
Nick Orekoya, Jr. DB/RB Billerica
Orekoya saw a lot of playing time as a two-way starter for Billerica last season. With another year under his belt Orekoya should thrive in coach Rich McKenna's high octane offense.
WAY TOO EARLY STATE CHAMPION PICKS
Div. 1
- Everett
Div. 2
- Reading
Div. 3
- Tewksbury
Div. 4
- Dennis-Yarmouth
Div. 5
- Auburn
Div. 6
- Boston Cathedral
***
John Botelho
Editor-in-Chief, South Shore Sports Journal
Best QB
- Troy Flutie, Natick
Best RB
- Dylan Oxsen, Plymouth South
Best WR
- Brian Dunlap, Natick
Best TE
- Rory Donovan, Cardinal Spellman
Best OL
- Jon Baker, Millis/Hopedale
Best DL
- Steve Manning, Abington
Best LB
- Kervin Jean-Claude, Brockton
Best DB
- Lubern Figaro, Everett
Best passing offense
- Natick
Best rushing offense
- St. John's Prep
Best offensive line
- St. John's Prep
Best defensive line
- Auburn
Best linebackers
- Brockton
Best secondary
- Everett
THREE TEAMS THAT WILL SURPRISE
Brockton
They're ranked pretty high in any poll you look at because people have just come to accept the fact that Brockton generally reloads. They graduated 18 starters from last season's Super Bowl team, including quarterback Austin Roberts, who was one of the best in school history. Roberts, Micah Morel and Joe Previte are all playing ball at prep schools this year, and Anthony Davis has moved on to Div. 1 Central Connecticut. Still, the Boxers will very solid again. They have a number of athletes and playmakers, including returning do-it-all Aaron Leclair. Transfer Jamal Williams is going to compliment him well, and sophomore Kerry Raymond is physically imposing at 6-foot-1 and 205. Aaron Monteiro's 6-foot-5, 295-pound frame gives Brockton an anchor on the offensive line. They have plenty of guys ready to step forward on the other side of the ball as well, led by Kervin Jean-Claude, Justin Ahanon and Leclair.
Abington
The Green Wave went unbeaten in their march toward a Super Bowl crown last year, but saw a slew of stars graduate. QB Brandon Cawley, TE/DE Pat Dwyer, FB Jack Malafronte, RB Babila Fonkem, DB Mike Walsh, OL Tyler Perakslis and OL Matt Diver are just some of the elite players Abington graduated. These guys won't miss a beat though, as they have a ton of talent back. Matt Kilmain broke out for more than 400 yards on 27 carries in two postseason wins last year, and he might not even be the best player back this season. Abington returns its top three tacklers from a year ago and has most of their front seven back on defense. Jim Kelliher has one of the best coaching staffs going at this point, and these guys look like they're headed back to the playoffs. (For bold prediction purposes, I'm also going to go ahead and say I think they beat Duxbury on opening night, because that's how good I think this team can be).
Stoughton
The Black Knights missed the playoffs last year because of the wrong day for a let down game, taking a tough defeat to eventual Super Bowl champ Sharon. The Knights lost some very good players, but leading running back Malachi Baugh is back in the fold and they return four starting offensive lineman, so there's no reason to think the offense won't be up to par again. The Hockomock League has proven in recent years to be one of the toughest to win, but a second guaranteed playoff berth can only help a team like Stoughton.
THREE BREAKTHROUGH ATHLETES TO WATCH
Aaron Monteiro, Jr. OL, Brockton
Monteiro has something that can't be learned, or even worked toward. His 6-foot-5, 295-pound frame is one that will draw the interest of coaches at the next level. Coach Peter Colombo is very excited about plugging the junior into his offensive line, and it's not just because of the size. Monteiro worked during the off-season to get himself stronger and is primed to be one of the best lineman in the state. He plays basketball in the winter, something that has helped him develop quick and agile feet for a guy his size.
Sam Malafronte, Jr. LB, Abington
Started at linebacker a year ago as a sophomore for the Div. 4 Super Bowl champs, and finished second on the team in tackles. A very good athlete who is a work-out warrior, Malafronte will team with Matt Whelan to lead a solid corps in the middle of the field for the Green Wave.
James Shea, Sr. WR, East Bridgewater
The Vikings have benefited from having tremendous athletes in the backfield the last few years (think Casey DeAndrade, Tim O'Brien, Andrew Benson and Kevin Lynch), but in 2013 their most dangerous player will be splitting out wide. Shea can run with just about anyone -- he finished sixth in the 100-meter dash in the South Shore League last spring -- and is going to wreak havoc pulling in passes all year.
WAY TOO EARLY STATE CHAMPION PICKS
Div. 1
- Everett
Div. 2
- Natick
Div. 3
- Plymouth South
Div. 4
- Doherty
Div. 5
- Abington
Div. 6
- Millis/Hopedale